Gib dein Check-in-Datum im Format TT.MM.JJJJ ein
Gib dein Check-out-Datum im Format TT.MM.JJJJ ein
Inserate, die du buchen kannst, ohne auf eine Bestätigung des Gastgebers zu warten.
Gib deine Reisedaten ein, um den Gesamtpreis pro Nacht zu sehen.
Diesen Juli und August kannst du eine dieser 100 hervorragend bewerteten Unterkünfte aus jeder Preiskategorie ausprobieren, um Sonoma aus der Sicht eines Einheimischen kennenzulernen. Dank 24-Stunden-Check-in, Sofortbuchung sowie einheimischen Weinen und Snacks kannst du dich einfach zurücklehnen und deine Reise genießen.
This is a cozy cabin nestled on a large wooded lot surrounded with white pine and red pine trees standing approximately 60 to 70 feet high. It's a 3 bedroom bungalow with a porch looking out on Lake Temiscamingue where you will enjoy the spectacular views of the sunset. Great for those seeking calm, adventure, recharging your batteries and relax.
Nous avons beaucoup aimé notre séjour au chalet de Lisça. Belle vue sur le lac temiscaming et beau couché de soleil. Un accueil chaleureux et courtois de la part de la propriétaire.
Jean-Nicolas
September 2016
We had a wonderful week at Lisca's cottage and we hope to return in the future. The setting is gorgeous, the cottage is overlooking the lake with westerly views. Aside from the hint of Lisca's cottage shown in the listing, you can't see any visible neighbors from the cottage. There is a ridge to the north and east which makes it very private and peaceful. You cannot hear any road traffic and there is very little boat traffic on the lake. The beach is quiet, peaceful, and spacious, about 200 metres from Lisca's dock to the neighbours to the north. The grounds include a separate firepit, sitting area, picnic area, bbq and clothesline. The outdoor shower was easy to use. We were welcome to use Lisca and Tim's canoe, rowboat or kayak and we used their canoe. There is great fishing on the lake. We caught nice sized bass from the dock and another nearby in the canoe as well as some whitefish. Inside the cottage we found everything we needed. The furniture is very comfortable and there are lots of extra pillows and blankets. All of the furnishings gave it a classic cottage feel, but all of the appliances were new and in great shape. We loved sitting on the sun deck and there is also a great view of the lake from the living room so you can enjoy it even while sitting by the woodstove. There is also a stereo system that is ready for you to plug your iphone or laptop into. Lisca and Tim were very friendly and helpful. On our first day, they took us on a pontoon ride to Hidden Lake and a gorgeous waterfall across the lake, which is primarily Crown Land. Nearby - La Bannick restaurant has an amazing view and good food. It's beside Fort Temiscaming historic site. There is also another gorgeous waterfall in nearby Laniel which you can either drive to or hike in to called La Grand Chute (we drove). Temiscaming Subway is actually in a train car and overlooking the river. Ville Marie is a nice town to visit and it has a movie theatre.
Alex
September 2016
Art des Zimmers
Ganze Unterkunft
---
Art der Unterkunft
---
Unterkunft für
8
---
Schlafzimmer
3
Témiscaming
Owl's Nest is one of Alwaki Lodge's 10 cabins.. Alwaki is a boat in lodge located on Lake Kipawa, QC. We pick you up by boat in the town of Kipawa and bring you to your cabin. We can also rent you a boat and motor as part of your package so you can go fishing or tour the lake. Lake Kipawa has excellent walleye and lake trout fishing. Catch your limit and come back to your cozy cabin for a shore lunch. There are a few day trips that you can take with the rental boat if you choose to get one. You can head off to Hunters point and see the old trading post and church or go to the small beach or even head over to Canal bay which is a natural canal with 80-100 foot cliffs. Canadian Geographic described Lake Kipawa as "one of Quebec's most beautiful lakes". The views are incredible! The cabin has hot running water, flush toilet, full kitchen with utensils, and generator power in the evenings. There are 2 bedrooms with single beds and 1 futon in the sitting area. A fitted sheet is provided with the bed and you are to bring your own linens and pillow. We look forward to having you join us at Alwaki Lodge! Prices include water transportation to and from the cabin. Boat and motor rental is extra if needed. Children under the age of 12 are free!
Even though it was raining when we went, my boyfriend and I loved your lodge. It was beautiful, clean and everyone was so friendly and accommodating. We would definitely come back - highly recommended!
Laurie
September 2014
My son and I had a fantastic experience at Alwaki Lodge! It will certainly be remembered as the trip of a lifetime. Our hosts, Brian and Tina, were very gracious and attended to all of the details that made our stay so memorable. We were picked up at the landing in Kipawa at the appointed time and transported comfortably via pontoon boat to the lodge which is situated on a small island in Lake Kipawa. Our cabin was clean upon our arrival and ready to be occupied. The cabin was very clean with all of the amenities we needed including propane fridge and stove, lots of room for our gear and a nice deck with new barbecue. The grounds are beautiful and very well maintained. We used a common shower on the property which was clean and always had hot water. The main lodge was well supplied with books, games and satellite TV - in the evenings we would meet with fellow guests to share stories of our adventures and cheer on the Blue Jays. Brian and an employee at the camp, Roy, answered any questions we had about where to fish, what techniques to use, etc. and did their utmost to make our stay special. They allowed me to charge my battery for my CPAP machine in a solar-powered shed (generator power is available from 8:30 to 11:30 pm in the evenings). The boat we received to use for the trip was clean and well maintained and the motor worked very well for trolling and higher speed travel. In addition to the fantastic fishing (we landed close to 200 walleye and a number of large lake trout) we were able to get close to wildlife like bald eagles, loons, etc. - the cry of the loon ended each memorable day. Bait (worms and leeches) and ice was readily accessible at any time during the day or night and a freezer to freeze any catch we were transporting was available to us. We were also able to swim off the dock on warm afternoons and take a canoe or kayak for a paddle. I can't say enough about the quality of this lodge and the graciousness of our hosts. I would highly recommend a stay at Alwaki Lodge to anyone and can't wait until we return!
Rick
July 2016
Art des Zimmers
Ganze Unterkunft
---
Art der Unterkunft
---
Unterkunft für
4
---
Schlafzimmer
2
Rivière-Kipawa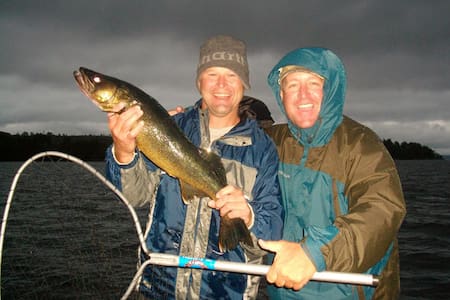 2 cottages in one! Large deck area to soak in the tranquility and outdoor fun on Baie Dorval. Fire pit, comfortable large dock - lake fun,fishing and relaxation. Endless islands to explore with various provided water craft.
The cottage is located in a large Bay (Baie Dorval) and has a direct route into endless fishing opportunities and exploration on Lake Kipawa. A large comfortable deck connects both cabins and a deck by the water allows easy access for swimming and diving. Guest will have access to all cottage amenities - including bar-b-q. Non motorized watercraft provided (dock is available for guests who bring their own motorized watercraft). Bikes are also available. Hiking/ATV trails in close proximity. Although I'm sure we would like to meet you, we will not be present during your stay. :)
Guests are encouraged to bring their own drinking water, bedding, linens and towels. To save money, it is suggested that groceries be purchased in North Bay and alcohol purchased in Quebec.
We had five wonderful days at Wendy and Drew's vacation cabins. The weather was a little cloudy the first few days, but our last day was full of swimming and enjoying the water. It was a beautiful place and secluded as advertised. There were some other houses on the bay but the nights sitting by the fire were quiet and peaceful. We canoed and kayaked with the watercraft provided. The lake and cabin were a wonderful place to unplug from technology and relax. John and Mollie.
John
September 2015
Wendy and Drew were great hosts! Super helpful and responsive leading up to our trip. The cottage itself is on a beautiful spot and packed with all the amenities one could need!
Elle
July 2015
The cottage is in a beautiful location on an amazing lake. We really enjoyed canoeing, swimming and hanging out on the large deck between the two bunkies. As a runner, I found that the secret gem of this place was the ATV trail nearby - a lovely forested path in the woods with changing scenery and I rarely ran into any ATVs or other persons out and about. A nice escape! Wendy was a fantastic host. She forewarned us upon booking that the space wasn't baby proofed and likely not suitable for infants and toddlers. We thought it looked great and decided to book, regardless, and take precautions, but it turns out Wendy was right. We enjoyed our stay but it was stressful looking after our 16 month old who just wanted to climb the steep stairs and crawl around on the deck that is not baby proofed. We appreciate Wendy being up front with us, but also want to future guests with young children to know that this place is tricky with little ones. We'd certainly return with older children and/or adult guests. It's a great spot.
Laura
August 2016
Wendy did a magnificent job communicating with my wife and me. She answered our questions quickly and honestly every time we asked something of her. The cabins were as described and the location was beautiful. Your outdoor deck that connected the cabins was spectacular space for outdoor time both day and night, and the dock was wonderful for sunbathing during the magnificent weather we enjoyed. It made for a super spot for jumping into the cool depths of the lake beyond! Watching and listening to the kingfishers, gray jays and warblers was incredible. The lake was wonderful for swimming, kayaking and canoeing, though you do have neighbors in the Baie Dorval who should be more polite when moving through such a bay. FIshing in a lake like Kipawa was an experience that taught me much. Drew's map was a blessing and very helpful. If only my boat motor would not have failed on me at the end of week one! We were fortunate to get to stay in such a wonderful place as your cabins, and were grateful for Wendy's responsiveness and information. Many blessings to you and your family as you enjoy this location for years to come. We will always think fondly on our time at Lac Kipawa and in the Baie Dorval!
Lorie
August 2016
The host was wonderful and very understanding. They were readily available by phone and answered all our questions promptly. The cottage is in a wonderful secluded location and feels just as it looks. I would definitely recommend staying at this cottage.
Fahad
September 2016
Wendy was a great host, we didn't make it in until later at night and needed to get a hold of her, she was available as soon as we needed her. The place was very clean and cozy, it has all the basics and more, which makes you appreciate the little things even more (a hot shower after a full day of canoeing was a blessing). Very easy to find instructions and in general a pleasure, great deck with fire pit and be set up. Very comfy beds but make sure you bring your own bedding and arrange a motorized boat rental if you plan on doing a lot of fishing, it's a big lake and canoeing places just won't cut it unless you are in crazy amazing shape I guess. Can't wait to go back!
Juan
September 2016
We had another wonderful stay at the cabin. It was so great last year we came back for another visit. This is a wonderful place to get away from it all, unplug from technology, read some books, and swim in a peaceful lake. I would recommend this cabin to anyone looking for a relaxing retreat.
John
August 2016
We had an amazing time at the cottage. We traveled from Toronto which was an easy drive with even easier directions. The cottage featured everything listed in the description and more, making for a perfect getaway from the city. We enjoyed the bikes, the kayaks, the hiking, the swimming, the dock, the deck with fire pit, the BBQ, basically everything! There was plenty of hot water which made the jacuzzi tub an awesome option on a few rainy occasions. We were very well stocked with food and beverages, which we would strongly recommend to any potential cottagers. There is very little in the way of shops in the near area. We were looking for a more secluded cottage experience and this place really delivered. We would definitely recommend to anyone looking for a fully modernized cottage on a quiet lake with great wilderness on your doorstep.
Jay
August 2016
Art des Zimmers
Ganze Unterkunft
---
Art der Unterkunft
---
Unterkunft für
6
---
Schlafzimmer
2
Laniel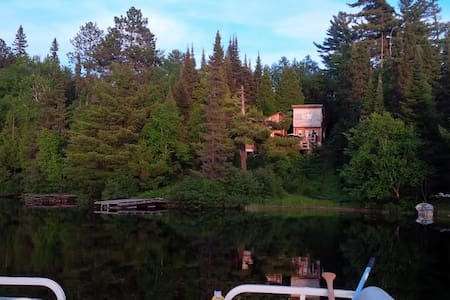 Whispering Pines is Alwaki Lodge's outpost cabin. It is located on Lake Kipawa and is a beautiful boat in access cedar log cabin. We pick you up by boat in the town of Kipawa and bring you to Whispering pines. There is only one other cabin on this part of the lake so it is very secluded and private. We can also rent you a boat and motor as part of your package so you can go fishing or tour the lake. Lake Kipawa has excellent walleye and lake trout fishing. Catch your limit and come back to your cozy cabin for a shore lunch. There is a few day trips that you can take with the rental boat if you choose to get one. You can head off to Hunters point and see the old trading post and church or go to the small beach or even head over to Canal bay which is a natural canal with 80-100 foot cliffs. The cabin has hot running water, flush toilet, full kitchen with utensils, a shower and solar power. There are 2 bedrooms with single beds and 2 futons in the front porch area. We look forward to having you join us at Alwaki Lodge!
Art des Zimmers
Ganze Unterkunft
---
Art der Unterkunft
---
Unterkunft für
6
---
Schlafzimmer
2
Kipawa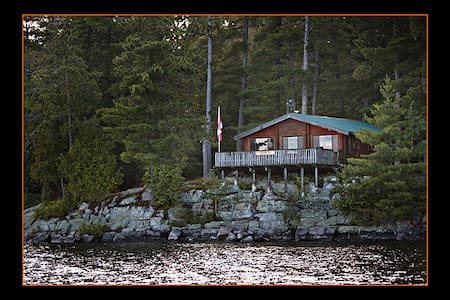 Beautiful, serene, lakefront log cottage on historic Mattawa River waterway (Lake Chantplein). Take a time-out from the busy life. Come stay and regenerate!
A wonderful beach front, southern exposure log cabin nestled among majestic white pine. Watch the mist rise, listen to the loons, and have your coffee on the dock. Read a book or swim. Roast marshmallows and watch the stars sparkle almost within your reach. Hike to town for a great meal at The Moon, the Voyageur Inn or BBQ in the outdoor summer kitchen. It's up to you. WiFi and lots of board games. Great romantic setting for couples or plenty of room for the whole family or a group of friends (sleeps up to 8 in 2 bedrooms and a sleep cabin). The main cottage has a great room with a wall of windows overlooking Lake Chantplein (part of the Mattawa River Heritage Waterway). Renovated washroom with shower, pine floors, full kitchen, drilled well, sun porch, wood stove for ambiance, carport, and good cell service. It's your home while you stay. enjoy! Please call or text (PHONE NUMBER HIDDEN) and ask for Tina if there are any problems.
Come and feel the magic near where the Mattawa and Ottawa Rivers meet. Located east of North Bay, Ontario, Mattawa is Voyageur Country. The Town of Mattawa is 3 miles away from the cottage with grocery stores, pharmacy, hospital and more. Visit the Mattawa and District Museum, 20 Historic Statues, the Clermont Duval Art Gallery and many other small town treasures. Try golfing at the Mattawa Golf 'n Ski Resort or take a guided nature hike at Samuel de Champlain Provincial Park. Or, simply enjoy the cottage - it's your holiday! You will need a car (or taxi) to access the cottage. It's about a 3-5 kms from Mattawa. It's a country road - gravel. Enjoy our youtube video - (URL HIDDEN)
The cabin was awesome, my husband and I spent the first couple days of our honeymoon here and it was perfect. Beautiful views BBQ works great. We forgot BBQ sauce for our steak, but they had left tons of spices and ketchup so we were able to make something! When we arrived there was a bottle of wine and s'mores kit as well as keurig cups waiting for us on the counter. All were out to good use. Overall, great experience. We think it would be a great place for 2 families with kids as there are 2 separate queen beds and then a bunk room for 6 people. The lake seems great too - beach has some weeds but I didn't mind at all! (And you can just get in and out from the end of the dock) We will be back here one day for sure!
Harley
June 2016
Art des Zimmers
Ganze Unterkunft
---
Art der Unterkunft
---
Unterkunft für
8
---
Schlafzimmer
3
Mattawan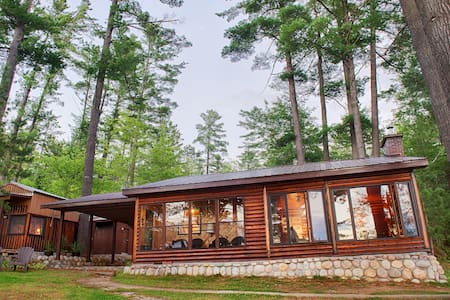 On Trout lake, just minutes from North Bay, a real cottage with all the amenities. Nice sandy beach and large dock area for sunbathing and relaxing. Nicely appointed inside with modern updates. Please bring bedding.June 15 -Sept 15 weekly rental only
Common kitchen living room, one master bedroom on lower floor. 2nd bedroom with double bed and third bedroom with bunk beds. Whole space
Private road mostly cottages Parking at cottage Nice sandy beach.
It was very nice to meet Patricia and John, they are very friendly and have lots of tips for what to do around the area. the cottage is nicely equipped with everything you need, lake is nice for swimming even in September and the hot tub is great. Very quiet cottage , there was hardly anyone around and easy accessible. About 15 min. away from all amenities.
Erica
September 2016
We we came up from the US to visit family, and we had a great stay here. The overall experience was just rustic enough to feel like we were away from city life, but still very comfortable. The location was close enough to the city so that it didn't feel like a major trek in to shop and tend to some personal matters. The cottage was very clean and well equipped. The beds were comfortable and the bathroom was basically brand new. The water pressure and hot water in the shower were world class! The outdoor grill was new and clean, and worked great. The lake was beautiful, and it was especially nice passing time on the dock with friends and family. The hot tub was a nice added bonus that my kids loved and used to warm-up from the cold lake. We were also really pleased that we could bring our dog (a 11 lb malti-poo) -- he had a great time too. The only negative was the steepness of the lot and the condition of the steps down to the lake. It wasn't a problem for me or my kids, but it was definitely a challenge for my parents who are in their 80's and who we were visiting. The steps were steep, uneven, unstable and in some cases, missing altogether. If you are "older" or have issues with stability or climbing then this might not be the right place for you. Otherwise, the place was outstanding.
Dario
July 2016
We absolutely loved our stay at the cottage! We found everything we needed. It was roomy enough for everyone to relax comfortably, both inside and out. Loved the waterfront dock and beach and of course, the hot tub. Very peaceful neighbourhood, we fell asleep listening to loons and owls. We enjoyed barbecuing our meals and sitting around the fire at night. Perfect vacation away from the city! Our hosts let us settle in on our own, but introduced themselves and checked on us briefly, but gave us our privacy and space. We would recommend this cottage to anyone looking for a quiet retreat with all the amenities of home. North Bay is a beautiful place to explore the outdoors. We would love to come back; we wished we could have stayed longer!
Tianna
June 2016
The cottage is awesome. I don't use the word awesome a lot but in this case I find it appropriate. The pictures can't capture the beauty of the surroundings. The cottage is just in front of the lake and in the opposite shore there is a hill covered completely by trees. The property itself is sheltered by trees. Stunning, really. We visited the cottage on the Thanksgiving long weekend (Oct 2015) and thus we could enjoy the colorful trees ranging from gold, red, pink, brown and even green. The autumn was at its best. It was quite a treat for the eye. The hot tub was the most popular thing of all. When we arrive to the property we just pushed the door and let ourselves in. The keys were waiting for us in the kitchen. The fire place in the living room was already set. The little fire that was going on gave us a warm and cozy welcome. The next day we met John, he lives just 300 meters away in another cottage. John is very approachable and smiley, we did not meet Patricia. He gave us some advice about the surroundings and answered some questions that we had. I definitely recommend this place.
Yanniel
October 2015
We had a perfect weekend! And I WILL be back!! The cottage and location was exactly what we wanted. A quaint cottage atmosphere, but will all the amenities we needed. And Patricia and John helped make sure we had what we needed, especially with travelling such a distance. Having the woodstove for cozy conversations in the evening, and the hot tub overlooking the lake were my favourites. Thanks for everything. :)
Terri
May 2016
Art des Zimmers
Ganze Unterkunft
---
Art der Unterkunft
---
Unterkunft für
5
---
Schlafzimmer
3
North Bay
Enjoy luxury camping nestled down in real beds with cozy quilts and feather mattress, mini kitchenette, private composting toilet, cold water hand pump and hot outdoor shower. Relax to the gentle sound of the stream running right beside the cabin. May to September only. Continental breakfast and all linens supplied.
A former stable, this cabin has charming rustic features. Be sure to visit the secret sitting area in the loft, it's like sitting in a tree house! Early morning visits from deer and moose and not uncommon. You can watch for them while enjoying your morning coffee at the outdoor dining table. There is one double bed, a 3/4 bed plus a single rollaway. Please let me know prior to arrival how many beds you require made up. A continental breakfast is supplied. Located on 40 acres of private woods, close to numerous beaches on both Trout Lake and Lake Nipissing. We are around for any assistance and advice regarding your stay in North Bay. We live on the property. Please come to the main house on arrival.
We are classified as within the city limits of North Bay, but really in a country setting. However, getting to downtown North a Bay is a mere 15 minute drive away. There is no public transit from our property, a car is essential. We have a friendly collie cross dog called Eddie who loves to greet new guests.
Heather is a warm, outgoing person. I enjoyed talking with her. She showed me around, and showed me how everything worked. This is a great place to stay, especially if you have children. I'd certainly stay here again.
Elaine
August 2016
Beautiful cozy little cabin. Close to North Bay amenities, and beautiful trails and beaches. Heather and her husband were kind and hospitable.
Frances
August 2016
Fantastic little cabin with all essential amenities. Heather is a fantastic host and exceptionally friendly.
Aaron
September 2015
We were greeted by our host as soon as we arrived, and shown around the house and how to use the water pump, the outdoor shower, and were told how to find the swimming beach. The direction s to the house got us there easily.
Libby
August 2015
What a unique and wonderful stay. We will definitely be coming back for longer next time. Thank you , Heather for your hospitality and kindness.
chantal & darren
August 2016
A charming and rustic spot to stay when in the North Bay area. Heather and Bill were very hospitable. An especially great spot for those with a dog who likes to run off-leash - miles of trails to enjoy. We'll definitely be back.
Alan & Rosalie
August 2016
Endroit reposant. Les hôtes sont accueillants.
Louis
July 2016
We had a great time and loved the cabin!
Matt
July 2016
Art des Zimmers
Ganze Unterkunft
---
Art der Unterkunft
---
Unterkunft für
5
---
Schlafzimmer
1
North Bay
A luxurious, upscale, lakeside cottage oasis for families and the outdoor enthusiast. Located in a cozy bay on serene, crystal clear waters with NO WEEDS! Thoughtfully decorated with all the convenience of home, approx 3000sq/ft of space, three bedrooms with queen sized beds, sunny open breakfast bar, and two spa like bathrooms. Huge outdoor patio's and private docks for entertaining, tanning, swimming. Situated perfectly on the prestigious Lake Kipawa providing clients with the opportunity for a cottage experience of a lifetime that involves world class fishing, Kayaking central, paddle boarding, canoeing and boating. Includes a private boat house that will accommodate a boat 26' and docs for boats up 38' in length. Easy pave road access to the drive way and ten minute boat or car ride will bring you to the nearby community where you will find a free government boat launch, waterfront gas stations for filling the boat, bait shops and anything else you may need during your stay. Approx 15KM's by car is the cute, thriving town of Temiscaming where you will find the nearest hospital, recreation center, gym, running and bike paths, cafe, shops, restaurants, LCBO, Grocery store etc.... 4 Hours North of Toronto. 4 Hours North/West of Ottawa Will rent to responsible adults. Bedrooms: 3 Sleeps: from 1 to 8 Parking: 6 vehicle(s) Children Allowed: Yes Smoking: Smoking not permitte Inside Pets: Pet's are not permitted. Waterfront Property: Yes
Art des Zimmers
Ganze Unterkunft
---
Art der Unterkunft
---
Unterkunft für
6
---
Schlafzimmer
3
Kipawa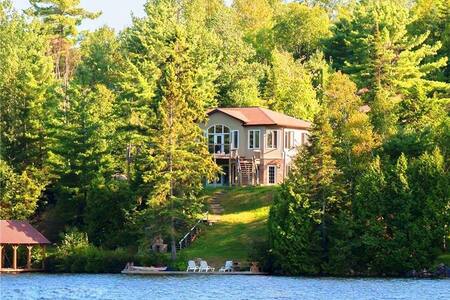 mature birch, poplar and maple and situated at the end of a quiet private road frog's leap cottage is comfortable, cozy and has that real cottage feeling. Enjoy swimming on a private sandy beach The fall colours here are breathtaking due to the many hardwoods surrounding the cottage and across the lake.
Nice cottage atmosphere with all the amenities. comfortable living/sitting room. Pellet stove for cool nights.
Quiet cottage neighborhood. Pets are allowed but need to be tied, a $15.00 per day charge applies
Pat and John were always helpful, friendly and available. The cottage is situated in a beautiful area at the end of the road and the neighbours are very quiet. We had 10 wonderful days at Frog's Leap which included a special family get together.
Lis
August 2016
I can't say enough about Frogs Leap, or Patricia and John — it was everything described in the listing and more. Just about everything we could want was provided for us (extra bed linens, towels, wifi, etc). The setting was idyllic and tranquil; perfect for the relaxing weekend we were looking for. We were four guys, and there were enough beds (including pull-out sofa beds) for all of us. Everyone slept in absolute comfort. Patricia and John checked in with us via email a couple of times over the weekend to make sure we were okay and had everything we needed, but we never had to ask them for anything – we had everything we wanted. The best review summary I can give you: we would definitely go back (and likely will next summer).
Murray
June 2016
Spectacular location, beautiful waterfront with total relaxation, very close to all amenities if needed but far enough away to feel completely removed. Would recommend to anyone looking for a quiet getaway on a beautiful lake in a very well kept cottage.
Chris
September 2015
We had a wonderful stay in a wonderful place. The cottage was very nice and clean. John and Patricia are the best hosts we could have ! I highly recommend this place !
Guillaume
October 2015
This cottage was absolutely perfect! Privacy level is optimal because as stated in the listing it is located at the end of a private drive. The lake was gorgeous and quite and the cottage itself had all the amenities necessary for a getaway full of relaxation and comfort! We also loved how well kept the property was and how clean the cottage was kept by hosts Pat and John :)
Kaylee
May 2016
Art des Zimmers
Ganze Unterkunft
---
Art der Unterkunft
---
Unterkunft für
8
---
Schlafzimmer
2
North Bay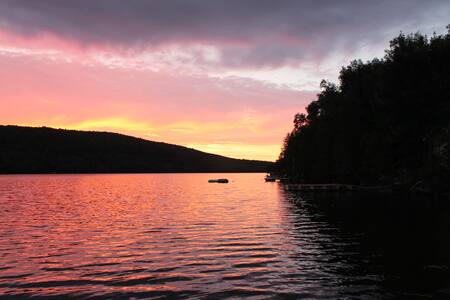 Rustic real cottage experience with all the amenities. Sandy beach on clear blue Trout Lake.
A true cottage in every sense. This 2 bedroom property, is nestled among mature pine and cedar trees. Southern exposure on the main bay of beautiful Trout Lake ensures full sun throughout the day. Sunbathe on the deck until it's time to jump in the lake to cool off and stretch out on the ample dock to dry. Spectacular panoramic views up and down the lake. Sandy beach with no weeds. Ample kitchen supplies such as dishes, pots and pans are available for you to cook up a storm. There are numerous mountain bike and hiking trails in the area. Trout Lake's famous Camp Island and Turtle Lake are great adventures in a boat. Canoe and Kyak rentals are available upon request. Please contact us if you are interested in adding it to your rental. Please bring your own bedding and towels. Entire cottage Contact with host is available
Quiet residential area This is a small rustic cottage with the comforts of home.
Patricia and John are such nice people, welcoming and very accommodating, was a pleasure to meet them! The place was a piece of paradise, the patio is very nicely arranged, the dock big enough to have morning coffees and spend afternoons reading there with the beautiful view on the lake and the fire bond outside was furnished with lots of wood and it has big stairs to sit on warmed by the flames to watch the moon over the lake. The house has all you need, so much charm and character and again such a great view on the lake and trees through a huuge window. The barbecue on the patio was perfect too! Neighbors are there but honestly with the trees around it's almost seamless - however we met one neighbors and they were very nice. The little trails behind the house are so convenient too and Patricia and John arranged for us for kayaks so that it was totally effortless to go kayaking from the dock of the house thanks to them... How amazing?! Town is not far at all if you need anything, there is a little market that Patricia told us about and that we enjoyed. Overall couldn't be more satisfied!
Camille
June 2016
Pat and John (Mr. Roper) were amazing! Very responsive and provided us with anything that we required. Kitchen was well stocked with everything you can think of. Cottage was cool with fans provided. ALWAYS hot water which was wonderful after a long day on the dock. Easy water access via stairs. A bit of steep decline to get down to the cottage from the car, however it was manageable. Neighbours were super quiet and didn't hear anything from them. Literally 10 minutes into town and 5 to a great chip truck - close to the mall for supplies and the beer store. We loved our stay and am very sad that we had to leave after 2 weeks of enjoying the cottage. xo PS. The chipmunks are super chummy!
Jennifer
August 2016
Art des Zimmers
Ganze Unterkunft
---
Art der Unterkunft
---
Unterkunft für
4
---
Schlafzimmer
2
North Bay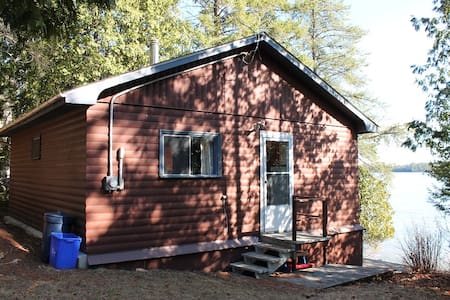 1

–

10

von

10 Blockhütten