Gib deine Reisedaten ein, um den Gesamtpreis pro Nacht zu sehen.
Spacious loft apartment in a forest canopy surrounded with Ohia trees and wildlife and with ocean views. Close to beaches, forests and hiking trails, the loft is perfect for families or groups who love nature or who want a fun or restful holiday.
Our spacious loft apartment offers ample space for a family or group of up to four, with a huge open plan living area and terrace, two bedrooms, two bathrooms and plentiful storage space. In the heart of a forest, and surrounded only by trees and nature, the apartment is very peaceful and quiet. With large windows throughout the apartment, guests can enjoy stunning views of the forest and ocean and be close to nature at all times. The light and airy living and dining area offers a great space for socializing, playing or relaxing, with a dining table and chairs for up to four and lounge area with comfy sofa and antique chairs. Large sliding glass doors lead to a huge terrace where guests can relax on outdoor furniture and listen to the sounds of nature and take in the ocean views. The fully-equipped kitchen offers everything needed for cooking and dining, with a microwave, hob cooker, blender and all cutlery and cooking utensils. The two bedrooms are warm and comfortable with wooden furniture and double beds. We are happy for guests to bring pets. Climatisation is only in one bedroom, the one with the full bed. The futon on the Lanai can be used for additional visitors. Mahalo
Close to nature reserves, beaches, forests and hiking trails, our loft apartment is ideal for nature lovers or fans of the outdoors!. With many fun and interesting activities and sights close by, all ages are certain to be entertained. You can drive easily to see an active volcano, visit a coffee farm and learn about the area's history of coffee making, or snorkel in the crystal-clear waters of Kealakekua Bay and see dolphins, turtles and tropical fish
Nicholas nous a accueillis de façon très chaleureuse et sympathique. Sa maison est très belle, spacieuse et très propre. Sa terrasse donnant vue sur la mer et sur les arbres est magique. Nous serions bien restés chez lui plus longtemps. Un très bon rapport qualité/prix. Je conseille vivement ce logement. Merci encore à lui. Delphine
DELPHINE
August 2015
I was happy to see that Nicolas had cancelled the upcoming reservations as the property is in serious need of TLC. It is always hard to be an absentee landlord, and that problem clearly is exacerbated by the isolation and climate of this location. The home is spacious and fairly well equipped, but it needs deep cleaning, electrical work and a new front slider, at the very least.
Mandy
May 2016
This was such a great place to stay. It was very peaceful and quite to relax and not too far any towns. There was always water for when we ran out and fresh fruit all around.
Heidi
July 2016
We had a really great time staying here. The couple that takes care of the house and who we directly interacted with were especially helpful in making our stay comfortable and were always available if we needed something, while giving us our space and privacy. The location was great for accessing everything along the coast and the views of the ocean and jungle are gorgeous. We would definitely recommend this place to others.
James
November 2016
Nicholas was very nice and helpful in every messages we shared. The appartement was very nice, clean, with everything we needed, full equiped kitchen, washing machin and two bathroom, very nice when you are 4 adultes. The wiev from the house was wonderfull. It was perfect and we hightly recommand this loft. Thank you Nicholas
Tania
January 2016
Nicholas was a very nice and kind host. His place is spacious and in a pretty location. So much charm.
Jakub
November 2015
This was a lovely place to stay! Spacious home with a tons of natural light and a large deck to enjoy the fresh air. I had no trouble finding it, just look for the numbered mailbox on the side of the highway. I didn't have a chance to meet Nicholas in person, but he answered all our questions and fulfilled all our expectations as a host.
Adrian
December 2015
Nicholas was a great host, all communication was friendly, clear and very prompt. The property was great; it was clean, spacious and the amenities listed were accurate. If anything, it was better than advertised. For city folks, they might find it a bit rustic, and traffic in Hawaii travels much slower than on the mainland, so it takes a little time to get back and forth from town. But for people like me, these are more positives than negatives. I vacation to get away from it all, and tend to avoid major resorts and touristy areas. I will certainly recommend this property very highly to any of my friends and family that are thinking of vacationing on the Big Island. Definite five star experience.
John
May 2016
Art des Zimmers
Ganze Unterkunft
---
Objekttyp
Loft
---
Unterkunft für
6
---
Schlafzimmer
2
Captain Cook
Spacious redwood & cedar studio loft conveniently located in Hawi Town with private entrance, private outdoor patio & private hot tub spa, surrounded by organic bamboos, palm and fruit trees.
This exquisite cedar and redwood loft is surrounded by organic bamboos, palm trees and fruit trees. Separate from the main house with its own private entrance, private outdoor patio dining area and private hot tub spa. It features a very spacious 600 s.f. solid oak hardwood floor with high ceiling and a loft sleeping area, and it can accommodate up to 4 people ( Perfect for two adults and two children or three adults). A perfect location right down the road from Hawi Coffee Mill, Bamboo and Sushi Rock restaurants and just a short drive to most beautiful white beaches Hapuna Beach and gorgeous Kauna'oa Beach. The Loft is completely insulated with double walls and double pane storm windows for noise suppression and safety. Eight high ceiling surrounding windows and dual fans are designed to provide natural air conditioning. The bed downstairs has a queen size Posturepedic mattress. The loft upstairs also has a queen size bed. There is a low carbon foot print kitchen with granite counter and energy saving appliances. The kitchen features an encased refrigerator for optimum quietness, an energy efficient radiant cooktop, a convection toaster oven and a microwave. A Weber BBQ is located outside in the patio for your convenience. The towels and linen are first rate 100% cotton; the washer and dryer are modern, high-end and efficient; the dishes, flatware, kitchen utensils, cookware, and appliances are complete, making meal preparation easy; a blow dryer, beach gear, iron/ironing board and more are provided! The Cedar House Loft is extra clean and furnished with an antique armoire, a couch, comfortable beds and a breakfast bar. The layout is well designed to provide maximum light, ventilation, storage, openness and privacy. Free WiFi, A smart SONY TV with Pandora music, Free Netflix and Amazon Prime time movies are provided. A drip coffee machine, a French press, tea kettle, blender and filtered water are provided. The kitchen is equipped with all your basic cooking and service needs. Complimentary Kona coffee, organic soap, shampoo and body lotion available. Beach accessories, boogie board, beach chairs, umbrella, cooler and towels are also available for guest use. Sorry, no wheelchair access. We respect our guests privacy but we are available in case of emergency and to answer questions, give directions and tips to local sites and restaurants if needed. Have a great stay! Aloha.
Hawi Town is located on the north shore of the Big Island of Hawaii between heaven and earth. This is the most historical place in Hawaii facing the island of Maui with moderate weather and soothing trade winds. Hawi Town has great restaurants and boutique shops which showcase local artists creations. Scenic sites close by include famous Pololu valley with spectacular views of the Big Island's north coast and black sands beach, with great hiking trails.. King Kamehameha the Great's birth place and the Mo'okini Heiau oldest Hawaiian temple along the coastline with gorgeous hikes and views of Maui Haleakala volcano. Go for an amazing snorkel at Mahukona and explore the coral reef 10 minutes away, snorkel or scuba dive with turtles in Puako , swim with wild spinner dolphins in Ho'okena, watch the whales crossing the Maui channel just a few miles away (between December and April), go for the boogie boarding of a life time at Hawaii's most beautiful Hapuna Beach nearby or leisure on the beach like a Rockefeller for free at the most magnificent 5 stars Mauna Kea beach hotel 20 minutes away. And if this not enough, hike to the magnificent 1600 feet high Hi'ilawe falls in Waipio valley of the kings. Aloha Nui. A regular rental car will get you to most places. But the best way to explore the Big Island from Waipio Valley to the top of the Mauna Kea Volcano is to rent a Four Wheel Drive. There is public transportation but the schedules are limited. Hawaii Occupancy Tax of 9.25% and Sales Excise Tax of 4 % are included. A $85 cleaning fee is added to your bill. The Cedar House Loft is insured by Tudor Insurance and Lloyds of London up to a $1.000.000 in liability and property damages. Hawaii Tax ID W38764682-01 Since 2003.
Die Cedar-House Loft ist sehr schön und wir fanden sie sehr sauber vor. Jon hat sich gut um uns gekümmert und mit Tipps zur Umgebung versorgt. Die neuen Strandutensilien haben wir sehr geschätzt.
Sven
September 2015
Jan and Jon are kind and intelligent people. Their consideration for their guests is reflected in the amenities they provide - the towels and linen are first rate; the washer and dryer are modern, high-end and efficient; the dishes, flatware, kitchen utensils, cookware, and appliances are complete, making meal preparation easy; a blow dryer, beach gear, iron/ironing board and more are provided - they've thought of everything! The Beautiful Cedar House Loft is meticulously clean and furnished with a lovely amoire, couch, entertainment center (smart tv with accesss to Netflix), very comfortable beds and a breakfast bar. The layout is well designed to provide maximum light, ventilation, storage, openness and privacy. The location - rural, yet only a 10 minute walk to the center of Hawi - is ideal for visits to the northeastern, northern and western areas and coast of the Big Island. Groceries, great restaurants, galleries/shops, hiking, beaches, spectacular views and historic sites are close at hand. The stars in the night sky viewed from the backyard on a clear night are incredible! Both Jan and Jon have detailed knowledge of the area's best attractions, how to get there and when to go. They are diligent, quiet people who are nearby when needed and excellent to communicate with! Pleasant and genuine, we found them to be ideal hosts. Their description of the accommodations and conditions is accurate. We found our visit to be a remarkable experience and value - we look forward to returning.
Marcia
January 2015
This is the perfect place to stay in Hawi. Private, clean, with every amenity we would need, very central location, quiet. We didnt even have to research the best things to see or hike. Jon and Jan have already done that for us and explored all the surroundings. Their knowledge of the area is very descriptive. We really enjoyed the waterfall. Thank you.
Liliana
March 2015
The cedar loft was a perfect place to start our big island vacation! Spacious with good size kitchen & the washer/dryer was helpful after many trips to the beach. Jan and Jon were gracious hosts and clued us in on some great places to eat and adventure in Hawi!
Teresa
November 2015
My husband and I enjoyed our stay at Jon and Jan's house. Jon welcomed us with a nice tour of the property, he went out of his way to make sure we were comfortable. We loved every minute of it! We hope to come back someday! Thank you so very much, Jon and Jan!
Alla
June 2016
The Cedar House Loft is a perfect little vacation retreat. It is very clean and bright. Definitely would stay there again.
Hannah
December 2015
Jon and Jan's place was great! The bed was super comfortable and our daughter loved the loft. The kitchen had everything we needed. We also were able to use the hosts' beach equipment. We appreciated the host's tips for sightseeing and ideas for excursions. The location is very convenient and easy to find. Thank you Jon and Jan!
Daniela
January 2016
Cedar House was perfect for four adults. My daughter and her husband slept in the loft and my daughter commented that she had the best view and could see the ocean from her window. My husband slept on the comfortable double bed, and I used the sleeper sofa. Comfortable, very clean, and well stocked, Jan and Jon were very friendly and helpful. After catching a 5 foot Ono we asked about a BBQ and Jon brought theirs over for us to use. We were even able to use Cedar House as a base for visiting with my cousin and her 9 month old baby who lives in Hawi. Thanks for an awesome stay!
Ramona
July 2015
Art des Zimmers
Ganze Unterkunft
---
Objekttyp
Loft
---
Unterkunft für
4
---
Schlafzimmer
1
North Kohala, Hawi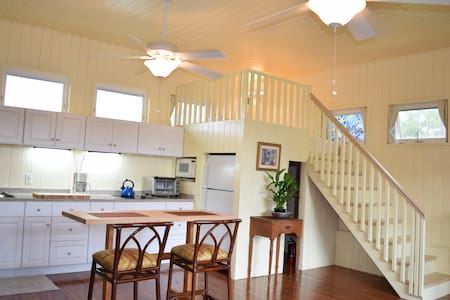 Quiet, adorable artist loft inspires romance & adventure. The property is tropical with beautiful ocean views. Hear the trees whispering of water. Unpaved road is easy to drive in any rental car. You will absolutely love it & never want to leave.
We were blown away by this place! So wonderful! The home came equipped with everything we needed and though we were content, I knew that Monique was available if anything else came up. Sunrises and starry skies await you in this adorable, quant home! We left feeling a longing for not only the island, but that peaceful place. Thank you for opening your home! It was just the perfect medicine to help us rejuvenate from our crazy lives! Jessica
Jessica
March 2016
Had a fantastic relaxing stay in monique's cottage. Monique was very easy to get a hold of and was very pleasant to work with. If your looking for off the beaten path, total relaxation, and to get away from the day to day routine this is the place. You get welcomed with the true aloha spirit from the neighbors and from the people working in the town. Beautiful ocean view and sunrises to singing birds in the evening this is the place to relax. Doug & Cathy
Cathleen
December 2015
Magical! Romantic and secluded are the perfect words to describe this lovely house. Very secluded and peaceful; an amazing escape. Beautifully decorated, very functional. We loved cooking our meals at home, and stargazing from the balcony. Yummy lemons from the tree out back. As Monique says, definitely get 4WD if you can. It's possible to park at the top of the short driveway if you don't trust your vehicle, but you need high clearance for the dirt road leading to it. If you're looking for a relaxed getaway, this is perfect! If you want nightlife or easy access to Kona/Kohala beaches, it's an hour and a half or longer drive. Easy access to the volcano and beautiful hiking there, though! The neighborhood is really sweet - fun local coffee places and farms, mac nut and honey, and we loved going to Shaka, Punalu'u Bakery and Hana Hou in Naalehu.
Denise
December 2016
We had a lovely 3-night stay at Monique's loft. It was quite comfortable, and it was nice to be able to cook while on vacation. We especially enjoyed the mandarin and lemon trees, and made delicious lemonade from the drops (and we happy to have a compost bin to put the rinds in). It was so peaceful to be able to wake up each morning and watch the sun rise from the lanai. Great location to access Green Sands, Black Sands, South Point, Volcanoes NP, and Punalu'u Bake Shop. Our only "fault" with the house was that Monique encouraged 4WD, but didn't make mention that the house was within a neighborhood of rutted dirt roads with no street signs. Had our GPS died or had we arrived at night, we would've been in trouble! As long as you know you need a car with good clearance, GPS, and to arrive the first time during the day, you will love your stay, too.
Jennifer
February 2016
Although Monique was not there in person to receive us due to travelling herself, she gave us all the information per phone, text message and AirBnB-mail, and left us the details of her house manager for if we would ever need anything. We felt very welcome and the house is absolutely fabulous ! As we there for a longer period for work in the region, we needed a house in which we could both live and work and Monique's house provided both for us splendidly. The lemon trees in the garden, providing fresh lemons and the view on the Pacific Ocean from the lanai/balcony are just the perfect cherry on an otherwise already fabulous cake !
Francesc
March 2016
Cozy yet spacious, in a green setting. The place feels very private. Super easy checkin & out process. Definitely a great spot if you are going to head to the green sand beach.
Leonora
December 2016
The host canceled this reservation 18 days before arrival. This is an automated posting.
wong
This is truly a spectacular place. If you are looking for a true getaway this is your spot. I feel that South Point is such a beautiful part of the island. The proximity to the Green Sand Beach is great as well as a well known black sand beach. You are not too far from Volcano National Park either. There is a wonderful farm up the street called Paradise Meadows that is a must visit. Best, best local coffee, mac nuts and honey on the entire island chain. The views from Monique's place are fantastic and you have everything you need in this adorable little home. I felt very comfortable. I will warn that you should have an all wheel drive vehicle. It can a little tricky to find if you come in at night time, but once you get there you will have it down. Monique was constantly in contact to make sure I was comfortable and found the house at night. She is a great communicator and I was so busy that I didn't respond to her as much as I would have liked, but despite my silence at times she made sure everything was takeN care of. It is so peaceful at the house. The sounds at night, incredible sunrise and quiet/secluded settings will make you feel at peace. I highly recommend this place if you are going to stay or visit in the Southern parts of the island which are real gems.
Jason
November 2016
Art des Zimmers
Ganze Unterkunft
---
Objekttyp
Loft
---
Unterkunft für
4
---
Schlafzimmer
1
Naalehu