Beautiful setting - the views are stunning! Frank and Berna made us feel very welcome. Would definitely recommend.
jenny
2016-07-04T00:00:00Z
Francis was a pleasure to communicate with and their place is magical. We were delighted to stay at Herakleia on the first days of our honeymoon. it is a stunning place with a warm feeling, and an amazing view! We were met with smiles and homemade dishes by the friendly "staff", and left wishing we could stay another day. Would definitely visit again. Thank you Francis, family and friends.
Katja
2015-09-04T00:00:00Z
An amazing setting up in the hills with fantastic views of the surrounding hillsides and sea. Nice breezes and large cypress trees keeping it cool. The stone buildings and interior decor are top notch. Can't imagine a better setting in the area. I'll be back!
Allan
2015-07-03T00:00:00Z
Frank is simply a great host, he melts together American practicality, Italian taste and Turkish hospitality. we spent a great week in the peninsula mostly thanks to his, and his wife's, directions to beaches and restaurants. The house is a hidden treasure where you'll feel at peace (Aegean version of "A Good year"). Finally, don't miss out on the fig jam!!
Andrea
2015-08-14T00:00:00Z
What a spectacular place. Frank, and his home, are absolutely wonderful. We'd go back a a minute! The towns nearby are great too.
Riley
2015-09-11T00:00:00Z
We had an amazing weekend in February at Herakleia thanks to our great hosts Frank & Berna. The place is away from the busy parts of Bodrum but still easy to reach. It has an amazing view in a very peaceful setting among the trees and very nicely detailed decoration. Our room was very comfortable and we liked every detail in decoration. Our breakfast and dinner with Frank and Berna was amazing. We enjoyed both the food and their conversation a lot. Frank lived in many different countries for years, so we were very interested to hear his stories. I recommend this place for everyone who wants a peaceful escape.
Omer
2016-02-14T00:00:00Z
We were so happy we booked a stay at Bodrum Retreat. We are normally budget travelers and rarely feel like spending more is worth it. That was not the case here. We felt like it was totally worth it and we're so glad we did. The listing description was accurate. The experience was high above our expectations. There was a lot of information that was good to know before hand. This property is in the country and having a car is essential. It is about 20 minutes outside of Bodrum with gorgeous views. A property this remote may be troublesome in regards to food/services. That was not the case here. The owners are on sight and happy to help in any way. We paid extra to get breakfast and it was amazing. That being said, we were given all the privacy we desired. The room and structures in general are beautiful with exquisite attention to detail and eclectic collectors items everywhere. Our hosts were fantastic, we really enjoyed chatting with them. They went out of their way to make my baby comfortable, as well as the rest of us. GREAT experience. I recommend it to those looking for a unique Turkish country experience.
Marissa
2016-01-06T00:00:00Z
This was an awesome place to stay!!! Frank was a pleasant and generous host. It is a peaceful, picturesque location and close to Yalikavak and Gundogan where there are plenty of shops and restaurants. Wished we could have stayed here longer, just amazing!!!
Robert
2015-10-12T00:00:00Z
Art der Unterkunft
Ganze Unterkunft
---
Objekttyp
Loft
---
Unterkunft für
3
---
Schlafzimmer
Bodrum, Mugla, Türkei
15 Minuten zu Fuß vom Zentrum von Bodrum, Bardakci Top Bodrum Marina Blick, Wohnungen. Klimaanlage, Warmwasser, Stromkosten über Aufenthalte kaloriferlidir.20 Tag gehört dem Benutzer. Bardakci und Gumbet 5 Minuten zu Fuß zu setzen. Der öffentliche Verkehr ist auf dem Weg. Die Gäste können auch auf den Pool nehmen.
Schöne Aussicht auf Bodrum
Thanks for this days in your flat) IT WAS THE BEST DAYS IN BODRUM!!!)) VIEW FROM THE TERRACE WAS AMAZING)) Flat was very cozy and comfortable, and near from city center)) GOOD PLACE to live with family and relax in GREAT BODRUM))
Sasha
2016-05-10T00:00:00Z
We LOVED our stay in Bodrum! Ayca was a wonderful hostess, so welcoming and helpful. She came to check on us multiple times, as well as another sweet woman. The apartment is clean, bright, and very comfortable. The view was AMAZING! Thanks for everything.
Amanda
2016-02-01T00:00:00Z
Art der Unterkunft
Ganze Unterkunft
---
Objekttyp
Loft
---
Unterkunft für
3
---
Schlafzimmer
Bodrum, Mugla, Türkei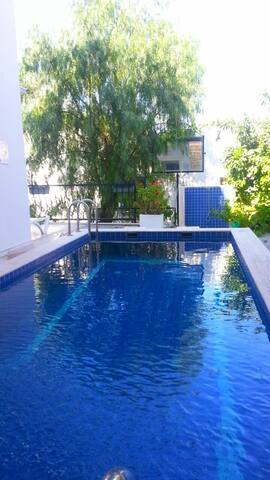 While there are beautiful hotels in the area, Bodrum Retreat is a unique experience. Although you are only 5 minutes away from mainstream Bodrum Peninsula, you are in a different world. You find yourself high above the sea looking at life far below.
IMPRESSIONS Bodrum Retreat is the owners dream come true. The location is awesome and when you first arrive, it will take your breath away. The views are unparalleled and from the property you can see from Yalikavak Marina to the west, Samos Island in Greece, 45km away north and Gundogan to the east. While we have 3 suites for rental, we are definitely not like a hotel and in no way do we resemble anything else but a very private home. If you decide to come, without any prompting, you will immediately feel at ease. The location is marked by twenty, 75 year old Italian cypress trees in which the birds sing and rare squirrels have their early morning breakfast. Days are balmy, generally breezy and at least 5 degrees C. cooler than what you see below near the sea. Evenings are perfect for outside dining and the sunsets are always different and magnificent. One of the highest points on the Bodrum peninsula, this hand crafted stone house affords magnificent views of the Turkish coast as well as the Greek Islands from Kalymnos to Samos. Interior furnished by noted decorator. One of the most unique and beautiful Aegean properties you will find. Surrounded by mandarin, almond, fruit trees and grapes. Private herb and vegetable gardens. Extensive natural stone patios. Swimming pool / dining / entertainment area with unobstructed views of the sea and hills. A private setting in a magical part of Bodrum. The suites are also ideal for Fall, Winter and Spring visits to Bodrum as, in those seasons, heating is included in the pricing and warm bedding duvets provide exceptional comfort. Most restaurants have fireplaces and without crowds of tourists, the cuisine is at its best. Scores of historical sites are uniquely yours for the day. Flights from NY, and European counties are at their lowest and Bodrum is just a 55 minute flight from exciting Istanbul. We think Bodrum, out of season, is truly the best kept secret in the Aegean region. This farm house, consisting of 2 floors, with separate entrances, was built years ago by master stone builders. 50 cm. thick walls. Windows are antique, carved, latticed wood, circa Ottoman Empire 1850. One can rent the top floor, called Labranda, or, the ground floor, called Herakleia, or book the entire house. The 3rd suite, named Iassus, is located 50 meters away from the farmhouse. It is private and somewhat larger than the other two suites and opens onto a small private rose garden. The views are exceptional. All of the suites are perfect for couples, or an extended family, if one decides to book more than one suite. Each year, we have several requests to book all three suites for family and/or close friends. We have 2 suites described below. Herakleia and Labranda. Both make up one stone house but with separate entrances. Since they both have different prices, you simply need to ask me for a quote for the dates you wish to come. I can rent one or two or all three suites. The third suite is Iassus and is located 50 meters from the other two.That is why I have an explanation about all on this page HERAKLEIA Residence: (Ground floor) One enters the Herakleia residence via a 19C Ottoman door, from the extensive stone patio surrounding the house. There is also a three meter wide sliding door (with screen) that opens to the courtyard. Facing the sliding door, on the patio, is an enchanting small decorative Ottoman marble pool, now transformed into a planter. Double queen bed in Japanese tatami style, with orthopedic mattress, is tucked into a Roman alcove within the room. Flat screen TV, DVD, satellite TV, International and local channels and Wi-Fi. Wood, antique dining table and chairs for eating in the room. Reading sofa and antique lounge chair. Antique cabinet for clothes storage. Unique, Ottoman style kitchenette includes all necessary tableware and cooking accessories. Undercounter fridge, electrical grill, Microwave, gas stove, etc. Bathroom equipped with 19th C. Ottoman marble sink and rain shower. LABRANDA Residence (second floor) One enters the loft style residence via stone stairs from the extensive stone patio surrounding the house. The East facing wall, has small triangle, colored glass windows, that play the effects of the morning sun on the interior walls in a pleasing moving display. Double queen bed. Flat screen TV, DVD, satellite TV, international and local channels and Wi-Fi. Antique ebony 19th C.wood dining table and antique coffee shop chairs for eating in the room. Antique lounge chair. Antique 19th C Korean dressing cabinet for clothes storage. Traditional antique pine reproduction of an Aegean kitchenette. All necessary tableware and cooking accessories. Under counter fridge, grill, gas stove, etc. Bathroom equipped with 19th C. Ottoman marble sink and rain shower. IASSUS residence This cottage was built years ago by master stone builders. 50 cm thick walls. The cottage has, in addition, a large natural pine wood and glass room that lets in good natural light for dining or just reading a book. The view from this room is North and West which is the direction of the surrounding countryside, the Aegean and the Greek Islands. On a clear day you can see Samos Island in Greece. Immediately below the cottage is a large field of lavender. The intimate outside dining area hosts a dining table and all around, is rose garden. This house is perfect for a couple (we have had families of 3 and 4 stay here) or joined with Herakleia and Labranda, presents an opportunity for a large family reunion. It is the largest of the 3 suites. The Iassus residence is quite private. One enters the residence via an antique, Bodrum, pine carved door, from the extensive stone patio surrounding the house. Through this door, one enters the pine wood/glass room. This room is made from recycled, accordion style, pine wood doors mounted with clear glass in the upper half of each door. There is good light in this room. Antique early 20th C. rosewood dining table with 2 antique rosewood chairs on one side and a 19th C. Rajastani takat lounge bed, fitted with soft billowy pillows on the other side. Overhead fan and a large original, trompe l'oeil painting from Goa, complete the picture. The north side, has an antique lounge chair and reading lamp. All doors open to the North or to the West, which also harbors a small intimate rose garden and a Japanese oak dining table made from a hot tub circa 1850. At the south end of this, all weather, room and up 2 stone steps, one enters the loft style stone cottage residence. To the left of the entry door is the pine wood and tiled kitchen. The kitchen is large when compared to the size of the residence. All necessary tableware and cooking accessories are in place. Midsize fridge, toaster, grill, 4 burner gas stove, electrical oven, etc. Good lighting and antique food art prints. A delight for food people. To the right of the entry door, is the lounging couch then a queen bed, both of which face the flat screen TV. DVD, satellite TV, international and local channels and Wi-Fi. Original artwork throughout. Lastly, a delightfully modern bathroom equipped with rain shower. Wonderful original 19th C. lithographs of old Istanbul and an old map of Turkey decorate the walls. House is furnished with top quality furnishings and antiques. All of the above residences are the perfect family getaway, or join many couples who have booked with us for their honeymoon. We can host small wedding parties or reunions, complete with catering, for up to 50 persons. When available, all suites can be booked. Truly, a romantic and magic area The pool, 30 meters from the house, is Balinese in style and is surrounded by a small mandarin orange orchard. Pool is a salt water pool and shared by the 3 suites. Typically, it is not used all the time, as guests tend to travel to markets and historical sites during their stay. Quality teak chaise lounge, stone tables, etc., strategically placed throughout the area. There are a number of spots for dining outside on this large 5000 meter property (approx. 50, 000 sq. ft.). The owner's stone house is also on the property. The view from the villa is north-west, looking over volcanic rock shapes and catacombs in the valley, the new, spectacular, Yalikavak Marina to the west and then 180 degree, unobstructed, views out to the Greek islands. There are many walking trails in the area. The village of Yalikavak offers shops and a large selection of restaurants along the water's edge. There is a fantastic selection of shops and cafes at the international marina. Sailboats and windsurf can be rented. 10 - 20 minutes takes you to neighboring villages and 20 minutes to the lively town of Bodrum. Ephesus is a two hour drive and the ancient Mausoleum of Halikarnas and Castle of St. Peter are both in Bodrum City. SPECIAL FOOD OPTIONS- for discussion Breakfast Dinner CAR HIRE- Economical car hire with airport pick up can be arranged. BOAT TRIPS- We also associate with exceptionally honest and trustworthy wooden boat gulet owners. We can help you organize one day or week long trips with confidence. Owner has extensive knowledge of the local area, as well as Turkey wide, for sightseeing, gourmet dining, etc. The harvest from the owner's vineyard, 300 meters below the house, begins around last week of August. PLEASE CONTACT US FOR INFORMATION ABOUT OUR SMALL COTTAGE ON OUR VINEYARD AND OUR LOVELY VILLAGE HOUSE, BOTH ECONOMICAL OPTIONS, VERY NEAR THIS PROPERTY. If you have any questions or would like to receive additional photographs, we have established a number for you to call from USA. ((PHONE NUMBER HIDDEN)). Emails will be answered promptly. Keywords: Farm House residence, summer, fall, winter, spring, blue cruise, boat, car rental, gourmet, retreat, cool,
The area, where we are, is still old Turkey. Farms, rural areas, old tea shops and farmers markets. It is a 1 km dirt road from where we are, to the nearest village.
there are not much words to say - it's like a dream coming true ! absolutely recommendable, Frank & Berna were great hosts. We will come back! =)
Pascale
2013-08-25T00:00:00Z
Beautiful property, close to everything in Bodrum. Highly recommended.
Jessica
2015-08-22T00:00:00Z
Absolutely amazing. Frank and Berna have been amazing hosts throughout my stay - and that means in every sense. They're always approachable and welcoming and God knows their coffee tastes delicious. The place was exactly what I expected to find looking at the pictures, if not better. It is really close to anywhere worth being thus giving you the perk of having the option to either have a relaxing day at home looking at the stunning view or taking a short trip to Turkbuku or Yalikavak to "jam" at a variety of different places offering happy hour music. Overall, my trip has been extremely joyous and I feel lucky to have chosen Frank and Berna's place to stay.
Cem
2016-09-18T00:00:00Z
Stunning accommodation and location, and perfect hosts - such an amazing place to stay! The location is fantastic – the tag line of 'in the clouds looking at the Aegean' is spot on! The property is located up in the hills, above a village, with stunning views down to the sea and the islands (including distant Greek ones) beyond. The sunsets are extraordinary. Because it's up in the hills there's a good chance of seeing some interesting wildlife - we saw wild boar on the road up to the property a few times, plus birds of prey, an owl, a marten etc. The accommodation is beautiful. Superbly designed, in a traditional style, it was a source of constant visual delight during our stay – handsome stone buildings, set around a terrace and courtyards; the fabulous stone plunge pool - swimming in which makes you feel like a well-to-do Roman; and the exceptionally well designed courtyards and gardens, full of antique amphorae etc; the beautiful brick vaulted ceiling and antique wooden shutters in the bedroom. Not surprising to see that it featured in an interior design magazine. It will be inspiring some home-and-garden improvements back home! And Frank and his wife Berna are the most wonderful hosts. Lovely people and great fun! If you like food, they can recommend you a huge range of restaurants, for breakfast lunch or dinner (and rang and booked for us) – and their recommendations were always spot on! Frank (originally from the US, but a long time resident of Turkey) set up a local slow food organisation in his free time, and makes his own excellent wine from his own vineyard, as well as the most amazing herb liqueurs, and Berna (Turkish, with perfect English) is a wonderful cook and former restaurateur, so they know what they are talking about. Nothing was too much trouble for them. They have two very helpful live-in staff, a husband and wife team, who can do laundry etc. Frank and Brena organised a boat trip on one day, in a lovely traditional Turkish sailing boat – swimming in little coves, delicious lunch of fish and seafood caught by the crew; and Berna cooked a fabulous Turkish meal on another evening. A real privilege to be their guests for an all-too-short week. It was so lovely being there that we hardly left the place during our week there - and certainly didn't want to leave at the end!
ciara
2014-08-25T00:00:00Z
Frank is the example of a prime Airbnb host. He is very responsive and overly helpful in all of our communication. He was very attentive and quick to answer with details making our arrival, stay and check-out very comfortable. His taste and eye for design is only part of his extraordinary personality. I could not recommend him enough. Very prompt in responding and very warm and welcoming when we arrived. His wife Berna is very friendly person and his daughter Amber is sweet and beatiful children Franks's house is one of the most beautiful spaces which I have ever seen; a traditional Bodrum stone house, superbly decorated and very comfortable. The place is exactly as described, probably better. Beautifully located, designed and spotlessly clean. We ended up checking a lot of activities and restaurants from his list. We loved our 5 days there and will definitely return one day. Five stars! Thank you Frank
ipek
2015-08-15T00:00:00Z
Frank, Berna, and their on-site colleagues were very helpful in accomodating our large family leading up to and during our week-long stay at Bodrum Retreat. The property sits atop Yalikavak in a small village called Gokçebel. We thought it would be more remote, but we were pleasantly surprised that by car you can reach most destinations in Yalikavak in about 5 minutes. The property itself is stunning and very quiet - surrounded by many fig, olive, and satsuma trees. The rooms are perfectly set up to never have to leave the property (aside from grocery shopping), if you wanted to. Due to the fact that the property consists of only 3 suites surrounding Frank's private home - and all sharing the same common areas - you are very much in close contact with the other guests. This can either be a good or a bad thing depending on who happens to be there at the same time as you. We did feel, at times, that we had overstayed our welcome being that we were a large family with 4 young children. All in all it was a very relaxing getaway on a beautiful property. Highly recommended.
Jessica
2015-08-27T00:00:00Z
Art der Unterkunft
Ganze Unterkunft
---
Objekttyp
Loft
---
Unterkunft für
2
---
Schlafzimmer
Gökçebel, Mugla, Türkei
Mekanım şuraya yakın: plaj, restoran ve lokanta, aile için etkinlikler ve toplu taşıma. Benim mekanımı şu yüzden seveceksiniz: mutfak, manzara, konum ve konfor. Yerim çiftler, yalnız maceralar, kurumsal seyahate çıkanlar, aileler (çocuklu), büyük gruplar ve tüylü dostlar (evcil hayvanlar) için uygundur.
Art der Unterkunft
Privatzimmer
---
Objekttyp
Loft
---
Unterkunft für
10
---
Schlafzimmer
Datça, Mugla, Türkei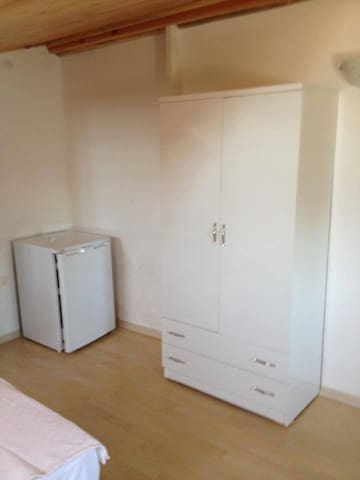 Our apartment is a family owned penthouse in Rose Garden Complex at the heart of Gulluk. You can reach shops, pubs and beaches by strolling through seaside in five minutes. The complex is a 7/24 guarded and quiet place with garden and pool.
Only walking distance to beach and Gulluk center with amazing views of Gulluk bay.
Very quiet neighboorhood with easy access to all amenities.
Art der Unterkunft
Ganze Unterkunft
---
Objekttyp
Loft
---
Unterkunft für
2
---
Schlafzimmer
Güllük Belediyesi, Mugla, Türkei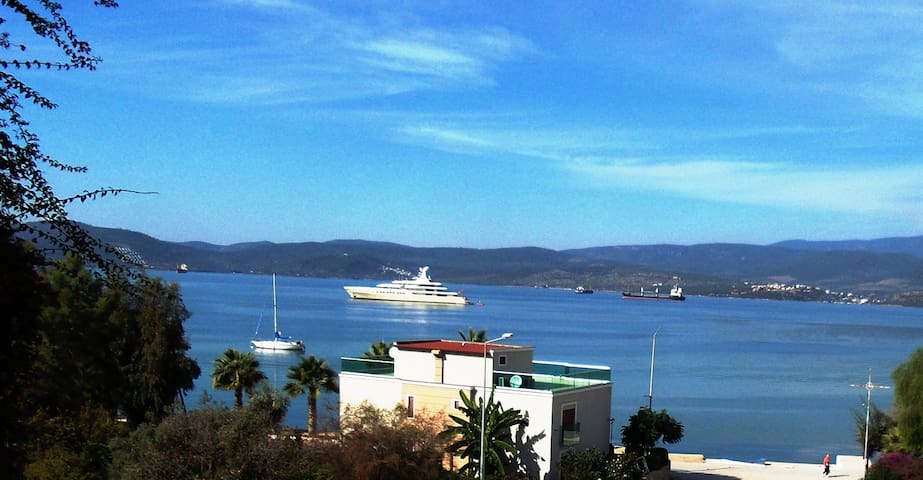 Gib deine Reisedaten ein, um den Gesamtpreis pro Nacht zu sehen.