Wonderful spot! The accomodation is clean, spacious and ideal for families. The views of the vineyard and surrounding hills are great especially at sunset. Aretha is a great host with substantial knowledge of the area and things to do. Highly recommended!
Grant
2016-09-18T00:00:00Z
Aretha was very accommodating and friendly to us all during our stay. We were very impressed by the clean and comfortable ammenities inside the villas.
Jennifer
2016-07-22T00:00:00Z
We loved staying at Aretha's place at Peak Crossing. The villa was beautiful, clean and spacious with a great layout. We loved the patio with table and chairs for meals and the gorgeous views of the vineyard and mountains. Aretha and Natalie were incredibly warm and accommodating hosts, and made us feel right at home. The wine from the vineyard was wonderful, and they had delicious ice cream made from the goats milk across the way for purchase too. A truly outstanding Airbnb experience: 10/10! I look forward to a future visit there.
Rebecca
2016-09-25T00:00:00Z
Nice spot, ideal for travelling around in the area. This is a very new place, so it lacks a bit of "character"
Joanna
2016-10-01T00:00:00Z
Comfortable, well appointed units in a picturesque vineyard setting. The units had full facilities- literally everything you could need for your stay. Aretha was a very friendly and helpful host. While local dining options are limited, the range of take away curries from the Peak Crossing service station were a great surprise, and delicious!!
Peter
2016-09-04T00:00:00Z
Very easy to deal with, very accommodating for our stay. Highly recommend.
Martine
2017-02-09T00:00:00Z
Host (Aretha) is very helpful. We booked three houses for two nights. We were given three houses next to each other. We all had a very good time. All the houses are reasonably new, reasonable rate and located in a very calm and quiet location. We will come back again.
Pushpa
2016-03-27T00:00:00Z
Great night away from Brisbane with family. Welcoming place and a home away from home.
Olly
2016-07-22T00:00:00Z
Art der Unterkunft
Ganze Unterkunft
---
Objekttyp
Villa
---
Unterkunft für
4
---
Schlafzimmer
Peak Crossing, Queensland, Australien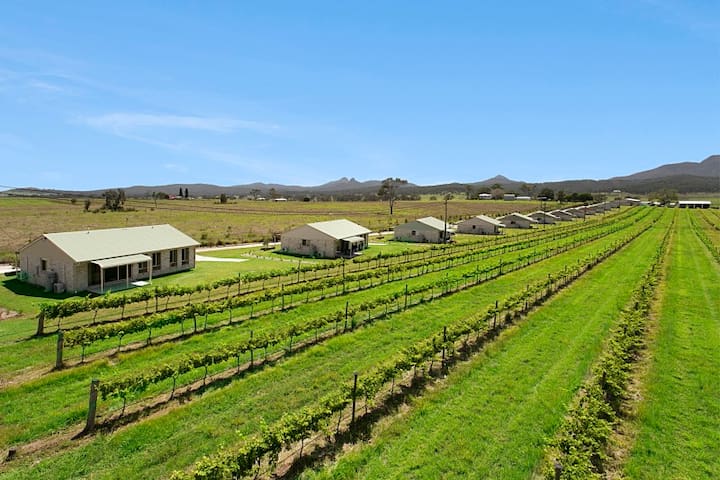 配套齐全的空调,2浴室卧室别墅,比任何人参观景区边缘提供了一个舒适的站。酒店距离BOONAH,柳岸或伊普斯威奇一个10-18分钟的车程。在几个不同的组合睡5。全尺寸的厨房有车库所有的设施,加上洗衣机。所有客房均享有。
We were stunned as soon as we turned in to the premises. And entering the lodging instantly demanded a 10/10. The Views: Amazing. I can only imagine how they would look when the vines turn green and start to produce fruit in warmer months. The Accommodation: Modern. Quiet. Very well set out. Everything you could possibly need including the little but oh-so-important touches like pegs, washing powder and tissues. I was surprised about the inclusion of an attached lock up garage. It all felt like the home that we wanted to have. Cleanliness: Absolutely spotless. Upkeep: Apart from one set of batteries, flawless. Host: Extremely friendly and accommodating. All in all, I can't recommend Aretha and her property enough. Should I be back this way again I'll have no hesitation to stay a second time.
Jason
2016-06-13T00:00:00Z
The units are very clean and we'll appointed. A lovely stay. Thank you
Faye
2017-04-09T00:00:00Z
Very quiet great place to stay. Our family of 4 enjoy our quiet time, the villa had all you need, very neat, clean and tidy. We would definitely stay again
Juan
2016-05-03T00:00:00Z
Such a lovely place to stay!!
Cyeanna
2017-03-26T00:00:00Z
Peaceful New & clean
Jane
2016-10-04T00:00:00Z
Amazing. Great service and the cabins had everything you expect and more. Great places to visit around the area
Brett
2016-06-27T00:00:00Z
I don't wont to tell anyone it's my secret
Sal
2017-01-15T00:00:00Z
Art der Unterkunft
Ganze Unterkunft
---
Objekttyp
Villa
---
Unterkunft für
4
---
Schlafzimmer
Peak Crossing, Queensland, Australien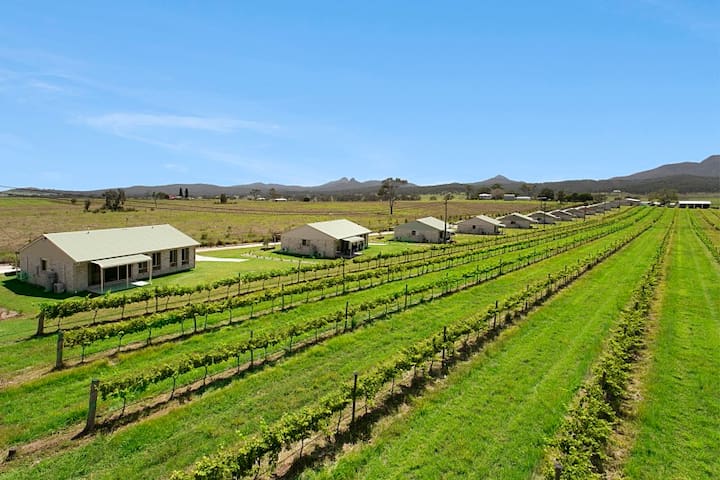 We had a wonderful stay. Aretha was so welcoming, friendly and helped us with anything we needed. Aretha accommodated us at the last minute. Our stay was lovely, relaxing and peaceful. Such a beautiful vineyard! We had the pleasure of watching the moon rise over the vineyard which was stunning! The unit could not be faulted.. It was like being at home
Kate
2017-02-12T00:00:00Z
A fantastic place to stay. Beautifully appointed with everything you could possibly need. There is a lot to taste at the cellar door and Aretha is an attentive yet relaxed host. This is our second visit and we can't wait to come back!
Tina
2017-03-11T00:00:00Z
Aretha was so welcoming and happy to help with any information about the local area. Units are very modern and have beautiful views of the vineyard. Great base to explore the scenic rim.
Jessica
2017-01-08T00:00:00Z
Brilliant, brilliant, brilliant- Aretha we had a lovely time, peaceful and tranquil with all the facilities. Your help and kindness was much appreciated. The area is so beautiful and the wines lovely. Hopefully, see you in a years time - already booked.
indira
2016-09-25T00:00:00Z
Very welcoming and warm
Rachael
2016-06-13T00:00:00Z
Great location, clean, very prompt service. Good wine too!!
White
2016-07-10T00:00:00Z
Such a beautiful getaway close to home. First time we've been able to bring our little pooch too and he had a blast the rooms were so clean too. Wasnt sure what to expect from a pet friendly location but i loved it. Well be back
Elle
2017-03-20T00:00:00Z
The communication was fast, friendly and efficient. The villa was perfect, clean and spacious. Even though close to main road it was incredibly quiet. Views were gorgeous.
Cher
2016-10-17T00:00:00Z
Art der Unterkunft
Ganze Unterkunft
---
Objekttyp
Villa
---
Unterkunft für
4
---
Schlafzimmer
Peak Crossing, Queensland, Australien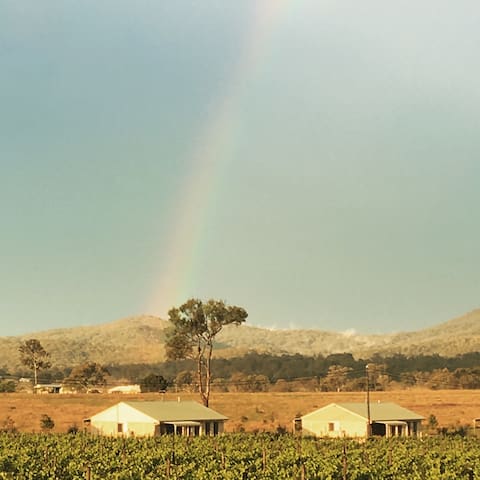 Nice setting and great amenities on the park.
Louise
2017-01-14T00:00:00Z
Art der Unterkunft
Ganze Unterkunft
---
Objekttyp
Villa
---
Unterkunft für
5
---
Schlafzimmer
Esk, Queensland, Australien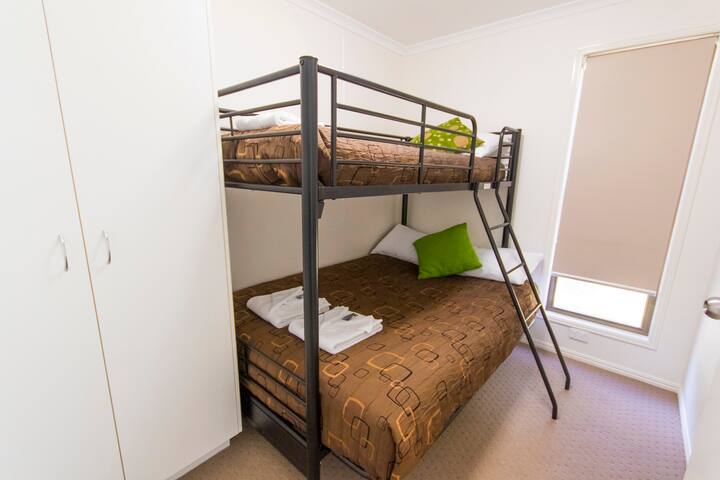 My partner and I really enjoyed our stay at Peak Crossing. The villa was new and spacious. Aretha was lovely and very organised. The wine tasting was definitely a highlight! It was a relaxing stay and I would definitely come back.
Julia
2016-07-25T00:00:00Z
Aretha made us very welcome and answered all our needs and questions in a warm approachable manner. Apart from traffic noise from the highway it is a lovely spot to be and very convenient to our needs. i wouldn't hesitate to return.
Ange
2016-09-25T00:00:00Z
The villa was as described on Airbnb and was very new, clean and well furnished. It was perfect for our weekend going to the country music (in Ipswich) and having this to come home to.
Trish
2016-03-13T00:00:00Z
Aretha was a great host, property and accommodation was very lovely. Plently of room, and all creature comforts of home in these cabins.
Melissa
2016-10-02T00:00:00Z
Had an absolutely amazing stay here in Ipswich. The room was as advertised - if not better. Aretha did all she could to make sure we felt comfortable & provided us with everything we needed for an enjoyable stay (even going to get us cooking oil - just because.) Would highly recommend staying here to anyone.
Steve
2016-02-21T00:00:00Z
Art der Unterkunft
Ganze Unterkunft
---
Objekttyp
Villa
---
Unterkunft für
4
---
Schlafzimmer
Peak Crossing, Queensland, Australien
Gib deine Reisedaten ein, um den Gesamtpreis pro Nacht zu sehen.