Gib dein Check-in-Datum im Format TT.MM.JJJJ ein
Gib dein Check-out-Datum im Format TT.MM.JJJJ ein
Inserate, die du buchen kannst, ohne auf eine Bestätigung des Gastgebers zu warten.
Gib deine Reisedaten ein, um den Gesamtpreis pro Nacht zu sehen.
Diesen Juli und August kannst du eine dieser 100 hervorragend bewerteten Unterkünfte aus jeder Preiskategorie ausprobieren, um Sonoma aus der Sicht eines Einheimischen kennenzulernen. Dank 24-Stunden-Check-in, Sofortbuchung sowie einheimischen Weinen und Snacks kannst du dich einfach zurücklehnen und deine Reise genießen.
Close to our beautiful Foreshore of Geelong, 10min walk. We offer a 1 bedroom self contained studio/Loft. The accommodation offers a queen size bed, split system for heating and cooling. Self serve continental breakfast or enjoy the local cafes, stroll down to Kilgour Street Cafe, or to Garden Street precinct in East Geelong. 10min walk to train South Geelong Station, Simonds Stadium and Geelong Hospital, 15min walk to Geelong Waterfront, Eastern Beach. Single trundle bed is also available.
The Upstairs Loft is an open plan area, comfortable with natural light, perfect retreat to get away, walk down to the Geelong foreshore or just have a cuppa in the garden. If you require extra bed we can sleep up to 3 with a trundle bed, porta bed/cot You can enjoy the pool table on the deck or peace and quite in the garden.
Lovely quite neighbourhood, within walking distance we have the Elephant and Castle great for a pub meal or a social drink with locals, they also have live music. Then looking for brunch if you like pop on up to Kilgour Street Grocer & Café. We are very close to the South Geelong station and bus terminal at South Geelong. Public bus travels past our door that heads into the city of Geelong or to Geelong railway station. Due to the location of, The Upstairs Loft it is located directly above our garage so there will be times when we leave you may hear the roller door.
Beautiful, spacious apartment in a great location. Had a very homely feel. The hosts were thoughtful and accommodating.
Rebecca
August 2016
Highly recommend Yvonne's place. Hers was the fourth Airbnb place we stayed on our 2week road trip. We stayed 25-27Dec. It was clean, cosy, comfortable, large and quiet. Everything was as pictured. Toilet was extremely modern and new. Kitchen was very well equipped and plenty of breakfast options (the best of all the Airbnb places we've stayed!). As we travelled with two toddlers (2.5 and 1yo), Yvonne included toys, high chair and an extra inflatable bed for the kids which was a very sweet surprise. Our kids enjoyed their stay. There's ample free parking right outside the house, check-in was very easy, and communication was prompt. As it was the holiday season, we also had the pleasure of getting to know Yvonne and her family who were very hospitable people. Her place is very central and near to main attractions in Geelong like the Eastern Beach, Carousel, Bollards, Little Creatures Brewery, Stadium, etc. We'lol be back to stay again should we visit Geelong.
Mel
December 2016
Yvonne was a very flexible and accommodating host for my stay. The loft was exactly as described and I enjoyed my stay. The only thing I would add is that the loft is above their family garage so when they are coming and going you hear it all from the apartment. Her place was very close to the South Geelong train station and a bit further to the waterfront but still doable. The only thing I didn't expect was how dark the street was when coming home alone at night, but the neighborhood was generally quiet and safe. I would definitely stay with Yvonne and her family again!
Nicole
October 2016
Art des Zimmers
Ganze Unterkunft
---
Art der Unterkunft
---
Unterkunft für
2
---
Schlafzimmer
0
Geelong
Welcome to our newly renovated Loft Apartment, the perfect getaway for couples. We are situated in a prime location, only 400 metres from the gorgeous Whites Beach, and walking distance to many of the amazing attractions.
At Golden Beach Retreat we aim to provide total comfort and privacy. This gorgeous one bedroom loft, can comfortably sleep 2 - 5 people. The master bedroom has its own toilet and robes, with a Queen size bed and single bed. The bright, spacious family room is the perfect place to kick back and relax, with two large comfy couches, a Queen size bed and dining table. The Kitchenette has all you need, with a 4 burner gas stove, oven, mini fridge, kettle, toaster and cooking equipment. The recently renovated bathroom and second toilet is situated down stairs. The Loft is a fabulous base to explore all this amazing area has to offer. Guest have full access to the Loft, which you enter through your own private entrance. We are available to assist in anyway necessary. On arrival we will check the guests in and no further interaction is required, unless the guest require any further information, assistance etc.
This is a fabulous location and Neighborhood, with so much to offer: - Located in a quiet street only, 400 metres from the gorgeous Whites Beach. - 400 metres to The Sands Golf Club and Peppers Restaurant. - 1.2km to The Wyndham, where you can indulge in a spa treatment or dine at the Ocean View Restaurant. -Enjoy a 2 km walk along the gorgeous beach side walking track to the heart of Torquay, where there is an abundance of gorgeous cafes, restaurants, bars and boutique stores. - Or take a short 10minute drive to the famous Bells Beach. A lot of the attractions are within walking distance. However there is access to public buses. The bus stop is located at the end of the street, approximately 300 meters away.
Super schöne Unterkunft und nette Gastgeber! Wonderfull flat und hosts!
antje
February 2015
Neat and stylish property which is conveniently located. More spacious than it looks in the pictures. Great stop for a night on great ocean road trip. Jodie gave a warm welcome.
Samonnoi
December 2015
Jodie was excellent and perfectly organized with communication – it was very easy and pleasant to get in touch. Although we only stayed one night, we had a nice time in her well equipped and lovely loft and felt very comfortable. Jodies place was just like pictured and described. The neighborhood was nice and quiet and a short walk from the beautiful beach and walking tracks. We also combined our stay with the Great Ocean Road (returning from it and relaxing in Jodies place before hitting city life in Melbourne). Bells Beach was also well worth the visit.
Joakim
December 2015
We had a great weekend escape. Jodie is an excellent host.Instructions were clear, entry easy and the property is very cozy. Full marks for how clean everything was, we would happily stay there again.
Daniel
September 2015
Jodie was very helpful and professional from our enquiry before the booking to the preparation and then the actual stay itself! She really made sure we had everything we needed to know and a contact in case there was anything unexpected. The listing is beautiful, just as shown in the photos. The neighbourhood is incredibly comfortable and friendly as well, perfect for what we were looking for, a quick getaway from the the hustling and bustling city! :D
Luiz
November 2015
Nice clean and cozy place to stay. Beach was close and there were some great restaurants suggested by Jodie. Would definitely recommend and stay again! Thanks
Carly
December 2014
We had a great time at the Golden Beach retreat! The loft was cozy, clean and comfortable and a great location for access to the beach and the a short drive to the hub of torquay. Jodie was very helpful and friendly, Thanks Jodie!
Kali
January 2015
Lovely place for a stop on the GOR. Cosy but spacious loft with everything you could need. We only stayed 1 night but could easily have stayed a week. The street it's on is lovely and only a 5 min drive to the esplanade with beach, shops and restaurants abound. We had a good meal at Front Beach Cafe in the evening. Jodie sent us comprehensive instructions before we arrived, and was on hand during our stay if we had needed anything. Thanks Jodie for a great stay!
Pippa
January 2016
Art des Zimmers
Ganze Unterkunft
---
Art der Unterkunft
---
Unterkunft für
5
---
Schlafzimmer
1
Torquay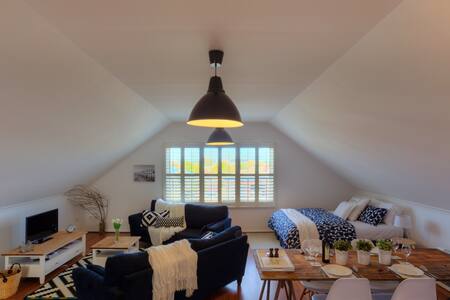 For those looking for romance, relaxation or fun, in the heart of town and metres from the beach, shops and hospitality. Leave the car parked, wander down the lane and the pristine beach lifestyle of Barwon Heads is right there.
The kitchen facilities include microwave oven (no cooktop), toaster, kettle, refrigerator, crockery and cutlery.
Gorgeous apartment. Super clean and well appointed. Fabulous location. Highly recommend. Better than photos!
Kate
January 2016
Ange's quiet, modern and homely loft was perfect for our stay. Easy to walk anywhere around Barwon Heads from the property. We had a terrific stay and would recommend for couples & young families!
Michelle
January 2016
The loft is a lovely private space and has a very relaxing feel. Ange is a great host who always made us feel welcome. Really enjoyed our stay!
James
December 2016
Our host ange made us feel so welcome with her clean and fresh loft and extra treats. The loft was just as it was described and perfect for us!
Danielle
February 2016
We had a lovely weekend in Ange's place! The place is very cozy and lovely, perfect for a relaxing weekend away!!
cristina
September 2016
We only had one night, wish it could have been longer. Great loft accommodation, immaculate, fresh & comfortable. Great location, close to everything.
Julie
October 2016
Perfect hideaway and immaculate loft space.will definately be going again-highly recommended!! Cheers Ange
Scott
December 2016
A lovely loft that I would recommend to anyone! The host was also lovely!! Thanks Ange! I will stay here again next time I'm in town!!
Brenton
January 2016
Art des Zimmers
Ganze Unterkunft
---
Art der Unterkunft
---
Unterkunft für
3
---
Schlafzimmer
2
Barwon Heads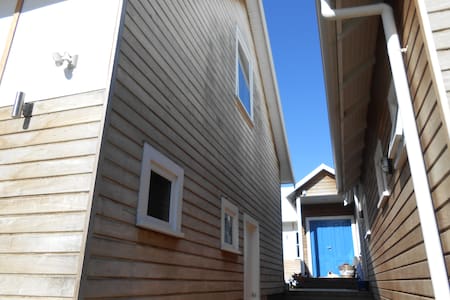 The East St Studio Apartment is a modern self contained apartment. Centrally located in the Heart of Historic Ballarat. With Ballarat's many cafes and restaurants on your doorstep. Easy walking distance to arts precinct, shopping & train station
A completely private loft space seperate from the main house. It is secure and safe for you to come and go as you please. The self contained apartment featuring a Queen size bed is clean, modern and comes with all the essentials for a comfortable stay. Also featuring an accessible balcony to take a peak at the sunset with an evening drink. At this time the apartment is really only suitable for adult guests due to the stairs and the balcony for safety reasons. The loft is at the rear of our main house atop the two door garage. You will be provided your own set of keys and can access the loft at anytime during your stay. Please do not hesitate to reach out should there be anything I can help with to make the stay more comfortable.
A Coles supermarket is just across the street, or try our personal favourite Wilsons Fruit and Veg for the freshest produce and sweet treats in town. I often walk to the Ballarat train station, the Regent Multiplex Cinema, Ballarat Art Gallery or cafes as the main strip is only a 10 minute walk and saves the parking hassle! Also close by is one of our favourite restaurants Dyers Steak Stables. We love The Western at the other end of Sturt Street for an extensive and fresh country pub menu. Not forgetting The Forge Pizzeria for their wood fire deliciousness! A walk around Lake Wendouree is a leisurely 6kms and is a chance to spot the lovely Victorian homes on the lake foreshore and surrounding streets. Parking is available on the street which is safe and free from ticket inspectors.
Cecelia has a exceptionally well presented and private apartment in a great location within Ballarat. Easily well sized and appointed for 2 people. We stayed for 2 nights but would have been comfortable staying for longer with the fully functional kitchen.
John
April 2016
Immaculately clean. Lovely accommodation in excellent location. Our host was welcoming and friendly. A short walk to town. A supermarket nearby. Gorgeous linen, white fluffy towels, sparkling bathroom. We hope to visit again soon.
Naomi
September 2015
Definity one of the best airbnb we have stayed. Although we did not get to meet Cecilia but she left lots of great info and foodstuff in the apartment which was a great gesture and a good surprise. There was fruits and breakfast stuff in the fridge and it was very inviting. Either the place was newly renovated or it was very well kept, it is a very clean and has a warmly feel to it. Definity a great place to stay if u are visiting Ballarat.
Pei Chen
November 2015
Cecilia's place rates as one of the best Air BnBs we have stayed in. Beautifully clean and well presented. Great location, quiet with all that we needed. Have stayed there twice now and would be very happy to return.
Chris
December 2016
Came to Ballarat for relaxing weekend. The accommodation was of a very high standard. Lovely interior and very clean. Loved the spaciousness the room provided and I really loved the views of the old buildings surrounding the apartment, that were visible from the windows above the kitchen and lounge. The kitchen was very well equipped and clean. Loved the little extras in the fridge. Very easy walk to town centre. Cecilia was extremely helpful with providing us with a ride to our lunch on a very hot day. We were most grateful. Cecilia is a lovely host and we look forward to recommending this accommodation to friends in the future. Thankyou again Cecilia for your hospitality.
Kerry-Anne
March 2016
My husband and I booked in with Cecilia for a month from 28 December to 28 January and would have stayed longer had we not been permitted to move into our own place! We absolutely loved staying in this apartment, very cosy, every amenity you can think of at our disposal, centrally located...litterally bring yourself and move in because you won't want to leave this first class living eperience. Cecilia and her family are extremely warm hearted, genuinely kind and thoughtful- the sort of people you want to surround yourself with. The pleasure was all ours. Thanks again xxx
Melanie
February 2016
Another great visit. Love staying with Cecilia. Best yoghurt ever.
Fiona
March 2016
Cecilia was very responsive and kind. We arrived earlier and asked if we could check in an hour ahead and she was very obliging. Her apartment was fabulous! It has got to be the best (in terms of modernity, cleanliness and organisation) we've stayed in. Her pantry and toilet has got all the necessities and more. The bed was comfy and the husband loved the pillows. Overall, a wonderful stay. Thank you.
Cheryl
December 2015
Art des Zimmers
Ganze Unterkunft
---
Art der Unterkunft
---
Unterkunft für
2
---
Schlafzimmer
0
Ballarat East
6 Stay total King Size memory foam bed & 2 bunk beds to share up to 4 From the wide, ocean views to the quality craftsmanship throughout, and the rare 2 acres of land, 3 separate balcony's for full privacy bathroom double shower 2 toilets living bar lounge area as pics
Upstairs floor penthouse 3 separate private balconies and shared space downstairs lounge kitchen dining with permanent guests Whole house and land
Free wifi BBQ Spa on request need notice to heat
Upon arriving, Jason and Helen made us feel very welcome. They were very warm and friendly hosts and helped to get us settled in quickly. The images were very true to what their place offers. It is a beautiful and spacious house with loads to offer. We had two 8 year old boys who had a great time playing table tennis, playing on the in-ground trampoline, the huge swim spa and riding their bikes around the large property. The master bedroom (shown in photos), was brilliant and the bed was so comfortable. Although this is a share house, with permanent renters downstairs, there is ample room in the top floor with your own lounge, 2 toilets, fridge, bar etc that you rarely see them. This did for the most part feel like a full house rental. The house is a beautifully quiet location with nice views down to the ocean, and on the hot nights, the sea breeze was so wonderful for making the place extra comfortable. The house is only a 5 minute drive out of Torquay making everything very accessible. We really loved the place and everything it offered. Thanks Jason and Helen!
Michelle
January 2016
Good & Friendly.! Very good spa.! Had good time.!
Danya
December 2016
Jason was very welcoming even though I checked in after 10pm and everything was as described.I would recommend his place to anyone who wants to save a little bit money with same service and comfort of a hotel.
Sonny
October 2016
Amazing stay at this place. The best part was the view of the stars in the clear sky. It was absolutely break taking! Jason is very accommodating, he left the keys for us as we reached really late. The house is beautiful with modern furniture and an electric fire place and three balconies. The upstairs penthouse is spacious.
Shivangi
November 2016
We had an amazing time in Torquay at Jason's penthouse! The views were amazing, you could see all the way to the ocean from the house. The house is absolutely gorgeous!! It's really new and clean. Huge tv screen. He was very willing to help and flexible. Can't think of anything that could have made it better! :) would love to return!
Rena
March 2016
Had a great experience Jason was very attentive setting up the spa with a boom box for the kids,asking us if we had towels, etc. lovely spacious home with plenty for the kids to keep occupied.( volleyball, wet tramp,beach close by). Thanks Jason we look forward to coming back again. Deb&Matt
Debbie
November 2016
Jason was so kind and place is easy to find it.
Kyung Hee
November 2016
Jason was very welcoming and helpful, lovely place had a beautiful stay. Would definately recommend for quiet weekend getaway
Johnny
March 2016
Art des Zimmers
Privatzimmer
---
Art der Unterkunft
---
Unterkunft für
6
---
Schlafzimmer
1
Torquay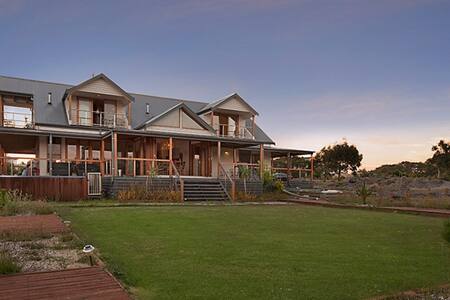 The perfect place for exploring Ballarat and a romantic setting to base yourself. A beautiful queen bedroom with period timber features, timber combustion fire, French inspired furniture, this is the ultimate romantic getaway in Ballarat.
Constructed to replicate an original miners cottages in Ballarat, that is the only similarity to those times. The Miner's Loft - Studio offers a romantic getaway in a rustic environment, the queen size bed is soft and comfortable, the ensuite is charming and interesting in the design and materials used, we love it! The studio is divided by a central combustion fire into 2 areas the bedroom and the lounge areas, where there is a very comfortable lounge and rug to spend a night curled up with your partner. It also contains a small kitchenette and dining table if you decided to eat in. Nespresso coffee machine and a variety of tea is available for you use, the studio opens into a courtyard which has an outdoor setting and a barbecue, perfect to sit out in at night and look at the lights of Ballarat and the stars above. You will have access to the courtyard, however if the Miner's Loft - Cottage is also booked at the same time you will need to share that space, you have your own entrance, lounge room , queen bedding, ensuite and kitchenette, Nespresso coffee machine, microwave oven ,bar fridge, washing and dryer macines, usual kettles and toasters, basic cooking utensils. Wireless internet is also available for your use. As often as you need us via Internet, and messages, however face to face will be determined on our time
The closeness to everything Ballarat has to offer, Eureka stockade site just down the road, the town centre a few km's away, sovereign hill not far away, Daylesford and Hepburn Springs only half an hour away. A fantastic location but when you shut the doors they could be a million kms away! Very close to the bus route and also the main highway to Melbourne, not that you see or hear it
Stayed at the Studio for two nights and it was an absolutely amazing stay! Nick and Johannie are fantastic hosts and even kept the wood fire burning for our arrival even though we were running late. Everything you need is there. I will definitely stay again. Thanks again Nick and Johannie for a wonderful weekend.
Brigitte
November 2015
Art des Zimmers
Ganze Unterkunft
---
Art der Unterkunft
---
Unterkunft für
2
---
Schlafzimmer
1
Ballarat East