Die Wohnung befindet sich in einem Vorort von Zadar, Diklo entfernt. Attraktive 50m2 befindet sich auf dem Dachboden des Hauses mit einer großen Terrasse und beruhigenden Blick auf das Meer und den Sonnenuntergang. Das Haus hat einen großen Hof und einen Kamin kostenlos uporabu.Plaža ist 200ak m entfernt
Die Wohnung befindet sich in einem Vorort von Zadar, Diklo entfernt. Pleasant 50m2 auf dem Dachboden des Hauses mit einer großen Terrasse und beruhigende Aussicht auf das Meer und Sonnenuntergang entfernt. Es verfügt über einen separaten Schlafbereich mit Doppelbett, voll ausgestattete Küche, Esszimmer (mit einem Bett von 160x200) und einem (URL HIDDEN) ist auch Kabel-TV, kostenlose Wi-Fi-Internetverbindung und Klimaanlage. Das Haus hat einen großen Hof und einen Kamin, Strand ist 200m, sowie Geschäfte, eine Bäckerei, Café, Restaurants und eine Bushaltestelle. Feriendorf wird von der Hektik isoliert, so dass Sie einen ruhigen Schlaf und einen angenehmen Aufenthalt erwarten. Vielen Dank für Ihren Besuch und haben einen schönen Urlaub !!!! Herzlich willkommen!
Hallo, Ich war mit zwei Freunden für eine Woche in Kroatien und wir sind vom Land und den Leuten begeistert. Egal wo man ist man trift nur freundliche und entspannte Leute. Das gilt auch für unsere Gastgeber. Sie waren immer sehr freundlich und haben uns mit nützlichen tips versorgt. Da wir zu dritt waren haben wir sogar unaufgefordet drei fahräder bekommen. Zum Schluß nochmal Danke für eure Gastfreundschaft.
Peter
2016-06-12T00:00:00Z
Martina war sehr freundlich, Check-In war unkompliziert, Info-Material lag im Apartment auf. Das Apartment liegt sehr ruhig und wunderschön in Diklo, 30 Minuten mit dem Rad/ 5 Minuten mit dem Auto von Zadars Altstadt entfernt. Ein Strand und ein Supermarkt sind in einer Minute Gehdistanz erreichbar. Die Bilder entsprechen zu 100% der Realität. Wer Zadar besuchen will sollte sich Martinas Apartment aussuchen. auch das Preis-Leistungs-Verhältnis ist super.
Christoph
2015-09-04T00:00:00Z
Die Dachgeschosswohnung von Martina ist wie auf den Bildern zu sehen wirklich unglaublich liebevoll eingerichtet. Es ist sehr geräumig und alles vorhanden. Martina war die ganze Zeit über erreichbar und wirklich hilfreich bei allen Kleinigkeiten oder hat Tipps für Restaurants etc gegeben. Die Dachterasse ist natürlich ein absoluter Traum!
Sabine
2016-07-22T00:00:00Z
Perfect apartment, fully equipped and nicely decorated. It is in a very good location: close to the beach, shop and bus station, however the surrounding is quiet. Also a walk to city centre is possible.
Dejan
2014-08-01T00:00:00Z
We had a great time in Diklo, near Zadar! The apartment was very clean, bright, functional and comfortable and had a really nice balcony. It´s exactly like you see on the pictures! The location is perfect, close to the beach, some shops and restaurants. If you want to visit Zadar you can go by bus, it just takes about 15 minutes and runs every half an hour. We felt very comfortable! Thanks!
Alina
2014-08-09T00:00:00Z
The reservation was canceled 4 days before arrival. This is an automated posting.
Karen
2014-08-15T00:00:00Z
Martina and Mario are excellent hosts. They are very kind and helpful. The apartment has everything you need, the terrace and the view is perfect. Its a very good private and calm place to be. We would go there anytime again :)
Melanie
2016-09-03T00:00:00Z
Cosy apartment, nice balcony, bikes free to use, washing service. No towels.
Niko
2016-08-09T00:00:00Z
Art der Unterkunft
Ganze Unterkunft
---
Objekttyp
Loft
---
Unterkunft für
4
---
Schlafzimmer
Zadar, Gespanschaft Zadar, Kroatien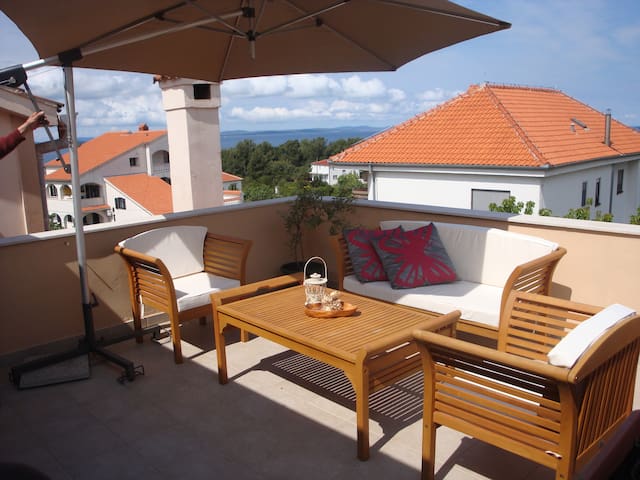 Schönes Loft-Wohnung mit 15m2 Terrasse mit Meerblick. Kostenlose Parkplätze, kostenloses WLAN, in der Nähe von Stadtzentrum, ruhige Straße, Klimaanlage und TV.
Nice, clean and cosy apartment with a beautiful view, in quiet part of Zadar. Josipa is really funny and willing person and always responds with a smile. Thank you :)
Lucia
2016-07-31T00:00:00Z
Josipa is simply a great host, who really cares about her guests. No matter how early we arrived to Zadar, she picked up us at the bus station, explained everything in the flat and was always available on the phone or personally. In her cozy apartment we had a great stay: it is not far from the town center, is perfectly clean and it offers a pleasant view from the big terrace to the town. It is also close to shopping facilities (Lidl, Kaufland) too, which made our stay easy. Staying here is very well recommended!
Veronika
2016-08-25T00:00:00Z
Josipa was very nice and helpful during our stay in Zadar. The apartment was clean and our stay was pleasant.
Pablo
2016-07-23T00:00:00Z
The appartment was very good, it seems to the pictures. Josipa, our host, was very sweet during all our trip. She came to pick us up at the bus station, she helpt us to find some informations and she was available at any time. I will recommend this appartement for the view from the balcony, his localisation (you can do everything by walk) and for the kindness of Josipa !
Julien
2015-09-02T00:00:00Z
We could not meet Josipa unfortunately, but her brother helped us with everything and we really enjoyed our stay. We had everything we need and the apartment was clean. Breakfast on the balcony was also nice. I would love to come back!!
Takaaki
2016-08-20T00:00:00Z
Art der Unterkunft
Ganze Unterkunft
---
Objekttyp
Loft
---
Unterkunft für
4
---
Schlafzimmer
Zadar, Zadarska županija, Kroatien
Es s apartman von 130m2, zwei Schlafzimmer, bathrooom, Wohnzimmer, Esszimmer, Küche und zwei Balkon mit Meerblick.
Ljubica is very nice and good host. Everything in apartment we booked was perfect. Place and neighborhood are very peaceful, and calm. We spend very good time in her apartment. Apartment was clean and exactly the same we saw in the offer. Beach is about 10 min by foot and is clean and sandy. Sea and beach is perfect for small children. Water is clean and not deep. I can recommend Ljubica's apartment for everybody and especially for family with children. Additionally we could eat delicious tomatoes from Ljubica's garden.
Pawel
2016-08-21T00:00:00Z
Very very nice flat in a quite area 3 minutes walk to a lovely sandy beach. Clean and tidy, spacious with 3 balconies, 2 with a sea view! Ljubica is a great host, she provided any help we need, very friendly, speaks English.
Daisy
2015-06-29T00:00:00Z
Ljubica and his family were very hospitable and fascinating. They devote us in native culture and traditional cuisine. Apartment is clean and has everything.  Privlaka is quiet area (pretty natural) and great for kids. Sandy beach with kid (not deep) swimming sea-territory is very close. Food, shops and cafes are nearby. The neighborhood is also wonderful. Thanks a lot for super vacations! It was a great week in Croatia. 
Anna
2015-07-17T00:00:00Z
Very nice apartment close to the beaches, restaurants and a small foot market near by. Very friendly and open minded hosts.
Anders
2016-07-18T00:00:00Z
Все было супер! Номер просто огромный. Хозяева отличные люди. В общем все очень и очень понравилось!!!
Петр
2015-08-29T00:00:00Z
The flat is really beautfiul and roomy, just like on the pictures, and fully equipped. You can find absolutely everything you need during the holiday. The beach is only few minutes by walk, and the street is quiet. There is two balconies, one with seaview. Ljubica is very kind and friendly, she helped immediately when we ask something.
Zsófia
2016-07-12T00:00:00Z
Great apartment, spacious, fully equipped in a nice neighborhood. A sandy beach is only a short walk away. The hosts are very friendly and helpful. Recommendation!
Harald
2015-09-12T00:00:00Z
Art der Unterkunft
Ganze Unterkunft
---
Objekttyp
Loft
---
Unterkunft für
6
---
Schlafzimmer
Privlaka, Zadarska, Kroatien
My place is close to the beach and restaurants and dining. My place is good for couples, families (with kids), and big groups.
Art der Unterkunft
Ganze Unterkunft
---
Objekttyp
Loft
---
Unterkunft für
3
---
Schlafzimmer
Privlaka, zadarska županija, Kroatien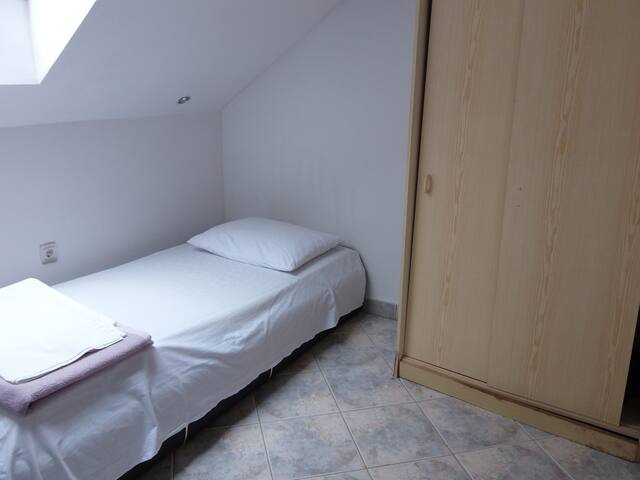 Situated in the very hearth of the town of Pag, in a 15th-century building, Palčić Palace offers a unique experience of living at the main Piazza of Adriatic town, with astonishing views of the Church, the Dukes palace and the Grand street.
The loft is situated at the top floor, offering exclusive views of the Piazza. Guests of Palcic Palace have 10% discount on breakfast from the newly opened wine and cheese bar Trapula, either ordering breakfast in room or having it at the Piazza. This completely new, just finished loft is designed by contemporary Croatian architects Letilovic-Pedisic in 2015. The interior is designed in modernist style, with a lot of open space, high ceiling, lot of light coming from different sources, modern design kitchen, bathroom with walk in showers, satellite TV, Wi-Fi and air conditioning, window sound isolation, rooftop terrace with view of the beach and the bay. On the weekend 24 July- 26 July there is Pag Carnival being held at the Piazza the oldest Carnival in Croatia.
The loft is situated in 15th century historical building which was built by famous Renaissance architect Juraj Dalmatinac (together with the opposite church of St.Mary, main town square Piazza and the Duke's Palace.) City of Pag, the centre of the island, was founded in the 15th century and today is a rarely found well preserved middle age walled-in town. It is the cultural, touristic and the administrative centre as well. Valuable cultural and historical monuments are: The parish church of St. Mary, the old tower, the remnants of the town walls, duke's palace. There is ancient old town 15 min walk from the center, medical mud (Lokunje) on the main Pag beach as well as museum of salt. Pag is famous for its salt production and you can still see salt pools near Pag town. Also famous for Pag lace, you can still see old ladies sitting in front of their houses and making lace. Pag cheese - international gastronomic delight is one of the things you have to try before leaving Pag island.
Stylish, clean, modern and unique studio apartment. Convenient central location. We didn't meet Lina during our stay but our welcome was covered by a friendly girl who was helpful and guided us to the parking spot which is a short walk away. We didn't get access to the terrace until our second and final day which was a shame as the weather became worse (just a small issue of the terrace key not being left in the apartment). There was also no wi-fi during our stay. These seemed to be a couple of teething problems for what appears to be a newly renovated property and we would still recommend this property.
Simon
2015-10-01T00:00:00Z
Simply amazing. Diana's house is the place where everyone could feel at home. Everything was like expected, or even better. Diana was super kind and available both before and during our stay. The house is fantastic: well furnished, bright, well placed and super clean! The view from the window is poetic, you can see the main square with the old Church of Pago... And if you go to the terrace, the sky will be yours. Peace but fun in the same time, what else? If I should decide to come back to Pago for sure I would like to come back to Diana's house!
Viola
2016-08-21T00:00:00Z
If you are staying in Pag, you should stay here .... this place was lovely. Light and airy with everything you need. We loved staying at the loft and it is right in the center of Pag. I would stay here again ... Lina did a lovely job renovating it.
Susan
2015-10-04T00:00:00Z
Diana and her entire family were absolutely lovely to meet. The apartment location couldn't be better, and it is also very nicely designed. Diana's communication was very quick, check-in and check-out were super-smooth, and having wine downstair's at her son's bar a couple of nights, was also lovely. I would be happy to stay at her apartment again, should I be in Pag.
Trips
2016-08-27T00:00:00Z
Very nice and clean apartment. The location is even better. The host is very kind and helpful! Definitely worth it!
Arne
2015-08-14T00:00:00Z
Location is brilliant in the old town. Pag old town is very quiet, small restaurants and bars not very busy if that is what you are looking for. The apartment is brilliant. Very comfortable and modern. Hosts really helpful. I would recommend the wine bar downstairs, it was lovely.
Amie
2016-09-02T00:00:00Z
Although Diana wasn't in Pag when we arrived, the housekeeper let us in. She was very kind and provided us with all the information we needed. The apartment looks great! Very light, a really nice balcony, shower and a comfortable bed. Everything is very modern and new! It's right in the center of Pag! Although we experienced Pag to be a bit boring, the apartment is on the central square where there's lots of livelihood in the evenings. We had some great beers and tapas at Trapula, which is situated right below the apartment. It wasn't a problem for us, but in the evening (at least until midnight) there was a lot of music on the square. Even with the doors closed you could hear this very well. So if you expect to go to bed early or if you are a light sleeper this might not be the best choice. Again, not a problem for us. We enjoyed the live music! Overall a very nice apartment, with everything available that you might need! The only downside for us, was that Diana promised us private parking (something really important to us since we were traveling by car). Unfortunately we were sent to an open public parking space. When asking about it, Diana did not answer my questions about the private one anymore, which was a pity. In the end, the public parking turned out great, so it was not a problem, but communication on that end could have been a bit better.
Claire
2016-08-12T00:00:00Z
Beautiful and comfortable appartment in truely excellent location. Extraordinary.
valerie
2016-06-02T00:00:00Z
Art der Unterkunft
Ganze Unterkunft
---
Objekttyp
Loft
---
Unterkunft für
2
---
Schlafzimmer
Pag, Zadarska županija, Kroatien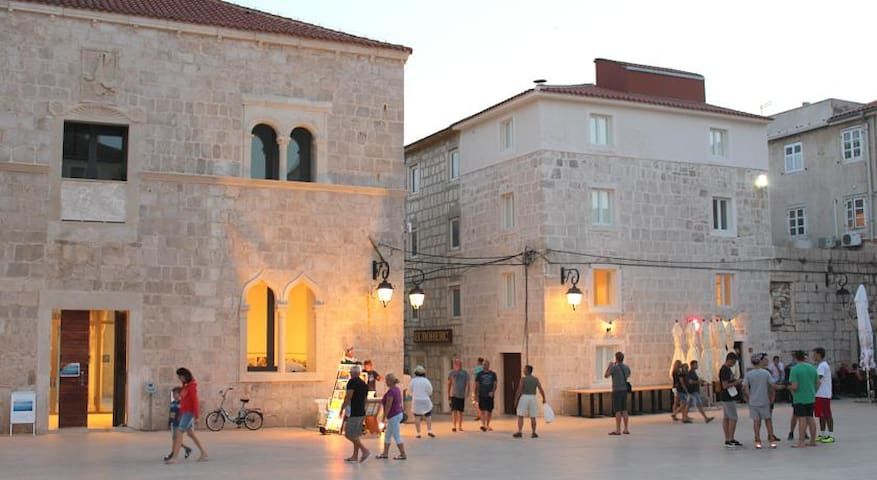 Gemütliches Loft mit herrlicher Sicht auf das Meer, die Altstadt und die Sterne. Strandsaison Mai bis Oktober. Strände ab 5 Min zu Fuß. Bars und Restaurants, Shops und Supermärkte ebenso. Flanieren in den Gassen der Altstadt. Kinderfreundlich; Spielplätze, Wasserrutsche, flache Strände. Ganzjährig Wandern, Boot- oder Radfahren. Schafe, Esel, Schildkröten. Sternenklare Nächte. Wilde Olivenhaine (2000 Jahre), Saline, Käserei, Pager Spitze, Sommerkarneval. Zadar 45 Min, Zrce 30 Min.
180 Grad Ausblick von der Terrasse auf das Meer, die sanften Kalkhügel mit Schafen und die schöne kleine Altstadt von Pag. Im Garten verbreiten Feigen, Oliven, duftende Kräuter und Schildkröten mediterranes Flair. Die Unterkunft ist liebevoll eingerichtet mit einem Hang zum "modern shabby chic". Hochwertige Matratzen sorgen für erholsamen Schlaf. Warmwasser wird über Solarkollektoren erwärmt, der Umwelt zuliebe. Bad und Küche sind neu (2016) mit ansprechenden Materialien Alle Fenster haben Meerblick.
Schafe, Felsen, Wind und Meer: Erholung pur! Radeln, Spazieren, alles vergessen. Duftendes Currykraut und Salbei. Käse und Feigen. Frischer Fisch für wenig Geld. Schnorcheln und Sterne gucken.
Merci à Vesna pour son accueil formidable et très chaleureux, une personne en or qui A la cœur sur la main ! Le logement est exactement pareil que les photos un panorama fantastique ainsi que la vu du balcon ! Une adresse que je vous conseil les yeux fermé . Pag est une très jolie ville avec de nombreuse plage paisible .. Ét des paysages fantastique . Un endroit que je souhaite renouvelé à l'avenir :) Merci pour tout Vesna
Marco
2016-09-13T00:00:00Z
Art der Unterkunft
Ganze Unterkunft
---
Objekttyp
Loft
---
Unterkunft für
4
---
Schlafzimmer
Pag, Zadarska županija, HR, Primorsko-goranska, Kroatien
Ljubač - Airbnb
:
Durchschnittlich

4.9

von

5

Sternen aus

50

Gäste-Bewertungen
Gib deine Reisedaten ein, um den Gesamtpreis pro Nacht zu sehen.