Gib dein Check-in-Datum im Format TT.MM.JJJJ ein
Gib dein Check-out-Datum im Format TT.MM.JJJJ ein
Inserate, die du buchen kannst, ohne auf eine Bestätigung des Gastgebers zu warten.
14 Bootsvermietungen
· Los Roques
14 Bootsvermietungen
· Los Roques
Gib deine Reisedaten ein, um den Gesamtpreis pro Nacht zu sehen.
Diesen Juli und August kannst du eine dieser 100 hervorragend bewerteten Unterkünfte aus jeder Preiskategorie ausprobieren, um Sonoma aus der Sicht eines Einheimischen kennenzulernen. Dank 24-Stunden-Check-in, Sofortbuchung sowie einheimischen Weinen und Snacks kannst du dich einfach zurücklehnen und deine Reise genießen.
If you come to Radazul, it is probably for sea related activities... What is best than to sleep on a wonderful yacht? Next time I come to Tenerife I will go straight there. It is one of the most relaxing experiences I found on airbnb. Ney and her family are great hosts. They are local, they can help you very quickly with any question you might have. A stay on their yacht is highly recommended!
Johanna
December 2016
Art des Zimmers
Ganze Unterkunft
---
Art der Unterkunft
---
Unterkunft für
4
---
Schlafzimmer
2
Radazul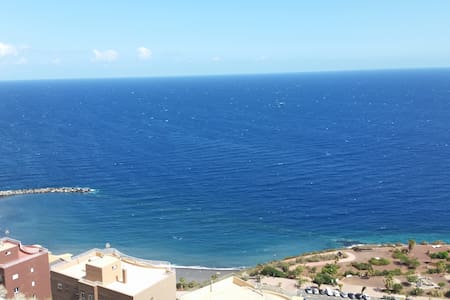 El barco tiene un precio especial para las primeras personas que reserven!!! :) Vivir en un barco es inolvidable! Barco como alojamiento, no para navegar, en la marina San Miguel, ubicado en el turístico sur de la isla de Tenerife con garantía de sol durante todo el año, a un minuto a pie de la playa, cercano a supermercados, cafeterías y restaurantes. El barco tiene agua caliente, cocina con placa eléctrica, nevera y radio cd. Dispone de dos camarotes y una cama a montar en el comedor.
Quedarse en un barco es una experiencia que nunca vas a olvidar. Hay una pequeña playa al lado del puerto, la famosa playa de El Médano se encuentra a 5 minutos en coche, y hay muchas playas en toda la zona sur de la isla de Tenerife donde puedes ir fácilmente. El barco tiene dos camarotes con cama doble y una cama individual que se forma con la mesa y los sillones del comedor, por tanto hay espacio para 5 personas en total. El baño tiene un inodoro que puede ser usado sin limitación y hay ducha con agua caliente, pero si lo deseas puedes usar los vestuarios y baños del puerto que se encuentran muy cerca del barco y se usan con llave. La cocina puede usarse para cocinar, en ella hay una pequeña nevera con congelador. Si quieres tomar el sol lo puedes hacer en la cubierta del barco. Proporcionamos toallas de playa para cada huésped, para que puedan aprovechar el espacio en sus maletas cuando vengan a Tenerife de vacaciones. Hay una mesa interior y otra exterior para elegir donde deseas comer o disfrutar de una agradable bebida. Desde el barco se capta señal wifi de internet pero es de pago por tarjeta bancaria. En la cafeteria al final del puerto hay señal wifi de internet gratis. En la Marina hay una zona de aparcamiento muy cerca del barco donde poder aparcar sin problemas. El puerto tiene acceso gratuito a internet en la cafetería, desde el barco puedes acceder a internet wifi a través de una plataforma de pago según tiempo de uso ofrecido por el puerto. Lamentablemente como anfitriones no podemos contratar Internet por ser un barco. El Puerto ofrece lavadora, secadora y ordenadores con acceso a Internet. Todo ello muy cerca del barco. Hay cerca supermercados, cafeterías y restaurantes. Yo vivo a 50 minutos del Puerto, así que puedo acudir rápidamente para resolver cualquier problema. Para emergencias el puerto dispone de un marinero las 24 horas que puede acudir en minutos. Además estaré encantado de contestar cualquier pregunta sobre tu visita en la isla y recomendarte actividades a realizar.
Amarilla Golf area, where the port is located, is a turísitica area with numerous services for visitors. Cafes, restaurants, shops, pharmacies, supermarkets, etc. You can walk along its beautiful places in a natural place with lots of greenery and enjoy a pleasant stay. There are some bus lines that pass through the area: lines 470, 483, etc. (For more information: http://www.amarillamarina.com/images/documentos/transportes.pdf) Also you can use a taxi service ((+34) 922 747 511) The municipality of San Miguel is in the tourist area of southern Tenerife, next to the tourist areas of Los Cristianos and Las Americas. The whole area has guaranteed sunshine almost every day of the year. In winter you can touch the snow on the highest mountain in Spain, El Teide, and go to the beach to sunbathe and swim. Numerous beaches and tourist attractions are close to the boat. From the port leaves the yellow submarine to visit the seabed in the area, it operates every day of the week except Saturday.
Никогда не спал в лодке. Наверно, поэтому попробовали остановиться у Педро. Оказалось, что это очень атмосферно: бухта с сотней-другой лодок, которая живет своей интересной жизнью, два бара, колоритные рыбаки и другие обитатели территории. Нам очень понравилось, дети были вообще в восторге. Лодка полностью аналоговая, с приборами как были на советском военном автомобиле УРАЛ - 375, и в этом есть свой шарм. Она далеко не новая, я не специалист по лодкам, но думаю это могут быть и 80-е и 90-е годы. Без красного дерева, но всё , что нужно, там есть. То есть: кухня, посуда, холодильник, мойка, плита, чайник, туалет с душем. Мы были один день, но поняли, что там можно провести и больше времени. Вообще, жизнь в марине неторопливая. Лодка покачивается на волнах, это тоже создает атмосферу. Педро - судя по переписке и составленному им путеводителю для гостей - отличный хозяин.
Sergey
December 2016
Vivir en un barco es todo un sueño. La zona es muy tranquila y segura, pero además, hay cámaras de seguridad y un marinero vigilando la zona durante toda la noche. El barco es precioso, tanto por dentro como por fuera. Los camarotes son muy bonitos y cómodos. El material tanto de la cocina como ropa de cama, toallas,... prácticamente nuevo o nuevo. La cocina es pequeñita, muy coqueta, pero sufiente para preparar cualquier plato para 5 personas. Aunque el barco dispone de un pequeño baño, también tienes acceso a los baños y duchas del puerto, que están muy limpios siempre, funcionan muy bien y están cerrados con llave. Hay aparcamiento muy cerca del barco. Pedro, el anfitrión, nos atendió muy bien e hizo todo lo posible para que estuviéramos agusto durante toda la estancia. Es una experiencia maravillosa que recomiendo a todo el mundo.
Manuel
September 2016
The host canceled this reservation 40 days before arrival. This is an automated posting.
Juan
The boat is awesome! It is a really great experience! You even have the perfect place for the sunset on board. Everything needed is there. The beds are very comfy, even though you might have to get used to the movements and noises of the boat when sleeping. Nearby you find many restaurants and shopping facilities. We loved it
Corinna
December 2016
We had a great holiday in Teneriffe. Pedro was a great and helpful host. He gave us tips for our trip and he was always achievable when we needed something to know. The boat is small and comfortable and everything what you need is there: A small bathroom, a kitchen with all things included. You can take a sunbath or eat breakfast outside, too. We'd go on vacation again on Pedros boat!
Mara
December 2016
Bonne expérience, hôte sympa, propreté irréprochable, tranquillité assurée.
patricia
December 2016
OMG what an amazing stay! Pedro was very communicative from the very beginning and he really meet all of our expectations. Staying on a boat is a great experience and if we ever go back to Tenerife we know already where we are going to stay:) The port is very quiet, the facilities are private ( you get a key if you stay on the boat) and are very clean. The space inside looks small but actually is more than you need. We stayed 4 people for 1 week and we were very pleased with our stay. Highly recommend the boat, the port, the location, the owner, everything.
Nicolicin
October 2016
Art des Zimmers
Ganze Unterkunft
---
Art der Unterkunft
---
Unterkunft für
5
---
Schlafzimmer
2
Marina San Miguel, San Miguel de Abona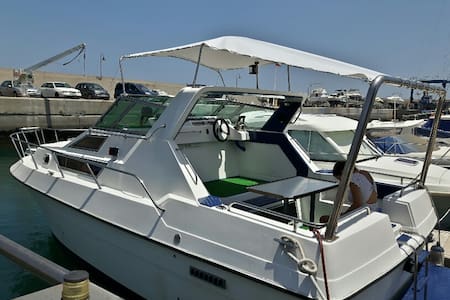 Enjoy the experience of living on a sailboat. With two cabins, dining room, bathroom and a nice deck. In the Port of Güimar, a quiet town in the east of the island, with nice beaches. To 20 minutes from Santa Cruz.
LIve in a marina is very confortable and quite. You can walk from the marina to the town, along the promenade, and take a beer or wine in nice bars and terraces. The sailboat is perfect for couple. I know very well Tenerife, and I can help you to know the island. I can recomend you good restaurants, places for visit, nice towns, places in the mountains, shops, etc.
The Neighborhood is very nice and simpatic. You can know people from Canary Island who lives in a sail, and also there are some fishermen.
The boat was cute and cosy with necessary essentials provided, also extra sheets and blankets were useful as nights were cold. Marina staff was friendly, and Maria very welcoming and helpful.
Aga
February 2016
María y Moy fueron unos anfitriones geniales! Hicieron todo lo que estuvo en sus manos para que mi estancia en su barco fuera el mejor posible. Recomiendo muchísimo la experiencia de pasar unos días en su barco, sin duda alguna.
Isaac
January 2016
accueil tout à fait sympathique le voilier comme prévu et l'environnement du port calme et loin des agitations de la foule des touristes comme nous le souhaitions
francoise
February 2016
We had the best time at Maria and Moy's boat. It was so cosy and the Marina was nice.. They were super sweet people and were really helpful.
Rasmus
February 2016
Our stay on Marias and Moys beautiful sailboat was just amazing. The boat offers everything needed for living and the location of its nice little harbour is perfect to reach almost any place on Tenerife within a maximum 1h drive. Don't miss the very nice Malpais hike which is reachable from the puertito within a few minutes by foot! Unfortunately we couldn't meet Maria in person due to an accident she had (Get well soon!!), but Moy gave us a very warm welcome and explained us everything we had to know about living on a boat. It was a wonderful experience of freedom from the morning swim and snorkeling in the harbours crystal clear water to the slight shaking of the boat waving you softly to sleep at night. Absolutly recommended and we really hope to come back one day. The sooner the better. ;)
Henrik
December 2015
Art des Zimmers
Ganze Unterkunft
---
Art der Unterkunft
---
Unterkunft für
4
---
Schlafzimmer
2
El Puertito de Güimar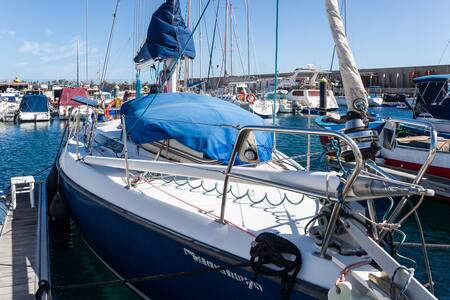 My place is close to the airport, the city center, art and culture, and public transport,ocean. You'll love it because of the views, the location, and the coziness. My place is good for couples, solo adventurers, and business travelers.
If you are looking for something romantic and different on the surface of the ocean, we offer you our amezing and cozy boat. Entire yaght is available,but only like a hotel room.You CAN NOT LEAVE THE HARBOR!!
There is a lot of hotels,marcet plases and pubs in GOLF DEL SUR. WC for N1 is on the yaght,but for N2 and shower are in the mine building of the port.
Art des Zimmers
Ganze Unterkunft
---
Art der Unterkunft
---
Unterkunft für
3
---
Schlafzimmer
1
Golf del Sur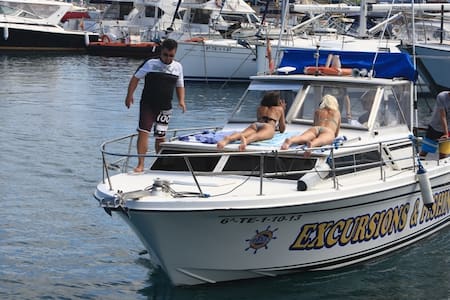 Agradable experiencia a bordo del velero Ayoupa, capitaneado por Benny. Benny ha intentado en todo momento que estuviera cómoda y atendida . Adoro los veleros como navegante, así que para mí todo ha estado bien. Pero habrán personas que las características de una embarcación no se adecuen a sus necesidades. Recomiendo.
Ico
December 2016
Benny is very accommodating (picked me up from the airport). Highly recommend if you want to experience living on a boat.
David
December 2016
Super expérience! Benny est très sympathique
Bastien
December 2016
Art des Zimmers
Ganze Unterkunft
---
Art der Unterkunft
---
Unterkunft für
5
---
Schlafzimmer
2
San Miguel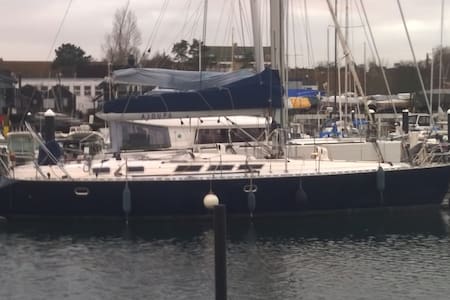 It's a 40 feet boat, with 2 double cabins, moored in marina Garachico, in the north of Tenerife. The surroundings are truly breath-taking and one of the most beautiful traditional town in 5 min distance.
Nuestra primera noche en un barco y nos encantó.... cenar en la cubierta mientras se hace de noche no tiene precio. Adam y su familia super amables. El barco estaba limpio y había todo lo necesario. Nos quedó pena de quedarnos solo una noche!
Diana
May 2016
Nos gusto mucho quedarnos en el barco, fue una experiencia muy especial. El barco estaba limpio y tenia todo lo que necesitabamos. Adam y su mujer tambien fueron muy simpaticos y nos ayudaron mucho. Explicaron muy bien todo lo que necesitabamos para quedarnos en el barco. Definitivamente recomendable!
Rahel
March 2016
La experiencia nos gustó mucho. Una forma diferente de pasar el fin de semana. El anfitrión muy amable y atento. Si podemos repetiremos pero soltando amarras mejor para surcar los mares.
Jorge
September 2016
We had a very great time on the boat. Its the perfect place if you want to run away from the city life. Located in a quiet, beautiful marine and city. The boat was full equipped, you can find everything what you need, and and Adam also explaining everything. We loved it, was a new experience for us, and possibly we will visit it again!
Cintia
September 2016
We had a very fun stay on the yacht. We were welcomed by a friend of Adam's who kindly explained all we needed to know. It was a bit tight on space maybe, but that is to be expected. Everything we needed was on board. Maps and postcards on the walls made us dream about sailing adventures. It's only a few minutes walking to the Garachico town centre.
Sarah
April 2016
Gracias a Adam por acogernos en su barco... Fue un momento inolvidable !
Lise
March 2016
Agréable séjour un bateau dans le port de Garachico. À 10min à pieds du centre ville.
Anne
November 2016
Adam es muy sympatico y agradable! Estaba una gran experiencia inolvidable! Gracias por habernos hecho descubrir las alegrías de los marineros !
juliette
March 2016
Art des Zimmers
Ganze Unterkunft
---
Art der Unterkunft
---
Unterkunft für
4
---
Schlafzimmer
2
Casa Amarilla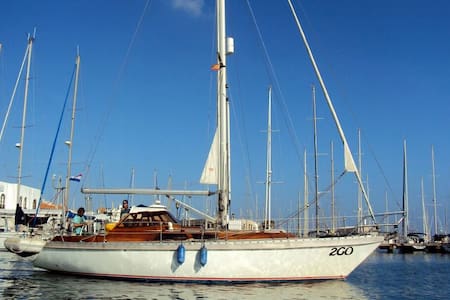 Lugares de interés: arte y cultura, increíbles vistas, restaurantes y comida, la playa, y actividades en familia. Te va a encantar mi lugar debido a las zonas exteriores, El vecindario, la luz, la cocina, y la comodidad de la cama. Mi alojamiento es bueno para parejas, aventureros, y familias (con hijos).
Alojarse en un barco es una experiencia única, levantarse junto al mar y desayunar al aire libre, en el centro de una preciosa ciudad, Santa Cruz de Tenerife. La marina donde está atracado nuestro barco dispone de baños. Una pasarela, le permitirá estar en el centro de Santa Cruz a tan sólo 5minutos, donde podrá encontrar museos, supermercados, tiendas, restaurantes etc.. Cualquier duda estamos a su disposición para informarle de todo lo que necesite.
Supermercados cerca Marina Santa Cruz: Corte Inglés, Dirección: Av. Tres de Mayo, 7 Horario de lunes a sábado 9:30 a 21:30 horas. Mercado La Recova, Avenida. San Sebastián,51 Horario de lunes a sábados 6:00 a 14:00h, Domingos: 7:00 a 14:00horas Supermercado Spar: Calle Villalba Hervás, 2-4, Horario: De lunes a domingo de 9:00 a 22:00 horas A 5 minutos de nuestra marina se encuentra una parada de autobus, taxis etc..
Art des Zimmers
Ganze Unterkunft
---
Art der Unterkunft
---
Unterkunft für
8
---
Schlafzimmer
4
Santa Cruz de Tenerife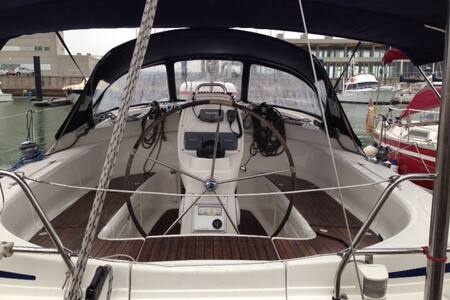 Maxx after the experiences in Hotellerie and Luxury apartments, launches its first ... a fantastic MANGUSTA 105 Motoryacht of 34 meters long, can accommodate 8 people over the 3 crew, based at Canary Islands and will sail between 7 islands.....
Luxury Yacht Multilingual assistance 24h 24 NOTE: *Air Conditioner (Subject to extracharge 10€ per day) *WiFi in the Apartments/For private Use (Subject to extracharge 10€ per day) **WiFi Free in the public areas CAUTION !!! At Arrival, before check-in will request the documentation needed to enter the house, Names, Guarantees, and the number of participants should correspond exactly to the reservation, in case of inconsistencies we reserve the right to deny him access to the house. *** According to the new anti-terrorism legislation we have a duty to identify all guests You will also need to leave a copy of Identification Card. WITHOUT THE DOCUMENTATION ON REQUEST WILL NOT PERMIT THE ENTRANCE TO THE PROPERTY.
Art des Zimmers
Ganze Unterkunft
---
Art der Unterkunft
---
Unterkunft für
8
---
Schlafzimmer
4
Costa Adeje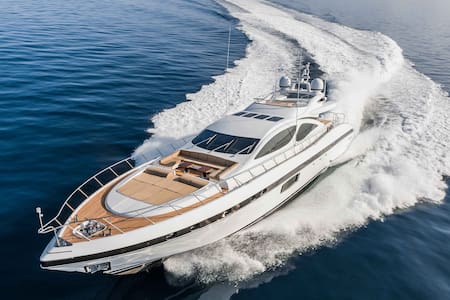 1

–

14

von

14 Bootsvermietungen