Wir bieten eine große private Zimmer mit separatem Eingang, Bad und zusätzlichen Stauraum für Taschen Ski. Kochnische mit Mikrowelle, Kühlschrank, Toaster, Tee, Kaffee und reichhaltiges kontinentales Frühstück. Gratis Wifi Fernseher Die Benutzung der Fahrräder Ca. 2 km vom Seeufer und Wanaka Dorf.
Die Gäste finden unsere accomadation sehr geräumig und komfortabel
Große Aussicht auf die Berge und praktisch in die Stadt
Wir hatten einen herzlichen Empfang und Joy hat uns viele Tips gegeben. Die Bilder geben nicht wieder, wie schön die Wohnung wirklich ist. Es war super sauber und es gibt einen eigenen Eingang. Wir haben uns sehr wohl gefühlt!!! Auch das Frühstück war gut. Wir wären gerne noch länger an diesem tollen Ort geblieben. Thank you Joy!!!
Petra
2016-01-09T00:00:00Z
Ich hatte einen super Aufenthalt bei Joy & Ian. Die Wohnung ist super mit eigenem Eingang, großem Bad mit Dusche, Ankleideraum für das Gepäck und kleiner Küchenzeile. Joy hat mich herzlich empfangen, mir alles gezeigt und noch Tips für meinen Aufenthalt in Wanaka gegeben. Ich würde auf jeden Fall wieder hier übernachten und dann hoffentlich länger bleiben. Vielen Dank Joy & Ian
Heike
2017-01-29T00:00:00Z
Super tolles Zimmer mit eigenem Bad und schöner großer Dusche. Es gibt einen eigenen Eingang ins Zimmer durch den Vorgarten. Joy und Ian waren sehr nett und hilfsbereit.
Rebecca
2015-01-05T00:00:00Z
We had a great one night stay at Joy and Ian's place. The room was great with everything we needed including very generous breakfast supplies- we especially loved the homemade cookies and local honey! The bed was really comfortable and the ensuite bathroom was lovely too with a great shower. Joy and Ian were great hosts and offered lots of advice about the area. It was also super having our own entrance/exit. Definitely recommend.
Bethan
2014-08-03T00:00:00Z
Thanks so much Joy and Ian. Our stay was great. We had access to bikes so we could enjoy the lake and stretch our legs after a long drive. Their home was clean, new, warm and had some delicious home made jam amongst other lovely breakfast choices. Also great water pressure!
Lyn
2016-07-05T00:00:00Z
Joy and Ian is a very nice and kind couple. Joy introduced us everything about the house and the activities inside and around Wanaka. We love the town of Wanaka. The house is clear, cozy and comfortable. Joy prepared everything on our room. It's really like Home. Hope we would come back soon.
Vanessa
2015-04-11T00:00:00Z
We had a relaxing one night stay at Joy and Ian's place. They were very welcoming and Joy showed us around and gave us some great recommendations. The room was private, nice bathroom and it was wonderful having breakfast things provided. Not too far from town and which was a great place to explore, wish we could have stayed longer.
Katie
2014-12-25T00:00:00Z
The room is at an awesome location and very clean, beautiful, spacious with all needed comfort. Very welcoming and friendly. Joy has equipped the room with many breakfast and food options. Also she offered to use their bikes for cycling to town. Overall very comfortable stay
Yashi
2016-11-22T00:00:00Z
Art der Unterkunft
Privatzimmer
---
Objekttyp
Bed & Breakfast
---
Unterkunft für
2
---
Schlafzimmer
Wanaka, Otago, Neuseeland
Self contained 1 bedroom cabin/bedsit. This room has a lovely comfortable double bed. It has a little kitchenette where you can cook and a new bathroom. Free WIFI! Very sunny and warm. Small deck to relax in the sun. 5 minutes walk to the lake.
This is a small but pretty little cabin in my back garden. It would suit the independent traveler as well as those who wold like to join in with main household. The room is nice and cozy and has a double bed, couch and little kitchenette. I also supply tea and coffee. It has a big flat screen TV with dvds, HDMI and USB if you have your own movies. You can lie on the bed and look up at our beautiful mountains! The cabin is approximately 3 metres by 6 metres in floor space. Most guests wish they had booked for more than one night!
Lake Hawea is a paradise for those who love the outdoors. Handy to Wanaka and Queenstown, it's the perfect spot to relax and enjoy the Central Otago climate and landscape. The active holidaymaker will easily stay occupied as Hawea and Wanaka are popular for boating, windsurfing, kitesurfing and sailing. Adrenaline seekers also have a range of activities to choose from with skydiving, jetboating, bungy jumping, downhill mountainbiking and more all within a short drive of the accommodation. There are 2 restaurants within 2 minutes walk of the cabin, 2 takeaway places, a bar and a local conveniance store. My house is a 5 minute walk from the lake! Guets realise after they arrive that there is plenty to do around this area and it is very central to many activities. Consider booking for more than one night! Many guests wish they had done this!
Nette Gastgeberin und alles da was man braucht!
Katrin
2016-01-29T00:00:00Z
Our room in Amandas backyard was nice, clean and cozy. The heater kept us warm during our stay (it was winter). Amanda was very friendly and showed us around when we arrived. The basic kitchen provides everything for some quick and easy meals. We enjoyed our stay!
Britta
2015-07-26T00:00:00Z
Amanda's B&B is a newly built cottage separate from the house with a kitchenette. It is very cozy and clean and Lake Hawea is just a short walk away. She owns the adjacent lot and is planning on building another B&B on it but, for the time being, it's very convenient to park there. We enjoyed chatting with Amanda and she joined us in a champagne toast to the full moon rising over the lake. We wish that we could have stayed longer. Next time on our trip back to NZ!!
Yo and Ken
2015-10-29T00:00:00Z
Amanda is a great host and always responded to our messages promptly. The cabin in cute and comfortable, very clean and has everything you need.
Katherine & Jake
2015-12-10T00:00:00Z
This last minute booking was a pleasant surprise for us. The cabin is quite private and is exactly as described. We didn't find it small for the two of us and everything we needed was included. We only stayed one night and didn't get a chance to meet Amanda, but we would be happy to stay here again and recommend the cabin to anyone looking for clean, quiet, inexpensive accommodation near Wanaka.
Jeff
2016-03-23T00:00:00Z
Amanda was fantastic! Had a wonderful time and totally disappointed I couldn't stay longer.... The cabin was ultra cute and comfortable! All the amenities you could need or want. It had great shower pressure and man oh man... Those views... That lake is unbelievably beautiful and there are 2 restaurant/bars within walking distance... I had the pleasure of getting to attend a charity function with the locals as Amanda's guest with her other tenants... I couldn't have asked for a better stay!
Michelle
2015-10-17T00:00:00Z
We had a really nice stay at Amanda's . Great location and private room. Amanda was very helpful and friendly which always makes a difference . Recommend to Anyone staying in Hawea . Thanks Amanda :)
Nadine
2016-11-11T00:00:00Z
这是一次美好的住宿体验,房间非常干净整洁,主人很热情,从房子到湖边只有几分钟的路程,我们度过了一个美妙的夜晚。
Zhandong
2016-08-13T00:00:00Z
Art der Unterkunft
Ganze Unterkunft
---
Objekttyp
Blockhütte
---
Unterkunft für
2
---
Schlafzimmer
Lake Hawea, Otago, Neuseeland
Bushmills Inn est une maison très central. La définition de «auberge» étant «Un établissement pour l'hébergement des voyageurs" L'auberge dispose de 5 chambres 4 avec salle de bains privées, ainsi que les propriétaires chambres. Wifi, Sky Tv, Lave-linge, tout compris
Bushmills Inn est construit à cet effet pour l'hébergement des voyageurs. Situé à seulement 100M du centre-ville. Bushmills Inn dispose de deux étages entièrement indépendants contenus, indépendants les uns des autres et reliés par l'escalier central. Le rez de chaussée a les chambres 4 salle de bains, salon, et une cuisine entièrement équipée. Les clients ont leur propre salle de chambre privée et partagent la cuisine / salon avec les autres clients. Wifi, Sky TV, chauffage central, barbecue, local à vélos, un bain à remous (saison de ski d'hiver seulement), salle de lavage inclus. lac et montagne Une vue imprenable depuis le pont supérieur, que tous les clients sont libres de venir et utiliser. NOTE: Bushmills Inn est "listé" à plusieurs reprises, en raison des limitations dans la conception airbnb web. Chaque "chambre" et l'option de réservation "de toute la maison» doit être inscrite séparément, et, malheureusement, les calendriers pour chaque liste ne sont pas synchronisées avec l'autre et sera donc plus que probablement être incorrect (Surtout si je reçois toute une réservation de la maison comme il maintenant signifie qu'il n'y a pas de chambres individuelles disponibles, même si elles présentent encore comme une annonce). Aussi les annonces de Airbnb (1 à 5) ne correspondent pas à une chambre particulière, je vais envoyer un courriel vous plus près du temps avec votre numéro de chambre et de l'information d'arrivée. SO S'IL VOUS PLAÎT MESSAGE ME POUR VOIR SI JE DOIS DISPONIBILITÉ. (Je suis désolé si vous faites une réservation et je puis décliner) Je tente de répondre à tous les messages très rapidement
Cet endroit est l'ancienne partie originale de Wanaka, avec les meilleures vues, le meilleur aspect pour le soleil, et très très proche du centre-ville. En bref, le "meilleur" place to stay! Wanaka est exceptionnellement belle région, la plupart des clients ne prévoient qu'une nuit ici et puis ils le regretterez pas! Restez une deuxième nuit si vous le pouvez, vous serez heureux que vous avez, croyez-moi !! Jetez un oeil à Wanaka Superbe (URL HIDDEN) OU (URL HIDDEN)
第一次住Airbnb的家。host是一个非常nice的人。房子干净位置很好。值得推荐!
bob
2016-04-22T00:00:00Z
Jeremy's place was perfecr for our 4 night stay in Wanaka. The bed was comfortable,room and bathrooms were warm and cosy. The room also had table, small wardobes, shelves and drawers which were nice touches to the room. The shared kitchen area was big and had everything that we need. The house is beautiful and a walking distance to town. Jeremy's place was overall a perfect place to live in for our stay. We absolutely loved it. In our limited interaction, Jeremy was also most helpful and friendly. Thank you
Faustina
2015-11-04T00:00:00Z
The house is lovely, we were in the downstairs room on left (in picture). Clean & convenient. Quiet over Christmas, so we didn't bump into our host, but had a lovely, brief stay in Wanaka.
Jeremy
2014-12-26T00:00:00Z
We had an amazing stay at Bushmills Inn in Wanaka. Could not have hoped for a better view and accommodations. The location was ideal for us to enjoy many local adventures including hiking and wine tasting. Easy walk to the lake, restaurants and stores only added to our positive experience. And to top it off our hosts were absolutely wonderful! Thank you!
ELIZABETH
2015-11-25T00:00:00Z
Staying here feels like an upmarket hotel, only with the air BnB friendliness. I had a fantastic experience here meeting other travellers. It's in a great location, it's walking distance from the centre of town & the local supermarket. The house is very new, clean, and has all the resources you need (laundry, great kitchen).
Hannah
2016-01-09T00:00:00Z
We did not have the pleasure of meeting Jeremy, but his hospitality was highly visible in every detail during our stay. Our heater was turned on prior to arriving and the location to downtown Wanaka could not be beat. The house was quiet, clean and comfortable. Our communication with Jeremy was easy and overall experience was great!
Rick
2015-10-06T00:00:00Z
From start to finish this stay was prefect. Convenient location--5 minutes walk from lakeside , capacious interior provid the room enough for all the logers .Jeremy is a wonderful host ,very gracious and welcoming . His BBQ and strawberries made my day.
Grace
2014-12-27T00:00:00Z
This was the one of the best places we stayed during our 12 day vacation in New Zealand. The place was clean and very high tech! (Took us awhile to figure out how to work the stove :) haha. Great location- five min walk to town and the host provided great recommendations for us. Would definitely stay here again.
Sarah
2015-05-01T00:00:00Z
Art der Unterkunft
Privatzimmer
---
Objekttyp
Haus
---
Unterkunft für
2
---
Schlafzimmer
Wanaka, Otago, Neuseeland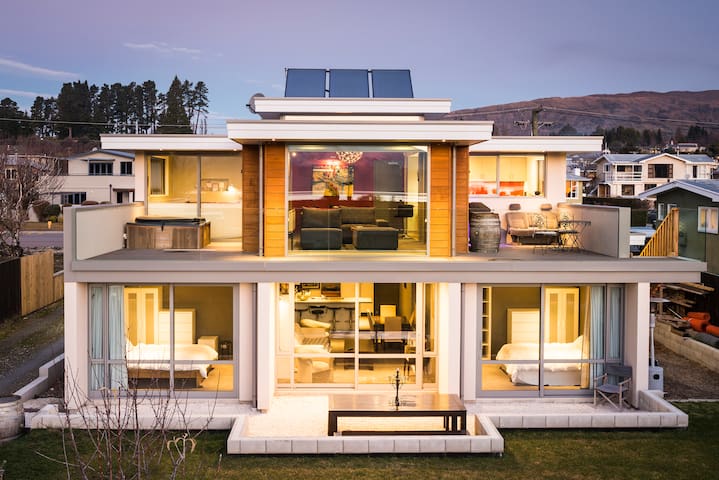 Sonnig, warmes Haus. 10 Minuten Fahrt von Wanaka. Großer Garten und Grillplatz. Gemütliches Zimmer mit Doppelbett. Bettwäsche und Handtücher inklusive. Nähe See und Aktivitäten 1 Minute vom Pub, See, Restaurant und Shop. Wandern / Radwege in der Nähe.
Dies ist ein schönes, gemütliches Zimmer, die die Morgensonne fängt und blickt auf den Garten.
Lake Hawea ist ein Paradies für diejenigen, die die Natur lieben. Sehr praktisch, um Wanaka und Queenstown, ist es der perfekte Ort, um den Central Otago Klima und Landschaft zu entspannen und zu genießen. Der aktive Urlauber leicht besetzt bleiben, wie Hawea und Wanaka sind beliebt zum Bootfahren, Windsurfen, Kitesurfen und Segeln. Adrenalinjunkies haben auch eine Reihe von Aktivitäten mit skydiving, Jetbootfahren, Bungee-Jumping, Downhill Mountain Biking und mehr alle innerhalb einer kurzen Fahrt von der Unterkunft zu wählen.
Die Region ist wunderschön, wir hatten den gesamten Strand für uns. Nach wanaka sind es nur 15min. Amanda ist sehr freundlich und kommunikativ. Sie antwortet sofort und kümmert sich hauptberuflich um Airbnb. Das Zimmer ist das günstigste in der Region, weshalb es auch viele Reisenden anzieht. Ihre Beschreibung trifft zu. Das Zimmer sowie das Haus benötigend dringend eine Renovierung. Wer nur für eine Nacht kommt wird sich damit abfinden. Das Bett ist durchgelegen aber sauber. Amandas freundliche Art tröstet ein wenig über dem Zustand des Hauses hinweg. Wir haben zusammen gegrillt und sie hat uns das Gefühl gegeben Freunde zu sein.
Lisa
2015-11-21T00:00:00Z
Amanda ist sehr, sehr gastfreundlich! Sie hat sich mehrfach bei uns erkundigt ob wir soweit zufrieden sind oder ob sie noch irgendwas fuer uns tun kann. Ferner hat sie uns viele Hinweise gegeben was wir in Wanaka und Umgebung tun koennen. Leider hatten wir zu wenig zeit um uns besser kennenzulernen. Vielen Dank!
Kai
2015-01-16T00:00:00Z
We had a nice stay at Amandas. Her place was located 20min from Wanaka and close to the beautiful lake Hawea. Also, we very much appreciated her company.
Eddy
2015-10-01T00:00:00Z
Clean and cozy place with everything you need for your stay. 20 minutes outside of Wanaka, right on shores of Lake Hawea. Host was very responsive and flexible. Highly recommend.
Andrew
2015-04-20T00:00:00Z
We loved staying here. Lovely room with great facilities. The views here are beautiful. We would highly recommend staying here.
Frankie
2015-06-13T00:00:00Z
Amanda is friendly and welcoming. Her home is in a stunningly beautiful part of New Zealand, close to some lovely towns. We had a very comfortable and relaxed stay. Wish we had more time in the area. I'm happy to recommend Amanda's home as both a lovely place and area to stay
Nanette
2014-01-25T00:00:00Z
The stay at Amanda was very nice. She welcome us very friendly and immediately helps with directions to a good restaurant. In the evening we had a nice chat. The room was clean and exactly as promoted. I would definitely recommend, also to view the beautiful sky of stars at night.
Felix
2016-03-09T00:00:00Z
Amanda's home is in an awesome location, right next to supremely beautiful Lake Hawea, and an easy 10-minute drive to Wanaka if you want more dinner/grocery options, and to see Lake Wanaka. The description of the room and house are on point - house is older, toilet and shower are separate, room and bed is very clean and comfortable, public spaces are slightly messier but because people are coming and going and using it.. and you feel like it's a home. Amanda herself embodies the hospitality profession and is easygoing, friendly, and fun to chat with, genuinely interested in making sure you're happy.
Elaine
2015-11-25T00:00:00Z
Art der Unterkunft
Privatzimmer
---
Objekttyp
Haus
---
Unterkunft für
2
---
Schlafzimmer
Lake Hawea, Wanaka, Otago, Neuseeland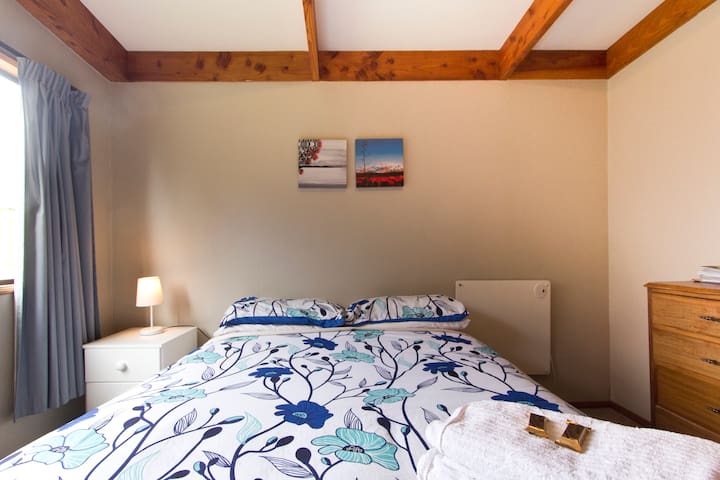 Te Ana Studio, im Erdgeschoss unseres Hauses, ist ein sehr geräumiges Zimmer mit eigenem Bad, TV, eine gemütliche Lounge und Essbereich, MW, Kühlschrank, Electirc Krug, Toaster, mit Weber Baby Q Bar-B-Que Eingang von außen. Der Duft von Lavendel, Jasmin und Rosen wabern durch die Fenster im Sommer / Herbst-Saison. Es liegt auf einem ruhigen Wohn bewaldeten Straße. Gratis Wifi. Parken abseits der Straße.
Virtuelle Tour: (URL HIDDEN) Andere Airbnb Eintrag: https://www.airbnb.co.nz/rooms/822099 Hallo, Ich bin Heather und ich begrüße Sie zu unserem Haus. Wir verwalten 2 Studio-Apartments im Erdgeschoss unserer beiden stöckigen Haus. Jedes Studio verfügt über einen eigenen Zugang von außen, mit den internen Zugriff auch, und kann zusammen mit maximal 5 Personen gebucht werden TE ANA STUDIO ON Sargood DRIVE ist halb in sich geschlossene, aber ohne Kochgelegenheit. Es gibt Tee und Kaffeekocher, Toaster, Kühlschrank, Mikrowelle und Weber Baby Q Bar-B-Que für die Bequemlichkeit der Kurzzeitgäste. Das Wohn- / Ess- / Schlaf kombiniert einen sehr geräumigen offenen Bereich mit einem kleinen Bad mit Dusche, WC und Waschbecken getrennt zu machen. Die Beheizung erfolgt über eine Wärmepumpe. Sky-TV, DVD-Player und CD installiert sind, und können aus dem Komfort eines sehr großen Sofa genossen werden. Die Einrichtung ist im Grunde Creme mit einem Hauch von Rot in Kunstwerken und Sitzsäcken. Dieses Zimmer verfügt über ein französisches Bett, und eine sehr komfortable und robuste Doppel ausziehbaren Sofa, das auch als eine zusätzliche Couch dient. Mt. Roy Ansicht (separat aufgeführt) ist eine sehr moderne Wohnung mit seiner offenen, voll ausgestattete Küche, Essbereich, französisches Bett, Sofa, einen großen Fernseher und DVD, sowie separaten en-suite mit Wäscherei. Die Wohnung öffnet sich zu einem privaten sonnigen Garten aus Norden und Westen. Große Stapel, doppelt verglaste Türen bieten eine einfache Indoor / Outdoor-Flow. Es ist ein Gas-Bar-B-Que bequem im Garten platziert. Eine Wärmepumpe im Wohnbereich, mit Wandheizung im Badezimmer, garantiert eine sehr gemütliche Atmosphäre in den kühleren Monaten. Tarif: Te Ana Studio auf Sargood Antrieb: 155per $ Nacht pro Paar. $ 25 pro weitere Person. Kinder: Preise durch Verhandlungen. Frühstück ein optionales Extra bei $ 25pp. Welcome Pack / Start-up-Packung aus einem Grund Frühstück aus . Halb sich geschlossene . Internet / WiFi . Kinder willkommen . Portacot und Hochstuhl . Handtücher und Bettwäsche zur Verfügung gestellt . Gas Bar-B-Que . Breakfast optional . Mt. Aspiring National Park über Haustürge- . Bar und Café Einrichtungen in der Nähe . Allwetter Aktivitäten . In der Nähe von See; Rad- und Wanderwegen; Weingut. . Wärmepumpe . Wanaka Flughafen - 10 min . Queenstown Flughafen - 50 min Bett Layout: 1 Queen-Bett und 1 Doppelschlafsofa Bettwäsche wird gestellt Kein Zugang für Behinderte Kinder willkommen Grill Breitband CD-Player Handyabdeckung Putzsachen Endreinigung geliefert Trockner DVD Heizdecken Elektrische Wärme Privatem Badezimmer Extra-WC Gefrierschrank Kühlschrank Wärmepumpe Hochstuhl Internet verfügbar Eisen Mikrowelle Gartenmöbel Portacot Dusche Tee, Kaffee, Zucker usw. Toaster Fernseher Waschmaschine W-lan Unterkunft mit Service Te Ana Wanaka befindet sich auf einem sehr schönen, von Bäumen gekleidet Straße in einer ruhigen, gut etablierten Vorort vom Mt. Aspiring Road, und in einem leicht zu zwanzig Minuten zu Fuß von der Dorfmitte. Unser Haus ist eine geräumige, zweistöckige zeitgenössischen Stil, die vor kurzem einen großen architektonisch gestalteten Renovierung. Innerhalb von ein paar Minuten zu Fuß man den See mit seinen herrlichen Wander- und Radwegen zugreifen können. Edgewater Resort, komplett mit Café-Lounge, eine Bar und Speisebereich im Freien die Besucher einen atemberaubenden Blick auf See und Berge Gewährung, ist ein einfacher Spaziergang die Straße hinunter. Es ist abseits der Straße überdachten Parkplatz an der Vorderseite des Hauses. Wir bieten Selbstversorgung und oder Bed and Breakfast-Unterkunft. Das Frühstück, ein optionales Extra, sind in unserem Obergeschoss Wohn- / Essbereich mit Blick auf See und Berge serviert; oder auf dem Balkon, wenn das Wetter es zulässt. Es handelt sich um ein sehr großzügig und lecker Erfahrung, als dekadent oder so gesund, wie man will. Spezielle Diäten werden berücksichtigt, wenn vorherige Ankündigung gegeben wird. Ein leichtes kontinentales Frühstück wird nur als Start-up-Packung vorgesehen. TE ANA STUDIO ON Sargood DRIVE: Eine teilweise in sich geschlossene, sehr geräumiges Zimmer mit Doppelbett, ein Doppelzimmer, sehr feste Schlafsofa und eine sehr große Couch, einen großen Fernseher und DVD-Player sowie einen Esstisch und Stühle .Diese gemütlich Zimmer ist komplett ausgestattet mit Kühlschrank, Elektrokanne, Toaster, Mikrowelle und im Freien Baby-Q Bar-B-Que für die Bequemlichkeit eines kurzfristigen Aufenthalt, hat aber keine Kochgelegenheit. Es gibt ein kleines Bad mit Dusche, WC und Waschbecken. Wäscherei zur Verfügung. Eine elektrische Wärmepumpe wird verwendet, um dieses Studio zu wärmen. Groß, doppelt verglast, Falttüren öffnen sich auf einem Gebiet nach Norden und Westen. IHR GASTGEBER. Ihr Gastgeber hat 27 Jahre hatte als Eigentümer / Betreiber einer sehr erfolgreichen Farm-Aufenthalt vor Ihrer nach Wanaka verlagern. Unsere Interessen sind Tennis, Squash, Radfahren, Golf Krocket, Skifahren, Sport im Allgemeinen, Wandern, Reisen, gutes Essen und Wein.
Wir leben in einer sehr ruhigen, ruhigen Wohngegend, mit dem Komfort eines Ortes durch den See am Ende der Straße. Die Straße, und diejenigen, die ihn umgeben, haben einen wunderschönen alten Bäumen, die so viel Farbe sowohl im Frühjahr und Herbst bieten. Die Nähe zum See, Park, Wandern und Radwege ist eine große Attraktion. Auch ein schöner Spaziergang in das Dorf entlang des Seeufers.
Im Studio von Heather fühlten wir uns sehr wohl. Alles war perfekt. Wir hatten ein sehr geschmackvoll eingerichtetes, großes Apartement, das mittlerweile über eine eingebaute Kitchenette und ein weiteres Queenbett verfügt. Prima war, dass wir unsere Wäsche waschen konnten. Heather ist eine freundliche und sehr hilfsbereite Gastgeberin, die uns gute Ausflugs- und Restauranttipps gab. Wir können diese Unterkunft wärmstens empfehlen.
Helga
2015-11-22T00:00:00Z
This is my second stay at this amazing place. I would not travel 7000 miles to stay at a place again if it was not remarkable. The location and neighborhood is charming. Heather is super helpful and engaging with guests. I wanted to visit a local farmers market and asked if she was familiar with one during our stay. She had a list of all markets within an hours drive waiting for us open arrival. The unit itself is spacious, comfortable and inviting. I look forward to another return visit to Wanaka!
Tom
2015-11-08T00:00:00Z
Very comfortable, clean and close to town, top place for nights in Wanaka, you feel their really on Holliday! Great strawberrys out of the own garden. Thank you for everything!
Lukas
2016-12-04T00:00:00Z
This was an excellent apartment, beautifully laid out and in really good condition. Check in was easy, we had everything we could have needed and WiFi worked well. It was in a good location, a short drive from the lake and the main shops in Wanaka and I would absolutely recommend Heather's place and would stay there again.
Andrew
2015-03-29T00:00:00Z
The reservation was canceled 15 days before arrival. This is an automated posting.
Anar
2015-02-19T00:00:00Z
The place was immaculately stunning and in the most incredible location. Everything was as per the Airbnb ad apart from that breakfast was not included. The Airbnb ad says 'breakfast' under the amenities section which played a factor in us choosing this specific accommodation. For the price of the place which was at the very top end of our budget and with it listing breakfast under amenities we were surprised to find that the breakfast was not included. Otherwise it was absolutely wonderful and would strongly recommend staying there as it was picturesque and easy. Heather was kind to provide us with milk juice coffee tea and biccies :-)
Sasha
2015-12-07T00:00:00Z
Heather是一個氣質高雅的房東,笑容親切,她的房屋位在高級住宅區,設施齊全裝飾美麗。
chang
2015-10-01T00:00:00Z
Autumn is definitely another best period to stay at Te Ana Studio on Sargood Drive. Surrounded by the trees of beautiful colors -- green, yellow and red, I enjoy especially the walk from/to the studio to/from Lake Wanaka. It's very warm inside though the temperature starts to drop to low in the evening in April. It's been the most pleasant accommodation I've had!
Chris Joanna
2016-04-14T00:00:00Z
Art der Unterkunft
Ganze Unterkunft
---
Objekttyp
Wohnung
---
Unterkunft für
4
---
Schlafzimmer
Wanaka, Otago, Neuseeland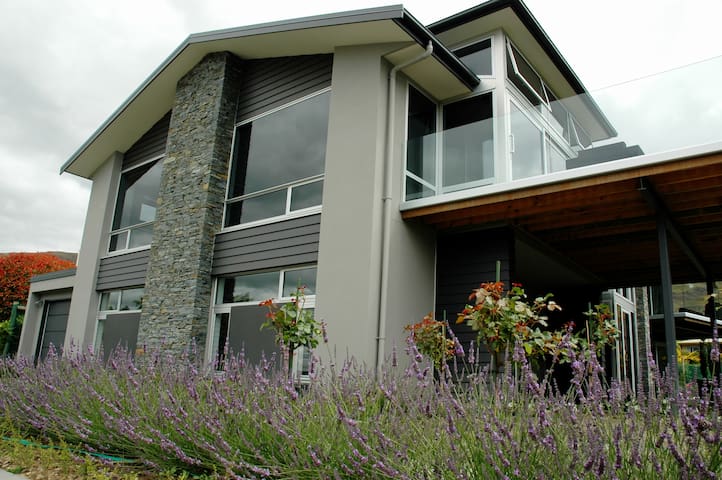 Ihr privates Zimmer mit Bad, hat einen separaten Eingang durch den Garten. Erhöhte Haus mit See- und Bergblick. Eine ruhige etablierte Straße im älteren Teil der Stadt. Renoviert 1970 Haus mit sonnigen Outdoor-Grill-Deck, Parkplatz abseits der Straße, nur wenige Minuten vom Zentrum entfernt, zu Fuß 15 Minuten. Die Nutzung von Küche und Wäscherei. Kontinentales Frühstück und Espresso-Kaffee enthalten. Keine Kaution. Brand new französisches Bett, hochwertiger Bettwäsche, in einem großen privaten Raum. Hilfsbereit, freundlich, Kiwi Hosts!
Ihr eigenes Zimmer öffnet sich zu einem ruhigen und sonnigen Garten. Ein Queen-Size-Bett mit einer zusätzlichen Schlafcouch. Alle Handtücher und Bettwäsche zur Verfügung gestellt. Geräumig und sauber mit Flachbildschirm-TV und kostenfreiem WLAN. Heizung und Lüfter zur Verfügung. Ein heißer Spa ist im Winter zur Verfügung. Sie sind willkommen, unsere Küche und Wäscherei zu teilen. Eine sehr ruhige Umgebung, wir haben keine Kinder oder Haustiere, aber sie sind willkommen. Sehr ruhig und friedlich.
Gut etablierte Bereich der Stadt mit alten Bäumen, Vögeln, ruhig und friedlich. 15 Minuten zu Fuß bergab in die Stadt. Nur ein paar Minuten mit dem Auto, oder mit dem Fahrrad zum Supermarkt, Restaurants und Seeufer.
Paul and Lynne were so friendly and welcoming. They took the time to get to know us and make suggestions about things to see and do in the area which my partner and I really appreciated. Their home is lovely and the ensuite room was clean, spacious and cozy. Would definitely recommend, especially to stay more than one night as there are so many cool things to do!
Catherine
2016-01-14T00:00:00Z
This is my most beautiful experience of accommodation in New Zealand, the owner of the enthusiasm for me to experience New Zealand in this country really simple, Paul very hard, very early in the morning to do their own things, by just two days of accommodation, more let me know the New Zealand people's life, Paul's wife is a very enthusiastic and very polite people, in the two days eat noodles, Paul gives us a lot of help next time, neither I nor friends are strongly recommended to stay again Paul home, Paul is a very good person, you will love this one family, very good
俞
2016-11-29T00:00:00Z
Our stay with Paul and Lynne was lovely and just what we were looking for. They were both so welcoming and accomodating and gave us lots of local advice and Paul even drove us to spots in Wanaka we couldn't quite manage to get to, as we had no car. The room was really spacious, with its own newly renovated ensuite bathroom. Would definitely recommend!
Madeleine
2016-07-20T00:00:00Z
这是我们四站bnb中最棒的一家,门口有个小花园,橘子和苹果都掉地上了…家里有独立的小院,大门全程都不用锁的,环境超级好。特别喜欢他们家的沙发。满分!
辉
2017-02-14T00:00:00Z
Great place up in the hills overlooking Wanaka, with views of the mountains. The space is sun-filled and roomy - comfortable for three people. Parking is easy, in their driveway or the street. Breakfast is provided and is simple but filling.
Christina
2017-03-03T00:00:00Z
We had a wonderful time with Paul and Lynn, even though we were there for just a day. The house is beautiful and the room extremely warm and comfortable looking over their cute kitchen garden. Great location - just the right distance from towncenter to be convenient and yet quiet. The highlights for us were our interactions with Paul and Lynn. We chatted for hours when we arrived and over breakfast. It was fun making the masala chai together :D Paul made an amazing coffee, which is as good as you get in the best restaurants! Paul gave us some great tips about where to eat (and did the booking for us) as well as a treck which we had not planned originally but ended up being an amazing experience. We will be very happy to come back and spend more time with Paul and Lynn. And ya - happy bday to your mom :)
Chinmay
2015-12-10T00:00:00Z
We had a wonderful, comfortable, warm stay at Paul's. It was a very private room with a lovely view. Paul provided us with a delicious breakfast and access to his coffee machine. We would absolutely recommend Paul's to any of our friends and family.
John
2016-07-22T00:00:00Z
Great!
Genevieve
2016-08-20T00:00:00Z
Art der Unterkunft
Privatzimmer
---
Objekttyp
Bed & Breakfast
---
Unterkunft für
3
---
Schlafzimmer
Wanaka, Otago, Neuseeland
独立した自己は1人のためにメーカーが含まれていました。位置20分には静かな住宅街にワナカの町の中心部に歩いてください。キッチン、バスルームとキングシングル快適なベッドを備えたモダンな、居心地の良い小さなスペース。山の景色&西日とプライベート屋外ガーデンエリア。冬には良い加熱して暖かいです。コーヒー/紅茶、新鮮な牛乳&穀物提供。私たちの主な家の外の安全な駐車場があります。スキー輸送バスに閉じます。無料無制限の無線LAN。いいえ清掃料金はありません。
スペースは、あなたが安らかな滞在のために必要がある場合、すべてを持つ個人旅行のために設計されています。私たちの財産の後ろに私たちのガレージに取り付けた私たちの主の家とは別の建物、。宿泊施設で何匹かの子供たちはありません。 Florences、偉大なカフェ&Rubyのブティック映画館に非常に近い位置しています。
閑静な住宅街に位置し、20分は町にまたは湖畔に歩いてください。 Florencesカフェ、ブティックRubyの映画館、登る壁、医療センター、ゴルフコースがあります。
Eine sehr hübsche, kleine und sauber Unterkunft, es fehlte an nichts. Andi und ihr Mann begrüssten mich herzlich,gaben mir Tipps. Ich bin früh morgens weitergereist und konnte mich nicht mehr verabschieden. Ich empfehle den Aufenthalt auf jeden Fall und würde wiederkommen.
Ruth
2017-04-03T00:00:00Z
Very cozy and welcoming! Has a very detailed guidebook too.
Jonathan
2017-03-21T00:00:00Z
The place is great. Very clean with everything you would need. The bed is very comfortable and the kitchen has everything you would really need. They also had a binder with great information on the wanaka area.
Kevin
2017-01-30T00:00:00Z
My stay at the studio was great. It has everything you need for a comfy visit and Andi has a top notch sense of what travelers need!
Colin
2017-03-25T00:00:00Z
Really nice decoration, well equipped, clean, quiet, will stay again.
Roger
2017-01-29T00:00:00Z
This was an all around fantastic experience. Both Andi and her husband were very accommodating and just generally cool people. Highly recommend!
Sean
2017-01-02T00:00:00Z
Studio is great, very clean and everything you need. Andi gave me a lift to the bus stop which was much appreciated
Che-Yung
2017-01-01T00:00:00Z
I had a fantastic few days staying here - the studio was beautiful and is a short walk to town and the lake... it was perfect! Andi & Paddy were super friendly and in the main house if I needed, but as the studio is separate to the house I could come and go as I wanted without disturbing them. Wanaka of course is stunning, so I will back and will stay here again!
Matt
2017-01-07T00:00:00Z
Art der Unterkunft
Ganze Unterkunft
---
Objekttyp
Andere
---
Unterkunft für
1
---
Schlafzimmer
Wanaka, Otago, Neuseeland
La nave de color rojo está cerca de Wanaka centrales, parques, cafés y tiendas. Este estudio recientemente renovado es bueno para parejas, aventureros en solitario, y viajeros de negocios.
Good location to visit wanaka. Nice little shed, comfy bed and lovely hot shower.
Daniela
2017-03-31T00:00:00Z
We really enjoyed our stay in the Red Shed. We were made to feel right at home and it was a really comfortable. Would definitely stay again.
Katie
2017-03-27T00:00:00Z
I am glad I booked the Red Shed for my stay in Wanaka as Krissy and her family made me feel like home and helped me with many of my questions and even my further travel plans in New Zealand. Especially the two little boys are just adorable. The accommodation is a bit out of the town center but with a car it's less than a 5 min. ride to the city center. I appreciated this fact as the area wasn't as busy and noisy as the city center. You will stay in a little shed that is separated from the main house and have your own bathroom and toilet in the main house. I was able to use the entire kitchen and also sit in the living room for dinner or to work on my laptop. On top of that I was invited to try some homemade food and drinks which were all very nice and tasty. After some busy days of traveling beforehand the accommodation really felt like a home and helped me to relax and recharge a bit even though my days were busy in Wanaka as well. I would have loved to stay a bit longer in Wakana and the Red Shed and would book the accommodation again with no hesitation if I should make it to Wanaka again.
Roland
2017-04-06T00:00:00Z
Krissy and the family were fantastic. The Red Shed was so cozy and secluded since it's separated from the house, Krissy was such a dear and gave us a shelf in the fridge, our own bathroom, and welcomed us with any questions that we may have had. We had a great stay, this place was great Thanks Krissy! Xx
Christel
2017-03-23T00:00:00Z
Art der Unterkunft
Privatzimmer
---
Objekttyp
Gästehaus
---
Unterkunft für
2
---
Schlafzimmer
Wanaka, Otago, Neuseeland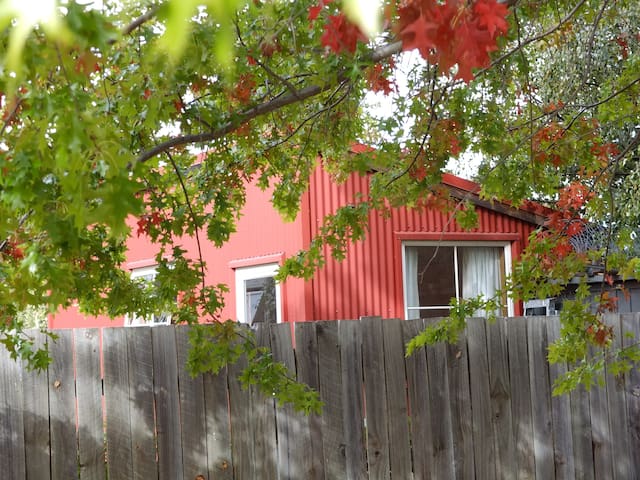 Dieser einzigartige Ort ist einer der am höchsten gelegene Häuser in Wanaka und hat jawdropping Blick auf den See und Fluss-Steckdose, die umliegenden Berge von Mt Roy, Treble Cone Ski-Gebiet zu Mt Gold. Dieses große 40m2 sonnigen Zimmer und Bad ist in der obersten Etage unseres Hauses mit separatem Eingang und eigener Terrasse und Garten für Sie zum Entspannen ein. Wenn keine Stadt Lichter, das macht einen perfekten Ort für stargazing der Milchstraße. Sie sind in der Nähe der Stadt und mit Wanderungen, Fluss und Mountainbikestrecke vor der Haustür.
Im Inneren ist einladend, gemütlich und ein großartiger Ort, um zu entspannen und die spektakuläre Aussicht genießen. Das sonnige warme Zimmer verfügt über ein komfortables Doppelbett und Schlafcouch. Wenn Sie morgens aufwachen, können Sie diese Ansichten vom Bett aus genießen, während eine Tasse Tee oder Kaffee zu genießen. . . Es verfügt über eine Chaiselongue, die die beste Lesepunkt in der Welt macht!
Wanaka ist ein einzigartiges und wunderschöner Ort - herausragende visuelle Landschaften in jede Richtung. Wir sind auf einem Hügel gelegen, die einen hervorragenden Blick auf Kiefer fallen, spektakuläre Landschaften gibt. Nahe der Stadt für Mahlzeiten in tollen Restaurants und Geschäften, in der Nähe zu Fuß und Radwege, in der Nähe von Lake Wanaka und dem Ausgang des mächtigen Flusses Clutha zum Schwimmen oder Angeln. Die Nachbarschaft ist sehr sicher und mit freundlichen Menschen.
If you are looking for a contemporary, cozy, comfortable place to stay, 5 minutes away from Wanaka town center, Mags' home is the perfect place. Basking in sunlight almost all through out the day, the room had wonderful view. Very nicely done interiors, well equipped little pantry and clean bathroom. Mags was very warm and wonderful host. She shared great tips and recommendations that made our stay in Wanaka very memorable. It was interesting to know a lot about the Kiwi life from her. Wish we could stay there longer.
Sangeet
2016-12-01T00:00:00Z
My wife and I stopped in for a few days on our honeymoon. Mags and Bruce were both very helpful and welcoming in the lead up to our arrival. Everything went smoothly finding the place thanks to them. Once we saw the place we decided to just take a rest, after days of driving. There was a very helpful information folder with an overview to the room and plenty of brochures of things to do in the area which was great. Bruce and Mags also seem very willing to share some local insight too which is always great. The views are so wonderful from the room, they provided a breathtaking backdrop to relax and take in. Would highly recommend to anyone visiting Wanaka.
des
2016-09-15T00:00:00Z
We spent an amazing week-end in wanaka thanks to mags and bruce, thai house is awesome, best view from the room!
Jeffrey
2017-02-01T00:00:00Z
My husband and I and our 8 month old baby had a wonderful stay at Mags' place. The room is private, very comfortable and homely, and offers a stunning panoramic view of the mountains surrounding Lake Wanaka. It's a very central location (about 10 min drive into town, with many hikes and mountain bike trails right on the doorstep). Mags was very helpful and accommodating of our needs and offered great info on local trails and things to do in the area. We loved our stay and will be back!
Alisha
2016-11-17T00:00:00Z
Our night at the Mountain View Retreat might have been the best of our entire vacation. Wanaka is a beautiful town, and this spot was ideal for enjoying the scenery and tranquility of the city. It was not too far from downtown and still allowed us some shelter from the tourism. We spent the morning enjoying a cup of coffee and taking in the views right from the bedroom. Mags was very kinda and easy to communicate with.
Brian
2016-11-06T00:00:00Z
Most incredible trip and staying at this place and meeting both Mags and Bruce was incredible, the house and the people were fantastic. They helped us find some great little hikes both around the Wanaka area and for the rest of our trip! Could not have had better more friendly, flexible and happy hosts.
Emma
2016-10-08T00:00:00Z
Mags' retreat is perched on the side of Little Iron Mountain. A few hairpin turns up and up, and you have arrived! The elevated location is key to the place's charm. The space is cozy; the views are spectacular. We loved watching the stars and the sunrise and sunset. The rooms are modern (spotless bath and shower), private, and comfortable (great bed!) and conveniently located: the perfect stopping off point to explore the Wanaka Lake region of New Zealand's southern island. It was great to have a well-stocked refrigerator awaiting us for breakfast! Mags is a delightful host, engaging and informative. She and Bruce did their best to make our stay as enjoyable as possible. The Mountain View Retreat a good place to relax, regroup and feel connected with nature. We liked it so much we returned for a second night's stay.
anne
2016-08-14T00:00:00Z
Excellent! Stunning views!
Lesly
2017-03-25T00:00:00Z
Art der Unterkunft
Privatzimmer
---
Objekttyp
Haus
---
Unterkunft für
3
---
Schlafzimmer
Wanaka, Otago, Neuseeland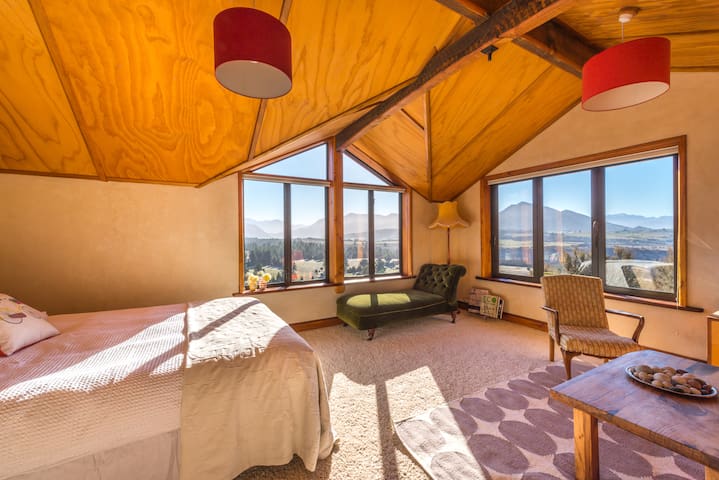 Mein Haus liegt in der Nähe der Stadt mit herrlichem See- und Berg views.Only fünf Minuten Cafés gehen, Restaurants und shops.Lovely Park an der Rückseite des property.You'll lieben meinen Platz, weil es zu Wanakas Annehmlichkeiten der Nähe ist. Ideal für Paare, Solo-Abenteurer und Geschäftsreisende.
Dieser Ort ist special.There gibt nicht viele Eigenschaften in Wanaka mit Ansichten wie dies zusätzlich zu so nahe an der Stadt zu sein. Das Zimmer hat ein Queen-Size Bett mit einem elektrischen blanket.The ausgestattet mit Bad Fußbodenheizung und einem beheizten Handtuch rail.I bieten auch einen Kühlschrank, Elektrokocher und Tee / Kaffee / Kekse. Der Balkon außerhalb ist mit Tisch und Stühlen ausgestattet, damit Sie ein Glas Wein zu genießen und beobachten Sie die Sonne untergehen.
Alles, was Wanaka zu bieten hat, ist nur einen kurzen Spaziergang away.Leave Ihr Auto hier und einen Abend in der Stadt zu genießen, ohne fahren zu müssen. Für Outdoor-Fans haben wir Frisbee-Golf auf dem Park hinter und einfachen Zugang zu lokalen Tracks zum Wandern und Radfahren. Kajaks / Paddel-Boards sind am Seeufer zur Verfügung.
Great lake and moutain view! warm welcome from hoster and clean comfortable room, one night is definatly not enought to stay here to feel the nature, next time will spend more time here!
teng
2016-12-28T00:00:00Z
The view is awesome and the room too! We really enjoyed our night in Wanaka, the place is wonderful. Thanks both of you!
Romain
2017-02-13T00:00:00Z
Great view, and kind famaily!
Junhee
2017-01-15T00:00:00Z
Beautiful place, perfect to stay and enjoy the view, absolutely recommend it!
Beatriz
2017-01-22T00:00:00Z
Mary's place was awesome! It is very clean, modern, and best of all just a short walk from downtown. Would definitely stay again.
Palmer
2017-01-10T00:00:00Z
The accommodation is of such a high standard, and as regular airbnb'ers it's up there with one of the best we've stayed in. The location was top class, with a short walk into central Wanaka and fantastic views of the town. The accommodation was well thought out with all the small touches that make it a stand out choice for your trip. Our only regret is we didn't stay there longer!
neil
2017-01-27T00:00:00Z
Mary's place was very nice. Really close to the airport and a short drive into the heart of queenstown. Mary was friendly and the place was very clean and has a beautiful view.
Jess
2016-12-17T00:00:00Z
Mary and her husband were so nice and helpful.the room is fantastic and cozy.i love it.
玥贇
2017-02-03T00:00:00Z
Art der Unterkunft
Privatzimmer
---
Objekttyp
Haus
---
Unterkunft für
2
---
Schlafzimmer
Wanaka, Otago, Neuseeland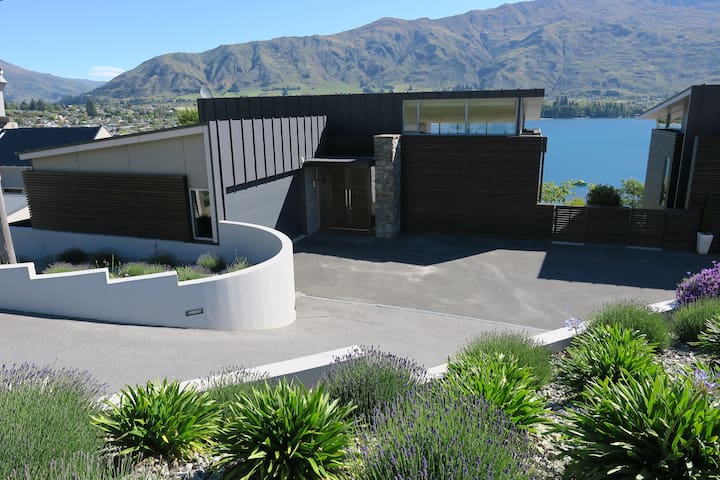 Holunder Lodge befindet sich im schönen Far Horizon Park mit Schwimmbad, Spa, Tennisplätze und kleine Golfplatz. 1 Doppelzimmer mit eigenem Bad, und die Verwendung von modernen, geräumigen, gut ausgestattete Küche, Grill und wir bekamen sogar ein Carport für Ihre Bequemlichkeit.
Holunder Lodge ist ein Doppelzimmer mit eigenem Bad und erwartet, Sitzecke, modern, geräumig, gut ausgestattete Küche und ein Esszimmer. Es gibt auch viel Platz draußen für Sie zu genießen, Grill und wir haben mehr BBQ am Pool mit Spa, Fitnessraum Tennisplätze und kleine Golfplatz vor dem Haus.
Far Horizon Park ist eine schöne und expansive Unterteilung mit Pool, Spa, Fitnessraum, Tennisplätze und kleiner Golfplatz für Sie zu genießen. Wir haben einen gemütlichen Bereich außerhalb sitzen in der herrlichen Aussicht auf die umliegenden Berge und Lake Wanaka einweichen. Wenn Sie dies in der freien Natur zu bekommen sind Juckreiz ist Ihr Spielplatz und ich bin sehr glücklich, meine Lieblings Spaziergänge und Wanderungen rund um Wanaka mit Ihnen teilen.
Absolute Empfehlung! Wir waren von unserer Unterkunft bei Martha restlos begeistert! Das Haus und der Ausblick sind großartig. Martha hat unseren Aufenthalt super begleitet, sie war immer für uns da, hatte viele hilfreiche Tipps! Wir sind länger geblieben als geplant und würden auch sofort wiederkommen. Wanaka ist der Hit, hat uns viel besser gefallen als Queenstown. Also, genießt eure Zeit bei Martha, sie ist einfach super!
Stefanie
2016-03-23T00:00:00Z
Perfect stop in spot for a few days while working. Thanks Marta
Luke
2016-11-13T00:00:00Z
It was a fantastic host gave us the fantastic night with both spa and the sky! Lake swimming, dinner we had together, bike riding, story sharing...everything was comfortable just like home~ so that's what we call destiny;-)
Young
2016-02-23T00:00:00Z
A very special part of the world. Marta was so very warm and welcoming! Would love to to go back at some stage. :)
James
2016-05-11T00:00:00Z
Nice town, beautiful home and great people!!!Definitely an adress to remember for our next trip...Simply top shelf airbnb.
Jana
2016-12-21T00:00:00Z
The place is really very nice and warm, Marta is very friendly! We really love the sweet stay!
YENCHIN
2016-12-27T00:00:00Z
Marta and family were really lovely. The views from this place were amazing.
Swinal
2016-12-23T00:00:00Z
Thanks Marta for a wonderful night in Wanaka - only wish we could have stayed for longer. We loved your house and the amenities it offered.
Lynly
2017-03-03T00:00:00Z
Art der Unterkunft
Privatzimmer
---
Objekttyp
Haus
---
Unterkunft für
3
---
Schlafzimmer
Wanaka, Otago, Neuseeland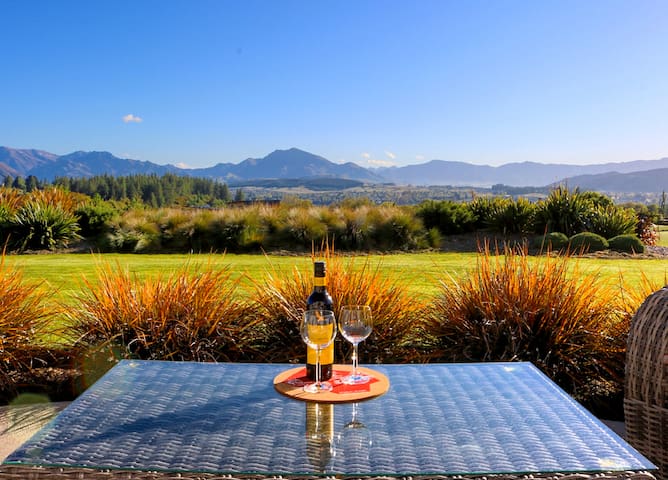 ようこそ この自己パラダイスがあなたを待って中に壮大な滞在のために必要なすべてを提供し、暖かく、清潔&快適なスペースが含まれていました。 - 無料の無線LAN&必需INC。 路上駐車-off。 町/湖のフロント/リッポンワイナリーまで徒歩-short。 カードローナまたはT / Cスキー場へ-20minドライブ。 - バルコニー/デッキ。 ガラス張り-double、十分加熱/換気の良いです。 - 基本朝食バー、冷蔵庫、紅茶/コーヒーINC。 -quiet&安全な地域。 - *利用できる子供のためのベビー。 私たちはあなたのプライバシーを与えるが、あなたは何が必要な場合はご利用いただけます。
-Queenサイズベッド&優れた品質リネン、タオル。 -largeフラットスクリーンテレビが備わっています。 - 無料の無線LAN。 - 広々としたシャワー床の間&偉大なホットシャワー付きの専用バスルーム大理石。 (ソファとして主に使用される)-Sofaベッド -mini冷蔵庫&基本的な朝食バー(紅茶/コーヒーメーカーが含まれています)。 よく加熱、断熱と換気し、モダンで快適な、新しい - 非常に。
町のフレンドリー静かな&美しい部分インチ
Perfect place to stay. Great facilities and communication.
Claire
2017-04-10T00:00:00Z
Art der Unterkunft
Ganze Unterkunft
---
Objekttyp
Blockhütte
---
Unterkunft für
2
---
Schlafzimmer
Wanaka, Otago, Neuseeland
studio privé séparé de la maison principale. Situé à quelques pas du lac, des boutiques, des restaurants et des bars. wifi illimité rapide. Lit confortable Reine. Thé et café fournis. Grille-pain, bouilloire, micro-ondes, assiettes et couverts fournis. Petit réfrigérateur. Le petit déjeuner n'est pas compris. salle de bains de base qui peut être un peu froid par temps froid, mais la douche est chaude!
Willkommen in unserem Studio-Apartment im Zentrum von Wanaka. Wir sind eine beschäftigte Familie von fünf, die neue Leute lieben treffen.
Nous sommes dans une partie établie de la vieille Wanaka, à proximité des plages et des pistes cyclables, la ville se trouve à seulement 2 minutes ou 15 minutes à pied le long du lac.
Good location !Private!Clean!
晶
2017-03-10T00:00:00Z
The stay at Gabby's place was wonderful! She and her husband were extremely friendly and accommodating. The view out the front of the accommodation is extremely beautiful, overlooking the water with mountains in the background. We had a wonderful experience and greatly appreciated their kindness and helpfulness!
Ashley
2016-07-27T00:00:00Z
Excellent location, only a couple of minutes by car from centre of Wanaka. Gabby and family very friendly and helpful and accomodation very comfortable. Biggest selling point for us was that we could take our small dog there, Would certainly use this A & B again
Tony .
2016-05-17T00:00:00Z
Gabby and her family were very friendly, we met for a few seconds her daughters and they were just adorable! The room is very cosy, it has all the necessary equipments and is very calm and clean. You can really feel like home! We really enjoyed our stay even if it was short since we only stayed one night. After that we enjoyed kayaking in the Wanaka lake that is just 5 minutes by car from the place. We strongly recommend it !
Anna
2016-04-27T00:00:00Z
We had a nice 3 days stay at Gabby's place. The studio is everything as was seen and stated in the listing.
Chee Kiong
2016-08-07T00:00:00Z
Gabby's lovely bungalow was perfect for our needs. We only stayed one night but would have liked to stay longer. Communication was great and as we arrived late it was dark and the street numbering system is not very logical but a quick call helped us find the home. Gabby welcomed us with a friendly smile and gave us a run through of the home. It's great value and if you have a car, it's a perfect place to unwind in Wanaka. Washroom was very clean, the bed was comfortable and we felt it was great value.
Sam
2016-07-22T00:00:00Z
We met our host on arrival and she was warm and helpful. Everything was exactly as described which we appreciated. We had a wonderful time in Wanake and we expect to go there again in a few months - now confident that we have a first class airbnb to stay at.
Sean & Vee
2016-10-29T00:00:00Z
Gabby, her daughters and their pet dog Misty had warmly welcomed us when we arrived at the place. The place is cosy and is only a short drive to the town centre.
Ryan
2016-04-17T00:00:00Z
Art der Unterkunft
Ganze Unterkunft
---
Objekttyp
Wohnung
---
Unterkunft für
2
---
Schlafzimmer
Wanaka, Otago, Neuseeland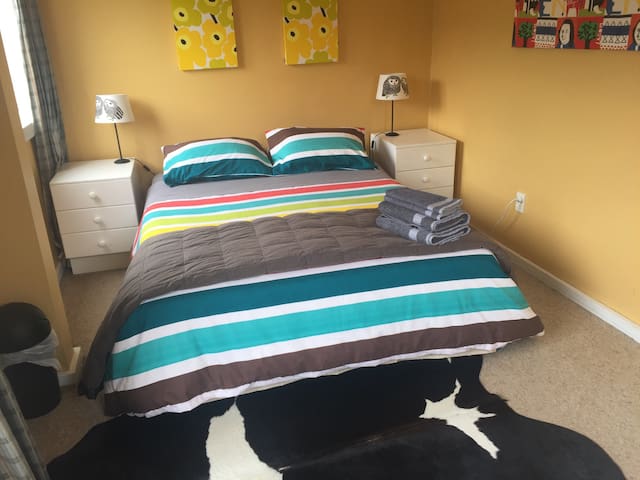 瓦纳卡湖和山脉的迷人,享有一览无余。 相当的位置,各条战线上湖,距离镇不远。 与开放式厨房共用客厅。 第一次带双人床的卧室。 第二个卧室配有2张单人床。 私人浴室 生活区与杰奎和我共享 免费WiFi。 从家门口拍摄的照片。
Dieser Ort ist etwas Besonderes, es gibt nicht viele Orte, die Sie mit diesen Ansichten gehen können .Wir haben 2 Zimmer zur Verfügung mit einem Doppelbett, eines mit zwei Einzelbetten. Sie haben Ihr eigenes Badezimmer. Die Wohnbereiche sind mit Jacqui und mir geteilt.
Sie sind freundlich und ruhig
Great place, great hosts.
Kathryn
2017-04-05T00:00:00Z
Bruce is a friendly host. his wife, had is also very nice. overall, this is a nice house with fantastic view
Jerry
2016-09-15T00:00:00Z
No doubts to say Bruce & Jacqui their house has the best view during our trip. They're amazing couples, very thoughtful and made us feel very welcoming, and they have a very nice and friendly dog Sam. Jacqui shared her fabulous trip story and photography with us. The room are so tidy and clean, also the bed is very comfy! Thank you for provided us a wonderful stay in your house, defi will come back if I visit Wanaka again!
樾青
2016-12-01T00:00:00Z
Very good accommodation experience, very beautiful big house, accommodation is clean and tidy, very comfortable, excellent geographical location, facing the Lake Wanaka, landlord Bruce and his wife very amiable, next to New Zealand will choose your home, my son was very like dog Sam
HUI
2016-07-11T00:00:00Z
Friendly hosts, friendly dog and great location. The hosts helped us in many ways - recommending places for dining out, for walks, etc. as well as sorting out problems we encountered on the way. We would definitely recommend this place to anyone visiting Wanaka.
Emmanuelle
2016-07-29T00:00:00Z
房子非常nice,离市中心也比较近。风景很美,楼下就是湖边。房子很大,很干净!厨房东西也很齐全。人很nice,还告诉我们去哪玩怎么买票。非常推荐。
郜
2016-07-22T00:00:00Z
We thoroughly enjoyed are stay, lovely home, beautiful views and great hospitality including the company of a well trained dog, Sam. Thanks B & J :-)
tim
2017-04-09T00:00:00Z
Bruce & Jacqui were amazing hosts and went out of their way to make us feel at home. They have a beautiful home overlooking the lake just a 5 min drive from the town centre. Special thanks to Sam for showing us around the lakefront at the bottom of the hill, in front of the house. Will definitely come back here again!
Sulagna
2017-01-18T00:00:00Z
Art der Unterkunft
Privatzimmer
---
Objekttyp
Haus
---
Unterkunft für
4
---
Schlafzimmer
Wanaka, Otago, Neuseeland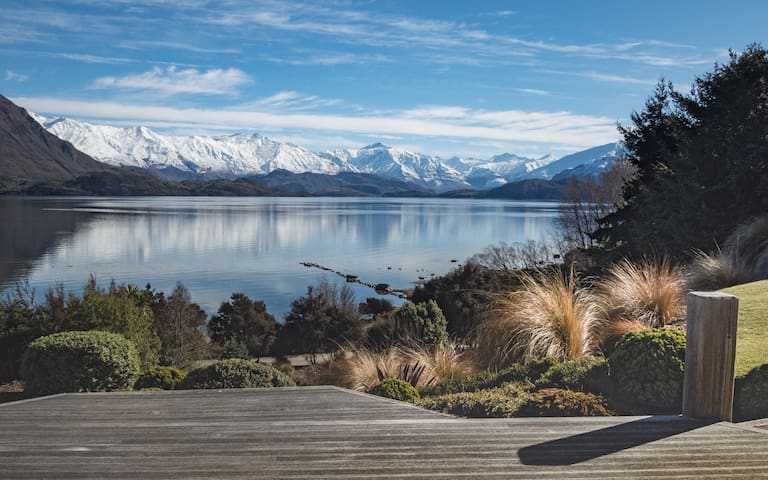 Voll ausgestattete Küche mit Spülmaschine Sunny Schlafzimmer mit Mt Eisen Blick Doppelt verglaste Fenster Gas-Feuer W-lan Zwei private Balkone 10 Minuten zu Fuß in die Stadt zum See, Bars & Restaurants Lismore Park (w Bike-Park, Frisbee-Golf & views) & Café nebenan
Ein modernes Apartment mit zwei Schlafzimmern aufgeteilt auf zwei Etagen. Mit zwei sonnigen Schlafzimmer und ein Bad im Obergeschoss. Im Erdgeschoss gibt es eine offene Küche, Essbereich und Wohnzimmer mit Gas-Kamin Sie im Winter warm zu halten. auch für Sie zu genießen sind zwei private Balkone.
Wir sind nicht im Zentrum von Wanaka, aber nur einen kurzen Spaziergang und weg von den Massen. Wanaka ist eine kleine Stadt, und wir sind eine schöne, kurze 10 Minuten zu Fuß in das Zentrum mit den Geschäften und Restaurants, See, See Wanderungen und Radtouren. Auch zu Fuß zu den Mt Eisen Wanderwegen. Wanaka Bezirk im Club direkt nebenan für eine einfache Mahlzeit und ein Getränk. Ein Café und eine Bäckerei direkt hinter der Wohnung für einen schönen Start in den Tag. Lokale Shuttles zur Verfügung zu den Skigebieten im Winter (Cardrona und Treble Cone 45 Minuten Transfer).
Avons été très bien accueillis! On se sentait attendu! Nos hôtes ont tout fait pour rendre notre sejour des plus agréable!
Regine
2016-03-21T00:00:00Z
Had a great stay at this place; Kathleen and Simon are lovely, easy going hosts. The unit was comfortable, quiet and clean with good beds and good shower. And it's just a short walk from town. The new couches in the lounge not shown in the photos are great too! Highly recommended! :)
Bas
2016-03-27T00:00:00Z
Response very quickly ! Kathleen gave clear instructions on the facilities at her place and how to find a key. Allowed us check-in early on the rainy day. It is a comfy and warm place. Loved the gasfire! They even providing a bottle of milk, bread, honey, jam and even a bottle of wine!! Comfartable place to stay , highly recommended!
Eartha
2016-05-19T00:00:00Z
Epic house, epic host. Thanks
Michal
2016-05-09T00:00:00Z
Didn't meet with Kathleen but communication was excellent and she saw we we're comfortable providing bread, milk and all the little necessities. Provided plenty of info on the surrounds and accommodation is just a short walk into town. Currently staying in 'serviced apartments' in Queenstown and the level of service is nowhere near what Kathleen provided.
Ian
2016-04-26T00:00:00Z
Great little place, in a great location and with lovely views. Kathleen was a lovely host and nothing was too much trouble. Would recommend!
Jane
2017-01-09T00:00:00Z
Lovely apartment. Modern, homely, immaculate, comfortable, exactly as described in great position within walking distance of town. Comfortable beds in pretty bedrooms. All towels and even shower gels etc provided. Kathleen and Simon were very friendly and welcoming; even did a mid stay linen change. They were on hand without being intrusive. Everything about the stay was very straightforward including initial access. Had everything we wanted. Highly recommended. We certainly hope to go back...
David
2016-09-29T00:00:00Z
From our arrival, we had a perfect stay. Wanaka charmed us with its quirky attractions, friendly atmosphere and picturesque views. The apartment is ideally located with just a 10 minutes walk. Kathleen was a lovely hostess - she thoughtfully prepared an information book about the apartment and town. The apartment is brand new and sparkling clean, with a full kitchen, wonderful shower and two bedrooms with great views of the town and landscape. Thanks for having us! We couldn't recommend it more positively!
Katy
2016-03-18T00:00:00Z
Art der Unterkunft
Ganze Unterkunft
---
Objekttyp
Wohnung
---
Unterkunft für
4
---
Schlafzimmer
Wanaka, Otago, Neuseeland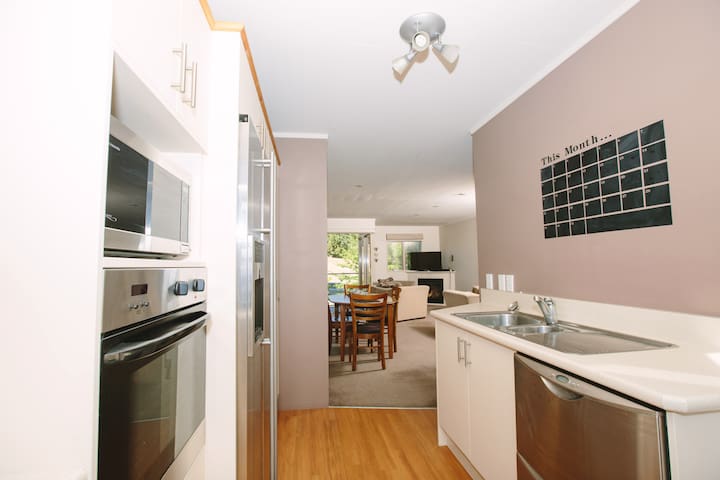 Cet appartement d'une chambre est attaché à vos hôtes la maison mais avec un accès séparé. Léger, frais, privé et très central (minutes du lac et du centre ville) les clients sont en mesure de « d'aller et venir » indépendamment. Avec un lit très confortable, nous sommes également en mesure d'accueillir des personnes supplémentaires dans des lits supplémentaires si nécessaire. Les couples et les petites familles sont toujours les bienvenus! Nous sommes impatients de vous rencontrer et de vous fournir une base idéale pour profiter de votre temps à Wanaka.
Cet appartement a été récemment rénové. Avec la peinture fraîche, les planchers et les tissus d'ameublement chaque chambre est remplie de lumière - surtout le matin. Profitez de l'intimité de cet appartement avec sa propre cuisine et salle de bains (avec lave-linge). Détendez-vous et détendez-vous ici ou vos chambres comme base pour l'exploration et la socialisation.
Notre quartier est unique! Alors, à proximité des cafés, des parcs, une piste fantastique magasin de matériel et une « pompe » cycle encore mieux nous sommes dans un cul-de-sac très calme avec des voisins amicaux et une belle vue du Nord.
Jenny's house was best ever I had stayed in Newzealand. Brand new house, very clean and so comfortable. The lounge was as large as three of us can share comfortably. The kitchen was equipped perfectly to cook. Jenny was kind, understanding and generous. The location was very close to the center of Wanaka even on foot. I super recommend Jordan's house to other people!!!
MoonSeon
2017-03-25T00:00:00Z
The apartment is brand new, very clean and comfy. Jenny is a lovely host. And Tui their dog loves a belly scratch. I'll def staying here when Im in Melbourne.
Daniel
2017-03-27T00:00:00Z
Jennys place was perfect for me and my dad. Generous size apartment, 2min drive to town. I would recommend Jennys place to any traveller visiting Wanaka.
Zak
2017-03-31T00:00:00Z
Art der Unterkunft
Ganze Unterkunft
---
Objekttyp
Wohnung
---
Unterkunft für
3
---
Schlafzimmer
Wanaka, Otago, Neuseeland
accueil sympa, 4 minutes à pied de la ville, comprend un petit déjeuner continental. Nous avons d'autres chambres disponibles.
Wonderful people. Great place with close walks nearby. Would definitely stay again!
Lindsey
2017-03-18T00:00:00Z
Pretty nice home like your own house, tiny and clean. Strong recommendation to other tourists.
Xinrun
2017-03-25T00:00:00Z
The room has everything it needed. Basic continental breakfast.
Thore
2017-03-24T00:00:00Z
Pablo (Leticia's father) is very relaxed and welcoming. The bed is comfortable and the house is not too far from the lake.
Noemi
2017-03-04T00:00:00Z
Groot huis met een perfecte ligging tov het centrum/strandje. Letitia is de airbnb gastvrouw maar eigenlijk hebben we alleen maar met haar vader enorm veel gesproken! Dit was een erg gezellige en aardige man. Zeker een accomodatie om aan te raden in wanaka!
Coen
2017-03-02T00:00:00Z
Awesome place! Everyone is super friendly and very helpful. The house is nice and homey, close to town, and clean.
Dede
2017-03-09T00:00:00Z
The house was so nice, there was plenty of space and it is so close to town. Both Letitia and Pablo are very friendly.
Aj
2017-03-21T00:00:00Z
Art der Unterkunft
Privatzimmer
---
Objekttyp
Bed & Breakfast
---
Unterkunft für
2
---
Schlafzimmer
Wanaka, Otago, Neuseeland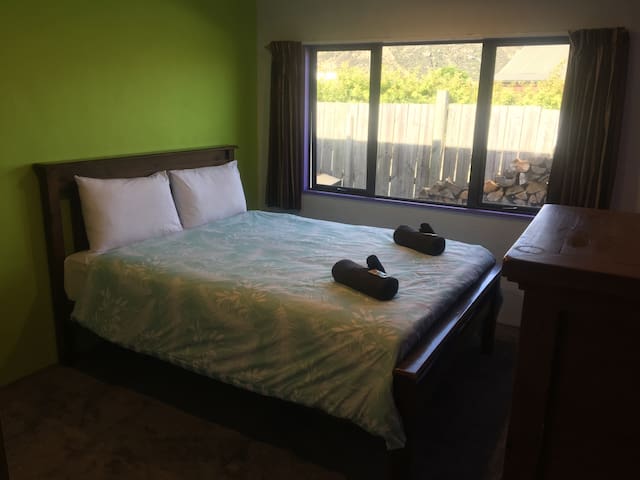 Unser Zimmer bietet völlige Unabhängigkeit mit eigenem Eingang und Terrasse. Mit nur 2 min zu Fuß nach Wanaka ganz eigene Boutique-3D-Kino und Kletterzentrum können Sie ein kleines Stück einige der vielen Dinge, genießen Wanaka vor der Haustür bietet. Wir sind Geschäftsleute, die die Verwaltung von lokalen Unternehmen in der Gastfreundschaft, Fahrrad- und Outdoor-Industrie. Mit drei Jahrzehnten des lokalen Wissens unser Kompendium sehen Sie maximieren Ihren wunderbaren Aufenthalt bei uns entweder entspannen, genießen die lokalen kulinarischen Köstlichkeiten oder ein Rad Abenteuer
Unser Studio war Zweck für unsere Gäste gebaut komplett privat zu fühlen und entspannt. Behandeln Sie es ganz wie zu Hause weg von zu Hause und mit Ihrem eigenen Eingang und Deck Sie Ihren eigenen Urlaub ganz verlassen, aber wir sind gleich nebenan für jede angemes- ein Glas Wein oder eine Empfehlung!
Unsere Nachbarschaft ist sehr ruhig und traumhaft gelegen. Es gibt eine beeindruckende Boutique-Kino an der Ecke unserer Straße namens Rubys. Sie Bildschirm alle aktuellen 3D-Blockbusters und auch Art House, Außen- und Festival-Filme. Sie haben eine voll ausgestattete Bar, große Auswahl an Cocktails und servieren auch leckere Food- Käseplatten, Hot Dogs, Antipasto Platters etc. Wir haben einen Park direkt neben unserem Haus und eine kurze stroll- 1 min bis die Straße und Sie haben unglaubliche See und Stadt Ansichten, die man eine fabelhafte Sicht von Wanaka geben. Florences Foods befindet sich nur auf unsere Straße und ist ein großartiger Ort für lokale Produkte zu durchsuchen oder einen Kaffee und eine Zeitung zu lesen.
Excellent place to stay. Jordi and Charlie were brilliant hosts!
Steven
2017-01-30T00:00:00Z
What's not to love? The place was stunning and immaculate (good for a couple), the scenery was amazing, and the hosts went above and beyond top make our stay comfortable. Jordi hand wrote a note for our stay including things to do and places to easy. My favorite, by far, was all the small details - including fresh picked flowers and a very thoughtful light breakfast. I've travelled a lot and this was BY FAR one of my favorite stays. We loved it so much, we had to extend our stay by a night. Thanks for everything, Jordi! We loved loved your place! Cheers
Kathy
2016-11-23T00:00:00Z
Loved our time here! The house was a two minute drive or a long walk from town. Small kitchen (but very functional) and a lovely outdoor table were perfect for enjoying breakfast. Eggs, cereals, milk, tea, honey, and fresh bread were all provided. Absolutely beautiful interior with a very comfy bed. We used as a home base when exploring Mt. Aspiring national park and local hiking areas- perfect location.
Caitlin
2016-12-19T00:00:00Z
Great place to explore Wanaka from. The location is great and Jordi has done a great job in creating a comfortable place to stay. The studio is modern and very clean, with a small kitchenette to make breakfast and have tea. Very much enjoyed our stay and would stay there again.
Sarah
2017-01-08T00:00:00Z
Jordi's place is a class above most, very clean and well presented. Better then some of the hotels we stayed. Very close to the Main St in Wanaka. Very responsive to all communications. We definitely will visit again. Jordi's pets are very quite so no concern for noise. New and safe neighbourhood.
Aasish
2016-12-31T00:00:00Z
I haven't had a chance to meet Jordi but I noticed she makes an extra effort for the guest to feel special. The room is well equipped with basically fully functioning kitchen. Highly recommend.
Pawel
2017-02-18T00:00:00Z
Jordi & Charlie are amazing hosts! The communication was great, many recommendations (hikes, restaurants...) Loved the little studio, it's clean, well furnished (even with movies) and a map of Wanaka and surroundings. Thanks a lot! :)
Kirsten
2017-04-01T00:00:00Z
Very friendly couple, quick replies via messenger and made sure everything good
Antonio
2017-03-19T00:00:00Z
Art der Unterkunft
Ganze Unterkunft
---
Objekttyp
Haus
---
Unterkunft für
2
---
Schlafzimmer
Wanaka, Otago, Neuseeland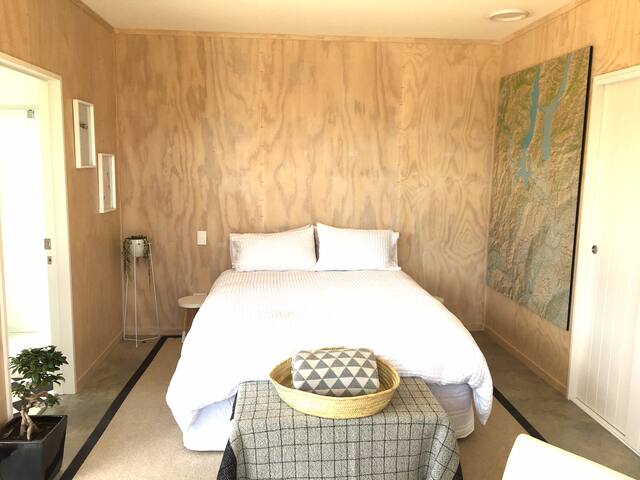 Wanaka - Airbnb
:
Durchschnittlich

4.94

von

5

Sternen aus

2113

Gäste-Bewertungen
1

–

18

von

+ 300 Unterkünfte
Gib deine Reisedaten ein, um den Gesamtpreis pro Nacht zu sehen.