Luxury brick wall Loft is centrally located in downtown Hartford. In walking distance to everything in downtown. Ideal for Uber pick up to any location. 1 real bed with couch, WIFI, TV with cable and elevator access to building. Also have an inflatable mattress available for a 2nd bed.
Centrally located in Downtown Hartford, in walking distance to all night lift, ie Bars, Lounges and clubs. Restaurants can be found all around and are also in walking distance. The space is great for visitors who are looking to experience sights and sounds of Hartford. The XL Center and Capital building are 2 blocks away. 1 real full size bed is available, a queen size inflatable mattress is also available upon request.
Everything is close and Uber is one click away. You don't need a car at all to get around.
Great studio apartment that is super close to all the restaurants, and bars in CT nightlife. I was warm and comfy during my stay as the place has central air, fresh bed sheets with soft pillows and linens. The room was well scented, and I had access to wifi and cable television. Mauricio is a great host that will accommodate your schedule of check in and check out. Would definitely book again when I am in the area.
Bryan
2016-11-18T00:00:00Z
Muy correcto!!!
Claudio
2016-09-08T00:00:00Z
The host canceled this reservation 212 days before arrival. This is an automated posting.
Paul
2016-11-22T00:00:00Z
Mauricio was a great host! He communicated very well and made sure to make us feel at home. He was very warm and friendly and the place was a great deal in the perfect location. Although it was across from the train station, I slept very well. He also provided a parking pass so that we wouldn't have to pay to park downtown and bottled water for us to drink. Overall it was a wonderful experience.
Essence
2016-07-25T00:00:00Z
Mauricio was incredibly flexible with check in and check out times, quick to respond to questions and even gave me a brief tour of the surrounding area with a few recommendations when I arrived. The location was directly across the street from the train/bus station and a block from Bucknell Park (which was important to me because I was in town to run the marathon which started and ended there). The building was a bit run down and had a few funny smells, but his apartment was clean and definitely as described in his listing. The air mattress was comfortable and allowed me to stay in the loft with my parents who were in town to watch me run. Overall, I think this was the perfect space for what I needed and would recommend it to someone looking for a cool, city loft to crash in while in Hartford.
Christine
2016-10-10T00:00:00Z
Very good location, and nice aprtment. Mauricio was friendly, helpful, and accomodating. My grandson and I had a good time there.
Karen
2016-06-15T00:00:00Z
Mauricio was there upon arrival to give me the keys and tour of the building. Explained the local night life and pointed me towards the good food. Was exactly what you need to get right into the culture of the city.
Chris
2016-08-26T00:00:00Z
Mauricio's place is neat, and well localized. Pubs, bars and restaurants nearby around, and the convention center is at a walking distance or cheap taxi ride. Mauricio is responsive, and easy to deal with. I would totally go back there! Thank man
Max
2016-05-08T00:00:00Z
Art der Unterkunft
Ganze Unterkunft
---
Objekttyp
Loft
---
Unterkunft für
4
---
Schlafzimmer
Hartford, Connecticut, Vereinigte Staaten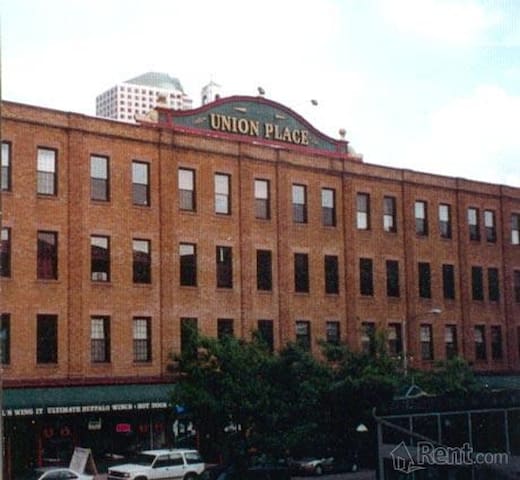 Dieses Loft-Zimmer ist schön mit Tempur-Pedic-Queen-Size-Bett, Amazon TV, Voll ausgestattete Bar, 100 "Theater, Kabelfernsehen, Esszimmer, Wärme, Klimaanlage, zu Fuß Punktzahl von 85%. Selbst gemachte Spanisch oder Asiatische Küche zur Verfügung, wenn für die in fortgeschrittenen gefragt. Ruhe, Ruhe und Komfort, den Sie nicht von einem Hotelaufenthalt erhalten.
You are one block from Elms college a quiet, safe area. Many restaurants of interest located walking distance. Come enjoy 4th of July fireworks. Close to Local Parks and Picnic areas. This up to date loft is perfect for travelers or future college students looking for potential schools in the area. The amenities are great and the atmosphere is relaxing.
Die Gegend ist wirklich schön und ruhig. Perfekte kleine Fläche für aktive Familien. Es ist eine schöne Gegend zu besuchen. Szot Park verfügt über: Basketballplätze Fussballplatz Baseballfeld Trails Fourth of July Fest / Feuerwerk Gedeckte Grillplätze Spielplatz Pool Sprinkler Park und mehr... Restaurants CANA Korean Restaurant, das Münchner Haus German Restaurant
I am still in awe.... this was the most amazing experience. I would never stay in a hotel in this area. I am hooked. The home was super clean, food was exceptional and the bed was comfortable and cozy. This deserves a high 5 star rating.
Yolany
2017-03-08T00:00:00Z
Where do I start from Nick and his hubby are great people they made me feel at home and trust me this is my First air bnb experience this guys are amazing and Nick is a great cook please try his food guys you will differnately enjoy it and FYI the pictures on here does not do justice their home is beautiful I will definitely stay here again. Thanks guys.
Chika
2017-03-10T00:00:00Z
If you are looking for somewhere which is luxurious, clean, tranquil, cultured and homely, look no further. I have stayed at a fair few air bnb places, but none of the hosts went to quite the exemplary degree of hospitality that Nick and Billy exhibited during my two week stay. This place is a smart home also, so everything from the lights to the temperature to the music is wired up to Alexa. The bed was of supreme comfort, the decor is minimalistic and sympathetically restored, with flourishes here and there. The hosts also take great pride in cooking up some fine culinary concoctions which I encourage you to try. You will have some interesting conversations here - Nick and Billy both hail from some diverse and interesting experiences. Last, but not least, this place is very affordable. I felt like I underpaid, because what you are getting out of your stay is far more than what you pay for at other air bnb places. If you're cogitating whether to book this sanctuary in 'the gateway to New England', go on and just do it! Needless to say, a lot of love is put in to ensuring your stay is a memorable one.
peregrin
2017-03-26T00:00:00Z
Is super place....The home was super clean, food was exceptional and the bed was comfortable and cozy.People very nice :) This a high 5 star rating.
Przemyslaw Rafal
2017-04-02T00:00:00Z
Art der Unterkunft
Privatzimmer
---
Objekttyp
Loft
---
Unterkunft für
2
---
Schlafzimmer
Chicopee, Massachusetts, Vereinigte Staaten
Willkommen bei Bluebird Farm! Unsere umgebauten Scheune Loft ist die perfekte Erholungsort. Flucht in diesem 40-Morgen-Heiligtum, das für Reisende, Künstler oder diejenigen, die zu besuchen, einen landwirtschaftlichen Betrieb geeignet ist. Wir sind 7 Meilen von UCONN entfernt
Großer Dachboden in der Scheune. Voll funktionierende (Küche, Voll Bad) und renoviert.
Willington, CT. ist ein idyllisches Wochenende. Nur 15 Minuten von der Stadt ist es in der Nähe UCONN und kleinen Städten ziemen für immer weg von allem ...
My girlfriends and I had a stay to remember at Bluebird Farm. This is a unique experience staying in a barn loft but the hosts have made the space cozy and provided the comforts of home. We truly appreciated the coffee provided, the board games, and the extra toothpaste! The pellet stove had been lit for us on our return from dinner which was thoughtful and MUCH appreciated as the temperature dropped at night. We would recommend this lovely stay for anyone looking to get away and enjoy animals, the outdoors and each other's company!
Mitchell and Kera
2016-11-19T00:00:00Z
Joe and Carmen were excellent hosts. Very warm and personable. They definitely went the extra mile to make us feel at home, while also granting us the utmost privacy. The space was amazing! Very cozy, clean and organized. The bed was very comfortable and there is a lot of sitting room for lounging around the loft. The premises and surroundings were beautiful. I enjoyed watching the farm animals from the loft while they ate their meals. Went for a morning stroll in the woods and it was very relaxing. There is a lot of space for exploring the woods. I could not have asked for a more relaxing getaway! Thank you, guys!
Jen
2016-01-10T00:00:00Z
Great Host, Great Family and Great Location! I can recommend it to everyone
Andreas
2016-09-22T00:00:00Z
This was such a great find! Carmen and Joe were very kind and great hosts! From the bonfires to the feeding of the goats, the place is a perfect spot to unplug and let the country sink in!
Roy
2016-06-24T00:00:00Z
Joe's barn is one of the most exciting, comfortable places I've ever set foot in. The country western decor, posters of the greatest actors to ever play roles with smoking guns, deer mount, Americana quilts... And not missing a beat of modern amenity! A Keurig, fresh cream, that coffee was one of the most satisfying after Carmen asked if I wanted to milk the goats at 7:30 am! ATV trails, a fire pit, bbq area, their 41 acres is filled with excitement. I can't wait to go back and share the space with others!
Panagioti & Suzy
2016-04-14T00:00:00Z
We really enjoyed ourselves during our stay. Everyone was very nice and we loved having the option for sleeping in the outdoor gazebo! The place was clean, organized and very welcoming!
Cindy
2016-09-05T00:00:00Z
Carmen's farm was delightful. It is a lighthearted place--you wake with the roosters and see ducks walk by outside the window when you shower. Carmen was a real host, filled with New England character you can't find in the city. This is one the more unforgettable trips of my life and this is because of the warm nature of the host and her pastoral property.
Luke A
2016-04-25T00:00:00Z
Favorite AirBnb stay to date!! Joe & his family's barn & farm combine for a really unique and amazingly fun experience. As hosts, Joe and his parents are top notch - communicative and helpful in advance of the stay, and extremely hospitable & accommodating while at the barn. Interacting with the animals was a truly joyous experience for everyone in our group (it was actually pretty hilarious to see how city people, including myself, react to the animals). I really can't recommend this place enough. We'd love to come back.
Justin
2016-10-10T00:00:00Z
Art der Unterkunft
Ganze Unterkunft
---
Objekttyp
Loft
---
Unterkunft für
15
---
Schlafzimmer
Willington, Connecticut, Vereinigte Staaten
My place is close to restaurants and dining and nightlife. My place is good for couples, solo adventurers, business travelers, families (with kids), and big groups. see MiddleRiverYoga if you would like to attend a yoga class during your stay unit has a pool table for guests
Open concept /on first floor /pool table
Very nice place!!
john
2016-09-24T00:00:00Z
Awesome loft! Great for me my pal to chill shoot pool watch movies and relax! I only wish I brought more friends to hang out!
Eletha
2016-09-18T00:00:00Z
Great place. Beautifully decorated. Perfect hang out place.
William
2016-08-08T00:00:00Z
David's place was exactly how he described. Very spacious with a nice creek/river in the back. Would definitely book again.
Tuan-Phi
2017-03-05T00:00:00Z
The space was perfect for a group of us! It had all the amenities we needed and then some! David was awesome with answering all of my questions, I would definitely stay here again.
Rene
2017-04-09T00:00:00Z
We came to stafford just for a weekend to get out of the city. Dave was very welcoming, did a great job getting us set up and the house was clean when we arrived. It's in a perfect part of town, very artsy. We LOVED the pool table in the room, very fun! The apartment is an open concept studio with multiple beds, would be a great place for multiple people, but it was just the two of us on this trip. If we come back to stafford, we'd definitely stay at Daves again! Thanks for the hospitality Dave!
Aaron
2016-07-31T00:00:00Z
Wow! This was our favorite airbnb so far! Spotless, super comfortable, and very hip! Everything you need is here, including organic coffee! Comfortable beds, great living area, high ceilings and lots of light! Great artsy neighborhood. Very easy lockbox access. The host was great. Very prompt in answering questions, very friendly. Will stay there again if in the area for sure!
Bernie
2016-10-15T00:00:00Z
Great place , host made sure and answered any questions would foward in staying there again next time in town!
john
2016-09-25T00:00:00Z
Art der Unterkunft
Ganze Unterkunft
---
Objekttyp
Loft
---
Unterkunft für
6
---
Schlafzimmer
Stafford, Connecticut, Vereinigte Staaten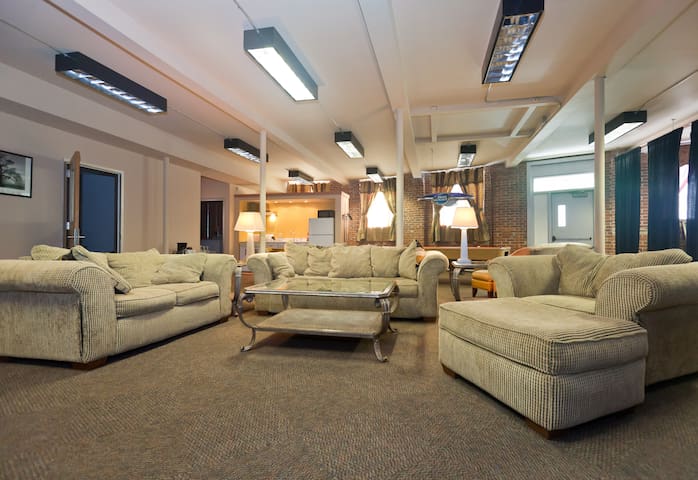 Surround yourself with a vibrant feel of natural light amidst the space between the city and a charming suburban town with access to everything. The place fulfills the desire of space and convenience. Multitude of cuisine, culture, and art can be found in central Connecticut. Daily commutes are easy with proximities to New Haven and Hartford. The community sports a comfortable, safe, and welcoming atmosphere. Central Connecticut appeals to the yens of a season. Summer showcases a sight with water crashing along the shores. Spring ensues great hiking views. Fall equals foliage and winter is expressed by major skiing.
One bedroom loft. Nothing fancy. It works.
It's typical suburbia, literally, with access to night life, art, and culture. What's not to like?
Great place to stay, very cozy Sylvester is very easy to get in contact with. 10/10 would recommend this place to anyone in the area!
Griffin
2017-03-06T00:00:00Z
Silvester is an awesome host. Communication was excellent, and he had a very nice place. Would definitely recommend.
Matt
2017-03-16T00:00:00Z
Art der Unterkunft
Ganze Unterkunft
---
Objekttyp
Loft
---
Unterkunft für
4
---
Schlafzimmer
Middletown, Connecticut, Vereinigte Staaten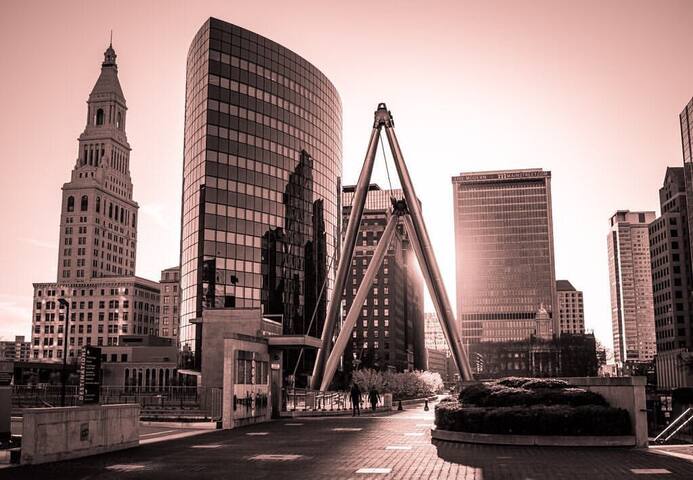 This is the Green Room with private bath and queen bed, perfect for the couple who wants to Practice a screenplay and maybe even experience some paranormal activity. not for the faint of heart! Shooting balls of light, orbs, apparitions and whistlers may be experienced.
Art der Unterkunft
Privatzimmer
---
Objekttyp
Loft
---
Unterkunft für
2
---
Schlafzimmer
Stafford, Connecticut, Vereinigte Staaten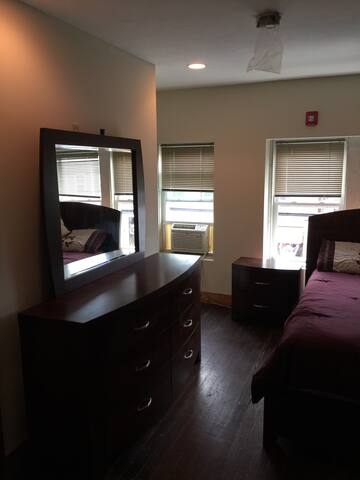 Manchester - Airbnb
:
Durchschnittlich

4.92

von

5

Sternen aus

119

Gäste-Bewertungen
Gib deine Reisedaten ein, um den Gesamtpreis pro Nacht zu sehen.