My place is good for couples.Its a separate bedroom with one double bed (newly furnished) good for a couple or singles. Its a spacious room on the main floor with separate bath( a standing shower, toilet, a wash basin with mirror(all new ) . 2 minutes to Tomken plaza with all shops, no frills, banks etc. Well connected to the public transport/highway and a k.m away from Highways and 3 km to square one mall
its part of a unique property.
Booking the reservation the host seemed very welcoming. The picture didn't match the room we stayed in, and we weren't allowed to use the balcony. We got kicked out during the day and was only allowed to come back during the evening. We asked for water and he told us to fill our water bottles from the bathroom sink. He didn't asked us how was everything not once. Didn't feel welcome at all. And also he told us we should check out at 9 and the ad he said check out time was 12. Definitely don't recommend.
Roshé
2016-09-25T00:00:00Z
The host was hospitable, since it's a room inside his house, he had to open the door to us, he put extra set of bed sheets that I could have used if I wanted to.
Anas
2016-09-17T00:00:00Z
Great host. definitely recommend for hosting.
HASHIM
2016-09-07T00:00:00Z
The host canceled this reservation the day before arrival. This is an automated posting.
Opy
2016-07-19T00:00:00Z
Everything was good.
Shohrat
2016-09-15T00:00:00Z
Mr Keshav welcomed us by making us feel at home. Very co operative and helpful family. Big and nice house and room was exactly according to description. Very convenient location and easily accessible to Restaurants and super market. Host gave us many valuable advises and helped us in many ways as we were new here.
VIPIN & NAVITAA
2016-07-31T00:00:00Z
The host made us feel very welcome!
Pri
2016-08-21T00:00:00Z
Thank you Keshav for being a great host. Your place was perfect for the location of my training. Your home is so nice and clean, provided me all the things that I needed. Such a wonderful host and family. I would definitely stay again. I wish you and your family success.
Marie
2016-10-26T00:00:00Z
Art der Unterkunft
Privatzimmer
---
Objekttyp
Villa
---
Unterkunft für
2
---
Schlafzimmer
Mississauga, Ontario, Kanada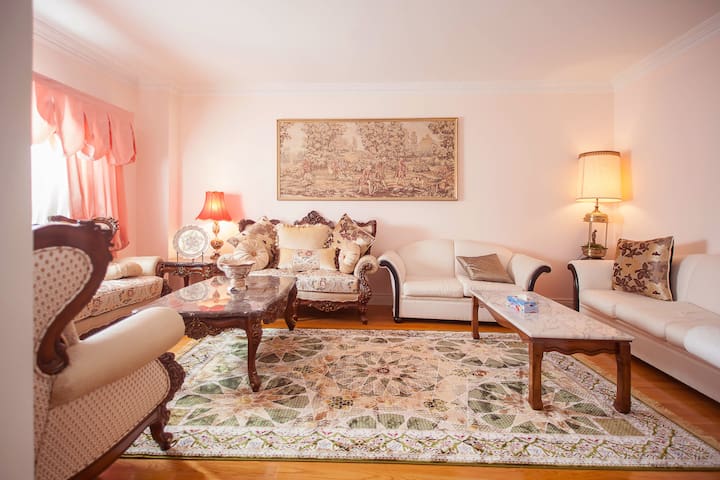 BEAUTIFUL VILLA IN A VILLAGE SURROUNDED BY OLDDEN TREES, SENIC VIEW PRIVATE AREA, 20 MINS FROM TORONTO PEARSON AIR PORT.5 MIN AWAY FROM MAIN ACTIVITIES
Art der Unterkunft
Ganze Unterkunft
---
Objekttyp
Villa
---
Unterkunft für
6
---
Schlafzimmer
Brampton, Ontario, Kanada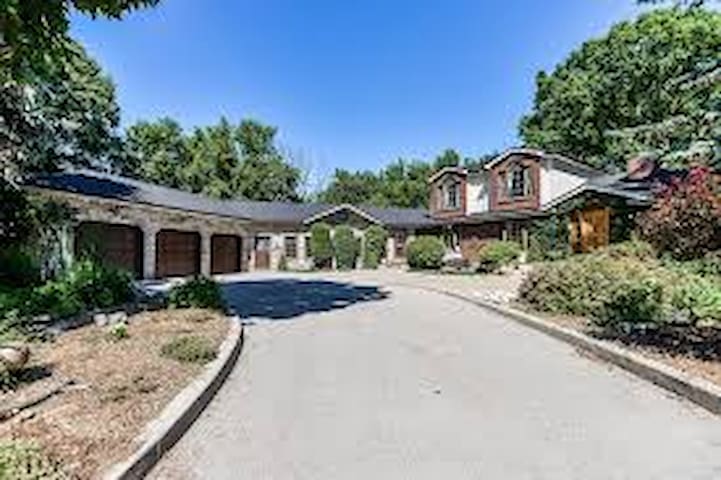 This house is 30 mins to toronto airport,5 mins to GO train station. close to highway QEW. There are 2 queen size beds and 1 double bed upstairs.
Same house but separate guests and owner, different level, different entrance,different kitchen。
Safety and quiet.....and pretty!
Song的房子跟她本人一样有品味,室内布置的简洁大方、干净明亮,崭新的浴巾和卧具松软舒适。令人惊喜的是女主人拿手的标准正宗牛肉面醇香扑鼻。台面上的鲜花更增添了一份浪漫和温馨。
CHEN
2017-01-06T00:00:00Z
.
Marie-Eve
2017-01-14T00:00:00Z
Beautiful stay
Cesare
2017-02-20T00:00:00Z
Patricia
2017-03-18T00:00:00Z
Sarah's house was very nice inside, clean and spacious
Brent
2017-03-01T00:00:00Z
Great stay, quiet neighborhood!
Keanu
2017-02-05T00:00:00Z
Modern stylish house. Big open concept living space. Very nice bathroom, comfy beds. Host lives in the house as well.
Susan
2017-01-22T00:00:00Z
Very clean and nice home, living pretty comfortable. The owner is warm welcomed.Definitely will rebook for another trip and recommend to the friend.
Hui
2017-02-10T00:00:00Z
Art der Unterkunft
Ganze Unterkunft
---
Objekttyp
Villa
---
Unterkunft für
2
---
Schlafzimmer
Oakville, Ontario, Kanada
Quite private rooms in the center of a safe community near lake 3 minutes to highway. A trail goes across the back yard, the Ontario lake is 5 minutes away. Best schools, best people.
close to lake, QEW, 403, 30 minutes to Toronto airport
best school community.
Art der Unterkunft
Privatzimmer
---
Objekttyp
Villa
---
Unterkunft für
1
---
Schlafzimmer
Oakville, Ontario, Kanada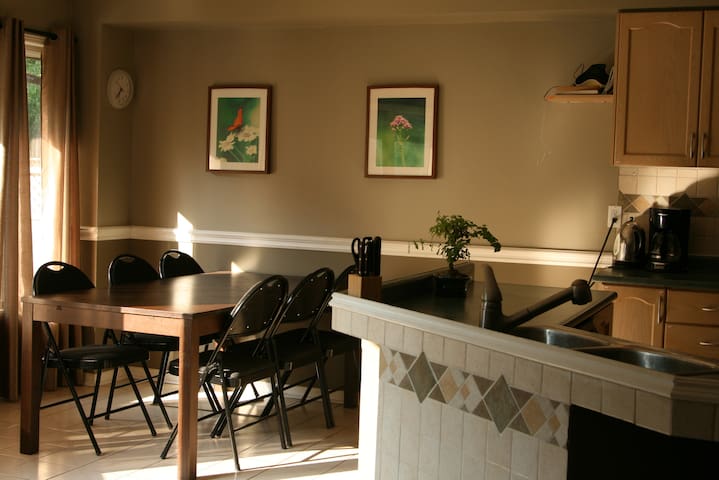 This house is 30 mins to toronto airport,5 mins to GO train station. close to highway QEW. There are 3 bedrooms upstairs, you will use the private second floor and main floor. It separate guests and owner. you will not see me if you don't want to.
it just like a holiday house
there is a trail just in front of the house
awesome space, the pictures does not do the atmosphere of sarah's home justice. Great place for a night in.
timothy
2017-02-12T00:00:00Z
Sarah is a phenomenal host! Kind, considerate, sweet and super accommodating. The rooms were clean and comfortable, the bathroom was amazing (loved the shower), and she even took the time to cook for us! I highly recommended her place, and will definitely return when we come back to Oakville. Thank you so much Sarah for setting the bar so high for our first stay with airbnb!
Danielle
2017-03-12T00:00:00Z
Great Host
Sunyi
2017-02-25T00:00:00Z
Sarah was nice & the bed was very comfortable. Pretty good location.
Markus
2017-04-02T00:00:00Z
Sarah is so cute ! She heard it was my birthday and left balloon and decorations for me :). The house was amazing, staged simple and was very clean.
Jameka
2017-02-19T00:00:00Z
Art der Unterkunft
Ganze Unterkunft
---
Objekttyp
Villa
---
Unterkunft für
6
---
Schlafzimmer
Toronto, Ontario, Kanada
2 Bedroom Executive Townhouse in North Burlington, lovely terrace & swimming pool. Close to grocery stores, banks, Shoppers, QEW. House has been newly renovated from top to bottom in 2013. All new furniture, beds, mattresses appliances, TV.
Villa Style Townhouse in quiet private area - located centrally between Toronto & Niagara Falls.
A quiet, peaceful, private, beautifully maintained property. A swimming pool, and is hidden from the main streets around the corner.
From our first direct communication, Viola made us feel very welcome. The townhouse was exactly as described so it was the little details that surprised, pleased and delighted us the most. The towels laid out on the beds, the toothbrush available in case we had forgotten one, the bottled water and drinks left in the refrigerator for our use and the quality of the beds and kitchen tools. We even had a fabulous patio deck where we could BBQ and sit and relax. It is a delightful space and Viola is a wonderful hostess.
Dan
2015-09-09T00:00:00Z
Violas place is very very nice. Just as described, and Viola is indeed a nice person. I went there with my family and if we ever come around this area again, we will stay at Violas again for sure, thanks! :-)
Rico
2015-07-20T00:00:00Z
Voila was fantastic, really responsive & made this part of my trip easy. The house is amazing, the pictures are a true reflection. The location was great, not far to Toronto, Niagara Falls & all the main routes. I know I'll be stopping again & I'll be recommending Viola & this property to everyone. *****
Matthew
2015-06-06T00:00:00Z
The stay with Viola was wonderful, the house was in a great neighborhood. She is a wonderful person and I look forward to visiting her home soon.highly recommend this place to all.
Akila
2015-08-02T00:00:00Z
great location wonderful host 5 star apartment at 2 star price I hope to return soon
Jay
2014-10-02T00:00:00Z
our stay with Viola was fine. very well received with full tour. the house is very well decorated it is clean and beautiful. we enjoyed the pool. I recommend this address is in a nice quiet neighborhood. thank you for everything.
Sophie
2014-08-30T00:00:00Z
It was a great experience at Viloa's house is - a very good thing place for a family of to stay with. Our host was so nice and friendly, also helpful during the whole time. Though it snowed some days when we were in town, my family enjoyed the time in and around. If we plan to come over next time, I would have like to stay here again.
Rachel
2016-04-15T00:00:00Z
Thank you for everything, we had a great time!
Brenda
2015-12-02T00:00:00Z
Art der Unterkunft
Ganze Unterkunft
---
Objekttyp
Villa
---
Unterkunft für
4
---
Schlafzimmer
Burlington, Ontario, Kanada