Gib dein Check-in-Datum im Format TT.MM.JJJJ ein
Gib dein Check-out-Datum im Format TT.MM.JJJJ ein
Inserate, die du buchen kannst, ohne auf eine Bestätigung des Gastgebers zu warten.
Gib deine Reisedaten ein, um den Gesamtpreis pro Nacht zu sehen.
Diesen Juli und August kannst du eine dieser 100 hervorragend bewerteten Unterkünfte aus jeder Preiskategorie ausprobieren, um Sonoma aus der Sicht eines Einheimischen kennenzulernen. Dank 24-Stunden-Check-in, Sofortbuchung sowie einheimischen Weinen und Snacks kannst du dich einfach zurücklehnen und deine Reise genießen.
La baita tra gli ulivi è un ambiente accogliente e confortevole, arredato in maniera deliziosa, in grado di trasmettere un senso di pace e di quiete. I proprietari (Antonio e Marinella) sono stati sempre disponibili e molto ospitali. Da consigliare assolutamente a chi preferisce una soluzione più appartata e silenziosa ma comunque poco distante dal paese.
Simone
January 2017
L'accoglienza è stata fantastica! Antonio e sua sorella Marinella ci hanno accolto con entusiasmo e molto buon cibo, ci hanno fornito molte indicazioni su spiagge e luoghi da visitare in alta murgia. Curato è un paese da visitare! il suo centro è molto particolare e la casa tra gli ulivi si trova a pochi chilometri da Trani (che è una città meravigliosa) e ad 1 km dal centro di Corato. Nella casa tra gli ulivi abbiamo goduto di pace e relax con tutte le comodità di poter avere in qualunque momento il supporto della famiglia di Antonio e Marinella che alloggiano a pochi metri dalla baita. L'ingresso è autonomo ed è necessaria una macchina per potersi muovere liberamente, ma la posizione è strategica per poter fare una vacanza al mare o per visitare il parco dell'alta murgia.
laura
August 2016
Everything was just perfect! Antonio and Marinella are super sweet guys. The cabin is a jewel placed in the middle of beautiful olive trees plantations were to have nice bike rides and walks. Everything is made with love and care in this small corner of paradise.
Silvia
August 2016
Lovely quiet cottage in an olive grove a quick walk from the town centre. Lots of privacy and well equipped. Very clean and tidy. Really helpful host and a lovely atmosphere if you want to get out of the big cities.
Lissa
September 2016
We sincerely recommend Antonio's and marinella's place. It's well situated to visit both sea cities and altamurgia Park. The accommodation in itself is nice with its ancient furniture and decoration. It's very clean, quiet and cosy. And marinella and her family cooked us a dinner made of typical dishes that we won't forget!
guillaume
October 2016
Abbiamo trascorso una piacevolissima settimana. La casa è molto carina,accogliente e fornita di tutto il necessario. Abbiamo letteralmente adorato lo spazio esterno e le amache tra gli ulivi. A pochi minuti di auto è possibile trovare sia il mare che deliziosi paesini, ma anche gli spostamenti più lunghi sono stati semplici e piacevoli. In ultimo, ma importantissimo, Antonio, sua sorella Marinella e i loro genitori sono persone fantastiche. Sempre gentili, disponibili a dare consigli, di compagnia ma senza essere mai invadenti. Consigliatissimo!
Antonio
August 2016
Una vera baita immersa nel caratteristico verde delle campagne coratine. Una esperienza che vi farà tornare alle naturali origini, completa di tutto il necessario per trascorrere il soggiorno in vero stile campagnolo. Carina l'idea della stufa in ghisa antica alimentata a legna (fornita dal proprietario), unica pecca, se il soggiorno è nel periodo invernale freddo è davvero difficiile con questo sistema riuscire ad ottenere una temperatura decente nell'alloggio soprattutto nelle ore serali e notturne. Antonio è una persona super disponibile e cortese. Consiglio nel complesso questo alloggio.
Vincenzo
January 2017
Art des Zimmers
Ganze Unterkunft
---
Art der Unterkunft
---
Unterkunft für
4
---
Schlafzimmer
1
Corato
...From our place watch the sunrise over the Adriatic Sea and nightime the small fishing's boats light!!!have a swim or just relax taking tan...the beach is right here! It seems to be sailing with the comforts of staying on land... our garden is waterfront and you can spend your entire day by Sea or visiting just a walk away(bicycle track-way out of our gate) the newPromenade of Mola di Bari with his typical restaurants and bar...very close there are many other attractive small towns and factories producing fresh mozzarella cheese and the freshiest seafruits-fish, you ever taste!!! In a private villa's area,I rent two small cottages furnished and full equipped, eachone with his own outside space-patio al fresco; and a common-exclusive compound space(equipped-sun-beds,sun ombrella,external shower) right on the beach, where you can have lunch or dinner with our typical food,cooked by me...if you feel lazy!!! You can choose: -studio/apartment for 4-max6persons:bedroom (2 double real bed ),living room(2sofa-bed),small kitchen,bathroom,tv,washingmachine.... -studio/apartment for 2-max4persons:living room with sofa bed(for2),one double realbed,small kitchen,bathroom,tv,air condit. private parking included;(pictures under my other listings/or put in your search keyword: waterfront2nd) You just need to bring your swimsuit...and You'll be WELCOME on our ship on land!!! Private beach gated access;bbq corner/baby swimming pool equipped solarium /garden beach-bordering; Community gated way with remote control and parking free! Always availlable to help my guests and give them all best directions to reach best amenities!!!
It was one of our best vacations! Absolutely everything was perfect! Vivian best hostess! She made our stay incredible. The house was very clean, comfortable and beautiful! We do not need anything! There was a sense we have come to visit a close relative. If you are going on vacation, this is the best place for you. It is better if you have a car. If you want details. You can ask me your questions. I will answer with pleasure ;)
Irina
September 2013
We enjoyed a lovely week at Viviana's! She is an absolutely fantastic host and person- we know consider her a friend and truly appreciate all the efforts she made to ensure we we were welcome and enjoying our trip. We were greeted with not only a warm hug, but also breakfast was waiting for us! When our stroller got delayed at the airport-for a week- she cheerfully loaned us hers! When our 1 year old daughter became ill, she made arrangements for her to see a wonderful paediatrician very quickly. Every day, she asked if we would like her to make suggestions as to how to best explore Puglia and would give us detailed directions to make our journey easy. Viviana clearly loves the region and wants her guests to have the best experiences too! Thank you Viviana for making our stay so wonderful! Ciao!!
Michelle
September 2016
Ci è piaciuto tutto in questo noleggio : l'appartamento, il giardino paradisiaco, la vista sull mare e soprattutto Viviana e la sua famiglia. Viviana è un ottimo host : era disponibile, attenta alle nostre esigenze e sempre sorridente. Avevamo interessanti scambi con lei e abbiamo trascorso la nostra ultima serata con lei, la sua figlia adorabile e sua carina mamma. Consigliamo vivamente questo appartamento : la realtà è ancora più bella che sulle foto e la host Viviana è PERFETTA. (Scusa per mio italiano stentato) Bacioni a voi 3 e spero a prestissimo, Sadia, Valeria e Tonia
Antonia
September 2015
I have travelled a lot already but I have never met that kind,nice open and helpful person than Viviana. She helped us when we had issue with car rental,she showed us some very nice places so we could taste a piece of real Italy. Also she gave us tips what to eat and where,which cities we should visit. We felt ourself safety in an unknown country thanks for her.The apartment is soo friendly and cozy. Close to the city,the train station and supermarkets. I strongly recommend her!
Hajni
October 2013
Viviana's house was a wonderful place with beautiful colors inside and a big lovely garden right beside the sea. Our young kids loved to play there. Beside the place Viviana is an outstanding host. She showed and explained us all places in and around Mola di Bari and we loved her ideas for daytrips. If you want to get to know Puglia go to Viviana's place. Mille grazie to Viviana for a perfect week.
Andreas
October 2015
Viviana is a great host, she provides valuable information and is always available for questions. The accommodation is as described, perfect for kids as there is a safe outdoor area. Mola di Bari is close and nice to visit, we had a great dinner at "Il Refugio del Pescatore". The kids very much enjoyed meeting and hanging out with Virginia.
Thomas
October 2016
Вивиана - очень внимательная и отзывчивая хозяйка. Встретила, все объяснила, всегда была на связи и всегда помогала советами куда поехать/где поесть/что посмотреть. У апартаментов отличный удобный дворик, есть гриль и лежаки. Для детей есть игровая площадка. На кухне все необходимое. В целом мебель и техника не новая, но все аккуратно и со вкусом. Кондиционер шумит, спасть с ним не очень комфортно. Поблизости сырное производство с магазином, где всегда можно купить свежую моцареллу, буратту и тд, также недалеко есть супермаркет. Сам городок Мола ди Бари тоже очень приятный для прогулок и ужинов. Единственным разочарованием стал пляж. Он действительно дикий, не ухоженный, без специальной обуви в воду не войти. Но в качестве декораций подходит отлично - вечером слышен шум моря, можно брать лежаки и загорать у воды. В общем, это идеальное место для "базирования", лучше приезжать на машине, чтобы была возможность посетить разные пляжи и достопримечательности, которых хватает в этом красивейшем итальянском регионе.
Katia
September 2016
Viviana est une personne formidable et un très bon hôte. Toujours joyeuse et souriante elle nous a été d'une aide et d'une disponibilité précieuses durant notre séjours. Le logement se situe dans un cadre idéal pour se ressourcer, se reposer et profiter de la mer et du soleil. Nous avons passé beaucoup de bon temps sur ses terrasses ombragées et ensoleillées. La plage est à deux pas, le centre ville de Molla di Bari est à environ 10 minutes à pied, 2 minutes en voiture, et l'on y trouve toute l'animation le soir, les commerces et bon restaurants pour pas très cher. Nous avons beaucoup apprécié la région des Pouilles qui est belle et authentique, avec des villes pleines de charme et loin des afflux touristiques que l'on peut trouver ailleurs.
Morgan
August 2016
Art des Zimmers
Ganze Unterkunft
---
Art der Unterkunft
---
Unterkunft für
7
---
Schlafzimmer
3
Mola di Bari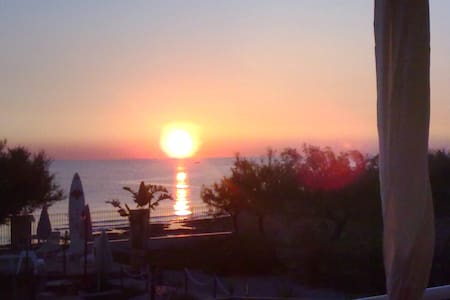 Lovely stay in a trulli within the Agriturismo Laire. The trulli accommodation is unique to the area and this one has been refurbished with a new bathroom etc. I arrived very late from the airport and John generously stayed up to let me in. Location is great for trips to Alberobello and locorotondo. It's easy to get to the coast in a car.
Julia
September 2016
Art des Zimmers
Ganze Unterkunft
---
Art der Unterkunft
---
Unterkunft für
2
---
Schlafzimmer
1
Alberobello
Die 9 Tage waren sehr angeben bei Guiseppe, uns hat der große Garten wo unser Hund sich austoben konnte gut gefallen und die Wohnung war auch süß und gemütlich. Alles in der Wohnung war gepflegt und der Gast Geber sehr lieb, wir wurden mit einem kleinen Frühstück empfangen und er war immer stehst hilfsbereit. Gerne würden wir das nochmal wiederholen :) Grazie
Giovanni
September 2016
L'accoglienza è stata stupenda giuseppe e la moglie sono persone molto disponibili e generose la casa ha soddisfatto pienamente le nostre aspettative lo spazio esterno moto grande e accogliente Grazie a tutto questo il nostro soggiorno è stato ancora piu piacevole. sicuramente ci torneremo
Felice
April 2016
Esperienza molto positiva, proprietari molto accoglienti gentili e disponibili che hanno fatto il possibile per garantirci un soggiorno fantastico, Siamo stati accolti da loro con la tipica focaccia barese, una bottiglia di vino e limoncello, Il posto corrispondeva alla descrizione, casetta accogliente con tutto quello che può servire, giardino meraviglioso, piu grande di come può sembrare in fotografia, in piena campagna quindi zona tranquilla e silenziosa! É stata il posto ideale con due bambini piccoli Ci torneremo sicuramente
Novalba
October 2016
Giuseppe è stato gentilissimo e molto disponibile! Si è prodigato per far trascorrere un ottimo soggiorno a me e alla mia famiglia ( cani di grossa taglia compresi)! Lo chalet si è rivelato piccolo, ma delizioso con tutti i comfort: riscaldamento compreso; il giardino, seppure nella sua veste invernale, bellissimo!!!! Tutto è andato bene e non riesco a trovare nessun difetto! Grazie Giuseppe! Alla........prossima.
Carmelita
December 2014
Siamo stati ospitati da Giuseppe dall' 11 agosto al 16.Il villino è quello descritto nelle foto, molto bello ed essenziale e completo di tutti gli optional che possono servire: moka per caffè, asciugacapelli, clima ecc. all'esterno si trova un area relax completa di altalena e amache dove mi sono rilassato al ritorno dal mare. Al mare ci si arriva in 5 min di macchina. Posso dire che come esperienza di vacanza è stata super, Giuseppe e la moglie sono stati ospitalissimi e attenti alle nostre esigenze, non ci hanno fatto mancare assolutamente nulla! La location è un oasi di silenzio e relax. Consiglio vivamente il soggiorno.
Biagio
August 2014
Art des Zimmers
Ganze Unterkunft
---
Art der Unterkunft
---
Unterkunft für
4
---
Schlafzimmer
1
Bisceglie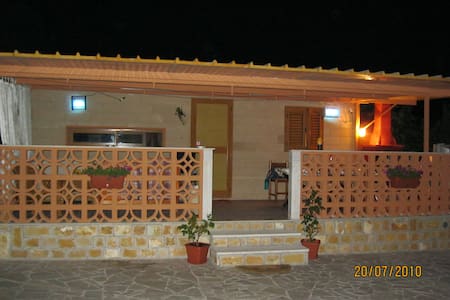 Un joli plain pied dans un village calme et animé le soir en cette période estivale. Notre arrivée était chaleureusement attendue. Victuailles à notre arrivée tardive, visite guidée des parents de l'hôte qui nous ont fait goûter aux fruits de leur très grand jardin,.. Un grand merci pour leurs conseils et leur accueil dynamique. C'est une maison dans laquelle nous nous sommes très bien senties !
Camille
August 2016
Pour commencer, dès notre arrivée mími et ses parents nous ont accueilli comme des rois! Un accueil comme si on venait rendre visite à la famille. Bien que nous ne les connaissions pas, ils ont su nous mettre à l'aise et nous ont reçu avec des petites collations maison préparées par les soins de la charmante Aurora. Et que dire de la maison à part qu'elle est juste au dessus de tout ce que nous imaginions ! Un jardin immense, et une petite maison typique en pierre avec une salle de bain qui nous a laissé sans voix! Un coin de paradis au milieu de la campagne des pouilles !!! Je ne peux rien dire d'autre que " la perfection" . La maison est très astucieuse et intelligente. On se sent en sécurité. La maison est près de tout avec une voiture. Cette région est sublime. À cause d'un problème de location de voiture, nous nous sommes retrouvés coincés à l'aéroport. Mimi et Franco n'ont pas hésité une seconde pour venir nous aider à tout régler. Encore une fois, un énorme merci. Avil,Pauline, Thomas.
Avildseen
September 2016
We were met at the house by Mimi's parents Aurora and Franco who were delightful, friendly and generous. Aurora even prepared us a traditional tasty snack - much appreciated after a long journey. They suggested local places of interest to visit then left us to enjoy the tranquil surroundings. The house was clean, comfortable and quaint. The garden very large and well equipped including a hammock. Despite only staying for two nights we visited the extraordinary town of Matera. We had a great time and would highly recommend staying at Mimi's place.
URSULA
September 2016
Wow, what great hospitality! Mimi and her parents welcome you with open arms when you arrive. Freshly picked fruit & nice bottle of chilled white wine were served to toast our arrival. They even gave a car tour of the villageto show the best places to eat and get groceries. It is a cosy little house with everything you need. The big bathroom and huge bath were a big surprise. You can sit outside on 2 spots so you always enjoy the sun. The garden is huge and you can pick your own fruit. As it'sjust 30 minutes away from Bari, this is thoroughly recommendable!
G.J.
August 2016
Nous avons été reçus par les parents de mimi,des personnes d une extrême gentillesse!a proximité des champs d olivier se trouve une petite maison chaleureuse avec climatisation (indispensable )une tres belle terrasse, tres reposante.un petit village bien sympathique et animes le soir en cette période d ete.Les plus belles plages se trouvent a trois quart d heures et bari une demi (URL HIDDEN) le recommande au amoureux de la nature et encore un grand merci pour l accueil!
sandrine
July 2016
Art des Zimmers
Ganze Unterkunft
---
Art der Unterkunft
---
Unterkunft für
4
---
Schlafzimmer
0
Quasano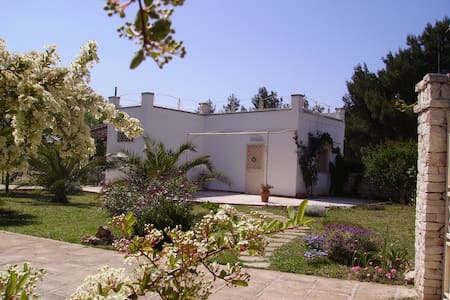 the thrill of living and sleeping in an architectural space archaic and unique in its kind: a TRULLO, in the beautiful land of Puglia and more stone barbecue and the hammock in the pinewood!
the Trullo is in the country, very near the center of Alberobello: the fabolous City of the Trulli. it is complete of living room with caminetto, traditional but efficient kitchen, bedroom for 2 persons and bathroom withshower and chauffage in winter: we are at 420 meters on the level of the sea. offside a tall pinetrees little parc of 3000 square meters.the sea is not very far: 20 km the Adriatico and +/- 40 the Ionio sea. In puglia is very simple eat very good: e.g "carne al fornello" (meat roasted in tipical way) "mozzarelle" (tipical fresh cheese) or "friselle" (a very tastefull tipe of bread with fresh tomatoes a basil or oregan) and the restaurant in Alberobello have good menù and prices. And there is a very interesting "Summer in Alberobello" with teatre performances, Jazz ane good music and cinema offside. But finally there is the absolutely unic sensation of living in a real unic tipe of traditional house the TRULLO! Have your good time at THE TRULLO OF PEACE AT ALBEROBELLO!
In addition to the fascinating and unique town of the Trulli (Alberobello) to + / - 20 Km do not miss a visit to the Caves of Castellana: an excursion into the underground world of a fairy tale!
Art des Zimmers
Ganze Unterkunft
---
Art der Unterkunft
---
Unterkunft für
2
---
Schlafzimmer
1
Alberobello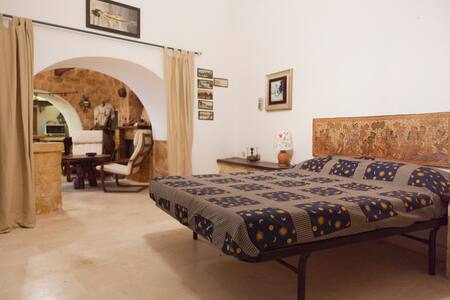 The host canceled this reservation 29 days before arrival. This is an automated posting.
Ylenia
Art des Zimmers
Privatzimmer
---
Art der Unterkunft
---
Unterkunft für
2
---
Schlafzimmer
1
Alberobello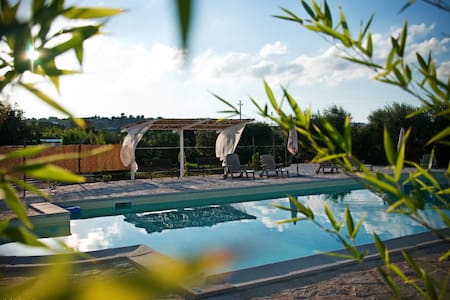 Trullo in campagna per 4 persone,distante 1km da Locorotondo e 10 minuti da Alberobello,20 minuti dalle meravigliose spiagge dell'Adriatico(Savelletri).Il Trullo si trova in una contrada,vicino ad altri trulli con una piccola pineta privata e gazebo.
Typical Apulian Stone Cottage (Trullo) with kitchen, bathroom, diningroom, one big bedroom, and other room with sofabed. Outside you'll find a gazebo for having breakfast, lunch and dinner at openspace and relaxing at woodpine shadow. The customers will enjoy all the building and the garden. The customers will contact us for any problem.
You'll find at 5 minutes the wonderfull village of Locorotondo and in 15 minutes Alberobello, Martina Franca. You can reach wonderfull sand beaches in 20 minutes by car.
Art des Zimmers
Ganze Unterkunft
---
Art der Unterkunft
---
Unterkunft für
4
---
Schlafzimmer
2
Locorotondo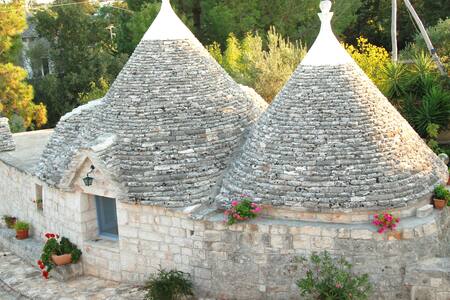 L' housing unity is situated in the urban center of Torre Canne (Tower Reeds), flourishing thermal center, bathing, fishermen's suburb, in a zone of notable historical-cultural and environmental interest of the Region Puglia, along the adriatic coast, direction Brindisi-Lecce, to the borders of the speedway SS16 that connects Bari to Brindisi, geographically situated to few kilometers from the hill with a long beach of sand end, transparent water and zones with low bluff interrupted by coves of sand. Torre Canne geographically situated to few kilometers from the hill and surrounded by uliveti secular and white farms, it is the strategic point to visit the places among the characteristic of the fantastic earth of puglia, center of 43 habitats natural second the directive CEE. It's surrounded by archaeological sites, ancient farms, medieval suburbs, parks of secular uliveti, uncontaminated beaches, centers diving for underwater immersions, centers of surf, sail, sweater fields,horse centers, to few kilometers from the Zoosafari of Fasano, from the white city of Ostuni, from naturalistic parks like St. Leonardo and Tower Guaceto, from Alberobello city of the trullis, from Castellana Grotte, from the valley d' Itria of Locorotondo, Cisternino, Martina Franca,to three km. from Egnathia., historical treasure of the sea and the ancient civilization messapica, covers of Virgilio and Maecenas of the so many testimonies of millennia of history and prehistory. Symbol of the fraction is the Lighthouse that illuminates to intermittence the coast, the bluffs and the whole sea.L' apartment is situated on the free beach of a sandy coast of 8 km. of a clear and uncontaminated sea, licked up from free beaches equipped e/o characterized by dunes covered with Mediterranean stain and lines of low bluffs that untie him for the 40 km.of the adriatic coast. The airport in Brindisi is to distance of 45 km, the airport in Bari is to distance of 70 km.. The stations FS of Fasano and Ostuni. Are distant 10 km, the station of Cisternino is to 3 km.
Art des Zimmers
Ganze Unterkunft
---
Art der Unterkunft
---
Unterkunft für
6
---
Schlafzimmer
3
Torre Canne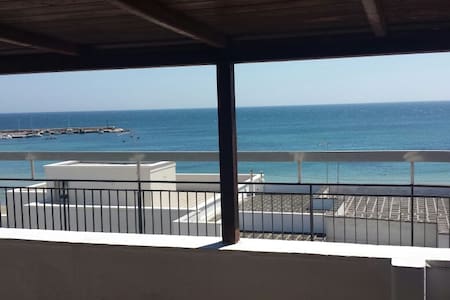 1

–

14

von

14 Blockhütten