Nicely furnished freshly painted studio above 2 car detached garage located close to downtown, North Cheyenne Canon & Fort Carson in newer neighborhood with shared patio. Includes: central air and heat, washer and dryer in unit, full kitchen including built-in microwave, mini fridge, 2 burner cooktop, coffee maker & larger convection toaster/oven. Good sized bath with shower. Private setting with separate entrance. Great park 1 block away with picnic table, gazebo & fantastic mountain views!
You get a private studio that is separated from the main house located above the detached garage behind main house.
Traditional craftsman style newer home neighborhood with nearby park.
Amazing stay in Colorado Springs... well equipped, clean, comfortable, and cozy studio. I stayed for 27 nights and I do not have anything bad to say. Scott was always making sure I was okay, and even left snacks and water for me. I would totally recommend this place.
Wilmarie
2016-10-22T00:00:00Z
We absolutely love the loft, very well laid out & had all the amenities we needed. Owners super nice & helpful. We plan on returning & having Scott help for move to area. Highly recommend. Little strange at first, that other family lives in front part of loft, but we never saw them and felt like we had the whole place to ourselves! First time to use Airbnb & this experience sold us in it!
Andrea
2016-07-05T00:00:00Z
Scott and Marlene are amazing. They have a beautiful studio in an excellent location. I was so happy to be in a peaceful neighborhood that was still so close to everything we wanted to do/see.
Alyssa
2017-03-18T00:00:00Z
This space is very clean, warm, welcoming, private and especially pleasant. I will return one day. It is convenient to the southern area of Colorado Springs and I25 is close by. I highly recommend it and Scott and Marlene are attentive and communicate easily and promptly.
Cynthia
2017-02-21T00:00:00Z
This is a great place for a single traveler. It is cozy, quiet, clean, and was perfectly located for my purposes. There aren't many channels accessible on the TV and the water pressure was a little low, but it has a washer and dryer, a comfy bed, and it was toasty warm in the cooler weather. I would stay here again.
Bridget
2017-02-06T00:00:00Z
Scott and Marlene were phenomenal hosts. The apartment was exactly as pictured with all the amenities you could ever want or need, even for a more extended stay. There is not a single facet of the stay I could think to improve or suggest that they change. I'll absolutely be staying here again if I ever need a quick place in the Springs. I highly recommend this to anyone.
Brad
2016-09-25T00:00:00Z
Perfect spot. Quite but close. Comfortable. Request provided for!
Anndrea
2016-07-31T00:00:00Z
Apartment was just like the photos. Scott was helpful with hiking suggestions. Great experience.
Frank
2016-06-19T00:00:00Z
Art der Unterkunft
Ganze Unterkunft
---
Objekttyp
Loft
---
Unterkunft für
2
---
Schlafzimmer
Colorado Springs, Colorado, Vereinigte Staaten
Experience Colorado Springs(2017 2nd Most Desirable Place to Live) at our LowerWestSide private upstairs loft. Walk to Red Rock Canyon Open Space for endless Hiking/Biking trails. Close to eating spots in Manitou & Old Colorado City. From all American/Bars/Taverns/Italian/Mexican/Sushi to fast food! A mile to GardenOfGods Lookout and 5mi to downtown. Calendar is up to date, so proceed with instant booking even for same day stay. Definitely feel free to send an inquiry if you have any questions!
A completely private upstairs 600+sq ft living (non-studio) space loft o A 200+sq ft deck with private entrance o A cozy Bedroom with queen bed, a large 50" TV is connected to BlueRay player streaming (already logged in) Netflix, Hulu, Youtube, and antenna for Local channels. o Fresh and Clean Bedsheets on a comfy bed and nice pillows o Living room has a gas fireplace, futon couch with a 32" TV with local channels. o Kitchen has basic sink, stove, fridge, utensils and silverware, along with olive oil, sugar, honey, salt & pepper and fresh half-n-half. We provide fresh and rich (mostly starbucks french toast dark) ground coffee and a coffee maker with robust setting for a strong n hot brew. o Private Full bathroom with ample clean WHITE towels and tub with a nice pressure shower head. Comes with shampoo, conditioner and body wash. On Deck comfortably enjoy bright sunshine, afternoon thunder showers, breeze or snow, and view endless dark night sky. 12:00PM checkout mean a hike in the morning, relax and then check out. Ask for Pre-3:00PM check-in based on readiness and availability. BBQ gas grill available if requested in advance. Ample parking on rustic drive way and on street. An outside GAS firepit down by the stairs. US News and Travel Voted Colorado Springs as the MOST DESIRABLE PLACE to Live (Mainland) So stay in the Best Spot in Colorado Springs by Red Rock Open Space! Even COS locals are amazed that such a cute and safe corner residential area exists next to best hiking trails.
Walk to Red Rock Canyon Open Space. Endless trails of different levels for hiking and biking with natural rock formations. There are small water ponds where one can often see ducks swimming around. Trails are for every kind and you will get to see some great views. A short drive up to Garden of Gods Lookout and loop by Ridge Road for 270 degree views of nearby towns and Pikes Peak. Lots of eating and hang out spots nearby in Old Colorado City and Manitou Springs. Close to cave of the winds, pikes peak drive, Woodland Park town. Quickest access out to west of 24 for Mountains and Woodland Park. A very unique corner away from busy typical neighborhood, yet close to everything you are looking for while visiting Colorado Springs.
Dev was very communicative and had a beautiful space with all the amenities I could have asked for! Everything was immaculate and there was a folder with instructions laid out so I could clearly access internet, Hulu and know how to work the coffee machine. The bed was ultra comfy and I was impressed with how much room there was for such a fantastic value. I will definitely stay here again when I come back to Colorado Springs!
Parker
2016-09-10T00:00:00Z
Dev's place was exactly what I was looking for. Much better than a hotel and a very comfortable bed. I slept really well during my stay. The location is right near Red Rock Canyon Open Space and enabled me to get a few beautiful sunset hikes in. Near Manitou Springs.
Thad
2016-12-31T00:00:00Z
This was a beautiful attic conversion apartment just west of Colorado Springs. There is a hiking trail just down the street, which was absolutely lovely and extremely convenient. The hosts have appointed this apartment with everything you could need to be comfortable, and were very responsive. The listing doesn't do the place justice. I rented it thinking it was just going to be a tiny studio attic, but it was quite a nice and comfortable one bedroom apartment with everything I could need.
Joanna
2016-09-06T00:00:00Z
My boyfriend and I stayed at Devs place on our way through town and it was perfect for us. Super warm and cozy. You feel like you are going home after a day of hiking rather than back to hotel. We would recommend this to anyone and would love to stay again next time we are in Springs !
Ashley
2017-03-04T00:00:00Z
Such a great place to stay if you're looking to get away. Easy to access, directions are very clear. They provided great hospitality! Very warm and quiet.
Leticia
2017-01-29T00:00:00Z
Awesome stay. Place was perfect.
Stacey
2017-03-18T00:00:00Z
Had a very enjoyable 2 day stay. The place was very clean and comfortable. Proximity to the highway didn't cause an issue at all; sounded more like white noise. Basic toiletries were provided if needed. A very short drive from anything you could need, and the hiking nearby is great. Dev was very accessible.
Jonathan
2017-01-02T00:00:00Z
Wonderful spot located right by the Open Space. Great for hours of hiking and very close to the city as well!
Logan
2017-03-10T00:00:00Z
Art der Unterkunft
Ganze Unterkunft
---
Objekttyp
Loft
---
Unterkunft für
4
---
Schlafzimmer
Colorado Springs, Colorado, Vereinigte Staaten
This is a unique opportunity to experience European style loft living within the walls of a beautiful building steeped in the history of Old Colorado City and Colorado Springs. It offers a luxurious, private and quiet ambiance in the midst of a bustling historic neighborhood filled with great restaurants, galleries, specialty shops, a museum and library. At the same time it is central to the all important local natural wonders, biking, hiking and sightseeing.
Enjoy this lovely, owner managed accommodation over looking Bancroft Park in The Old Colorado City Historic District of Colorado Springs. Venture out from this very quiet and private place to find yourself just steps away from many specialty shops, art galleries, the Old Colorado City museum, a small but treasured Carnegie Library and many excellent restaurants that all draw visitors to the neighborhood from around the world. This newly re-furbished, re-decorated and furnished loft features a lovely living room with views of Bancroft Park and the streets of Old Colorado City, ten foot ceilings with skylights, ceiling fans, air conditioning, a gas fireplace, wifi, cable two flat screen televisions, two bedrooms with extraordinary European queen pillow-top beds, quality linens, unique art and antiques. Separated from the living room by French doors is the spacious dining room/meeting room that seats ten and is perfect for a relaxing dinner with family and friends or for a gathering of business associates. The large, fully equipped kitchen is open and easily accessible from both the dining and living rooms, making serving a meal or refreshments a pleasure. Adjacent to the kitchen is a charming tea room perfect for breakfast or tea in the early morning sunshine. The tea room is attached to the center bedroom and can become a private part of that accommodation with the closure of a single door. This bedroom offers a luxurious, peachy and peaceful atmosphere, a queen pillow-top mattress encased in a white rod iron bed, a sunny window, mirrored closet doors, skylight, antique dresser and night stands. It is attached to a lovely, two room, full, double vanity bathroom with two entrances and a washer and dryer. Down the hall, the French bedroom is a lovely surprise. It also features an amazing gueen pillow-top bed, luxurious linens and an antique headboard. Two comfortable over-stuffed chairs encourage relaxing and reading in a private, quiet atmosphere or watching the flat screen television. The attached dressing room is furnished with a charming antique loveseat, armoire and mirror. The "coup de grâce" of this special suite is that just three steps will take you onto the rooftop patio flooded with glorious Colorado sunshine and a full view of the Rocky Mountains from Pikes Peak to Cheyenne Mountain. The patio is a great place for breakfast, a cup of tea or a glass of wine at sunset. We look forward to your stay!
All that Colorado Springs has to offer is within easy reach from the loft's perfect location. You will be minutes from downtown Colorado Springs, the famous Garden of the Gods and Rock Ledge Ranch Historic Site, the five-star Broadmoor Hotel and Seven Falls, our amazing Cheyenne Mountain Zoo and historic Manitou Springs. Two blocks away, Highway 24 will take you up Ute Pass to the Pikes Peak Highway and the top of "America's Mountain", the stunning 14,000 foot peak that inspired Katharine Lee Bates to write "America the Beautiful". The United States Air Force Academy, The Olympic Training Center and the University of Colorado at Colorado Springs are accessible within a twenty minute drive. Colorado College is a short five minutes away. Athletes will love our loft's location right on the Midland Bicycle Trail running from downtown Colorado Springs through Old Colorado City and on into Manitou Springs. Manitou boasts the now famous Manitou Incline where courageous runners test their abilities on the railroad tie stairway rising 2,000 feet above the town, straight up Mount Manitou. Less than a half-mile from the loft, Red Rocks Park offers mountain biking, hiking and rock climbing.
Art der Unterkunft
Ganze Unterkunft
---
Objekttyp
Loft
---
Unterkunft für
4
---
Schlafzimmer
Colorado Springs, Colorado, Vereinigte Staaten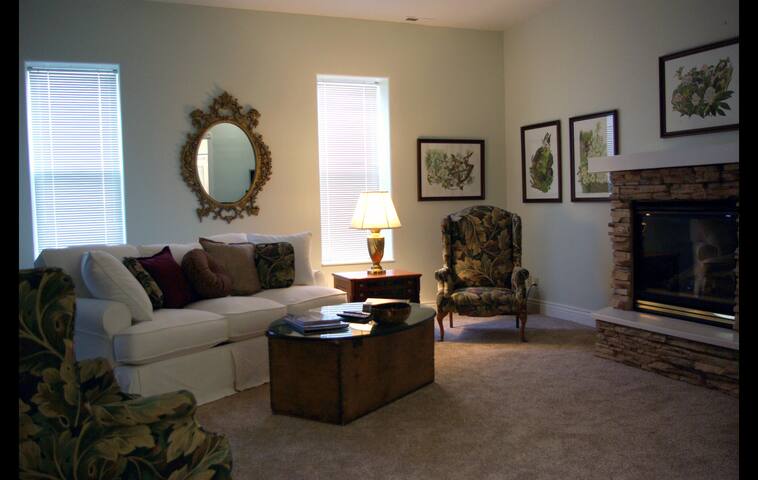 My place is close to the Garden of the Gods, Pikes Peak, Manitou Springs, downtown Colorado Springs. My place is called, Manhattan in Old Colorado City, in the heart of art and culture including galleries, and stores, a Carnegie Library and a museum of this early territorial capital of Colorado state itself. Manhattan in Old Colorado City provides city scape as well as mountain views and includes a library of books and music to inspire song writing, or oldies listening as you sit by the fire following a great day of exploring the Pikes Peak Regions many trails and hide aways. Great views of Pikes Peak seem magnetic. MOCC is situated among restaurants and bakeries, and a Chocolate Factory! The beach at Memorial Park is 15 minutes, yet the mountains attract the strollers, hikers, speed walkers, cyclists,rock climbers, skate boarders, runners and dreamers. But wait, Bancroft Park and the log cabin site of the historical Colorado Territorial Capital are in view and right across the street. Family-friendly activities are abundant in the fresh air: Laughing, giggling, smiling are all part of the fun. Cave of the Winds, Pioneer Village, Hiking in and around Pikes National Forest, Garden of the Gods, Red Rocks Park, Memorial Park (Ice Hockey, swimming, strolling, skate boarding, a velodrome, Memorial Park Lake with strolling loop, boating, all and more under a Colorado Blue Sky. . You'll love my place for its Manhattan in Old Colorado City loft feeling, occupying the second floor and its location in the hub of experiences never to be forgotten. IT IS A SONG WRITERS, AND KEYBOARD MUSICIANS PEACEFUL PARADISE. Bring your musical instrument, and enjoy the keyboards on site. Come here to write your hit tune! All this while outside is the exciting paradise of the Pikes Peak Region. Sit on the deck outside to view the mountains throughout the day, sip your favorite beverage while watching the mountains ripple with the changing light of the day. Paint!! Draw!! Sing!! . My place is good for couples, solo adventurers, business travelers, and families (with kids).
Lofts for the young and the young at heart. Ladder access used at your own risk (caution to families with young climbers). Space to retreat to for drawing, sketching, planning, meditating, snoozing, sleeping and dreaming. The ladders are "library" style. Each with an adult only by permission sign.
Unique in this neighborhood is the Old Colorado City designated Historical District. and the territorial capital log cabin in Bancroft Park.
Beautiful 2 bedroom apartment in the heart of Old Colorado city. Perfect for sleeping up to 6 people. Within walking distance from lots of good restaurants. Frank was very welcoming and wanted us to feel at home. The kids very much enjoyed going up and down the lofts and the musical instruments in the apartment.
Yogen
2016-07-05T00:00:00Z
Our stay at Francisco's place, "Manhattan in Old Colorado City" was wonderful. We are a suburban family of four and really enjoyed the experience of staying in a loft literally in the downtown heart of this bustling area. Francisco was easy to communicate with, quick to respond to questions and needs, and although not on the premises stopped by to greet us on arrival, checked in during our stay and even brought us an extra fan on request. We did not have enough time to visit and try out all the restaurants and shops the area offers but we especially enjoyed the Saturday morning Farmers Market in the park across the street. The loft was much larger in reality than it appears in the pictures and allowed us room to socialize with other family members who were also in the area that weekend. Our older teenagers loved the loft areas for sleeping and having their own 'private space' which is never available in a simple hotel room. The kitchen had everything we needed and I wish had more time to peruse the large library of books and music that were available. I would definitely stay here again. This was a great trip for our family and the only improvement would have been if the Colorado weather had decided to stay a little further under 90 degrees.
Beth
2016-07-12T00:00:00Z
Art der Unterkunft
Ganze Unterkunft
---
Objekttyp
Loft
---
Unterkunft für
6
---
Schlafzimmer
Colorado Springs, Colorado, Vereinigte Staaten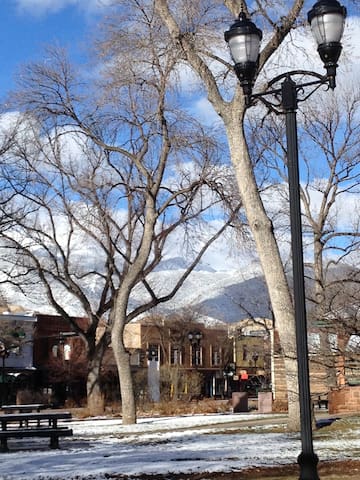 Large, private, secure (locked entry) master bedroom/bath/desk (work area) available in a luxurious "loft" condominium. Prime location (Gold Hill Mesa) as its only 5 min from downtown Col Spgs, I25, Old Colorado City, Broadmoor... excellent "energy".
Awesome luxurious loft. Private balcony (for smokers) adjacent to Master bedroom.
Neighborhood is beautiful. Many people take walks as the views of city and mountain are astonishing.
The accommodation were as advertised and the host was nice however we found her other house guests a little insensitive in regards to their cigarette and 420 smoking habits.
Peter
2016-10-16T00:00:00Z
Close to Colorado springs. Great view from the balcony of downtown. Cozy room with private bathroom. Very welcoming host. Comfortable bed to lay your head after a 12 hour drive
Susann
2016-10-22T00:00:00Z
Art der Unterkunft
Privatzimmer
---
Objekttyp
Loft
---
Unterkunft für
2
---
Schlafzimmer
Colorado Springs, Colorado, Vereinigte Staaten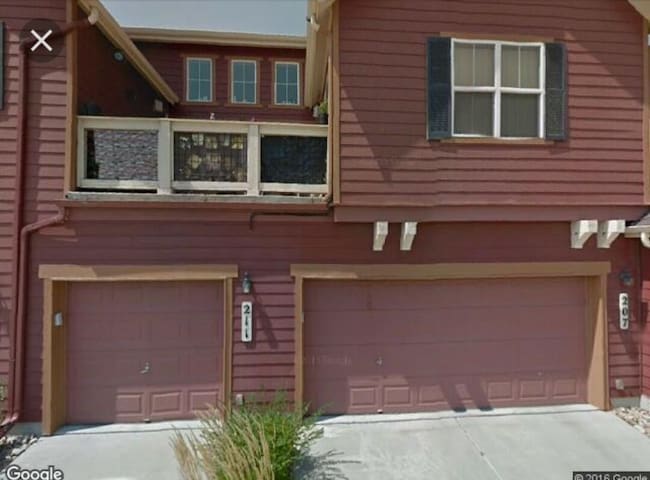 Monument - Airbnb
:
Durchschnittlich

4.71

von

5

Sternen aus

69

Gäste-Bewertungen
Gib deine Reisedaten ein, um den Gesamtpreis pro Nacht zu sehen.