Gib deine Reisedaten ein, um den Gesamtpreis pro Nacht zu sehen.
3 Unterkünfte
· Multnomah Falls
3 Unterkünfte
· Multnomah Falls
With amazing views of The Cascade Mountains, Multnomah falls, Mist falls and the Columbia river, this home is very rare and very special. Secluded, private, peaceful, and close to all the beauty and recreation the Columbia River Gorge has to offer!
THE VIEW! A sprawling view of the Gorge is laid out before you. From every window there is a view of Multnomah falls, the Cascade mountains, and the Columbia river. This guest quarters is the downstairs level of the house, which includes 2 private bedrooms, a full bathroom, and a family room with a kitchenette (some describe it as a 'Mother-in-law quarters'). Access to the level is through the main entrance on the main floor. We live upstairs in the house, and access is similar to what you would encounter with a BnB or guest rooms. We do allow guests to use the main floor laundry room, And allow access to our rec room, and the main floor kitchen as well. We do live upstairs so you might see us when you are coming and going. We are very easy-going and very quiet. We are very respectful of privacy and leave it up to the guests to determine how much interaction there will be. Some guests will stay to themselves, some will use the rec room on the main floor, and some will even use the main floor kitchen.
Located in a small community of about 20 homes nestled between Washington's scenic route 14 and the Columbia River. This area of the Gorge is considered to be the most beautiful, yet is still fairly close to the Portland/Vancouver metropolitan areas. This relatively overlooked area, known to the locals as "The sunny side of the Gorge", is quickly becoming the most desirable due to its location, views, recreational facilities, and the fact that it is South-facing which increases the amount of sun and length of the days, This community is peculiar in the fact that it even exists here in the Scenic area. It would not be allowed to be built today! The Portland airport (PDX) is only 25 minutes away. Parking is right in front of the house. If you must use public transportation there is a park-and-ride about a mile up the road where you can catch a bus that will take you into town.
One of the most incredible places we have ever stayed! We honestly can't thank Mike and Nicki enough for the extra effort they went to in making our stay both comfortable and so much fun. The house is so beautiful, incredible views and every single detail you can think of was taken care of. But honestly our highlight? Mike and Nicki! They were the most lovely hosts and invited my husband and I to have dinner with them on their beautiful deck. We sat for hours laughing, chatting, having a few drinks and honestly just making some great friends. Thank you Mike and Nicki for giving us a lifelong memory!
Trish
August 2014
Mike and Nikki are perfect hosts. They are super friendly and the place is exactly as advertised, if not better. Very clean and comfy. The view from the back porch is simply stunning. Sunday breakfast was really tasty and a game (or two or three) of shuffleboard was the perfect way to unwind after a day of hiking. Highly, highly recommended.
Chris
July 2014
It was amazing! The description and the pictures do not do the house justice! You really can see Multnomah Falls from the deck and even through the bedroom windows! We wish we had stayed with Mike and Nikki for more than one night. They were excellent hosts - friendly, fun, accommodating and answering our every question from directions to providing local info and entertainment. The bedrooms were spotless, and the bathroom was stocked with plenty of fresh towels. Don't hesitate! Visit this secret sanctuary. We hope to make it back for a longer stay in the near future!
Becky
March 2014
PERFECT PLACE TO STAY!!! To see that crazy beautiful view in the morning was great, and the listing is just as it looks. Comfortable beds, great toiletries provided, and the view is just, WOW! Great stuff to go see in the area too. Mike and Nikki were SUPER nice, and took extra time and printed us a great itinerary for the area, including the falls and a surprisingly fancy fish hatchery. (My husband liked that even better than the falls!) Would recommend this place to anyone and everyone!!!
Melissa
August 2014
We couldn't of been more pleased with our week stay with Mike and Nikki. They were extremely kind and generous and we felt very welcome. The accommodations themselves were excellent with views that were amazing. The location was perfect, away from the crowds but right in the middle of paradise. Several fun towns were a few minutes away. The place was very quiet and peaceful and we hope to return.
Wendell
July 2014
Mike and Nikki are amazing!! Their property is everything you could imagine for a wonderful escape in the gorge. Perfect hidden location, makes you feel secluded, yet have all the comforts of home - plus more! Couldn't recommend this location any more highly than I do!
Sara
August 2014
We thoroughly enjoyed out stay at Mike and Nikki's place in the gorge. They are such gracious hosts and really went out of the way to make sure all needs were met. The view was truly outstanding and the beds were also very comfortable. The private porch was a major bonus! Since we had been camping for a week prior to arriving, this was a real treat to have laundry access, TV, and a hot shower. We are a family of four and it was the perfect amount of space for us to decompress, recharge as well as see all the amazing waterfalls in the area. Mike had some excellent hiking recommendations for us and we enjoyed a full day of fun in the gorge! We really hope to make it back someday in the future.
Heidi
August 2014
Mike & Nikki welcomed us into their beautiful home with open arms. They showed us around and generously offered for us to use their bar, outdoor deck, shuffleboard table and kitchen. The neighborhood is quiet and hidden on the Columbia River Gorge which really is breathtaking. Our rooms were clean and perfect. We were in town for a wedding down the road so we had activities planned all weekend but in our down time we were able to climb the Multnomah Falls (which you can see from their house). Mike graciously gave us directions for our adventure and other suggestions for activities to do in the area. We had a lovely time and would definitely go back!
Megan
August 2014
Art des Zimmers
Ganze Unterkunft
---
Objekttyp
Haus
---
Unterkunft für
4
---
Schlafzimmer
2
Washougal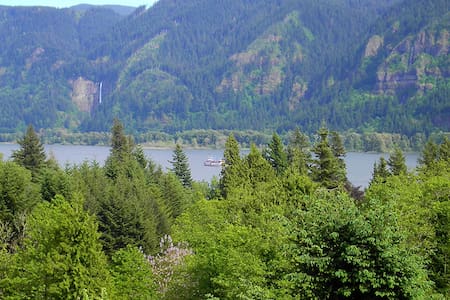 Top two floors of a restored riverside 1940's bungalow on 4 acres next to the Columbia River. Less than 30 mins to Portland Airport. Only one mile from Cape Horn trailhead with incredible views, waterfalls and nature. Less than ten minutes to Ozone wall for rock climbing. The house runs on pristine spring water. The yard is huge, features fruit trees, berries and a hammock zone. Very quiet and private area. House is good for couples, solo adventurers, business travelers, families and groups.
I do not interact with guests much because I am not on the property at the time of rental. I am nearby and happy to help when needed. I have a tenet who live in basement named Kai who is very nice and helpful.
This entire area has slower Wifi than in urban areas. We have the fastest carrier and plan available here but it does not do blistering downloads or uploads.
The most charming cabin you'll ever stay in! So much character, you'll never want to leave!
Ashley
January 2017
Cyrus' home outside of Washougal was a perfect hideaway for us on the Christmas weekend. Picture this - waking up Christmas morning, one peers from the comfort of a top bunk out into the low lying mist percolating over the Columbia river gorge. Need I say more? Cyrus' sense of decoration is impeccable, rustic with flair. The home was bedecked with fresh pine bundles. The wood panelled interior reflected the surrounding environs. Things were clean and tidy and there was plenty of space for our own belongings. I would encourage anyone to stay here - and I hope to stay here again some time in the future. Thanks Cyrus!!!!!
Josephine
December 2016
The host canceled this reservation 28 days before arrival. This is an automated posting.
Katie
March 2017
this is a good place
Qinyang
November 2016
Art des Zimmers
Ganze Unterkunft
---
Objekttyp
Haus
---
Unterkunft für
8
---
Schlafzimmer
4
Washougal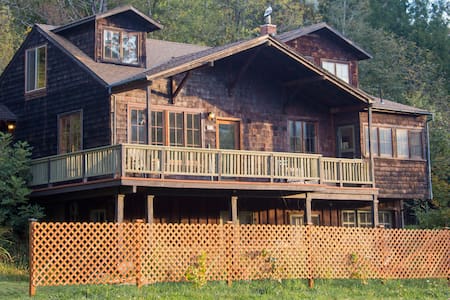 Two quiet, comfortable rooms above the Columbia River Gorge surrounded by pine trees and oxygen. 25 minutes from PDX, 40 minutes from Portland. Sweet spot for cyclists, MTBers, kite/wind surfers, hikers, runners, skiers, climbers, writers, business travelers, motocross competitors, boaters, equestrians. Parking for trailer Huge deck with incredible view!
Our home is large, open and comfortable and we love to have responsible visitors! We are literally over the river and through the woods from PDX and Portland, OR, and situated at the top of a hill in the Columbia River Gorge area. One room looks out to our little red barn on pasture, the other looks out over the valley toward the twinkling lights of Portland and to the Silver Star Mountains. It's peaceful here and the air is fresh and clean. We have a cozy queen bed in our Chambre Le Jardin and a spacious, comfortable king bed in the Chambre La Mer. We also have a double futon downstairs which, for larger parties, you're welcome to use for a small additional fee. The bathroom by this room, while functional with a shower, sink, and toilet, is still unfinished, so again, while utilitarian, it is not tiled yet, however in the middle of the night, it is convenient. If you wish, you may simply go up and use the bathroom at the top of the stairs. As for things to do: For MTBers (mountain bikers), there is a lush logging road you can use that can take you as far as you want to go and there's plenty of single track nearby. Mount Saint Helens, Mount Hood, Mount Washington, Mirror Lake etc., are not far. Hikers and trail runners, we've got Cape Horn Trail three miles down the road, Beacon Rock State Park is a quick ten miles from here, and over the Bridge of the Gods is Multnomah Falls, Horsetail Falls, and so much more! Or head into Portland, to Forest Park, and run or hike the fabulous and incredibly beautiful Wildwood Trail. Nothing beats it and it's my personal favorite for trail running. I've got a book here for local/Portland hikes that list all you want in varying degrees of difficulty. Road riders, your options are pretty much limitless. You can head out from here and count on thigh-burning grades all over the place. Kite and wind surfers, world-class winds await you 39 miles away in Hood River, OR. That, and the cute town itself. Closer to here, just 20 or so miles away, in the smaller Columbia cove of Carson, is also great kite and wind surfing. Rock climbers, from here, turn left off Salmon Falls Road heading down W-14, about 10 miles from here, Beacon Rock has an awesome vertical wall, or turn right onto W-14 off Salmon Falls and go three miles down, you'll find Ozone Wall. Skiers, Mount Hood awaits, Motocross peeps, we've got the Washougal MX Park right here! Antique explorers, head into Portland to Selwood for a cornucopia of vintage goodies, power shoppers, head across the river too, for big tax-free shopping. Motorcycle clubs, there are stunning rides in any direction! Feel free to relax in our living room, dining room, and please use our kitchen. We simply ask that you respect our things and our privacy, and tidy up after yourselves. Our bedroom is on the third floor and is off limits. Firearms are not permitted in our home but feel free to lock them in your vehicle across the street. Except for bona fide trained Service Animals, pets/animals (please, no "comfort animals") are not permitted in the house. They may, however, sleep in the barn. Horses are welcome at additional cost. We have varmints, critters and other wildlife up here so the barn would need to be closed at night when your animals are sleeping. Coyotes howl at times during the night, and we have bear, a rare mountain lion, elk, deer, and rabbits. No rattle snakes here but we do have small garter snakes that come out when it's warm. Since our home has an open floor plan and we will be here during your stay, we will be sharing our home and space with you. Still, we will do our best to stay out of your way during your visit with us and when you're socializing in the living or dining room, unless invited to join you, we will of course respect your space. I enjoy entertaining and developing wonderful friendships with people from all over the country and planet. When you arrive I will ask you if you would like to have a dinner gathering at our dining table. Please do not feel obligated to say yes! I will simply invite you and the option will be entirely yours! :-)
Quiet, pretty, green, and de-stressing. :-) You'll need a car here. If you've brought your bikes or motorcycles, leave your car and ride like the wind! Parking is complimentary. We have lots of books and board games, so please feel free to enjoy them! For industrious youngsters, I have Legos. If you are traveling with little ones, with advance notice I will be happy to look after them so you can enjoy a day or evening out. $25.00/hour.
Art des Zimmers
Privatzimmer
---
Objekttyp
Haus
---
Unterkunft für
2
---
Schlafzimmer
1
Washougal