This private room is separate from the loft seating area, but is marked by its high-ceilings. The place is close to family-friendly activities, nightlife, public transport, the city center, restaurants, shopping, grocery store, parks, and schools. You'll like it because of the comfy full-sized bed, walk-in closet, the laundry room, access to the kitchen, and the way it feels like home. It is great for couples, solo adventurers, students, professors, interns and business travelers.
The room is very large. It has a walk-in closet, refrigerator, microwave and plenty of space for working and relaxing. There is plenty of storage in the large closet. The bed is a real bed; it is a full sized bed. It is quite comfortable.
The neighborhood is very peaceful and quiet and so is the building.
good courteous host and a wonderful place to stay
Ravi Ray
2017-03-20T00:00:00Z
I loved staying at Marie's apartment, she is the nicest ever. The place is clean and very convenient location.
Xinia
2017-03-09T00:00:00Z
The host canceled this reservation 155 days before arrival. This is an automated posting.
Kayla
2017-03-15T00:00:00Z
Wonderful business travel experience with all required amenities and business needs. Personalized experience also arranged by the host for business travel needs and basic things such as internet, laundry, food and special day pizza. Room is well lit and has excellent heating and air conditioning. The location is close to all financial institutions and business institutions and has accessible bus and taxi transportation. Takes 20 minutes to Stamford station by walk and 10 minutes by public transportation. Well connected to New York City and New Haven. Excellent location with restaurants and downtown amenities available at accessible distance.
Anand
2017-03-04T00:00:00Z
Art der Unterkunft
Privatzimmer
---
Objekttyp
Loft
---
Unterkunft für
2
---
Schlafzimmer
Stamford, Connecticut, Vereinigte Staaten
Diese Wohnung ist die Hälfte einer 1925 neo-georgisch 2 Familienhaus in einem historischen Viertel nur 20 bis 30 Minuten U-Bahnfahrt nach Manhattan. Es verfügt über 2 Schlafzimmer, ein Bad, einen Kamin, gewölbte Decken. Historische Jackson Heights, ist einer der New Yorker Sehenswürdigkeiten, vor allem als Magnet für Feinschmecker. Es gibt Bars und Cafés in der Nähe, aber die Straße der wir leben ist ruhig. Die Nachbarschaft ist die vielfältigste im Land; etwa 150 Sprachen; LGBT Stätten; jede Religion. Es ist lebendig, aber eine der sichersten in NYC.
Der Raum: Diese Wohnung ist ein Teil eines 2-Familie neo-georgianischen Haus gebaut im Jahr 1925. Es sieht auf den hinteren Garten und auf andere historische Gebäude. Es ist geschmückt mit hochwertigen Möbeln, weiche Handtücher und Bettwäsche, und verfügt über Parkettböden. Es gibt Treppen Sie jedoch gehen müssen, so ist es nicht toll, wenn Sie schlechte Knie haben.
Die Nachbarschaft: Wir hier von Manhattan bewegt, weil die Nachbarschaft vielfältiger ist, das Essen ist besser, die Dinge sind viel billiger, und die U-Bahn nach Manhattan ist schnell. Es gibt ein kleines Thailand, Chinatown, Little India Little Kolumbien ... nicht zu erwähnen, Koreanisch, Filipino, Mexikanisch, und so ziemlich jede andere ethnische Zugehörigkeit in der Nachbarschaft. Es gibt auch Einrichtungen für Yuppie Manhattan Ausreißer wie wir, wie Cafés und Bars mit Single Malt Bier. So gut wie alles, was für jeden. Es gibt auch eine breite Palette von LGBT-Optionen. Wir werden Informationen über die besten Restaurants lassen. Aber auf die Jagd schneiden, gibt es keinen besseren Thai-Essen außerhalb von Thailand. Und der ecuadorianischen und peruanischen ist erstaunlich, wie mexikanische ist. Die Nachbarschaft ist multi-ethnischen, multi-religiösen, LGBT / gerade. Roosevelt Avenue ist sehr lebendig mit Musik und Tanz die ganze Nacht. (Viele kolumbianische Kinder aus.) Auch wenn es lebendig ist, mit vielen Straßenhändler, ist es unter den 10 sichersten Bezirke in der Stadt. Siehe: (URL HIDDEN) Schauen Sie sich unsere Führer für Lebensmittel, Bars und Cafés
We had a great time!
Brian
2016-12-11T00:00:00Z
We loved staying at Sissia's place in Queens. 5-min walk to the 7 train, and located in a fantastic area, minutes walking distance to the best Chinese, Latin, Korean, and Indian food in NY! The place itself is clean, spacious, and well appointed. Communication with Sissia was super easy...very fast and responsive. Would definitely recommend staying here!
Matt
2016-12-05T00:00:00Z
Sissia's place was spotless. For sure the cleanest Airbnb rental we have stayed at, and we travel quite a bit. The decorations were wonderful too, specially all the cool art and books. Location was great for getting to and from the city, although the neighborhood looked a bit sketchy at first, we did feel safe walking around the neighborhood. We travelled with our 2 kids and baby. Everyone loved their stay.
Gleidy
2016-12-31T00:00:00Z
The listing description was accurate. The apartment was very comfortable. The hosts were very friendly checking to see whether temperatures were comfortable or whether we needed anything. The location met our needs. If we travel to this area again, we would love to stay here again. We were very pleased and would give it an excellent rating.
Walter
2016-12-18T00:00:00Z
What wonderful hosts! We had planned to arrive early in the afternoon but were running late. Despite this, Sissia & Peter could not be more accommodating and amenable to our adjusted arrival. They even greeted us curbside and helped us back to their home! The space itself is nicely appointed, quite large and devoid of any clutter. Throughout our stay, whenever a need arose, they were only too eager to provide a solution. As they state in the unit's description, despite being in a neighborhood with access to all areas of commerce, the street where the apartment is located was a haven from the hustle-and-bustle of New York. Five stars because there is no six!
Mauricio
2016-06-28T00:00:00Z
Sissia was a great host and choosing this private loft was a great choice for my first trip to NYC. It was beautifully decorated with her artwork, which, in combination with the chic furniture and full bookshelf made for a very cozy atmosphere. The location was convenient - a block away from many stores and coffee shops, and just a couple blocks from the subway. Despite this, the neighborhood was quiet especially during the night. This was a blessing given our busy schedule. Sissia was very kind and friendly and made us feel at home during our week-long stay.
Nick
2016-10-05T00:00:00Z
It was a pleasure to stay at this nice loft. Perfect communication before and during the visit. We arrived in the late morning and Sissia was pleased to let us check in early. She also helped my elder friend to carry her luggage up to the 3rd floor. The place is extremely clean and very comfortable, feels like staying at home. Living room is spacious with kitchen area. Quiet and safe neighborhood day and night. This historical building has been taking good care by the hosts, nice landscape at front. A small lovely fig tree in the front yard remind me of my own fig tree at home. One guest parking space behind the house. I also felt this is the right location for people who does not plan to drive in New York. Easy and fast transportation from La Guardia, within ten minutes walk to 7 train, convenient access to other public transportation, lots of Uber nearby to take us back to La Guardia. Overall we enjoyed our stay at this beautiful place. I will definitely return and recommend this place to my friends!
Wendy
2016-09-25T00:00:00Z
This wonderfully spacious apartment located in a quiet, and lefy location, is yet just a stone's throw to the vibrant arteries of Jackson Height. Sissia is a great host and staying with her has been a real pleasure.
Bettina
2017-03-01T00:00:00Z
Art der Unterkunft
Ganze Unterkunft
---
Objekttyp
Loft
---
Unterkunft für
4
---
Schlafzimmer
Queens, New York, Vereinigte Staaten
Best China/Korea town in NYC and probably the whole USA. 15 minutes away from LaGuardia Airport and 45 minutes away from JFK driving. Close to 7 train which brings you to Manhattan in less than an hour.The loft offers a great sun filled space.
Affordable loft in one of the best areas of NYC! Safe and beautiful. Experiance real NYC!
Ó apartamento , ótimo , bem localizado perto de tudo no queens , não conheci o anfitrião , mas foi muito atencioso através de mensagens, foi ótima a experiência
Sonia
2016-03-25T00:00:00Z
Art der Unterkunft
Ganze Unterkunft
---
Objekttyp
Loft
---
Unterkunft für
4
---
Schlafzimmer
Queens, New York, Vereinigte Staaten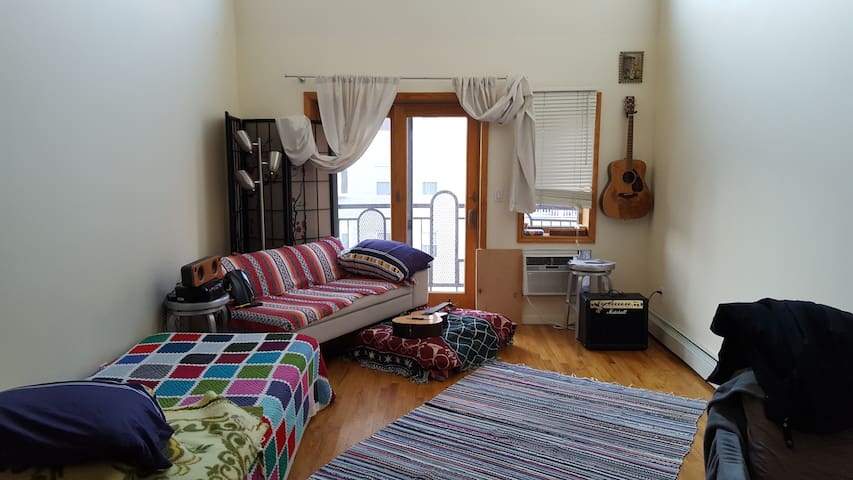 Wenn Sie einen bequemen und gemütlichen Aufenthalt suchen, werden Sie mein Platz ist ideal für das finden. Mein Platz ist in der Innenstadt, so dass es in der Nähe von familienfreundlichen Aktivitäten, Nachtleben, die öffentlichen Verkehrsmittel und das Stadtzentrum. Sie werden meinen Platz wegen der familiären und gemütlichen Atmosphäre lieben. Treten Sie Ihre Schuhe aus und entspannen! Ich habe Solo Abenteurer, Geschäftsreisende Gastgeber, Studenten, Professoren und Praktikanten.
Obere Ebene der eklektischen und gemütliche Innenstadt Loft.
Die Nachbarschaft ist ruhig, sicher und familienorientiert. Viele junge Profis leben in der Gegend. Alles zu Fuß erreichen ... Restaurants, Parks, Turnhallen, Kirchen, Schule, Post, Banken, Geschäften und großen Unternehmen / Arbeit.
Marie is a very nice host. I arrived super late and she was very accommodating.
Bronwyn
2017-04-02T00:00:00Z
Marie is a very nice, helpful and good host. She was welcoming, offering tea, coffee, snacks and bottled water. I really enjoyed staying there and I will stay there again if I'm in the area. The place is within walking distance of downtown, with shopping, restaurants, public transportation close by. It was a very comfortable stay.
Rob
2017-01-11T00:00:00Z
Maries was very nice and helpful
James
2017-02-17T00:00:00Z
Very clean and easy-to-access. There was plenty of free street parking available and Marie even had a bottle of water waiting for me when I arrived. Thanks for a great stay!
Karen
2017-03-17T00:00:00Z
Marie set up her apartment very well to accommodate multiple guests. She's a nice host - concerned about guest arrival and comfort. I would stay again!
mark
2017-03-31T00:00:00Z
Good value. Comfortable and great location. Open loft as advertised.
Dave
2017-02-09T00:00:00Z
Unique and spacious apartment in convenient distance to Stamford's city centre. Marie was very welcoming and friendly as well as everyone else in the apartment. I would higly recommend as it was one of the best values one can find on airbnb.
Jan
2017-03-24T00:00:00Z
It was ok. There are several people there, and the shower is inside the master bedroom. There will be lots of snacks and coffee, which is good
Rebecca
2017-03-26T00:00:00Z
Art der Unterkunft
Gemeinsames Zimmer
---
Objekttyp
Loft
---
Unterkunft für
1
---
Schlafzimmer
Stamford, Connecticut, Vereinigte Staaten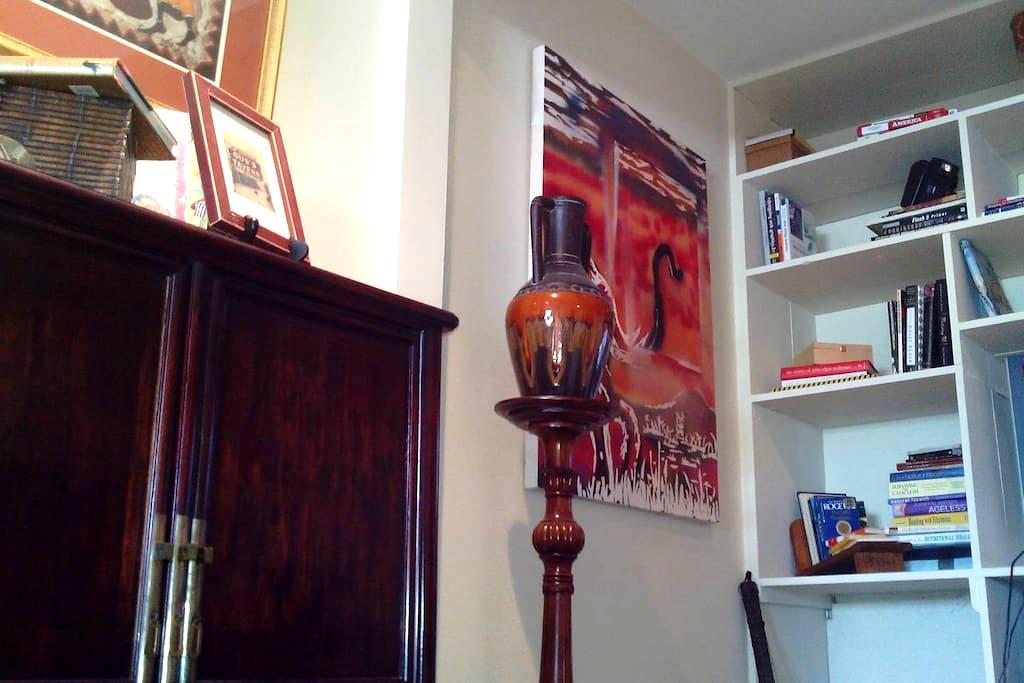 Tri- level loft w/endless amenities! Prime location being near restaurants,lovely river, mall, movie theater, convenient commuting options, a building w/ a pool, jacuzzi, & gym. We also incl free wifi, a free parking spot, toiletries & a pool table!
Art der Unterkunft
Ganze Unterkunft
---
Objekttyp
Loft
---
Unterkunft für
5
---
Schlafzimmer
Port Chester, New York, Vereinigte Staaten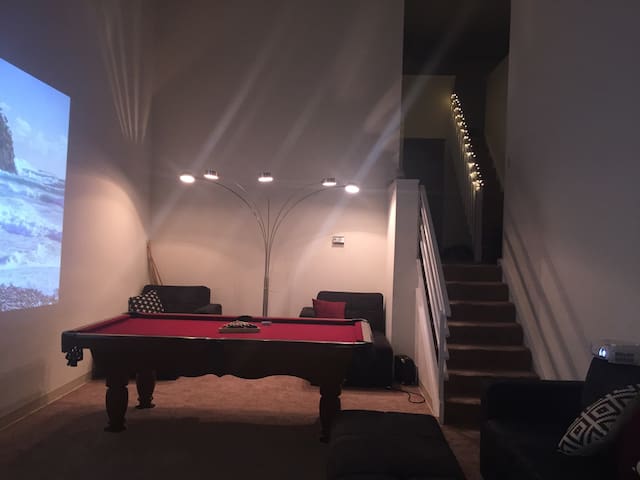 Wenn Sie diesen Ort verfügbar gefunden, bedeutet, dass es Ihr Glückstag ist, weil es immer ausgebucht ist! Ich möchte persönlich und herzlich, Sie auf meiner sauber, gemütlich und schön Micro Loft laden. Dieses Zimmer ist seit über Vieren aufgeführt und immer noch so populär und fantastisch, wie Sie hier sehen. Der Aufenthalt hier bedeutet, dass Sie 24 / h Zugang bekommen und beim Check-in einen eigenen Eingang und eine Vielzahl an Ihrem Service. Also zögern Sie nicht, Ich reagiere mit in der Stunde! Kaffee auf uns, wenn Sie erhalten hier :)
Unser Haus ist der perfekte Ruhestätte während Ihres Besuchs in NYC. Das Zimmer ist ein 250 qm gemütliches Zimmer mit einem halben Bad, Full-Size-Bett, zwei Kommoden, Nachttisch, und Platz im Bad zusätzliche Kleidung. Es ist perfekt für zwei glückliche Gäste und verfügt über alle Annehmlichkeiten erforderlich, um sicherzustellen, dass Sie einen angenehmen Aufenthalt haben. Ich bemühe mich, den besten Service zu bieten Ihnen haben können, weil wir auf, die Sie planen, wieder bei uns bleiben. Das Zimmer ist ideal für jeden Reisenden auf Geschäftsreise oder für die Freizeit. ** Das Haus ist Department of Health Pest Certified besonders für Bettwanzen. **
Königin der größten Verkehrsknotenpunkt ist in fünf Minuten zu Fuß entfernt, so dass Sie die Stadt innerhalb von 20 Minuten zugreifen oder weniger. JH für seine gute Küche und reiche Vielfalt ist auch sehr beliebt, Flushing Meadows Corona Park und natürlich ist es in der Nähe zu den Flughäfen.
The reservation was canceled 32 days before arrival. This is an automated posting.
Giandomenico
2015-04-06T00:00:00Z
De lo mejor el depa . Lo alquile por recomendacion de un amigi que estuvo alli . Es cerca de dos estaciones de metro con varias lineas que te comunicas rapidamente a manhattan. Zona con muchos comercios , restaurantes para todos los bolsillos. Hay un super buenisimo de precios y variedad a 03 cuadras . El depa limpio , a pesar de estar cerca a la avenida es silencioso . Participe en la Maraton de Ny y no tuve problemas para dormir. Lo recomiendo es una excelente opcion. Sali a correr 04kms a flushi 04km a mural de ramones. Fabian recibio mis pedidos de Amazon y estaban el dia que llegue . Toda la zona hablan español . Hay lavanderias cuestan 2.50 y 1.50 el secado o 11 dolares si lo dejas. Zona segura sali temprano a la maraton y regrese varias veces tarde con compras de manhattan. Fabian mensajeaba a diario para ver si había algun problema . De lo mejor
Henry
2016-11-08T00:00:00Z
Every thing as promised.. clean,comfortable, friendly. Short walking distance to a major subway station with direct ride to Times Square/Manhattan. Lots of places to eat in the area and felt safe walking around. Also close to La Guardia airport. Thank you Hector
marjorie
2014-12-21T00:00:00Z
A descrição é exatamente como está na foto. Localizado e um bairro latino, muito próximo ao metrô, lojas, farmácias e locais para se alimentar, além de contar com privacidade total.
RENATHA
2015-10-03T00:00:00Z
We had a great stay at Hectors in May. The apartment is just as shown on the website and fully equipped and clean (enough towels, shampoo, coffee etc.). Hector is very friendly and gives you a lot of advice for a pleasant stay. The neighbourhood, most South Americans, is safe and very close to a subway station (5 minute walk). Whitin 20 minute you're in Manhattan. I would undoubtedly recommend Hectors to stay in NYC.
Jan
2015-05-05T00:00:00Z
I had a good and peaceful night. I got what I had looked for.
Ngawang
2014-09-27T00:00:00Z
I love hector's place. Everything you need is there, Hector and or his dad is always there to make sure your stay is pleasant. I will most definitely stay in his place again when I visit NYC.
Renner
2015-12-13T00:00:00Z
My stay at Hector's apartment was my first own airbnb experience and it was great. Hector was really nice and although I was too early for the Check-In he showed me the neigbourhood and we drank a coffee together. During my stay he always checked if everything was fine. The apartment is located close to the subway and the train and it was very easy to get to Manhattan. Me and my friend really enjoyed our stay at Hector's, would recommend it and come again next time we are in New York.
Judith
2016-06-16T00:00:00Z
Art der Unterkunft
Ganze Unterkunft
---
Objekttyp
Loft
---
Unterkunft für
2
---
Schlafzimmer
Queens, New York, Vereinigte Staaten
Large and open, 2700 sq.ft. top floor, artist loft in factory building located in industrial area of Red Hook, Brooklyn. Hard wood floors, tall ceilings, huge skylights and lots of natural light. Room available in art project space. Modern and fully equipped kitchen excellent for cooking. Shared bathroom with a separate area for toilet and shower. Access to rooftop with Manhattan view.
Please note this is an art space and there will be artists living and sometimes working in their private studios. There will also be events happening on occaision in the main studio and all guests are welcome to come. We will do our best to notify guests to the best of our ability of events that are coinciding with their stay.
Red Hook is a touristic place when the weather is warm. We are surrounded by water and have beautiful views of lower Manhattan and the Statue of Liberty. Cobble stone streets and quaint bars and cafes. We have some of the best restaurants in the area and offer live music almost every night of the week. There are many artists living and working in the neighborhood. There are many cultural activities and outdoor activities to enjoy in Red Hook.
Art der Unterkunft
Privatzimmer
---
Objekttyp
Loft
---
Unterkunft für
2
---
Schlafzimmer
Brooklyn, New York, Vereinigte Staaten
Zwei gemütliche Schlaf Lofts in der Wohnung, Sozialräume -Küche, Wohnzimmer, und Badezimmer- werden gemeinsam genutzt.
Veronica was very nice!.Great host! I didnt have much opportunities to see her during my stay but. she was always writing to know if everything was okay. I met a lot with her roomate, who is also very nice . Veronica gave me clear instructions how to find the apartment. Her apartment was very clean. The kitchen was working good as well as the wifi. Very close to the subway, it was easy to move around. The loft was okay..if you have trouble with closed spaces and hights i don't recomend it, because you have to climb a ladder to go up that is not fixed to the loft (its used to go up either of the 2 lofts it has). The neiborhood tends to be a bit noisy at night because you have the train station nearby....but for me it wasnt a big issue. Great stay!!
Teresita
2016-11-07T00:00:00Z
Great place to stay for an affordable price
Bart
2016-12-13T00:00:00Z
Very helpful in giving directions to the apartment and waited for me to arrive, even though it was an inconvenient time. Room is nice and everything was working well. Locations is one street from the subway and is on the express line so very easy to head downtown.
Peter
2016-11-26T00:00:00Z
Muy acogedor y con buena ubicación.
Leticia
2017-04-02T00:00:00Z
Veronica was very helpful, she guided us to her house and waited to give us the keys. We arrived back and slept very cozy in the two lofts above the living room. If you don't mind climbing a small ladder I would highly recommend this place!
Johanna
2017-03-12T00:00:00Z
It's a fantastic place! Veronica is a truly artist and designer, everything in her apartment were arranged creatively, especially her way of using the lofts. Normally people in her building use lofts for storage but she transformed them into two lovely bedrooms. The loft is more spacious than it appears in the photos which can at least accommodate two people for each loft. the most important is, when you close the door on the loft, you have a private little space. it's almost impossible to find a private bedroom in Manhattan at such a cheap price. especially in winter, these lofts are the warmest place in the apartment. Veronica is a really talented designer, you would love to talk with her and learn about her ideas. She doesn't live here much, but she will definitely be there when you move in and check out, and she will also text you every day to ask if you need any help. She is someone that you want to be friend with and learn something from. I really enjoyed the days I stayed here, would definitely come back if I am going to new york again!
一茗
2016-12-30T00:00:00Z
The house is great and the hostess is nice and helpful. I will highly recommend this house to tourists. Oh, the public transportation like subway is convenient too.
Yini
2017-03-19T00:00:00Z
Just the best , everything was perfect , she's very helpful and kind , definitely i will come back
Isaac
2016-12-05T00:00:00Z
Art der Unterkunft
Privatzimmer
---
Objekttyp
Loft
---
Unterkunft für
3
---
Schlafzimmer
New York, New York, Vereinigte Staaten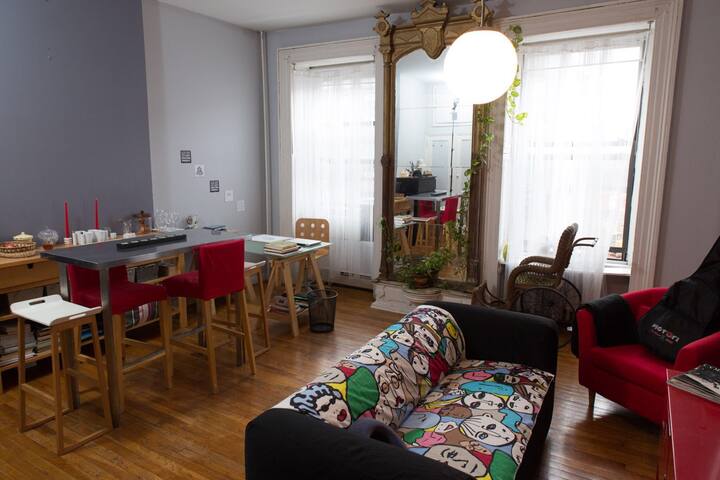 Single room available for rent in spacey Bushwick loft. Great location 1 block away from the L train @Halsey Station with 25 min ride to Manhattan! The apartment includes wifi, easy access to laundry, friendly roommates, entertainment, and a killer rooftop view. Great neighborhood bar/restaurant on the corner to meet and hang with vibrant locals (Karaoke @ tues. night!) as well as a convenient corner store/deli.
Great hosts, nice loft space. Great communication. A bit misleading as the private bedroom was just an area next to the bathroom and kitchen, with a tapestry for a door. Could work for some, but it is not private.
Derek
2017-03-13T00:00:00Z
My boyfriend Chiso and I stayed with Marcos and Tom for 5 nights during our stay in New York. ////////// The most important thing to note in this review is our experience booking this room. While planning our trip, Chiso had requested a place through Airbnb, but was declined. The hosts of the place told him that their roommate was returning for those dates, and so it was unavailable when he requested it. Our trip was coming up and accommodations seemed to be filling up quickly, so within an hour of him being declined, I requested this room. When my request was accepted, I sent the link to my boyfriend. It was the same room he had just been declined for. ////////// The reason was obvious. Chiso had been discriminated against because he is black. We have nearly identical AirBnb profiles: we both have verified government ID's, email addresses, and phone numbers; we both have one previous stay with AirBnb, coupled with similar, shining reviews. The only difference between our profiles is our names and photos. ////////// Though Tom had blatantly lied to Chiso, Chiso tried to give him the benefit of the doubt. In his own words: "There's the paranoia that develops from constantly being told your reality is false." He wanted to see the best in Marcos and Tom so badly that he didn't tell me about what was going on until I overheard Marcos on the phone speaking in Spanish (they did not know I spoke any Spanish) about us leaving, and asked Chiso what was going on. ////////// Chiso was not welcome. He had to endure returning every night to a home where he was not wanted. He had to live for five days in an environment that was hostile towards his existence. ////////// This is not a new issue for AirBnb. The Airbnb platform enables racial profiling. In "Airbnb's Work to Fight Discrimination and Build Inclusion" report from September, Airbnb claims it is implementing a calendar-blocking policy: "If a host rejects a guest by stating that their space is not available, Airbnb will automatically block the calendar for subsequent reservation requests for that same trip." Airbnb is obviously not enforcing this policy at this time, and should take responsibility for the harm resulting in their failure to do so until the policy is enforced. We are taking action with Airbnb to resolve this issue. ////////// The listing was misleading. The 'bedroom' is a space next to the bathroom that is separated from the kitchen with a tapestry. We could see and hear what was going on in the rest of the apartment at all times, and had little-to-no privacy. This space is really only suitable for individuals, not couples. ////////// Tom and Marcos were cool to our faces. They allowed us to use their kitchen freely and store our food in their fridge. Had I not known that Tom was a liar and a bigot, I might have liked them. I don't recommend staying here.
Laura
2017-03-08T00:00:00Z
Wow! This Pad is amazing. From the first night I arrived I got in super late Thomas stayed up for me. The guys were funny,well mannered. Made me feel right at home. I traveled all the way from Florida. Breakfast, bars,and train Into the city is a few blocks away. Its a great place for Youth to really experience NY!!! The rooftopview speechless!! Don't miss out will be back. The place was clean I had my own room setting privacy, towel, and they let me use the fridge to put my stuff. Amazing group of people, you'll feel right at home.
aphonide
2017-02-13T00:00:00Z
Had a great time! Our hosts were incredibly friendly, relaxed, and we would definitely consider staying here again on our next NYC adventure.
Chris
2017-02-19T00:00:00Z
Awesome neighborhood and loft with great creative energy. It's open, spacious and comfortable. Not exactly a "private" place but I knew that going in. That's what's great about staying w Marcos and Thom, there were other travelers in the space and I love meeting people of all walks. Would def crash there again. Great hosts and time!
Myles
2017-03-14T00:00:00Z
Marcos and Thomas are great hosts! Very nice and helpful with everything. There was someone to let us in when we arrived and there was no problem to leave a luggage for a bit longer the next day. The roof top view was also a great adavantage. I recommend staying here!
Martyna
2017-02-06T00:00:00Z
The guys were great, I had a fantastic stay and time while I was there. Thanks guys.
Matt
2017-03-26T00:00:00Z
The host canceled this reservation 36 days before arrival. This is an automated posting.
Andrew
2017-02-06T00:00:00Z
Art der Unterkunft
Privatzimmer
---
Objekttyp
Loft
---
Unterkunft für
2
---
Schlafzimmer
Brooklyn, New York, Vereinigte Staaten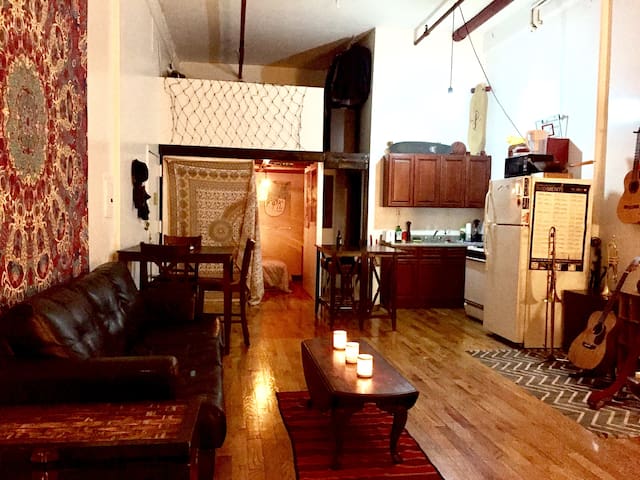 Located 2 blocks from the heart of Bushwick experience loft living in New York style. The Artery was once home to a turn of the century knitting factory and has transcended into a living/work space right in the center of a great emerging art scene. 
This creative single story haven has 13 foot ceilings, a huge living room which is well appointed complete with a 55" flat screen including cable and Netflix and a Harman Kardon surround sound stereo system. There are 2 full baths - one in the front and one in the rear of the loft, and a huge cooks kitchen with dining space as well as a dishwasher and a washer and dryer. There are a total of 3 bedrooms 1 which is ours that we do not rent and 2 that we Airbnb. Both bedrooms are private and comfy with hypo allergenic duvets and pillows and brand new mattresses. Both have skylights, air conditioning and a space heater depending on the season. This room has a traditional queen sized bed and can sleep up to 2 people. Our other private room is 2 bedded and has a queen bed below and a full double sized bed in a built in loft above which can sleep up to 4 people. .
The Artery is located on the border of Ridgewood & Bushwick which is home to art galleries, vintage stores and has amazing restaurants and bars including Robertas and MOMO Sushi Shack. It is a quiet neighborhood with tree lined streets as well as industrial lofts. It is authentic Brooklyn and people from all over the city come to check out the life size grafitti that even Banksy would marvel.  Plenty of  shopping markets, coffee houses and wine shops within walking distance as well as off street parking if you prefer to drive.  Many guests and locals like to use Uber or Lyft for getting around and there are local car services as well.
Ein wunderbarer Aufenthalt bei Liz und ihrem Mann! Wir haben uns sehr wohlgefühlt und können die Unterkunft jedem empfehlen!!
Marlene Anna
2016-08-25T00:00:00Z
Die Unterkunft ist genauso wie angegeben. Liz und Chen sind großartige Gastgeber- angefangen vom morgendlichen Kaffee über hilfreiche Empfehlungen bis zu tatkräftiger Unterstützung. Sie nehmen sich viel Zeit für persönliche Gespräche. Wir hatten eine tolle Zeit. Und dur Nachbarschaft ist absolut ruhig, und das mitten in New York!
Gabriele
2016-08-05T00:00:00Z
Fabulous ! We had really great stay at Eli and Chian place. Great location close to very nice hip streets full of resto, bar and street arts! It's also really close to Manhattan via the subway! The loft is huge and really well decorated! Eli and Chian are amazing, openminded and friendly hosts, great in sharing with people. We felt directly at home! If you look for a creative inspiring location, this is the place to be! We definitely enjoyed our NYC trip !
Laura
2016-09-08T00:00:00Z
My daughter and I had a great stay with Liz and Chian. Everything was as announced - a huge, beautifully decorated loft-style apartment, with easy access to the subway, restaurants, etc. In addition, both of them are interesting, engaging, creative people, with whom we had several great conversations. We definitely recommend their place!
Brian
2016-06-23T00:00:00Z
Liz is a warm, welcoming host who provides excellent information about the neighborhood. The room is exactly as advertised, with a comfy bed. The space is huge, with an interesting history, and is close to plenty of public transport. Easy to hop on the L to Manhattan. Plenty of great food and drink within walking distance. Highly recommended. We had to leave early due to a family emergency, but I would stay there again in a heartbeat.
John
2016-10-05T00:00:00Z
Liz and Chian were wonderful hosts. They have a great place. Awesome wood floors. Clean bathroom. Neighborhood okay. 10 minute walk from subway. If the location works for you I would definitely recommend their place.
David
2016-06-10T00:00:00Z
Great place, we had a fantastic time
Sanne
2016-11-11T00:00:00Z
Liz was an exceptional host from beginning to end. We felt welcome and comfortable from the first day we arrived . Although we were there very minimal time it was exactly what we needed. Clean, comfortable, and private. Liz was there to give advice on pretty much anything you felt like doing in the area. Overall a great stay.
Janice
2016-09-30T00:00:00Z
Art der Unterkunft
Privatzimmer
---
Objekttyp
Loft
---
Unterkunft für
2
---
Schlafzimmer
Ridgewood, New York, Vereinigte Staaten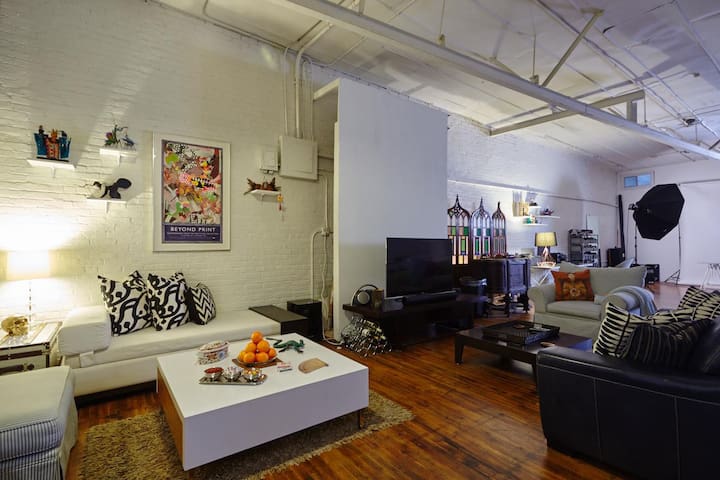 Come stay at this funky warehouse loft off the L train in Bushwick. Make art make music & let your creativity flow in this awesome artist commune. Perfect for traveling bands, or solo artist of all kinds. Food included. May have an event going on too
Cool peoe....
Super toller Ort! Sehr freundliche Leute! Auf jeden Fall interessant für MusikerInnen, die gern mal ab und zu eine Session machen wollen. I really recommend this place :-))
Ulli
2015-08-02T00:00:00Z
Die Location ist sehr schön. Es gibt einen großen Gemeinschaftsraum voller Musikinstrumente, die gerne benutzt werden dürfen. Die Gastgeber sind sehr freundlich. Der Ort ist ziemlich lebendig. Man sieht oft neue Gesichter. Der Schlafraum selbst ist gemütlich, allerdings nicht sehr groß. Es gibt kein direktes Fenster nach draußen, nur zum Gemeinschaftsraum hin. Es gibt dort einen kleinen Wohnzimmertisch, allerdings zu klein, um daran zu arbeiten. Den Laptop haben wir also im Gemeinschaftsraum platziert. Dort ist genug Platz. Fazit: Wenn man nicht gerade viel Wert auf ein Fenster ins Freie legt und nicht viel privaten Platz braucht ist dieses Zimmer im Rakit Club ein guter Ort, um seine Zeit in New York zu verbringen.
Ulli
2015-09-16T00:00:00Z
Lieben Dank für die Wohlfühl-Atmosphäre in Eurem Loft und die entspannten Tage bei Euch. Mami and Timo
Monika
2016-03-24T00:00:00Z
Sehr inspirierender Ort mit super coolen entspannten Leuten! Die Gastgeber sind sehr herzlich und offene Menschen. Es gibt immer mal wieder coole Events, ist aber nicht so dass man jetzt kein Auge zubekommt weil es zu laut wäre. Es gibt auch Tage wo es sehr ruhig und entspannt ist! Immer jemand da gewesen mit dem man reden oder den man etwas fragen konnte. Die location ist aufjedenfall ein Erlebnis wert! Danke an Micha und Robin!
Marina
2016-09-24T00:00:00Z
We only stayed a night at the RAKitCLUB, but for the time we were there, the ambience of the place and the people was relaxing and unique. All throughout the loft there are beautiful artworks, and you can tell that each and every item on display was chosen with care. Micha and Robin were very kind and always made sure we were comfortable. The loft itself is easy to find, and literally 2 minutes away from the L train. Amazing restaurants in the area too! We enjoyed our stay and we hope to visit longer in the future.
Winnie
2016-02-18T00:00:00Z
We had a great time here. What a great place to stay, so many great people and musicians to hang out with. The bedroom we had was nice an comfy, bathroom good, kitchen well equipped. This is a special and unique place that was well worth the trip out.
Romano
2015-08-10T00:00:00Z
The place is very picturesque . Located close to the line J. Easy access to the airport and Manhattan . Misha was very friendly and open . Unfortunately, we have not had the opportunity to talk longer. I recommend this point to anyone who likes unusual places.
Ira
2015-09-21T00:00:00Z
Micha's place was great, super good energy in her place.
Jon
2016-07-07T00:00:00Z
Art der Unterkunft
Privatzimmer
---
Objekttyp
Loft
---
Unterkunft für
2
---
Schlafzimmer
Brooklyn, New York, Vereinigte Staaten
Come share our beautiful sun-drenched loft in artist-filled Bushwick, Brooklyn. The loft is surrounded by world class murals and street art and is surrounded by great restaurants, bars, and cafes. It is also just steps from the L train (most convenient train in NYC) that will take you to Manhattan in just 15 minutes.
**Before you reserve, please send us a inquiry by clicking "Contact Host"** Welcome to your home away from home. Our loft, which we have built out ourselves with reclaimed lumber, is located in the most charming area of Bushwick, Brooklyn. The loft is on the top floor of a converted sweater factory, and has a large open living space with giant windows that let in beautiful light throughout the day. The zen treehouse room is bi-leveled with a standing height of just over 6 feet. This bedroom was designed and hand-built by us inspired by a zen meditation space. We truly put so much love into this room and have spent nearly 3 years living in it. As a handmade charm, the bedroom has many idiosyncrasies - in place of a traditional door, the bedroom provides privacy with rolling bamboo curtains. The windows do not shut air-tight as factory-made windows will, but it works like a charm. The room has a brand new full-size (double) mattress, shelves and a clothing rack. The loft has a total of 2 bedrooms and one tree house. It is likely that you will be sharing the space with other guests who will be occupying the other rooms. We strive to provide a respectful yet fun community for our guests and hope you will find it pleasant and eye opening to meet others from around the world.
Bushwick is the artist hub of Brooklyn, filled to the brim with artist studios, galleries, and lofts housing artists of all kinds. It apparently has the highest concentration of artists in the world. The neighborhood is covered in beautiful graffiti from legitimately sought out artists, not just silly tags you may see elsewhere. There are great restaurants, cafes, underground clubs and bars popping up all the time, and our loft is in the center of it all. There are many art galleries in walking distance to explore during the weekends, and a number of opening parties happening each week. The best underground parties happen in this neighborhood too, if that's your thing. Block long buildings housing only artist studios dot the neighborhood. Many families also live in the area, bringing out the family-oriented side of Bushwick out in the open. A great park with a running track is near by also, providing a great place for a jog. The coolest parts of Bushwick are near the Jefferson Street stop (our stop) and the Morgan Avenue stop off the L train, which is just a short walk away. If you want the real Bushwick experience, you want to be here!
These guys have a special place. Lots of interesting things to look at and it's really a home away from home. Tom and Lily are very welcoming and nice people. This time I stayed in their treehouse which was very nice and comfortable. Would definitely recommend their place to anyone who wants a unique Brooklyn experience.
Jin
2016-08-02T00:00:00Z
Tom and Lily were lovely hosts, they were understanding and helpful when I got lost on my way from the airport and checked in a few times during my stay to make sure everything was fine. The loft was really lovely, well decorated with space to feel comfortable and a great kitchen.
Lily
2016-11-26T00:00:00Z
Tom and Lily are amazing hosts, and their place is incredible. Great location convenient to the subway and all Bushwick has to offer. The place is kept in immaculate shape, and you really feel like it is your home while you are there. Great kitchen with all you need to make a great meal (although I rarely utilized it). Tom and Lily are available but not intrusive and truly two of the nicest people you will ever meet. Highly, highly recommend a stay here!
Ryan
2016-09-24T00:00:00Z
I had a great time in the apartment. Apartment is very clean and nice. Tom&lily are very kind people.
jinkyung
2016-11-16T00:00:00Z
I absolutely loved my stay at the loft/tree house! The photos were accurate and even cuter IRL. The area itself is really cool, right in The Bushwick Collective so it's surrounded by beautiful street art, great restaurant/bars as well as a quick walk from the metro. I didn't get a chance to interact with Tom and Lily much but Tom was welcoming and I could tell from little notes left in the loft that they are thoughtful about making sure their guests have the best stay possible. I also got to meet other awesome, like-minded travellers during my short stay. All in all I 100% recommend staying here if you're ever in NYC.
Kelly
2016-09-29T00:00:00Z
Très bel appartement à la décoration originale. Bien équipé. J'ai eu ensuite une moins bonne expérience en partageant un appartement AirBnb avec un ami dans le même quartier pour un prix assez équivalent.
Guilhem
2016-11-06T00:00:00Z
Tom and Lily's place was amazing. Clean and cozy. I loved a bed in tree house room so much. It's just few minutes to get a subway station. The neighborhood is also lovely. Never felt danger! And also I thank a lot to the roommates they are so kind and respectful. I would definitely stay there again when I go to NewYork.
Yuna
2017-03-08T00:00:00Z
A gorgeous space flooded with light and decked in plants, books, and art – what more could you ask for? I was fortunate enough to stay in Tom & Lily's treehouse and it truly is a home away from home. The hosts are pleasant and accommodating, the amenities are efficient and of course, comfortable. From the get-go, the hosts will make you feel like it's your space, too. The building and surrounding area is as Bushwick as it gets – industrial, gritty, cool and extremely creative. A short walk away from all the hip bars, cafes and the L train. It's smack dab in the centre of NY's neighbourhood-of-the-moment. Highly recommended. Your trip to New York will be better if you stay here. Thanks Tom & Lily! Let me know if you're deciding to sell the place... I actually want it for myself! ;)
Jan
2016-08-27T00:00:00Z
Art der Unterkunft
Privatzimmer
---
Objekttyp
Loft
---
Unterkunft für
1
---
Schlafzimmer
Brooklyn, New York, Vereinigte Staaten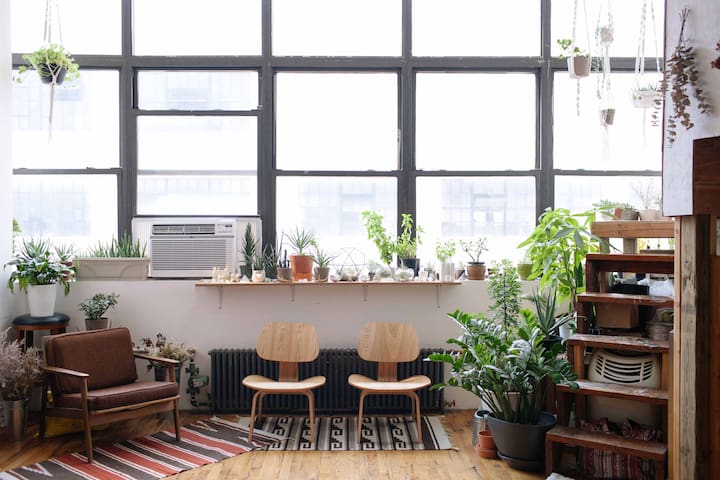 One bedroom available in sunny 2BR loft. 3 minutes by bus to historic Harlem and less than 15 minutes by subway to museum mile.
The entire loft is just over 700 sq/ft. The building is an architectural landmark and formally the largest piano factory in the Bronx. The room that is available is 82 sq/ft. with 12ft ceilings and a large window. It has two single beds. If you are one, I can remove the 2nd bed to free up a bit more space. (See Bedroom 1. Bedroom 2, which is approximately 150 sq/ft is under a separate listing.) The building has a roof garden overlooking the city. It's a quiet place that can still be discovered. The loft is a 5-8 minute walk from the 6 train, and is the first stop out of Manhattan. There is also a bus that stops in front of the building that will have you in Manhattan in under 3 minutes, and you can walk to 125th Street and Lexington (historic Harlem) is less than 10 minutes. You will be sharing the space with me, and two adorable kitty cats.
Mott Haven, is an industrial neighborhood. . Over the last two decades there has been a growing community of artists and arts organizations in the area. (Unfortunately large corporate developers have started to make there way into the neighborhood and this community is being pushed further out.) There is a restaurant on the ground floor of the building, and the Bruckner (or Mott Haven) Bar and Grill a block away. There are several great Mexican restaurants in the area, and a really great West African restaurant near the subway, as well serval other food options. If you prefer doing your own cooking there is a large grocery store a few blocks away.
Unser Aufenthalt bei Tracie war toll! Obwohl wir immerwieder gefragt wurden, ob wir den wirklich in der Bronx übernachten wollen, fühlten wir uns nie unsicher. Die Lage der Wohnung ist super. Die nächste U-Bahn Station der Linie 6 ist keine 5 Minuten entfernt und liegt nur ein Stopp von Manhatten entfernt. Es hat einen Supermarkt und ein unglaublich leckeres Sushi Restaurant gleich in der Nähe. Unser Zimmer, wir waren zu zweit, war eher klein und relativ kalt im Winter. Da wir aber sowieso die meiste Zeit unterwegs waren, spielte die Grösse keine grosse Rolle und gegen die Kälte stellte uns Tracie eine kleine Heizung ins Zimmer. Ich würde bei meinem nächsten Aufenthalt bestimmt wieder da übernachten!
Cornelia
2016-02-20T00:00:00Z
Tracie's place is clean, bright, spacious and conveniently located. The rooftop is immaculate and a beautiful place to unwind and relax with beautiful plants and views. The room is a bit hot and the construction noise next door starts early but it wasn't too bothersome, knowing it's in an industrial area and fitting to the NY getaway theme. Great price and value for a perfect stay to visit anywhere in downtown or the surroundings of Manhattan. I felt safe in the neighborhood, and was grateful to have groceries nearby. Our schedules didn't overlap very much, so it almost felt like it was a "entire apt" rental-- she was a quiet and gracious host . I loved every minute and would definitely recommend her place to anyone.
Jourdan
2016-09-12T00:00:00Z
Great location. Comfortable beds. Spectacular rooftop patio. Friendly cats. What more could we need! We would stay there again.
Rachel
2016-05-26T00:00:00Z
Tracie's place was very lovely! It is very easy to find and less than 10mins walk from the nearest subway stop. The building has a super lovely rooftop where you can take really good photos and have a nice view of the city and see the sunrise on clear mornings. Her cats were really cute and didnt bother us at all. Tracie gave us loads of privacy and helped us when we needed directions. Its an overall enjoyable stay (: thank you!
Joanne
2015-12-14T00:00:00Z
Everything was exactly as in the description. Tracie was a kind and easygoing host. Very elastic checkout hours. I sincerely recommend this offer.
Mateusz
2016-05-14T00:00:00Z
We stayed two nights at Tracie's apartment and it was perfect for what we needed! Tracie was nice and was out a lot, as where we so we didn't see each other often, but that wasn't an issue for us! The apparent was clean with two lovely cats and a great location for getting the subway into Manhattan! Thanks for having us!
Camilla
2015-10-07T00:00:00Z
Tracie was an amazing host. Very calm and discreet. I enjoy the appartment, the building with the rooftop and the gym. The cats were so cute and the are was safe. Of course i'll be back in NYC, and of course I'll chose the same airbnb !
Débora
2016-04-29T00:00:00Z
Our stay with Tracie was perfect. The apartment was beautiful and clean, Tracie was very helpful at our arrival and very flexible. We enjoyed our stay, and the room had everything we needed.
Christine
2015-10-19T00:00:00Z
Art der Unterkunft
Privatzimmer
---
Objekttyp
Loft
---
Unterkunft für
2
---
Schlafzimmer
Bronx, New York, Vereinigte Staaten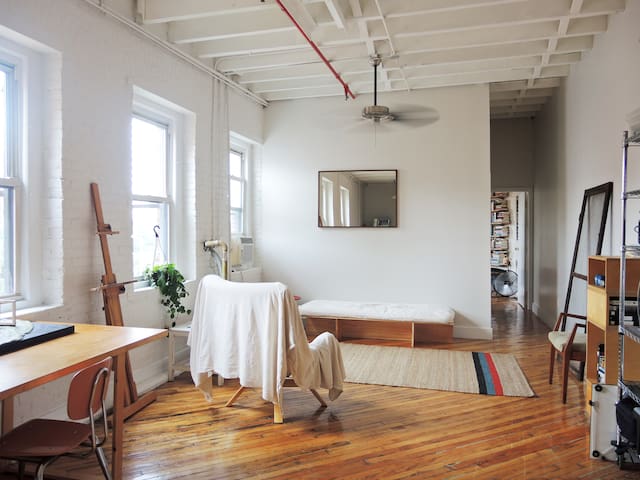 Haben sie alle, ohne etwas zu opfern! Bleiben Sie auf einer schönen von Bäumen gesäumten Straße, genießen einen herrlichen Blick und lichtdurchflutete Zimmer! Sie müssen sehen, es zu glauben, wie schön und besonders dieser Raum ist. Kommen Sie mit uns, haben alle Annehmlichkeiten von zu Hause, und überzeugen Sie sich selbst!
Ihr privater Boden ist mit Beleuchtung Tageslicht mit großen Fenstern gefüllt. Sie werden in einem sauberen und entspannenden Bad in einem schönen Queen-Size-Schlafzimmer komplett mit benutzerdefinierten Jalousien und Einbauten, Dusche schlafen. Sie werden mit einem Flachbildschirm-Fernseher abgesehen von der Aufregung eines Tages in New York City zu verbinden gesetzt in einer wunderschönen Gegend entspannen. Sie haben Zugriff auf unsere eigenen Tuscan Essbereich haben sowie, einschließlich einer schönen Insel, Kühlschrank, Herd, Edelstahl Mikrowelle, Edelstahl-Toaster, Kaffeemaschine, und Gourmet-Kaffee. Alles, was Sie brauchen, ist direkt erreichbar, darunter die U-Bahn!
Große kleine lokale Plätze für Kaffee sind The Edge und Manhattan Cafe. Erkunden Sie das wunderschöne City College und St Nicholas Park, Columbia University, und einige der Restaurants genießen, die Harlem berühmt ist. Zwei Minuten zu Fuß zur U-Bahn haben Sie die Innenstadt in wenigen Minuten. Unsere U-Bahn-Linie macht Halt an der Central Park, das Museum of Natural History, Columbus Circle, das Rockefeller Center, Bryant Park, und Herald Square. Sie werden die ganze Schönheit und Wunder von Harlem haben, mit New York City an die Hand.
This place was incredibly beautiful in person and just as described. The train was a block away and made it easy to get all around the city. We came for a wedding in the Bronx and it was also easy to get to the highway. Our hosts were so kind, very responsive and communicative, and very accommodating. I would absolutely recommend staying here and would stay here again in a heartbeat.
Camille
2017-03-26T00:00:00Z
This place was amazing, Sarah was great constantly keeping in touch to see if everything was okay & Benh was nice to show us around & making us feel very welcomed. Thank you
Becky
2017-03-12T00:00:00Z
What a wonderful Harlem gem! My husband were in town for a business weekend. It was very easy to access and was super close to the subway to downtown. The hosts were fantastic and would check in daily to make sure everything was okay. Wonderful place to stay and what a value! We will be definitely be staying here again.
John
2017-03-20T00:00:00Z
I stayed here with my mom and dad to do college visits in the city over spring break and we absolutely loved it. Binh and Sarah were wonderful and made sure we had everything we needed, answered all of our questions and checked in on us often. The apartment is beautiful and spacious with tons of natural light and it's in a very pretty area. Because it's an older building, it does make some noises (I'm assuming from the heating, water, etc.) but I just slept with a white noise app on my phone and there was no problem at all. The hot water and heating systems in the apartment work perfectly and there are two ceiling fans as well. It's only a block away from the subway, which was very convenient. We were there during the snowstorm and so we stocked up on groceries the day before and we were able to cook great food in the kitchen, which we would not have been able to do had we stayed in a hotel! Overall it was a wonderful experience.
Julia
2017-03-16T00:00:00Z
Binh and Sarah's place was so beautiful! It was also nicely located and very close to the subway. Binh and Sarah were also great hosts and even brought us extra blankets. Would definitely stay here again!
Hayat
2017-03-23T00:00:00Z
Fantastic stay- private, quiet, and comfortable accommodations. The loft is exactly as advertised, very clean and beautiful views. I would definitely return and recommend staying here. I arrived early and was able to drop off my luggage prior to check in. Binh and Sarah were thoughtful and gracious hosts.
John
2017-02-21T00:00:00Z
What an amazing space! It was beautiful and very convenient to get to subway. It was an awesome jump point to explore all that Manhattan has to offer. It was a very large, clean and superb space. Getting to it was easy, instructions were clear, beds were comfy, kitchen was spacious. This worked really well for us and our family (Parents, brother and niece). We will certainly return if we have another family gathering in New York.
Joe
2017-02-23T00:00:00Z
Lovely host and place! Would like to stay here again if I'm in the area.
Jee Yeon
2017-03-18T00:00:00Z
Art der Unterkunft
Ganze Unterkunft
---
Objekttyp
Loft
---
Unterkunft für
4
---
Schlafzimmer
New York, New York, Vereinigte Staaten
Enjoy your own private room in my funky artist loft! It has a door that locks and 2 windows for the best possible light. If all you need is a bed to sleep in and a place to keep your luggage than this room is for you! Plus meeting other awesome travelers like your self :)
Please read the DISCLAIMER under house rules before booking. Beginning May 30th: Breakfast: 3 options for Cereal, Almond Milk, Coffee, Tea, Half&Half, Cereal/Protein Bars, Various Fruit, Toast and Pop Tarts! Also Provided: Snacks and Treats, Q Tips, Cotton Swabs, Iron and Ironing Board, Hair Blow Dryer, Shampoo & Conditioner, Body Wash and Tampons of course!! About me: I was an AirBNB host in LA for 4 years and was featured in their magazine at the 'AirBNB Open' in November 2016. I have moved to NY and built a truly amazing space to continue what I was doing in LA... here in Brooklyn. I live in the space so there will always be a host present :) Experience: I get a lot of young travelers from all over the world coming to visit Brooklyn or NY for various reasons. My loft is a great place to sit and get some work done at the "floating stool table" while listening to great tunes on the speaker system and drinking Hot tea or coffee. It's a funky, artsy, young & hip loft that attracts like minded people. You ill probably leave having more friends and with some good conversations! If you prefer to keep to yourself or are busy with your plans, no worries! We will not force you into hanging out and you can feel free to do whatever you like. Whether that;s joining in or hanging in your room with privacy. Either way... You're welcome to stay in The Funky Loft! Description of Room: -New Room that was just built -Brand New Memory Foam Twin Mattress -Door with lock & Key (only room in loft with lock!) - 2 Windows that open to the outside, truly beautiful natural light -Hanging rack & hangers for your clothes -1 shared bathroom -Please Note: The bed is fit perfectly between the 2 walls (See Pictures) and is 74 inches wide. Please let me know if you are taller than 74" and we can put the bed on the floor if you prefer. Bed is also approximately 36 inches off the ground. Laundry: Now offering Laundry Service with our Washer & Dryer! For $10/Load you can give me your things to wash while you are out and enjoying the city and they will be clean and folded on your bed when you get back :) Description of Loft: -16ft Ceilings -Exposed Brick Walls -Hardwood Floors -Giant Chalkboard Wall -1950's Coca Cola Refrigerator -Entire wall of beautiful windows! -Speaker system -Rain Shower -Heat and AC -Wifi Film & Photo Shoots: -Please Contact me for rates Events/Parties/Gatherings/Dinners/Get Togethers: -Please contact me with details and I will give you rates
Totally safe!
Great home away from until I was able to move back into my apartment.
Bryan
2017-02-24T00:00:00Z
Marcella is an incredible host! Even if she was still unpacking, her place is very comfy and decorate with great taste, she makes you feel like home. The flat is in a quiet area which is very appreciable. I hope to meet her again in my next trips to NY! I highly recommend this place !!
Margaux
2017-02-27T00:00:00Z
Marcella's home is unique, inviting and comfortable. It worth the stay.
John
2017-04-02T00:00:00Z
Space: Located perfectly for me. A really ideal setting--especially for one who needs a home base and a bed. Open home. Lots of natural light. Host: Marcella was really lovely--positive, responsive, able to desern level of engagement with guest.
Troy
2017-03-20T00:00:00Z
Chic, stylish, genuinely warm host and outstanding placement in Bushwick, I'll 100 percent recommend this Airbnb to travelers or people coming in for work. As a creative I appreciated the aesthetic of the well designed loft. As a person I can't say enough about how comfy the little bed was, and inviting the couches were and how fun and witty the host and her roommate ARE. Close to public transit, places to eat and loaded with Brooklyn charm. Can't wait to stay here again.
summer
2017-03-17T00:00:00Z
Come to NYC just for this experience alone, and you'll be happy. It was my first trip to NYC and I was traveling solo - Marcella welcomed me like an old friend. The layout of the place is great, you get privacy in the room (lovely view over the park) and can switch off, or you can have a chat with the other guests out in the (massively spacious and bright) loft. It's like being on a film set! There is also a very affordable laundry service in-house. I felt genuinely at home and at ease at the place, and you really can't put a price on that. From this location, Brooklyn and the rest of NYC is your oyster. I was visiting partly on a working holiday and was amazed by all the great options nearby for good coffee and spaces for getting work done. I will be back for sure next time I am in town, and will look forward to it immensely Genuinely lovely and expertly skilled hosts like Marcella make Airbnb the amazing thing that it is.
Alice
2017-03-09T00:00:00Z
Great place!
Francisco
2017-03-11T00:00:00Z
A great place with great people ! Warm welcome, ideally placed in the city, super clean ! My only regret is to not have been able to stay more. I recommand it !
Vince
2017-03-30T00:00:00Z
Art der Unterkunft
Privatzimmer
---
Objekttyp
Loft
---
Unterkunft für
1
---
Schlafzimmer
Brooklyn, New York, Vereinigte Staaten
Located in Mount Vernon, 24 minutes by train to Midtown Manhattan and 15 minutes to Harlem. It's a 45-minute subway ride to Manhattan. Mount Vernon is a historical town where Malcom X, and many Civil Rights leaders lived in the 60's. Felicia Rashad (Cosby Show) has been living here for decades. Moreover, Denzel Washington and Puff Daddy were born and grew up in Mount Vernon. Our Victorian house has a private studio loft on the top floor that sleeps 4 guests, with private bathroom and kitchen.
The Space is completely Independant from the entire house.
Mount Vernon is a historical town where Malcom X, Nina Simone and many Civil Rights leaders lived in the 60's. Felicia Rashad (Cosby Show) has been living here for decades. In addition, Denzel Washington and Puff Daddy were born and grew up in Mount Vernon.
Yasmina's place was absolutely wonderful. It was exactly as described and I felt very welcomed. Everything you could possibly need was available and the beds were very comfortable. I would definitely stay here again and recommend it to anyone
Rebecca
2016-06-12T00:00:00Z
This place was wonderful! My Boyfriend and I stayed here for the full purpose of saving money and to visit NYC! It so close to the MN train station it was perfect. We felt completely safe in the apt. Yasmina and her husband were very kind host. :) We loved it definitely will consider this again. Also on the side note, this was our very first time using airbnb, but I felt it to be a great experience in the end and will be using it again in the future :)
Bethany
2016-09-18T00:00:00Z
We had a great experience with this stay. We were in NY on a work trip. She was a great host, easy to talk to and very quick in responding to any questions we had. We would definitely stay here again on next years work trip.
Alekona
2016-07-22T00:00:00Z
Yasmina and Paul were very attentive throughout our stay and made us feel very welcome. The place is as described as the living space was adequate and afforded us privacy. The hosts were very communicative and available to address any questions or recommendations that we sought. The loft is ideally located within walking distance of the city and its many conveniences and, accessible to various means of public transport.
Mary-Beth
2016-08-09T00:00:00Z
I stayed with myself and two teenage young men. The location was convenient (train station within walking distance) and parking available. Another awesome thing is it was about 1/2 hour drive to the city. The hosts were very nice and amicable. The loft provided adequate space and privacy. I would stay there again.
Nampeera
2016-07-02T00:00:00Z
The apt was spacious enough and well maintained. Public transportation, food and parking are easily accessible. The hosts were gracious.
Denise
2016-10-22T00:00:00Z
They were incredible hosts. Very attentive and polite. The space is like a small apartment with practically all one would need short of baking a cake. Very close to the trains. Excellent for local visits or budget NYC sleeping quarters.
Gary
2016-08-17T00:00:00Z
Het is een prima plek, die precies waarmaakt wat je verwacht op grond van de foto's en de beschrijving. Goed bereikbaar per trein vanuit Manhattan. De buurt gaf wel een wat onveilig gevoel.
Maria
2016-12-31T00:00:00Z
Art der Unterkunft
Ganze Unterkunft
---
Objekttyp
Loft
---
Unterkunft für
4
---
Schlafzimmer
Mount Vernon, New York, Vereinigte Staaten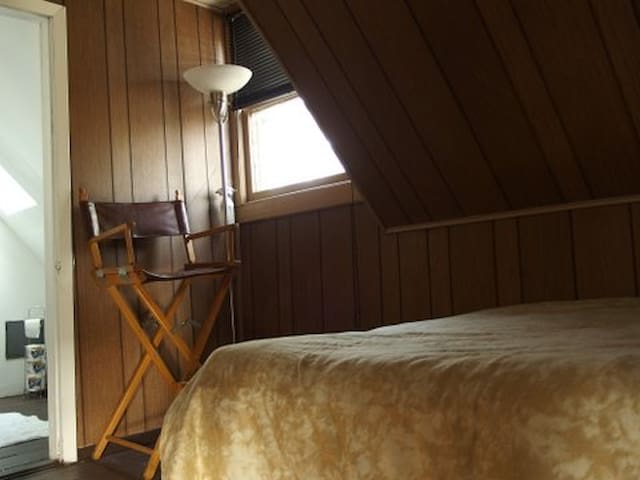 Take refuge in the extra bedroom of my beautiful loft in a converted factory. This sunny and spacious bohemian paradise is steps from the L train, minutes to the city, and situated between up-and-coming Bushwick and hip Williamsburg. ....and the view! It is to die for.
Tucked away in the top corner of an industrial building overlooking the city, the space is a carefully curated haven with 15 foot ceilings, huge industrial windows, and a perfect view of Manhattan from the Freedom Tower to the Bronx, you're sure to get inspired during your stay. The spare bedroom is comfortably minimal. A mosquito netted bed up the stairs in the lofted sleeping area comfortably fits two, plus there's a great blowup mattress to accommodate a third guest if need be. Experience true Brooklyn industrial loft living.
In the loft you will find yourself perfectly located to both escape from everything and have very quick access to it at the same time. The area around me is still industrial during the day, but things quiet down a bit at night. (Super light sleepers could still benefit from earplugs if they're not used to city living.) A short walk from the loft are plenty of great bars, restaurants, coffee-shops, and even a little shopping. In fact, the neighborhood is changing so quickly that you might even get to see something new pop up while you are here!
Es war großartig bei Ehren in New York. Genau das was wir erhofft hatten, ein geniales New York Erlebnis. Ehren war extrem nett und hilfsbereit. Der Loft ist nur wenige Minuten von der U-Bahn entfernt und das Viertel birgt tolle Überraschungen wie z.b. New Yorks angesagteste Pizzeria "Roberta`s", das coole Café "Swallow" und jede Menge tolle Graffitis, eben eine pulsierende kreative Szene in einem aktiven Industrieviertel.
hans-georg
2015-04-02T00:00:00Z
Ehrens Wohnung ist unserer Meinung nach die Perfekte Unterkunft für NewYork! Die Metro ist gut zu erreichen und obwohl im Viertel ein Industriegebiet ist, haben wir uns sicher gefühlt. Ehren war ein super Gastgeber und hat immer geholfen und gute Tips gegeben. Die Wohnung ist super cool eingerichtet und in Kombination mit diesem Ausblick über die Skyline unschlagbar! Haben uns fast wie zuhause gefühlt! Danke für alles und hoffentlich bis bald
Kilian
2015-08-29T00:00:00Z
I really enjoyed staying at the loft, it was exactly what I had hoped for and Ehren was a great host. Staying at the loft was a lot of fun- the location is inside an unpretentious industrial warehouse full of artists and musicians, and it's well situated within close walking distance to everything you could need... bars, coffee shops, restaurants, shopping, etc. It was like staying with a good friend that was around if you needed anything but otherwise left you alone to do your thing. The loft is really spacious and has quite an amazing view, it was really lovely. Equally lovely was Cindy, Ehren's cat; she was the sweetest thing, very friendly, and made staying at the loft that much more comfy to me. I highly recommend staying here. :)
Stacy
2014-05-26T00:00:00Z
I stayed at Erhen and Reni's when I moved to New York and it was an awesome first Brooklyn experience. These guys are truly lovely people and the loft is a very inspirational place to live in, I had a fantastic time staying there and would recommend the place to anyone visiting. In terms of practicality the industrial location is a bit unsettling at first but as soon as you get around you realise all the cool places (+ the subway stations Jefferson St. / Morgan Av.) are right next to you. Erhen was very helpful host and answered to all my question right away. + House cat Cindy is the sweetest pet ever + Very inspiring / creative space and people + I saw the most unbelievable sunset over Manhattan when I was there. Unreal!!
Chloe
2014-07-07T00:00:00Z
Erhen was amazing. Greatly accommodating and even better to party with. My friend and I felt super comfortable with him, and although we aren't super cat people, we felt in-love with Cindy immediately. I've already booked again! Thanks Erhen!
Jeaux
2015-06-28T00:00:00Z
Our stay w Ehren and Reni was very pleasant. They were both easy to chat to (although we didn't see them too often, being too busy exploring the city). The place is well located close to the Subway and about a 15 min ride into Manhattan. Plenty of cool bars around and take the opportunity to have some famous Brooklyn pizza while on this side of the bridge. Again, thanks Ehren and Reni for hosting us.
Keegan
2014-12-08T00:00:00Z
We stayed here for a week and had a great time. The apartment is really stylish and quirky and great location for the subway which takes you to Manhattan easily and quickly. Ehren and Reni are lovely and friendly, and a lot of the time we had the place to ourselves as they were out and about working etc. The mezzanine room means there is plenty of space for luggage and the mattress was very comfortable to sleep on. As warned in the description it does get noisy at night but earplugs solved this and the view of the manhattan skyline easily makes up for this. Would definitely recommend staying here if you're looking for a hip, Brooklyn loft experience.
Charli
2014-05-09T00:00:00Z
Seriously the most amazing place. Last of its kind, a real and legit loft in Brooklyn. Super close to transport and cool spots around Brooklyn. Ehren was an amazing host and was really accommodating. The place was clean and felt like it was decorated for a TV show. Couldn't recommend it highly enough, 100% would stay again
Thomas
2015-12-02T00:00:00Z
Art der Unterkunft
Privatzimmer
---
Objekttyp
Loft
---
Unterkunft für
3
---
Schlafzimmer
Brooklyn, New York, Vereinigte Staaten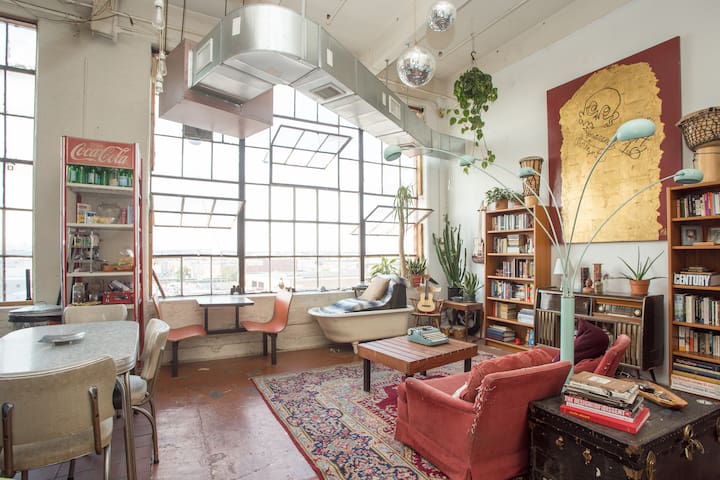 Explore the heart of Brooklyn from our offbeat artist loft. Be poised to traverse Manhattan and its infinite cultural offerings, just 20 minutes by L or M train. Great music and art venues like Trans-Pecos, Silent Barn, Unit J, Bossa Nova Civic Club, and Loft 594 are within walking distance. Great bars, restaurants, and venues of Williamsburg, East Williamsburg, and Bed-Stuy are just minutes by train. Come and be inspired by all that this city has to offer. Adventurous souls welcome.
This is 2 bedroom apt and your room in our loft is accessible by heavy-duty ladder which is firmly clamped into place. Perhaps a little unusual so we wanted to make mention of that fact. It's completely sturdy and 100% safe. Also, the entire lofted area (which includes your room) has a low ceiling. It's perfectly fine for lounging in the lofted area, but you probably wouldn't want to do any jumping jacks. That's why we have a large shared common space comfortably furnished for you to relax in should you need a break from the hustle and the bustle of New York. Our building is centered around community, a great place to socialize and make friends with all types of creative and interesting people. Some summer nights on the roof, movies are projected or bands and DJs are playing music. If you need to retreat you can come back in the loft and enjoy a good book for some private time. Our space features a house bunny who runs around freely. She can be shy at first but quite the character if she feels comfortable. She's a dwarf bunny so not very big. And we clean up the little bit of hair she leaves every day since one of us has a pet allergies and that solves the issue.
The neighborhood is a mixture of artists and creatives and families that have set their roots here. It's safe and a little low key but with some underground venues, a few chill bars, and lots of local places that have been here and don't seem to be going anywhere.
Devi and Cian were very welcoming! The bed was extremely comfortable and the bunny was great company :)
Sarah
2017-04-02T00:00:00Z
Devi&Cian is great we have a very comfortable communication. The loft is very clean and it's extremely close to the L train!
Alex
2017-03-26T00:00:00Z
Devi and avian were absolutely wonderful hosts who welcomed us to their lovely home. They were welcoming, easy to talk to, and helped us with whatever we needed during our stay. Everything was as described and I must point out how comfortable the bed was! The space is private, quaint and perfect for couples and friends. Their pet rabbit was also an additional delight to see around. It is also in a great location, with nearby subway station and cafes. I was able to find free street-parking close-by which was convenient. Last of all, the residents were all welcoming and helpful, which made us appreciate the stay. Thank you so much for hosting us and perhaps I'll come by sometime again in the future!
Sherry
2017-01-01T00:00:00Z
The bed was really comfortable. I actually slept better than my place back in LA. I think because it's kind of like a cocoon and there was no street noise. The place is also convenient to the L and M lines, so it's easy to get into the city.
Chris
2016-12-29T00:00:00Z
Devi & Cian were very welcoming hosts. We arrived later than we said that we would, but they were extremely flexible and kind -- even waiting with Hot Toddies in hand. Thankful for their hospitality.
Linda
2016-12-11T00:00:00Z
Art der Unterkunft
Privatzimmer
---
Objekttyp
Loft
---
Unterkunft für
2
---
Schlafzimmer
Brooklyn, New York, Vereinigte Staaten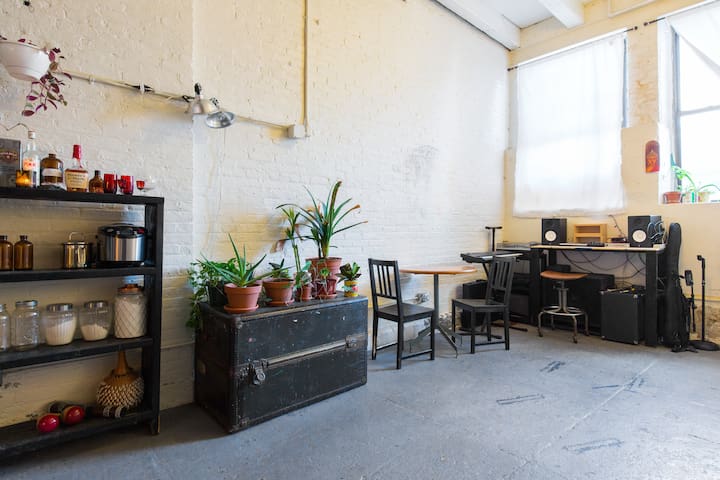 Muttontown - Airbnb
:
Durchschnittlich

4.75

von

5

Sternen aus

658

Gäste-Bewertungen
1

–

18

von

+ 300 Unterkünfte
Gib deine Reisedaten ein, um den Gesamtpreis pro Nacht zu sehen.