This place is close to Pahrump city center and has great valley & mountain views. You'll love my place because of the nice ambiance and the wide outdoors space. Scenery is awesome! It's good for couples, solo adventurers, families (with kids), and friends getting together. IMPORTANT INFO: It's about 3.5 mile "GRAVEL ROAD" going to the top and it's an uncomfortable ride. I don't want guest to be disappointed for not knowing. AWD vehicle is preferable but any vehicle is ok if you drive slow..
You'll see 360 degree scenic view: Mt. Charleston to the left; the valley of Pahrump down below and the great Sierra Nevada mountains in front and to the right. Sunset is very beautiful to see over the Sierra Nevada's.
Very peaceful, totally serene and quite. Very nice getaway place. Lots of hiking areas. Pahrump downtown is a 15-20 minute drive where you can get all what you need.
The house is clean and cozy. However the location are very bad with no asphalt road. All gravel and some are very bad conditions. Recommended not to drive at night. Must be arrived in the day time.
Sze Yin
2017-03-26T00:00:00Z
The trip was a little difficult because the road is unpaved and I have a Prius but once there it was great. Frank was super sweet and we had a walk and there are wild horses and jack rabbits all over. The chalet is brand new and Immaculate. Some fruits and refreshment were also offered together with a very well set up house with everything you need to feel completely at home. Great place
Ornella
2017-03-22T00:00:00Z
The house is in a fantastic location up in the hills of Pahrump. The home is very well kept and comfortably houses four people. The view is gorgeous and is a fantastic spot to watch the sunset. Communication was convenient and we felt very welcomed; whether it was being personally led up the hill to find the house or being left a fresh basket of fruit.
Will
2017-03-15T00:00:00Z
A very serene comfortable place with great views. The road is rugged but do able in a 2 wheel drive. Bring your provisions, take it slow and reward yourself with a sunset picnic.
John
2017-04-02T00:00:00Z
Art der Unterkunft
Ganze Unterkunft
---
Objekttyp
Blockhütte
---
Unterkunft für
4
---
Schlafzimmer
Pahrump, Nevada, Vereinigte Staaten

We have a unique tiny home located in Sandy Valley NV. One hour outside south Las Vegas off US 15. This is one of two tiny home on a dude ranch with horseback riding, cattle drives and rodeo events. Search Sandy Valley Ranch. Come stay at our beautiful desert hideaway and ride into the sunset. Enjoy the tranquility of the Mojave Desert and gaze at the sea of stars. We are near Death Valley, Tecopa hotsprings and GoodSprings home of the famous Pioneer Saloon.
Our tiny house / the Peacock has a flushing toilet, shower with hot water, a stove, a fridge and a comfortable queen size bed. The couch also pulls out to become a bed, it is a little larger then a twin but smaller then a queen. You can enjoy watching the sunset and sitting under a sea of stars from our roof top patio. We do allow pets but charge a $10 pet fee.
There are a couple saloons in the area that have character and some good food. Our number once choice is Pioneer Saloon located in Goodsprings just 15 minuets from the ranch.
The house looks even better in reality then in photos. Is really far out to anything so make sure you bring with you everything you need. The only thing that disappointed us a little bit is that we've been offer to light up a bonfire and the day after we've been asked money for it. We just found incorrect they did not tell us about that in advance. After all we had a great and unique experience.
francesca
2017-02-20T00:00:00Z
Great spot, the upper deck of the Peacock is a treat.360 degrees of mountain views. Serene and quiet and a great post Death Valley layover.
John
2017-04-03T00:00:00Z
The two of us stayed at the house for 2 nights. We absolutely adored the house and the ranch. We arrived after dark, found the ranch with no issues. The house itself is in back of the ranch, and was a little hard to find since it was dark, but we just followed the signs. Terry was very welcoming and met us at the house right after we arrived to show us how the water worked etc... We had stopped at a grocery store on our way in Boulder City, so we brought everything we needed for our stay. We did also get the cowboy breakfast in the main ranch house (hearty and delicious) Kitchen in peacock house is tiny but totally worked for us! Fridge and cooktop were great. The deck on the roof was the best. Glass of wine and the guitar and we were all set! We spent a full day wandering the ranch. We did horse back riding on a trail with Luis the wrangler, he was awesome. There were a bunch of baby goats that had literally just been born. What a peaceful place. All the ranch workers are so friendly and warm. Peacock house is truly a work of art and fun to stay in. We loved it!
Catherine
2017-03-09T00:00:00Z
My friend and I came here expecting to arrive at the house and leave immediately to see some of the nearby sites. We were so floored by the beauty of the ranch and the kindness of Terry, our host, that we ended up spending the afternoon on a tour of her ranch. The animals are so gorgeous and well-kept. The folks living/ working on the ranch are very friendly and helpful. Terry is a ray of sunshine and so efficient! We loved the Peacock house!! The space heater kept us warm and there are great amenities like an electric stove and cooking supplies. We woke up one morning to see the most beautiful sunrise I've ever seen. While staying here we saw the Red Rock canyon. We'll come back again for a Death Valley trip!!
Melay
2017-02-03T00:00:00Z
As Vegas residents, this was a fun quick trip to unplug from life and enjoy some beautiful desert respite! The home is unique, comfortable, and cozy - we packed light, and didn't feel like we were missing anything, as the tiny home came with plenty of kitchen and bathroom supplies. Communication was seamless with Sandi and Terry, with very quick responses to questions. We especially enjoyed the upper deck at night!! Sitting up there, looking at the sea of stars, was just about the best thing! A must experience! Sandi and Rob's tiny home definitely helped us accomplish a memorable, tiny weekend getaway.
Desirae
2017-01-16T00:00:00Z
Beautifully crafted tiny house in the quiet Sandy Valley. Host Terry gave us a very warm welcome and met our every need. Fun ranch animals to meet and not enough time to enjoy everything the Sandy Valley Ranch had to offer. Say "YES" to the breakfast. It will not disappoint.
Elizabeth
2017-02-06T00:00:00Z
Our stay at the ranch was great! Driving in from California, we were able to find it quickly despite the dark and gravel roads. "The Peacock" is a bit more secluded than the other tiny houses on the property, which we loved! It was private and lovely. It's beautifully decorated and very comfortable. It's amazing what can be done in such a small space! We didn't have time to enjoy the ranch activities, but we did drive out to Death Valley National Park, which was just over 2 hours away. We truly hope to be back and enjoy more of what the ranch has to offer! The area the ranch is in is truly beautiful.
Catherine
2017-03-05T00:00:00Z
Spectacular scenery and Tiny House experience. Deck for stargazing is a +++. Nicely accessorized.
Teresa
2017-03-14T00:00:00Z
Art der Unterkunft
Ganze Unterkunft
---
Objekttyp
Blockhütte
---
Unterkunft für
3
---
Schlafzimmer
Sandy Valley, Nevada, Vereinigte Staaten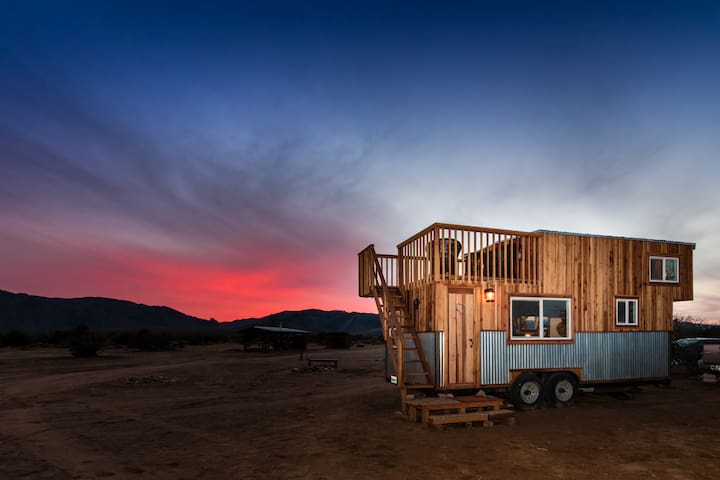 Come enjoy our hand crafted tiny house located on a working dude ranch in the middle of the Mojave desert just one hour South from Las Vegas. Sleep under the desert sky and wake up to the tranquility and peace of the desert.
Our tiny house / the Hummingbird has a compost toilet, shower with hot water, a stove, a fridge and a comfortable bed. The couch has also been designed to sleep one more. You can enjoy the peace of Sandy Valley, explore ghost towns, Death Valley, hot springs or saddle up and go horse back riding right on the property. We do allow pets but charge a $10 pet fee.
There are a couple saloons in the area that have character and some good food. Our number once choice is Pioneer Saloon located in Goodsprings just 15 minuets from the ranch.
This is a lovely tiny home on a beautiful, tranquil and scenic ranch. The hospitality was laid-back and relaxed while also being extremely professional and welcoming. The smell of the mesquite stove, the impeccable view of the stars, the amazing sunset and sunrise was awesome! We opted for the breakfast and horse ride options on our last day and they were both awesome - Luis was a great trail ride cowboy teacher!! Word of caution: even though this is the Nevada/California desert, it gets very cold at night (especially in December when we visited) BUT the cozy loft location of the bed kept us nice and toasty warm while we slept. It was also interesting to see the green/eco tankless water heater at work and use a composting toilet that didn't stink! We will definitely be back in the future... Meanwhile you should book a few nights here, I recommend it wholeheartedly.
John
2016-12-03T00:00:00Z
We had a fantastic stay at Sandi Tiny house! The house is located in a nice ranch in a beautiful valley. It is well equipped with all we need and there is also an outdoor table to have diner for instance. The bed was very comfortable and Sandi was very friendly and helpful! We feel like at home.
Louise
2016-06-19T00:00:00Z
Sandi has a tiny house with a seriously comfortable bed nook - waking up to the views of the mountain and popping the window open for a cool breeze was a dream! We arrived late but made us of the outdoor candlelight and harmonic and have no complaints. We definitely recommend staying here! :)
Rheadawn
2017-01-04T00:00:00Z
The tiny house is adorable and has everything you need. There are tables set up next to the house under the tree with a lantern and was a great place to relax with a glass of wine and some snacks. We walked the ranch and checked out all the animals. Really beautiful place. We were only stayed no one night on our way to Tucson and this was perfect. Very remote and quiet. We drive into town and brought pizza back to the tiny house and played cards and checkers provided by Sandi. Nice way to unplug and chill out. The place was clean and comfortable. The water wasn't running but we got water from the spigot outside or right inside the ranch so it wasn't a problem. Would definitely stay here again!
Cindy
2016-12-24T00:00:00Z
This place was the perfect stop for us after our road trip to Utah. We didn't want to have to pay for an expensive hotel room in Vegas and wanted something a little more quiet for our last night on the road. The tiny house is exactly as advertised. The ranch hostess was out with an injury and was not there to greet us when we arrived. This was not a problem at all as Rob and Sandi had let us know prior and had provided us with directions. We had some trouble getting the water turned on. Sandi called us immediately and we were able to figure it out. After getting settled and taking a hot shower, the ranch owner stopped by to introduce herself and invited us to breakfast in the morning. The ranch itself is beautiful. At sunset we roamed around and said hi to the animals, which were all pretty entertaining to watch. We headed to Pioneer Salon for dinner which is a MUST if you have the time. This place is wild. Everything from the food, to the people, to the history of the saloon. If you go on a weekend night there is always a live band playing. Back at the ranch there was plenty of cooking supplies if you want to cook. They even provide various teas and oatmeal, which we enjoyed in the morning with a view of the mountains. The bed gave us the best night sleep of our entire trip. I would definitely recommend this place to anyone looking for a peaceful getaway. Rob and Sandi are fantastic hosts and the tiny home is equipped with anything you may need. Be prepared though - there is nothing out in Sandy Valley. If you are planning to cook, stop at a grocery store before you hop off the 15.
Mitch
2017-04-02T00:00:00Z
The tiny house was really lovely. The decor inside was southwestern themed and tasteful, much more intentionally decorated than just 'serviceable', a pleasure to stay in. The composting toilet was a first for me, but surprisingly not terrible. There was a sink and a proper little gas stove, perfect for a morning cuppa. The little shower never got hot for me, but it was no issue since I just walked across to the ranch house and used their regular plumbed showers in the bathroom there. The ranch itself was lovely - sprawling, great breakfast (spinach omelet, ham steak and garlic diced potatoes), everyone super friendly. Our dog played races with the other dogs on the ranch. We took up the offer of a trail ride and spent a leisurely hour walking round the property on horse back chatting with the wrangler. The 'couch' downstairs in the tiny-house is rope on a wooden frame, personally I wouldn't be able to sleep on it (not an issue for us, as two people we just slept upstairs). Upstairs' mattress isn't the comfiest foam-on-carpet loft combo, coming from someone with chronic pain, but better than some Airbnbs I've stayed at (it didn't sag at least!). Only caveats I'd add for other folks to be aware of, no criticizim of the property: it's confusing to find at night when it's pitch black. (SENSITIVE CONTENTS HIDDEN) maps didn't tell us to go far enough up the road, so we took a turnoff early and ended up trundling down a gravel path in our Prius. Not an off-roading vehicle. Don't trust (SENSITIVE CONTENTS HIDDEN) maps! Wait till you see a huge illuminated ranch gate hehe! Also, a lot of the 'roads' (SENSITIVE CONTENTS HIDDEN) maps tells you to use are deep not-always-level gravel, which was a bit alarming in a Prius. Make decisions accordingly. We scraped along, a bit tense, but managed not to actually get stuck anywhere!
Jack
2017-03-11T00:00:00Z
The Tiny Home was amazing. Workmanship was really nice. The directions given by Sandi where very easy to follow. The had everything clean and tidy when we showed up. Terry the person on site helping took care of us very well. She gave us a tour of the Sandy Valley Ranch the tiny home sits on. We will be back again to enjoy the Ranch and the friendly people that worked there. Thanks Paula Tyson
Paula
2016-05-19T00:00:00Z
Great communication, clean, comfortable and a super friendly helpful staff. Highly recommend the experience.
Christina
2016-12-30T00:00:00Z
Art der Unterkunft
Ganze Unterkunft
---
Objekttyp
Blockhütte
---
Unterkunft für
3
---
Schlafzimmer
Sandy Valley, Nevada, Vereinigte Staaten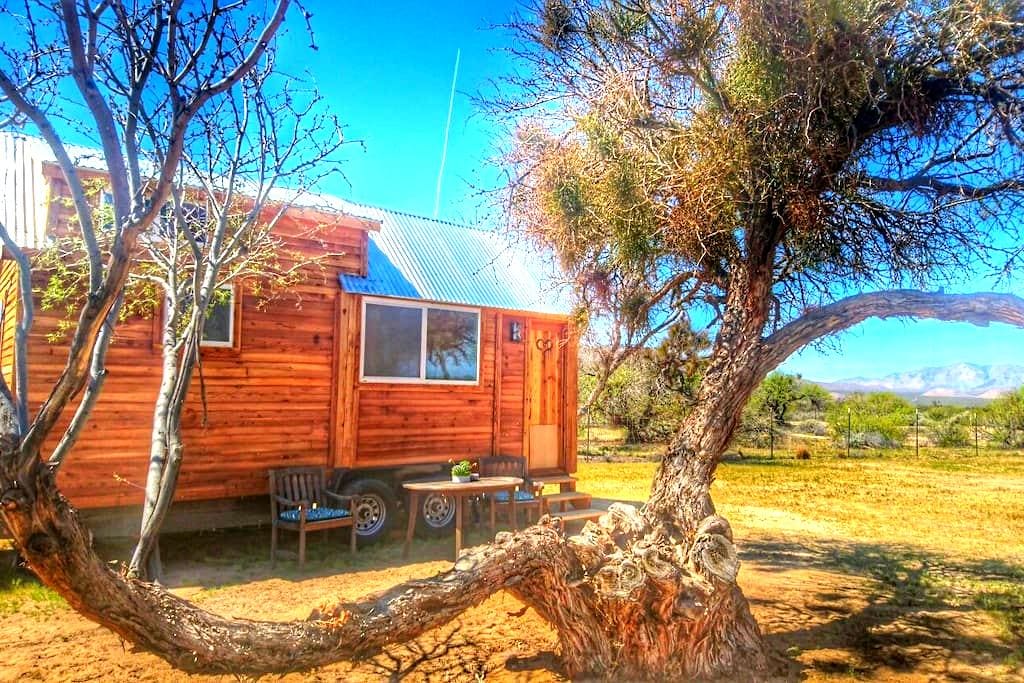 Bottle building is sort of an indigenous practice in Death Valley, but there are none that you can actually stay a comfortable night in. The artists at Villa Anita are offering that opportunity. Villa Anita is an organically growing art installation that is making use of repurposed material to challenge the idea of "living space." It is a space that is constantly "becoming." It is not just an AirBnB, it's an experience. We offer dinners for $35 a person, and breakfast for $25.
The Bottle Cottage is almost completely built from recycled material. It is an art piece that to us represents the accumulation and subsequent transformation of refuse into beauty. It's an alchemical process that will immediately put you in tune with your own internal processes. What you're experiencing is eco-extravagance. Staying here is a celebration of returning to nature, but with our inner hominid's instinctual organization and collecting intact. The space was built with no plans. We have an architect who keeps our master blueprint. He comes in during production of out spaces to draw them as seen and to offer structural advice where needed. All electrical is overseen by a licensed electrician.
Villa Anita is perched on the edge of desert wilderness overlooking the Amargosa valley. The lack of light pollution makes for an incredible dark sky experience. Nearby are some of the most mineral-rich, sulphur-free, hot springs in the world. And right down the street from us is China Ranch Date Farm, a truly unique oasis that you must see.
Eine unglaubliche und wundervolle Unterkunft, die wir unbedingt wieder besuchen wollen. So etwas besonderes habe ich persönlich noch nie erlebt - eine kunstvolle und rundum gelungene Oase mitten in der Wüste. Die Unterkunft selbst ist schon klasse, aber das besondere ist die Begegnung mit den Besitzern ist das absolute Highlight: unglaublich freundlich, herzlich und um das eigene Wohl bemüht, so dass man sich gleich willkommen fühlt! Das Essen vor Ort ist das i-Tüpfelchen bei einem rundum gelungenen Aufenthalt! Vielen Dank!
Fabian
2017-03-24T00:00:00Z
Villa Anita was a unique experience! Set in an artist community, our hosts were welcoming and inviting into their home. House does not have heat and it can get quiet chilly during the winter months but they did provide a space heater and heated blanket. Outdoor shower and toilet were unique. If you are looking for a completely different type of Air BnB experience this place is for you.
Brian
2016-11-26T00:00:00Z
Villa Anita is a special place. As others have mentioned, it's a living, ever-changing art installation - but that's not what makes it special. Don't get me wrong; the art is incredible and the feeling of wonder and peaked curiosity you get while exploring each room would be worth staying at Villa Anita by itself. But it was the warmth and joy and genuine conversation with the people of Villa Anita that made us feel immediately at home and not wanting to leave. We're already planning our trip back. Other things to keep in mind: - Kids would love it here. There is so much to explore and at least two of the rooms - Bottle Cottage and Shipwreck Suite - are perfectly set up for families. - They offer delicious, family-style meals here. $20/person which is a steal for the quality of food and delicious wine served. Cash or card. - Check out the nearby hot springs - It can get chilly at night in the desert but they made sure our room stayed super cozy with a space heater and a heated bed. - Go now before it becomes world-famous and impossible to get a reservation.
Kristi
2016-12-30T00:00:00Z
Villa Anita is a functioning (as a BnB) and continuously evolving art installation designed by a few artists who live and work on premises. We were welcomed warmly, and introduced to the whole team running Villa Anita as soon as we arrived. !Expect! a lot to come at you at once, as this is the type of BnB that you have likely NEVER experienced. Most of the premises is an explosion of art created out of re-purposed material. Do take the tour of the whole place (suggest arriving before sundown), and do spend time with the hosts (join for dinner as it is typically offered) ... critical to understanding where and who you are staying with; you will not be disappointed. Very warm people created this place, and they attract interesting travelers (guests and workers who are there on work exchange programs) from around the world. For example, we met a French couple on Holiday from New York + 3 young work exchange participants from Germany working on the property. The accommodations are accurately described - keep in mind that you'll sacrifice some typical comforts of typical lodging we are all used to in the western world. We stayed in the bottle cabin (in Dec), which stayed warm enough to get a good nights sleep. We didn't even use the electric blankets provided - mobile heating unit did it's job. The bathrooms / sink / shower are open air structures (those typical comforts you may or may not miss).
Dmitriy and Katie
2017-01-02T00:00:00Z
Wonderful welcome hospitality and fabulous creativity! Carlo is a wonderful cook and dinner was lots of fun. Everyone bent over backwards to help out and meet our needs.
Kate
2017-01-06T00:00:00Z
Brilliant night here. We were travelling with my 8month old son and were made to feel very welcome. Unique place and staying was one of our trip highlights... Recommended!
Donald
2017-03-19T00:00:00Z
Villa Anita will not be for everyone. It is funky, artsy, communal and way off the beaten track. That said, it represents a colorful throw back to the values that airbnb originally embraced: the opportunity to meet new and interesting people in new and interesting places. The place offers a truly original experience of desert life and culture unique to California. Just fifty or so miles from Death Valley, in the little, hot mineral springs oasis of Tecopa, Villa Anita is a hodge podge work of art in process run by the funny and ebullient Carlo and quiet, intellectual Aaron. The dinner they offer is a wonderful experience--lots of well cooked food, wine, and conversation out in the middle of nowhere, surrounded by crazy bottle construction walls, riotous art, and Joseph Cornell-like accretions all over the place. This is a place to be embraced for its energy, style and hippie commune-flavor vibe. And staying in the bottle cottage with the electric blankets was a pleasure, especially in the morning when the sun illuminated all the colors of the glass.
Lyle
2016-12-28T00:00:00Z
We had an awesome stay. The experience was perfect in every way. Thank you!
Kent
2016-12-29T00:00:00Z
Art der Unterkunft
Privatzimmer
---
Objekttyp
Blockhütte
---
Unterkunft für
4
---
Schlafzimmer
Tecopa, Kalifornien, Vereinigte Staaten
This Hot Springs Resort was built in 1950. The Club House was the First School House in Death Valley. The Star Watching is Fabulous. Hiking is Fabulous. Death Vally Cafe is on property.
We offer the privacy and the comfort of your own space. Our private desert hot spring mineral baths allow you or your party-- seeking solitude and introspection-- to fully enjoy the mineral rich and geothermally heated artesian hot springs. Our California hot springs are considered by many to be among the best therapeutic waters in the United States.
Delight's Hot Springs Resort is located in Inyo County California (just outside of Death Valley and in the Great Basin Mojave Desert ). It is just a few hours from Los Angeles and 90 minutes from Las Vegas. Nearby you'll find the China Ranch Date Farm, as well as other local visitor favorites. And day trips can include visits to the Amargosa Opera House, and Dumont Dunes.
Had a great stay. Good location and the hot springs were nice. Be sure to check out the date farm down the road.
Nathan
2016-12-28T00:00:00Z
The cabin in Tecopa was just as described and was the perfect oasis after passing through Death Valley. I highly recommend this spot.
Jory
2016-07-01T00:00:00Z
A great little getaway close to Death Valley. Nice private hot spring baths too. All we could ask for.
Lauren
2016-05-04T00:00:00Z
Hot Springs Resort is an unexpected desert gem. Definitely "rustic" - no surprise there - but also an entirely unique resort in a spectacular setting a short drive away from the national park. Loved the mineral baths and the friendly staff. Thanks!
Brent
2016-03-04T00:00:00Z
The desert is gorgeous in April. The baths are great. The "house" was funky and smelled of gas. Wouldn't describe it as nice, though the bed was comfortable enough. Very expensive; we'll look elsewhere for lodgings before coming to Tecopa again, though I am not sure what we'll find. Internet Cafe down the street is good. Be sure to visit nearby China Ranch Date Farm and see the Amargosa Opera House.
Linda
2016-04-10T00:00:00Z
In this review I won't be talking about the accurateness of Steve's posting, because it is so nondescript that is substantially correct: "This Hot Springs Resort was built in 1950. The Club House was the First School House in Death Valley. The Star Watching is Fabulous. Hiking is Fabulous. The Restaurant with 2 Real Chefs have the Best Food in Death Valley. Lots More -Thanks Steve". We did not try the restaurant, but stars and hikes are fabulous indeed - what is NOT fabulous at all is this "resort". Our bad that we did not investigate further before making the reservation. When we arrived, the reception was closed and there were two envelopes with keys for guests arriving late, but neither of them had our name on it (we had both written to Steve and called him to say that we were arriving around 11 PM - and we actually were there at 11 PM). We called an employee and we were assigned a mobile home originally destined to someone else. The room was extremely cold, the carpet very dirty; blankets and bathroom, luckily, were clean. The employee showing us the room forgot to show us a door on the back, and when we woke up after the second night in a freezing cold room, we realized that the door (whose existence we did not know about) was completely open. It was not good either for the temperature of the room or for our safety. This is a "resort", and we never met Steve (which is fine), so I cannot really say much about him, apart from the fact that he (or his employees) did not take into account our communications about the hour of our arrival. We spent $222 (it was the Thanksgiving weekend), and we felt a bit robbed. Again, our bad. But I would never recommend this place to anyone.
Chiara
2015-11-27T00:00:00Z
The Delights Resort is an interesting place near some natural hot springs. The baths there were relaxing and we were able to drive to Death Valley in under an hour. The room we stayed in was a bit shabby, but it had a small kitchen that was very useful, complete with a refrigerator and real stove. We were plenty warm in late February with a good electric heater that the resort provided. Overall it was a great time!
Andy
2017-02-26T00:00:00Z
We had a wonderful stay at one of the cottages. The property is situated in a picturesque location with stunning night desert views which we enjoyed. Hot springs (more like baths) are an added bonus. The location is fairly remote in case you need to get food or other supplies. Steve was very accessible and helpful. Thank you!
Sergey
2016-03-23T00:00:00Z
Art der Unterkunft
Ganze Unterkunft
---
Objekttyp
Blockhütte
---
Unterkunft für
2
---
Schlafzimmer
Tecopa, Kalifornien, Vereinigte Staaten
Pahrump - Airbnb
:
Durchschnittlich

4.88

von

5

Sternen aus

152

Gäste-Bewertungen
Gib deine Reisedaten ein, um den Gesamtpreis pro Nacht zu sehen.