Vi har en nyrenoveret hyggelig atelier stil kabine med egen gårdhave til leje, separat til hovedhuset af en australsk-italiensk familie. Indeholder en dobbeltseng med sengetøj, håndklæder, eget toilet og bad, lille tv, bar køleskab, vask, brødrister, BBQ, kedel og mikroovn. Gratis parkering på gaden.
Der er masser af privatlivets fred, og du vil ikke blive generet på dit værelse men vi er klar til at tilbyde rejsetips. Vi har 3 venlige hunde, der ikke går inde i kabinen. Der er en port, der kan holde vores hunde uden for kabinen gården. Det er vigtigt, at gæst holde hovedporten lukket. Vi accepterer gæster med venlige vaccinerede hunde. Men vi opkræve en $ 50 rengøringsgebyr for vovse gæster.
Vi lever i forstæderne til West Ryde, en rolig og venlig kvarter. 2 minutters gang til busser eller 15 minutters gang til tog (West Ryde eller Eastwood stationer). Vi er en 30 minutters kørsel til byen Sydney, 30 minutters kørsel til den nye Wet n 'wild forlystelsespark og en 90 minutters kørsel til de smukke Blue Mountains. Vi er en 10 minutters kørsel til Macquarie University, 15 minutters kørsel til Sydney Olympic Park, 5 minutters kørsel til Ryde hospital, 20 minutters kørsel til Westmead og Westmead børns hospitaler. Offentlig transport tager naturligvis længere tid at komme til disse steder, og nogle gange cykling er hurtigere. Hvis det er aftalt på forhånd, kan vi nogle gange arrangere en elevator.
Everything was what the photos described it to be. Our daughter had a great time there playing with the 3 dogs :) Mike was very friendly and helpful as well.
mal
2016-07-11T00:00:00Z
I thoroughly enjoyed my stay at Rachel's Cabin style Room. It was cozy and tidy. An extremely comfortable place to stay for 4 nights. Unfortunately, I was unable to meet Rachel, but was warmly welcomed by Mike and Andrea upon arrival. The place is ideal, walking distance to the train station and lots of eateries around the area. Relatively safe and the train runs frequently. You have your own privacy. Being a huge fan of dogs, it was a bonus to have the company of their three sweet dogs :) extremely friendly! I would strongly recommend this place to anyone and everyone, you won't be disappointed! Thanks heaps Mike!
Maithrie
2015-02-21T00:00:00Z
A great little cabin for my short stay in Sydney. I landed on a very hot day and the room was nice and cool. I was traveling alone so I had plenty of room but feel like it might have been a bit too cosy with a partner. Light sleepers might find the general noise of things dropping on the roof, dogs, and neighbours working difficult - although it didn't bother me. It was perfect location to get where I needed to go easily and plenty of street parking. Bring your own shampoo, shower wash (I forgot and had to go purchase some). Excellent hot shower. Great that there is kettle, mini fridge and microwave. I ate out with friends during my stay but could make a cuppa in the morning. Would be happy to stay again if traveling alone.
Teresa
2016-04-09T00:00:00Z
Did not have the opportunity to meet rachel as she was overseas but mike her dad was the warmest host ever. He made sure we felt at home and even bought a new bbq for our use. There were also 3 little dogs which always made us feel welcome :P The cabin is exactly as described, really clean and neat. There is private access to the cabin so we could enter and leave at anytime. The private garden was also great as we could keep our dog there during the day.
leon
2016-01-03T00:00:00Z
Friendly hosts, friendly dogs and everything as described. Came for a conference at University of Sydney and found this location to be very convenient to easily drive there and back without getting lost.
Dayne
2016-09-27T00:00:00Z
Had a great stay with this lovely family! The cabin is really lovely, clean, comfy and has everything you need. And the dogs are awesome!! Gonna miss the cuddles!!
Emma
2017-03-05T00:00:00Z
Description was very accurate. The cleanest Air BnB Ive stayed in! The little cute studio, at the back of a family home, has it's own gated courtyard in a lovely (fruiting) garden. Warm welcome from hosts, who were there if needed but otherwise left you to go about your own business. Food tips: Fantastic Japanese locally (next to the station), and breakfast place (Once Upon A Time). I was working at Parramatta so very quick and easy to get to (less than 20 minutes drive).
Jules
2016-05-21T00:00:00Z
A very enjoyable stay and made to feel very welcome by Mike and Andrea.
John
2016-05-04T00:00:00Z
Art der Unterkunft
Ganze Unterkunft
---
Objekttyp
Blockhütte
---
Unterkunft für
2
---
Schlafzimmer
West Ryde, New South Wales, Australien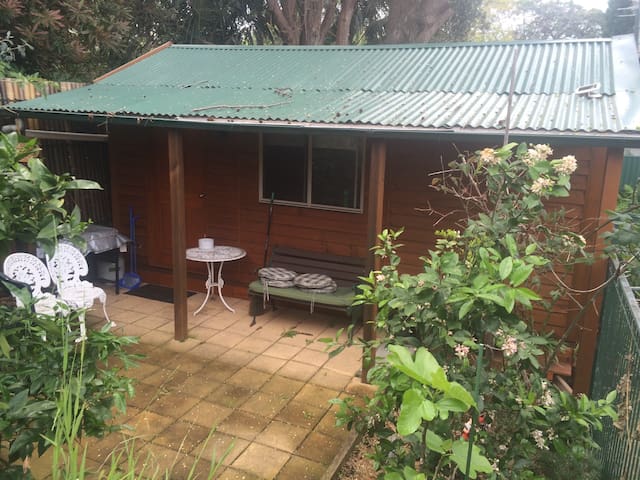 Eine kleine Holzhütte weit weg vom Haupthaus mit Bar Kühlschrank und Anlage mit einer elektrischen Bratpfanne zu kochen und zu einem Barbecue auf dem Deck. Dies ist Glamping wirklich in der Art! Bettwäsche zur Verfügung gestellt wird, aber alle Annehmlichkeiten sind im Haupthaus und den Gästen zu jeder Zeit. WLAN-Zugang.
Pequeño y pintoresco, cabina, privado ubicado sobre una gran roca con una pequeña terraza en un patio amplio entre los árboles. Tendrá la capacidad para cocinar en una sartén eléctrica, ya sea pequeña y barbacoa al aire libre y también se proporciona un refrigerador de la barra. Se despertará con el sonido de las aves a su alrededor. Los huéspedes pueden ayudarse a sí mismos a nuevos huevos de corral todas las mañanas para el desayuno! Tenga en cuenta el acceso al habitáculo requiere subir escaleras y luego en algún terreno desigual. Tendrá que tomar unos escalones a la plataforma de roca, donde la cabina se alza así que el calzado resistente (y por favor dejar los zapatos fuera de la cabina). Hay 40L de agua en la cabina para platos y beber y un grifo cerca para más si es necesario. Tengo pollos de granja que deambulan por el patio durante el día, sin embargo, puedo arreglar para que puedan ser asegurados en otro lugar si es necesario. Que son bienvenidos a venir a la casa principal en cualquier momento e ir a por un chapoteo refrigeración en verano en la piscina, pasar el rato en la terraza o aventurarse por una experiencia increíble en los parques nacionales cerca. Baño de invitados se encuentra en la casa principal.
Dieser Bereich ist für Buschwanderungen bekannt und es gibt zwei Nationalparks in unmittelbarer Nähe. Vogelbeobachtung belohnt hier und wir haben zwei Regenbogen lorikeets, die regelmäßig am Küchenfenster zu besuchen. Ich habe Freilandhühner, von denen Sie Eier jeden Morgen zum Frühstück sammeln kann! Die Nachbarschaft ist Vey sicher und ruhig.
We LOVED our stay. The cabin was great (even had wifi) and we loved being surrounded by the chooks and the native birds. Anything that wasn't available in the cabin we could freely use in the house. Jay was a fantastic host, so welcoming, generous and always offferingto help, but not intrusive. She was very easy to chat to and provided us with everything we needed. The pool was a highlight, very nicely temperature and as we would swim we would see all sorts of native birds...couldn't recommend this place highly (URL HIDDEN) was great. would definitely stay in the cabin again.
Jennie
2017-01-19T00:00:00Z
We couldn't have asked for a better host. Jay made us feel at home as soon as we arrived. She was accomodating and went out of her way to make sure we had a comfortable and enjoyable stay. Not only did she offer expert advice on the local area, but she was always down to have a chat or answer any questions.The cabin itself is very cute and clean, and is incredible well supplied. I had an awesome weekend and would definitely suggest checking out this area!
Leya
2016-11-12T00:00:00Z
Jay is a fantastic host and the cabin is great!
Carlo
2016-11-26T00:00:00Z
Jay was extremely welcoming, hospitable, helpful and very friendly! We had an awesome stay at her place! Very authentic and a nice little get away.
Alon
2017-01-21T00:00:00Z
Peaceful treehouse with amazing views. Loved waking up to all the sounds of the wildlife . Jay was so warm and welcoming from the moment I booked. Can't wait to stay there again
Hayley
2017-02-15T00:00:00Z
Great rustic cabin getaway in the trees. Could very easily live here!
Jamie
2017-03-25T00:00:00Z
I can not rave about Jay and this place enough!! Jay was excellent at communication, she made the effort to ensure she had everything we needed before our arrival and greeted us with a glass of white wine, talking with her we immediately felt welcome! The accomodation was lovely. A beautiful cabin with everything we needed, glow in the dark stars on the roof, a lovely view and chickens running around. Jay took the effort to ensure everything was perfect right down to matching the chocolates on our bed with our towels. The bed was comfortable, in particular the pillows. We loved our visit and really left feeling as though we made a new friend. Thank you, we hope to visit again!
Robyn
2017-01-07T00:00:00Z
Jay is a lovely person and was hospitable from the moment I arrived. Her place is beautiful and the cabin is cosy and sweet. She also has an amazing dog called Narina who was also very welcoming. I wish I could have stayed longer but will be back! xo
Fiona Alison
2016-10-22T00:00:00Z
Art der Unterkunft
Ganze Unterkunft
---
Objekttyp
Blockhütte
---
Unterkunft für
2
---
Schlafzimmer
Mount Colah, New South Wales, Australien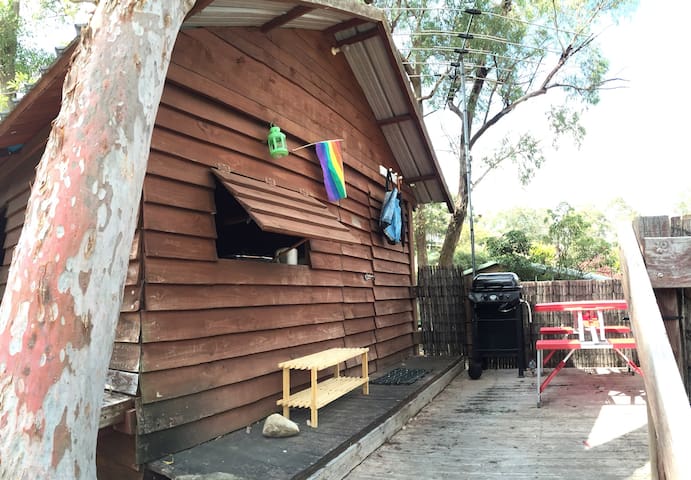 Art der Unterkunft
Ganze Unterkunft
---
Objekttyp
Blockhütte
---
Unterkunft für
2
---
Schlafzimmer
West Pennant Hills, New South Wales, Australien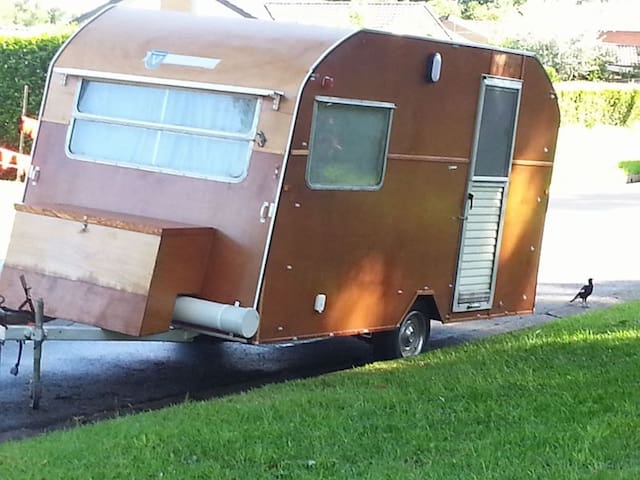 A delightful pet friendly self-contained studio in the leafy suburb of Killara. Walking distance to city trains, restaurants, golf and tennis facilities, Ravenswood school, Dalcross private hospital, and buses to Macquarie and UTS universities.
Littleheath sits on 1100 sqm in the beautiful suburb of Killara. Built in 1926, it's meandering garden still possesses all the charm of our colonial past. Huge old shady Mulberry and Jacaranda trees, exotic plants, flowing shrubs and some of Australia's oldest Camellia trees, and our studio is positioned amongst all this beauty for you to enjoy. The studio is self-contained with: Separated bedroom - double bed Kitchen - fridge, - kettle, - toaster, - stove, grill and oven, - cooking and dining utensils Bathroom - independent hot water system, - shampoo and conditioner, - towels, - blow-dryer Living/dining area. The studio will have complimentary cereal, condiments, milk, tea and coffee. Should you desire a more substantial breakfast just let me know when booking and we can sort something out. If you don't wish to cook lunch or dinner you can dine in one of the many restaurants, cafes, wine bars, hotels and takeaways that are walking distance from Littleheath. Off street parking is available for one vehicle only; however, there is plenty of street parking out the front. The laundry is separate from the studio and the main house, which you will share with the house residents. Washing powder, fabric softener, stain removers, etc. will be available for you to use and you are entitled to use the washer and/or dryer any time you like, am or pm. There is an iron and ironing board available inside the studio. Pets are allowed to stay in Littleheath but they must always be supervised by you. Smoking is not allowed in the studio but is allowed on the property. There is a large undercover patio with an ash tray for wet weather use.
Killara is one of Sydney's premier suburbs, awash with heritage and natural beauty it allows one to benefit from it's close proximity to the city while enjoying the peace and serenity of the abundance of nature. One of our favourite pastimes in Killara is to take a stroll around the neighbourhood and just embrace the cool shadiness of the towering blue gums, the rows of flowering Jacarandas and the wonderful old architecture and gardens that surround. But why stop there? Littleheath is just a hop, skip and a jump away from several enchanting bushwalks within the Lane Cove National Park and both Gordon and Killara golf courses as well as several public tennis courts. Gordon and Killara offer a fantastic range of dining options with hotels, wine bars, restaurants, takeaways and supermarkets open until late. A quick train or taxi ride will take you to Chatswood and it's huge, diverse range of Asian restaurants or, continue on to the city and make a night of it. Night busses travel regularly from the city to Killara until the wee hours of the morning and can drop you off only a few hundred meters away from Littleheath.
Meine Familie und ich hatten eine wunderbare Zeit während unseren Aufenthalts in Elliot's "Littleheath" Studio. Super schöne Lage, nette Nachbarschaft, das Studio selbst war sehr sauber und ordentlich. Wir haben uns gleich zuhause gefühlt. Die Beschreibung war genau und wahrheitsgemäß. Elliot war sowohl vor als auch währen unseren Aufenthalts sehr gastfreundlich und hilfsbereit.
Hanna
2016-01-02T00:00:00Z
Erstklassige, saubere Unterkunft in ruhiger Lage. 15 min. Von öffentlichen Verkehrsmitteln und Einkaufsmöglichkeiten entfernt. Elliot war stets sehr freundlich und ansprechber und für Tipps stets offen. Jederzeit wieder.
Martina
2017-03-04T00:00:00Z
What a great place to stay! Elliot was an amazing host, extremely helpful and prompt in all communications. The studio itself is very charming, clean, comfortable and provides everything you need for a quality stay. Wifi is fast and reliable, a must for a traveler like me. Easy parking outside. 10-15 minutes walk to the train station. I would recommend this place to anyone. We really enjoyed our stay and would definitely stay here again!
Elmira
2016-11-27T00:00:00Z
Littleheath is fantastic. In the apartment, we were greeted with Tim Tams (Australian cookies), Muesli, Cereal, Water, and milk. The kitchen is well-stocked, with sufficient cookware and dishware to make meal preparation easy. The apartment was extremely clean and well-cared-for. There is a table and a very comfortable futon/couch. The outdoor area is lovely. Not every AirBnB is acceptable, and I've stayed in a rough one before. However, Littleheath is outstanding, and it exceeded my expectations. You will not be disappointed. Elliot (the host at Littleheath) is exceptional. It is obvious that he takes pride in what he does, and that he wants to provide the perfect experience. He is personable, intelligent, and a pleasure to speak with. He will give you as much space as you like, but he's always ready to have a friendly chat. As a host, he is extremely accommodating, and it is obvious that he wants his guests to have a wonderful stay. He has a free washer and dryer on site, along with a clothesline. The washer and dryer are accessible 24x7. Killara Station and Gordon Station are within about 10-15 minutes' walk from Littleheath, making trains accessible. I presume bus service runs on the main street nearby, though I did not use bus service there. The area feels very safe. I took several evening walks around the area, and I felt completely comfortable in the neighborhood. Within a few minutes walk, there is a grocery store (Woolworths), a couple of pharmacies/chemists, and a number of restaurants (Asian, Indian, Pizza, McDonald's). There are also other shops, such as Harvey Norman, thrift shops, at least one barber, etc. A hotel/pub is also within a few minutes walk. Street parking is ample at Littleheath, for those who arrive by car. The shopping center nearby also has substantial parking, so you can drive to shops in lieu of walking if you wish. I would gladly stay at Littleheath again.
Thomas
2015-02-27T00:00:00Z
Elliot har varit en helt fantastisk värd samtidigt som boendet och området är perfekt vid ett Sydney besök! Efter ankomst till Sydney bodde vi en natt hos bekanta ifrån Sverige. När vi frågade Elliot om bästa sätt att ta sig till honom dagen efter så kom han istället och hämtade oss personligen! Hatten av för service utöver det vanliga!
Mats
2016-09-11T00:00:00Z
This was my second stay at Littleheath cottage and it was just as good as my first stay. Comfortable... Convenient.... Clean. Elliot is a very accommodating and communicative host. Lovely affordable place to stay in Sydney's north shore.
Jenny
2016-06-07T00:00:00Z
Littleheath is located in a very nice North Shore neighbourhood, and is very convenient to Gordon shops and station. The cottage is in a lovely established garden setting, and was simple but clean, and provided us with the basics we required for our recent 2 night stay. The bed and pillows were comfortable. We appreciated the muesli, milk, different teas and bottled water that were provided. We would have appreciated a TV or radio, but when I suggested this, Elliot explained the TV had broken down the previous week, and would be replaced. Elliot was very prompt to reply to my messages, and seems to genuinely care about the wellbeing of his guests. Whilst free parking on premises is advertised, there actually wasn't space available on the nights we stayed. Street parking can be limited because of the units next door, but we managed to park outside the property one night, and a bit further down the street on the second night. We would recommend the property and would stay again. Thanks Elliot.
Jane
2015-10-02T00:00:00Z
Little Heath was for three months my home, and I felt at home. Elliot is a good host. I had a warm welcome in the Group of People living in the front house. Privacy was always respected. Elliot gave always an ear to my questions or needs. Thank you Elliot and again a warm hug. My daughters comment: Elliot looked very well after my mother.
Monika
2015-09-21T00:00:00Z
Art der Unterkunft
Ganze Unterkunft
---
Objekttyp
Blockhütte
---
Unterkunft für
3
---
Schlafzimmer
Killara, New South Wales, Australien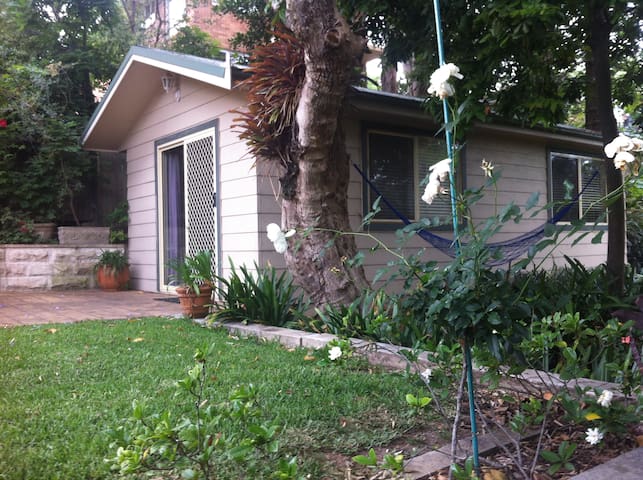 Pennant Hills - Airbnb
:
Durchschnittlich

5

von

5

Sternen aus

97

Gäste-Bewertungen
Gib deine Reisedaten ein, um den Gesamtpreis pro Nacht zu sehen.