Gib deine Reisedaten ein, um den Gesamtpreis pro Nacht zu sehen.
4 Bootsvermietungen
· Pennsylvania
4 Bootsvermietungen
· Pennsylvania
Welcome to your Yacht with 3 heating/cooling zones, located at Penn's Landing, you are in for an uncompromising experience. From the fit & finish of handworked vessel design to amenities such as smart TVs in each stateroom, wifi, printer, keurig+kcups, towels, bedding, iron, bluetooth stereo to the location & parking. Don't forget the awesome view! You are under 10 mins away from the convention center & center city. only a few mins walking to old city, historical sites, bars & restaurants!
At the heart of Philadelphia yet miles removed. Retreat to the sanctuary that is the Paragon and dart back into the city at your pleasure. This is a truly unique experience. ***February Winter update*** Please be aware that with the previously abnormally cold days, the ambient water temp has dropped which means the water sourced heat pumps cannot generate enough heat and as such are not to be turned on. I have added 3 space heaters onboard which offset the water sourced heat pumps. Temp is kept to 75 degrees and you can adjust. You have full access to the docked ship, marina (and marina facilities) as well as parking. Let me know what you need.
Centrally located on the delaware river, next to Dave & Busters, Morgan's pier and within minutes of old city, chinatown and about a quick ride from center city. Close to everything yet away from it all if you choose to.
Our one night stay on the Paragon was exceptional! The amenities were everything you could ask for and the location to the stadiums and downtown are a stones throw away. Jon is a great host who is quick to respond to any and every question we had. Our only complaint is that we didn't stay longer! We will surely return for another stay.
Jason
August 2016
I was nervous, having never stayed on a yacht. I wanted to have a walk-through with Jonathan, just to make sure I knew how everything worked. But, Jonathan told me all of the important things I should know and directed me to the house manual. So helpful! Once I got inside, it really was like a little condo. The view is amazing and South St is minutes away. A great location, a great host, and an even greater experience.
Ambria
December 2016
Stay here! We will definitely be back! Jonathan responded promptly, place was just as described. Loved loved loved our stay!
Sheila
October 2016
Nice spot to come. Will come again. The host just can be mean.
Donovan
December 2016
Great experience!
Terry
August 2016
This was an amazing experience, the yacht upon arrival was not clean, but Jonathan promptly took care of this and was extremely easy to work with. We truly enjoyed our stay and wished we booked more than one night!
Angela
August 2016
Great place to stay with beautiful views
Lawrence
November 2016
Me and my husband were thrilled with Jonathan and his yacht!!!. We were so surprised to find such a high level of comfort and luxury with this yacht, we felt a little daring when booking this having no clue of how this would turn out. We were so excited with our choice.(URL HIDDEN)s! ! ! Location, location, location. Jonathan is a fantastic host, instantly available to answer my many many questions, he was courteous, friendly, would and will rent this again and will refer anyone we know. Thanks Jonathan, it was a real treat :)
Carolyn
July 2016
Art des Zimmers
Ganze Unterkunft
---
Objekttyp
Boot
---
Unterkunft für
4
---
Schlafzimmer
2
Philadelphia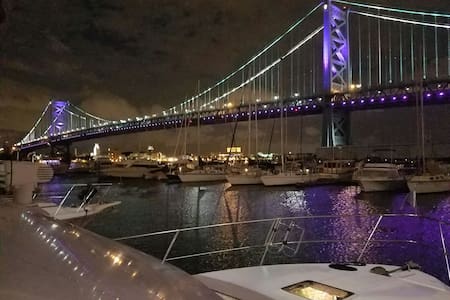 Our place is close to South Side Works where there is shopping. Downtown downtown Pittsburgh, nightlife, public transport, and parks are a skip away. You'll love our place because of the uniqueness, coziness, the views, the location and the experience of waking up on a boat with the City of Pittsburgh as your background. My place is good for couples, solo adventurers, and business travelers.
This unique experience will allow anyone the chance to wake up on a boat and feeling like beautiful breeze off the water. We will be staying on the boat overnight as well. We will be available if you need any assistance with your stay.
You are within walking distance of the Pittsburgh's south side. The south side experience offers night life, restaurant, shopping, and much more. You are a uber drive from the airport or downtown as well as the sports stadiums. There are a lot of things to do within walking distance. A bike trail that runs close to the boat can take you to Washington DC if that's what you'd like to do.
Art des Zimmers
Privatzimmer
---
Objekttyp
Boot
---
Unterkunft für
2
---
Schlafzimmer
1
Pittsburgh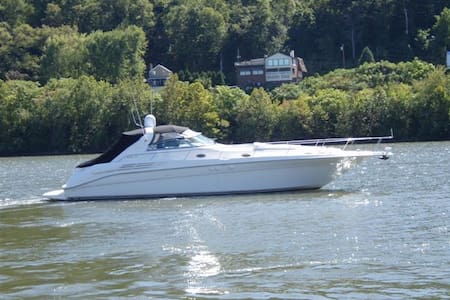 Stay aboard Philadelphia's largest Private Yacht! Invincible is a 72ft custom built motor yacht docked at Penn's Landing in the heart of Philadelphia. Enjoy all the comforts of home and breathtaking views of the Ben Franklin Bridge. A wonderfully cozy environment for all seasons!
Invincible has three private staterooms. The master suite has a queen bed, the guest suite also has a full bed and the crew suite has bunk beds, a favorite for kids. The is a private full head (Bathroom) attached to the master suite and a second semi-private full bath that is shared with the guest suite and the hall. The Galley is a full sized kitchen with granite countertops, double sink, dishwasher, stove, oven and full sized refrigerator. Opposite the Galley is the dinning area with a table that can comfortably sit a small army. The main salon has an L-shaped couch and a fantastic view of the water and features a 62" 3D flat screen TV, Blu-Ray Player, with a great selection of movies and a beautiful electric fireplace. Above the main salon is the helm and sitting area with another flat screen TV. There is a blue tooth audio system on board. The Marina has facilities for laundry and separate private restrooms and showers. Invincible is under 24/hr video surveillance for your piece of mind. There is 24/7 access to the Marina which has 6 private full bathrooms and laundry facilities. Guests will have 24/hr access to the Dock and Marina with an electric key fop and access to Invincible is by combination lock. There is also 24/hr security which includes guards and video surveillance. We are available 24hrs if you should have any questions regarding your stay.
Invincible is Docked at Penn's landing and a short walk to Northern Liberties, Old City, The Seaport Museum, Liberty Bell, Constitution Center, Independence Hall and Center City. There are fabulous restaurants within a five minute walk such as La Veranda and Le Peg. Dave and Busters is directly adjacent to the Marina and in the Summers Morgans Pier is open for great food and drinks. A ten minute walk into Old City will connect you to the subway which will get you into center city very easily. Philadelphia is a very walkable city and we find ourselves doing that often. Cabs are readily available as is Uber. This is a very large vessel and it is impacted very little by the movement of the water, wind or wake so it does not rock or move very often. You will have a very comfortable stay. Check-In is at noon and preferably before 5PM on weekdays as my schedule is not very flexible. However I can accommodate later hours with advanced notice. We do not accommodate check-ins later than 9PM and we do not leave Keys in a lock box as we like to instruct our guests on the safety features of the vessel as well as show them around the Marina. Please contact us before you book with any questions regarding these rules.
Tom was very professional. Everything was as described in the listing. Place was clean when we arrived! Hope to come back in the future. Was a great experience for us.
William
March 2016
Very cool and tidy. No complaints
Andrei
March 2016
It doesn't get much worse then this. A group of us recently tried to stay on the Invincible for the Craft Brewers Conference in Philly. We knew it was going to be tight with the size of our group but we all went to High school together and are a tight group so the close quarters were not much of a concern for us. However the conditions of the boat was something we did not expect. I am not sure how long ago the photos in the ad were taken but the boat is a bit rougher in person to be nice. We knew we were in trouble when one of the first things that Tom told us as we came on board was, the bathrooms were not fully functional and he would prefer that we "only use them in an emergency" Things just got worse from there. He seemed to have no plan to rectify the bathroom situation during our stay. When pressed he said he would try to find someone to take a look at it, but that those guys are very expensive. The oven door would not stay closed deeming the oven unusable along with making an already tight galley a bit tighter. The fridge and freezer were dirty and full of the owners personal food items allowing little space for our provisions. When I ask him about the condition of the refrigerator, he responded that he lived part time on the boat. The back splash in the kitchen was crusted in body hair, I assume from some one shaving in the sink. The head liners in the entire boat were stained and in one room appeared to be moldy. When questioned he explained that a hatch had been blown off in a storm and he had new ones on order. The coolers on the back deck were full of rain water and looked like they had not been cleaned this season. When we awoke from our first night there was a dead mouse/sewer gas coming from the head that drove us from the boat. We rented 3 hotel rooms for the rest of our stay. When I contacted Tom to tell him that we were seeking other accommodations. His response was that we had rented a boat and if we needed more room for your party we should have rented a house. He claimed he nor some friends could smell anything on the boat. I can not see how that could be the case as the smell literally drove all of us from the boat that morning. When we tried to give him a chance to do the right thing and refund our $ with the understanding that we would be happy to pay for the one night we did stay on the boat. Tom replied he would only refund $300 of the $1600+ we paid. I told him to keep the $ to prove a point. Overall a horrible experience and a very disappointing host.
Heather
May 2016
A really unique experience! Marina was beautiful. We stayed here for a night and ended up getting engaged!!! Host was very helpful. It's definitely big enough for a group-I can't believe it has two bathrooms! Only recommendation would be that it can be noisy (close to road, under the bridge, and in between two bars) we listened to ambient noise on our phone and that helped drown it out! There is so much to do in this area and it's a quick cab ride to other neighborhoods. Would definitely recommend!
Jennifer
May 2016
Everything was wonderful! Highly recommend!
Jenise
June 2016
Staying on a boat is a very cool experience! I was bummed that PHL was freezing in April -- as the Invincible had a great deck for having a glass of wine. The boat had plenty of room -- a nice-sized living room and great TV. A comfortable kitchen and dining room table. A roomy master bedroom, a cozy second room, and compact bunk bed room (would be great for kids). The bathrooms were not incredibly comfortable. Hot water ran out after a very short shower, the toilet got VERY cold in the evening. The public bathrooms at the Marina left much to be desired. If the weather is cold, the boat was VERY chilly. In the rooms, space heaters kept us warm but the main areas were unusable cold even with heaters on. In all, I would stay again at the right price and mindset (kind of like galloping). It was a fun way to wake up each morning on the water.
Mike
April 2016
This was a great experience...I had a great time on the yacht
Mark
March 2016
The Invincible has the potential to be one of the greatest experiences available on Airbnb. It's just not there, yet. The boat is impressive and in a great location. There are multiple clean and accessible bathrooms and showers at the marina. There is great people watching and there is a nice TV and sound system if you just want to hang out at the boat a bit. Where the experience fell short was communication with the owner Tom. We had an issue with the air conditioner. We were told it was in working order and Tom turned it on for us. We quickly realized that it was actually pushing out hot air. We tried to contact Tom to no avail. It was a hot night and the boat was stifling. It was so uncomfortable that most guests were not able to sleep. We woke up early and left to get home. If we were staying for a second night, we would have moved to a hotel. If it was a cooler night, it may not have been an issue. We also had an issue with the bathroom. It sounded as if a hose came loose under the bidet and was spraying against the inside of the toilet. It was loud and water was seeping out from under the toilet and into the shower drain. We contacted Tom, but did not receive response until the next day (after we left). The marina is next to a very popular bar which is great if you will be out late but may be frustrating for those trying to get to sleep before 2am. Lastly, there were not enough towels for all the guests. We had 6. There were 2 towels. If Tom is able to determine a way to be accessible for communication, many of these issues would not have been issues at all.
David
June 2016
Art des Zimmers
Ganze Unterkunft
---
Objekttyp
Boot
---
Unterkunft für
6
---
Schlafzimmer
3
Philadelphia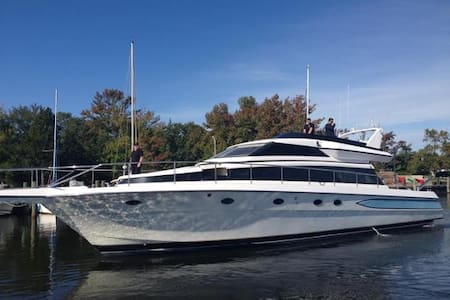 Fantastic river views await you in a peaceful setting. Near all the city has to offer. Relax while you float on the river in a well apointed spacious 33' boat.
Art des Zimmers
Ganze Unterkunft
---
Objekttyp
Boot
---
Unterkunft für
4
---
Schlafzimmer
1
Philadelphia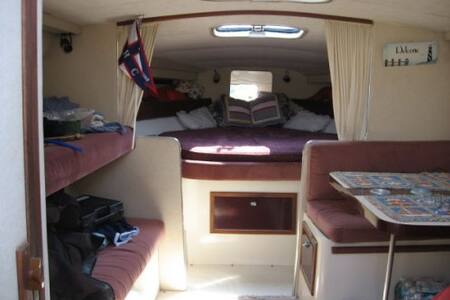 1

–

4

von

4 Bootsvermietungen