Gib dein Check-in-Datum im Format TT.MM.JJJJ ein
Gib dein Check-out-Datum im Format TT.MM.JJJJ ein
Inserate, die du buchen kannst, ohne auf eine Bestätigung des Gastgebers zu warten.
3 Bootsvermietungen
· Pennsylvania
3 Bootsvermietungen
· Pennsylvania
Gib deine Reisedaten ein, um den Gesamtpreis pro Nacht zu sehen.
Diesen Juli und August kannst du eine dieser 100 hervorragend bewerteten Unterkünfte aus jeder Preiskategorie ausprobieren, um Sonoma aus der Sicht eines Einheimischen kennenzulernen. Dank 24-Stunden-Check-in, Sofortbuchung sowie einheimischen Weinen und Snacks kannst du dich einfach zurücklehnen und deine Reise genießen.
Welcome to your Yacht with 3 heating/cooling zones, located at Penn's Landing, you are in for an uncompromising experience. From the fit & finish of handworked vessel design to amenities such as smart TVs in each stateroom, wifi, printer, keurig, towels, bedding, iron, bluetooth stereo to the location & parking. Don't forget the awesome view! You are under 10 mins away from the convention center & center city. only a few mins walking to old city, historical sites, bars & restaurants!
At the heart of Philadelphia yet miles removed. Retreat to the sanctuary that is the Paragon and dart back into the city at your pleasure. This is a truly unique experience. ***January Winter update*** Please be aware that with the abnormally cold days, the ambient water temp has dropped which means the water sourced heat pumps cannot generate enough heat and as such are not to be turned on. I have added 3 space heaters onboard which offset the water sourced heat pumps. You have full access to the docked ship, marina (and marina facilities) as well as parking. Let me know what you need.
Centrally located on the delaware river, next to Dave & Busters, Morgan's pier and within minutes of old city, chinatown and about a 5 minute ride from center city. Close to everything yet away from it all if you choose to.
The yacht was absolutely amazing! Very beautiful and updated.. Rented it for my wife's birthday and she immediately fell in love with the boat. It has everything on there that you could possibly need. I can't wait to stay on it again!
Darrell
November 2016
I really enjoyed staying here, close to local bars and the view of the Benjamin bridge is amazing.
Arturo
December 2016
We had a great time on the boat. Clean, quiet, and an amazing view of the bridge! Free parking was a plus, and the location was great. we were able to walk to a lot of historic sites and everything else was a quick uber away.
John
November 2016
There are not enough superlatives to describe our stay. Beautiful accommodations and an attentive and thoughtful host. Jonathan was available at short notice to answer any and all questions. Highly recommended!!!!!!!!!!!!!!!!!!!
Marc
November 2016
We knew the yacht would be amazing . . . and it was! But we didn't know how alive the neighborhood would be with walkers, runners, bikers, great eats, etc. We loved it. Parked and settled and then walked to great places. Loved the experience!
Pam
July 2016
Jonathan was very helpful and returned our messages promptly. The vessel was well equipped and had plenty of space. Was a little diappointed it couldn't be taken out on a cruise and the cabin area was to musty moldy smelling. So unfortunately we were not able to stay over night. The camera's on board was not disclosed and a bit unsettling as well. Enjoyed the afternoon though just a bit pricy for a couple of hours.
Kelly
June 2016
Great stay on the Paragon. The boat is as good as it looks in the photographs. The facilities available are excellent, from the entertainment system to the working kitchen, and the hot water is genuinely hot! Both cabins are decently sized with comfortable beds. The marina was very quiet during our stay, although there is some noise from the boat extending on its ties or occasionally buffing the dock side. This was most evident when the boat was moving around on unsettled water; although the motion was barely evident, light sleepers may find the noise annoying if it happens at night. Jonathan, the owner, was extremely quick to respond to any questions we had however most can be answered from the comprehensive guide he provides prior to your stay. The location is a 10 minute walk to plenty of bars and restaurants in Olde City, and a 15-20 minute drive from 30th Street Station. Though we didn't use it, the parking garage is next door and looked reasonably secure. I would definitely stay here in preference to a hotel if I were in Philly again.
Rebecca
October 2016
It was an amazing experience! Jonathan keeps the Yacht so clean and well decorated I totally recommend!!
Rosa
June 2016
Art des Zimmers
Ganze Unterkunft
---
Art der Unterkunft
---
Unterkunft für
4
---
Schlafzimmer
2
Philadelphia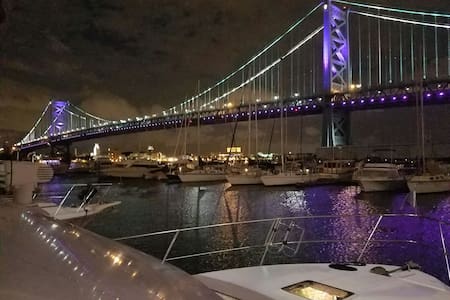 Stay aboard Philadelphia's largest Private Yacht! Invincible is a 72ft custom built motor yacht docked at Penn's Landing in the heart of Philadelphia. Enjoy all the comforts of home and breathtaking views of the Ben Franklin Bridge. A wonderfully cozy environment for all seasons!
Invincible has three private staterooms. The master suite has a queen bed, the guest suite also has a full bed and the crew suite has bunk beds, a favorite for kids. The is a private full head (Bathroom) attached to the master suite and a second semi-private full bath that is shared with the guest suite and the hall. The Galley is a full sized kitchen with granite countertops, double sink, dishwasher, stove, oven and full sized refrigerator. Opposite the Galley is the dinning area with a table that can comfortably sit a small army. The main salon has an L-shaped couch and a fantastic view of the water and features a 62" 3D flat screen TV, Blu-Ray Player, with a great selection of movies and a beautiful electric fireplace. Above the main salon is the helm and sitting area with another flat screen TV. There is a blue tooth audio system on board. The Marina has facilities for laundry and separate private restrooms and showers. Invincible is under 24/hr video surveillance for your piece of mind. There is 24/7 access to the Marina which has 6 private full bathrooms and laundry facilities. Guests will have 24/hr access to the Dock and Marina with an electric key fop and access to Invincible is by combination lock. There is also 24/hr security which includes guards and video surveillance. We are available 24hrs if you should have any questions regarding your stay.
Invincible is Docked at Penn's landing and a short walk to Northern Liberties, Old City, The Seaport Museum, Liberty Bell, Constitution Center, Independence Hall and Center City. There are fabulous restaurants within a five minute walk such as La Veranda and Le Peg. Dave and Busters is directly adjacent to the Marina and in the Summers Morgans Pier is open for great food and drinks. A ten minute walk into Old City will connect you to the subway which will get you into center city very easily. Philadelphia is a very walkable city and we find ourselves doing that often. Cabs are readily available as is Uber. This is a very large vessel and it is impacted very little by the movement of the water, wind or wake so it does not rock or move very often. You will have a very comfortable stay. Check-In is at noon and preferably before 5PM on weekdays as my schedule is not very flexible. However I can accommodate later hours with advanced notice. We do not accommodate check-ins later than 9PM and we do not leave Keys in a lock box as we like to instruct our guests on the safety features of the vessel as well as show them around the Marina. Please contact us before you book with any questions regarding these rules.
I booked the Invincible as a surprise Father's Day present. We absolutely loved it! Tom answered all our questions and Roberto met us to check us in and get us setup on the yacht. We had a wonderful time on the yacht and around the city. The marina is clean and sitting out on the back of the boat looking at the Ben Franklin Bridge was breathtaking. We are hoping to book another night soon! Thanks Tom for an amazing time!
Brooke
June 2016
We used the boat for a photo shoot...for that purpose is was awesome!!!! the price was right and we Got a lot of gray shits with the other boats and bridge in the background!!!
Florence
September 2016
Great host. Cool guy. Easy to work with. Boat was perfect.
Sonia
July 2016
Everything as described. Great location in Philly for people watching. Huge boat, comfy bed. Had a great time. Easy Uber to anywhere in the city. 5 stars
Bryan
August 2016
The Invincible was in a great location in the city, very safe and convenient. Thomas was very nice and accommodating in getting us checked in. The view from the deck at night is beautiful! I will say it is a bit like camping. You must go to the marina to use the shower and the toilet for your morning constitutional. If you have mold allergies it's not great for obvious reasons, you are on water and it is damp and musty.
Donna
October 2016
Tom is a nice and warmhearted host! The yacht is under the bridge, with stunning night view. Very cozy environment and facilities are well prepared.
Yingtong
May 2016
Thomas was amazing and accommodating and made my first stay in Philadelphia such a great experience on his boat ! It was nice and quiet such a beautiful view and very comfortable . I definitely would recommend trying it out to everyone and getting that experience !
Christina
May 2016
thomas was very nice, it was awesome to call such a boat "ours" for a day!!!
Lorenz
August 2016
Art des Zimmers
Ganze Unterkunft
---
Art der Unterkunft
---
Unterkunft für
6
---
Schlafzimmer
3
Philadelphia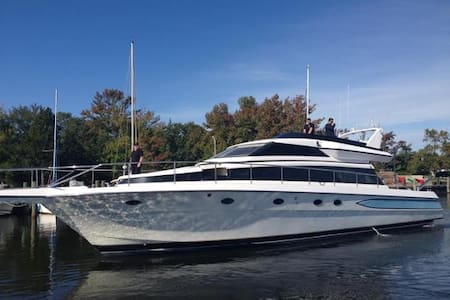 Fantastic river views await you in a peaceful setting. Near all the city has to offer. Relax while you float on the river in a well apointed spacious 33' boat.
Art des Zimmers
Ganze Unterkunft
---
Art der Unterkunft
---
Unterkunft für
4
---
Schlafzimmer
1
Philadelphia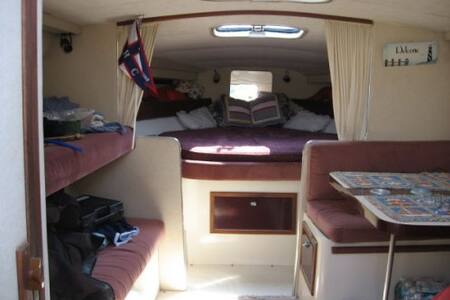 1

–

3

von

3 Bootsvermietungen