Gib deine Reisedaten ein, um den Gesamtpreis pro Nacht zu sehen.
3 Bed & Breakfasts
· Pirot
3 Bed & Breakfasts
· Pirot
We are offering rooms in a big family house . You will enjoy the quietness of the environment. you will feel the warm welcome of your Serbian Host who will happily prepare traditional breakfast and share stories and culture with you.
This is a very big house which has recently gone through renovation and is still being develop. It comprise a the house with a large terrace which oversee the whole village. A second house very traditional which has been built over 100 years and used to be the school of the village. The property is surround by nice enclosure and gated as seen on pictures. This is the perfect spot to relax with friends and family. The listing is basically for the whole second floor which has 4 large bedrooms and 2 large bathroom. The guests can access the whole property freely apart from the ground floor of the house which is where my parents currently lives. My parents who are both pensioners and looking forward to meeting new people and sharing with them the Serbian culture and way of life.
Village Gradasnica is located 3 km northeast of Pirot, on the slopes of Stara Planina mountain, in the valley of the Gradasnica river. The legend has it that it is the oldest settlement in the entire region. In the past, there used to be 25 mills, while only one of them still works. The traces of the existence of spring Dag Banjica originate from the ancient period when it was used as a sanatorium. In the center of the village. Lots of history surrounding the village. This is a peaceful heaven ideal to relax with friends and family. To get around. there is a local bus 4 times a day. Taxi is the most common way of transportation from the house to the center of the city it will cost approximately €1.80 Car rental could be another option.
Slobodan und Zorica haben uns sehr herzlich empfangen. Sie haben unseren Kindern jede Menge Spielsachen zur Verfügung gestellt und mit Süßem vollgestopft :) Serbisches Frühstück servieren sie in der eigene Küche, lecker aber nichts für Vegetarier oder Menschen die abnehmen wollen. Die Gastgeber sind sehr gesprächig , können nur Serbisch, aber mit Händen und Füßen kann man doch viel erzählen. Parken konnten wir auf dem Innenhof. Einen Schlüssel haben wir nicht bekommen, aber die Gastgeber waren zuhause am abgemachten Zeitpunkt. Sehr zu empfehlen als Zwischenstop, für einen ganzen Urlaub ist es vielleicht ein wenig anstrengend. Aber die Kinder wollten glaube ich am liebsten für immer einziehen :)
Erik
May 2016
We've had the most amazing experience at Lola's and Nicola's house. They are among the most loving and caring people I've ever met. We were greeted and treated like family. They spoke very little english, but we still had conversations using our hands and sounds and some words and if we needed to really say something in English we could talk with their son Milan as a sort of translator or call Alex to explain ourselves. I am definitely thinking of coming back sometime soon. The town itself is very small, but there is a small supermarket bout 30 metres from the house and there is a great walking track leading towards a warm water spring where you can bathe. If you want the real Serbian lifestyle this is the place to be. I wish we could have spend more time here. Also the breakfast was incredible, made by Lola. We never left without a full belly.
Paulien
August 2016
Great host! Great place! Like granny house. Thank you!
Roger-Vadim
November 2016
Прекрасни домакини, Зорица и Слободан! Много топло и сърдечно посрещане, вкусна вечеря и богати закуски. Ние бяхме 5 възрастни и 3 деца, т.е. напълнихме цялата къща. Отношението към децата беше фантастично, към нас също. Зорица е прекрасна домакиня и елегантна дама. Не може да не спомена нейната елегантност, стил и чар. Слободан е много сърдечен и с голямо чувство за хумор. Искам да изкажа благодарност и на Даниела- мила и любезна, сърдечна дама! Със сигурност ще се връщаме отново и отново, само да е живот и здраве! Сега ни остава да пробваме сами да направим нещата, за които получихме рецепти, за да можем да се похвалим следващият път. :) Шарената салата и салатата с моркови на Зорица са много хубави. Благодарим ви, скъпи съседи Зорица и Слободан!
Gergana
December 2016
Sometimes it's the hosts that make a place so special. This is the case with Alex's mom Zorica and dad Slobodan. They were so incredibly sweet and helpful, we felt great being there. Slobodan has a funny collection of robotic toys and Zorica prepares unforgettable breakfasts. It's actually not fair to call it a breakfast. If you eat everything on the table, you won't eat for the rest of the day. The house is extremely clean and tidy. It's full of funny London souvenirs. Everything from the toilet paper holder to the pillows is London themed. If you are only looking for a place to stay, you will be happily surprised to meet such a sweet couple. We will be coming back to see them again.
Erdem
December 2016
We stayed in a neighboring property with Milan and Mima due to a plumbing issue, and had a great time. Stay here if you are looking for an authentic Serbian village experience; there are lots of opportunities to meet and talk with friendly hosts and family members. Cozy, intimate, quaint apartment with a wonderful woodstove, and nice walks in the nearby foothills. Location is in a village outside of Pirot, but an easy taxi ride takes you to the center, and it can be quite lovely to be removed from the town and closer to nature.
Emma
November 2016
All was great! The hosts ware wonderful so is their home. It was a pleasure to be part of this familly for a day.
Денис
January 2016
Staying here made our trip! The hosts are unbelievably nice and welcoming. The house is great and interesting, but the hosts are what makes this place so great. This is the place to stay if you enjoy great conversations with very very nice people. I am certain that I will visit again in the summer.
Konstantin
February 2016
Art des Zimmers
Privatzimmer
---
Objekttyp
Bed & Breakfast
---
Unterkunft für
10
---
Schlafzimmer
1
Pirot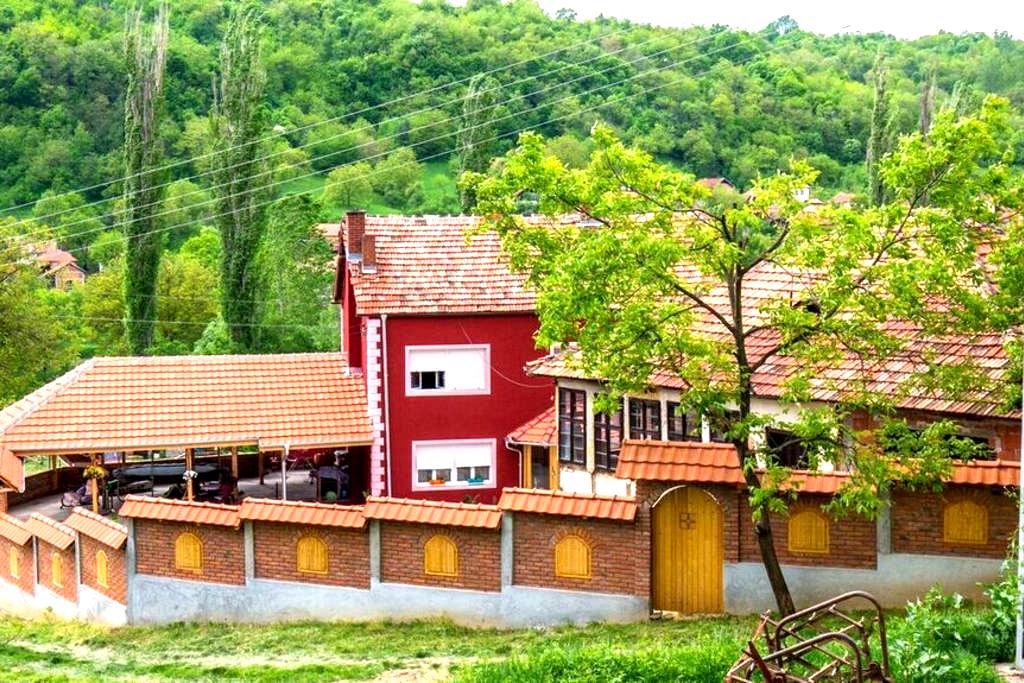 Amfora is a hotel which have 30 years of tradicion . It is a bed and brekfast hotel , with a tipical home made domestik organik food.it is perfect for couple, big groups,and for just stop buy from long trip to rest .
In our close area we have few etno houses , and beatful nature , to enjoy a long walks Then we have cultural istorical sighs , Monasteries which coming from 14 century. Also 30 km is the first spa centar , which have pool , relax massage. Sofia is the capital of Bulgaria which is only 60 km from our place There is olso national park of Old Mountains . and all fassility like ( hospital , farmacy police is a near buy )
Art des Zimmers
Privatzimmer
---
Objekttyp
Bed & Breakfast
---
Unterkunft für
2
---
Schlafzimmer
1
Dimitrovgrad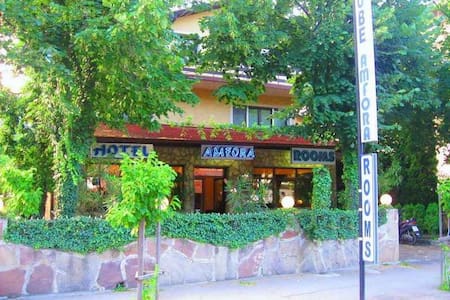 Comfortable rooms ideal for family with children or 4 adults.
Art des Zimmers
Privatzimmer
---
Objekttyp
Bed & Breakfast
---
Unterkunft für
4
---
Schlafzimmer
0
Dimitrovgrad