Villa del Sol is the beach closest hotel in the residential sector of Playa Del Coco, Guanacaste. This property also offers Budget Rooms and Studios (more information on the home page).
This queen room offers tranquility and privacy upstairs in the house, with an access to the nice common balcony. Private bathroom.
Sehr schönes Hotel mit gepflegter Anlage, sauberen Zimmer und sehr freundlichem und hilfsbereitem Personal.
Nicole
2015-12-26T00:00:00Z
Staying at Serge's place was great. Just a few minutes walk from all the restaurants, bars and beach. The place was relatively clean and cozy. Breakfast was included and it was delicious. Overall, good spot with a great location.
Gabriella
2016-12-31T00:00:00Z
This is an awesome place to stay if you're looking to be near coco beach. The place was clean, very nice view all around, friendly staff and we had a great time at our stay.
Priya
2017-01-15T00:00:00Z
I loved it here. The room was perfect and clean. Nice large bathroom and plenty of space to thing away. Very close walk to the beach and close enough to walk to the central but far enough away to escape the noise. The fresh fruit for breakfast was wonderful as was the juice and coffee. It was so nice to have coffee available so early in the morning and the ladies in the kitchen are wonderful. I would recommend this place to anyone, the pool is beautiful as are the grounds. Thanks so much. Sharon
Sharon
2017-02-01T00:00:00Z
Host was very friendly and answered all our questions when we arrived. Property matched the description perfectly. The gates lock at night so we felt safe during our stay.
Guillaume
2017-01-03T00:00:00Z
the room is exactly as expected. breakfast was simple. very close to beach and pool was clean. neighborhood is safe and is about a 10 min walk to town. the assistant was very accommodating with transportation to the (URL HIDDEN) great stay.
Brenda
2017-01-07T00:00:00Z
I came here with a friend after 10 days of touring Costa Rica - we wanted an affordable place to stay close to Liberia since we were flying out the next day. staff were very nice and welcoming. The place is pretty nice and a good value for the price. About 1.5km away from the hustle and bustle of playa de coco and right next to the beach. Rooms and grounds were clean and breakfast was delicious - would definitely stay here again. Great budget accomodation :)
Crystal
2015-12-22T00:00:00Z
This is a little oasis just far enough from the main town to be quiet , short walk to the beach and a restaurant on the beach. The property is surrounded with beautiful well landscaped foliage and has a nice pool with outdoor icebox to store your refreshments when swimming. The breakfast is wonderful. I highly recommend.
Jim
2017-01-24T00:00:00Z
Art der Unterkunft
Privatzimmer
---
Objekttyp
Bed & Breakfast
---
Unterkunft für
2
---
Schlafzimmer
Playas Del Coco, Guanacaste none, Costa Rica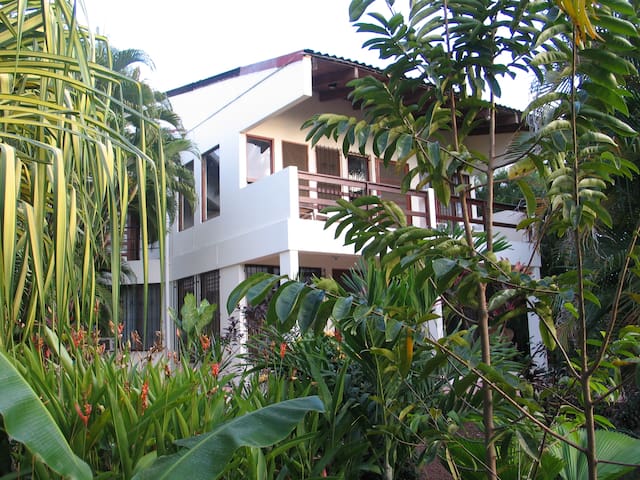 Habitaciones para 2,3,4,5,6 personas. (3 pers cuarenta y cinco mil) (4 pers cincuenta y dos mil) (5 pers 76 000) (6 per 93 000) DESAYUNO INCLUIDO, estamos a tan solo 25 minutos del aeropuerto internacional Daniel oduber, centros comerciales están ubicados a tan solo pasos del Manú. Tiene restaurante solo para Alojados, contamos con bar, piscina, aire acondicionado, wifi, parqueo privado, tv cable lavandería de pago, Para huespedes adicionales, contactos estan en red social (SENSITIVE CONTENTS HIDDEN).
Nuestro trato es familiar, nos encanta compartir con los cliente. Siempre y cuando el cliente así lo desee.
Estamos ubicados, en el centro de playas del coco. A tan solo pasos de la línea de playa y de los centros comerciales, Nuestro barrio es tranquilo y lo más importante es que es seguro.
Maria's place has a great location since it's near the beach and right in town. This made it easier to go to different places even when we didn't have transportation. Also, Maria and her staff are sweet and very helpful. However, the quality of the facilities and the size of the room were not very nice. We thought that the price for such a small and simple room is far too expensive. The room got really hot and, though there was air conditioning, it took a long time for the room to cool down. Overall, our experience was ok but we were expecting a nicer place (considering what we paid)
Laurita
2017-03-11T00:00:00Z
Very friendly and accommodating with check-in times. Thanks
erin
2017-03-04T00:00:00Z
Couldn't ask for a more perfect location. The pool is nice and secluded. The hostess was incredibly sweet and accommodating. She spoke great English, and made us great breakfast. Would strongly recommend for anyone who wants to stay in coco but doesn't want to be directly on the main street.
David
2017-03-02T00:00:00Z
Art der Unterkunft
Privatzimmer
---
Objekttyp
Bed & Breakfast
---
Unterkunft für
2
---
Schlafzimmer
Coco, Guanacaste Province, Costa Rica
Villa del Sol is the beach closest hotel in the residential sector of Playa Del Coco, Guanacaste. This property also offers Queen Rooms and Studios (more information on the home page). A lot of people love to relax in our beautiful tropical setting.
Very close to the beach located in a quiet residential area; with personalized service.
Our immediate environment is a quiet residential area with low density of population, but just one mile from the main street where you will find several restaurants, some bars, and services like bank, pharmacy, souvenir shop etc.
In Serges Villa arbeiten super freundliche Menschen, die immer gerne weiterhelfen, wenn man Fragen hat und ein sehr leckered Frühstück zubereiten. Wir hatten eines der kleinsten und günstigsten Zimmer in der Vills del Sol gemietet. Leider war das WiFi dort so schlecht, dass wir es in unserem Zimmer kaum nutzen konnten. Und auch der Ausblick hat uns nicht sehr gut gefallen: eine grüngestichene Mauer. Ansonsten war die Anlage jedoch sehr schön und besonders am Pool konnten wir uns wohlfühlen. Danke für alles! Svenja und Kevin
Svenja
2016-12-14T00:00:00Z
This is a nice little guest house away from the main street in town. It was about 10 minutes on foot to the majority of restaurants and a very close walk to the public beach access. The other guests I met were all friendly and chatted over breakfast each morning. I stayed in the small room off the breakfast area and the bed was very comfortable with plenty of space. The hotel staff allowed me to keep food in the kitchen refrigerator. The property tends to do week long rentals booked separately for the main building that has mini apartments. Serge stopped by one morning to say hello but he is not there running the hotel on a daily basis. He was pleasant and offered to help with any need I might have. Overall a nice stay and I would consider returning on my next trip given the relaxing atmosphere and location.
Kirstin
2015-12-11T00:00:00Z
Our host was very accommodating and friendly. He was able to organize a friend of his to pick us up from the airport (2) for the sum of US$35 which was reasonable given the cost of private transportation in Costa Rica. His staff was very kind and attentive. In particular, the person who greeted us on our first day. We were having issues with a tour operator and email communication wasn't getting our message across. She kindly obliged to call the tour operator and had everything sorted out just as we planned initially. This act of kindness saved us a great deal of hassle especially since it was our first time in CR. We stayed in studio 6. It is not 5 stars, but it is clean. If you're looking to spend a few days to connect to another part of the country, here is good to stay as it is price effective. The walk to the main street (downtown) is about 20-30 mins. There are taxis that drive up and down the street in front Hotel Villa Del Sol that you pay around US$3 per person. There are a few good restaurants as you walk along that street to the main street (downtown). The sand on the beach is black, but that's because of the volcanoes. An early morning dip in the ocean when it's calm is totally a must do if you stay there.
Rachel
2015-09-12T00:00:00Z
As advertised. Clean, small room located in the downstairs of the hotel. Nice place for a quick and affordable stay.
Ross
2017-03-05T00:00:00Z
An outstanding service & wonderful property. 5 starts for EVERYTHING :)! Extremely helpful personnel, large rooms & best location. Highly recommend to anyone
Oksana
2016-03-28T00:00:00Z
Loved the location! Beautiful little B&B and amazing people working there ! we will be back.
Jäger
2016-09-09T00:00:00Z
We met and had a nice chat w/ Serge, who is French Canadian originally, but now lives in C.R. He & his staff are delightful. Wonderful place to start off a vacation of the country.
Mark
2016-01-22T00:00:00Z
I thoroughly enjoyed my time at Villa Del Sol. The location is excellent in terms of proximity to Coco and the beach itself. Everyone who I interacted with here was friendly and helpful. I highly recommend staying here!
Victoria
2016-05-19T00:00:00Z
Art der Unterkunft
Privatzimmer
---
Objekttyp
Bed & Breakfast
---
Unterkunft für
2
---
Schlafzimmer
Carillo, Guanacaste none, Costa Rica
Rooms with own bathroom, two step beds, air conditioned and free access to Internet and to kitchen (refrigerator, oven, microwave, etc.). The price is $15 per person per night in shared room and $ 55 in private room for one to four people.
Tenemos un Hostal con tres habitaciones. Una con 2 camarotes y otras dos con cama matrimolial y un camarote. Todas con baño privado, aire acondicionado, cocina compartida con su menaje completo. 8000 colones por persona o sea $15 entrada 8 am en adelante, salida 2pm. Zona de Campíng: duchas,sanitarios,pilas, enchufes eléctricos y luz, mesas para 8 personas, a 50 metros del mar acceso en bus y automóvil carretera asfalto.Tarifas:4.000 mil colones por persona niños menores de 3 años no pagan de 4 a 7 años 2.500 colones el parqueo del carro 500 colones, busetas 1.000 colones.
Playa Hermosa cuenta con diferentes restaurantes, supermercados y servicio de transporte (Bus desde Liberia ida y vuelta).
Marco was fantastic! We arrived late at night due to complications, Marco answered the phone immediately and showed us in. The room was very clean. Everything was as pictured, private bathroom and private room, a shower (in a different room), and a functioning AC. Free coffee in the mornings as well. It was very comfortable. Marco's English was great, and he was a good resource for navigating playa hermosa. His wife prepared us some mango from their mango tree, which was very nice. It felt very secure. We would definitely come again and we highly recommend Marco's Airbnb!
Troy
2016-08-13T00:00:00Z
Beautiful place and extremely friendly and helpful hosts. Not to mention the delicious homemade breakfast!
Emily
2016-12-12T00:00:00Z
Marco welcomed me and my friend into his home with open arms. He put out coffee on occasion and was always easily-approachable. Great first experience with Airbnb!
Tyler
2016-06-30T00:00:00Z
The Congos Hostel was lovely and very close to the beach. A rustic experience and the staff was very welcoming! Try to learn some Spanish before you stay, most staff do not speak English, although we did have fun with Luisa's translation app :)
Autumn
2017-03-07T00:00:00Z
We used the 4 bed dorms: compact but good shower. Lots of room outside with chairs, tables, hammocks and use of a kitchen. Ideally placed for strolling on to beach or to restaurants. Very relaxed location. There are buses into Liberia and Playa Coco, and one a day (5 am) to San Jose: very swift and comfortable and cheap (5000 colones)
Rufus and Cherry
2017-02-10T00:00:00Z
Great location, just a short walk from the beach. There are many restaurants within walking distance, we ate at restaurants a short walk away for breakfast and dinner. The room was a good size for the 2 of us. AC and wifi was provided making it very comfortable to stay inside the room. They let us use the kitchen if necessary, and let us park our car inside the gate. The hosts were very friendly and happily accepted my request for the stay even though it was pretty last minute. Overall, it was a really great experience for our last night in Costa Rica!
Leslie
2016-05-31T00:00:00Z
Super bien, ellos muy amables y todo muy limpio, el colchón un poco duro, pero el ambiente muy pacífico con hamacas geniales.
Friné
2017-02-28T00:00:00Z
Wonderful hostel o so close to beautiful playa hermosa! Great room with comfy beds & amazing ac! Tidy bathroom with clean water & very friendly. Lots of good food options around & bars. Felt safe with my rental parked behind the gate. A+ for the price!
Morgan
2016-07-29T00:00:00Z
Art der Unterkunft
Gemeinsames Zimmer
---
Objekttyp
Bed & Breakfast
---
Unterkunft für
4
---
Schlafzimmer
Playa Hermosa, Guanacaste, Costa Rica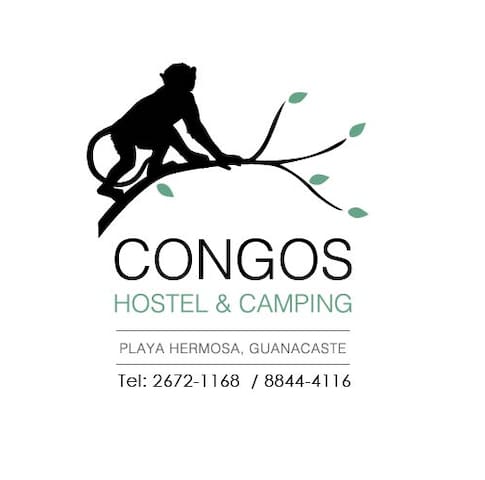 Papagayo Village offers a slice of Costa Rican living unlike that offered at the big impersonal resorts. The property consists of a gated community of six rental villas providing from one to eight bedrooms, depending on the needs of your group.
Papagayo Village is a great tropical/beach venue for family vacations, wedding parties, family reunions, and no stress get-aways. Many of our guests are exploring the possibilities of re-locating to Costa Rica and stay from 2 weeks to 2 months. All the casitas are furnished and the kitchens fully equipped. We have excellent wi-fi throughout the Village. Each casita comes with a large covered lanai to maximize outdoor living. We are confident you will have a great experience swimming in the 90 degree pool, picking fruit in the tropical garden, taking a siesta in one of many available hammocks, strolling the beach, barbequing poolside or watching a movie in our outdoor theater. We are an easy 10 minute walk to the best beach on the North Coast. The owner lives on site and is available to assist with planning your adventures while in Costa Rica. Allen grew up on the shores of Puget Sound as a third generation native of Washington State, USA. Quite the sports enthusiast, Allen particularly enjoys playing tennis and golf. Allen graduated from California Lutheran University and Luther Seminary in St Paul, MN. He had served for 20 years as senior minister of the rapidly growing First Lutheran Community Church in Port Orchard, Washington. As one of the proprietors of Papagayo Village, Pastor Allen uses his considerable experience to facilitate and lead conferences, retreats, continuing education events, leadership groups, personal sabbaticals, weddings, renewals on the beach, marriage encounter, and volunteer and youth service trips. But what brings the pura vida to his new Costa Rican lifestyle is that he gets to show his guests to his favorite beaches and local hang outs as well as leading high adventure excursions into one of Gods most amazing natural wonderlands. Allen is married to the love of his life, Stefany, and they reside in the Village with their daughter Emily.
The 2-bedroom Hermosa casita at Papagayo village is clean, airy and well-equipped. A private well on the property provides abundant fresh water for drinking and showers, an inviting pool, and lush landscaping. The beach, restaurants and groceries are all within walking distance or a short drive. Breakfast is not included. Ask Allen about golf, tennis, destination weddings or fishing in his private boat. Papagayo Village is at the heart of a very sociable international community full of information about local attractions, butcher shops, fresh fish sources, etc. Staying here is an opportunity to experience the best of two worlds: all the comforts of home in a sleepy Tico seaside hamlet.
Phil & Sandra
2016-02-11T00:00:00Z
Allan had fabulous communication with us for five months prior to our arrival. He provided a wealth of information to research prior to our first trip to Costa Rica. When we arrived Stephanie showed us our little abode and answered any questions we had. The check in process was very easy. Allen was readily available to answer any questions we had throughout our five day stay. The rooms each had an air conditioning unit and were quite spacious. The kitchen was fully equipped with everything needed to prepare a meal. The grounds and pool were extremely peaceful and serene. However, we happened to be there during Christmas break and the bar across the street had their Grand Opening our first night there. The NOISE was ridiculously loud and obnoxious as it felt like they were in our living room and continued until 2 am. We were seriously looking at leaving and going elsewhere which was very frustrating as we CHOSE Papagayo Village because of the serenity and Allan. The good new is: We were honest with Allan first thing in the morning and he went to the bar that afternoon when they opened and spoke with the owner. We stayed four additional nights and never heard any NOISE from the bar again; thank you Allan!
Dan and Penny
2016-01-10T00:00:00Z
We had a wonderful stay in Playa Hermosa. Allen was a very pleasant host and the house was perfect for our needs with a little one. The pool was great and the Tico breakfast was delicious. Thank you!
amanda
2015-07-11T00:00:00Z
This is a very special villa with a perfect location. It's fully equipped and has everything you need to make your stay comfortable. The gardens , pool and private terrace make it the BEST place to stay in Playa Hermosa. The host is there for you if you have any questions or needs.
Tracy
2016-05-10T00:00:00Z
My stay was very welcoming. Allen was there when I needed him but also gave me enough space to enjoy the lodging space as if it were my own. He is very kind and welcoming and I enjoyed the worship service at the church he pastors. Allen was vey knowledgeable and an humble servant during our stay. My only wish is that I could have stayed longer.
Kevin
2016-08-02T00:00:00Z
Allen and Stefy were fantastic hosts. Allen picked me and my 78-year-old dad up at Liberia airport himself ($40) and drove us to Playa Hermosa. (car rental not recommended in CR) The villa is plain but has everything you need for apartment-style living, and the price is right. There's an outdoor pool. Supermarket is a 5-10 minute walk. Great sportsbar (Sandbar, under new ownership) and cinema next door at Hermosa Heights. It's a 15-20 minute walk down the hill to the beach, which was very quiet due to the last week of slow season (some of the better restaurants were closed, unfortunately). We reserved our own Palo Verde boat tour one day to see wildlife. But the greatest thing was, Allen and Stefy took us out on their own boat and shared their gear for some Saturday afternoon fishing! We caught red snapper and chickenfish (a kind of bass) and grilled them up by the pool that night. (No guarantees of that happening for all guests!) Playa Hermosa is full of expats, some English is spoken just about everywhere and US dollars are accepted by most, if not all, establishments and tourist activities. We didn't make it into neighboring Coco which is a little more bustling, but next time... Definitely made new friends. Ask them about anything you want to do in the area!
Ryan & Allison
2015-11-03T00:00:00Z
We were very happy with our rental at the Papagayo Village. The house was much more spacious than I expected and the sheets and towels were all of a very nice quality. Beds were comfy and the kitchen was stocked full! Wi-fi was flawless with great coverage. The pool was great - crystal clear, cool water with tropical birds and vegetation all around. The only downside was that our kids unfortunately had fevers and ear infections during our entire stay and so we were forced to spend most of our time in the bedrooms because they had air-conditioning units - the central part of the house did not have A/C, which was challenging for them given the fevers. But everything else was even better than expected.
Mary
2016-05-27T00:00:00Z
Papagayo Village was wonderful and the perfect way to start our whirlwind Pacific coast tour. We had a little bit of trouble finding the place but that was mostly my fault. We had a GPS and didn't even think to type "Papagayo Village" into it as lodging. Duh! It was at night and had been a long day of traveling. :) But Allen was very welcoming, despite us being at least an hour later than planned. Everything about our stay was amazing and we'd definitely go back there. We'll most likely find ourselves back in that area, and this will be our first choice of places to stay! We even met some friendly regulars at the pool the one night we were there. I highly recommend staying with Allen!
Michelle
2016-03-14T00:00:00Z
Art der Unterkunft
Ganze Unterkunft
---
Objekttyp
Bed & Breakfast
---
Unterkunft für
4
---
Schlafzimmer
Playa Hermosa, Guanacaste 50101, Costa Rica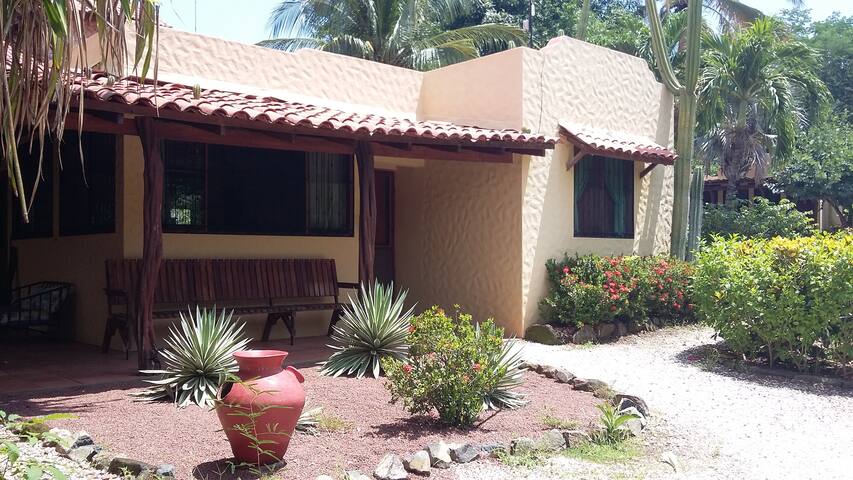 1

–

5

von

5 Bed & Breakfasts
Gib deine Reisedaten ein, um den Gesamtpreis pro Nacht zu sehen.