Gib deine Reisedaten ein, um den Gesamtpreis pro Nacht zu sehen.
3 Blockhütten
· Quang Nam Province
3 Blockhütten
· Quang Nam Province
10 unique traditional yet modern bungalows nestled in an ethnic minority village in central Vietnam. All nights include dinner, breakfast and village fees. We have 4 double rooms, 4 twin rooms and 2 triple rooms. A host of activities available.
Co Tu ethnic minority village retaining its traditional values and not over run by tourists. Enjoy trekking, guided walks, a swim or traditional cultural performances (some fees apply). Or simply enjoy the peace and quiet and relax in your room. We have in room wifi and our restaurant area. The bungalows have a host manager to take care of you during your stay.
Nestled in the central highlands - famous for its beauty and stunning views as well as being a critical part of the Ho Chi Minh Trail during the Vietnam War. Rich with history on many levels. We can arrange a car or US military jeep to take you to the village. It is 80 kilometres from Danang. If you prefer we can incorporate your visit into a 2 or 3 day tour and take care of everything
Art des Zimmers
Privatzimmer
---
Objekttyp
Blockhütte
---
Unterkunft für
2
---
Schlafzimmer
1
Dong Giang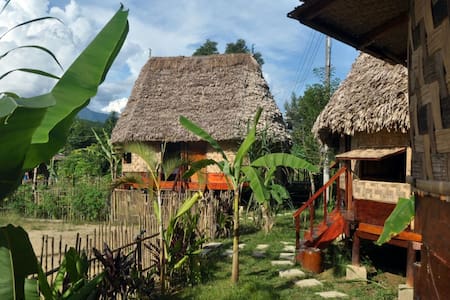 To je krásně postavený kabina pár kroků od nově populární An Bang Beach.
To je soukromá koupelna, část 3-jednotka v kabině stylu prázdninových domů, ve druhém patře s velkým společným balkonem s výhledem do zahrady směrem k pláži. 24/7 přístup s noční hlídač Naše kabina je určen pro cestující přijít, relaxovat a užívat si na pláž. Z tohoto důvodu bude minimální interakce od nás. Nicméně, pokud budete něco potřebovat, jsme jen jedno Airbnb zprávy pryč. =)
Bang je pláž město, které získal značnou popularitu v Hoi An, neboť zhoršení u Cua Dai pláže. Stále více a více místních podniků a restaurací jsou investice do této oblasti a my jsme jen pár kroků od moře (~ 200 metrů) Poskytujeme zdarma půjčovna kol pro dospělé i děti, protože to je nejvýhodnější způsob dopravy našimi hosty. Nicméně, taxi služba je právě venku v centru města. Pick-up může být uspořádány. K dispozici je velká krásná kuchyňská linka k dispozici pro použití. Takže pokud byste chtěli vařit a potřebujete pomoc dostat potraviny, pošlete nám zprávu a naši zaměstnanci zajistí, aby buď trvat nakupování nebo vzít svůj nákupní seznam a jít koupit je pro vás.
房子就在海边 走路到海滩只需几分钟,打开阳台门就能听到海浪声。木质房子感觉很棒,就是晚上会一直有虫子的声音,不过不算太大声。离会安古城有一段距离 打的大概要10W左右,位置比较偏 不太好找。总体来说 很不错!
Dannie
February 2016
Our stay in An Bang Beach was even more pleasant due to the beautiful apartment. It was very clean and very close to the beach. The staff was very helpful and supported us in every situation with good advice and direct contacts. Except for the occasional rooster-noises outside (use ear-plugs), it was a very relaxing and peaceful place. Thank you!
Frederik
August 2015
Although we didn't meet Sarah, her team Men and Mrs Thoau, were excellent hosts, nothing was too much trouble and they made us feel very welcome, even personally showing us access to the beach, local Resturant's and off the track sights etc. The accommodation was even better that expected, more gorgeous that the web photos. No issues at all during our stay, not even the bugs! The room was spacious with fantastic open ceiling, very clean and well equipped with everything we needed Fantastic location right on the beach and just a few mins walk from great Restaurants and local centre. The free bikes we're really appreciated. Just 20 mins ride into Hoi An, although the traffic could be a bit hair raising at times, we soon got hang of the local traffic rules, basically there are none? Would love to return some day and would have no hesitation in recommending Sarah's place to anyone
Patrick
August 2016
The Location is perfect-just a minute from The Beach. The House and The Room Are beautiful. WE got breakfast everyday. The Staff was increadible friendly. Really The best airbnb WE Ever stayed in. WE definitly will come back!
Sarah
September 2016
We loved out stay! The house was beautiful and clean and a shirt pretty walk to the beach which was not crowded! The service was great and we were able to check out late because of a late flight. Definitely try to pho for breakfast
Anya
October 2015
We had a lovely stay in this gorgeous cabin suite on Ang Bang Beach. Hai, the owner, and Mr. Men, the manager, were just a quick text/message away—both were incredibly efficient in their communication with us. There was also a staff member on site, so the place felt secure and safe at all times. That said, with regards to service, the communication with housekeeping seems to be a little off. Guests are given a piece of paper to mark when they would like their room serviced, but this system did not seem to work for us the one time we tried it. The towels we requested once in our four day stay were not replaced. But don't let this deter you: the incredible breakfasts that were freshly prepared for us each morning made up for this! While the room is exactly as pictured in the listing (if not more charming!), be aware that it's not quite beachfront—but the ocean is only a minute or so walk away. The beds are comfortable and spacious, and the shower is divine. The overall location simply cannot be beat: the beach is one of the best in Vietnam, the incredible Bamboo Restaurant sits about a block away, and we loved having the bikes to explore the nearby Hoi An (which we did at least once daily!).
jodi
April 2015
Lovely room with a lot of place. The bed was huge and amazing comftorable. Everything was clean and we felt nice treated all the time. Good luggage and breakfast service. The service staff is friendly and competent. Very close to the beach. It's just a little bit far away from the old town of hoi an. But you can easily rent a motorbike and go there within 15 min.
Hannes
May 2016
We have just returned from an 11 night stay in Vietnam and based ourselves in An Bang Beach. The accommodation at Ocean Bungalow was great and perfect for our needs, R n R on the beach and catching up with family in Hoi An town, just a short taxi ride away. The bungalow is situated in the heart of the fishing village down narrow alleys and although you can't see the beach it is only a 50 metre walk through the trees and you are on it. You get a feel for real village life and everyone gives you a smile or a hello. Sarah and Men the guest manager were both very helpful and unintrusive nothing was too much trouble. The housekeeper and night-watchmen were also very helpful too and although we couldn't break the language barrier we made them smile with our attempts at basic Vietnamese. If your looking for laid back village vibe and beach this is the place to be. We look forward to maybe returning next year. Thank you Sarah, Men and all the staff at Ocean Bungalow.
Mark
August 2015
Art des Zimmers
Privatzimmer
---
Objekttyp
Blockhütte
---
Unterkunft für
2
---
Schlafzimmer
1
tp. Hội An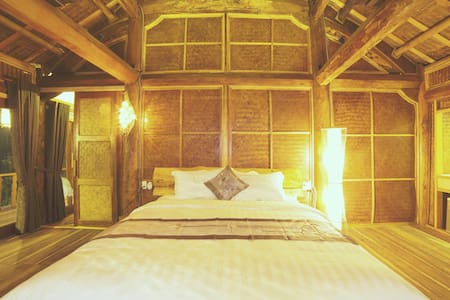 Это красиво построенный кабина в нескольких шагах от недавно популярного пляжа Ан Бэнг. Большая спальня с собственной ванной комнатой на первом этаже с видом на сад. Вы полностью сокрыто от двух других спален, которые находятся на втором этаже.
Это частный люкс на первом этаже с видом на задний двор в красиво построенный в стиле каюты дом для отдыха. Там есть большая ванная комната с ванной, а также множество шкафчиков. 24/7 доступ с ночным сторожем Наша кабина предназначена для путешественников, чтобы прибыть, расслабиться и наслаждаться пляжем. Таким образом, будет минимальное взаимодействие от нас. Тем не менее, если вам нужно что-нибудь, мы только одно сообщение Airbnb прочь. знак равно
Банг пляж город, который приобрел значительную популярность в Хойане, поскольку ухудшение пляжа Куа Дай. Все больше и больше местных предприятий и ресторанов инвестируют в эту область, и мы всего в нескольких шагах от моря (~ 200 метров) Мы предоставляем бесплатный прокат велосипедов для взрослых и детей, так как это является наиболее предпочтительным видом транспорта наших гостей. Тем не менее, служба такси как раз на улице в центре города. Предоставляется трансфер также могут быть организованы. Там есть большая красивая кухня доступна для использования. Так что если вы хотите, чтобы готовить и нужна помощь в получении продуктов питания, пожалуйста, отправьте нам сообщение и наш персонал организует либо принять вас в магазин за едой или принять ваш список покупок и пойти купить их для вас.
The room was comfortable and clean. The communal sitting room is occupied by the security guard who sleeps on a camp bed so use of this is limited. Good location. Staff helpful and friendly.
Jaqui
May 2016
What an amazing place!! We had a fantastic stay of 3 days. The house is lovely decorated and the location is just perfect (very close to the beach with nice bars and a short ride to the city centre). But perhaps the best part of our stay was the lovely people that work there. Very kind and helpfull. We really felt at home!
Ireen
November 2015
We had a great stay there! The house is super beautifully furnished and very cosy. We loved the very spacious room, most comfy bed all over Vietnam and spacious bathroom. Not to forget the lovely garden, great breakfast, very helpful staff and the ocean very close (even though it was too wild to swim, loved the ocean sound). Fully recommend this place!!!
Katinka
December 2016
I stayed in Sarah's place for 4 days, everything was great! The place is brand new, facilities are fab, big yummy breakfast, you name it! The village is quite, & the place is literally 5 minutes walk from the beach. The only thing that I found a bit uncomfortable was the fact that the walk to the house (outside the listing) during night time is pretty dark.
Sivan
December 2015
Really nice and beautiful place but sadly not so quiet because of our neighbours (we weren't lucky). Also there is always someone in the bungalow, the service is really nice but if you look for tranquility it is not optimal.
Elsa
July 2015
We had a great visit to Sarah's property at An Bang beach. It was close to Hoi An's old city, very comfortable, and had a super friendly team working there. Would certainly stay again!
Jeff
January 2017
We had such a great stay in the bungalow, pretty much in the middle of the best beach and restaurants around and close enough to pop into the old town too. The bungalow itself is very clean and Men (our rep/host) gave us some great tips on amazing places to eat and things to do. He was also there if ever we needed him. Thanh (our housekeeper) made us an amazing breakfast each morning and thanks to her the place and garden was kept looking exactly as the pics show. Highly recommended
Anton
March 2016
Location, location, location!! This is a charming, traditional, rustic property (don't worry all modern facilities are provided!). The rooms themselves are spacious, clean and well appointed; common areas are well kept; and the garden a delight. However the main selling point has got to be the location. It is literally a stone's throw from the beautiful An Bang beach; and only a 1 minute walk to a selection of relaxing, chilled out bars and restaurants fronting the beach (check out Soul Kitchen). Depending on your preference it is a short moped/bicycle/taxi ride into Hoi An old town itself. The staff at the property were very helpful - providing Vietnamese/Western breakfast, and arranging bike hire, airport transfer etc. If you are looking for a relaxing vacation then this is definitely the place to choose - we didn't want to leave and will certainly be back!
PAUL
June 2016
Art des Zimmers
Privatzimmer
---
Objekttyp
Blockhütte
---
Unterkunft für
2
---
Schlafzimmer
1
tp. Hội An