52 Ferienhausvermietungen
Mesés Duna parti környezetben nálunk mindent megtalálsz ami az igazi kikapcsolódáshoz szükséges. Az emeleten hatalmas fürdőszoba pezsgőkáddal, kényelmes hálószobában. A földszinten hangulatos nappali kandallóval, jól felszerelt konyha, és egy tusolós fürdő kapott helyet. Szauna, szolárium, edzőterem a pince szinten. Medence, grillezési főzési lehetőség a szabadban. Horgászati lehetőség, ismerkedés a háziállatokkal.
Szeretné Ön is megtapasztalni a természet csodáit? Akkor töltsön néhány napot az év minden szakában mesés Duna parti környezetben, foglaljon szállást Dömsödön. A Ráckevei-Duna-ág lenyűgöző látvánnyal fogadja a látogatókat, akik megcsodálhatják a különleges környezetet. Ez a gyönyörű terület tökéletes helyszín a nyaraláshoz és a pihenéshez, a dömsödi szálláson pedig mindent megtalál, amire a kikapcsolódáshoz szüksége lehet. A ház öt vendég elszállásolására alkalmas, akiknek kényelmét a hálószobai franciaágy, a két személyes felfújható vendégágy és a nappaliban található kanapé szolgálja. A házban légkondi, internet, televízió, valamint mosó- és szárítógép egyaránt megtalálható. A nappali varázslatos hangulatát az egyedi kandalló biztosítja, ami garantáltan hozzájárul az itt töltött napok különlegességéhez. A tökéletes kikapcsolódást az alapvető kellékeken felül néhány különleges "kiegészítő" biztosítja. Merüljön el a fürdőszobai pezsgőkád nyújtotta élvezetekben, és használja ki a pinceszinten található edzőterem, szolárium és szauna adta lehetőségeket. Töltsön időt a szabadban, ahol kedvére horgászhat, grillezhet és főzhet is. A csodálatos Duna parti látványt pedig a kerti medencéből is élvezheti, amely tökéletes menedéket nyújt a meleg napokon. A szálláson mindenkit szeretettel várunk A ház teljes mértékben család- és gyermekbarát. Sajátosságainak köszönhetően kisállatok is érkezhetnek a kirándulásra, számukra a többi állat mellett az udvaron akad szabad hely bőven. A ház praktikus elhelyezkedésének köszönhetően busszal könnyen megközelíthető, de az udvaron ingyenes parkolási lehetőség is van. Töltsön el néhány napot meseszép környezetben, tökéletes kényelemben. Foglaljon szállást még ma a dömsödi házban, és élvezze a Ráckevei-Duna varázslatos világát, a természet megannyi csodáját.
A minket körülölelő világ megannyi csodát rejt. Egy-egy kirándulás alkalmával, vagy a természetben eltöltött néhány óra alatt mindenki megtapasztalhatja a felejthetetlen pillanatokat. Garantáltan szép emlék lesz a napsütötte természetben sétálni és megcsodálni a színpompás virágokat, közben meghallgatni a madarak énekét és a levelekkel játszadozó szelet. És mennyire fantasztikus "belebotlani" egy folyóba A vízi élővilág ugyanis további különleges meglepetéseket rejt. Itt a madarak trillázó dallamaiba a békák kuruttyolása vegyül, ami egyfajta mély baritonként ad sajátos színezetet a közös kórusműnek. A vízfelszín felett gyakran lehet látni különleges madarakat, amelyek legújabb áldozatukat lesik a magasból. A vizet körülvevő sás gyönyörű látványt biztosít, a környező fák pedig árnyékos pihenőhellyel kínálják a vándorokat.
Minden rendben volt, jó házigazda, a szálláshely nagyon rendben volt.
Kalman
2016-08-11T00:00:00Z
Quiet place near Budapest. House well maintained, pool very enriches the offer. Not finished wall next to the pool, it spoils the magnetism of the place. Ancsa is a nice woman, but contact with Ancsa little difficult. My family remembers well spent time there. I recommend this place, and I believe That in the future, small shortcomings disappear. Regards. Mark
Marek
2016-08-22T00:00:00Z
Gyönyörű, jól felszerelt a ház. Valóban festői a környezet, a Duna karnyújtásnyira van. A házigazda abszolút rugalmasan kezelte az érkezés-távozást. A nappaliban a bútorok elképesztően kényelmesek, nagyokat lehet pihenni rajtuk. Vannak cuki kisállatok is, szóval minden adott a passzív pihenéshez. Mi még biztos visszamegyünk
János
2016-09-19T00:00:00Z
This house is located in a quiet area, it's peaceful. Everything we needed is provided, so stay there is a very good experience for us. There is a private pool there, we have some fun there. The kind lady who helped us to checkin is very kind to us, we gave a little gift to her when we left. It is one of the best lists that we have been in EU!
Lou
2016-08-17T00:00:00Z
The house equipped with everything you need, spacious and lovely scenes And let's not forget about all the antiques inside the house . Classic
Rayan
2016-11-19T00:00:00Z
We had a wonderful vacation. It was great that we chose to stay at Ancsa's home. Excellent house near the river. I can imagine how nice it will be at Summer. Everything was perfect. House is hot, clean and have all amenities. We didn't meet Ancsa but communication with her was great. Agi and Gyuro (Ancsa helpers) were very helpful. Everything we needed is provided, so stay there is a very good experience for us. Beautiful place! Will look forward to staying at your place again. Thank you for being a kind and friendly host. Highly recommend! Thank you Ancsa! p.s. We would like to send many many thanks to all people in Rackeve medical center, especially to dr Helga Schmidt for big help and medical assistance
Vladimir
2017-01-06T00:00:00Z
Art der Unterkunft
Ganze Unterkunft
---
Objekttyp
Haus
---
Unterkunft für
5
---
Schlafzimmer
Dömsöd, Pest, Ungarn
A Duna melletti kis falu csendes, nyugodt. A pihenésre vágyóknak nyújt kikapcsolódást. Strand van a közelben, kerékpározásra és kirándulásra jó lehetőség. A Duna 3 km távolságban a háztól. Zarándokoknak, átutazó kerékpárosoknak jó lehetőség a kis szoba.
A Duna közelsége (3km) és a hangulatos kert.
Eszter is a very nice person, in the farm house of the countryside is so amazing. She got a big garden and a lovely house. I have my own farm house which is quite cool for a city girl like me, simple but comfortable. She give me some fresh vegetables from her garden for me. In fact is a quite happy experience for trying in her house. But there have just a only big problem. I strongly suggest that you are better speck in Hungrain. As if not, in my stay is quite ok, her sister is very good at English she help me a lot in the translation, beside that we use (SENSITIVE CONTENTS HIDDEN) translate for communicate. But this is what you will make problem. In my stay is ok, but after then in the stay of mine, there have a big storm in the countryside, and one of her cat is lost( she got few cats and two dog in the garden, they are nice and cute) and in some reason she read one of my post on my (SENSITIVE CONTENTS HIDDEN) about the blackcat she think I was hurt her cat and kill him..... I try to put the translate to Hungary and turn tony language, it is a very terrible translate that I hurt him.... I try to expand but she can not listen anymore. Which make this airbnb experience so worst coming to the end. So if you are not a Hungary speaker that actually is still all right for your stay if you didn't got the bad luck like me to happen all that. I am still full of upset for she keep saying I hurt her cat and actually I am very like that cat and I am so worry of her lost too( that is why I post a post about the cat, and the things happen)
C
2015-08-18T00:00:00Z
Nagyon szerencsésnek mondhatom magam, amiért Eszternél sikerült megszállnom. Rendkívül vendégszerető és kedves volt. A környék szintém lenyűgöző. Ajánlom bárkinek aki a csendet, nyugalmat keresi egy jó vendéglátó szép környezetében. Köszönök mindent! I so lucky, because i was a guest at Eszter. She's a cute woman. The countryside is also beautiful. I recomend for everybody who's looking for silence and relax in a wondeful owner's nice home. Thank you for everythink
Ferenc
2015-09-14T00:00:00Z
Tényleg, igazán falusi hangulat volt Eszter házában, nagyon barátságos, segítőkész, kedves embert ismertünk meg benne és a szemközt lakó apukájában is. A házikó amiben aludtunk mindennel fel van szerelve, a kert mesebeli, az állatok barátságosak, a falu Mikszáth regénybe illő, több száz éves barokkos házikókkal, nádfedeles tornácos házzal, jószágokkal minden második kertben. Biciklit is kaptunk kölcsön, azzal nézelődtünk a környéken. Amennyire megismertük, Makádot jó-arcú kedves emberek lakják, mindenki szívesen útba izgatott minket. A templomnál találtunk későig nyitva-tartó kisboltot is, ahol kártyával is lehetett fizetni. Mi tömegközlekedéssel utazunk Makádra, oda fele Hév- Busz kombinációval, elég hosszan mentünk de ki lehet bírni. Hétköznaponként többször közvetlenül Budapestről is visz Volán busz.
Anna
2016-07-04T00:00:00Z
Wszystko ok
Marcin
2016-08-02T00:00:00Z
We had a wonderful time at Eszters place! eszter and her family are amazingly friendly and helpful. The place is nice and just what we wanted: primitive (in the good way) yet well equipped, cozy and true countryside. Remember to take a ride to Donau (3 km nearby) and have a swim. Thank you for a good time, Ezster!
Lærke
2016-07-13T00:00:00Z
Otthonos kis faház nyugodt, gyönyörű környezetben. Eszter segítőkész, kedves házigazda. Szívesen maradtam volna még.
Szabolcs
2016-05-17T00:00:00Z
Art der Unterkunft
Privatzimmer
---
Objekttyp
Haus
---
Unterkunft für
2
---
Schlafzimmer
Makád, Pest, Ungarn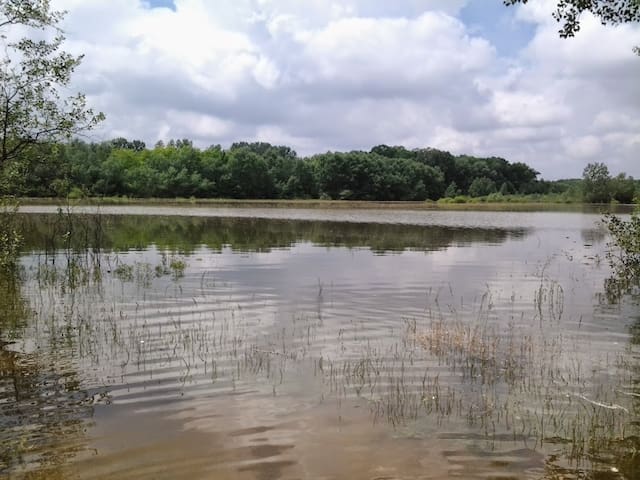 In einem echten ungarischen Dorf an der Donau, 35 km entfernt von der schönen Hauptstadt Budapest, ist unser Haus. Aufgrund seiner zentralen Lage sind viele Ausflüge in die Umgebung gemacht. Die täglichen Annehmlichkeiten zu Fuß erreichbar.
Art der Unterkunft
Ganze Unterkunft
---
Objekttyp
Haus
---
Unterkunft für
4
---
Schlafzimmer
Ercsi, Ungarn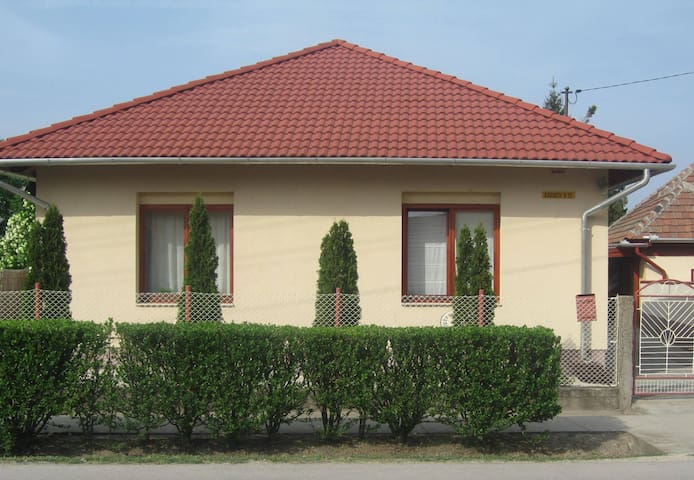 Kiadó Rácalmáson egy tetőtéri lakás egy családi házon belűl. Max 3 fő.
Art der Unterkunft
Ganze Unterkunft
---
Objekttyp
Haus
---
Unterkunft für
3
---
Schlafzimmer
Rácalmás, Ungarn
Die Wohnung liegt in der Nähe die Anforderungen aller Art zu erfüllen, können in den Läden zu finden. Freizeit verbringen eine Vielzahl von Sportplätzen, Naturlehrpfade, ein Zoo ist vorhanden. Das neu gebaute Haus in einem privaten Raum in einem angenehmen, ruhigen Umgebung freuen uns auf meine Gäste. In der Nähe des Hauses können Sie viele Arten von Geschäften finden. Es gibt auch Möglichkeiten für Erholung, wie Sportplätze, einen Zoo und Restaurants. Budapest ist 18 km entfernt liegt, können Sie fahren, um dort mit dem Zug in 25 Minuten.
Tamás igazán figyelmes házigazda, otthona tiszta és jól felszerelt. Nem volt kifogása az ellen sem, hogy hajnalok hajnalán fel kellett kelnie miattunk, hogy elérjük a korai repülőgépet. Családi háza csendes, nyugodt környéken van, és elég közel fekszik a Liszt Ferenchez, hogy Őt válasszuk.
Péter
2017-03-21T00:00:00Z
Art der Unterkunft
Privatzimmer
---
Objekttyp
Haus
---
Unterkunft für
2
---
Schlafzimmer
Szigetszentmiklós, Ungarn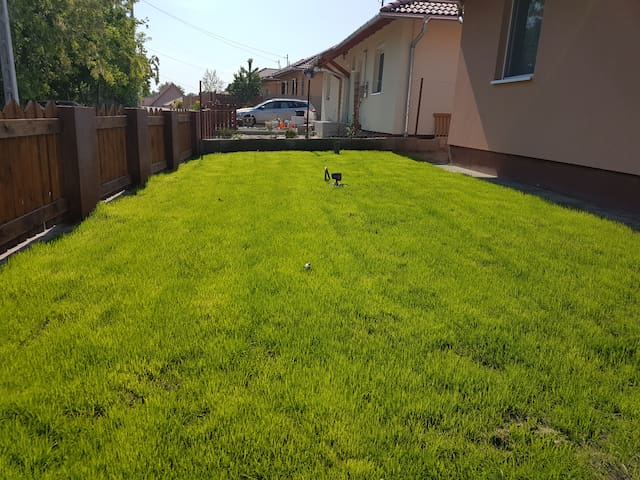 Our place is a really nice, warm home. Ideal for small companies, families with small children, couples, who need some relax after a busy week. The lake is only 15 minutes on foot, but there is a small fishing lake in the neighbourhood.
A small garden with grill is belong to the appartment, where the quests can relax and cook on fire if they like. The kitchen is well equipped as well.
They're very nice people. Very easy and quick communication during booking and arrival. Very nice area to spend some relaxing days. I fully recommend them!
Javier
2016-08-23T00:00:00Z
Art der Unterkunft
Ganze Unterkunft
---
Objekttyp
Haus
---
Unterkunft für
6
---
Schlafzimmer
Kápolnásnyék, Fejér, Ungarn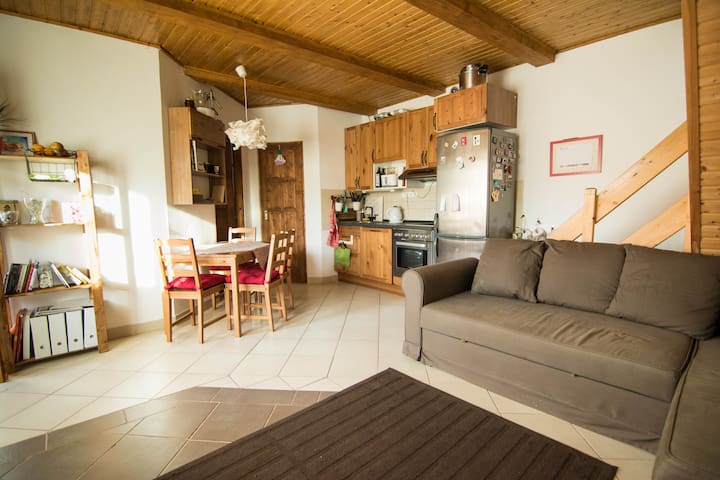 New house, with modern equipment. Only 10 minutes walk from Lake Velence, railway station and thermalbath. Totally equipped for 4 person. Total 100m2. Only from Saturday - Saturday. No smoking, no pets.
Ground floor of a house with ca. 100m2 for maximum 4 persons. (Souterain and First floor are closed) Complete equipped kitchen with dishwasher, micro and oven and eat corner. Living with open doors to terrace. Television with Dutch, German and English channels. WIFI. 1 bed room with double bed (160x200 cm) and 1 bed room with extension bed (80x200 cm or 160x200 cm) Bathroom with toilet, double basin, bathtube and shower. Extra toilet. Parking in garden
10 minuts walk from the Lake and the Thermal bath 42 Km from Budapest 22 Km from Székesfehérvár 68 Km from Siófok (Lake Balaton) Supermarktets like Aldi, Spar, Lidl en Penny nearby
Nagyon tetszett a ház! Szép, tágas, rendkívül tiszta,riasztóval felszerelt és kertes ház. Közel van a központhoz, csendes utcában található. Kedves, segítőkész tulajdonos.Köszönjük, hogy itt nyaralhattunk.
Virgínia
2016-08-20T00:00:00Z
Art der Unterkunft
Ganze Unterkunft
---
Objekttyp
Haus
---
Unterkunft für
4
---
Schlafzimmer
Velence, Fejer, Ungarn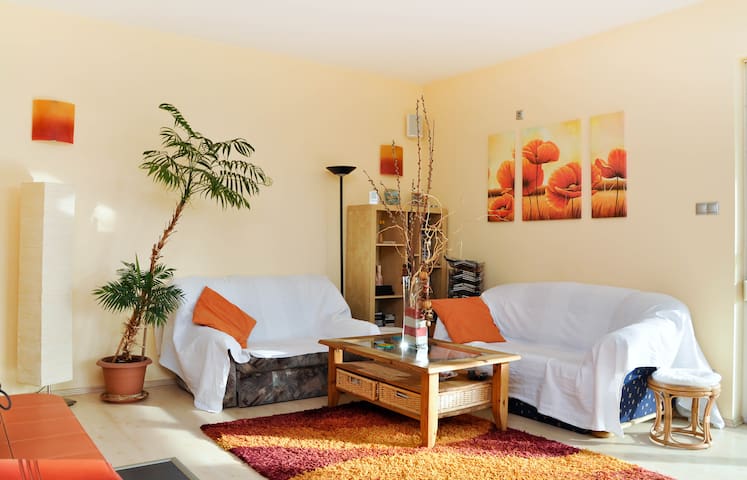 Ráckevei direct bank of the Danube from its private pier. Peaceful, quiet location, relaxing beach. Sacred place.
A válasz idő és az utána való telefonos egyeztetés is rendben volt. Tibor minden fontos információt elmondott
Ádám
2016-03-16T00:00:00Z
Budapest is amazing, full of things to do and places to visit. But if you are planing to stay more than just weekend you have to discoverer the beautiful places that surrounds the city. For example sightseer along the Danube enjoying its virgins and relaxing spots. Tibor's house is situated on a peninsula just 30' driving toward south outside Budapest. Well equipped, and clean. Perfect for a barbecue :)
Alberto
2016-04-06T00:00:00Z
Nagyon kedves volt, minden rendben ment.
Szilvási
2016-01-21T00:00:00Z
a ház tiszta és otthonos, a házigazda pedig korrekt és rugalmas. aki egy nyugodt horgásztanyát keres Budapest közelében, itt megtalálja.
Adam
2017-03-19T00:00:00Z
Tibor is such a kind and helpfull guy! His place is a goon one, which I really recommend. It's about 40 minutes to the Budapest (mean city center), but if you want to stay at quite area and sightseeing just from time to time - it's perfect to you!
Agata
2017-01-01T00:00:00Z
Tibor's place is great! :-) Maybe a little messy but very charming. Canoe included with own harbour! One of those relaxed, easy going places you hope to find when going to Hungary....and all that within just a 40 minute from downtown Budapest. Recommended!
Erik
2016-08-13T00:00:00Z
Art der Unterkunft
Ganze Unterkunft
---
Objekttyp
Haus
---
Unterkunft für
5
---
Schlafzimmer
Taksony, Pest County, Ungarn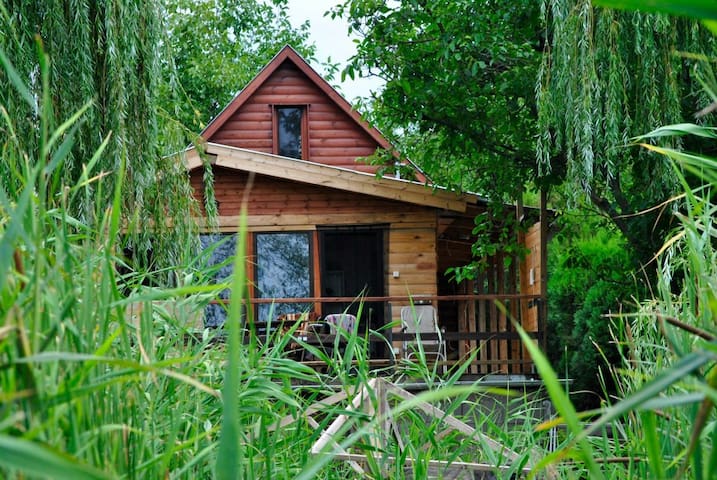 A Velencei tó gyalogos közelségében, nyugalmas, csendes zsákutcában fiatal pár kínál kiadásra 5 fős családi apartmanházat. ------- Near Velence Lake, at the end of a pleasent, peaceful little street we offer our familiy apartman to rent for 5 person.
For English, please scroll down! ------------------ A Velencei tó közelében, nyugalmas, csendes zsákutcában fiatal pár kínál kiadásra 5 fős családi apartmanházat. Szeretettel ajánljuk nyaralónkat azoknak, akik nyugodt pihenésre vágynak zöld környezetben, akik szeretik a vadregényes kertet, a grillezést, biciklizést, napozást. Az ikerházban két fős hálószoba, kihúzható kanapés nappali, frissen felújított konyha és fürdőszoba található. A berendezést otthonosság, egyszerűség jellemzi. A szomszédok csendesek, barátságosak. A ház nagy terasszal és labdajátékokra, napozásra, grillezésre tökéletesen alkalmas kerttel rendelkezik (grillsütőt ingyenesen biztosítunk). A kert oldalában feltölthető hordós kerti zuhany is használható napközbeni felfrissülésre. Biciklik igény esetén ingyenesen igénybe vehetők, a környék számos kirándulási lehetőséget kínál. --------------------- English: Near Velence Lake, at the end of a pleasent, peaceful little street we offer our familiy apartman to rent for 5 person. We gladly recommend our summer house for those who prefer relaxing holiday in green atmosphere, who love garden with plenty of different plants and trees and who like activities like sunbath or grill in the garden. In the twinhouse you may find a bedroom with 2 single beds, living room with a sofabed for 2 and a single bed, and also a newly renovated bathroom and kitchen. The furnishment makes you feel like being at your own place. Our neighbors are quite and friendly people. The house has a big terrace and a garden ideal for ball games and grill party (grill device is free to use). Bikes are available for free upon request, thes area offers a lot of nice places to visit.
A Velencei tó gyalogosan is elérhető, autóval pedig 5 perc odaérni. Igényes kialakítású, rendben tartott szabad strand várja a pihenni vágyókat éttermekkel, kávézókkal, vízi sportolási lehetőségekkel (pl. vízibicikli, kajak, szörf). A Velence Resort&Spa wellness centrum szintén 5 perc autóútra van, ahol napijegy vásárlása esetén külsős vendégek előtt is nyitva állnak a négy csillagos hotel élménymedencéi és szaunaparkja. A homokos Velence Kapuja strand 8 perc alatt érhető el, ahol tengerparti hangulatban pihenhetünk pezsgő kávézók, éttermek körgyűrűjében. Az Agárdi Gyógy- és Termálfürdő 10 perc autóútra fekszik.
Köszönjük a lehetőséget. Nagyon jól éreztük magunkat. Az elvárásainknak tökéletesen megfelelt a házikó. Mindenkinek csak ajánlani tudjuk, aki pihenni, nyaralni vagy sportolni szeretne Velencén.
Gergő
2016-05-23T00:00:00Z
Art der Unterkunft
Ganze Unterkunft
---
Objekttyp
Haus
---
Unterkunft für
5
---
Schlafzimmer
Velence, Fejér, Ungarn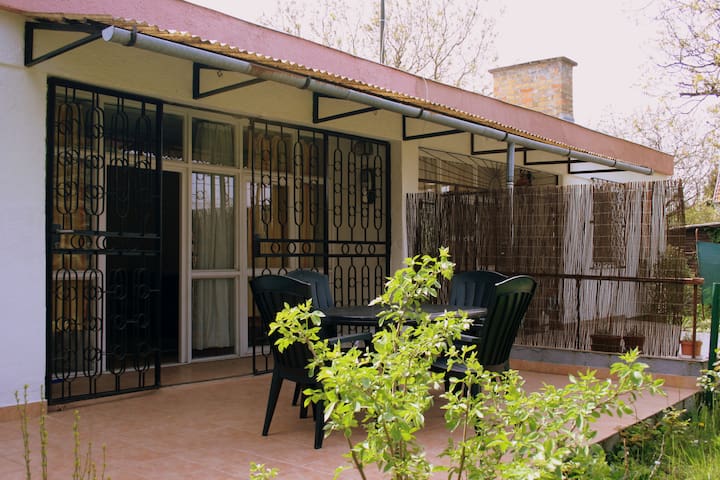 Spend your summer holiday on the southern bank of the Lake Velence! The holiday house is in a quiet residential area in Velence, ideal for families, people who would like to relax.
Verbringen Sie Ihren Urlaub beim Südbank des Velence-Sees! Das Ferienhaus befindet sich in der sillen Wohnbannmeile von Velence, es ist ideal für Familien, und Gäste, die sich entspannen möchten. Die Küche, die gut ausgerüstet ist und das Badezimmer mit Waschmaschine bedienen die Bequemigkeit der Gästen. Der Garten ist ordentlich hat Gartenmöbel und Grillplatz.
A nyaraló elhelyezkedése igen kedvező, hiszen rövid sétára található a Velence Korzó. Ahol lehetőség adódik bevásárlásra és strandolásra is egyaránt.
Art der Unterkunft
Ganze Unterkunft
---
Objekttyp
Haus
---
Unterkunft für
4
---
Schlafzimmer
Velence, Fejér, Ungarn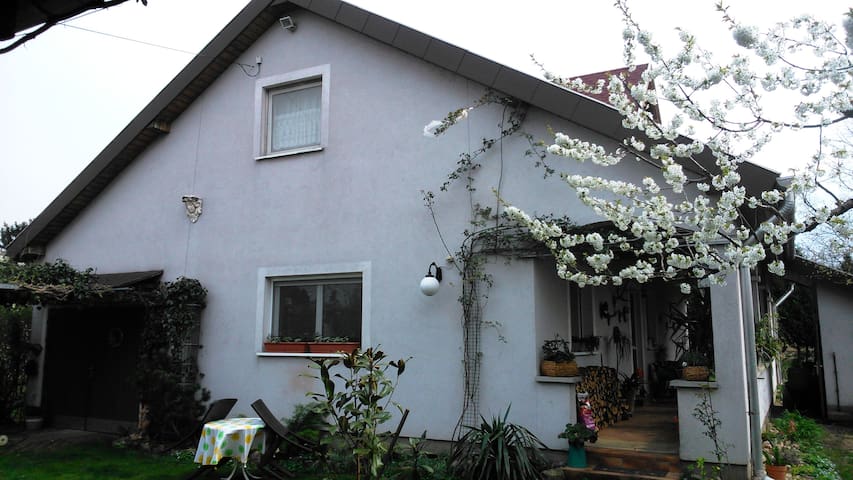 Be one of our first guests in our newly renovated house, at "the Lake of sunshine", the Velencei lake. Our place is not so far from the lake, close to the SPA and the center.
You can relax at Agárd Thermal Bath and Spa or watch the sunset from a boat on the lake. Not far from the accomodation you can visit the world-famous distillery wich offers different award-winning pálinka and brandy specialities.
Art der Unterkunft
Ganze Unterkunft
---
Objekttyp
Haus
---
Unterkunft für
6
---
Schlafzimmer
Gárdony, Fejér, Ungarn
A helyem a következők közelében található: a part, családbarát tevékenységek, cukrászda, Pákozdi emlékmű, Vörösmarty emlékház, Gárdonyi Géza szülőfaluja. Emiatt fog tetszeni neked a helyem: a kényelmes ágy, az otthonosság, családiasság. A helyem erre megfelelő: párok, magányos kalandozók, üzleti utazók és családok (gyermekekkel).
Minden tökéletes volt, köszönöm! :)
András
2016-06-16T00:00:00Z
Nagyon kellemes helyen van, kényelmes szállás. Kedvesen fogadtak és igazából a kulcsok átvételétől nagyon nem is találkoztunk a házigazdáinkkal.
Putnoki
2016-07-18T00:00:00Z
Minden kérdésre szinte azonnal választ kaptunk már az út előtt. A szállás tágas, tiszta, teljesen szeparált, közel a parthoz.
Barbara
2016-08-22T00:00:00Z
Nice people, nice location
Karlijn
2016-08-19T00:00:00Z
Edit remek házigazda volt, a szállás tökéletesen megfelelő, tiszta, Mindennel elégedett voltam.
Pál
2016-08-07T00:00:00Z
Minden rendben volt, köszönjük! Minden úgy volt, ahogy a képeken. Különösen jó volt a terasz, és a nagyon kényelmes ágy. (A ház az országúton van, ez a hirdetésből nem derült ki)
Marcell
2016-08-05T00:00:00Z
Art der Unterkunft
Privatzimmer
---
Objekttyp
Haus
---
Unterkunft für
4
---
Schlafzimmer
Velence, Fejér, Ungarn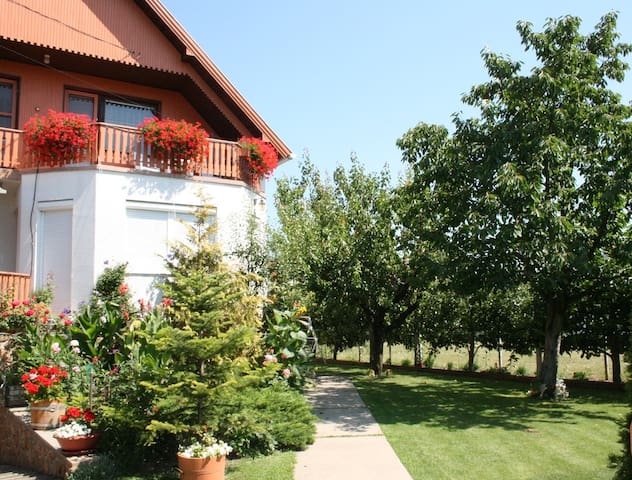 Wunderbarer grüner Vogelgesang und lauschen Sie den Rest der Morgens dőlhetsz kávéddal die Sonnenliege. Sommerküche, Kessel Platz im Schloss Hof und Parkplatz. Lebensmittelgeschäft, Restaurants, Tennisplätze und Laufbahn in der Nähe. See Venedig zu Fuß in 15 Minuten.
Ich freue mich darauf Sie in der Host nyaralómban zu sehen. Angenehme, ruhige Lage vom Ferienhaus. Der gepflegte Garten mit dichter Vegetation bietet Seelenfrieden schön intim. Der Hof und ein ca.. 4m2 mit 50cm-tief im Becken, die für Kinder Planschbecken zur Abkühlung und On-Demand Unterhaltung wiederaufladbar und groß ist. Weiterhin ist ein großer Vorteil, neben dem Hauptgebäude der Küche, war der Garten eine Glasschiebetür anstelle eines Holzhauses. So kann man unter freiem Himmel von morgens bis abends fühlen! Der Garten wurde mit Grill bedeckt und ein Gartenhaus ist für sie so angenehm wie möglich die Zeit dort zu sein. Man kann auch einen Dusche im Freien, als auch Außendusche zur Verfügung! :-) keine Notwendigkeit, über die kühleren Abende sorgen, wie im Erdgeschoss und der Boden des Hauptgebäudes zur Verfügung eines elektrisches Ölkühler.
It is a really nice place to stay in Agard! The house is comfortable and has everything you may need. The garden is pleasant and cosy, providing a lot of places to relax, make a barbecue and just enjoy piece and quiet of the village life. The host offered us a really warm welcome, even brought a mobile internet modem when I just mentioned that in our talk. Location is also convenient - everything is within a walking distance - Velence lake, shops, etc. I would highly recommend the place!
stanisalv
2015-08-24T00:00:00Z
The property is great, very cozy, and in a quite good location. Fair price, good value. Feels like you are staying in your own weekend house.
Gyozo
2016-08-14T00:00:00Z
A házigazda mindenben nagyon segítőkész volt, a szállás a leírásnak tökéletesen megfelelt, igényes, rendezett, pihenésre kiváló hely. A környék csendes, a strand még gyalog is közel volt, csak ajánlani tudom!
Anna Orsolya
2016-08-02T00:00:00Z
Nagyon szép, jól felszerelt a ház. Kellemes 4 napot töltöttünk el itt, mindenkinek csak ajánlani tudom. A házigazdával ugyan személyesen nem találkoztunk, de telefonon mindig készséggel állt rendelkezésre.
Monika
2016-07-08T00:00:00Z
Nagyon kellemes hétvégét töltöttünk el a háznál, kellemes környezetben. A kert nagyon hangulatos és békés, a ház kényelmes és minden alapfelszerelés amire szükségünk lehetett megvolt. A tóparthoz, a boltokhoz és a termálfürdőhöz is közel helyezkedik el. Bátran ajánlom másoknak is! We had a wonderful weekend at the house which is well located and near to the beach and everything but also in peacful and quiet environment. You can find any basic equipment that could be needed at the house. I would recommend this place for others.
Zsuzsanna
2016-06-20T00:00:00Z
Ár-érték arányban megfelelő szálláshely.
Balázs
2016-07-24T00:00:00Z
Minden nagyon rendben volt. A ház nagyon aranyos kis nyaraló, a kert intim a város pedig tökéletesen alkalmas egy kis pihenésre. Minden tiszta volt és rendezett. Bátran ajánlom mindenkinek!
András
2015-08-05T00:00:00Z
Beszélgetéseink során Ildikó kedves, segítőkész volt. Egy nagyon kellemes, barátságos hely fogadott bennünket. A házban és az udvaron tisztaság és rend volt. Nagyon jól éreztük magunkat :) ! Köszönünk mindent!
Sebestyén
2016-08-04T00:00:00Z
Art der Unterkunft
Ganze Unterkunft
---
Objekttyp
Haus
---
Unterkunft für
6
---
Schlafzimmer
Gárdony, Fejér megye, Ungarn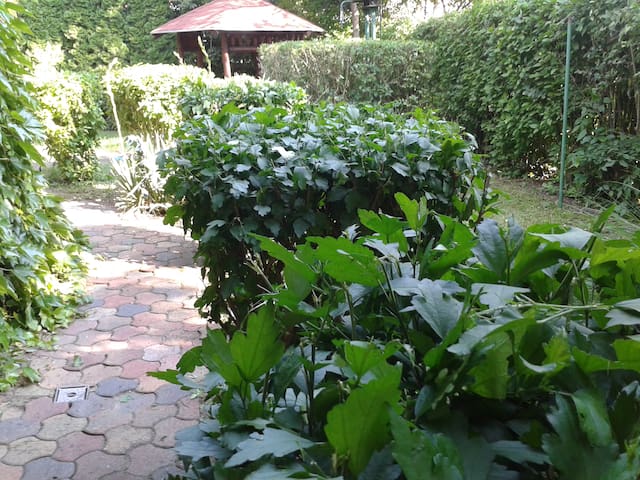 Dies ist eine sehr große Luxus-Haus, die Sie erwartet :) Genießen Sie unser Wellnessraum mit Jacuzzi. Auch wir haben ein Filmraum, wo Sie Ihre eigenen Filme zu beobachten kann, und eine große Außenwasserpool! :) Oder genießen Sie einfach die schöne Haus! Es wurden 2 Wahl mein Haus zu mieten, der Grundpreis enthalten: Handtuch, saubere Bettwäsche, Infrasauna, grillen, int die Terrasse, den Garten, die Küche, oder Sie können das Haus mit Extras zu mieten. Sehr ruhig neighborhoud, ein großartiger Ort zum Entspannen. Nur 20 Minuten von Budapest entfernt.
Wir möchten Sie herzlich willkommen in unserem architektonisch gestaltete Hause zu bleiben, die in der ruhigen ruhigen Stadt Ócsa gefunden werden kann, etwas außerhalb von Budapest. Ócsa ist gut gelegen, ist nur 20 Minuten sowohl vom internationalen Flughafen und vom Zentrum von Budapest. Eine historische Kirche in der Stadt, um das Jahr 1300 ad gebaut und wird von traditionellen Volkshaus Museen umgeben. Ócsa befindet sich neben einem Naturschutzgebiet und bietet reichlich Outdoor-Aktivitäten vor Ort für Familien mit Vogelbeobachtung, Reiten, Schwimmen und sogar Jet-Ski auf den nahegelegenen Seen. Unser Haus ist voll mit allem ausgestattet, was man sich denken kann, Ihren Aufenthalt unvergesslich zu machen. Das Anwesen verfügt über Wellness-Einrichtungen, darunter ein 5-Sitzer Jacuzzi und eine Infrarotsauna. Es gibt sogar einen Filmraum mit einem vollen Größe Bildschirm und Liegekinositze für Ihre Abendunterhaltung. Es gibt eine große Terrasse Blick auf den Garten, wo Sie die 4-Flammen-Grill mit einem schönen Glas Wein entspannen und genießen können. Das Haus verfügt über eine offene Küche-Ess-Wohnbereich mit viel Platz zum Erholen und Entspannen, und es gibt drei separate geräumige Schlafzimmer, ein Badezimmer, zwei weitere Duschbäder und ein zusätzliches separates WC. Sleeping Arrangements bestehen aus dem Master-Schlafzimmer mit einem Doppelbett, das zweite Schlafzimmer mit einem Doppelbett, das dritte Schlafzimmer hat zwei Einzelbett und sollte es erforderlich sein, das Wohnzimmer verfügt über ein ausziehbares Schlafsofa. Wir bieten auch Flughafen abholen und Mietwagen für die Nutzung während Ihres Aufenthaltes (beide gegen Aufpreis, E-Mail für weitere Details). Wenn es etwas ist los denken können, dass wir Ihren Aufenthalt verbessern können, nehmen Sie bitte Kontakt auf und wir werden unser Bestes tun, um Ihren Wunsch gerecht zu werden.
Pferde-Reiten Eine sehr alte Kirche (AC 1200) Jetskis See und Strand Angeln bikeing Chance Chance zu besuchen Ungarns berühmtem Turnhalle (Cutler). Einer von Europas größten Fitness-Studio.
It's a really beautiful house, and a great owner who helps you with everything!
Katrin
2016-09-14T00:00:00Z
Très belle maison avec tous ses équipements, l'idéal pour des séjours longs : en famille (ou entre amis). L'hôte est très disponible et sympathique !
Abdel
2016-05-03T00:00:00Z
It was a nice house as seen on the page, however swimming pool was not filtered properly during our 4 day stay, also it states the house is close to a water park (20 seconds away), which it is not. It's in the middle of a small village with a selected amount of shops. Wifi randomly stopped working and we had no internet so we had to use our own data which did charge. However the house was nice and secure and the Jacuzzi was very relaxing.
Sarkan
2016-09-06T00:00:00Z
Very good communication and availability. We received a very warm welcome and Laszlo was very helpful during the stay, he was able to respond to all our requests and this very quickly. The house is gigantic and fabulous. The sauna and jaccuzzi were very clean and very nice. There is plenty of equipment and we did not lack anything, we felt at home. We are very happy with our stay and we even think to go back in the summer to enjoy the garden which looked very nice. Thank you so much for a wonderful stay.
Cecilia
2017-01-07T00:00:00Z
The house was a good suburban getaway. Lots of swimming in the pool. The last visitors did break some things and they were not fixed. Also not as clean as expected. A fine experience nonetheless.
IJsbrand
2016-08-10T00:00:00Z
everything was perfect, and lászló was very friendly and helpful. I'll definitely go there for another stop as soon as I'm back in Budapest.
Kevin
2016-07-11T00:00:00Z
It was the perfect place for our base while in Hungary, bar a few little things that can easily be fixed. Blinds in the rooms would be great, grass in the back so the kids can play (possibly being sorted already), and not charging 87Euros for the pool for the week would all help. Otherwise we had a great stay and it was easy to get where we wanted to go, on the outskirts so quiet, very safe, spacious and had everything we needed to enjoy our week away with the children.
Juliet
2016-08-29T00:00:00Z
I woul like to say BIG thanks for great period. It was amazing.
Boris
2016-08-20T00:00:00Z
Art der Unterkunft
Ganze Unterkunft
---
Objekttyp
Haus
---
Unterkunft für
8
---
Schlafzimmer
Ócsa, Pest, Ungarn
Spend your holiday in a house which is close to the center and to the beach, but can be found in a quiet street where 10 people can stay.
Spend your holiday in a house which is close to the center and to the beach, but can be found in a quiet street where 10 people can stay. This detached house is ideal for families and friends' recreation. In the landscaped garden there is a swimming pool (5x3x1,5) which is ideal in the hottest summer days for adults and children too. Owing to the central location you can go to shops, restaurants, buffets, ice-cream shops and to the beach on foot, it is only a few minutes walk.
Art der Unterkunft
Ganze Unterkunft
---
Objekttyp
Haus
---
Unterkunft für
10
---
Schlafzimmer
Gárdony, Fejér, Ungarn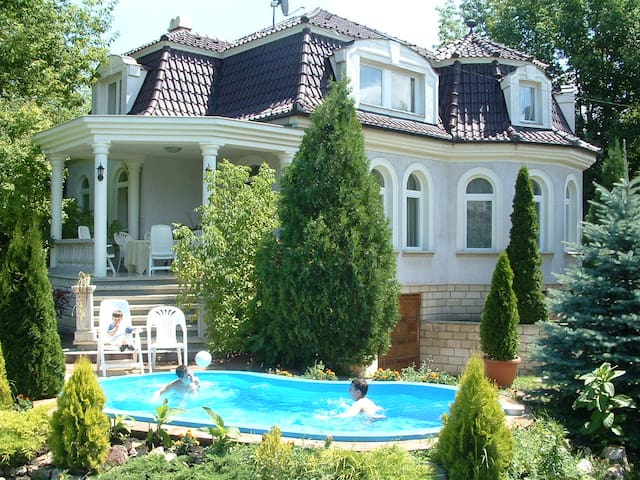 Wunderbare Umgebung direkt am Ufer der Donau, viele Vögel, natürliche frische Luft, mit dem Auto 20 Minuten vom Stadtzentrum von Budapest. Komfort, 4 Wanderkajaks unbegrenzt verwendet athaus jeder time.In 2 km sind Geschäfte, Restaurant, Bäckerei, lokal Zug.
Voller Komfort in der Mitte von Wald am Fluss von Danube.Most schönen Wasserkajak Routen in Wedel im Haus um Cuczor Island, leichte Tour taks 1 Stunde. 5 Minuten mit dem Fahrrad ist ein streetworkout Platz und dem Stadtzentrum von Dunaharaszti (teso, Restaurant, Schops, Post, Bäckerei, ..) und S-Bahn-Verbindung nach Budapest. sie sind zwei getrennte Räume upsairs und ein Wohnzimmer; 2 große franch Betten und öffnete Sofa im Wohnzimmer. Küchen ful Ausrüstung, Grill sation, Kessel, Musikbox, TV, ... Elektrik Cirko Heizkörper heatin macht alwasy einem gleichen Wurm im Hause!
wunderbare Umgebung Donau riwer viel, wenn birts natürliche fress Luft .. ..ful Komfort, Wanderkajaks unbegrenzte Nutzung selbst, sehen Sie die schönsten Pässe vor dem Haus, Angeln ... in der Nähe 20 Minuten zu Fuß Stadtzentrum von Dunaharaszti külső .train, Restaurant, Geschäfte, Bakerei ...
Alles hat am Ende sehr gut geklappt.
Hoang Phi
2016-07-10T00:00:00Z
We had a great time me and my friends. The house was just like the pictures, very comfortable and fully equipped. Very quiet with a great view of the lake. I could catch some fish and I made it to the grill arranged on the lakeside .. Even if we hadn't caught the fish at 1 km are two supermarkets where to buy it (Lidl, Aldi) ... I visited Budapest is only 12 km from the house .. Daniel is a very good host .. Although being out of the country was in constant contact with us giving us assistance .. Even places to visit in town. I recommend with the most pleasure .Thanks Daniel. Hope to see you soon . :)
Dizzy
2016-05-13T00:00:00Z
Daniel was an excellent host and the house was exactly as listed. Daniel did an excellent job helping us out and making sure we had everything we needed. He also helped us map out our trip and checked on us throughout our stay. We are a very large family and we felt right at home. We would highly recommend this place and will be back in the summer.
Josh
2016-03-05T00:00:00Z
Daniel has been a perfect host, helpful in all kind of ways, exceeding expectations. If I had a problem he would immediately solve it. His home (witch I absolutely loved it is so comfy and homy) was precisely as in pictures, I believe even better. And the location is a perfect place if you want to relax. I felt so happy there that I even extended my stay!
Maria
2015-11-25T00:00:00Z
Nice house near the river, it's very beautiful in the morning. I can imagine how nice it will be at Sommer. Daniel is very friendly.Good for 5 people. A little far away from the city, but if you have a car, it will be ok. You can easily outside park.
Shumin
2016-12-30T00:00:00Z
Everything was great as we expected.
Ivailo
2016-08-20T00:00:00Z
Daniel is great! Place is great! Very nice restaurant nearby with fantastic food, Daniel recommended us. The house is very comfortable. There is nice little garden and swans and ducks are coming in the morning asking for some treats. Beautiful place! Highly recommend! Thank you Daniel!
edith
2016-10-27T00:00:00Z
daniel was a very good host.. very helpful and welcoming. The house is warm and comfortable, and neighborhood is very quiet. however, the house is quite a distance from Budapest, which was where i was visiting for holiday. A car is definitely needed to get around
Christiana
2016-05-30T00:00:00Z
Art der Unterkunft
Ganze Unterkunft
---
Objekttyp
Haus
---
Unterkunft für
8
---
Schlafzimmer
Szigetszentmiklós, Pest, Ungarn
If you want to live in a small town near the city come to Dunaharaszti. It is only 20 kms from Budapest. Amazing location lived by educated, polite, friendly and helpful people. The capital can be reached by public transport in half an hour.
Eine sehr freundliche und zuvorkommende Gastgeberin, mit der man auch noch interessante Gespräche führen kann . Das Haus ist hübsch und rein und mit dem Auto von der Autobahn aus schnell zu erreichen. Sehr empfehlenswert .
Margrit
2016-06-30T00:00:00Z
Ilona and Anita are very special, they made us feel like we were at home. We taught them some American card games and they showed us great hospitality. The little kitten Sebastian is adorable.
Alexis
2016-08-22T00:00:00Z
Really friendly Ilona and her dog Maxi ;) She is very helpful and talkative. We felt like at home. Very nice place and calm neighborhood :) thank for everything! :)
Angelika
2017-01-02T00:00:00Z
Gospodyni była bardzo miła i komunikatywna. Odpowiednio wcześniej zapytała o której chcemy się u niej zameldować. Bardzo rozmowna i pomocna. Zawsze jak wróciliśmy na nocleg pytała czy miło spędziliśmy czas i czy wszystko w porządku. Jeśli czegoś nie wiedzieliśmy to chętnie tłumaczyła. Warunki mieszkaniowe dobre, pokój zgodny z opisem, brakowało jednak szafy na ubrania. Ogólnie w domu mogłoby być czyściej, kurz i pajęczyny były widoczne.
Michał
2016-08-18T00:00:00Z
llona is super sweet, and she's got a cat and a dog that are even more sweeter. Although it's a little far from the city, the house and the locality was amazing! Wasn't what I expected but my experience was better than expected!
Zakir
2016-09-11T00:00:00Z
Bár későn érkeztünk ,megvárt,kedvesen fogadott...
György
2016-08-14T00:00:00Z
Kellemes hangulatú "mézeskalács házikó" a kertvárosi nyugodt környezetben. A házigazda nagyon kedves és rugalmas volt, csak ajánlani tudom!
Dávid
2016-04-20T00:00:00Z
Ilona is a very nice person, always ready to help! I enjoyed our communication much!
Светлана
2016-10-13T00:00:00Z
Art der Unterkunft
Privatzimmer
---
Objekttyp
Haus
---
Unterkunft für
2
---
Schlafzimmer
Dunaharaszti, Pest County, Ungarn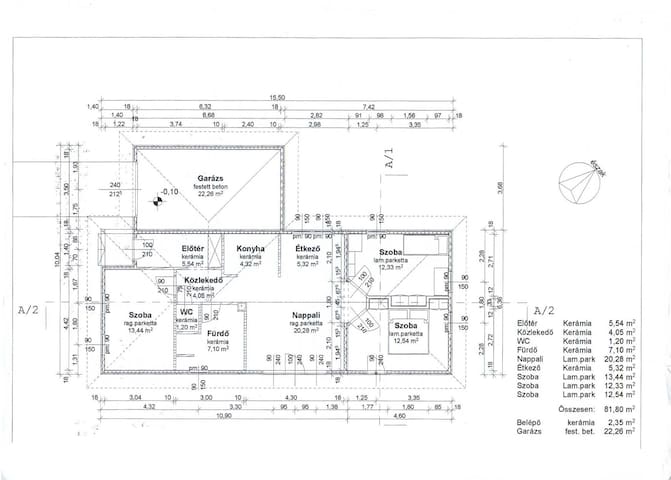 Wir bieten ein wunderschön gepflegtes Ferienhaus mit großem Garten an. Es sind 2 separate Wohnungen auf 2 Etagen, mit jeweils 2-3 Betten (notfalls noch erweiterbar). Der Preis gilt für das ganze Haus.
Das Haus befindet sich in Agard, einem Ortsteil von Gardony in Ungarn am Velencei To, einem See ähnlich des Balatons nur kleiner. Geografisch liegt Agard zwischen dem Balaton und der Stadt Budapest. Das Haus liegt an einer ruhigen Nebenstraße die von etwa 10 Autos am Tag befahren wird. Das Grundstück ist umgeben von Bäumen und die Lage ist absolut ruhig. Den See kann man zu Fuß in etwa 10 Minuten erreichen. Das Haus hat zwei Wohnungen für maximal 5 Personen. Bitte beachten Sie, dass der Zugang zum Bad im EG leider durch das Wohn/Schlafzimmer im EG führt!
Der Stadtteil Agard zeichnet sich durch seine ruhige Lage und seinem hohem Bestand an meist kleinen Häuschen aus. Trotzdem sind der See und Einkaufsmöglichkeiten wie Lidl, Aldi usw. nicht weit entfernt. Auch Kneipen und Restaurants sind in der unmittelbaren Nachbarschaft zu finden. Ein Sportplatz mit Fitnesspark, Wellness sowie ein Spa befinden sich ebenfalls in der Nähe. Die Wege im Stadtteil Agard eignen sich auch hervorragend zum joggen und walken.
Das Haus in Agard hat alles, was man für einen schönen Urlaub in Ungarn braucht. Wir waren dort zu fünft und haben uns sehr wohlgefühlt. Das Haus liegt an einer schönen Obstbaumallee. In 15 Fußminuten ist der Bahnhof in Agard zu erreichen, von wo aus man schnell Szekesferhervar oder Budapest erreicht. In 15-20 Fußminuten ist man auch am Velencer See, der uns bei über 36 Grad Celsius gut gekühlt hat. Aufgrund der guten Lage konnten wir Relaxen und Stadtbesichtigungen gelungen während unseres nur einwöchigen Aufenthaltes miteinander verbinden. Bei Problemen (bei uns: Bedienung der Waschmaschine und des TV) stehen Frank und die ungarische Ferienhausmanagerin umgehend zur Verfügung. Das Fernsehen haben wir trotzdem nicht zum Laufen bekommen, haben es aber nach einiger Zeit auch nicht mehr versucht, da wir fanden, dass es ohnehin genügend andere sinnvolle Beschäftigungen für unsere Kinder in Agard gab. Wir können Frank's Unterkunft daher uneingeschränkt weiterempfehlen!
birgit
2016-07-17T00:00:00Z
Dear Frank and Margareta, We have had a lovely stay, the location is excellent, Margareta was very friendly and show us everthing in the house. The lake is only 2 minutes drive from the house. Thank you very much for hosting us! I do hope we will be back again soon! Kind Regards, Andrea
Andrea
2016-05-29T00:00:00Z
The house has been improving over the last couple of stays, which is good.
bernie
2016-08-16T00:00:00Z
The house is in a pleasant location, within walking distance to the lake. A good place for a family holiday.
bernie
2015-08-15T00:00:00Z
Très bon accueil, maison conforme à la description et à nos attentes pour 4 personnes. Très bien chauffée. Nombreux commerces à 5mn en voiture. Propre et pratique. Merci Frank et Margareta.
Damien
2015-11-23T00:00:00Z
This is a nice place for a family holiday, a few minutes from the lakeside by car or bike, a nice quiet secluded garden and plenty of space. We used the two downstairs bedrooms, but there is a bedroom with separate bathroom upstairs, another couple could have used it. The house was clean, and well supplied. The facilities are a little dated but all work fine. We will use this place again, for us it ideal with two young kids, and it was nice we were able to take our dog.
bernie
2014-08-16T00:00:00Z
The house is in very good area, but unfortunately the upper apartment 's kitchen has not any equipment, so you better use the 2 apartment together.
Böbe
2015-08-10T00:00:00Z
A szállás elfoglalása és a távozás is nagyon rugalmas volt. A ház csendes, nyugodt környéken volt, a vonatállomástól 15-20perces sétára. A legnagyobb nyári melegben is hűvös maradt az alsó rész, de az emeleten is elviselhető volt a hőmérséklet. Nagyon praktikus, hogy a két emelet két külön hálószoba+fürdőszoba részre osztja a házat. Köszönjük a vendéglátást.
Roland
2015-07-19T00:00:00Z
Art der Unterkunft
Ganze Unterkunft
---
Objekttyp
Haus
---
Unterkunft für
5
---
Schlafzimmer
Gárdony, Fejer, Ungarn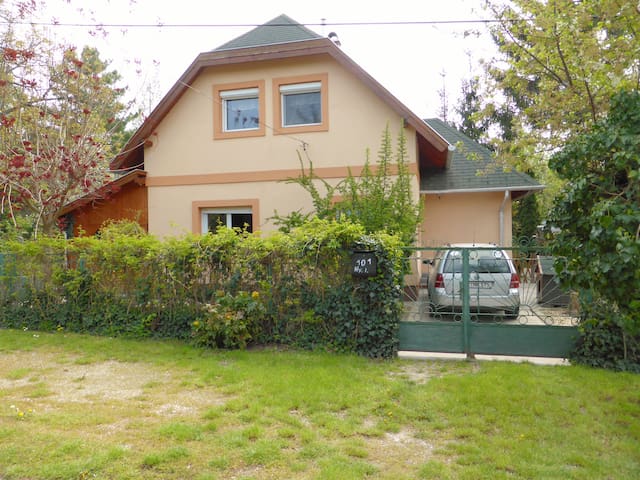 Ráckeve - Airbnb
:
Durchschnittlich

4.28

von

5

Sternen aus

110

Gäste-Bewertungen
1

–

18

von

52 Ferienhausvermietungen
Gib deine Reisedaten ein, um den Gesamtpreis pro Nacht zu sehen.