Gib deine Reisedaten ein, um den Gesamtpreis pro Nacht zu sehen.
This is the ultimate rustic experience! tidy, two storied accommodation. 2 bedrooms, living space + cooking facilities upstairs over looking the river. Bathroom and composting toilet below. Private + scenic. 4x4 access or short walk via swing bridge. 25 mins from Waitomo.Health and Safety policy in place on the property.Toilet outside.
Totally private and unique. Balcony facing the bush and fields. A fireplace with plenty of firewood for guests use. There is an outdoor composting toilet. 24 volt power provides great lighting There is no 240 vlt power therefore no hairdriers etc. Wifi now available inside the barn and a plug for charging phones etc. All linen provided, milk in the fridge and eggs when available. A great breakfast of homemade muesli, yoghurt and fresh fruit salad and... fresh baked croissants !!! Yum . Access via walking over swing bridge or 4x4 Ranger as seen in photo. B.B.Q area. Ducks and hens to feed.Glow worms to see on the river bank at night.15 ha of bush and grassland to walk around. Winnie the Poohs house is right next to the Barn. Love showing people over the property.
Waitomo Caves within 20 minutes drive. Kawhia beach 20 minites drive. Hobbiton, Maungatautari and Hamilton Gardens within an hours drive. No public transport. Please be aware that the toilet is outside and is a composting toilet, very nicely appointed and doesn't smell or have creepy crawlies !!!!
Rowena's farm is amazing! Exactly what is described and more. So peaceful, beautiful, and a touch of real life farm living. Kitchen was well stocked so easy to cook, and the stack of games was a great bonus. The beds were comfortable and warm. The shower and toilet were clean and easy to use. The breakfast in the morning was amazing! We would have stayed longer had we had time. We will be back. :)
Leslie & Rafael
December 2016
My 2 friends and I had a wonderful time with Rowena. We enjoyed her home-made breakfast which consist of croissants, home-made jelly and yogurt, and fresh farm eggs. How thoughtful of her to start the fireplace before we arrived! Everything was new to us. The constant sound of the rushing stream, the long-drop toilet, waking up to the cackling of the fowls.... Upon my request, Rowena took me along with her when she had to take her cattle away for sale. It was quite an experience riding in her 4x4 and with Maggie, her dog. Really an eye-opener for a city girl like me. There was no telco coverage in The Barn and there was no TV. That was good because we just sat by the fireplace after dinner talking rot and showing off to each other the photos we took. Great bonding time.
Yap
November 2015
Rowena was extremely welcoming, very helpful and goes out of her way to accomodate any requests. The barn is rustic but very cosy and provides essentials. If you like the wilderness and fresh air, it is a great place to stay. The yummy breakfast is definitely a hit and the 4x4 ranger made for some fun.
Emma
November 2015
The Barn is a wonderful place to stay. Me and my girlfriend had such an amazing time. Gorgeous views with chicks and ducks that enjoy that will hang out with you if you want. We had breakfast brought to us that was delicious. I would stay again.
Karl
January 2017
Rowena was a very energetic and helpful host. The Barn is a very serene spot in a beautiful location. Breakfast was delicious. Be aware, it is an actual barn, and as such, electricity and wifi are only marginally available. If you want to get away, off the grid so to speak, this place is perfect.
Bob
January 2016
This was the best Airbnb place we've ever stayed at! It is in a jaw-droppingly beautiful location, in a clean and cozy loft in a barn. Rowena was a fantastic hostess, serving a great breakfast and taking wonderful care of us. She even let our kids feed the chickens and geese, and even the eel in the river. We wished we could have stayed much longer. You should stay here!
Alan
February 2017
Clean. Comfy as. Unique and peaceful. Just what we were after!
Dusty
January 2017
Staying in a barn was a dream come true. Real hay, hearing the rain pour outside, the rumbling stream, seeing little lambs greeting us in the morning. Rowena's croissants are to-die-for and fresh eggs just laid the day before! It was all a one-of-a-kind experience. Thank you for making it so memorable for us!
Frances
October 2016
Art des Zimmers
Ganze Unterkunft
---
Objekttyp
Loft
---
Unterkunft für
7
---
Schlafzimmer
2
Honikiwi
This snazzy modern loft is situated at the back of a spacious lifestyle block. Located on the outskirt of Hamilton, Its peaceful and laid back yet just 10mins away from central city. Sit on the deck and revel in the lush well established estates surounding. Perfect for those wanting to catch an early flight or night stop overs as just 10min from Hamilton Airport and Mystery Creek Event Centre. 5mins from Waikato University, 10mins from the Hospital and Advantidrome. This loft is ideal for those in town for Business or Recreational events. Or travellers looking for a comfortable stopover.
Rural/Bush feel with City Location Pool Fresh vegies from the Garden Massive front lawn to stretch out and kick back If the home owner is home the guest will be welcomed on arrival. If not we are happy for you to let your self in. Host is available to contact by phone or message, only lives a short while away so can be present if really needed.
Its quiet and peaceful yet you have the hillcrest shops 3 minutes up the road. It has the country feel but so close to town. Street turns off of SH1 so very easy for getting places. * 5min from Waikato University. * 10 - 15min from Cambridge Advantidrome, Hamilton Airport, Waikato Hospital, Mystery Creek Event Centre, City Central Bars and Restaurants. * 25min from Karapiro rowing club. The nearest bus stop would be a 20min walk up to Hillcrest. Otherwise the Main bus station is 10min drive into the City. The Hamilton Airport is also just 10mins away. Currently have renovations going on at the main house. This wont affect the loft area at all but the place will be alittle busier than usual while they are underway. Also not ideal for small children to be about while renovations are taking place. These should be completed by approximately June 2017 Extra floor Matress and Portacot Available on Request.
The host canceled this reservation the day before arrival. This is an automated posting.
Bernhard
Loved it! Very cute place!!
Madison
February 2017
Lovely place well furnished and in the nature without been far from the city, thanks for having us
Rachel
February 2017
A lovely loft in a beautiful setting - very peaceful and private. Shani and her mum are lovely hosts and make you feel very welcome. We will definitely stay again!
KiereNgaire
February 2017
Art des Zimmers
Ganze Unterkunft
---
Objekttyp
Loft
---
Unterkunft für
2
---
Schlafzimmer
1
Tamahere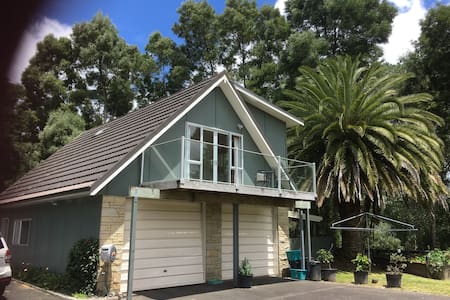 A comfortable, spacious 1 bedroom loft with separate lounge (with foldout couch), kitchen and bathoom located on a working horse farm minutes from Cambridge in the heart of the Waikato.
What a perfect place to stay. The bed was so big and so comfortable. Didn't get to meet Cathie as I came late and left early each day but we communicated by phone. Beautiful bowl of seasonal fruit, muesli, bread, milk and yoghurt awaited. Was super looking out over the paddocks with the foals in. So clean and tidy. Definitely recommended.
Cherie
February 2017
Loved our time at the Brightwells over the 2014 Fieldays, it was exactly what we needed for four big tiring days! Cathie was such a pleasure to deal with, made sure we were comfortable and warm. Very comfortable bed, clean kitchen with everything you need and good shower! Also, the location to Cambridge was very close yet nice to be out in the country.
Sarah
June 2014
Very welcoming hosts. Great location. Would definitely recommend and stay again ourselves.
Amanda
June 2016
Cathie and Murray were great hosts. It was a great location for our weekend and it was quiet and private too.
Deb
December 2016
Cathie's loft is very cozy and is stocked with everything you need. We brought food before arriving in her place but were surprised to see that she had kindly provided fruits, bread, milk, honey, jam, etc, etc for us. Cathie and her family were very friendly. We really appreciate that she took time from her busy schedule to show us around the horse farm and share interesting stories with us. It was an unforgettable experience to stay at the place and is highly recommended! We will return again some day soon.
Qijin
August 2014
Cathie is very friendly and greeted us with a warm welcome on our arrival. If you enjoy a rural setting and surrounding, this place would be ideal. This place may not be suit people who mind stairs, as it is split level living. We enjoyed our stay.
Vincent
July 2016
Cathie is a wonderfully warm but unobtrusive hostess and it feels special that she has made her little slice of heaven available to travellers. Lammermoor is a lovely and charming place (a unique experience to be above a stable) and our daughter loved how she was made to feel so welcome through her 'farm education 101'. We'd definitely like to come back and explore more of the beautiful Cambridge countryside, and the wonderful hospitality of Lammermoor. We'll be booking in again soon.
david
January 2017
Finding Lammermoor Farm on the edge of Cambridge, I spent a little time talking with the horses. Cathie arrived on her quad bike and showed me the loft. It's delightful. Two large rooms, very airy, and superbly provisioned with all the little things to make people really comfortable. Highly recommended.
Ramsey
June 2014
Art des Zimmers
Ganze Unterkunft
---
Objekttyp
Loft
---
Unterkunft für
4
---
Schlafzimmer
1
Cambridge