Gib dein Check-in-Datum im Format TT.MM.JJJJ ein
Gib dein Check-out-Datum im Format TT.MM.JJJJ ein
Inserate, die du buchen kannst, ohne auf eine Bestätigung des Gastgebers zu warten.
7 Bed & Breakfasts
· Rockdale
7 Bed & Breakfasts
· Rockdale
Gib deine Reisedaten ein, um den Gesamtpreis pro Nacht zu sehen.
Come stay in our cozy environment, located just steps from downtown Caldwell. This is the perfect accommodation for women's weekends, families, couples, weddings or game day rental.
We loved Charlsa's Place! Thanks so much for our lovely stay.
Lyndsi
December 2016
we had a very lovely stay. charlsa made sure we were welcomed with a sweet note & had breakfast in the fridge for us. charming house!!
chantal
October 2015
Art des Zimmers
Ganze Unterkunft
---
Art der Unterkunft
---
Unterkunft für
6
---
Schlafzimmer
2
Caldwell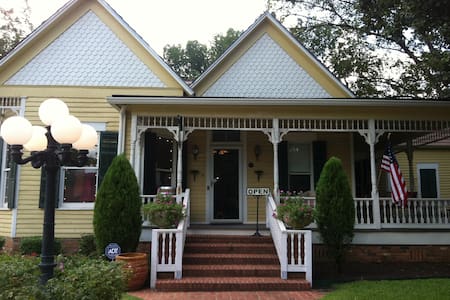 The Farmhouse is an authentic, century old Texas farmhouse. It has a daybed downstairs and a full sized bed upstairs. Bath has shower and it has a partial kitchen with small fridge and microwave. A gas grill is available to guests at the main house by the pool.
The Farmhouse is an authentic, century old Texas farmhouse.
What a place! The ranch is just beautiful and Walter and Judy were most generous and gracious hosts treating me like family. It was so relaxing and refreshing to spend time in the country following Walter around and learning a little about their history and that of their beautiful Andalusian horses. The accommodations were practical and comfortable. The Farmhouse did not have a kitchen, only a microwave and fridge, but the main house had a grill I could've used and Walter would've accommodated any other cooking needs I might've had. Breakfast each morning was delicious! Overall, was a great stay and I hope to return soon!!
Heather
June 2016
Walter and Judy are great hosts and have a beautiful piece of property. Very comfortable and peaceful. I highly recommend.
Steve
November 2016
1st time ever using airbnb, that being said i will definitely continue to use it. Walter and his wife made extra sure to accommodate us despite having had a rain storm on their ranch causing roads to flood. We were upgraded to a different house, we were received with delicious cookies and left with our bellies content. Great get away amongst beautiful horses and scenery!
Rebecca
May 2016
This was my first time using airbnb and it was fantastic. Walter and Judy were the nicest people and very fun to talk to. The place was very nice and clean and the breakfast was increfible. I would absolutely stay here again.
Rachel
July 2016
We had a beautiful and peaceful retreat. The ranch is so very beautiful and our hosts were so warm and friendly! It was so relaxing and I enjoyed the rest and the opportunity to connect with the horses. We will definitely return!
Lisa
October 2016
Art des Zimmers
Ganze Unterkunft
---
Art der Unterkunft
---
Unterkunft für
3
---
Schlafzimmer
1
McDade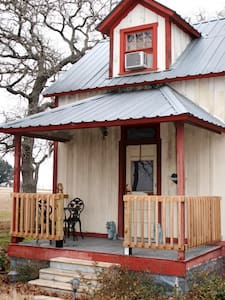 The Wright Suite is an updated room with a queen size bed and can be used in conjunction with the Mack Suite and Yellow Room. The Suite has access to either a TV room or a kitchenette. The Suite is part of the historic Wright-Swepston House.
This is a great place to stay
James
October 2016
Matthew and his wife were great really went out of their way to make us feel like family. He gave us a tour of the house and told us the history of the house and how it effected the town. Could not have had a more gracious host. I would recommend staying here to anyone.
James
October 2016
Art des Zimmers
Ganze Unterkunft
---
Art der Unterkunft
---
Unterkunft für
2
---
Schlafzimmer
1
Rosebud
Each of the 5 luxurious guest rooms are designed for comfort, relaxation, and privacy. Breakfasts are bountiful and healthy. Experience the architecture of 1905 and the comfort of 21st century. Book one room or the whole house for special events.
Five spacious bedrooms, sumptuous, traditional & healthy breakfasts in a historic home. Nestled in the small historic community of Taylor, Pecan Manor is minutes from Formula One, ACL, SxSW, UT and next door to the Ducks H.S. Reunion. We are a great place to stay during Blackland Prairie Days, Taylor Rodeo, or dancing weekends in Coupland or Granger! Ask about special pricing for active military, seniors, or stays of more than 2 days. Additional pricing incentives are available if you take the whole house for events with friends or family. Swimming pool, hammock, wi-fi, gracious lawns with 100 year old pecan trees, front porch swing, generous parking make Pecan Manor unique to the area. In the center of Taylor's old town district and walking distance to restaurants Pecan Manor will customize your visit to make a memorable experience. Want a savory breakfast? A sweeter breakfast? Always with good health in mind, I make a truly special French toast stuffed with fresh pears and sprinkled with pecans. Coffee is made early, time for breakfast is up to you. Explore the Barbeque Trail and Taylor's historic downtown. Get away from the busyness of the city . . . Go dancing in Granger or Coupland, spend the night in the luxury of Pecan Manor. We are just off I-35 or the 130 toll road. Amtrack stops in Taylor and the Taylor airport is 5 minutes away. I will be happy to provide transportation to and from the train station or the airport. Pecan Manor is a beautiful setting for special occasions and holiday parties up to 40. This beautiful home is always decorated and immaculate. Events can be catered or your group can bring their own "pot luck". Historical, relaxing, fun. Pecan Manor Bed & Breakfast is grand, the patio and lawn are impecable. The breakfasts are fantastic! Come for the weekend and you will want to come again: the best in Texas hospitality. Guests have full access to all the wonderful unusual spaces such as the library, the veranda, the pool and patio, the gracious front porch with old wooden swing. I will see you first thing in the morning. Please feel free to come visit with me in the kitchen when you come get that first cup of coffee. Later I will join you for breakfast, otherwise you are on your own -- unless you happen to be around about 4 when I can offer you a glass of wine, a cup of tea or coffee and a slice of my Pear- pecan Bread.
As a Bed & Breakfast you may book only one room in which case you may be sharing the house with other guests: fascinating and happy to meet you! I am your host and live on the property. I am here to make sure your stay is all you expect.
Janetta was amazing! She had everything ready for us as soon as we arrived, even though we were late. She was a great host, provided games for us to play, and made us the most delicious breakfast in the morning. We only needed to stay one night but she was very accommodating during our stay. We are definitely referring her to our people who are traveling. The house was extremely nice and cozy. It was an older home and everything inside felt as if you were stepping back in time. If you enjoy some good historical stories with your stays this is definitely the house for you. We were traveling into Austin and the trip wasn't too out of the way. We didn't want to stay directly in the city so it was the perfect spot for us.
Ryan
March 2016
Janetta was really kind and helpful. She provided excellent advice on nearby foods and sites to see. She also prepared the most decadently delicious french toast I've ever had. I recommend this place to anyone who would like to experience a slice of history sprinkled in southern hospitality. Five Stars.
Joseph
February 2016
We only stayed at Pecan Manor for one night, but we wish we could have stayed longer. The room was cozy, clean and comfortable. Janetta is a friendly host and awesome cook. You will not go hungry during your stay. She is also knowledgable about the history of the house and town and we enjoyed talking with her. We hope that we can return sometime for a longer stay.
Scott
April 2016
The reservation was canceled the day before arrival. This is an automated posting.
Christian
Art des Zimmers
Privatzimmer
---
Art der Unterkunft
---
Unterkunft für
2
---
Schlafzimmer
1
Taylor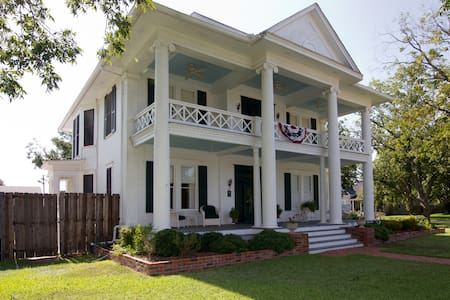 Nestled in the quaint countryside 35 miles east of Austin. Up to 4 rooms each w bath are available. Pastoral setting for a relaxing country retreat. Watch horses graze, gather fresh eggs, swim, hike or ride an Andalusian, a mecca for photographers.
Supervised riding & dressage lessons on our horses are available by reservation at an extra charge of $60/hr. Spanish speaking staff available. Español que habla el personal disponible. 70 acre horse breeding farm. Pool and hot tub. A total of 4 different private rooms can be rented, each with a full bath. One of these is a 2 room suite to which the additional person charges apply. Ranch tour at no charge. Several breeds on site with focus on Spanish Andalusians. Instruction on all phases of buying and owning a horse available.
Just 4 miles off major highway (290). Convenient access to Bastrop, Elgin, Austin but very private with spectacular views and night sky. 45 minutes from Austin Bergstrom Airport. 2.5 hours from Houston; 1.5 hours to San Antonio. Soil is white sugar sand and therefore no mud even if it rains. Horse obstacle course and dog agility course on site.
This place is incredible!! Such a beautiful setting, possibly the best view from a pool ever! The horses are beautiful, and we had a great riding lesson with Walter (they cater for all levels - we're very much in the beginner camp!). Walter and Judy were incredibly hospitable, we shared a bottle of wine with Walter in the evening and Judy cooked the most fantastic breakfast for us in the morning. They also have 3 lovely dogs who we enjoyed getting to know. The cottage we stayed in was really comfortable and well equipped. Overall, a fantastic experience I'd highly recommend to anyone wanting somewhere a bit different to stay!
Liz
May 2016
Great stay. Very beautiful property and Walter arranged everything we needed. We went horseback riding the next morning which was wonderful.
Kesten
November 2016
We felt very much at home during our stay. Walter and his wife were available for any questions that we had. We enjoyed a lovely breakfast at the main house and enjoyed a tour of the stables. I was a little horse shy, as I had never been around horses before, but their horses were all very gentle and sweet. We will definitely be back to try out horse back riding lessons, and to enjoy their beautiful property.
Hillary
November 2016
Art des Zimmers
Privatzimmer
---
Art der Unterkunft
---
Unterkunft für
2
---
Schlafzimmer
1
McDade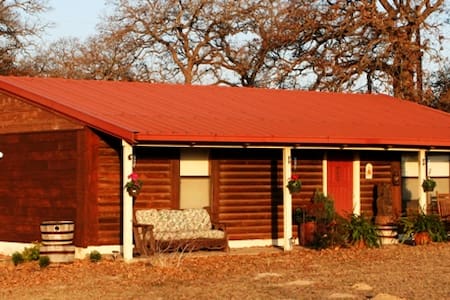 6 rooms with 2 max occupants per room at $135.00 per night per room. All 6 rooms would be $810.00 per night.[max 12 guests]
Built in 1875 as the first courtroom,,jail, and residence for Sheriff James Galloway and his family. Warmly referred to as "Ingraham Castle" by locals for St. Louis architect and designer, W. P. Ingraham. This unique and stately structure now serves as a gourmet bed and breakfast. It sets on an entire city block, gently shaded by 100 year old trees, and a gazebo, perfect for an afternoon cup of tea. There are six guest rooms (most are pillow top queen size beds) with antique furnishings, private bathes with luxurious claw foot tubs, relax with central heat and air conditioning,antique fireplace mantles and free WiFi.. Guest will be treated as royalty and served a gourmet breakfast each morning in the elegant dining room with the pleasures of fine china,and linens. As you savor the food the innkeepers will entertain you with stories of Calvert which is the third largest National Register Historic District in Texas. Be transported back to an elegant time and enjoy a true piece of Texas history. $135.00 per room per night will give them access to all common areas[formal living room, dining room etc.] and a full gourmet breakfast in the dining room the next morning. They can enjoy the 2.2 acres of park like setting and a gazebo for relaxing. We give the full history of the Castle and a tour guide book for our historic town.[3rd largest district in TX.] We will often have breakfast with our guests to tell local history and give info on local attractions.
2nd stay here. Even better this time. Breakfast is spectacular. We'll be back.
James
November 2015
The hosts were fantastic. The home has so much history and the breakfast was outstanding. We recommend it highly.
John
September 2013
Wonderful historic home carefully furnished with period pieces. Gracious hosts. Highly recommended (I'll be back in two weeks).
James
October 2015
Our host met us upon arrival and was very friendly and treated us like old friends. They were both attentive and thoughtful and made the stay most enjoyable. Our breakfast was delicious, beautiful setting, and a treat.
Jan
September 2014
Dennis and Rabecca are exceptional hosts. They were very friendly as well as knowledgeable about the town's history. The castle is beautiful inside and out. We wish we could have stayed longer.
carlos
February 2015
Rebecca met us at the door as we drove up to this stunning property. More than 2 acres of immaculately manicured grounds surrounded by stately old trees was our first impression. We were on our way to Texas A&M for graduation of our oldest grandson and barely had time to get to our room and change clothes. Like my "Mom," Rebecca had us call when we were about 15 minutes out returning from the graduation. She met us at the door and showed us to a sparkly clean, well appointed room. It was delightful. Clean soft linens, a comfortable bed, a room fit for honeymooners. We slept soundly and arose the next morning for a breakfast fit for a king. Soulfeed eggs, tender pork chop, fresh raspberries and home made scones finished off with good breakfast teas and coffees. Yum. Dennis and Rebecca made us feel so welcome. Thanks a million for a great experience. We will not only plan to return, but will share this delightful oasis with our network of friends. OUTSTANDING time. Dick Ivey, PhD Executive Director (URL HIDDEN) and The Gorgeous Redhead :)
Dick
May 2016
we were very welcomed by our hosts. we arrived late but they stayed up to greet us. while our stay was quick, we enjoyed the castle
David
October 2016
A visit here is a fascinating trip through Texas history! The hosts are a wealth of knowledge about the building's history and architecture as well as tell great stories about the town of Calvert. The 'castle' is filled with lovely antiques, yet the rooms are spacious with modern amenities. Breakfast was delicious, served in a lovely, bright dining room. This is a fun and different place to enjoy on your way to or from College Station.
Elise
November 2016
Art des Zimmers
Ganze Unterkunft
---
Art der Unterkunft
---
Unterkunft für
2
---
Schlafzimmer
6
Calvert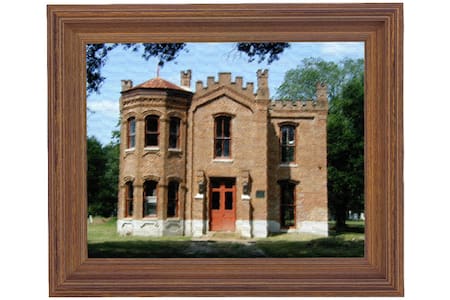 The Land of Refuge is a 4800sf, multi-use facility. 1260sf of covered porch. 22 twin beds. Full kitchen. Great lodging for sporting events, graduations, parent weekends and more! We host TEEX students too! BEDROOMS 2-6 available INDIVIDUALLY or entire facility bookings available. Contact Host.
Bedroom 1 with private bath downstairs. Bedroom 2 with private bath upstairs. Bedrooms 3-6 with shared baths (3) upstairs. Downstairs includes 1600 sf multi purpose room with full kitchen, laundry, living area and half bath. Hosts live on the property.
A country setting, calm and peaceful atmosphere and surroundings, located 15 miles west of the Texas A&M campus in Burleson County. Transportation may be available at an extra charge. Bonfire on Friday nights before Home football games. Weather permitting.
Art des Zimmers
Privatzimmer
---
Art der Unterkunft
---
Unterkunft für
4
---
Schlafzimmer
1
Caldwell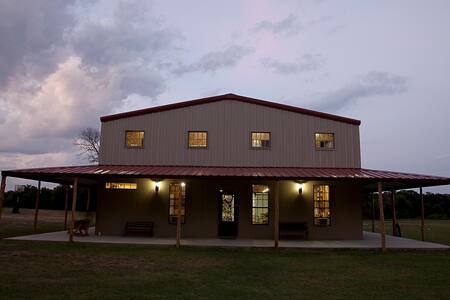 1

–

7

von

7 Bed & Breakfasts