Gib deine Reisedaten ein, um den Gesamtpreis pro Nacht zu sehen.
A modern house on the coast of Maine spectacular views of ocean and islands all the luxury and privacy you would want. surrounded by gardens and woods
The host canceled this reservation 34 days before arrival. This is an automated posting.
Verity
Incredibly beautiful house - even better than the pictures. Mary was a joy to work with.
Richard
September 2016
Art des Zimmers
Ganze Unterkunft
---
Objekttyp
Villa
---
Unterkunft für
4
---
Schlafzimmer
2
Saint George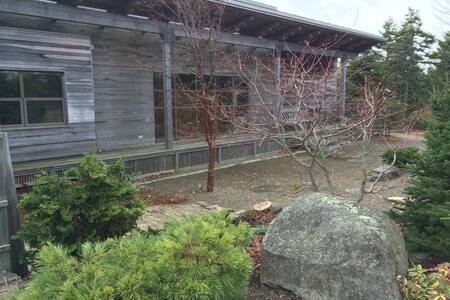 Lakefront House on Cobbossee Lake with Private Beach, Canoe. Lake views from bedrooms as well. If you are looking for an absolute quiet surrounding and beauty with unlimited privacy, this is the place. It is located on a point at the lake. The lake is 10 miles long with many islands to explore, it is well known to fishermen for bass. Bring your boat, you can dock it at the house. Bring your kayak you can launch it from the garden. As the owner lives here a great deal of the year, there are books and a large classical/jazz CD collection to be played on an impressive sound system throughout the house. Modern flat screen TV with DVD player hooked on the Dish network. Wifi throughout the house, even in the garden. Cobbossee Lake (short for Cobbosseecontee), a large 5238-acre lake in central Maine, is valued by people for fishing, swimming, boating, and wildlife. One of Maine's premier bass fishing lakes, Cobbossee Lake is also a secondary source of drinking water for Maine's capital Augusta. That probably explains why it has such pristine clean water that makes it so good for swimming!
The host canceled this reservation 182 days before arrival. This is an automated posting.
Shawn
Art des Zimmers
Ganze Unterkunft
---
Objekttyp
Villa
---
Unterkunft für
8
---
Schlafzimmer
3
West Gardiner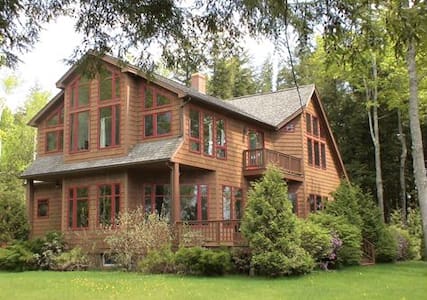 Beautiful and discreet oceanfront estate in Northeast Harbor with private pier, 5 minutes from Acadia National Park. More than 500 feet of ocean frontage and 3+ acres of lawns, woods and gardens. Sleeps 10 in 8.5 bedrooms, with 7.5 bathrooms.
PLEASE NOTE THE FOLLOWING BEFORE SENDING AN INQUIRY: Rentals of less than 7 nights are possible, but a minimum rental fee of 7 or more nights will apply, depending on the time of year. No discounts or special deals are available at any time. This is a family property, not a commercial rental venue. We are happy to welcome renters who are willing to personally commit to treating the property with care and respect. Situated on the shores of Somes Sound, overlooking Acadia National Park, this beautiful but discreet property was built as a summer 'cottage' for a wealthy Philadelphia family in the early 1920s. Well-cared for and modernized over the years, the house was inspired by the traditional architecture of the Normandy region in France and is surrounded by charming gardens and peaceful seating areas. With more than 500 feet of ocean frontage, the property has beautiful views of Somes Sound, Acadia National Park, and the mountains beyond. Inside, an effort has been made to maintain a historic 'summer cottage' atmosphere, with handmade imported French tile, cypress wood details, and hand-wrought iron fittings in ten fireplaces (2-3 available for use). Outside, you will find a private pier with three private moorings, lighted pathways to the shore, and three acres of lawns and gardens, including a reflecting pool and a water wheel fed by a brook on the eastern edge of the property. This enchanting summer 'cottage' provides an ideal family base for exploring Acadia National Park, and offers beautiful entertaining spaces overlooking the ocean. The property features a long gravel driveway, indoor garage for two cars, pier with float and three moorings, gardens, seating areas, reflecting pool, a platform for a tent or other outdoor activity, and waterwheel along a freshwater brook. To the west, there are beautiful views of the fjard, and to the east are lawns and gardens, including an apple tree that often attracts wild deer. A treehouse is perched near the garage for children. The property has a full fire and security system, with backup power supply and multiple redundant remote monitoring connections. Guests will have access to all parts of the property, with the exceptions of some closets and/or storage areas where some of the family's personal things will be stored (the areas used for storage will be discussed with each renter). Guests will have the place to themselves, with a few exceptions. We require that guests arrange for maid or cleaning service at least once a week. You are welcome to bring your own staff (there is a staff apartment over the garage) or we will be happy to set this up for you. The cost of weekly cleaning is not included in the rental fee. There is a caretaker who will visit the property about twice a week, to oversee the gardeners and lawn care workers, who are also present approximately twice a week. The caretaker is on call 24/7 and will visit the property if the fire or security system sounds an alarm. From time to time, various maintenance personnel may visit to check on the sprinkler system or other systems, or to take meter readings.
The property is set along Sargeant Drive, one of the most beautiful roads in Acadia, which runs along the rocks of the national park, overlooking the Somes Sound fjard. Most of the properties in this area are large summer homes, and the houses are located some distance apart. The closest neighbor has a house across the field, and you may hear laughter or chatter when she entertains guests. The setting is very quiet, with a soft sound of lapping waves on one side of the house, the gurgling of a brook on the other side of the house, and birdsong and wind blowing through the trees. There is some nautical activity in the fjard, and you will see sailboats, motorboats, yacht club races and other craft passing by. The island features a free national park bus system during the summer months, which enables access to most parts of the park and the island from the nearest bus stop, in the village of Northeast Harbor. Bicycles are also very common, and the hiking trails of the national park can be reached by walking for five minutes out of the driveway. We do however recommend that you have a car for shopping or coming home from dinner in the evening. As a genuine "summer cottage", the property is not designed for use during the colder months and is not insulated. It can be chilly at night, particularly in May and October. While electric heaters are available in some rooms, we recommend that you bring warm clothing for the evenings, particularly if you are visiting early or late in the season. Note that only two or three fireplaces are available for use. Also, we have taken certain steps to ensure that the restful and peaceful nature of the house is maintained; For example, we do not provide television or cable TV, and although we have the fastest Internet connection available, it is quite slow compared to the city. Wi-fi signal is available in all parts of the house.
Art des Zimmers
Ganze Unterkunft
---
Objekttyp
Villa
---
Unterkunft für
10
---
Schlafzimmer
8
Mount Desert