El ex artista loft tiene vistas del puerto de STM. Al otro lado de Miles River, es fácil caminar a Main St! Compras, cervecería, bodega, restaurantes esperan! 1er nivel LR / DR + retirada de la reina; brillante buhardilla bien iluminada cuenta con sofá-cama / King, 2 gemelos. Parrilla, cable, wi-fi, diversión! Sin mascotas.
La ubicación perfecta para caminar a la ciudad para disfrutar de todo lo que St. Michaels tiene que ofrecer, pero sin embargo, la capacidad de volver a casa y relajarse con vistas pacíficos. Este apartamento está unido a nuestra casa principal se encuentra en Riverview Terrace. Una entrada independiente en Long Lane que conduce a la sala de estar / comedor con una mesa de comedor de roble antiguo con hojas y asientos para seis. La sala de estar cuenta con un sofá que puede encubiertas para cama de matrimonio con nuevo colchón de espuma de memoria, tumbona acogedor, libros, juegos, TV por cable, reproductor de Blu-ray Disc (convenientemente escondido sobre la chimenea) y wi-fi. Escondido detrás de la entrada es un rincón con nuevo fregadero, microondas y cafetera para aperitivos sin prisa (no una cocina completa). nivel principal también cuenta con un nuevo cuarto de baño completo limpio, con ducha de cristal (con barras de apoyo), lujoso y toallas suaves. Cerca de las escaleras se dirigieron hasta el loft es un gran armario para abrigos o vestidos de fiesta que cuelgan! Máximo 4 adultos. Arriba, en el desván de los artistas, disfrutar del sol y vistas de streaming donde los propietarios anteriores, artistas locales, completaron las obras que han adornado los St. Michaels liga del arte posters por años! Ahora se ha convertido en un cuarto inteligente, cómodo con 2 nuevas camas de espuma de memoria con dos camas que se pueden juntar para hacer un rey, así como una cama de día coincidencia que también puede ser utilizado como un gemelo o hacia afuera en una cama de matrimonio. Todo con nuevos colchones y sábanas de diseño. Gran capacidad de almacenamiento en los tres cajoneras y dos mesitas de noche.
A poca distancia de St Michaels calle principal, Talbot Street, los restaurantes más cercanos son más altas calificaciones de Gina y la combinación de cerveza / bodega / destilería local en el Distrito Molino. Mucho por explorar. Este barrio es una comunidad muy unida en su mayoría de residentes a tiempo completo, por lo que esperamos que nuestros huéspedes a ser buenos vecinos, especialmente en términos de ruido y basura.
Great walkable location, very clean, and quiet. We will definitely be back. Thank you!
Jackie
2016-10-31T00:00:00Z
Jill is a fantastic host and her home is very comfortable - we all felt welcome. The space is a former artist's studio filled with light. We stayed for a girls weekend and really enjoyed the privacy, close proximity to the water for osprey and boat watching, and it was a comfortable 15 minute walk to the heart of St Michaels. Despite the rain, Long Lane Lodge provided a perfect getaway!
Buffy Michelle
2016-04-04T00:00:00Z
Cozy and cute place! Went to St. Michaels for a girls weekend. Loved that we all could spend the night in the same room! Easy to walk/drive to the town. Would definitely recommend staying here.
Ariel
2017-03-12T00:00:00Z
Jill's description of the space is spot on. Tucked away in a nice neighborhood, it's easy to get into town. The loft was extremely clean and there was plenty of space. With a small fridge and sink, we could easily make breakfast for ourselves in the morning and enjoyed sitting by the fireplace in the evening. The bedroom was full of light and the bed was comfortable. Jill and her husband were easy to get in touch with when we had a question about the keys. We would definitely stay here again if we come back!
Valerie
2016-05-12T00:00:00Z
Jill came out and met us as soon as we got there. She was very warm and welcoming, quick to respond with any questions or concerns we had, and she offered great recommendations for places to go and things to do in the area. The lodge was clean, cozy, and within walking distance of the main drag. Definitely would highly recommend and would stay again
Patricia
2016-07-04T00:00:00Z
We had a lovely stay at Long Lane Lodge which is perfectly located within walking distance of the town. A friend and I left the husbands ant home and brought both sets of our kids for a short getaway during spring break. The quiet street was perfect for sending them out on their bikes while we gathered our stuff for the day. We enjoyed window shopping on the main street and ducking in to some great eateries and coffee shops. We took advantage of some unusually warm weather and made a day trip to a beach area. Would definitely stay again. Thank you!
Cara
2016-03-25T00:00:00Z
Jill (our host) was great - extremely helpful and communicative. I had a couple of questions beforehand and she got right back to me. The place was lovely and cozy - perfect for our plan to have a mini girls' weekend getaway. Everything was exactly as promised.
Robin
2016-12-18T00:00:00Z
Beautiful home in a beautiful location. Neighbors were very friendly and welcoming too. Cant wait to go back!
Celeste
2016-09-20T00:00:00Z
Art der Unterkunft
Ganze Unterkunft
---
Objekttyp
Loft
---
Unterkunft für
6
---
Schlafzimmer
Saint Michaels, Maryland, Vereinigte Staaten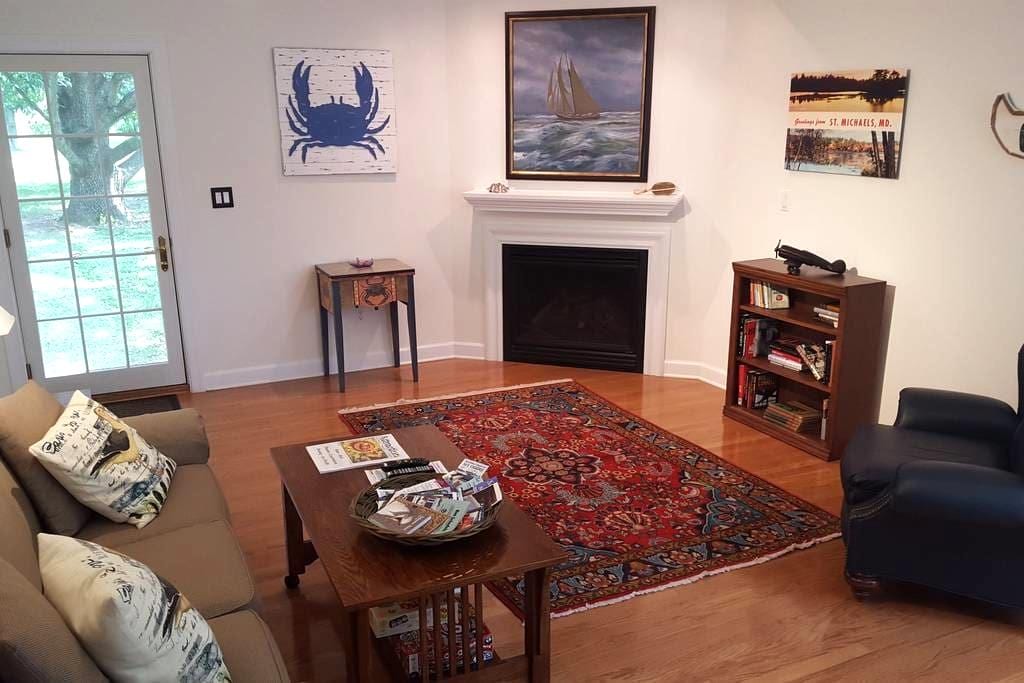 Möchten Sie das absolut beste Lage in der Innenstadt von Annapolis, MD? Übernachten Sie in unserem gemütlichen, schicken Loft mitten im Herzen der Main Street! Direkt über dem heißesten Restaurant in der Stadt, nur wenige Schritte vom Hafen entfernt, und in der Nähe alles, was Annapolis zu bieten hat.
Mitten im Herzen der Innenstadt Historic Annapolis! Wir haben die beste Lage in ganze Stadt. Wir empfehlen den Besuch Konserve, unser Restaurant im ersten Stock.
Everything was wonderful. Great location, parking worked out awesome. The loft was super homey. It had everything we needed. All the staff was super friendly too. We were two couples and a baby and it worked out great. Especially the restaurant downstairs! It was super busy at the restaurant our last night there but they were able to bring the food to our room instead and we ate at the dining table. It was truly a wonderful experience.
Stephanie
2015-11-23T00:00:00Z
Matt was super responsive. Everything about the place was exactly as described. Wonderful for our final day of a 2 month trip. Perfect really - would have loved a week there if time allowed!
Noelle
2016-08-20T00:00:00Z
The place is adorable and very cozy! Would definitely recommend staying here. Convenient to everything downtown.
Corrin
2015-06-22T00:00:00Z
Beautiful loft and perfect location! Scheduling and arrival were as easy as could be. Loved it!
Caryn
2016-08-11T00:00:00Z
The loft was amazing and Matt was a fantastic host! Will definitely be back.
Ian
2016-06-16T00:00:00Z
The location was perfect and the loft was so cute! Loved all the design on the inside and right in the action in downtown Annapolis!
Julie
2016-09-19T00:00:00Z
Location was perfect - right in the middle of downtown Annapolis and so close to all the attractions. Natalie met us promptly at the property and made us feel welcome immediately. The space was exactly as advertised and very clean. Everything was in working order. We traveled with two small children (3 y/o & 20 mos). Noise from the streets on weekend nights may be a distraction, but it's unavoidable. All in all, a very nice stay and I'd recommend this unit to anyone looking for a perfectly-located downtown Annapolis base from which to explore this beautiful town.
Brian
2015-09-21T00:00:00Z
Great loft! Annapolis was very cold for the visit, but the loft was warm the whole time. We were treated very well!
Tara
2016-02-14T00:00:00Z
Art der Unterkunft
Ganze Unterkunft
---
Objekttyp
Loft
---
Unterkunft für
4
---
Schlafzimmer
Annapolis, Maryland, Vereinigte Staaten
Gib deine Reisedaten ein, um den Gesamtpreis pro Nacht zu sehen.