Gib deine Reisedaten ein, um den Gesamtpreis pro Nacht zu sehen.
This loft is located in the historic downtown of Viseu, near the city walls. It is a building of the 19st Century fully renovated retaining its original character. It offers luxury facilities such as air conditioning, WiFi and a equipped kitechen.
Thanks for the friendly and helpful reception. Great spot, very well located, very central, i could get out and walking in the city center . The quality of the building provides exceptional comfort and the decor is spectacular . Super functional for my stay . Everything perfect. Thank you very much. Romeu
Romeu
August 2015
A estadia na Guest House do Jardim das Mães em Viseu superou as expectativas. A localização é, efectivamente, muito central, tendo permitido usufruir da cidade a pé, de uma forma muito descontraída e mais prazerosa. A decoração do espaço é muito clean, funcional e agradável. O acolhimento, as pessoas que nos recebem e acompanham a todo o momento são profissionais, disponíveis e muito empáticos. Esta escolha foi, sem dúvida, a mais certeira para um retiro que fica na memória pelos melhores motivos. Aconselho vivamente esta solução de estadia, que para mim voltarei a replicar sempre que necessário.
Joana
June 2016
Excelente apartamento. Cómodo, limpio y cuidado. Bien situado, cerca del casco antiguo. Muy recomendable.
David
November 2016
um apartamento no centro mismo da cidade, muito calmo, e con sorte tens para dejar o carro perto da porta do edificio. Joel foi um bom anfitrion e o apartamento lindisimo, pequeno mais com tudo.
Rebeca
January 2016
Casa muy acogedora y tal y como estaba descrita. Espectacular! El trato de Joel muy amable y dispuesto a ayudar y dar indicaciones. Alojamiento muy recomendable.
Yerai
March 2016
Joel was a great host. He greeted us with a friendly smile, even though we got lost and kept him waiting a half hour. He provided maps and helped us get oriented. The location is great. overall, we highly recommend it.
Corinne
September 2016
Gli appartamenti nuovi e super equipaggiati sono in pieno centro di (URL HIDDEN) mio era molto bello.ho avuto un po ' di problemi con la doccia ma subito risolti.diciamo che le comunicazioni con il proprietario prima del chek in sono un po difficili ma la ragazza che gestisce gli appartamenti e' molto gentile.
Fra
March 2016
Apartamento muito acolhedor,muito simpático e moderno. Localização perfeita mesmo no centro de Viseu,perto de tudo. Fomos muito bem recebidos pelo Joel,que nos deu logo um pequeno roteiro da cidade. Aconselho vivamente!
Helder
April 2016
Art des Zimmers
Ganze Unterkunft
---
Objekttyp
---
Unterkunft für
2
---
Schlafzimmer
1
Viseu, centro histórico
Zeer mooi huis dat nog plaats kan bieden aan grotere gezinnen. Zeer vriendelijke eigenaars. Zoon spreekt Engels doch geen Frans zoals in de info staat doch dat is maar een detail.
Francis
June 2016
Fomos magnificamente recebidos nesta casa encantadora. O anfitrião esteve sempre disponível. A casa é perfeita, muito limpa e confortável. O pequeno almoço no jardim e o jogoo de pool depois de jantar tornaram a estadia memorável. Voltaremos daqui a um ano.
António
September 2015
Fim-de-semana inesquecível! A casa é deslumbrante e encantadora, confortável, com tudo o que possa fazer falta numa casa... Ficámos com vontade de lá voltar para aproveitar o espaço exterior, quando vierem os dias mais quentes. O anfitrião foi excepcional, muito atencioso e generoso! Obrigado por tudo!
Gustavo
February 2016
Nous avons découvert un très bel appartement moderne, aménagé dans un bâtiment rustique et plein de charme, au coeur d'un petit village typique de ce coin du Portugal. Les photos étaient fidèles, quoique nous n'ayons pas compris que le jardin était partagé avec deux autres appartements voisins. Cependant, la cohabitation a été facile et l'ambiance du jardin extérieur (immense) nous a ravis au premier coup d'oeil! Nous en avons profité au maximum à la fin de nos journées de découvertes dans la région et utilisé avec plaisir le BBQ mis à notre disposition. Merci à Jorge et à Maria, sa mère.
Pierre André
August 2016
Primeiramente, fomos muito bem recebidos. A casa é tal e qual as fotos. Rústica, confortável, com um jardim com flores e duas árvores de frutos (limões e laranjas - sim dá para uma boa limonada ou sumo de laranja!). Faz parte também uma sala exterior com bilhar, lareira, uma excelente aparelhagem e bons discos … O ideal para estar com os amigos… Esta foi uma experiência 5 estrelas a todos níveis. A casa está numa zona calma e a 3 Kms do centro de São Pedro do Sul.
André
February 2016
Adorámos a nossa estadia em Fataunços. O Jorge foi um anfitrião 5 estrelas, atento e disponível ! A casa é maravilhosa, vamos voltar! Obrigada pelo delicioso vinho e por nos ter tratado tão bem.
Helena
February 2016
Excelente hospitalidade e localização! A vila de Vouzela é a 5 minutos de carro, e a 10 minutos de São Pedro do Sul, a casa em que ficámos hospedados está em excelentes condições e valeu também por ser permitido levar os amigos de 4 patas. O sr. Jorge é super simpático e mostrou-se sempre disponível para qualquer questão. Recomendado!
Filipe
July 2016
A casa é tal e qual aparece nas fotos. Limpa e acolhedora. Fomos muito bem recebidos pelo Sr. Jorge. Aconselhamos vivamente!
Vadym
December 2016
Art des Zimmers
Ganze Unterkunft
---
Objekttyp
---
Unterkunft für
4
---
Schlafzimmer
1
Fataunços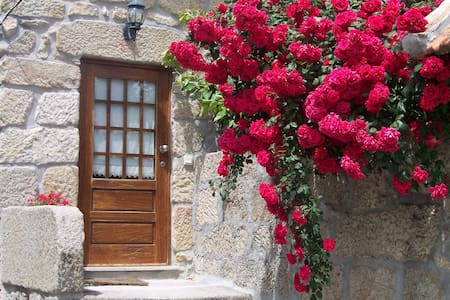 Modern loft in a building of XIX century and recovered in downtown of Viseu, joined the historical wall. You encounter a well equipped kitchen, a rest area and bed area, completed with the private and exclusive toillette.
Je n'ai que des compliments pour Joel, reception très correct, disponibilité, service, gentilesse...bref un Monsieur très près de ces hôtes. En plus un sevice de chambre au top, un équipement hors du commun, vraiment un vrai rapport qualté prix comme on aimerais trouver partout.
Yotam
October 2015
Um espaço agradável e moderno, bem no centro da cidade com fácil ida a pé ao centro histórico. Recomendo a quem quer conhecer melhor a cidade.
Jessica
December 2016
Het appartement van Joël was precies zoals op de foto: klein, verzorgd, schoon en lekker ruikend. Fijn! Op loopafstand van het oude centrum waar we heerlijk hebben gegeten, en waar we hebben genoten van openlucht concerten. De kamer voelde haast aan als was het van een hotel, met bed opmaken, vervangen van handdoeken en een bonbon bij thuiskomst op ons wachtend. Leuke verrassing!
Wietske
August 2016
Alojamento ideal para quem pretende conhecer o centro de Viseu, localizado mesmo no coração da (URL HIDDEN) uma decoração muito moderna, não deixa de ser extremamente confortável. O Joel foi um óptimo anfitrião e esteve sempre disponível quando necessário. Apesar da centralidade do apartamento não se ouve barulho do exterior durante a noite, boa insonorização. 5*, recomendo vivamente.
Nuno
August 2015
The apartment was just as advertised. Small, clean, and in a central location in Viseu. Joel was very helpful - he pointed out some great restaurants nearby, including one incredible and cheap bakery nearby for breakfast. Thanks Joel!
Steven
June 2016
Joel's place was a great find in the beautiful romantic city of Viseu. It was central to everything and his staffer was amazing when we arrived - she checked us in and made sure that we were settled. It was a great place to rest our feet with an adorable roomy living room and balcony. The original place we wanted to book was taken but Joel accommodated us with another rental that I think was just as ideal. Staying at his rental was one of the best decisions - it was central to everything, walkable to cute restaurants, cafes and shopping areas and was ideal when meeting up with friends (very close to the gorgeous fountains in the town square). We were also pleasantly surprised that out of the first 5 days being in Portugal, we finally saw other American tourists! It was nice! The only thing was parking was hard, but I've found that its difficult in most cities to find places to squeeze your car in Portugal. But it didn't dishearten us, we still enjoyed our stay and plan on coming to visit again in the future. Maybe we'll be lucky to stay at Joel's again. Joel was also a great communicator, making sure we had all the information we needed and answered all of my random questions. Great host.
Megumi
November 2016
Moderno apartamento en una zona tranquila del centro de Viseu, pero cerca de la zona de restaurantes/bares. Buen diseño, buena limpieza, host muy amable. Para repetir.
Delia
July 2016
We only stayed at Joels for 2 nights but what an amazing place..the position was divine..right in the old part of Visue. .opposite a beautiful park..walking distance to all you need...shops bars..food...a stunning location. Joel was always available and helpful. The stairs to loft bed were very different, so be careful..the room fits 2 very comfortably. There were snacks left that you could purchase...plus a lovely bottle of complimentary wine....a lovely modern space but still with character and charm. There were clean towels left the next day..amazing..xxxx Joels place was beautiful ..clean..very organised and professional. I wish we could have stayed longer... Obrigado. .
debbie
May 2016
Art des Zimmers
Ganze Unterkunft
---
Objekttyp
---
Unterkunft für
2
---
Schlafzimmer
1
Viseu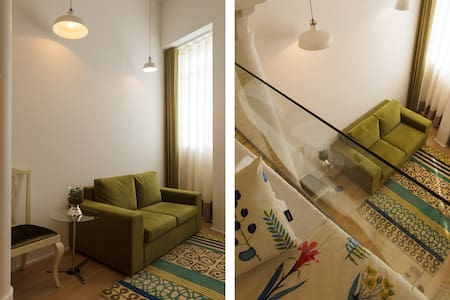 Wir hatten eine wunderbare Übernachtung bei Dulce in diesem modernen "Vogelhäuschen" mitten in der Natur am Fluss. Dulce ließ es sich nicht nehmen, selbst von Porto anzureisen, um uns zu begrüßen. Alles war liebevoll vorbereitet, der Kühlschrank für ein wunderbares Frühstück gefüllt - morgens wurden uns frische Brötchen an die Tür gehängt. Dulce versorgte uns mit vielen guten Ausflugstipps die wir leider aufgrund der Kürze des Aufenthalts nicht alle ausprobieren konnten. Der Platz ist ideal für Naturliebhaber und Leute, die abseits vom Trubel Urlaub machen möchten - das Örtchen hat nur 22 Einwohner. Wir haben sehr schöne Erinnerungen an Espiunca!
andrea
March 2015
Nous avons passé un merveilleux séjour à Espiunca, le logement est lumineux, propre et bien équipé. Les paysages sont très beaux et les activités ne manquent pas !
Ilyass
November 2016
What a wonderful place! The house is one of the best places we stayed in Portugal, surrounded by trees and a beautiful river - I would definitely recommend staying here!
Olivia
June 2015
Dulce is a nice and great host who welcomed us in person in Espiunca. She explained us everything and gave us many proposals what to do during our stay. The house is very lovely, situated in a small village. You have several hiking oportunities and in the evening you can take a bath in the small river. Our stay was great and we felt very comfortable surrounded by nature. So we hope to come back.
Johannes
July 2015
Casa muito confortável e moderna, mas num ambiente bem tradicional. Chegamos mais tarde do que o previsto, mas Dulce recebeu-nos muito bem. É o local perfeito para explorar a região e ponto de partida e chegada para os Passadiços do Paiva. A repetir e a aconselhar aos amigos!
Rui
August 2015
Art des Zimmers
Ganze Unterkunft
---
Objekttyp
---
Unterkunft für
2
---
Schlafzimmer
0
Espiunca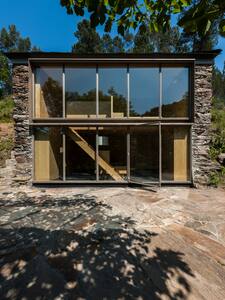 Um pedaço de céu na Terra! Um verdadeiro paraíso! O Nuno foi muito simpático e disponível. Tem umas cascatas naturais lindíssimas a 5min a pé. Para descansar... Rejuvenesce-nos estar em contacto com a natureza desta forma... Sem dúvida para repetir!!
Liliana
August 2016
Un endroit paradisiaque !
Marianne
July 2016
Claudia a été une hôte très professionnelle, et accueillante, on sait tout de suite senti à l'aise. Le lieux est magnifique et au calme , c'est ce que l'on recherchait. Nous avons pu profiter de la piscine ! Le seul "hic" : la connexion internet .
Leila
August 2016
The host canceled this reservation the day before arrival. This is an automated posting.
alain
First of all: the location is fantastic. Private estate on the riverbank of a tributary of the river Douro with a marvelous view on the steep uprising shores. We swam in the river (very clean fresh water) as well as in the large swimming pool situated on 50 m from the 'Steel House'. The Steel House itself is small but sufficiently for 4 persons, with a clever use of the space and a modern feel. Good airco as well! The owner speaks good English and is very welcoming. On the day of our arrival, he gave us (family with two daughters (16 and 18)) a wonderful reception: he took us on a jetski ride over the Douro lake to an elegant nearby hotel runned by his friendly wife. And even more: he gave our daughters their first waterski lessons! The owners do not live permanently on the estate. During our stay half of the time we were the only residents on the spot. All in all: definitely a place to return to!
Marco
August 2016
Art des Zimmers
Privatzimmer
---
Objekttyp
---
Unterkunft für
4
---
Schlafzimmer
1
Ribadouro