Gib deine Reisedaten ein, um den Gesamtpreis pro Nacht zu sehen.
Bright studio with seperate entrance via terrace in green surroundings. Parking and public transport connections. Located in the beautiful alpine scenery of Grisons. In the mood for hiking, biking, skiing or cultural attractions? You will love it!
Loft in new building with parquet floor, separate bathroom with shower, open kitchen, big fridge, floor heating and wood stove. Additional beds by arrangement. Breakfast by arrangement. Private appartment, garage (for bikes, skis and shoes), washing machine. Further kitchen aquippement by arrangement. I like to answer your questions personally.
Village with old core close to nature and surrounded by alpine and rural landscape with spectacular view. The region offers many touristic activities and cultural highlights. We can give you detailed informations about hike, ski resort, regional castles, Albula train (Unesco World Heritage), Via Mala, a.s.o. Our location is connected to the international train system and local transport system (bus and train), also to the traffic axis north-south (Germany - Italy). You should know, that our local church is near by (bells) and we have some pets at home. Families and musicians are welcome.
Die Gegend war sehr schoen,man hat die Berge der Alpen gut gesehen und natuerlich war auch die Luft sehr frisch. Eine sehr nette und herzhafte Gastgeberin. Die DG-Wohnung ist sehr schoen und sauber. Hat einen Kamin woran wir wirklich spass hatten. Wir wuerden,wenn wir wieder die Gelegenheit haben, nochmal die Wohnung besuchen.
bokjung
November 2015
Wir haben 2 Nächte bei Ursula verbracht und haben uns pudelwohl gefühlt! Die Wohnung ist tip top, exakt so wie im Text beschrieben und auf den Bildern zu sehen! Es ist alles notwendige (und noch viel mehr) vorhanden! Ursula ist eine super nette und hilfsbereite Gastgeberin! Wir kommen gerne wieder!
Martin
October 2015
Dieser Kurztrip war perfekt! Wir haben schon viele Ferienwohnungen besuchen und deren Gastgeber kennenlernen dürfen. Aber kein Gastgerber und keine Gastgeberin war so aufmerksam und gastfreundlich wie Ursula. Dafür möchten wir noch einmal von ganzem Herzen danken! Die Wohnung ist sehr hübsch mit vielen kleinen Details eingerichtet und es mangelt an nichts. Sollte doch mal etwas fehlen, hilft Ursula sicher gern aus. Der Ausblick aus dem leider etwas klein gerateten Fenster (einziges Manko der Wohnung) ist wunderschön - Die ganze Gegend um Cazis ist wunderschön und Ursula kennt sich unheimlich gut aus und nimmt sich alle Zeit, um ihr Wissen und ihre Erfahrungen weiterzugeben. Wir können diese Unterkunft wärmstens empfehlen und kommen sicher einmal wieder!
Madeleine
October 2015
Vielen Dank, liebe Ursula, für die ausgezeichnete Unterkunft bei dir in Cazis. Ich verbrachte dort mit meinen vier Kindern eine Woche Skiferien und wir fühlten uns in der sehr schön und geschmackvoll augebauten Loft sehr wohl! Auch die Platzverhältnisse und die Ausstattung war absolut ausreichend und Ursula zeichnete sich als unkomplizierte und fürsorgliche Gastgeberin aus!
Nadia
February 2016
Freue dich auf einen Aufenthalt bei Ursula in Cazis. Diese Unterkunft hat sehr viel Charme und ist super ausgestattet.
Nadia
March 2017
Ursula ist eine herzliche Gastgeberin, welche sich stets bemüht. Der Aufenthalt war von Beginn bis zum Schluss sehr angenehm. Gerne werde ich auch künftig dort übernachten. Ich kann mit gutem gewissen empfehlen, in dieser gemütlichen Dachwohnung zu hausen. Herzlichen Dank für diese schöne Zeit! Liebe Grüsse
Bojan
September 2015
My stay at the loft was fantastic! From a location perspective, it was perfectly placed between 3 great ski resorts; Davos, St Moritz, and Laax. I had a car so it was easy to drive to each. And Ursula, my host was amazingly helpful and warm. She eve invited me over one night to have some amazing Belgian beer with her and her husband. I couldn't have asked for a better AirBnB stay!
Phuong
February 2016
The host canceled this reservation 52 days before arrival. This is an automated posting.
Darja
Art des Zimmers
Ganze Unterkunft
---
Objekttyp
Loft
---
Unterkunft für
2
---
Schlafzimmer
0
Cazis
Brand new loft of almost 50mq. A spacious open-space, composed of en equipped kitchen with an island where you can eat, a tv area with a futon, a relaxing area with a sofa, a desk and an ottoman that folds out into a bed, and finally a mezzanine with a king bed. There is a bathroom with a shower, a toilet, and a sink. Completely independent entrance from the outside. It is placed on the ground floor of a very quiet villa surrounded by a big garden.
Open-plan kitchen, fully equipped with an oven, a microwave, and a dish washer. Italian or American coffee maker, toaster, and all the necessary goods to cook, free to use. Available are: a private car park, a very spacious garden with a pond, an area to eat outside during summer time, an outside table and chairs for those who want to smoke. we live in the same villa so we are always happy to help.
The entrance of the house is from the provincial road. Sentiero Valtellina with a cycle lane 100 meters away. City of Sondrio 1 km far (4 mins drive). Golf court (18 holes) and club of Caiolo 2 km away. Caiolo airport 2 km far. Chiesa in Valmalenco ski slopes 20 mins by car far away. Aprica ski slopes, 30 mins by car far away. If you want to have a walk around, Sondrio city is 20 mins on foot far away. Bicycles are available to rent in Sentiero Valtellina. Lots of mountains are in the area. Nel caso in cui gli ospiti avessero bambini, su richiesta metteremo a disposizione tutto il necessario. I bambini sotto i 5 anni non vengono calcolati come persona aggiuntiva, quindi non pagano (va però scritto nella richiesta). La casa è circondata da un ampio giardino con recinzione e cancello. Nella casa ci sono 2 cani di razza boxer.
I proprietari sono stati gentilissimi e disponibili, la casa è molto bella e accogliente, non abbiamo avuto nulla di cui lamentarci e ci è quasi dispiaciuto andare via!
Marco
January 2017
Art des Zimmers
Ganze Unterkunft
---
Objekttyp
Loft
---
Unterkunft für
4
---
Schlafzimmer
1
Albosaggia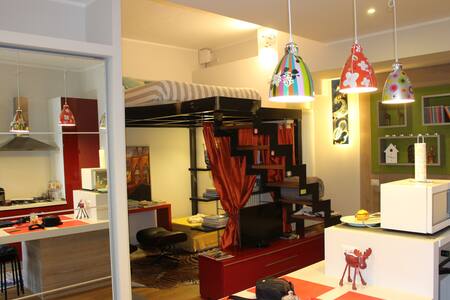 Huge apartment to rent in the Italian Alps,Chiesa in Valmalenco, ski resort, and only 120 km from Milano (one hour by car/train) The flat has:one kitchen,living room, 3 rooms, one bathroom and a 150 mq terrace. It can accomodate a maximum of 13/14 people.
The flat is very big -100 mq plus 150 mq of terrace where you can make a bbq or lay and enjoy the sunlight, fresh air and the Alps view. If needed I can help with any issue or advise.
It is nice, friendly and quiet. It is available parking and also means of transport the bus. The flat is situated 100 mq from the biggest cable car in the Europe "Snow Eagle", spa, swimming pool, sport campus,bar, restaurants,shops, park and 8 minutes walking from the city center.
Abbiamo avuto la "fortuna" di soggiornare in questo appartamento per una sola notte e l'esperienza ci è ampiamente bastata. L'appartamento si presenta mal tenuto, sommariamente pulito, vecchio e presentato agli ospiti senza la benché minima manutenzione. È perciò totalmente inadatto a essere affittato e presentato su Airbnb, al limite della truffa. Alcuni esempi: le manopole della cucina a gas rimangono in mano (non ci siamo fidati di cucinare alcunché), le pentole e le padelle sono sporche, la vasca da bagno è completamente incrostata, la doccia è protetta da una tenda che si ferma a 40 cm da terra ed è sorretta da un filo di ferro, ci sono vistose crepe lungo i muri e sul pavimento (in particolare nel bagno), le persiane non si chiudono, il boiler perde acqua, le prese elettriche funzionano solo parzialmente, mentre la televisione è lì solo di bellezza (e in effetti sul sito non è elencata tra le dotazioni della casa). Tratto a parte la questione del riscaldamento. La casa non è riscaldata da termosifoni ma sono presenti una stufa a legna e un camino nella zona giorno nonché una stufetta elettrica e dei radiatori elettrici portatili nella zona notte (questi apparecchi elettrici tuttavia non possono essere accesi contemporaneamente per ovvie ragioni di potenza). I proprietari hanno fatto presente la situazione fin dai primi contatti, per cui almeno questo non è un giudizio negativo bensì una semplice constatazione: siate preparati! Riscaldare le camere è una missione impossibile, mentre riscaldare il soggiorno risulta più semplice a patto di accendere contemporaneamente camino e stufa e ovviamente caricarli costantemente di legna (che il proprietario fornisce in abbondanza). Ad aggiungere ulteriore difficoltà è la presenza di spifferi in ogni dove, persino dalla porta di ingresso alla casa (che non chiude perfettamente). Insomma, non si pretende il residence extra lusso, ma un po' di onestà da parte dei proprietari sì! Questo appartamento, lasciato cadere a pezzi, non può essere messo in affitto su Airbnb poiché non consente in alcun modo di essere abitato.
Ettore
February 2017
The host canceled this reservation 13 days before arrival. This is an automated posting.
Tommaso
Art des Zimmers
Ganze Unterkunft
---
Objekttyp
Loft
---
Unterkunft für
14
---
Schlafzimmer
4
Chiesa In Valmalenco