An excellent T1 completely refurbished, integrated in the Solar Maceira
Casa maravilhosa e acolhedora com uma paisagem lindíssima. Os hospedeiros são simpáticos respondendo prontamente a qualquer solicitação. A cozinha deveria estar mais equipada de pequenos electrodomésticos e utensílios.
Tânia
2017-01-21T00:00:00Z
Very beautifull house, with a great view. It's in a very relaxing and quiet place, loved it.
Ruben
2017-02-15T00:00:00Z
Um local muito tranquilo e aconchegante, fomos muito bem recebidos.
Daniel
2016-12-30T00:00:00Z
It was a great time, the house is perfect for a couple with a small children like us.
Rodrigo
2016-04-26T00:00:00Z
Estadia confortável, tudo arrumado e limpo, com bom aquecimento. Parque privado para o automóvel, e a 2 minutos do centro da cidade. Excelente escolha para quem necessitar ficar uns dias em Seia e ir visitar a Serra da Estrela.
Ricardo
2017-01-29T00:00:00Z
Casa muito acolhedora, com uma arquitectura muito gira e muito perto do centro de Seia. Os anfitriões muito simpaticos, a casa muito limpa e com todo necessário. Recomendo. Gostei muito.
mafalda
2017-02-26T00:00:00Z
We really enjoyed this place. It is close to Seia and to the main sightseeing spots at Serra da Estrela. The house was perfect for 2 people, very clean, and with all things necessary for a long weekend. Sr. Borges and D. Jeronima were really sweet and very helpful.
Ana Catarina
2017-02-17T00:00:00Z
O local estava impecavelmente limpo e arrumado. Contudo era um pouco frio apesar de ter aquecimento central e a cozinha precisa de mais alguns acessórios, mas de resto é uma experiência a ser repetida.
Mariana
2016-12-26T00:00:00Z
Art der Unterkunft
Ganze Unterkunft
---
Objekttyp
Villa
---
Unterkunft für
3
---
Schlafzimmer
Maceira, Guarda, Portugal
Willkommen im Hause der Eichen. Landhaus mit großem Dachboden, geräumig, bestehend aus einem modernen T0 in "open space" mit einem raffinierten Dekor und inspiriert von lokalen Traditionen. Schlafmöglichkeiten für 3-4 Personen. Es hat auch Zugang zu Speisekammer / Küche mit Mikrowelle. Das Haus liegt in einem ruhigen Ort, 10 Minuten von der Stadt Seia, 25 Minuten vom Turm entfernt. Es gibt Tiere, Katze, Hühner, manchmal die fünfte schlich. Ideal für Paare mit Kindern. Preis pro Paar.
Landschaft mit Feldern und Straße, einen guten Zugang.
A D. Virgina recebeu a minha família com uma simpatia e simplicidade que cativou. O espaço correspondeu ao descrito e, apesar da noite fria, o aquecimento central proporcionou um ambiente bem acolhedor. Bem haja.
Carina
2017-02-19T00:00:00Z
Art der Unterkunft
Ganze Unterkunft
---
Objekttyp
Villa
---
Unterkunft für
4
---
Schlafzimmer
Sameice, Guarda, Portugal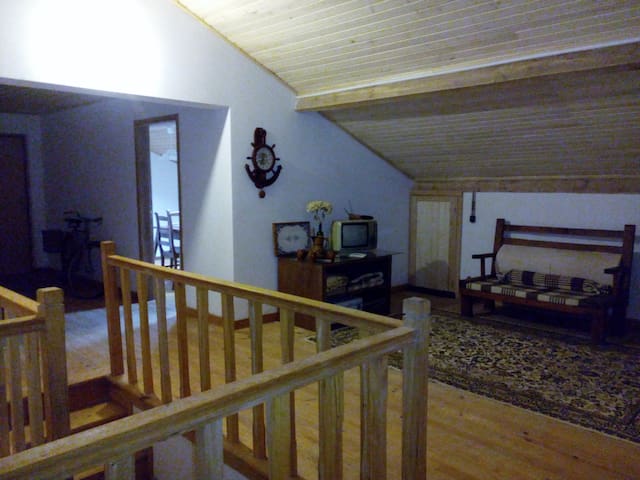 Its strength is rural tourism? Come to our house! We are situated on the outskirts of the city of Seia where gastronomy and heritage are immense to know! Wake up to the sound of birds and enjoy a breakfast typically serrano one of the local establishments. Make a family holiday in the company of their pets, which we will be happy to receive! For more information, please feel free to contact us, terms will be happy to answer your questions!
Week Low season (1-3 persons) - 200 € Week Low season (4-6 persons) - 250 € Week High Season (1-3 people) - € 320 Week High Season (4-6 people) - € 420 Constructed from an old barn, this house typical mountain has every comfort to welcome you! The house has two floors (one entirely in stone and the other in conventional construction) and a very own charm, which makes it unique and a different experience. Enjoy the terrace with lawn, an excellent choice for the summer, where you can barbecue and enjoy the warm nights of the interior!
It is a very quiet and with an aging population bastane village at that strives for peace and silence.
Art der Unterkunft
Ganze Unterkunft
---
Objekttyp
Villa
---
Unterkunft für
6
---
Schlafzimmer
São Romão, Guarda, Portugal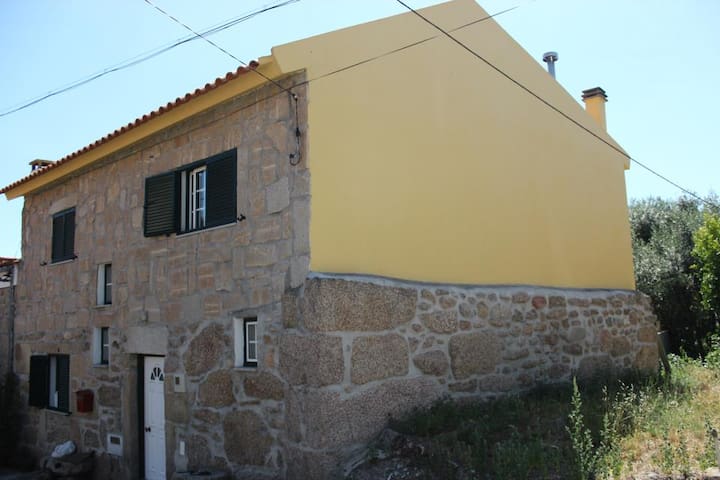 Unser Landhaus verfügt über zwei Schlafzimmer mit Mezzanine. Offener Wohnzimmer in die Küche mit Zentralheizung, mit rustikalen Holzofen und TV. Die Küche ist mit einem Cerankochfeld, Backofen mit Mikrowelle. Es verfügt über ein Badezimmer auf jeder Etage.
Unser Landhaus befindet sich in einem Serra da Estrela Naturschutzgebiet gelegen, die Berge und die Landschaft mit Blick auf, in der Nähe der Ortschaft Santa Comba de Seia. Das Haus verfügt über zwei Schlafzimmer mit Mezzanine. Offener Wohnzimmer in die Küche mit Zentralheizung, mit rustikalen Holzofen und TV. Die Küche ist mit einem Cerankochfeld, Backofen und Mikrowelle. Es hat auch ein Badezimmer, ein jeder Etage mit einem Kombikessel ausgestattet. Lameira Cottage ist 30 Minuten von der Spitze der Serra da Estrela, wo Sie die Schönheit von Portugal höchste Gebirge genießen können. In der nächsten Stadt, Seia ist es möglich, das Museum für Brot, das Spielzeugmuseum und das Interpretationszentrum der Serra da Estrela, CISE zu besuchen. Wir haben einige Fahrräder zu mieten und wir können Führungen zu sehr günstigen Preisen auf den Berg zu organisieren. AUSSEN / Radical Aktivitäten: Trekking, Radfahren, Mountain Bike, Reiten, Touren zu den nächsten Fluss Strände entlang der Ufer von Alva, Mondego und Zêzere Flüsse. Reiten, abhängig von der Verfügbarkeit des lokalen Reitzentrum. Öffentliche Verkehrsmittel Info: Die nächste Bushaltestelle befindet sich in Seia, 3 km von der Hütte und der nächste Bahnhof ist Nelas 21 km von der Hütte. Sonstiges: Probieren Sie die traditionelle und köstliche lokale Küche; Besuche in den lokalen Käsereien. Kommen die friedliche Landschaft auf dieser natürlichen Umgebung zu genießen, während sie mit den schönsten Blick auf den Sonnenuntergang um einen schönen Kamin.
Die Unterkunft ist ein Traum! Ein ganzes Häuschen nur für uns alleine, daneben ein Weinberg. So konnten wir den Blutmond sehr schön sehen. Die Ausstattung des Hauses ist modern, an Küchengerätej ist alles was man braucht. Cristina kam und brachte uns leckeren Käse und Brot. Das Treffen und die Übergabe des Schlüssels waren unkompliziert. Wer ein ruhige Plätzchen nähe des Nationalparks Estrela sucht, ist hier genau richtig. Absolute Empfehlung!
Katja
2015-09-30T00:00:00Z
O Retiro da Lameira é sem dúvida o lugar perfeito para relaxar e desfrutar da natureza. Passamos dois dias e foi sempre bom voltar ao fim do dia, preparar o jantar e relaxar junto da lareira. A casa é muito acolhedora e oferece tudo aquilo que necessitamos. Conseguimos encontrar neve no topo da Serra da Estrela e ainda visitamos pequenas vilas nas redondezas. Acredito que este é um lugar muito bom para visitar também durante o Verão. Já recomendei aos meus amigos e gostaria de voltar. Retreat of Lameira is a perfect place to relax and enjoy all the nature environment. The house is cozy with all facilities. We spent two days and it was so good to come back at the end of the day, prepare some meal and relax next to the fire place. We found snow at Serra da Estrela and we visited small villages around. I believe this is also an amazing place to go during the summer. I already recommended among my friends and i would like to come back.
Ana Fernanda
2014-11-30T00:00:00Z
We had a great time at Retreat of Lameiro, Cristina and Luis were very nice and helpfull to us. Every day they bring us some wood for the fire and a really good bread with tipical cheese and jam for breakfast. The house is very isolated, nice to take a break from the city, and closed to Serra da Estrela. The best way to have rest with a nice environment. We recomend to all the nature lovers !
João & Anne
2013-12-29T00:00:00Z
The host canceled this reservation 9 days before arrival. This is an automated posting.
Denis
2015-07-31T00:00:00Z
Cristina and Luiz were incredible hosts and their home is absolutely stunning with detailed craftsmanship in every corner and beautiful artwork adorning every wall, while also providing a truly authentic country home experience as one can have, while still maintaining the highest standards of comfort---it was extremely cozy to be in. The hosts are also extremely kind people with interesting life perspectives---Luiz is even an accomplished surrealist painter, and we even had the privilege to see his studio. They even left us a delicious meal with local cheese bread and pumpkin jam. The WiFi also worked spectacularly which was at first surprising given the remote location. We absolutely recommend any one to stay in this beautiful home with truly breathtaking views and deeply welcoming hosts.
Leonid
2016-04-06T00:00:00Z
Cristina and her family were so incredibly welcoming and accommodating! We arrived in Santa Comba a bit early and her husband, daughter, and dog came out to meet us. Cristina arrived shortly after with fresh baked bread, pumpkin jam/jelly, some amazing sheep milk cheese, and a few other basics. Their Retreat of Lameira was immaculate - beautifully updated, furnished, and kept. The wood beams and shutters made the house feel so cozy and the views in every direction were serene. My husband and I greatly enjoyed our time eating meals on the patio and looking out into the fields.
Adina
2014-09-09T00:00:00Z
The retreat of Lameira is a real treat! It is wonderfully quiet in the middle of fields and olive trees. The house is very comfortable, very clean and pleasant. Cristina and Luiz are attentive and kind hosts who tried to help us in all possible ways. They answered our questions, made suggestions and gave us information about many things. It was really nice, the contact with them. We are enthousiast about our stay in their house and hope to come again.
Els
2016-08-16T00:00:00Z
Amazing place with amazing hosts! This was truly a lovely experience, from the welcoming (we were really late and Cristina and her husband had such a patience) to the fireplace, the breakfast, everything was awesome. I recommend this place to nature enthusiasts because it s in fact a countryside property. Nonetheless, it has all the comfort you can imagine. Just the fireplace was really good to have while raining outside. I will definitely come back here.
Jenifer
2014-01-06T00:00:00Z
Art der Unterkunft
Ganze Unterkunft
---
Objekttyp
Villa
---
Unterkunft für
7
---
Schlafzimmer
Santa Comba de Seia, Serra da Estrela, Portugal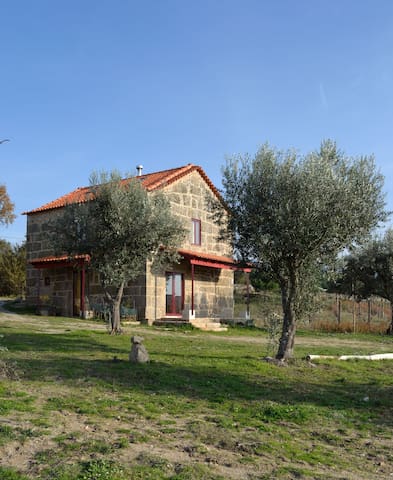 In the Serra da Estrela, about 2 km from the city of Seia, where in remote time have been a castro, we find the Quinta do Crestelo. Comprising 18 ha, it extends by a green valley bordered by populated slopes of oak woods where three rivers meander and bounded to the west where the sun sets through the forest of pine trees. Currently the Quinta do Crestelo farm consists of 29 apartments, outdoor equipment, agricultural area, surrounding green area and eating area and events.
It was careful recovery target, maintaining its original character, and volume U and the existing patio. It opened in 1995, only to shed Apartment Hotel. In the lowland downstream by high fertility farming is being retrieved and resumed breeding. As for kills this has also been maintained and today is harnessed for sustainable forestry activity. It does not seem that we are surrounded by urban areas, though small in one of the slopes of the Serra da Estrela. The T1 apartment has, on the ground floor has a living room with kitchenette, fireplace, 2 sofas, cable TV. On the 1st floor there is a bedroom with 2 single beds and a full bathroom.
Near this area there is a supermarket, gas station, laundry, Payshop, MB (Multibanco /visa).
Art der Unterkunft
Ganze Unterkunft
---
Objekttyp
Villa
---
Unterkunft für
4
---
Schlafzimmer
Seia, Guarda, Portugal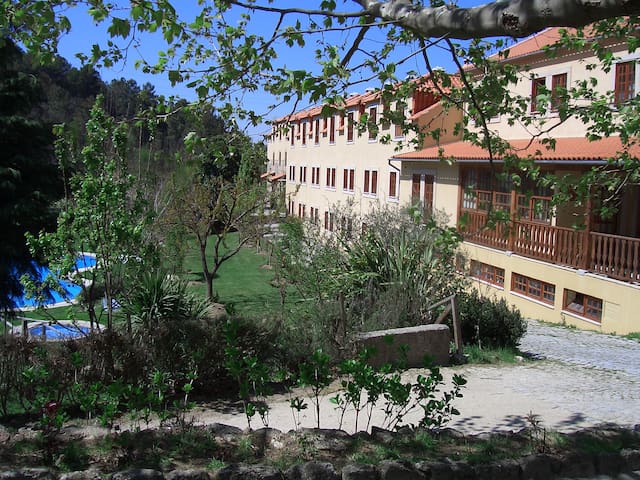 Das Haus von Soito befindet sich in der Serra da Estrela Naturpark, in der Lapa Moneys, einem echten Bergdorf. Das Haus steht vor der schönen Landschaft und ist ideal für Familienaktivitäten: Schnee und Skifahren im Winter, Fluss Strand Lapa von Geldern im Sommer, Wanderungen, Autofahrten. Sie werden das Haus lieben, weil es modern und komfortabel ist. Mein Platz ist gut für Paare, Solo-Abenteuer und Familien mit Kindern. Seia ist 10 Minuten mit dem Auto.
Das Haus von Soito ist eine Zuflucht auf einem Bergdorf mit herrlichem Blick auf die Berge und Täler rund um den Hängen der Serra da Estrela.
Lapa dos Dinheiros ist ein typisches Bergdorf von Ackerland und Wald von Kastanienbäumen umgeben. Es verfügt über einen Fluss Strand und viele Wanderwege. Es wird in der Großen Straße der Historische Dörfer von Piódão und Linhares entfernt.
The host canceled this reservation 86 days before arrival. This is an automated posting.
Ana
2016-12-01T00:00:00Z
Art der Unterkunft
Ganze Unterkunft
---
Objekttyp
Villa
---
Unterkunft für
6
---
Schlafzimmer
Lapa dos Dinheiros, Guarda, Portugal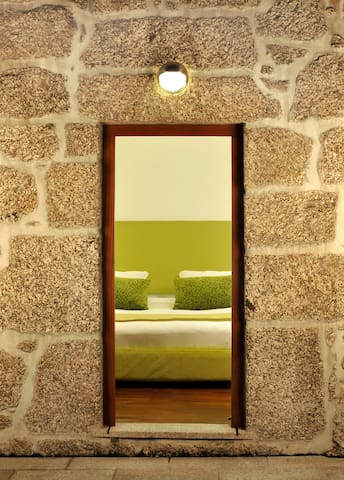 Casa do Burro ein gemütliches Landhaus und gehört zu Casa Grande. Auf der ersten Etage befindet sich das Wohnzimmer mit Kochraum. Im Winter finden Sie den Kamin genießen. Schlafzimmer und Bad sind im Erdgeschoss. Bitte machen Sie Ihre Einkäufe vor der Ankunft.
Um Casa Grande gehört ein paradiesischer Garten, in dem Sie ganz einfach entspannen können. Sie können schöne Blumen, ganz und privaten Orten, frisches Gemüse und viele verschiedene Bäume und ihre Früchte (Aprikosen, Pflaumen, appel, Birne, Feigen) genießen. Es gibt auch einen schönen Pavillon Sie für Ihre Zwecke verwenden können (Yoga, Meditation, Tanz, Workshops ...). Im Olivenhain können Sie visite auch eine Schmiede-Museum und dem römischen Meilenstein in der Region.
Margarida was the perfect host, very kind and helped us with information about activities and restaurants. She reacted super flexible to our extra wishes. The apartment was cozy, quiet and set in a beautiful garden with olive trees and hammocks.
Annette
2016-10-17T00:00:00Z
Margarida was a great host, offering help and information and the place is really special. It is a traditional big main house with a large garden. You sleep in side houses where the employees stayed in the last centuries. The inside is completely renewed and at a very good standard. We felt like we were time-traveling with all the amenities of the modern day era. If you are traveling through Portugal and you want to experience something unique and still comfortable, we strongly recommend staying at Margarida. We only stayed two days and did a car tour through the Sierra and this place is the perfect starting point for that as well as for hiking tours.
Christoph
2016-09-26T00:00:00Z
Margarida, it was a wonderful stay ! Thank you very much for your welcoming. The place is a little paradise, it's very peaceful. There were lot of hiking to do with beautiful landscapes. I recommend this place and this host.
Mégane
2016-08-20T00:00:00Z
Wow, what an amazing stay! Thank you very much Margarida. I miss already your garden and all your helpfull ideas. I will come back. Margarida ist eine sehr warmherzige und zuvorkommende Gastgeberin. Sie offerierte mir Salat und Zucchetti aus dem eigenen Garten und am Pflaumenbaum durfte ich mich bedienen. Es war sogar möglich mit ihr eine Yoga-stunde zu besuchen. Für meinen Abreisetag konnte sie mir einen Platz in einer geführten Wanderung zum Vale do Rossim organisieren. Auch durfte ich versuchen, an ihrem antiken Webstuhl zu weben. Leider war meine weitere Reise schon geplant. Margarida hätte noch soviele spannende Ideen gehabt. Im liebevoll gepflegten Garten lässt es sich herrlich entspannen. Man findet zu jeder Tageszeit ein gemütliches Plätzchen im Schatten. Der Sonnenuntergang zum Abendessen im Garten und der anschliessende Sternenhimmel unschlagbar! Die alten Steinmauern kühlten die Räume angenehm und so kann man sich ohne Klimaanlage gut erholen. Merci Margarida, dass ich dein Gast sein durfte!
Eveline
2016-07-19T00:00:00Z
Art der Unterkunft
Ganze Unterkunft
---
Objekttyp
Villa
---
Unterkunft für
2
---
Schlafzimmer
Paços da Serra, Gouveia, Portugal
Venha desfrutar do Inverno na Serra da Estrela. Situada em Seia em pleno parque Natural da Serra da Estrela a Casa do Fundo é o lugar ideal para desfrutar das belezas e costumes da Serra da Estrela.
Sylvia, Pedro's mother was one of the most welcoming hosts we have ever had, although we didn't speak a word of Portuguese; and the130 year old house is very beautiful. Afternoon tea and breakfast were most delicious with local cheese and homemade jam. Pedro's elder brother Jorge spoke perfect English and gave us great information. Pedro is another story. He misled us about the size of the bed, and nor was there any apology. We specifically asked for a king size bed and he said that would be no problem, and left us with the clear impression it would be something we needn't be concerned with. The room we were shown was a double bed and we ultimately chose a different room, also with a double bed, and that mattress was also very hard, which was too hard to our liking. The interaction with Pedro should not take away from the beautiful setting, the beautiful house and the beautiful mother and brother.
Gary
2016-03-16T00:00:00Z
Art der Unterkunft
Privatzimmer
---
Objekttyp
Villa
---
Unterkunft für
2
---
Schlafzimmer
Seia, Guarda, Portugal
A casa localiza-se numa aldeia de montanha, denominada de mais alta de Portugal, Sabugueiro - 1200 m de altitude . Esta aldeia tem uma localização muito privilegiada (15 min da TORRE): - Praia fluvial do Sabugueiro (0 Km) - Percursos pedestres (0 Km) - Vale Rossim (8,8 Km) - Lagoa Cumprida (8.2 Km) - Penhas Douradas (10.5 Km) - Torre (15 Km) - Praia da Lapa dos Dinheiros (16.5 Km) - Praia de Loriga (22 Km) - Vale d'egua (36 Km) AL / 38024
Das haus war sehr gemütlich und der Flussbadestrand nur 2 min Fußweg entfernt. Toll mit Kindern dort zu wohnen. Und es gab eine sehr gut ausgestattete Küche.
Jana
2016-07-09T00:00:00Z
Estivemos na casa de Rui em dezembro de 2016, para visitar a Serra da Estrela e a estação de Ski. Demos sorte por pegarmos um dia de neve, inclusive em Sabugueiro! Fomos muito bem recebidos e atendidos por Elisabete. Além disso, o Rui sempre esteve em contato por mensagens e nos respondia em poucas horas, igualmente solícito. A casa é muito aconchegante, limpa e passou por reformas não faz muito tempo. Éramos 5 adultos e um bebé de 2 meses e Rui, gentilmente, nos ofereceu um berço para nossa filha. Todos os cômodos tem aquecedores individuais e a lareira na sala aquece muito bem, além de ser charmosa. A região é muito silenciosa e agradável para caminhadas e repouso. Há alguns restaurantes a poucos minutos a pé. Sentimos falta de uma cafeteira e acessórios básicos, como açúcar, sal e óleo. Creio que outros hóspedes podem sentir essa necessidade também, por isso do lembrete. Recomendo a casa, o povoado e o acolhimento de todos! Um abraço e até a próxima!
Guilherme
2016-12-18T00:00:00Z
Casa muito simpática e acolhedora com tudo o que faz falta, numa Aldeia sossegada e de boa gente na Serra da Estrela. Anfitrião simpático, comunicativo e sempre disponível caso seja preciso. Foi uma estadia bastante agradável. Muito Obrigada
Helena
2017-01-15T00:00:00Z
Rui's place is in the heart of Sabugueiro, a (still) typical village in Serra da Estrela. A cozy and welcoming traditional house with all the amenities and comforts of modern life. It will make you feel at home the moment you walk through the door! We stayed for a week and thoroughly enjoyed the many hiking trails nearby, the quiet and genuine village life and and the heart warming contact with the locals.
Gonçalo & Teresa
2016-08-22T00:00:00Z
Our stay at rueis place was excelent! I truly recomand the beutifull well equiped dreamhouse in the peacefull and georges vilage, we enjoied every minute!
hila
2016-10-09T00:00:00Z
Rui's house was a perfect home for us for 4 nights. We enjoyed the village and what the house provided to us. It was just a short drive to the surrounding hiking trails and the highest mountain tops. The house was well equipped with full kitchen, fire place and very strong wi-fi connection. Elisabete welcomed us and we enjoyed our stay a lot. Thank you.
Sigal
2016-09-18T00:00:00Z
Super recomendo! Excelente estadia, espaço e anfitrião.
Leonardo
2017-02-01T00:00:00Z
Estive na casa do Rui com um grupo de 11 pessoas e foi tudo aquilo que nós queríamos. Uma casa à primeira vista pequena, mas nós estivemos mesmo bem e á vontade, nem sentimos que era pequena, as divisões são muito boas. Apesar de ser Janeiro e estar muito frio lá fora, dentro de casa estava impecável, o aquecimento era bom. E a localização era muito boa, claro que ruas estreitas para os carros era norma, mas não se espera outra coisa do Sabugueiro. Perfeita para um convívio entre amigos!
Ana
2017-01-08T00:00:00Z
Art der Unterkunft
Ganze Unterkunft
---
Objekttyp
Villa
---
Unterkunft für
11
---
Schlafzimmer
Sabugueiro, Guarda, Portugal
My space is located near activities for families in the Serra da Estrela. You'll love my space because of its location in a quiet village and near the Serra da Estrela Natural Park, the environment that surrounds it, and the people welcome you. My space is good for couples (the apartment - bedroom # 6), and for families (with children) and large groups (in the Main House - Room # 1 to 5).
Village House, construction in the beginning of the century granite. XX (~ 1920), fully restored in the original style. Garden (with camellias, orange and mandarin trees), well and elevated tank in granite and partially covered patio (with old wood oven, winepress, and watering hole). Private parking. The set includes: - Old house with 5 bedrooms (10 beds), big hall (eating room, fireplace, TV, air conditioning, tear centennial), living room, fully equipped kitchen and 3 full bathrooms. The ideal solution for families or groups of friends! - Independent room and completely autonomous (Apartment), with a T0 / T1 and mezzanine configuration, included in this housing, and fully equipped (double bedroom, lounge with kitchenette, full bathroom, TV, air conditioning). The ideal solution for an unforgettable romantic getaway for two!
Art der Unterkunft
Ganze Unterkunft
---
Objekttyp
Villa
---
Unterkunft für
3
---
Schlafzimmer
Travancinha, Guarda, Portugal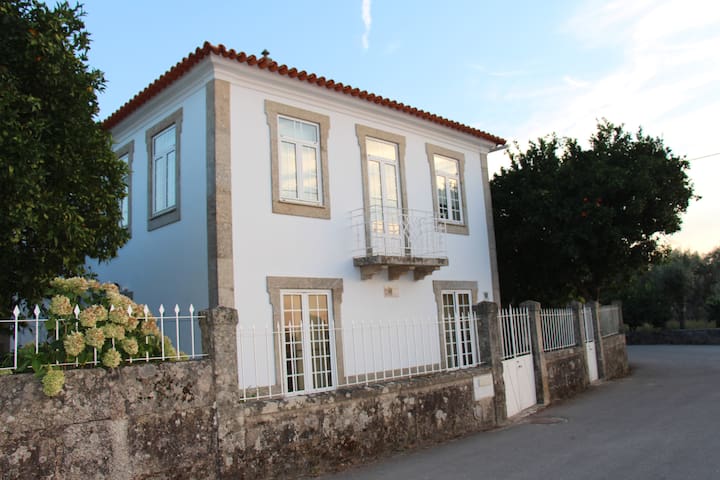 Casa da Caseira is a cosy country-house and belongs to Casa Grande. On the first floor are the two bedrooms: one with a double bed, the other with two single beds. The living room with cooking space and the bathroom are on the groundfloor. In winter you will enjoy the fireplace. Please do your grocery shopping before arriving.
Casa Grande is a wonderful estate with many corners, a great history and a very beautiful garden. Margarida is the perfect host and a very elegant, interesting and intriguing woman.
Mark
2016-08-07T00:00:00Z
Margarida a été une hôte très attentionnée et chaleureuse. Elle nous a conseillé les endroits à visiter dans la Serra de Estrela dont le point culminant est à couper le souffle. Il s agit de Torre. Par ailleurs la maison est très propre et accueillante! Le parc qui entourent les maisons est superbe et très agréable pour prendre le petit déjeuner ou se reposer dans un hamac. Je recommande fortement cet halte chez Margarida!
Christelle
2016-08-21T00:00:00Z
We had a wonderful stay at Casa de Caseira. The location is in a peaceful and quiet village with friendly local residents and the surrounding area is just beautiful, with grape vines and olive trees and the Serra Da Estrela mountain range in the backdrop. The stone house we stayed in is beautifully and tastefully decorated and spotlessly clean. There is a very nice garden where you can relax or take your meals. Margarida is a very kind and helpful host and did everything possible to make our stay comfortable and enjoyable. Her breakfasts with homemade jam, herbal infusions, local bread and cheeses were delicious. Highly recommended.
Tavy
2016-08-10T00:00:00Z
Espaço que nos faz voltar às nossas infâncias... Aos tempos dos nossos avós, simplesmente adorável!
Antonio
2017-02-19T00:00:00Z
Logement un peu petit mais superbe emplacement pour un départ pour visiter les montagnes, propriété familiale de charme, très bon petit déjeuner et surtout propriétaire très sympathique et avenante.
Jerome
2016-10-12T00:00:00Z
Art der Unterkunft
Ganze Unterkunft
---
Objekttyp
Villa
---
Unterkunft für
4
---
Schlafzimmer
Paços da Serra, Gouveia, Portugal
The House Awning is one of the cottages belonging to the Big House, which is a solar century. XVIII. It has two floors: on the top floor is the living room with TV, table, fireplace for winter, covered balcony, kitchenette and bedroom with 2 beds; at the bottom are 2 double bedrooms, 2 bathrooms and entrance. Located in a grove of property with garden, picnic tables stone, swings a Milestone Roman, an iron forge, a porch, barbecue and parking.
The "Casa Grande" Pacos da Serra, Serra da Estrela, is a family manor dating from the century. XVIII with links to the monarchy of the time, which was restored for tourism for the first Portuguese electrical engineer our mother ever after reformed, making it one of the first rural tourism units in Gouveia region to which it belongs. It is within an olive grove property of 3 ha, with garden, parking, a threshing floor a museum forge and traces of international cultural and archaeological interest given to those who ask. It has 3 independent rustic apartments within and adjacent 6 Bed and Breakfast with all bedrooms, bathroom, living room with fireplace, heating, TV, kitchenette, balcony, garden. Breakfast is included in the stay and are given all the available information on the region and on this space. The reception and service are personalized and the service rooms and fireplaces in winter is daily.
This village of Paços da Serra where everyone knows everyone and all hours are punctuated by church bell, is a town of immigrants, farmers and very typical shepherds, with their small family factories of wool, their flocks and their parties religious. It has two cafes and two small grocery stores with the basics. The supermarket is 8 km already in the city. The nearest restaurant is 5 km outside the village. To visit by car or walking the Natural Park of Serra da Estrela, where we should count yourself at least a few hours or even several days and is an experience not to be missed.
Embora a estadia fosse só de uma noite, foi bastante agradável. A casa é bastante confortável e o serviço simpático e eficiente. A aldeia é sossegada e de fácil acesso na estrada entre Gouveia e Seia. Recomendo vivamente para uma visita ou uma estadia na Serra da Estrela.
Antonio
2017-02-19T00:00:00Z
Art der Unterkunft
Ganze Unterkunft
---
Objekttyp
Villa
---
Unterkunft für
6
---
Schlafzimmer
Paços da Serra, Gouveia, Portugal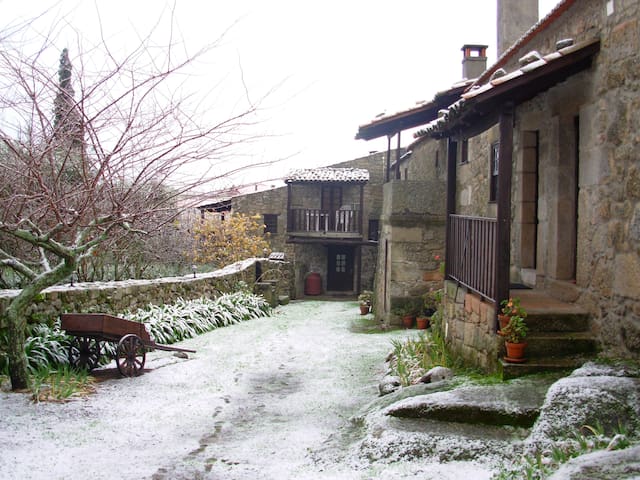 It is a thematic home, where each room has a book name. It is close to the Serra da Estrela. It has a living room with snooker, television and a large fireplace, has a pool, playground, terrace, barbecue, bikes and lots of charm.
Everyone that comes here says that don't want to leave ... The house dates from 1934 and really looks like it belong of a story of the enchanted tales. It has nearly 1,000 square meters and a land with 8000m.
We have a beautiful view of Serra da Estrela from the front part of the house and from the pool side you can see a green expanse. Nearby you can do activities such as mountain biking, hiking, trail, jeep tours, SUP (stand up and paddle), horseback riding, canoeing, paintball, etc.
Art der Unterkunft
Ganze Unterkunft
---
Objekttyp
Villa
---
Unterkunft für
16
---
Schlafzimmer
Seia, Guarda, Portugal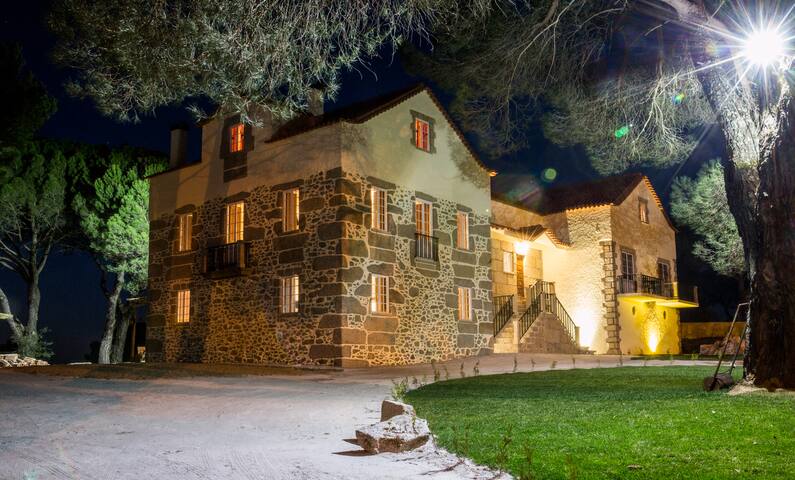 Walking routes (Route Galhardos; Faith Paths of Rota, Rota dos Penedos Moors). Natural Park Lady of the Greens. The beautiful and historic villages Linhares da Beira and Folgosinho. Penhas Douradas, Gouveia and Seia where you can visit the Cise, the Bread Museum and the Museum of Electricity. Restaurants: There House, the famous Albertino and the recent Mother d'Água. The 15m of the Serra da Estrela and Elderberry. My space is good for couples and families with children.
The house is located in Moimenta da Serra 2 km from Gouveia, surrounded by olive trees with a beautiful landscape of the Serra da Estrela.
The neighborhood is the nature and the village live very good and nice people. We have a coffee and a mini local market but 2 km have two large surfaces of purchase.
O nosso fim de semana foi 5 *. Uma excelente casa com todas as comodidades. Moimenta da Serra é uma localidade calma para quem quiser desfrutar de um fim de semana sossegado. A Quinta das Oliveiras é um belo espaço, tanto exterior como interior. A Isabel e a Paula estão sempre disponíveis para nos auxiliar em qualquer questão. Não nos faltou nada. Fomos muito bem recebidos. Obrigada a ambas
Edna
2017-01-29T00:00:00Z
Art der Unterkunft
Ganze Unterkunft
---
Objekttyp
Villa
---
Unterkunft für
6
---
Schlafzimmer
Gouveia, Guarda, Portugal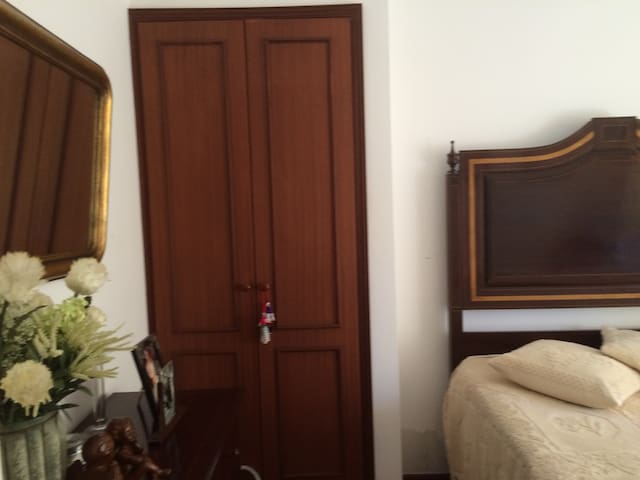 The Casa do Lagarinho is located in "Aldeias" litle village near the municipality of Gouveia at the entrance of the Natural Park of Serra da Estrela, about 750 meters above sea level. Casa do Lagarinho is part of a group called "Casas Serranas", consisting of three rural houses and provides a unique experience in rural accommodation in this exciting moutain region. Village extends down the slopes of a valley of great beauty that keeps the main features of mountain tradition. Visit us!
Casa do Lagarinho - Living room with fireplace and sofa bed – Equipped kitchen – Suite with 1 double bed – 2 Bathrooms
Places to go nearby: Ethnographic Museum of Gouveia Head of the Old Man (famous rock) River Beaches Park Zoo – Gouveia Museum of Modern Art Abel Manta, in Gouveia Miniature Car Museum, in Gouveia Activities in Serra da Estrela Pedestrian routes and thematic tours, Orientation, Paintball, ATV riding, Sport Fishing, ... Winter sports, Horse riding, Rides on all-terrain vehicles.
Fim de semana maravilhoso! A casa esta localizada numa aldeia linda com uma vista maravilhosa. A casa é super confortável, toda equipada e muito bonita. Foi tudo optimo. Recomendo para quem esta a precisar de sair do stress da cidade e ter um fim de semana calmo e relaxante.
António
2017-02-05T00:00:00Z
Art der Unterkunft
Ganze Unterkunft
---
Objekttyp
Villa
---
Unterkunft für
4
---
Schlafzimmer
Aldeias, Guarda, Portugal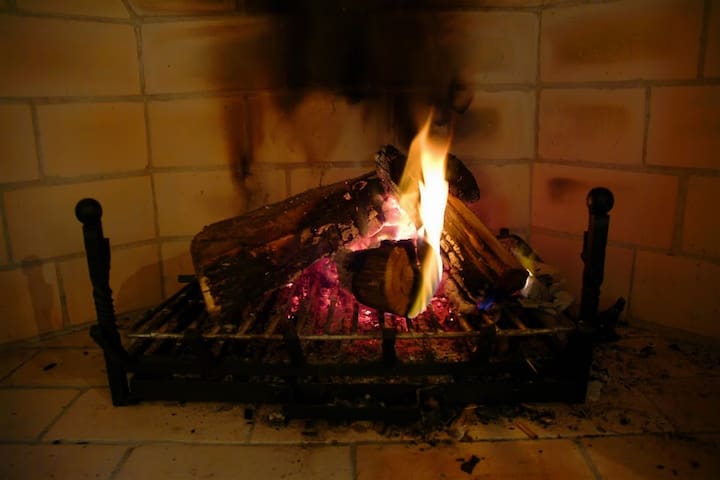 Pequena edificação antiga ( palheiro ) localizada num afloramento rochoso de grandes dimensões Área terreno de aproximadamente 1250 m2 Remodelada e requalificada em 2010 Constituída por sala ampla com kitchenette, quarto superior em mezannine, casa de banho independente e pequena varanda/(URL HIDDEN) duas camas de casal, frigorifico, esquentador, televisão, arrumos e aparcamento.
Art der Unterkunft
Ganze Unterkunft
---
Objekttyp
Villa
---
Unterkunft für
4
---
Schlafzimmer
Coimbra, Coimbra, Portugal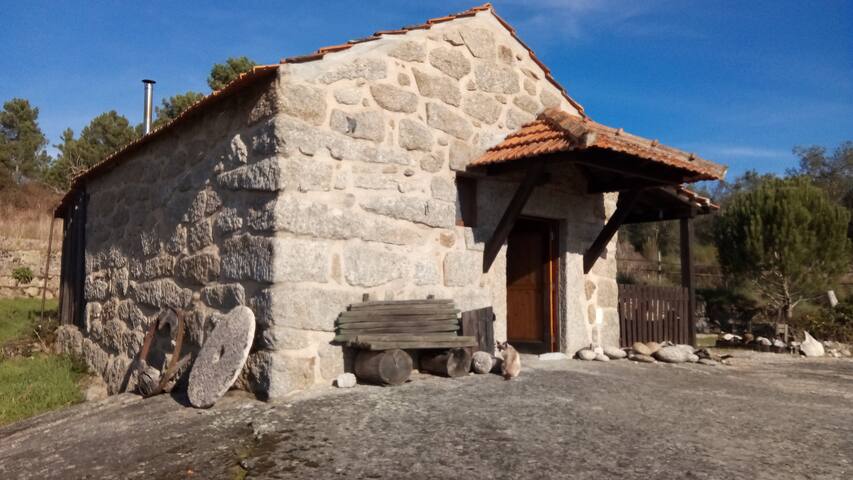 Die Villa befindet sich am Rande der Stadt ohne gegenüber, aber immer noch 5 Minuten zu Fuß von der Dorfbäckerei. Die Villa liegt in der Nähe Aktivitäten geeignet für Familien mit einem Multi-Activity-Center (Hochseilgarten, Minigolf, zip ...). Es befindet sich am Rande des Naturparks Serra da Estrela, in dem viele Arten von Aktivitäten zur Verfügung stehen (Kanu und Tretboot fahren, Wandern ...) Genießen Sie die Ruhe und modernen Komfort mit Panoramablick auf die Berge.
Wir setzen all unsere Leidenschaft diese alte Scheune zu renovieren es so angenehm wie möglich zu machen, während seinen ursprünglichen Charme behalten. Die Villa befindet sich am Rande des Dorfes Sie einen ruhigen schönen Berglandschaft in allen Jahreszeiten genießen können, sowie einen privaten Pool umgeben von Olivenbäumen.
Para quem apreciar uma estadia no campo é maravilhoso. Conseguia-se apreciar o silêncio. As fotos demonstram bem o que a casa é. A casa tem tudo o que é necessário para uma boa estadia. Agradecemos também à outra D. Paula sempre disponível e atenciosa no que foi necessário. Muito obrigado e bom ano.
Cadi
2017-01-02T00:00:00Z
Hospitalidade incrível! A recepção na casa foi excelente e mostraram-se sempre disponíveis para ajudar e meteram-nos muito à vontade com tudo. A casa é lindíssima e super bem equipada. Não nos faltou nada e o único arrependimento foi não ter podido aproveitar mais a casa! A lareira e o aquecimento central são mesmo uma mais valia no local.
Pedro
2016-12-11T00:00:00Z
Obrigado Paulas, passámos um fim de semana óptimo! A casa é perfeita e tem todas as condições para ter uma boa estadia na Serra. Obrigado pela vossa e hospitalidade e adorámos a surpresa de boas-vindas! Até à próxima!
Gonçalo
2017-02-12T00:00:00Z
Prefeito do início ao fim!! Paula manteve uma excelente comunicação antes e após a nossa chegada. Fomos recebido pela outra Paula quê além de muito simpática, preparou-nos uns quitutes de boas vindas. A casa é linda, decorada com muito gosto, confortável, com tudo que se precisa mesmo para estadias longas. Fiquei realmente maravilhada. Recomendo é voltarei. Obrigada às Paulas :-)
Luciana
2016-12-26T00:00:00Z
Geral: 5 estrelas, foi tudo ótimo e muito surpreendente pela positiva. Espero voltar no verão :D Localização: a casa fica na freguesia de Cativelos que apesar de ser uma zona muito sossegada onde se ouvem os passarinhos e o sino da igreja é bem perto de Gouveia. Casa: Super sofisticada, cheias de candeeiros, luzinhas e velas. Decoração com muito bom gosto. A casa tem tudo o que é preciso numa cozinha, eletrodomésticos, panelas, pratos, copos e alguns bens alimentares (como especiarias). Tem máquina de lavar roupa e louça. Tem churrasqueira. Check-in: fomos recebidos pela simpática D. Paula que já tinha ligado a lareira e as luzes da casa quando chegámos. Mostrou-nos a casa e ressalvou que qualquer coisa que precisámos podíamos contactá-la. Muito, muito obrigada às duas D. Paulas :D
Marta
2017-02-26T00:00:00Z
Art der Unterkunft
Ganze Unterkunft
---
Objekttyp
Villa
---
Unterkunft für
6
---
Schlafzimmer
Cativelos, Guarda, Portugal
Casa de campo inserida numa quinta com agricultura biológica a 700 metros de altitude/ Serra da Estrela. Dispõe de 2 quartos, cozinha, casa de banho e jardim partilhado, piscina e campo de ténis. Ocupação - 4 pax (URL HIDDEN)
Art der Unterkunft
Ganze Unterkunft
---
Objekttyp
Villa
---
Unterkunft für
4
---
Schlafzimmer
Gouveia Municipality, Distrikt Guarda, Portugal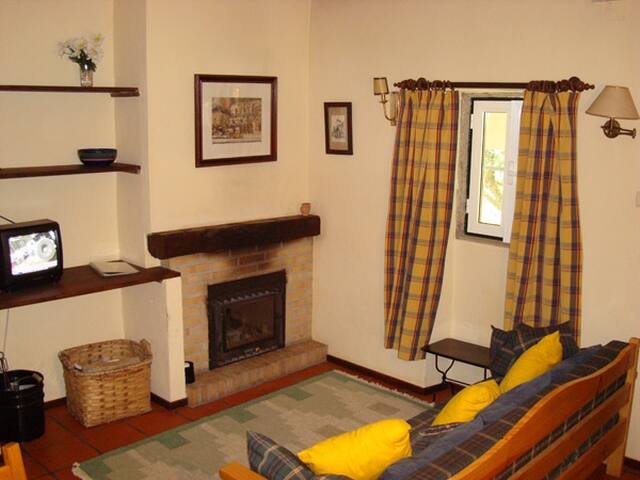 Santiago - Airbnb
:
Durchschnittlich

4.19

von

5

Sternen aus

62

Gäste-Bewertungen