Gib dein Check-in-Datum im Format TT.MM.JJJJ ein
Gib dein Check-out-Datum im Format TT.MM.JJJJ ein
Inserate, die du buchen kannst, ohne auf eine Bestätigung des Gastgebers zu warten.
Gib deine Reisedaten ein, um den Gesamtpreis pro Nacht zu sehen.
Diesen Juli und August kannst du eine dieser 100 hervorragend bewerteten Unterkünfte aus jeder Preiskategorie ausprobieren, um Sonoma aus der Sicht eines Einheimischen kennenzulernen. Dank 24-Stunden-Check-in, Sofortbuchung sowie einheimischen Weinen und Snacks kannst du dich einfach zurücklehnen und deine Reise genießen.
This loft can't be closer to the border, the city center, art and culture, restaurants and dining. You'll love my place because of the location, the people, the ambiance, the outdoors space. My place is good for couples, solo adventurers, and business travelers. It has 24 hour security, cameras, a cool coffee shop, deli, restaurants, art gallery onsite, and a public space. We do farmers markets, outdoor cinemas, art exhibitions, etc.
Estacion Federal, is a redevelopment of a historic building 1950's building right across the border. The space also has a public area, retail, living, co-working and an art gallery on site. Tijuana is a HUB for food and art, the restaurants below are great, and the top restaurants and galleries are at a walking distance from Estacion Federal. Here is a publication recently made on the site: http://www.sandiegouniontribune.com/news/2016/apr/26/tijuana-redevelopment-projects/ Gallery, Public Space, Restaurants, Coffee Shop, Co-working. Yes, I am the property manager of the building. So I am always around to help.
Colonia Federal is one of the rising neighborhoods in TJ, filled with art, right next to the border filled with event like art exhibitions, outdoor cinemas, farmers markets, etc. Walking: Cross the border from the Tijuana Port of Entry and turn right through the Frontera Bridge for 2,000 ft and turn right again, straight for 1,000 ft and you will see Estacion Federal. Car: Cross for 20 yds and turn to the first left into Colonia Federal, the Estacion Federal neighborhood We also have 24 hour security, cameras and public lighting in the space. We do a farmers market at the last Sunday of each month.
This place is so cool! Wish we could have spent more time enjoying it. The space is convenient, modern and trendy. Very nicely decorated and beautiful floor plan. Serene and safe in a busy city! Loved it! Miguel is a very considerate and attentive host--wish we could have had more time to get acquainted!
Nitza
October 2016
High recommend staying here! Very close to the border and loft was as described with cool coffee shop, art, and co-working space. Easy to get around anywhere you need to go using Uber. Miguel was super hospitable and we are looking forward to staying there again!
Kristal
November 2016
The loft was a great space! Miguel had so many amazing suggestions on food in the area which we really appreciated.
Sabina
August 2016
Can't wait to come back! Miguel is super communicative and provided great suggestions to experiencing Tijuana, especially for NYE. The location is relatively isolated, but we took $2-6 uber rides everywhere. It was very safe, as was the premises (there's a 24 hour security guard). Currently, if you cross the border on foot, you come down on the San Ysidro trolley station side (~10 minute walk from the crossing to the Estacion Federal), and you can leave the country using the PedWest Border Crossing. A lot of things were closed because of New Years, so just something to keep in mind if you plan on visiting during public holidays.
May
January 2017
Miguel was a very pleasant and friendly host who gave great recommendations on where to eat and what to do around the neighborhood and city. His place was clean and felt very safe and secure during the entire stay.
Daniel
October 2016
Very close to border crossing, noisy and dusty due to construction
Jaime
October 2016
Miguel's place is just around the corner from the border crossing. It was the easiest place to land and call home. It's a beautiful modern artist loft with a lot of light and perfect furnishings. It has a full kitchen which we will use next time. It has a wonderful patio overlooking the city and the hot shower has powerful water pressure. Miguel is super kind and helpful. If you want to stay in Tijuana and feel totally at ease, Miguel is the perfect host.
anne
October 2016
The loft is very nice and ideal for someone looking to stay away from seedy hotels n motels in TJ. The location is nice and very convenient walking distance from the border. Av de Revolution is a 15min walk but most other place would need an Uber or Taxi. Miguel is a very good host and made the stay very comfortable. If I need to make a trip to TJ I would definitely stay here once again :)
Manas
August 2016
Art des Zimmers
Ganze Unterkunft
---
Art der Unterkunft
---
Unterkunft für
2
---
Schlafzimmer
1
Tijuana
This loft was designed by me so of course I love it. It is in a lush garden. Every details was a reflection of my culture and my influences. The floor is black bamboo, ceilings wood hand painted. I traveled to Mexico and picked out all the tiles in the kitchen and the bathroom. The toilet is even a hand painted piece of art. I have beautiful paintings all over the loft, from local artists. Everything is brand new, the shower, the kitchen, etc. It is modern and full of art.
The loft is set in the back yard with over 150 fruit trees. It has two huge sliding doors. When you look out from them, you see that you are surrounded by fig, orange, lemon, grapefruit, and loquat trees. In the morning you see birds coming to eat from the trees. The entire space is full of art and beautiful pieces of furniture. You will have access to the entire loft and the backyard. All the cups are handmade, the dishes and utensils are at your use for any time. I run an NGO and am very busy, but I'm also Lebanese and we invented hospitality. Would be happy to help when I'm around.
Our neighborhood is not a cookie cutter. Beautiful hills, with trees, and birds everywhere. Very close to the 94 and 125 freeway. 12-15 minute drive to downtown and Mission Valley. Couple minute drive from the trolley station. A trolley stop is a two minute drive away. 15 minute walk. Bus stop is a 5 minute walk away. The loft is below a house, with a separate entrance.
Mark was absent on the day when we arrived. Maybe he had some thing to do but he had already assigned every thing we needed and his father guided us instead of him. His father was very kind and made us feel comfortable. The next day I met Mark. He treated us very friendly and gave quick response whenever I ask something. The place was very calm and safe. Even though the place designed for 3 people It was spacious enough for 4 people (2 adult and 2 kids) to stay.
Seyoung
July 2016
Mark's place was just outside of the city— far enough to feel relaxed, but not so far that it was a trek to any local attractions. When we arrived, it was pretty late at night, but Mark was a gracious host and made sure we were comfortable, pointing out everything we needed to ensure our stay was comfortable. Beyond that, Mark was easily accessible, recommending great local fare and responding quickly to text messages. As far as the space itself goes, the description truly is accurate. It is a beautiful garden sanctuary. The birds, backyard fruit trees, and view combine to make this a great stay. The space has a full kitchen, beautiful artwork and furnishings, and a comfy bed for two. We would certainly recommend!
Jasmine
September 2015
I was very happy with how quiet, serene and private this space felt. Mark was very hospitable.
Jenny
April 2016
Everything was perfect at Mark's place and he was very helpful!
Katia
November 2015
The place was very nice and comfortable. I would suggest this more for couple who want some private time away from the kids and family. It was spacious and relaxing with the trees. It was no more than 20 minuets from everything we wanted to go to. Really enjoyed it
Sal
November 2016
Mark was a very nice, easy going person. The space was pretty charming. It was lacking in certain kitchen utensils, specifically pans (unless we just didn't find them) -- but we managed to make a nice meal. It was peaceful.
Emma
May 2016
He was a great host! We had everything we needed and it was a really enjoyable stay. Thank-you!
Brandy
July 2016
Mark is a very kind person, he helped me carry so many things from my car down the path and down the stairs, it would have been very hard to do on my own. He is responsive and helpful. This loft is inland and there is not a lot around, the space is artistic yet feels cluttered with not a lot of room for guest to put their things. We had a 17 day and the electricity went out twice. Mark as a host is great and in general this place has the right price for staying in San Diego on a budget. Mark is willing to take suggestions for improvement which will make the place even better. You are in the mountains so you will hear coyotes in the night.. Overall a good host is always willing to improve I am confident he will do so. Thank you mark for your kindness. The 5 stars are for him as a person and his willingness to improve .
Janice
June 2016
Art des Zimmers
Ganze Unterkunft
---
Art der Unterkunft
---
Unterkunft für
3
---
Schlafzimmer
0
Spring Valley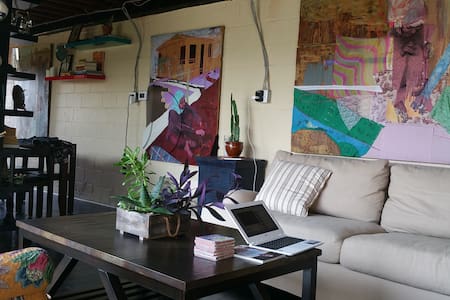 ON THE CLIFF A top the water, this home was a dream of ours to have. You'll love it because of the sound of the crushing waves is like no other place you've stayed at.. My place is good for couples, solo adventurers, family's and surfers.
This is a 1100 sqft Loft second floor only. 180 degree beach front property as seen in the pictures. Everything is new. Finished in April of 2016. Theres a queen bed and two single beds. A brand new large sofa and a recliner that becomes a single bed too. 1100 sqft Loft second floor only. 180 degree beach front property as seen in the pictures. Everything is new. Finished in April of 2016. We can help you with anything you need just let us know and we can assist you.
There is a seaport village 1 mile south called Popotla where they cook fish and every type of seafood available and can drive your car on the beach and surf. We have lots and lots of parking even for 5 grey hound buses. You can light a bonfire on the beach really easy. Taxis everywhere. There is lots of stores and restaurants in walking distance from our place. the waves are even closer.
Really enjoyed the place. And a great host . would highly recommend if planning to visit Rosarito.
Johnela
August 2016
Our stay at GiGi's place was very nice. Awesome view of the Ocean. GiGi was nice and very hospitable. Great location Between Rosarito and Popotla. It was nice to be able to park our car in the compound without worrying about theft. We just walked or took a cab everywhere we went. Thanks GiGi!
Anthony
November 2016
The apartment has a great view, amazing sunset and a great ocean breeze. It was clean, comfortable and very large. The private beach is very close but many stairs down. Make sure to take very specific directions as the place is impossible to find by asking the neighbors and the place is hidden behind a closed gate with no sign. To summarize it was a great private apartment with an amazing view.
Maya
September 2016
GiGi was absolutely amazing to Eliza and I and made our trip a truly romantic getaway! She met us at the front gate even though we arrived late and was extremely helpful in helping us find a great restaurant by suggesting a few to choose from. About her home. Coming from Los Angeles and having friends who live on the beach in Malibu, without exaggeration her views were better and they are completely a 180 degree view. We watched the sunset and cracked the sliding door (that faces the ocean) and fell asleep as well as woke up to the ocean waves. I've been thinking about buying a home in Rosarito for someinspired that we are now looking for sometime now and staying here just sealed it! Thank you Gigi for your sincere hospitality and we'll see you soon! - Josef & Eliza
Josef
October 2016
GiGi's place was spectacular. We had an amazing and memorable experience. GiGi thank you ver much for your hospitality and kindness. God bless you.
Raul
August 2016
We just stayed one night everything was like in the pictures I wish we could've stayed longer. Gigi was a great host, I will definitely be back :)
Maria
November 2016
Fantastic view, practical layout, and awesome hosts. Very relaxing. Would highly recommend.
Gustavo
July 2016
Fantastic experience!! The apartment is so spacious, beautify decorated, airy, with stunning views. Gigi and Von were such a welcoming hosts!! So many great restaurants near by. I definitely recommend staying here! You will love it as much as I did.
Viktoria
October 2016
Art des Zimmers
Ganze Unterkunft
---
Art der Unterkunft
---
Unterkunft für
6
---
Schlafzimmer
0
Rosarito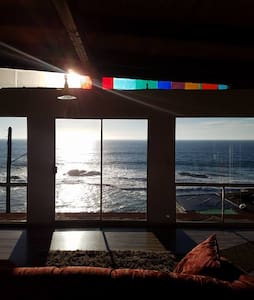 It's a private loft room; trees abound. It is accessed via stairs and has a nice little private deck. Bright colors and lots of windows. Quiet street in a South Park, close to great restaurants, 3 major freeways, main bus line and Balboa Park.
Stay in this really bright and airy loft bedroom, with it's own deck, it is all very private. Bathroom, located just below the room, is eclectic early Arizona style and shared with just me. Friendly house with a veteran hostess and two great dogs. Just two blocks away from the fastest bus line in San Diego, and walking distance to Balboa Park and downtown, the convention center and the San Diego zoo. Also an easy walk to South Park and North Park to all of the great restaurants, shops, yoga studio, gym --- - right in the midst of the famous San Diego beer corridor!! wireless Internet, washing machine and dryer, rental bicycles nearby. This is a great biking and walking neighborhood. very easy access to all major freeways, the great beaches and Sea World is only 15 minutes by car, only 20 minutes to Mexico. Eclectic old house in one of San Diego's historic neighborhoods. We call it Rancho Urbano and everybody finds it to be relaxing here. I am a SD native and something of a savant on all things local. The room will be stocked with lots of SD info, fresh water, snacks and coffee service. Guests have access to a small fridge, and can use the kitchen on a limited basis. There are numerous outdoor spaces at the Ranch, but actually, the one that belongs to the Tree House is one of the nicest. Always willing to help with ideas, local insights about places to go, warnings about which freeways to avoid at what time of the day!!!
This is a quiet neighborhood of older houses that is quite walkable. Our bars and restaurants (all types) anchor the southern end of the famous 30th St. "Beer Corridor." The south eastern tip of Balboa Park is just a few blocks away--there are 2 gold courses and other recreational facilities in this part of the park. We are close to all--easy freeway access, without the noise. Two blocks from the most active bus line in San Diego!! Right downtown in 20 minutes!! 2 minutes to access 4 major local freeways!! 15 minutes to the airport!! Three of us live here in the house. I, Melinda, am the resident tour guide and hostess, my daughter is an opera singer and our longtime roomate Kim is a teacher. We are used to sharing our house and love interesting conversation.
tolles Zimmer ganz versteckt aber nah zum gaslamp quater, downtown und Balboa park. super gemütlich.
Antonia
October 2016
Melinda's home is decorated with tonnes of beautiful fairy lights - a very welcome surprise when you're trying to find it late at night and it makes it feel really cosy and special. There always seemed to be friendly, smiling people around which was really nice too. The room is compact but full of character and Melinda left snacks and tea out which was really kind of her. She was always offering food and advice on what to do in San Diego - thank you Melinda!
Harriet
March 2016
Very unique housing in a beautiful and quiet area of San Diego! Melinda was very accommodating!
Brittney
April 2016
This was just as described but better, even more private and comfy than advertised!
Robb
August 2016
Melinda's house is very beautiful and colorful. The house is so special and we felt comfortable when we lived there. Also Melinda's dogs are soooo cute. Really enjoy the stay their.
Grace
June 2016
First off, Melinda is such a kind hearted and warm person. She always made sure we had what we needed and gave us tips about the area. Her dogs were very sweet too! The tree house was amazing as well! The bed was cozy and big enough for two and the room was the perfect size. The outside deck was perfect for sitting in the sun and enjoying the beautiful San Diego weather. The entire setting was beautiful and homey--my boyfriend and I felt like we could stay forever. We needed a rental car to venture elsewhere (such as La Jolla and Pacific Beach) but downtown and North Park were nice and close by. We know that this is the place we'll stay the next time we are back in San Diego. Thank you Melinda for such a great experience and for welcoming us into your home so graciously!
Rosalie
January 2016
My boyfriend and I have a nice stay at Melinda's treehouse. It was a perfect size for the two of us and we enjoyed sitting on the attached porch. Melinda's dogs were so cute and friendly and we felt like we had enough privacy in the treehouse. We also loved the bright colors and decorations, very cute! I'm inspired to create my own treehouse for guests now, thanks Melinda!! The only downside were the planes flying overhead every few minutes. We're both light sleepers. But if you are a heavy sleeper or perhaps even sleep with earplugs you wouldn't mind.
Nicole
July 2016
Melinda e sua figlia sono molto carine e gentili, mi hanno reso partecipe della loro vita e hanno saputo indicarmi le migliori attrattive della zona. I due cani sono tenerissimi, uno dei due mi ha accolta con un peluche in bocca, non hanno mai creato problemi e io solitamente ho paura degli animali che non conosco! Il quartiere è molto tranquillo, ci si sente al sicuro. Vicino alla casa c'è la fermata del bus n. 2 che porta a downtown, molto utile per chi come me si muove con i mezzi pubblici. La tree room è da vivere, ci si addormenta guardando le stelle e la luna, il patio è perfetto per rilassarsi e fare colazione con guardando gli scoiattoli. Consigliato!
Carmela
August 2016
Art des Zimmers
Privatzimmer
---
Art der Unterkunft
---
Unterkunft für
2
---
Schlafzimmer
1
South Park, San Diego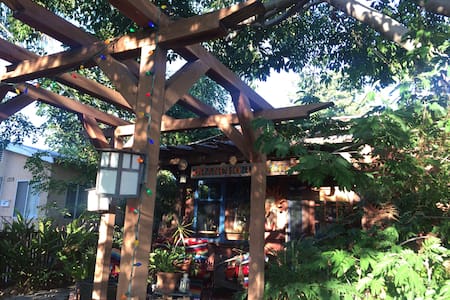 Nestled high in the trees of our urban oasis, this rental is perfect for extended work trips or relaxing weekend escapes. We're located in the vibrant South Park neighborhood with easy access to eclectic shops, restaurants, bars, transit, and more.
The Treehouse Loft is designed for maximum comfort, whether your staying for a long weekend or a month. You'll enjoy true indoor/outdoor living and maximum privacy. * The kitchen includes granite counters, gas range/oven, microwave, refrigerator, pantry area, and folding leaf dining table. There are place-settings for four and all the kitchen essentials needed to cook great meals. * The living area includes a two seater couch, side chair, coffee table, 40" Samsung TV with cable, Apple TV, and a large wardrobe. Enjoy the sweeping views into our large backyard. * The bathroom includes a large tile shower, plenty of toiletries, towels, and a hair dryer. * Up the stairs, you'll find the cozy sleeping loft, with a new Waldorf Astoria queen bed, nightstand, lamp, and peek-a-boo window into the backyard. * Last but not least, the patio includes a large umbrella, gas Weber BBQ, comfortable patio furniture, and a small dining table with two chairs. With San Diego's great weather, you'll want to spend a lot of time out here. Guests will have a private entrance down our driveway. The guesthouse is a standalone structure with its own secluded back deck. A key will be waiting for you in a lock-box upon arrival so you can come and go as you please. We tend to be more hands-off as hosts because we want our guest house to be a relaxing oasis during your busy days of exploring San Diego. Everything is prepped for your arrival, but if you have any questions or need a few extra amenities, we're here to help.
South Park is one of San Diego's hidden gems. It's small enough to evoke a strong sense of community, but bustling with great restaurants, bars, shops, and more. A quick 5 minute walk and you'll be in the heart of the neighborhood. We'll fill you in on some of our favorite spots. If you're looking to turn it up a notch, the North Park neighborhood is nearby with great nightlife and microbrewery options. Hillcrest and downtown San Diego/Gaslamp are also a cheap cab/Uber ride away. For those looking to enjoy the great outdoors, our place backs up to Balboa Park. You'll enjoy easy access to hiking trails, the Balboa Park Golf Course, the Balboa Tennis Club, the Bud Kearns Memorial Swimming Pool, the San Diego Velodrome, and the Morley Field Disc Golf Course. On the west side of the park, you'll find the world famous San Diego Zoo, the San Diego Natural History Museum, the San Diego Air & Space Museum, The Old Globe Theater, and much more. It's definitely worth exploring. San Diego is pretty spread out so it's usually best to rent a car. We offer several free parking options and easy access to multiple freeways. You can be at the beach in less than 10 minutes! If a car is not an option, you can utilize the MTS bus line #2 (to North Park or Downtown), Deco Bike Rental stations (short term rentals for jumping between neighborhoods), and the friendly UberX drivers who live in the neighborhood (only $10 to the airport!). January and February 2017 - Discounted construction pricing in place!!! We're currently doing some work on our backyard. This will not impact your space, but there may be some construction noise during business hours.
The treehouse is as good as it sounds. It's a very cute place with all the required amenities. It has a lovely private balcony. Jamie and Jeff were extremely friendly and replied very quickly to all our queries . Would definitely recommend this place to fellow travelers.
Gautam
December 2016
We LOVED our stay in the treehouse! We never met Jamie and Jeff, we were out and about quite a bit, but the treehouse is every bit as charming in person as it is on the website. We loved having a full kitchen at our disposal since both of us prefer to make our own meals due to dietary restrictions. The TV was a nice touch, we got caught up on some Netflix in the evenings. The location is fantastic and close to a number of SD sites, we thought it was a spectacular home base for our experience. We will absolutely stay here again the next time we are in SD.
Lizzy
July 2016
This is an excellent guest house in a wonderful neighborhood! Inside you'll find modern appliances and outside is the most beautiful private deck that crowns a series of decks built into the side of a hill. It really is a secret oasis tucked into a beautiful corner of San Diego! Jamie and Jeff made check-in a breeze and were available in the main house for anything I needed.
Alex
December 2015
Amazing place just by the park. Perfect for a morning run. Lovely terrace and cosy place. I was there for bzns and it so nice to have a quite place in the evening. 1h15mn easy walk to downtown or very cheap and easy Uber (6$) Jeff was a perfect host. I highly recommend this stay.
Eric
December 2016
The neighborhood is charming and the park is right out the front door! Amazing! The host's composed an awesome information booklet which covered all our needs.
Susanne
November 2016
The treehouse loft was exactly as advertised. It was a perfect space for us size-wise and space-wise! We appreciated the hands off approach with the owners. The location for us was perfect making it an ideal location for checking out San Diego. Wish there was some way to take the backyard patio area with us!
Camille
June 2016
We wanted a staycation for our anniversary and the "treehouse" was absolutely perfect. Everything was exactly as shown in the pictures, nicely decorated and comfortable. Private deck and backyard were amazing. Checking in and out was beyond simple and being able to park in the drive way was an added perk. House Manuel with all the near by restaurants and " things to do " was such a nice touch ! Absolutely would recommend and will come back - perfect "gem" in San Diego.
Amber
July 2016
Jeff and Jamie were great! The place was lovely and we couldn't have had a better stay!
Tim
April 2016
Art des Zimmers
Ganze Unterkunft
---
Art der Unterkunft
---
Unterkunft für
2
---
Schlafzimmer
1
South Park, San Diego
Enjoy one of the best and oldest neighborhoods in SD,Barrio Logan Art District! Galleries, brewery+tacos! Lovely space in the heart of san diego- great views of downtown+ famous coranado bridge, 6 min uber to hillcrest & downtown!
ARTSY.UNIQUE.ECLECTIC make yourself at home :) We are on the 3rd floor Yall and unfortunately, there isn't an elevator, but the climb is worth it we promise! Plus it's a nice little workout :)
CULTURE!!!! bright & colorful neighborhood rich with art. Check out the historic and visually captivating chicano park-only two blocks away! Street parking only, usually not a problem, but during art show it can get a little competitive! Just a heads up :) Quick and easy access to downtown and Qualcomm trolley. If the weather is right, downtown is a nice walk as well. Street parking- lots of natural light
The host canceled this reservation 5 days before arrival. This is an automated posting.
Luis
This is our fourth AirBnB experience, and my wife and I always try something new. In this case it was staying in a place all to ourselves as well as someone who was new to hosting. I chatted with Jesi prior to booking and she let me know that tho it was their first time hosting, they had plenty of AirBnB experience as guests. This allowed me to go ahead and book with her. It paid off. The neighborhood: Barrio Logan has a history in San Diego, and that history is growing in popularity for the better. It's become a super artsy place. The home: with that said, the condo is one of the best decorated cozy places we have ever stayed. It's like stepping into the wardrobe in the chronicles of Narnia. The amenities go from an Amazon hideaway bed, boho chair, full kitchen (no microwave), record player, retro bathtub and shower, Netflix, Apple TV, and a breezy clear view of the city. It's on the third floor with no elevator. That should be explained in the description cuz someone might have difficulty once they arrive. Hospitality: Jesi was quick in communicating and made it clear on how to enter the condo. Once inside there were instructions on how to navigate through the living space. Parking: it street parking in a barrio. I'm used to this 'cause I'm always in LA, but just a heads up, parking can be competitive. Overall: it was a great experience. Cozy, comfortable. SUPER CLEAN TOO! like really really clean.
Marlon
July 2015
Jesi made all the arrangements we needed to get in and her place was clean and exactly as she described. This part of San Diego is going through a lot of changes. We really enjoyed the neighborhood and while downtown is walkable, ride sharing is more convenient. I would stay here again.
James
December 2016
Everything was perfect, but if you were looking for some privacy I would not recommend it because there are many windows with no curtains or blinds.
John
October 2016
What a wonderful place Jesi has! Located in Barrio Logan is a beautifully decorated home with amazing views of the city. Nothing beats waking up in the morning with a cool San Diego breeze blowing through the windows while brewing some pour over coffee! It was a really inspiring visit with a vibe that would be perfect for the traveling artist. Get out of downtown and stay clear of hotel circle, check into an area of the city that has some culture! And if you happen to be in town on a Sunday, skip on past Chicano Park and you might get a glimpse of a Lowrider car show, can't beat that!
André
July 2015
Jesi was quick to respond to any questions sent her way though they didn't always arrive to me through the AirBnB system. The apartment was beautifully funky and artfully decorated. The murphy bed was well hidden, glad we found the welcome notebook, it was on the soft side but comfy. The building tenants were very quiet but there were constant sounds from I-5 in the distance which I appreciated but my traveling companion didn't. The building did not have "hot" hot water, it was luke warm and took a while to get warm. The apartments don't have numbers on the doors so make sure to make left hand turns and look for the colored door-mat. There are no curtains on the windows so the apartment was very bright and we woke up early... not that any one could see across into the apartment, it looks out above the houses in the neighborhood.
Xavier
July 2015
Jesi responded to questions timely and was easy to make arrangement with. Apartment was cute and cozy. It was a nice surprise to find freshly roasted coffee beans provided by the host for us to make and enjoy nice coffee in the morning. The closest light rail station is Barrio Logan, only abt 10-min walk away. Overall, we enjoyed our two-nite stay in SD during the Comic-Con.
Vun-Sin
July 2016
We loved Jesi's artsy place. She roasted us fresh coffee beans and there was an amazing record player and acoustic guitar to entertain ourselves with! Great airy view, but there are no curtains so bring blinders if you want to sleep in.
Sarah-Marie
July 2016
Art des Zimmers
Ganze Unterkunft
---
Art der Unterkunft
---
Unterkunft für
2
---
Schlafzimmer
0
Barrio Logan, San Diego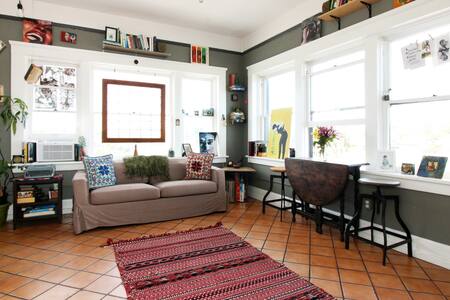 5 bed Clubhouse sleeps up to 8. Ocean view patio with Palapa bar. Great for groups and families. Steps from famous K38 surfing beach. Quick walk to great local eateries. Secure gated parking.
The host canceled this reservation 3 days before arrival. This is an automated posting.
Dave
We had the best weekend anybody could've ever asked for. We felt right at home as if we were staying over at our favorite uncles house. Loved the view, loved the hospitality, the people, just loved every minute of our stay. The neighborhood was quiet and everyone was very respectable. Will definitely be coming back.
Jessica
July 2016
Art des Zimmers
Privatzimmer
---
Art der Unterkunft
---
Unterkunft für
8
---
Schlafzimmer
1
Primo Tapia
The space is the top floor of a house that has two parts to it. One is a private loft with en suit bathroom and a kitchen and dining room/living room. The other is an office space with a kings bed. There is a bathroom but it currently does not work.
Thank you so much for everything! It was very convenient to have found this place for our little vacation. You helped make our trip to San Diego enjoyable!
Marissa
May 2016
The host canceled this reservation the day before arrival. This is an automated posting.
Sean
Art des Zimmers
Ganze Unterkunft
---
Art der Unterkunft
---
Unterkunft für
4
---
Schlafzimmer
2
Golden Hill, San Diego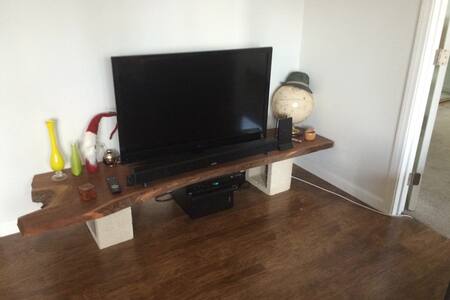 Best Vacation Rental EVER. Less than 10 blocks to Downtown, Convention Center & Balboa Park. Our house was designed to host large groups for parties & events; sleeps 16+ guests. 65" 4KTV, sound system, shuffleboard, 3 patios & huge chef's kitchen. City of San Diego TOR Certificate #: 619181
COME FOR LOCATION: perfect groups seeking to be near downtown, Little Italy, Coronado & Balboa Park. EXPERIENCE NEW TECHNOLOGY: we offer new technology amenities, such as (1) 4KTV, (2) wifi stereo, (3) smart phone controlled LED light bulbs, and (4) ultra comfy bamboo / memory mattresses. ENJOY UNIQUE ART: we treat our house like a museum of sorts. Adding textures, wall art and experience art. DOES YOUR VACATION RENTAL DO THIS? GIVE US A SHOT TO ENTERTAIN YOU! It has a fully equipped and functional kitchen in order to cook your favorite meals. The loft has 4.5 bathrooms and 6 bedrooms currently with 13 beds (1 cal king, 3 queen, 3 full, 1 single, 1 sofa, 4 couches, 1 air mattress) which sleeps 16+ people. In addition to the welcoming and charming interior of our loft, it has an appealing outdoor lounge space in which to enjoy the warm San Diego weather while barbecuing, listening to music and partying with friends old and new. We designed the entire property with you and your guests in mind. It is fully intended for your entertainment. We are happy to provide you and your guests with innovative technology to make your stay spectacular yet comfortable. For guests requiring more beds and more space, please consider booking our 3BR house (next door) in addition to our loft. Check out: https://www.airbnb.com/rooms/3922420 Guests have access to all amenities in the house. Exterior amenities include patio with BBQ grill and parking spaces on the property. Entry to the proper is from the wide alley. If you reserve the connected 3BR house, you will also have access form the main street. We are available 17 hour per day. Ask us anything! We may not know the answer, but we will look into it for you.
Grant Hill is a blend of historic homes and urban renewal. Our street, Imperial Avenue, has become one of Downtown San Diego's hottest development areas. This area is also convenient to many of San Diego's most popular attractions, such as the San Diego Zoo, Balboa Park, Gaslamp Quarter, Little Italy and Mission Bay. Our property is ideal for groups of friends seeking to be near downtown, Coronado & Balboa Park. Guests can use taxi, Uber or Lyft services for a short ride to downtown San Diego for a relatively inexpensive rate. Our home is only one (1) block from the Red Trolley which drops guests off next to convention center (for all you COMIC-CON attendees!). Neighborhood is mostly commercial with a few residential houses on the street. Most people chilling around the street are neighbors. While they might appear "seedy" or "unwelcoming", 90% of persons passing by are local business owners. As noted in reviews (please read), this is an urban area. This property is not suitable for families with small children or small groups of girls. Walking in groups of 3+ at night is recommended. Detailed check-in information is provided to guests once they have made the reservation. This property requires a security deposit that will be authorized by AirBnB (but not withdrawn from your CC). Deposit is fully refunded to guests, provided no significant damage is found nor missing any items on property.
The place is really awesome. My best Airbnb experience so far. I'll definitely go there again if I have to visit San Diego with Friends.
Benoit
April 2016
The host canceled this reservation 134 days before arrival. This is an automated posting.
guy
Our group had the most amazing time at Josh's rental home! The house looked as amazing in person as it does in the pictures. We loved hanging out there and couldn't have asked for a better experience. Josh and his team were very responsive throughout the weekend and answered any questions we had. I highly recommend this house -- it's awesome!!
Manali
March 2016
The house was amazing, exactly like the photos. We had a great time, great place for groups of people. The location of the house is in a bit of dodgy area of San Diego and you have to enter from the alley but the house is very secure. The house is very unique, it's a metal structure and made of a bunch interesting materials which adds a fresh feel to the living areas. Joshua was a great host, very accommodating. Overall, I would definitely come back and stay again and recommend it for anyone with a group looking to have fun.
Matt
April 2016
We couldn't have had a better host. Josh and crew were welcoming and responsive. They also served as complimentary tour guides. The property is also perfect for entertaining a large group. The house was made for it. The experience was better than the pictures would suggest. Lastly, it has been stated already but the neighborhood takes some getting used to. Definitely a diamond in the rough situation. Once you get in the house, it's all good.
Dennis
June 2016
The communication was top notch with Joshua. I'm very detail oriented and have to have all the information ready before a trip but Joshua was always a step ahead. I not only received and email with all the information but also a text message with the important details. In addition to this he checked in occasionally to see how things are going and how he can make the trip more comfortable. The location throws you off a bit when you arrive but that's all forgotten when you step into the house. The pictures and description were accurate and we had a awesome time at the house. We were able to keep busy and enjoy everything the place had to offer. House was clean and comfortable with lots of sleeping space.
Alex
August 2016
Josh was awesome. Quick to respond and helpful regarding any questions. The house is a perfect spot for a large group to get together. Very open layout with large doors that open up to the outside. The stereo system and 60 inch tv were a big plus for entertaining. Thanks Josh
Scott
April 2016
We had such a great weekend! It was perfect for our large group, and the open setup was perfect for entertaining! Josh was super communicative and helpful throughout the entire process. Awesome stay!!
Sara
March 2016
Art des Zimmers
Ganze Unterkunft
---
Art der Unterkunft
---
Unterkunft für
16
---
Schlafzimmer
6
Grant Hill, San Diego
Welcome to the South Park Saloon, a unique 104 year-old shotgun style home! Guests are welcome to rent our lovely detached loft, complete with a luxurious queen-size memory foam bed, large flat screen television with apple tv, lounge space, and patio space.
Welcome to the South Park Saloon, a unique 104 year-old shotgun style home! Located in gorgeous and centralized South Park, our home is the perfect San Diego getaway. Situated only blocks from some of the best restaurants, bars, shops, and craft breweries in San Diego, the Saloon is an ideal location for any visitor. Guests are welcome to rent our lovely detached loft, complete with a luxurious queen-size memory foam bed, large flat screen television with apple tv, lounge space, and patio space. High-speed wifi is available throughout the home. High-speed wifi is available throughout the home.Full kitchen, living room, and dining room, as well as our backyard and patio area are available to you at all times; however, the living room, kitchen, and bathroom are shared by one other tenant as well, and sometimes myself if I am not on tour. We are very kind, clean, and respectful people who will love to help give recommendations for places to check out in the neighborhood and throughout the city! Please feel free to make yourselves at home and enjoy your time here. As a touring musician, I will not be home as often to check-in with guests. However, one of our tenants will always be around to help you with anything you may need. My daughter, who is also a host, lives in NYC and will not be around either, but will be available to help answer any questions you may have.
Our neighborhood, like our home, is eclectic, unique, energetic, and warm. Located in Central San Diego, South Park is full of things to do for people of all ages and interests. With over 70 locally owned businesses in the neighborhood, you are guaranteed to always find something interesting to engage in. Get a massage, enjoy some yoga, go for a run through the trails in the canyon or enjoy a nice hike to visit the museums and World Famous Zoo in Balboa Park. Enjoy a flight at one of our many local breweries, shop at some of our unique boutiques, eat out at one of our fantastic restaurants, walk through the Saturday Farmer's Market, or check out some art or music at one of the venues just steps from our home. A five minute drive from Downtown, and only 15 minutes to San Diego's breathtaking beaches, South Park's central location makes it a perfect home base for anyone looking to explore all that America's Finest City has to offer. Our house is located directly in front of the 2 bus which will take you Downtown and connect you to the trolley and other busses. Bike rental racks are located only two blocks away for those of you who wish to cycle around town, and an Uber Downtown is less than $10, and only $20 to the beaches or airport. Should you prefer to drive, there are ample parking spaces available on our street and in South Park in general. Check-in: 2pm Check-out: 12pm *Different times can be accommodated with advance notice*
Stephen was out of town when we needed a place to stay on short notice, but he made himself available via phone to help us stay in his really fantastic detached loft/patio. His roommates and some friends were there and were super welcoming, inviting us to barbecue out with them one night and generally helping with anything we needed. It felt like staying with friends. The loft itself doesn't have A/C but has great fans and we were never hot. It's artsy and full of interesting books and memorabilia -- you won't get tired of just looking around. The neighborhood is AWESOME -- tons of great stuff that's walkable, lots of dogs. We really appreciate all of Stephen's help on short notice!
Julie
August 2016
Fun and unique setting, with great walkability! Besides heading into the main house to use the bathroom and chat with renters, we mostly hermitted in the separate loft to rest and recharge. Stephen was a genuine and kind host!
Dave
August 2016
Cool private room to stay at, very quaint and the decoration is fun!
Aurelian
October 2016
Great place. Love the artsy lofty feel of it.
Ella
July 2016
Awesome place. Great detached loft with a comfy bed and relaxing porch area. Stephen wasn't around while we were in town but his roommate Anthony was very helpful. Would highly recommend.
Henry
July 2016
My girlfriend and I were trying to book a room in San Diego just before what must be the craziest time of the year there: the week end of the annual Comic-Con convention. There wasn't many options in those circonstances, most of the Airbnb listings were already booked so we took a chance with a new one that had not receive any comments yet. Well, we could not have been luckier! The place was so cool, well decorated and well maintained. We were received warmly, the host even offered us a bottle of wine and oranges on arrival! The neighbourhood is safe, served by many restaurants and other facilities and is directly linked to San Diego's downtown with one direct bus. You'll feel the real local life here while being pretty close to the main attractions at the same time: the best of both worlds! And the room is separate from the rest of the house so you get a real intimacy. So our overall experience was way better then we expected and I hope that more travellers like us will have the chance to benefit from Stephen's place in the futur.
S.
July 2016
Art des Zimmers
Privatzimmer
---
Art der Unterkunft
---
Unterkunft für
2
---
Schlafzimmer
1
South Park, San Diego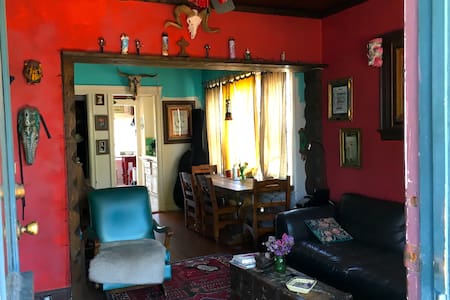 Industrial artist loft in the heart of San Diego, approximately 1.5 miles fromuk Convention Center/Downtown San Diego.
My husband and I are located only about 2 miles from Downtown San Diego, in a bustling neighborhood with tons of awesome businesses nearby, including a brewery, multiple restaurants, and a grocery store. Our industrial loft is two stories, with the kitchen and full bathroom upstairs and large bedroom/living room area downstairs. As you can see in our pictures, we have separated the living room area from our bedroom area with a partition, so you can have some privacy while sleeping. We will provide you with fresh sheets and basic toiletries as well. You will have access to our upstairs bathroom which includes a shower/tub, and to our kitchen area as well. You are welcome to use our pots and pans, stove, microwave, etc. and to store your food in our fridge so long as you clean up after yourself when you are finished. We will provide you with our Wi-Fi password and towels/toiletries if needed. We have full time jobs but we are available to answer any questions you may have about the city and can make recommendations for you as well. We will be staying across the street if you need anything :)
We are in the middle of a growing neighborhood with tons of businesses constantly popping up. Next door, there is a sit-in brewery and an American food restaurant with great reviews. Across the street there are a variety of businesses, such as a big Latino grocery store, ice-cream shop, a Chinese food place, a pizza parlor, and various coffee shops. We have several bus stops located within a block from the loft, and the trolley station (which takes you directly into the Downtown area) is only about two blocks away and will get you Downtown in less than 5 minutes. FYI - We have a shih tzu who we will be taking with us during your stay, but we want to disclose that a dog normally lives in the apartment in case of any allergies.
Staying at Alejandra's place was really great. Spacious loft with an interesting layout in a cool area. She was great as a host, and even though we didn't get a chance to meet she was in contact the entire time. Awesome experience!
Ryan
November 2016
-
Amit
October 2016
Alejandra and Ben were absolutely sweet, and great in helping me set in in the loft. The place is accurately described. It was a great location to stay for ComicCon, 20 min from the Convention Center.
Rémi
July 2016
Great hosts! Very accommodating. Fast communication. Their place was comfortable and a short distance from the convention center. Would stay again!
Luke
July 2016
Art des Zimmers
Ganze Unterkunft
---
Art der Unterkunft
---
Unterkunft für
3
---
Schlafzimmer
1
Barrio Logan, San Diego