MJ HOTEL & SUITES. Comfort,class and affordability. 21sqm room (1 king bed or 2 twin beds) Wi-Fi. Free breakfast (buffet). Hot and Cold Shower (updated August 20, 2016) Parking space. Daily housekeeping. Water stations/floor. Free-flowing coffee at the lobby, 6am-4pm.
Art der Unterkunft
Privatzimmer
---
Objekttyp
Bed & Breakfast
---
Unterkunft für
3
---
Schlafzimmer
Cebu, Region 7, Philippinen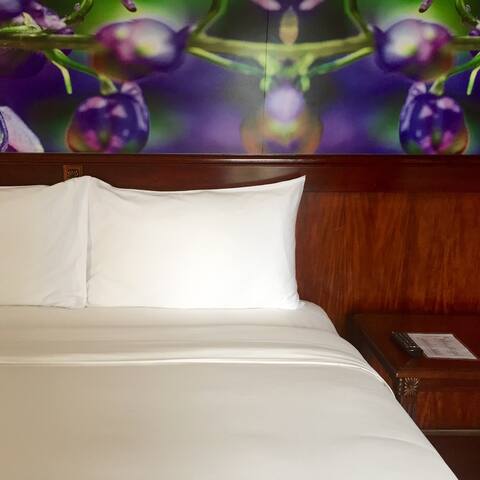 Private room w queen bed, air-con, spacious separate bathroom w hot/cold shower, big terrace overlooking garden & pool. Free wifi, use of pool & gym, common living room with large screen TV, covered terrace where free american breakfast is served.
In Cebu, the Queen city of the Philippines, we offer only 2 comfortable private rooms in our Mediterranean style villa. You can relax in our spacious garden with lovebirds and fish, or sit on our covered terrace, where we will serve your free breakfast. You can even start your day with a dip in the adjoining swimming pool or with a nice work-out at the gym. Our common dining and living area with a large screen cable tv will give you a feeling of being 'at home'. Our place offers a safe and quiet environment for people who prefer some privacy and appreciate a personal touch and some hands-on guidance from the hosts.
We are located only 20 minutes drive from the international airport of Cebu, in a quiet and guarded upscale subdivision, only 100m from the sea, and surrounded by the world class luxury beach resorts of Mactan Island. Most of these resorts nearby offer "day-use packages" giving you the advantage to discover several resorts instead of staying in just one. Of course there is much more to discover for you when in Cebu. Visit the nearby beaches and resorts, where you can do snorkeling, diving, island hopping and enjoy all kinds of watersports like jetskiing or parasailing. Golfers can enjoy a game at the many golf courses around Cebu, one of them even at Mactan Island, only 20 min from your private accommodation. If you prefer to relax, you could get a massage or be pampered in the many Spa in our neighborhood. Shopping, dining and nightlife opportunities are best found in Cebu City. There you can also visit a variety of cultural sites and sightseeing spots. To help first time visitors we propose some sightseeing tours for our guests.
Gute Gastgeber sehr hilfsbereit Sehr gutes Frühstück und Abendessen. Cherry ist eine sehr gute Köchin
Hermann
2017-03-08T00:00:00Z
Eddy ist sehr freundlich und hilfsbereit. Das Frühstück ist hervorragend. Die Lage ist sehr ruhig aber Cebu City ist teilweise Verkehrs bedingt teilweise erst nach einer Stunde erreicht. Die weiblichen Familienmitglieder scheinen nicht immer über die Gastfreundschaft Eddy`s begeistert zu sein. Schade, denn Eddy tut wirklich alles für seine Gäste.
Jűrgen
2016-11-21T00:00:00Z
Eddy und Cherry sind zwei äußerst sympathische und aufmerksame Gastgeber. Ich habe mich die zwei Tage wie zu Hause gefühlt! Schon beim Abholen vom Flugplatz hat mir Eddy viel über Cebu erzählt und dann auch gleich die nähere Umgebung gezeigt und erklärt. Man ist sofort in die Familie integriert! Ich habe den Aufenthalt sehr genossen und kann die beiden nur weiterempfehlen!
Stefan
2015-11-23T00:00:00Z
Eddy & Cherry are a great owners. The room the garden and a big various breakfast made our stay unforgettable. I recommend to each one to go to this location. (Yeah ! Cherry is a good cooker) We will come back for sure.
Chris & RoseAnn
2016-02-22T00:00:00Z
My experience at san fermin was so relaxing, eddy and cherry are lovely hosts and so wiling to please there guests. The b&b is spotlessly clean, well equipped with everything i needed, nice gardens and pool to relax in, for me i wanted a peaceful safe place for a week , and thats exactly what i got. Eddy and cherry have lots of knowlege of the area and beyond, so just ask and they are so willing to advise, also cherrys cooking is very very good , i found the hosts and there accomodation second to none and i will be staying there again for definate, thank you both for a lovely relaxing stay.
peter
2015-08-04T00:00:00Z
Eddy's house is so nice. We spend the greatest moment. Eddy and Cherry are very kindness people.They guided around Mactan and taught me anything what I want to know.Cherry made us delicious food! It was the best delicious food what I ate at Cebu! Room was so clean,wide and cute. We want to stay at Eddy's house again. Thank you for every thing!! エディとチェリーは本当に親切な方で、快適な滞在が出来ました。 マクタン島のガイドをしてくださり、送迎もしてくれました。 チェリーのご飯もとても美味しかったです。部屋も広く清潔で過ごしやすかったです。 つたない英語でもコミュニケーションが取れ、楽しかったです。 またセブに来たら滞在したいと思います!!
RIENA
2016-09-06T00:00:00Z
I will definitely reccomend this place. This is the best bnb I've ever stayed in. Eddy and Cherry are the best hosts, they are very kind, considerate and they will help you fill up your planning on your vacation. Cherry is a very good cook and even when you want to leave the house at 5am, your breakfast will be ready for you. We stayed for 10 days but half of the time we were touring around Cebu and everytime we came back at San Fermin it felt like coming home. Thanks Eddy & Cherry
Cheng
2016-07-16T00:00:00Z
Eddy and his family are really nice host. I could travel better. Thanks to Eddy :-) 늦은시간 체크인을 하게되었지만 eddy가 잠을 자지않고 기다려주셨습니다. 매일 아침밥을 함께할것인지도 물어봐주시고 도움이필요하거나 필요한물건이 있을때에도 선뜻 도와주셨습니다! 바로옆에 코스타벨라 리조트가 있어 픽업서비스를 이용할때도 편리하였고 이웃주민 라릭이 트라이시클 운전자여서 이동도 간편하게 할수있었어요. 막탄으로 여행가시는 자유여행객분들쎄 강추!
아라
2016-08-20T00:00:00Z
Art der Unterkunft
Privatzimmer
---
Objekttyp
Bed & Breakfast
---
Unterkunft für
2
---
Schlafzimmer
Lapu-Lapu City,, Cebu, Central Visayas, Philippinen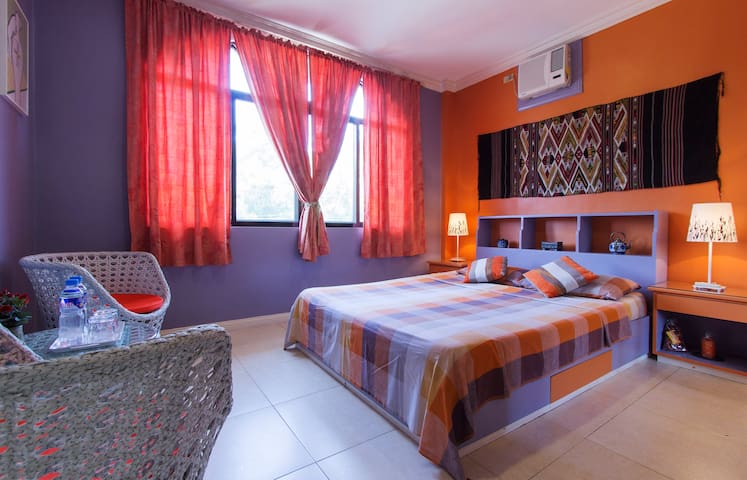 Semi double 123 cm wide bed (48.4 inch) God for two if not to big. (Check out our Studio apartment for bigger bed) Room size 6 sqm. (65 sq. ft.) + bath room. Wifi/Minibar/Cable TV/Aircon/Kettle/Hot & Cold Shower. Private entrance from outside the building. - Easy access to Mall, transportation, restaurants and beaches. -Please inform about your arrival/departure time + flight number when contacting us.
Kopieren Sie diesen Link in Ihren Browser, um alle unsere Angebote zu sehen. Es funktionieren nicht, wenn Sie nur darauf klicken: https://www.airbnb.ca/s?host_id=35432680
Central mit Walking / Dreirad Entfernung zum Einkaufszentrum, McDonald, Taxi, V-Verleih und Jeepney. Hier finden Sie die echte Filipino Nachbarschaft erleben, vielleicht nicht für jedermann. Leider werden Sie Müll in der Gegend herum, aber unsere Verbindung ist sauber und gut gepflegt zu sehen. Die Nebenstraße zu uns gehen ist schrecklich, steinig und kann mit Flut matschig sein, wenn es schwer regen gewesen ist. Was erwartet Sie ist ein im europäischen Stil Zimmer mit einer guten Qualität Bett und Sauberkeit auf höchstem Niveau.
Jarle ist ein super Gastgeber er hilft wo er kann, egal ob es um Reiseplanung - vorbereitung usw geht. Gerne beim nachsten mal wieder!
Julien
2016-12-20T00:00:00Z
Ein echt toller Gastgeber sehr sehr hilfsbereit und verdammt freundlich Mitten im real philipino live und nicht weit vom Flughafen Faire Preise Zimmer echt top und sauber Europäische Standards Was will man mehr???
Thomas
2016-04-08T00:00:00Z
We had a very comfortable stay. Jarle was a very kind and accommodating host. He was very responsive and he prepared everything we might need for a comfortable stay. He picked us up at the nearest mall and what was waiting for us was a very clean and nice room. There was a refrigerator and some snacks and drinks (for cheaper prices). You can also requests for breakfast for affordable prices too. There was a TV, a hot and cold shower, and good wifi connection. Highly Recommended!
April Joyce
2016-05-12T00:00:00Z
Great location, close to the mall and airport. Jarle was a great host, room was exactly as described and perfect for our stay. A++
Lauren
2016-05-11T00:00:00Z
The room is super clean and the price is very cheap. Near the mall and airport. Also near the Moven pick port, that is so convenient for us to take the Islands hopping tour there.
Hwa Lien
2016-05-22T00:00:00Z
The place is near to terminal going to SM and Ayala. You will surely loved the place for your stay at a value cost.
Roselyn
2017-02-11T00:00:00Z
Jarle's place was in a walkable location, just minutes away from convenient stores, BBQ restaurants, the mall, and the taxi station. His private area was clean and well decorated with plants, life, and interesting art. Our room was small but comfortable with a soft bed and a clean bathroom with a hot shower. Jarle is extremely accommodating, helpful, and a joy to talk to.
Kai
2017-03-16T00:00:00Z
Awesome place. Would highly recommend staying here. Very clean and tidy. Awesome aircon and wifi
Kim
2017-03-19T00:00:00Z
Art der Unterkunft
Privatzimmer
---
Objekttyp
Bed & Breakfast
---
Unterkunft für
2
---
Schlafzimmer
Lapu-Lapu City, Central Visayas, Philippinen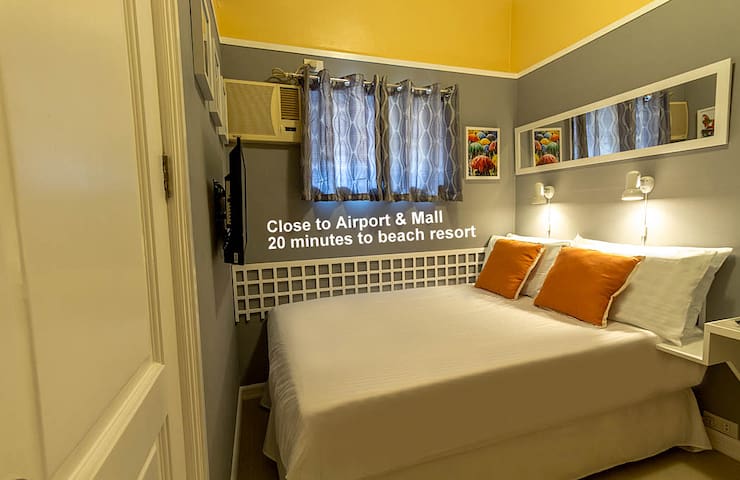 The place is accessible to jeepneys and taxis. Close to Ayala, IT park, Fuente Osmenia. The place is also quiet, safe and clean. very Ideal to short/long stays travelers. The two rooms can accommodate up to 8 people who would like to save a lot. We are not strict about the number of people for as long as everyone can maintain cleanliness and not fussy. extra beds can be provided. We also offer breakfast at the property at a very affordable cost.
Der Ort liegt in der Nähe Restaurants und Fast-Food-Restaurants wie McDonalds.
Art der Unterkunft
Privatzimmer
---
Objekttyp
Bed & Breakfast
---
Unterkunft für
6
---
Schlafzimmer
Cebu City, Central Visayas, Philippinen
Spacious room perfect for twin/trio travelers. Room has own private bathroom with hot shower, cable TV, A/C, and fast WiFi. Located close to malls (SM/Ayala/Parkmall/IT Park), restaurants, spas, hotels, gyms, hospitals, & grocers. FREE BREAKFAST! :) (breakfast only served during restaurant hours: Mon-Sat 9am-9pm, Sun 11am-7pm)
Room at the 2nd floor of Abaseria Deli & Cafe. Located in semi-commercial neighborhood - quiet, safe, and accessible. Abaseria Room B is a nice cozy room with cable TV. It comes with 2 single beds but additional floor bed (max of 1) is available if needed. The airy and cool common area is available to all guests and can be a place to have meals or used as a laptop work space. Good food and selection of drinks is readily available from the Deli & Cafe (during shop hours) and can be served at the common dining area. Free breakfast at the restaurant during shop hours. Our other rooms: Room A (Family Room) - https://www.airbnb.com/rooms/11743690 Room C (Backpacker Room) - https://www.airbnb.com/rooms/11803263
The neighborhood is very safe and a good mix of residential and commercial establishments. Aside from Abaseria Deli & Cafe, these are the following establishments in the vicinity: 100-300m vicinity: Albur's Burger (great place to hang-out and awesome burgers) Neo Neo BBQ restaurant Ruthy's Cebu Lechon restaurant Ekit's Pocherohan (low-key affordable eatery with good food) Chocolate Chamber Ladies dress shop (cut to fit as you wait) Small convenience store 400-500m vicinity: Sarrosa Hotel Laundry shop Ming Thai Spa Sinangag Express Tapsilogan (affordable rice + egg + viand food choices) Small Japanese restaurant Mid-size convenience store Money Chang(PHONE NUMBER HIDDEN)m vicinity: Fooda Grocery (with ATM machine) Shakey's Pizza 7 Eleven Crossfit Pintados Gym Vape Room Castle Peak Hotel Jazz n Blues Bar 800m-1km vicinity: BDO Bank (with ATM machines) Burger King Jollibee Kart Zone Rico's Lechon LBC (courier service) Rose Pharmacy KFC
Nice...
Richard
2016-08-17T00:00:00Z
Excellent location, amenities and accommodation. Will love to stay again ...
Maratam
2016-07-11T00:00:00Z
Lovely place to stay! Everyone is very friendly and so helpful, the food in the restaurant is delicious too - definitely coming back to stay again!
Lizzie
2016-05-26T00:00:00Z
The place was clean and cozy. I would stay there again when I visit Cebu!
Chihiro
2016-08-13T00:00:00Z
My first Airbnb booking and it was great. Staff are very friendly and rooms are clean and spacious indeed. Would recommend this place to friends going to Cebu.
Sam
2016-07-11T00:00:00Z
The place is very quiet. It's something worth taking another stay.
Edilyn
2016-08-06T00:00:00Z
From check in to check out, our experience at Abaseria was extremely homey and comfortable. We stayed nine nights and Bang, his family and the fantastic staff made sure my 4-year-old daughter and I felt welcomed our entire stay - like family. There was a brown-out the day after we arrived and the staff set-up a cot downstairs in one of the air-con banquet rooms so that my daughter could nap comfortably. Location is great as it is off the main road which is nice, but within walking distance of restaurants, a mini-mart and a full grocery store. Don't miss the food at the restaurant as well - excellent local cuisine. Rooms are spacious and pictures are true to form. Beds and linens are super comfy. I will likely reserve a room for when my parents visit in a few months and would love to check out the mountain property Bang's family also rents. Thank you Bang for an excellent introduction to life in Cebu, we look forward to seeing you in the neighborhood!
Tracy
2016-07-02T00:00:00Z
The host is very accommodating, replies immediately and generous (b'coz he gave us free breakfast even though we have booked our stay passed the promo duration). The room is exactly the same in every photo, the neighborhood is quiet, there is a security guard and the direction to the place is simple, accessible by taxi/cab. sir bang, thank you for the free breakfast and for allowing us to extend our check out time. May God Bless you always. Jen
Jennifer
2016-06-05T00:00:00Z
Art der Unterkunft
Privatzimmer
---
Objekttyp
Bed & Breakfast
---
Unterkunft für
3
---
Schlafzimmer
PH, Philippinen
MJ HOTEL & SUITES. Comfort, class and affordability are just a few of the various things this business hotel offer. It is also strategically located in the heart of Cebu City.
MJ Hotel & Suites is strategically located within the heart of Cebu City, close to major malls and restaurants. Fun and entertainment is just a walking distance away. Room: 30sqm Extra bed available upon request An incidental deposit of Php 1,000 will be asked upon checking in which will be RETURNED to our guests upon check out. Don't you worry! This is just a security deposit for casualties/incidentals. :)
We have lots of restaurants around the vicinity. To name a few, there is: Taiwan Shabu-Shabu Calda Pizza Micky's (Pastries Shop) - my favorite; just right at the corner, same building with Calda Pizza Kuya J's Grill Butterbean - a must-try in Cebu >Ayala Mall, which is one of our major malls, is just a walking distance away (around 5-10mins walk). >I.T. Park is another awesome place to dine and unwind. It's just 5-10mins by cab from our hotel. > La Vie Parisienne and La Maison Rose (Pink Restaurant) are both awesome places you must check out in Cebu. Going there is just around 5-10mins by cab from our hotel also.
Art der Unterkunft
Privatzimmer
---
Objekttyp
Bed & Breakfast
---
Unterkunft für
4
---
Schlafzimmer
Cebu, Cebu, Philippinen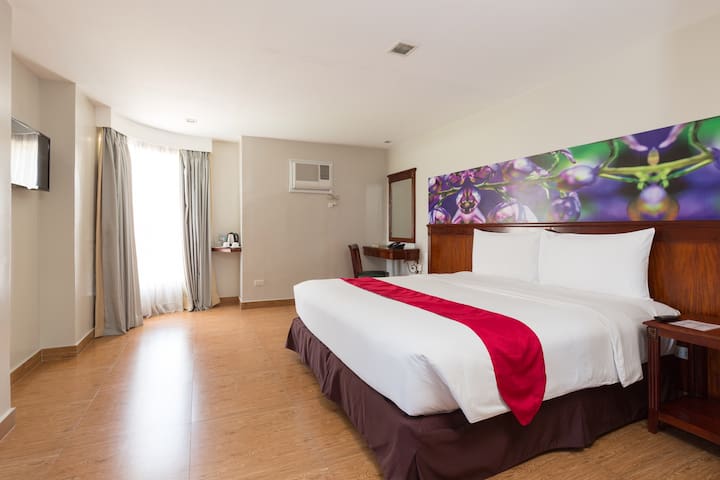 Meine Unterkunft ist gut für alleinreisende abenteurer und geschäftsreisende.
장점: 0. 매우 친절함. - Mr. Ekkehard 와 그의 아내는 매우 친절합니다. 그리고, 그의 딸은 매우 부끄러워 합니다. 매우 귀엽습니다. 그리고, 그녀를 위한 선물을 준비한다면, 그녀의 마음을 조금 얻을 수 있습니다. :) 1. 매우 저렴함. - 주변에서 private room 중에서 가장 저렴하면서, 좋습니다. 2. 매우 청결함. - Mr. Ekkehard 의 아내가 매일아침, 점심, 저녁으로 청소를 합니다. 빌리지 또한 깨끗합니다. 3. 깨끗한 수영장. - 수영장이 상당히 잘 관리되고 있습니다. 아이들이 놀기에도 참 깨끗합니다. 깊이는 4 feet (122cm) 로 적당하고, baby pool 도 존재합니다. 4. 인지도 - 많은 현지인들이 세경빌리지를 알고 있습니다. 새로운 아파트 3동의 입주가 4월에 시작되면 더 많은 현지인들과 택시, 지프니, 트라이시클 기사들이 세경빌리지를 알게 될 것입니다. 단점: - Airbnb 를 이용할 생각이라면 딱히 단점은 없습니다. 주변에 (PHONE NUMBER HIDDEN) peso 짜리가 더 낫다는 보장을 못합니다. Advantages: 0. Very friendly.   - Mr. Ekkehard and his wife are very kind. And his daughter is very embarrassed. It is very cute. And if you prepare a gift for her, you can get a little of her heart. :) 1. Very cheap.   - It is the cheapest of the private rooms around, and it is good. 2. Very clean.   - Mr. Ekkehard's wife cleans every morning, lunch and dinner. The village is also clean. 3. Clean swimming pool.   - The swimming pool is well managed. Children are also beautiful to play with. The depth is 4 feet (122 cm), and the baby pool 4. Famous   - Many locals(filipino/filipina) know Saekyung Village 1 Condo. When three new apartments start moving in April, more locals, taxis, jeepneys and tricycle driver will find Saekyung Village 1 Condo. Disadvantages:   - If you use Airbnb, there is no disadvantage. I can not guarantee that around 500 to 1000 pesos is better around. 利点: 0.非常に親切さ。   - Mr. Ekkehardと彼の妻は非常に親切です。そして、彼の娘は非常に恥ずかしがり屋です。非常に可愛いです。そして、彼女のためのギフトを用意すれば、彼女の心を少し得ることができます。 :) 1.非常に安。   - 周辺のprivate roomの中で最も安価ながら、お勧めします。 2.非常に清潔する。   - Mr. Ekkehardの妻が毎日朝食、昼食、夕食に掃除をします。ビレッジもきれいです。 3.きれいなプール。   - プールはかなりよく管理されています。子供たちが遊ぶにも真きれいです。深さは4 feet(122cm)で現実的で、baby poolも存在します。 4.認知度   - 多くの地元の人々が細径ビレッジを知っています。新しいアパート3棟の入居が4月に開始されると、より多くの地元の人とタクシー、ジープニー、トゥライシクル記事が細径ビレッジを知るようになるでしょう。 短所:   - Airbnbを利用つもりなら特に欠点はありません。周辺に(PHONE NUMBER HIDDEN) pesoのものが優れている保証をできません。
Hyeongchae ( Daniel )
2017-03-31T00:00:00Z
저는 원래 한 곳에서 이틀 또는 삼일을 머물고, 이동합니다. 그러나, Mr. Ekkehard 의 집은 상당히 마음에 들어서 3일 더 머물기로 하였습니다. 저렴한 숙소보다는 필리핀 친척, 친구집에 머무는 것 같습니다. I usually stay two or three days in one place and move on. However, Mr. Ekkehard's house was very much appreciated and decided to stay for three more days. It seems to stay in friend's house, relative of Philippine rather than cheap accommodation. 私は、元の一箇所で二日または三日を滞在、移動します。 しかし、Mr.Ekkehardの家はかなり気に入って3日より滞在にしました。 手頃な価格の宿泊施設ではなく、フィリピンの親戚、友人の家に滞在ようです。
Hyeongchae ( Daniel )
2017-03-28T00:00:00Z
Art der Unterkunft
Privatzimmer
---
Objekttyp
Bed & Breakfast
---
Unterkunft für
1
---
Schlafzimmer
Lapu Lapu City, Central Visayas, Philippinen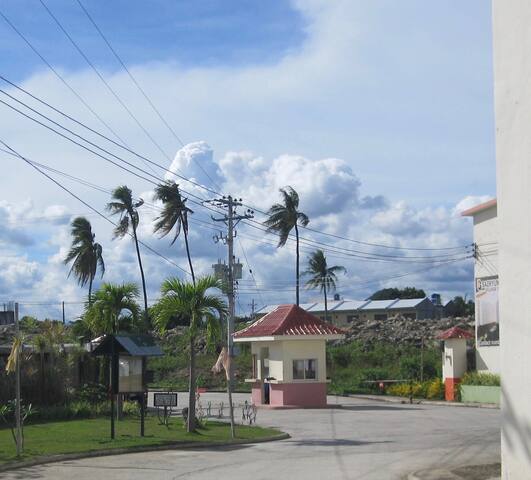 "Relax, Recuperate and Romance..." The Garden Room definitely offers a perfect escape from the city's hustle and bustle with its picturesque view and serene environment. The Garden Room is situated in the lower floor of the main house - Casa Mari. The room has its own entrance, toilet&bath and small covered kitchenette. It has a total area of 30 sq-mtr including the toilet&bath and small kitchenette. The room itself has an area of 15 sq-mtrs. The room is furnished with air-conditioning, WIFI, cable TV, refrigerator, microwave, water kettle and hot water system. It is located within a gated community. You will enjoy an environment conducive for jogging and strolling -- garden by the valley is waiting to be discovered. Despite being only 5 kms away from the nearest mall, public transportation like jeepneys are LIMITED from the unit. Jeepneys are available 300 meters from the unit but are only available from 6:00AM-8:30AM (city-bound) and 4:00PM-6:00PM (home-bound). If you are the adventurous type, you can backride in motorcycles which locals call the "habal-habal" for as low as Php40.00 per way. Cabs/taxis can be requested to pick you up from the unit to the city with an additional of $1-2 on top of the taxi meter. Going up from the city to unit is not a problem with the same $1-2 additional cost to the meter. We also have a private pick-up truck that can be hired for the day. We serve breakfast for at least Php180. Please understand that we have to specially prepare for you. Please tell us the day before if you are getting the breakfast so that we can prepare them to your satisfaction. We also have laundry service at 35pesos per kilo.
Our neighborhood boasts of its peaceful atmosphere and its breathtaking view of the city and the mountains. One can enjoy these without being too far away from the city. There is a garden down the valley that is waiting to be discovered! There are a couple nearby restaurants (Filipino and Italian) that offer great affordable food while enjoying a great view!
Un cadre de vie magnifique à 5 kms de Cebu, les jardins de Busay sont un écrin de verdure au calme dans une résidence sécurisée. L'accueil chaleureux de mes hôtes m'a ému et je recommande particulièrement ce havre de paix à tous les voyageurs. Christine NADELA et ses parents sont adorables. J'ai fait une chûte de moto, la maman de Christine m'a soigné chaque matin, elle était infirmière. Les repas en terrasse étaient exquis et je remercie tout le staff de la maison. Le chocolat chaud de Mme NADELA est délicieux. Je reviendrai ici pour un séjour plus long. JLuc COCQ
John Lee
2013-03-11T00:00:00Z
The place was s(PHONE NUMBER HIDDEN) beautiful. Too bad we were not able to make the most of our stay since we had a lot of activities. The good thing about it is that after a tiring day, we have a comfortable place to stay.
Vicar Mae
2016-10-16T00:00:00Z
Hosts were very welcoming and friendly. Garden very pleasant. Wonderful views from garden and nice view from room. I requested a second cooking hob and was provided with a double hob, which worked well. There was a very unpleasant smell coming from the kitchen cabinets, one of which is under the kitchen sink. The front door of the apartment is designed in such a way that they are open spaces in it – presumably to provide ventilation in the kitchen – and one of the windows has a broken latch and cracks in it. The room is as it appears in the main picture, but I have just seen another picture – which I do not remember seeing before – which gives a better indication of size. I actually expected it to be larger than it is. I did not like smell in the bedroom, although I think it is only a smell of wood coming from the wardrobe. The bed mattress was rather soft, but the pillows were plump and firm. The hosts helped arrange motorbike taxi pickups and taxi to the airport and allowed me to make local calls, free of charge. External noise was much less of a problem than with most hotels, although disco music could still be heard often at night, even though it may have been coming from 11 km away! Also found noise from neighbouring guests' air conditioning units annoying when mine was mine was switched off. The main noise nuisance in my experience was simply the internal noise in the house. I heard everything, including cleaning and including food being prepared in the kitchen upstairs, even though it is actually two doors away! I do not feel that the hosts did anything unusual, but that it is simply to do with the acoustics in the house – possibly in part due to the high ceilings upstairs. Dogs barking in the neighbourhood was certainly a problem, although the hosts' dogs were generally quiet. Motorbike noise cannot be escaped! One of the nicest things was being able to have dinner in the garden, but, unfortunately, the seat there is as hard as the one in the kitchen. If you come back early enough and are lucky, you may catch an 04I jeepney that takes you all the way to just outside the gate of the subdivision, but generally it does not go that far and you have to get a motorbike taxi. Bed sheets are changed only once per week, so it isn't like staying in a hotel, but, depending on the degree of your sensitivity, you may find it a more restful experience(URL HIDDEN)
Philip
2015-03-06T00:00:00Z
My husband and I wanted to have a quiet and relaxing post valentine's day weekend. Christine's place is the perfect choice. Apart from the beautiful scenery, Tata and Edward made our stay worry-free. Although Christine was not able to meet us, she was very patient in answering all our questions and requests and made sure we were taken cared of... Just too bad we only booked for a night. For sure in our next visit, we'll be staying longer...
Jen
2014-02-17T00:00:00Z
Christine is an awesome host. She is so friendly and approachable. She is very fast in her communication too. Ask Christine for food recommendations and you will be spoilt for choices. You should try everything she recommends because they are simply delicious! Christine's place is cozy, clean and pretty. The garden view is very nice. The area is quiet. The only issue is probably the additional 50-200pesos when you call a cab. But it was worth the stay i must say.
John
2014-07-30T00:00:00Z
The Garden Room at Casa Mari is exactly as described. We thoroughly enjoyed every moment of our stay there. All the amenities we expected were in order and then some. The kitchen comes thoughtfully stocked with cooking materials and utensils; we did a market run at JY Square grocery and the public market and made ourselves a private dinner for 2 which we enjoyed in the garden outside. No sunset but the sight of Cebu gradually lighting up as dusk settled was just as enchanting. Christine is the perfect host - before our arrival she gave a briefing of what to expect and how to get to the place. Too bad we weren't able to meet her but her mom dropped by to say hi. Tata the housekeeper is very pleasant and knows how to cook a great breakfast. The egg omelette and hot chocolate is a must try! 5 stars overall!
Steve Andrew
2015-06-08T00:00:00Z
Thank you Christine & family, me and my boyfriend had the most fantastic time staying here. It reached our expectations and more! It was lovely to stay up in the mountains away from hussle and bussle of the city. We loved to sit outside in the evening and watch the day end over the city. I 100 % reccomend this place, its very safe and taxi into the city was cheap. Also the breakfast was amazing ☺ we felt very welcomed and at home in the 3 days we spent here. Home from home, we will definitely be staying here if we were ever to come back in the future. Thank you!! X
Toni
2015-03-14T00:00:00Z
Christine's place was so (URL HIDDEN) & my mom enjoyed our stay a lot, not to mention the hospitality and kindnes Christine's family had shown during our stay. Would love to visit the place again in the near future.
Lora
2012-10-24T00:00:00Z
Art der Unterkunft
Privatzimmer
---
Objekttyp
Bed & Breakfast
---
Unterkunft für
2
---
Schlafzimmer
Cebu City, Central Visayas, Philippinen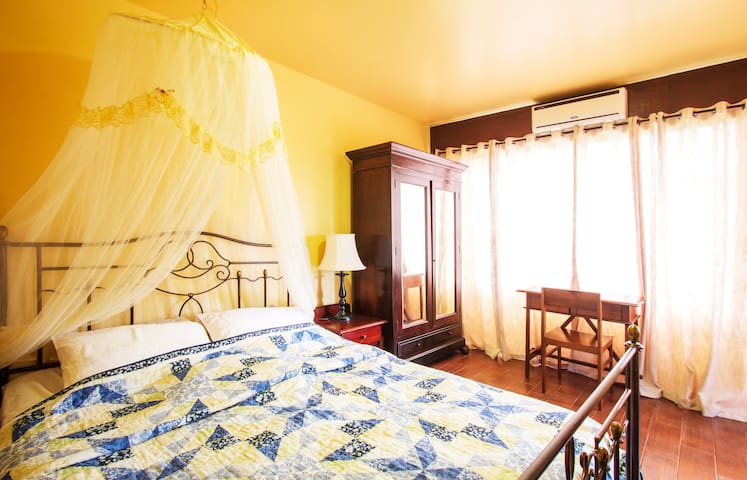 Es ist in der 12. Etage des Golden Peak Hotel. Annehmlichkeiten des Hotels gehören ein Café und kostenlos zur Verfügung Wi-Fi in der Lobby, ein Restaurant in der 2. Etage, und verwendet Keyless-Karte. Es verfügt über einen Flachbild-Kabel-TV, Klimaanlage, Telefon und einen Schreibtisch. Ausgestattet mit einem warmen und kalten Dusche und eine Badewanne.
33 Quadratmeter Zimmer mit WC und Bad (Wanne). Couchtisch mit Stühlen, Schreibtisch für Geschäftsreisende.
Ruhige Nachbarschaft.
Budget friendly. Condotel staff are accommodating. Place is very accessible, near restaurants and mall
Dannah
2017-03-08T00:00:00Z
Jen is very accommodating. The place is also accessible. The staff in the hotel are also helpful. The area is very near shopping malls like the Ayala Center Mall, SM Cebu, and Robinsons Galleria.
Gino
2016-09-01T00:00:00Z
Easy communication with the host. Accessible location and cozy place to stay.
Allexis Danielle
2017-03-13T00:00:00Z
Traffic is under u pillow by 5 am its very noisy and the sound proofing system in an old unit like that is below average
joseph
2016-09-06T00:00:00Z
Location was very accessible. Room was spacious and cozy. Beds were a little old but ok. Bathroom was clean.
Patrik Konrad
2017-04-05T00:00:00Z
Great place for the price, just a little noisy from all the traffic
An
2017-01-12T00:00:00Z
Great place for the money ! walking distance to the best mall
martin
2017-01-19T00:00:00Z
Good place to stay and budget friendly!
Michael
2017-01-27T00:00:00Z
Art der Unterkunft
Privatzimmer
---
Objekttyp
Bed & Breakfast
---
Unterkunft für
4
---
Schlafzimmer
Cebu City, Central Visayas, Philippinen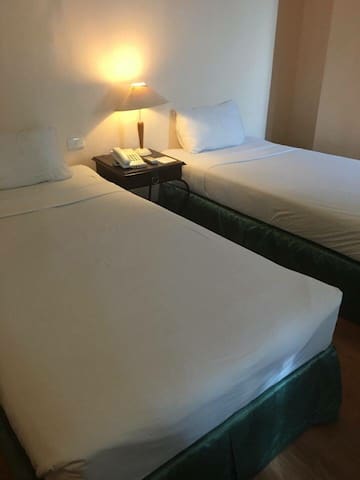 Mein Platz ist in der Nähe Mactan International Airport, mehrere Einkaufszentren, Supermärkte, 24-Stunden-Convenience-Stores, die Pueblo Verde Outlets Geschäfte, Restaurants. Sie werden meinen Platz wegen der strategischen Lage und dem rustikalen Ambiente lieben. Mein Platz ist gut für Paare, Solo-Abenteurer, Wanderer, Geschäftsreisende, Familien (mit Kindern) und große Gruppen.
Es ist zugänglich für Transport, zum Flughafen, etc. Unser Platz ist groß genug, um Ihnen die Privatsphäre und persönlichen Raum im Gegensatz zu einigen Gästehäusern zu geben, wo der Platz zu klein ist alles zu persönlich wird. Wir servieren auch ein kostenloses Frühstück mit Kaffee oder Tee.
Die Unterkunft ist genau so, wie sie hier beschrieben wird. Kein Taxi Fahrer wollte uns dorthinbringen vom Airport, da sie die Pension nicht kennen. Es war relativ schwer zu finden, die Lage ist mitten in der Stadt und sehr laut
Mona
2016-11-19T00:00:00Z
It was a very great place to stay, host was very nice and the food for breakfast was so deliciously yummy.
Michelle
2017-01-15T00:00:00Z
Very friendly personell, decent breakfast, relatively close to the airport. Not the best neighborhood though and the room we had Smelled a bit stale. Good for a stopover before a fbefore through Cebu Airport (10min from the hotel).
Elvin
2016-12-30T00:00:00Z
Hannah's place is good for backpackers only not for family or with infant. Place is near the airport and hospital. But far from the city spots. Too mosquitoes. I stayed with family and infant just asked for extra bed.
Jen
2017-02-24T00:00:00Z
I wasn't feeling great when I arrived in Cebu, but Hannah and her family looked after me really well and were very kind. The place is around 20 minutes from the airport, the rooms are clean and the bed is comfortable.
Andy
2016-10-07T00:00:00Z
Comfortable place and helpful host. Thumbs up!
Michelle
2017-02-21T00:00:00Z
Very good value for money
Juraj
2017-02-28T00:00:00Z
Hannah's place is conveniently located close to Cebu Mactan airport and makes for an ideal overnight for travellers just arriving to or departing from Cebu. We were in room 10 which was nice and clean. If you're a light sleeper, be prepared for the next door neighbour's rooster to wake you up well before dawn - which can be great if you forget to set your alarm. The traffic noise is also quite audible. Breakfast was good old bacon, eggs and toast and check out was at a generous 12 midday. Drinking water was available 24/7 downstairs. We thank Hannah and her family for hosting us and we wish them all the best.
David
2017-03-08T00:00:00Z
Art der Unterkunft
Privatzimmer
---
Objekttyp
Bed & Breakfast
---
Unterkunft für
2
---
Schlafzimmer
Lapu-Lapu City, Central Visayas, Philippinen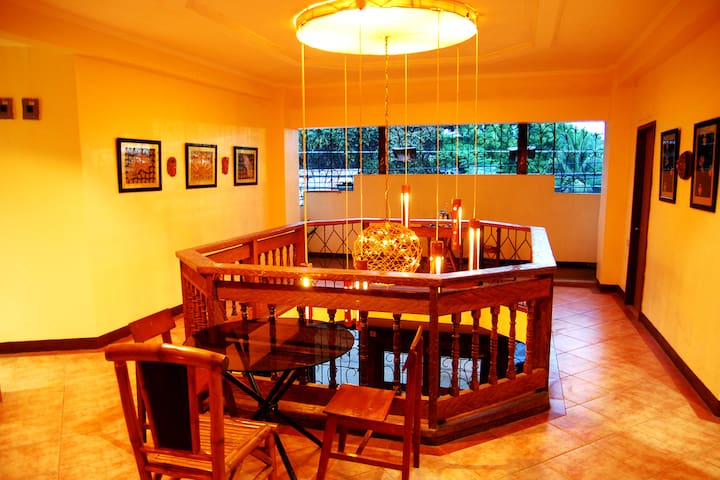 Zimmer 6.5 m² (69,9 m² Fuß) mit komfortablen Hotelstil Bett - Aircon, Kabel-TV, Ventilator und Wasserkocher. - Zentrale Lage in unmittelbarer Nähe zum Flughafen - Einfacher Zugang zu den Mall, Transport, Restaurants und Strände. -Bitte Über Ihre Ankunft / Abflugzeit und Flugnummer informieren. Kopieren Sie diesen Link in Ihren Browser einfügen, um alle unsere Angebote zu sehen. Es funktionieren nicht, wenn Sie nur darauf klicken. https://www.airbnb.ca/s?host_id=35432680
Ihr eigener Eingang mit eigenem Bad / WC / TV / Kettle / Wifi
Zentrale Lage mit Walking / Dreirad Entfernung zum Einkaufszentrum, McDonald, Taxi, V-Verleih und Jeepney. Hier finden Sie die echte Filipino Nachbarschaft erleben, vielleicht nicht für jedermann. Leider werden Sie Müll in der Gegend herum, aber unsere Verbindung ist sauber und gut gepflegt zu sehen. Die Nebenstraße zu uns gehen ist schrecklich, steinig und kann mit Flut matschig sein, wenn es schwer regen gewesen ist. Was erwartet Sie ist ein im europäischen Stil Zimmer mit einer guten Qualität Bett und Sauberkeit auf höchstem Niveau.
Es war eine super Unterkunft, geb zwar nur eine Nacht dort geschlafen, da ich nur einen Zwischenstopp in Cebu hatte. Hat sich aber gelohnt. Die vermietet waren sehr zuvorkommend und haben mich abgeholt & wieder hingebracht für keinen großen Preis. Außerdem waren sie super nett und das Zimmer war zudem auch sehr sauber und modern mit eigenem Bad , Klima WLAN Ventilator fernseht und Wasserkocher :)
Vanessa
2016-12-02T00:00:00Z
Ich hatte ein großartige Zeit bei Jarle! Er und seine Frau waren freundlich und habe mir sehr geholfen meine Weiterreise nach Dumaguete zu planen. Das Zimmer ist sehr gemütlich und sauber! Ich würde jederzeit wieder kommen!
Sabine
2015-09-15T00:00:00Z
挺好的。麻雀虽小五脏俱全
yeejun
2016-02-08T00:00:00Z
I really had fun at Jarle's place! The room may be small, but it has everything that a traveller, like me, would need. When I entered the room on my first night, I pretty much felt like home. It was cozy and there's no noise at all from the outside environment. He would also show you a few things around the place so you can get by as soon as possible :) Over all, given the opportunity, I would stay at Jarle's place again.
Jason
2016-10-09T00:00:00Z
JJ and his wife were very gracious hosts. They were quick to answer all of my inquiries before and after I have booked their place. The room is as you can see in the photos, it was actually bigger than I expected and I had enough space as a solo traveler to move around and pack my bags for the next day's trip. I especially liked the thought that they did stock up on food and drinks in case of emergency when one is too tired to go out (the prices are listed on the room and are reasonable). Towels and toiletries were also provided. It was the perfect place to stay for a night just before an early morning flight!
Lea
2016-05-04T00:00:00Z
JJ picked me up from Gaisano Mall as we had discussed prior to my arrival, which was super convenient because I did not know my way around. He was very welcoming and informative too. The room and area that the complex is situated in was exactly as described, it's a very local neighbourhood which personally I loved. The room had everything I needed, nice and clean, and great shower. The internet worked intermittently, but that is to be expected in all parts of the Philippines I traveled to. Overall I am very happy I booked this room, convenient for a short stay.
Grace
2016-05-05T00:00:00Z
The place is beautiful and the host nice and helping! He picked me up from the airport, helped me figuring out the basic transportation system and all. I had my own small room with AC and the neighborhood is authentic Philippinan I'd say. I really liked it! Unfortunately neither of us thought about the keys when I checked out, which created a little bit of a hazzle since it was very hard for me to transport anything to the place after I had left. I am really sorry, that my very pleasant stay caused inconvenience for my host afterwards.
Elena
2016-01-20T00:00:00Z
非常感谢Jarle,虽然只呆了不足24小时,但是感受到了热情和温暖,房间很小但是设计合理,一应俱全,对于英语渣渣的我,Jarle也很耐心的教我如何坐车去SM CITY CEBU还有车费
jieqiong
2016-05-12T00:00:00Z
Art der Unterkunft
Privatzimmer
---
Objekttyp
Bed & Breakfast
---
Unterkunft für
1
---
Schlafzimmer
Lapu-Lapu City, Central Visayas, Philippinen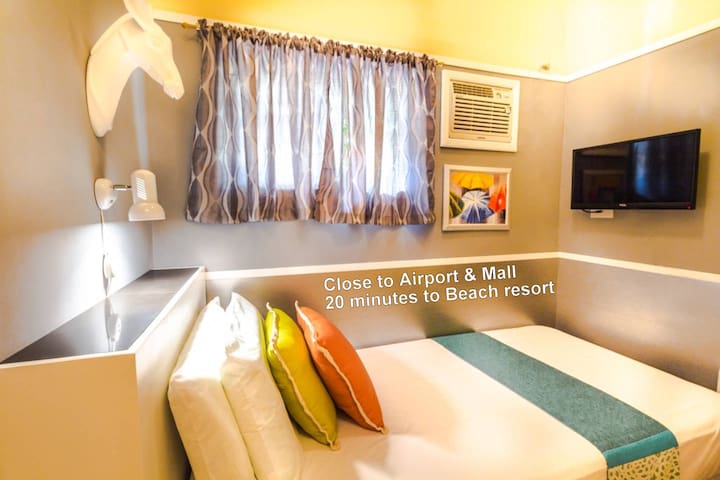 A very relaxing place,no internet,no tourism.The enormous garden, providing loads of shade from rows of coconut palms.The best relaxation with your family&friends.Beach is a typical white gray sand just a 2 min walk to the shore w/ your own privacy.
Family Room with own bathroom for 4-6 PAX w/ aircon = 2987 pesos Rooms Seaview with shared bathroom 3-4 PAX w/ aircon = 2100 pesos Rooms Backview with shared bathroom 3-4 PAX w/ aircon = 2000 pesos Endcleaning = 1,500 pesos
They are all my co Filipinos and friendly persons. You can see how they live. Fishing is the main source of living, be there and see them Fishing. See the Cockfighting and have some bet! Go to the Fish Market or shopping to the rural area. A private Beach on our own or experience the Karaoke Songs, it is one of the Filipino hobbies!
The host canceled this reservation 7 days before arrival. This is an automated posting.
Tim
2016-03-17T00:00:00Z
like your having vacation in your own provincial place.. it's just 1.5h hour away from the busy city and viola!!! You have your peaceful countryside escape where you can hear the crickets and chirp of the birds in the early part of the evening. had the place all by ourselves so we can just hang out anywhere in the house, we had group games and best of all we can cook our own food for lunch and dinner. You can buy fresh catch fish from the fishermen folks at the beach early morning and evening . best place for group getaway.
Sheila
2016-04-25T00:00:00Z
The best way to find Estela's place is to look it up on (SENSITIVE CONTENTS HIDDEN) maps beforehand using Wifi, then use your phone's GPS to navigate there. Coming from the crazy congestion of Mactan/Cebu City, and the spectacular route across the interior hills, we had to go into Balamban and find Estela's sister's store; she then very kindly sent one of the girls that worked there to escort us on a motor cycle. So its not the easiest place to find... .....But once there we loved it. The beach is great for walking, relaxing sunbathing and swimming, lots of fishermen pulling in hand nets in the evening and setting them in the day. The enormous garden, providing loads of shade from rows of coconut palms, is perfect for doing tai-chi, yoga, whatever. If you don't like bugs, bring repellent, as they can be pretty thick in places, depending on the wind conditions. We did some of our own cooking while Masang, the housekeeper, cooked local dishes the rest of the time. Very relaxing place to stay, no internet and barely any cell service. Estela suggested various places to go for day trips...Whale sharks at Oslob was a long drive but well worth it. The southern tip of Cebu has incredible views and a nice boutique hotel to stop at for lunch. Driving down the south east coast up the west coast is great too.
Alex
2016-02-14T00:00:00Z
The house is very secluded and located right at the beach. Recommended if you want a relaxing weekend. Could improve in a few ways however: there were no towels and no wifi.
Marloes
2015-07-20T00:00:00Z
It was such a perfect relaxing weekend for my family. We brought our own portable butane burner so we could cook literally in any open space around the house. The refrigerator was working well, washing sink was a bit small but we managed,running water at times run out but one switch of the pump by the ever helpful Ate Masang and water flowed again! Utensils, plates, bowls, etc. were all available for use. Hot and cold water dispenser was available as well. One thing though, when we booked the place I was under the impression that we got the whole house (as the listing was entire house/ apt). When we got there, Ate Masang said we only had two rooms under our name and that other guests would be arriving. I showed her a print out of my reservation receipt and she clarified it with the owner. They gave us additional rooms (we were a party of 9) and we were lucky that the other guests never arrived so we had the huge place to ourselves the whole time. Beach isn't typical white sand and we didn't care to swim but it's just a 2 minute walk to the shore and very relaxing to hear the waves in the morning. Place is great for running around if you've got lots of kids. Would definitely stay here again!
Rubina
2016-01-11T00:00:00Z
WOW.! This place is absolutely WONDERFUL.! Estela and her Sister are fabulous to work with and very responsive... And, the house manager and her husband took amazing care of us... If you are looking for a truly fun, relaxing experience in a private native setting, this is it.! HIGHLY recommend and am planning on staying again soon.!
Kent
2015-06-14T00:00:00Z
Art der Unterkunft
Privatzimmer
---
Objekttyp
Bed & Breakfast
---
Unterkunft für
16
---
Schlafzimmer
Asturias, Central Visayas, Philippinen
My place is close to restaurants and dining, great views, the beach, family-friendly activities, and nightlife. You'll love my place because of the outdoors space. My place is good for couples, solo adventurers, business travelers, families (with kids), big groups, and furry friends (pets).
Art der Unterkunft
Privatzimmer
---
Objekttyp
Bed & Breakfast
---
Unterkunft für
4
---
Schlafzimmer
PH, Philippinen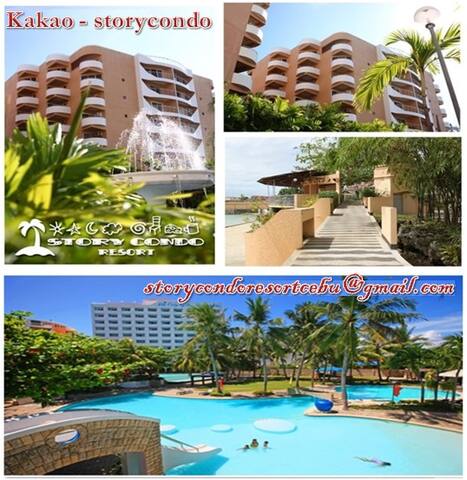 Cassandra's is a beachside guest house with 5 modern rooms, stunning views to Cebu Island and a small restaurant/bar. Located in a small fishing village about 10 kms north of San Carlos City and 5 kms south of Calatrava on Negros Island.
Cassandra's is a guest house right on the beach in a small traditional fishing village. The beach is a mixture of white sand and brown sand and is shallow and safe. There are no rocks and at low tide you can walk the length of the bay. High tides reach the sea wall at the property.
Our village, San Isidro, is a traditional fishing village and the local people are very friendly. The fisherman go out at 5am in their wooden bankas and many haul their nets onto our beach. Others sail further out to find larger fish such as tuna.
Outstanding place to visit. I highly recommend Cassandra's beach inn to those of you who want to enjoy everything good there is here in the Phillipines. The staff was superb and the locals were just great. I never felt more welcome anywhere. If you want to really enjoy yourself and the local atmosphere of these wonderful people skip the fancy resorts and visit Cassandra's you will never forget it. Thank you and your staff for the most wonderful time I have ever have had.
richard
2017-02-11T00:00:00Z
Art der Unterkunft
Privatzimmer
---
Objekttyp
Bed & Breakfast
---
Unterkunft für
2
---
Schlafzimmer
Calatrava, Western Visayas, Philippinen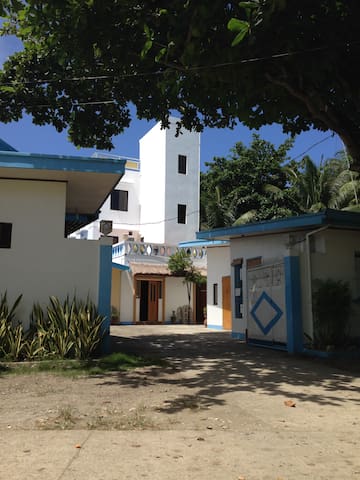 room for rent near mactan airport (aosmec square hotel) - Brand New Fully furnished luxury rooms - LED TV 32" - Fully airconditioned rooms - Luxury Toilet and Shower - Free Wifi - Free shuttle to and from Airport (for 2 days or over) - Free room cleanup service - For 649.00 Rate Free Breakfast - With Fridge - 1 Day Island Hoping (optional, 2500php) - Scuba Diving (optional, $50) - City Tour (optional, 1st 2hrs - 750php, suc. hrs - 250 php) For inquiries contact: Arvin and Mylene Sagarino
Art der Unterkunft
Privatzimmer
---
Objekttyp
Bed & Breakfast
---
Unterkunft für
2
---
Schlafzimmer
Lapu-Lapu City, Central Visayas, Philippinen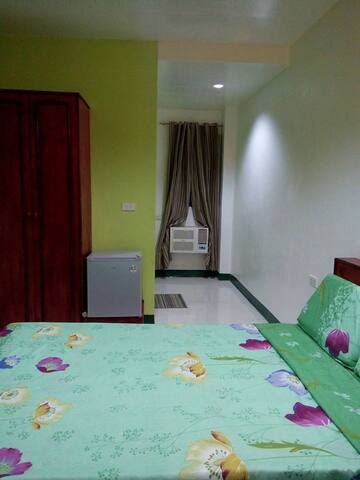 Das Hotel liegt an Basak Lapu-Lapu City eine günstige Sicht auf den schönen Stränden, Einkaufszentrum (Grandmall, Saversmart, 7/11) Minuten vom Geschäft zentral von Lapu-Lapu (Pueblo Verde, Basak Markt, Birhen sa Regla) und ein 15- 20 Minuten vom Mactan International Airport entfernt. Elle liegt versteckt-weg von der Autobahn Straße und von einer Filipino-Stil Nachbarschaft umgeben. Das Zimmer verfügt über einen privaten Raum, ein Badezimmer und eine eigene Terrasse. Auch ein öffentliches Dach und die freie Zugang zu Wi-Fi auf bestimmten Bereichen des Apartel.
Das Zimmer verfügt über einen eigenen Komfortzimmer eine heiße und kalte Dusche, Fernseher, Klimaanlage Zimmer mit Deckenventilator, Kühlschrank, bequemem Schreibtisch und Stuhl. Es hat einen angemessenen Raum. Eine private Terrasse und verfügt über eine exklusive Dachterrasse für den Gast.
Die Nachbarschaft ist freundlich und familien- mögen. Auch wenn Kinder überall aber seine sichere und lebendig.
It is really good
Jibong
2016-11-10T00:00:00Z
Ok for the price and clean. But it would be better to arrive early to be well accommodated.
Dana
2016-10-05T00:00:00Z
My fiancée Jovei really enjoyed her stayed there. The host was considerate and made her visit quite comfortable.
Michael
2016-08-22T00:00:00Z
The place itself is tucked away, but we got a cheap transfer from the docks, so it was no problem for us to find it. Thanks again for getting us from the rain! The hosts are very attentive, we got an electric kettle immediately after I asked if we could have some mugs for our morning coffees and teas. We planned to make it from cold water, as it was very late when we arrived, but they fulfilled a wish we didn´t know we had! Get the transfer if you don´t have a ride already, the taxi will cost the same and it will be probably not as nice as their car!
Dora
2016-11-06T00:00:00Z
The host(s) were phenomenal. They were always ready to provide us with necessary amenities. The place was cleaner than the pictures made it seem and the AC worked like a charm.
Nicky
2016-08-08T00:00:00Z
Good service! Good price/qyality! Very friendly staff! Thanks!
wouter
2016-11-27T00:00:00Z
️️️️️ Cleanliness, Fridge and Hotwater is awesome ️️️️️ Promise (the host) and front desk receptionists responds well ️️ Location - given it is secluded and we like it, there should be more specific instruction about transpo since we are travellers, we do not drive ️ Cabinet had molds on it inside out
Steph
2017-01-28T00:00:00Z
Very pleasant communication, even though I checked in late in the evening I had a nice welcome. The host also arranged a transport to the airport. The room was clean, with a well placed air-conditioning.
Areg
2016-12-26T00:00:00Z
Art der Unterkunft
Privatzimmer
---
Objekttyp
Bed & Breakfast
---
Unterkunft für
2
---
Schlafzimmer
Lapu-Lapu City, Central Visayas, Philippinen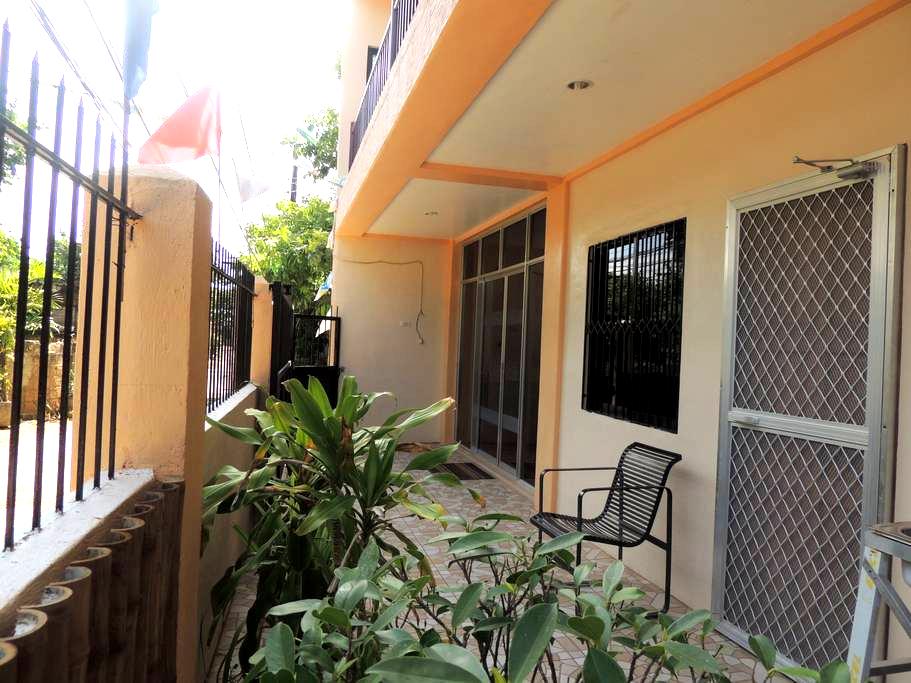 My place is close to the city center, malls, banks, business offices, , public transport. You'll love my place because of the neighborhood, the ambiance, the outdoors space, the people, and the light. My place is good for couples, solo adventurers, business travelers, families (with kids), and furry friends (pets). We also offer drop-off transportation (Rates begin at 200 Php; rates vary per distance of drop-off). **Please note that this there are three units available all the same rate.
The unit is 87 sq. meters in size. Complete with basic amenities. You can cook inside, bedroom is fully air-conditioned. Bathroom has both hot and cold shower. Unit is provided with kitchen ware and silverware (plates, utensils and glasses). There is also a laundry area for long-term stay.
The unit is located in a private subdivision with nearby stores and eatery. There is also a laundry place nearby.
The host canceled this reservation 18 days before arrival. This is an automated posting.
Jose Mari
2016-12-24T00:00:00Z
kim and the family are superb people they really makes me feel as long time friend. the unit was nice so cool and huge from view oitside you wont expect the awesome place inside. anyway thanks kim hope to see you soon. to all guys oit there travelling to cebu, you wont regret if you will have kims place. they even offering transpo at affordable cost.
reuel
2016-06-07T00:00:00Z
Art der Unterkunft
Privatzimmer
---
Objekttyp
Bed & Breakfast
---
Unterkunft für
2
---
Schlafzimmer
Cebu City, Central Visayas, Philippinen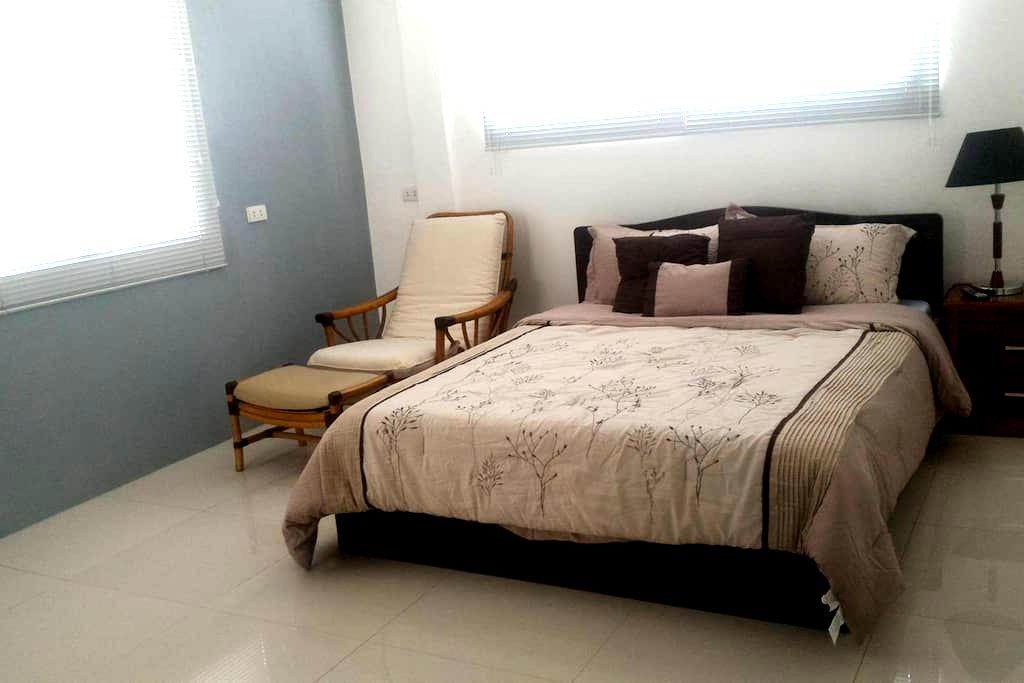 Portville is a newly completed townhouse with 24-hr security just 10 minutes away from Mactan Airport. This is an ideal place for guest catching up with early flights. (transient/layover) The place is near beaches, dive spots, and island-hopping station. My place is one of the units in Portville, it has 3 rooms, I have two rooms for rent via Airbnb while I'm using one for my personal use.
A place design for guest who wants to rest after travel and taking an early flight (transient/layover). Backpackers or Transient Guest who wants to stay overnight and catch an early flight. Single Bed. Shared bathroom/comfort room. A good home-stay experience.
A newly completed townhouse with 24x7 security just 10 minutes away from Mactan Airport. This is an ideal place for guests catching up with their early/late flights. We are literally near the airport runway so you can see the runway and hear planes flying. Although not all the times. The place is a subdivision or a townhouse with several houses. Getting around can be via Taxi, Tri Sikad, Motorcycle and once in the main-road can be multicab.
Place was nice and perfect for an overnight stay if you have an early flight to catch like I did. Just don't walk all the way to Portville from the gas station like I did the first time I was looking for it, had I known that the tricycle or habal was just so cheap I wouldn't think twice od getting it. Orville was very nice and accomodating, he even helped me get a taxi in the dead of the night (3am) just for me to get to the airport. His place is highly recommended, but I would suggest learning how to ride a multicab to and from the airport to save on taxi fare
Vin
2015-07-10T00:00:00Z
Stay was fantastic, host is very responsive and went out of his way to help his guests. Orville was more like a friend than a host, very kind and understanding. Definitely will come back and stay here.
Lily
2015-05-05T00:00:00Z
I had a chance to stay at Orville's place for my last day before leaving Cebu, I arrived early to his house, even though he wasn't there, he managed to leave the keys to his neighbor for me. The place is very near the airport. He helped me getting taxis and making reservation in resort, beside that we could have interesting discussions. See you again.
Mohamed
2015-06-15T00:00:00Z
I'd definitely recommend this place to anyone look for a spot near the airport or Mactan island. Orville was super helpful before my stay by sending through lists of local sights, maps of the area and directions to the accommodation. He was particularly generous with helping my lost taxi driver find the address and getting me to the airport on time for an early morning flight. Thanks!
Bronwyn
2015-09-08T00:00:00Z
Orville was a fantastic and helpful host with a place that was easy to find. He supplied me with everything i needed.
Billy
2016-06-22T00:00:00Z
We only stayed for a few hours at Orville's place but we had a pleasant stay. It was clean and provided us exactly what we needed - a place near the airport where we could leave our luggage, have a short nap and shower. Orville and Janice were friendly and accommodating hosts. Highly recommended!
Khristine (Tin)
2015-11-23T00:00:00Z
The host canceled this reservation the day before arrival. This is an automated posting.
伟华
2016-07-23T00:00:00Z
Orville was an absolutely wonderful host! He was so kind and helpful, even coming to pick me up at the airport and helping with directions to get to Malapascua. I couldn't have asked for a better place to stay that night. Thanks so much and maybe I'll stay again when flying out of Cebu!
Yousie
2015-07-08T00:00:00Z
Art der Unterkunft
Privatzimmer
---
Objekttyp
Bed & Breakfast
---
Unterkunft für
1
---
Schlafzimmer
Lapu-Lapu City, Central Visayas, Philippinen
1

–

18

von

112 Bed & Breakfasts
Gib deine Reisedaten ein, um den Gesamtpreis pro Nacht zu sehen.