Gib deine Reisedaten ein, um den Gesamtpreis pro Nacht zu sehen.
The boathouse is a self contained deep waterfront timber cabin sleeping two upstairs in the loft and two downstairs in the giant day bed. Pitched ceilings and roaring fires. Waterskiing, reading and snoozing. Only an hour by car from the harbour bridge. And a five minute boat ride from Brooklyn.
Set on the beautiful Hawkesbury River, this is not just a 'river view'. The boathouse is literally on the riverbank. Tastefully decorated with a cosy wood burning fire, own bathroom and small kitchenette, bring whatever you need to eat and drink and settle in to get away from it all. We have cosy blankets, great books, games, wine glasses and everything you need for a romantic getaway or some family time. The River House, set above the boat house, is also available to rent with space for four adults, four children and a baby. How to get there The beauty of the place is in its seclusion, and that comes from hav car access. There are several ways of getting there: We can bring you over if we are staying in The River House for a small petrol fee. Water taxi: This is the simplest option. Drive to Deerubbun Reserve, which is just over the Hawkesbury River Bridge. Take the first left immediatley after the bridge, then left at the round about. Parking is free, safe, unlimited, and ample. Arrange a pick up with Neal from Hawkesbury Water Taxis. He will charge approx ~$100 each way. Own Boat: if you've got your own, bring it up and park it out the front. Kayak: Only a short paddle from Mooney Mooney. Train: There is a train every hour that comes from Sydney (and from the north), stopping at Hawkesbury River Station. From there it is possible to hire a boat from the Marina and make your way up the river. Ferry: The River Boat Postman is an iconic journey that leaves Hawkesbury River Marina every week day, stopping at Milsons Passage Public Wharf. Sea Plane: If you're feeling luxurious, why not hire a sea plane from Rose Bay. A great experience for a special occasion. What do you have access to? Telescope. Hammock. Deck chairs. Big undercover BBQ. Fishing rods. Donut. Ocean ski. Double Kayak. Water skis. Wetsuits. Guitar. Drums. Chess. iPod dock. Bathroom has shower only, no bath. Kitchen has two electric stove/cooktop/hotplates, fridge, microwave, big electric frying pan, toaster, kettle, slow cooker, stick blender, sandwich press, crockery, cutlery, glassware etc. NO OVEN. Totem tennis. Yoga mat. Tonka trucks. Board games. Books. TV and DVD player. Please bring your beach towel! As necessary if we're on site. As required via text if I'm not.
Milsons Passage is a lovely quiet community a short boat ride from Brooklyn and the Mooney Mooney boat ramp at Deerubbun Reserve. Stock up on supplies at Brooklyn as there are no shops or restaurants in Milsons Passage. The beautiful Estuary Restaurant is a short trip up the river and Peats Bite will send their own boat to pick you up and drop you back again after your amazing degustation lunch. There are tiny beaches dotted along the river and a shipwreck, waterfall and the remains of a church and cemetery can be found by those with an adventurous spirit. Milsons Passage is a small, quiet community of permanent residents and weekenders. It is not a resort style atmosphere. Loud music and disrespectful behaviour will not be tolerated by us our neighbours. BOAT ONLY ACCESS We can transfer you from the Deerubbun Reserve Boat Ramp for petrol money if we are onsite. (5 mins each way.) Bookings are dependent on availability. Must be confirmed via message before booking your stay. Neal can do a special package where he brings you over on the water taxi and leaves a tinny for you to use during your stay. The Boathouse is boat only access. You cannot drive. There are no shops or restaurants in Milsons Passage. You must bring everything you need with you. Don't forget your beach towel and some newspaper for the fire.
The listing was exactly what we wanted. There was a lot of wind during our period of stay, but it was all worth the while staying in doors with the fireplace.
Cecilia
October 2016
This boat house is truly incredible. A very unique experience for those who want to relax and unwind. We had a little mix up at the start but Susan was quick to sort it out and is super accommodating. This little place is very well decorated, and made me feel very Hemingwayesque - a great place to lie back on the big day bed and read, write and errr…. Drink. Would highly recommend for anyone looking for a relaxing and different kind of getaway.
Katie
January 2017
The Boat House is pretty much as described with lots of character, right on the waterfront, and the 'highway' right out front, with its traffic of a different sort! As its the first stop, 5 minutes upriver from Mooney Mooney all the boats go past here and it makes for a diverting passing parade, with most observing the 'go slow' signs for this stretch of the river. For the 2 of us, a parent with his teenage son, the sleeping arrangements were fine, with the 2 beds, up and down. 2 adults on the day-bed downstairs would be pushing it though. It would be all right, if a bit squishy for a couple with 2 smaller children or better, just a couple. The upstairs loft is a lovely place to sleep but the mattress could definitely do with an upgrade. The highlight for us was the access to the 2 person kayak, a great way to explore the river if you are fit and a bit adventurous. The kitchen could be better equipped given you will be preparing all your meals at home. I would recommend it for anyone wanting a quick escape from Sydney, and having your own tinny would be the way to go.
Grant
October 2016
Had the most amazing 3 day stay at the Boat house! Perfect place to unwind from the stress of the city and was only 40 min from home. We were very lucky to have such warm weather in September (22-23 degrees everyday) so we spent most of our days sitting on deck chairs out on the jetty (Got a lovely tan too!) We caught a huge bream while fishing off the jetty and cooked it in the fire place for lunch. Delish! We came prepared and brought a few things to marinate the fish. We caught two jewfish while we were there but were undersized unfortunately, and after a few run in's with catfish, we gave up on the fishing. Perfect place for those who love to fish!! We woke up to watch the sunrise at 6am every morning. The mist over the water in the morning is so beautiful and worth the early wake! We watched a DVD from their large collection every night. In the evening we lit a fire in the fire pit and sat out watching the sun go down. It was the perfect getaway - we are already planning our next visit when we return from overseas!!
Brenda
September 2016
We had a awesome time. The place was just like the photos, simply stunning, secluded and you couldn't get any closer to the water. It's the perfect location to escape, relax and enjoy the beautiful scenery this place had to offer.
Melanie
January 2017
While we didn't meet Susan in person, she was a very helpful and accomodating host and the house was beautiful, homely on the inside and peaceful and scenic on the outside. You couldn't ask for a better location to relax and unwind, and it feels a lot more remote than it is, just an hour from Sydney. We didn't even get around to using most of the the entertainment and equipment provided, amazing canoes and plenty to keep you occupied inside. A beautiful home.
Fergus
February 2017
A cosy house. The Holiday house full of treasures ! Feet in the water, head in the trees. 1 hour from Sydney and you start to have the feeling to be in the wild! Fishing nearby is great but need a boat (easy and cheap to rent). The canoe gives the freedom of exploring the surroundings ! Susan and her husband are super reactive to answer questions and fix issues. The garden is a space of freedom for the kids. The perfect escape from The city!
jerome
January 2017
The host canceled this reservation 8 days before arrival. This is an automated posting.
sophie
Art des Zimmers
Ganze Unterkunft
---
Objekttyp
Loft
---
Unterkunft für
4
---
Schlafzimmer
1
Milsons Passage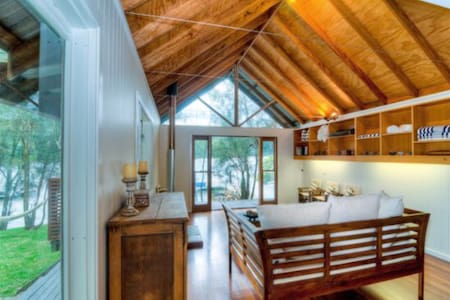 The Luxury WoodHouse loft Hunter Valley in the heart of Cessnock. This charming 1920s heritage 2 bedroom self contained loft is minutes to pubs, clubs, cafés, vineyards and concerts. Front and rear entertaining areas enclosed with hardwood balustrade.Industrial modern interior with high ceilings and exposed beams Enjoy like we do!
The space is perfect for business or pleasure. The location is perfect getting around town. We are close to supermarkets, restaurants, cafes and gift shops. Huge open plan living kitchen and dining filled with natural light from the four meter arched window. Exposed structural beams and meter high ceilings really opening the room up. Beautiful front and rear verandahs for BBQs and relaxing. Private bedrooms both with built in robes. Super comfortable sofa bed for kids or more friends. Entire Hunter Valley Loft Off street parking Free wifi Happy to meet our guests on arrival to show you around the house. Always contactable on email or by phone 24 hours. As a local to Cessnock would be more then glad to share ideas on the best wineries and restaurants. I am also available to organise wine tours, transfers and any other special surprises for weddings, anniversaries, birthdays, or just a special weekend away.
We are in the heart of the Hunter Valley Wine area. We have the most unbelievable wineries, wines, cafes, restaurants and concerts. Bus stop across the road in Vincent street Taxi rank 2 mins down the road Bookings in advance I would be happy to take on wine tours or restaurant drop off and pick up The front and back decks are currently being renovated. May or may not have the furniture or tiles on them at the time of booking. Please don't not move the furniture. There is a business down stairs which operates Monday to Saturday they won't bother you though just keep in mind they are there 9am till 5pm
Great location and very cool loft apartment.
Lisa
November 2016
The woodhouse was a beautiful, spacious, clean, comfortable and welcoming space. Everything we needed was catered for, plus the location was central and handy
Alison
March 2016
We really like this loft and enjoy it. The design and furniture inside is so cool. We will back again!! Btw, Luke is so helpful for us and handsome!!!
奕鸣
December 2016
Luke has a really awesome loft in this. This accommodation is in the heart of Cessnock and it was renovated & furnished in a simplistic way. The place is super spacious, loved how each piece of furniture was arranged and how the lights were installed too. With a private car park space just behind what I loved most about the place is there are two fantastic hangout place, the entrance and a balcony. Luke was very helpful in explaining some basic instructions as well as a few info on the town itself. Would love to visit this place again if I ever go to the area of Hunter Valley again!
JOSHUA
March 2016
Fantastic apartment, very spacious, very clean, easy to find and everything on your doorstep. Luke was great as he recommended lots of places to visit and stay. The his and hers showers were awesome. Would stay again, Tom
Tom
December 2016
Luke's place was great. It is a very spacious and neat place, with a great location (only a 4-5 minute walk to Coles). It has all the facilities that we required and has a secured parking location. It's an extremely easy place to relax and really enjoy yourself.
Tom
October 2016
Such an amazing stay. Perfect in every way. Luke was very accommodating and the facilities were 10 out of 10. Would definiteky stay there again.
Bridget
October 2016
Luke's place in Cessnock was great. The place is massive and has everything you need! Thanks a lot again for having us, we had a great time!
Gwendolyn
November 2016
Art des Zimmers
Ganze Unterkunft
---
Objekttyp
Loft
---
Unterkunft für
6
---
Schlafzimmer
2
Cessnock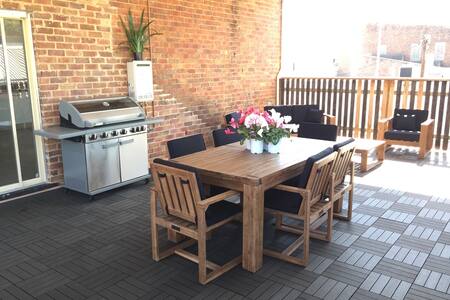 Centrally located in a peaceful neighbourhood. Close to John Hunter Hospital, Blackbutt reserve, New Lambton and Blackbutt villages, Newcastle International Sports Centre, Westfield Kotara. A short 13 minute drive to Newcastle beaches and ANZAC bridge walk. 5 minute walk to Blackbutt pub with live entertainment and great dining options.
Lovely quiet street. The loft is spacious, clean and filled with natural light. The loft is completely detached from main residence with private entrance. BBQ facilities,pool and home gym upon request. Kitchenette is equipped with full size fridge, Smeg convection microwave oven, kettle, toaster, Nespresso coffee machine and milk frothier. We use the adjoining deck often. Guests are welcome to join us to enjoy a glass of wine😉
This is such a great street with the park right at our doorstep. There are always kids playing in park and parents close by to chat to. Although it feels like a little country town we are just minutes from shops, dining and entertainment. We are within walking distance to Kotara train station and buses. We have 2 dogs, a staffy (Reyne) and a poodle x (Mario). They are very kid friendly but not keen on other dogs! They will bark to welcome you home but they are not at all aggressive.
Kelly's loft exceeded our expectations exponentially. I am so happy I did not book a tiny 1 room hotel and booked here instead. There was plenty of room for my sister and I, it was beautifully well kept and clean, the sheets and bedding were great quality, we even got bread, butter and condiments provided in our kitchenette! We were very very comfortable, had privacy, didn't feel claustrophobic, had beautiful hot showers (the showerhead was awesome) and felt like we had just left a 4 or 5 star self serviced apartment. Beyond happy and the price was SO affordable you won't find a hotel that can deliver this value tor money! Highly recommend you book here we will definately be back!
Arlyta
July 2016
Kelly and her husband were extremely welcoming to myself and my two teenage children. The accommodation was outstanding and the location was the perfect spot, close to shops and public transport. We felt very comfortable and we especially loved their 2 dogs, they are so cute and friendly! Look forward to returning!
Jo
October 2016
Our host made our stay very pleasant, thou they were away, we were greeted by the most loveliest dogs that made our stay even more enjoyable! The loft is set out beautifully. Very clean and spacious! Love to come and stay again :)
Laura
July 2016
We had a great time at the Loft. It is quite spacious and equipped with a kitchenette and a nice bathroom. The hosts are very friendly and provided us with a lot local tips. We can warmly recommend staying at Birchy's Loft :)
Martin
January 2017
Kelly thank you for our recent stay in your  loft. You certainly provided a home away from home with clean, comfortable, private and spacious accomodation. The thoughtful additions in your kitchenette; fresh bread, condiments and coffee that welcomed us after a restful nights sleep were greatly appreciated. The kids loved the games and puzzles that kept them occupied when we weren't out and about but not nearly as much as your other family members Reyne and Mario. Your location was lovely and quiet, easily accessible and perfectly situated with no more than 10 minutes in the car to places of interest. We look forward to our next visit.
Kerrie
July 2016
Plenty of room upstairs, very clean and comfortable. Good provision of basic food items, thanks very much. Area is close to major shopping center at Kotara's Westfield, good pub food just 400m walk away, Wests League club only 5 min drive with numerous places to eat covering all tastes and budgets (the chinese upstairs is very good value and standard). Overall the accommodation is excellent value and we would recommend it, the only reason we probably wouldn't return is that the stairs from the bathroom/kitchenette area to the bed/lounge are steep and my wife isn't stair friendly and tends to go to the bathroom several times at night
Jan
August 2016
This is our second trip to Birchy's Loft and it is already feeling like a home away from home. The Loft is perfectly located; being central to all the places we needed to go. Kelly's thoughtful touches mean you don't need to rush out for basics as soon as you arrive.
Kerrie
August 2016
Beautiful peaceful spot yet very central. Friendly hosts. Great value. Would stay again.
Liz
January 2017
Art des Zimmers
Privatzimmer
---
Objekttyp
Loft
---
Unterkunft für
4
---
Schlafzimmer
1
New Lambton