Gib deine Reisedaten ein, um den Gesamtpreis pro Nacht zu sehen.
3 Bed & Breakfasts
· Zinal
3 Bed & Breakfasts
· Zinal
Sehr nette Familie, gemütliches Zimmer und feines Frühstück. Ideale Adresse für Kurztripp. Mit ÖV allerdings etwas eingeschränkte "Bewegungsfreiheit" am Abend - letztes Postauto bereits vor 20 Uhr.
Richard
December 2016
Had a great stay (4 nights) with Sylvie and Stephane - great access to the mountains, including day passes provided by Sylvie letting us use the buses and lifts in the region to get to the high country. Beautiful breakfasts with both Sylvie and Stephane available to answer questions about hikes or just life in the alps. Always with a very warm smile. Great and abundant coffee, and local treats for the breakfast (good bread, jams, and cured meats). Excellent stay, came back to work refreshed and invigorated.
Fabrice
August 2016
It was great to stay at Sylvie and Stefans house. They are friendly and warm people and their home is in a great location. I'd recommend their place and would be happy to return in the springtime when it's nice and green!
Justin
January 2017
Accueil très chaleureux, endroit typique, avec un bon petit déj
Jan-Olof
July 2016
Très bon accueil, lieu calme et très joli.
Valentine
August 2016
This was a good place to stay to get out of town center and enjoy some peace. The room was clean and comfortable. Breakfast is simple with bread, cheese, jam, and coffee, but it was all good and high quality. They have maps available and the town offers a transit pass to anyone staying overnight that allowe us to take the bus and gondola for no charge. Also, trails between towns are easy to get to for a nice stroll (we wanted to see the forest.) Our only challenge was working out logistics for public transit in combination with restaurant times. But thats the case for anyone in the valley if you are not staying in a town center.
Timothy
September 2016
The house is in the mountainside village of Mayoux across the valley from Vissoie. Consequently, it was quiet. The house is divided into upstairs where the host family lives and downstairs where the Airbnb rooms are located. The common area for Airbnb guests (with chairs and a table) is outside in front of the house. The room with a double bed was comfortable for sleeping but not for hanging out. Breakfast was served upstairs and consisted of bread with jam, tea and coffee. The bread and jam were very tasty and the coffee was great. The hosts were friendly and very knowledgeable about the trails in the area. I would recommend staying here.
Tom
August 2016
Art des Zimmers
Privatzimmer
---
Objekttyp
---
Unterkunft für
2
---
Schlafzimmer
1
Mayoux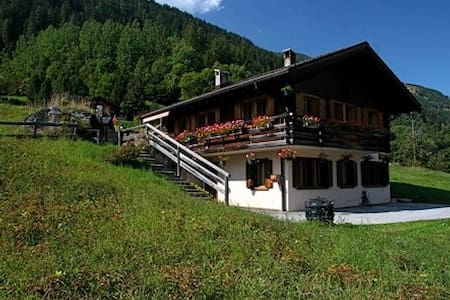 Sehr freundliche Bewirtung und angenehmer Aufenthalt in einem ruhigen Bergdorf des Val d'Aniviers, mit einer Vielzahl an Tagesausflugszielen in der Nähe.
Peter
August 2016
Super séjour chez Sylvie et sa famille. Un lieu calme et confortable avec une vue magnifique, et surtout des hôtes très accueillants, toujours prévenants tout en restant discrets, merci beaucoup !
sabine
August 2016
The host canceled this reservation the day before arrival. This is an automated posting.
Anders
The best place i could imagine to stay at, delicious breakfast and the room was very clean and comfortable. I really enjoyed the time with sylvie and her amazing family i am looking forward to go back the next year for skiing season.
Payam
September 2016
We had a very nice stay at this lovely B&B. The owners of the B&B are very welcoming and helpful people. We had a very nice chat with them and they gave us a lot of recommendations for the area. The eggs from their chickens tasted really good, thanks Sylvie :-) It's ideal for mountain bikers, you are only a short walk away from public transportation. We are hoping to come back
Antonia
July 2016
After a warm welcome Sylvie showed us around her lovely place. Furthermore, a day pass for the gondola was even included for the following day. lovely place, lovely family. I highly recommend!
tobias
July 2016
Accueil excellent, logement hyper bien tenu, petit déjeuner attentionné (Sylvie anticipe vos désirs), nos hôtes prodigues en informations utiles nous ont donné grâce à la taxe de séjour incluse dans le prix le pass Val d'Anniviers, clef de Sésame pour téléphériques et autres.
Jean Pierre
July 2016
Agréable séjour à mayoux. Nos hôtes ont vraiment été charmants, chaleureux et accueillant! tout comme la couette toute douillette! ;-)
Eric
September 2016
Art des Zimmers
Privatzimmer
---
Objekttyp
---
Unterkunft für
2
---
Schlafzimmer
1
Mayoux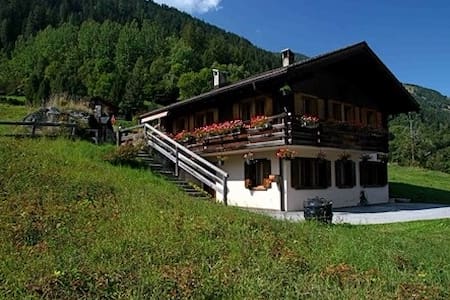 Ich wurde von Sylvie und ihrer Familie herzlich empfangen und sie haben sich hervorragend um mein Wohl gekümmert. Ich habe mich sehr wohl gefühlt und konnte die herrliche Berglandschaft sehr geniessen. Ganz lieben Dank und gerne auf ein andermal!!
Luzius
July 2016
L'accueil a été chaleureux et très sympathique, nous nous sommes senti comme à la maison. Le petit déj. (composé de produits frais locaux) a été l'occasion de partager de façon très conviviale avec Sylvie et Stéphane et les autres hôtes du lieu. Nous recommandons vivement cette adresse ! Encore merci pour votre accueil.
Patrick
July 2016
Sylvie & Stéphane did a wonderful job. I really felt like home. They were warm and welcome, they made a terrific breakfast, we had lots of interesting and lovely talks about Switzerland, the environment,... They adviced me nice things to do and see, like you would never find them in a tourist brochure,... They were very concerned about my experience, about my 'holiday-feeling' and did everything to make things great! The room was clean, cosy and had a good bed. I could park the car outside of the house, or on a parking lot nearby (20 meters). The village was quiet and cosy. The valley had lots of things to offer: hiking, walking around, interesting historical things to see, a glacier, lovely villages, lots of good restaurants with lokal food,... A really plus was the free busses, the free cable cars,... You could reach very easy almost every place in the valley. I would really recomend this place to stay! I stayed for a week but could easily stay for a week longer :-)
Piet
July 2016
An absolutely beautiful cottage-style home in the middle of Valais d'Anniviers. The owners Sylvie & Stefan are professional and welcoming, and offered advice for local attractions, as well as local grocery stores. I felt incredibly welcome and comfortable in my private room. There is a stove and fridge upstairs in the owners' private area, which you may ask to use, but there is not one that is openly available for guests. This may or may not be a negative thing for you, depending on if you intend on eating at local restaurants in Grimentz, Vissoie, or Zinal. The scenery is absolutely beautiful in this quiet part of Switzerland. I only stayed two days, but wish that I had stayed a month. I made the trip to the nearby Glacier de Moiry, and hiked up to the chalet there... something I definitely recommend for able-bodied guests.
Jake
August 2016
sylvie와 가족들도 친철하고 따뜻한 사람들. 스위스 샬렛 건축물을 잘 볼 수 있는 마을. 방은 아늑하고 간결한 디자인.
Misook
July 2016
Art des Zimmers
Privatzimmer
---
Objekttyp
---
Unterkunft für
2
---
Schlafzimmer
1