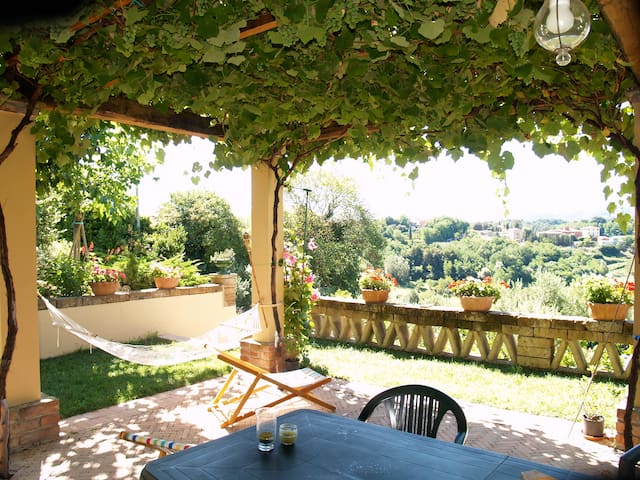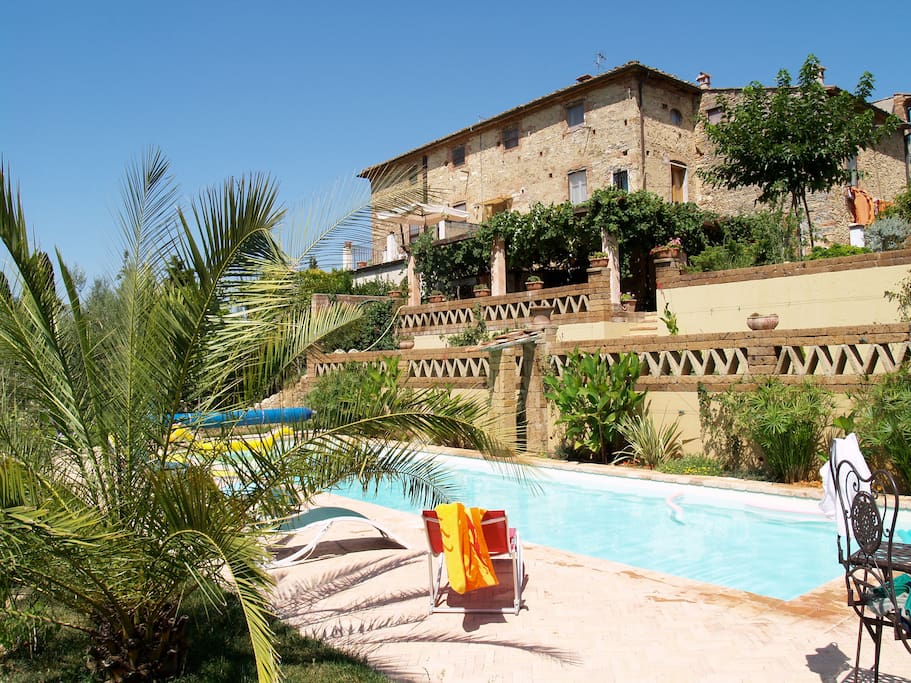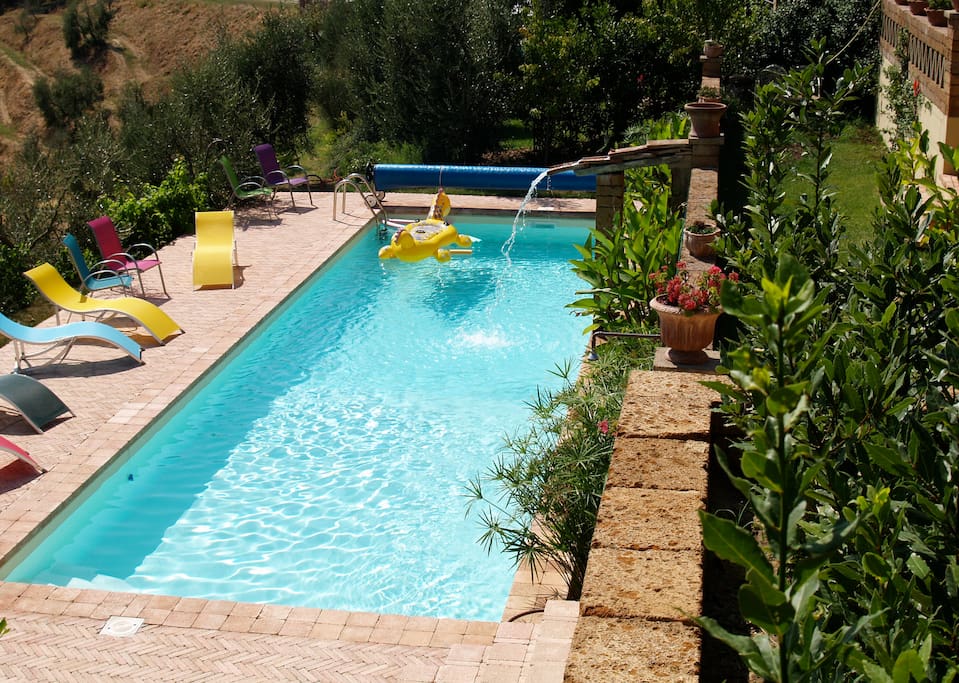 VITA NOVA on top of the hill
Atemberaubender Ausblick. Eine komplette private Wohnung (100 qm) mit großer Terrasse (50 qm), Platz für 4+. Schönes Hauptschlafzimmer mit Queen-Size-Bett und Bad, Marmorwanne und Waschbecken, separate Dusche. Antike möbel Professionelle Küche offen zur Terrasse.
Breathtaking view. A complete private apartment (100 sqm) with large terrace (50 sq.), accommodates 4+.
Beautiful master bedroom with queen size bed and en suite bathroom, marble tub and sink, separate shower. Antic furniture. Professional kitchen open to the terrace.
Der Wohnraum
"GRÜNE" TOSKANA IN ALLEN HISTORISCHEN UND LANDSCHAFTEN: UNSER PLUS: -Optimal Lage und Erreichbarkeit, in der Nähe von Pisa Flughafen, in der Nähe des Meeres und zur gleichen Zeit im Herzen der Toskana, mit all seinen Juwelen in der Nähe. -Exceptional Umgebung und herrliches Panorama, zwischen zwei charmanten Dörfern, auf einem Hügel, mit einem 360 ° Blick auf den Norden zu den Bergen, im Süden bis die Hügel von Volterra. - üppige Dekoration und Charme eines Familienhauses; Wir leben dort Teil des Jahres und begrüßen Sie in unserem Haus, jedes Möbel, jedes Objekt, jedes Kunstwerk wurde mit Sorgfalt und Liebe gewählt, von den Fresken der Wände zu den Statuen im Garten. -'Farniente ', Genießer, Weine und Gastronomie. Ein geselliges Paradies innen und außen, auf den Terrassen oder unter den Pergolen von Glyzinien und Reben -World-Klasse Ausrüstung und Dienstleistungen (Bett, Bad und Tischwäsche zur Verfügung gestellt) -Alle Inklusivpreise: keine extra, keine versteckten Kosten (oft mehrere hundert Euro in anderen italienischen Vermietungen. Die Villa IN VOLO bietet zwei unabhängige Mieteinheiten an, die separat gemietet werden können (BALCONE DELLA VITA & VITA NOVA) oder zusammen (IN VOLO) (Oder als BnB Zimmer, siehe unsere anderen fügt) Die beiden Einheiten haben ihren privaten Zugang zum Garten und zum Pool, Jeder hat eine private Terrasse und eine Pergola unter Reben und Glyzinien. Wir vermieten normalerweise nicht die 2 Einheiten zu 2 verschiedenen Parteien ohne ihre Zustimmung, damit Sie eine vollkommene Privatsphäre haben können. Wir pflegen normalerweise die Woche. Allerdings zögern Sie nicht, mit uns auf spezifische Anfragen zu konsultieren. VITA NOVA (100 m2) nimmt den Boden ein: - Ein großes Wohnzimmer (50 m2) mit Wohnzimmer und Esszimmer; In der Lounge ein Sofa, das in 1 oder 2 (echte nicht faltende) Betten umgewandelt werden kann; Dieser Teil kann als eine Nische von einem 7 Pannel-Bildschirm isoliert werden; - Toiletten mit Waschbecken; - Ein großes (35m2) Hauptschlafzimmer mit Kingsize-Bett; - Ein eigenes Badezimmer mit Marmorbadewanne und Marmorwaschbecken, separate Dusche, Bidet und private Toiletten; - Eine große privative Außenterrasse unter einer Pergola von Weintraube-Erdbeere (50 m2), mit Hängematte und Außenmöbeln; - Eine große, professionell ausgestattete Küche auf der Terrasse - Zugang zum Schwimmbad (14 x 4 m, 56 m2) und der Garten. Der Garten bietet zahlreiche originale Orte, um Intimität und Ruhe, den Panoramablick oder das Schwimmbad zu genießen: "la striccia" (der Streifen) und seine Jasminlaube zum Lesen, "das Boudoir" hinter der Hecke für Liebhaber, die Lounge unter dem Flugzeug Baum, die Spaziergabel mit dem Brunnen der drei Kinder, das Engelquartett, der Strand, der Brunnen ... Wenn wir einen alten Traum von der Toskana erledigen, haben wir unser ganzes Herz in der Wiederherstellung und Dekoration dieses Hauses aus dem 17. Jahrhundert, um es zu einem idealen Aufenthalt in einer außergewöhnlichen Umgebung zu machen, in der man noch den Reichtum des ländlichen Lebens mit der Gegenwart des Mittelalters und der Renaissance wahrnehmen kann. VITA NOVA ist mit Antiquitäten und traditionellen Objekten verziert, die das ländliche Leben und die toskanischen Produkte mit Werken zeitgenössischer Künstler und Wandmalereien befreien, die Werke von präraffaelitischen und symbolistischen Malern reproduzieren. Im Herzen der "grünen Toskana", ideal gelegen für Ihren Urlaub in den pisanischen Hügeln, liegt die klassifizierte Villa in der Nähe des Meeres, der Berge und der wichtigsten touristischen und kulturellen Städte der Toskana: Pisa, Lucca, Florenz, Versilia und die « Cinque terre », die Maremma und die toskanische Riviera, Voltera, San Geminiano, Siena ... In der Nähe von Pisa, zwischen den mittelalterlichen Dörfern von Cevoli (800 m) und Lari (1200 m), die an der Spitze eines Hügels thront, bietet die Villa einen herrlichen Panoramablick auf die Hügel und die Landschaft, im Süden bis zu den Hügeln von Voltera , Im Norden bis zum Schnee der höchsten Gipfel des Apennin. Aus dem Haus, an einer klaren Nacht können Sie bis zu zwanzig Dörfer sehen. Im Sommer genießt dieser Teil der Toskana eine schöne Meeresbrise, die die Heide der Sonne kühlt. Unter der Laube und Pergolen, oder am Pool, die Villa und ihre Umgebung rufen Sie die Epikureer Freuden: Müßiggang (die berühmte italienische "Farniente"), Gastronomie und Önologie, Balneotherapie und Körperpflege, Entdeckung des ländlichen Lebens, Sport (Schwimmen , Reitsport, Tennis, Trekking und Radtouren). Das ganze Jahr über ist es der ideale Ausgangspunkt, um die natürlichen, historischen und kulturellen Ressourcen der Toskana zu erforschen: Landschaft, Meer, Berg, Städte und Dörfer mit dem reichsten Erbe und den Spitzenplätzen des Mittelalters und der Renaissance, als die Region war Zentrum der Welt und erfinden moderne Zeiten. Im Winter sind die Skigebiete des Apennin (Abetone auf 1388 m) in einer Kabellänge und erlauben es, Berg Skifahren, Tourismus und längere Abende durch die Kamin-Grill-Kastanien zu verbinden. «Grüne Toskana» ist der reichste und abwechslungsreichste Teil dieser wunderschönen Region. Wir warten auf Sie ! Einige starke Punkte: Die beiden wichtigsten Flughäfen der Toskana bedienen die Villa: Pisa spezialisierte "Low Cost" (Ryanair, EasyJet), 25 min entfernt und Florenz, 50 min entfernt. Das Meer ist 30 min entfernt (die Strände von Livorno) oder 40/45 min entfernt (die Bäche der Leiste zwischen Livorno und Castiglioncello und die Sandstrände von Rossignano nach Cecina). Florenz ist weniger als eine Stunde entfernt. Lucca und seine Befestigungen im typischen Vauban'style sind 45 min entfernt. Im Südosten sind die etruskischen und / oder mittelalterlichen Juwelen, die Voltera, Certaldo, San Geminiano und Siena sind, von 30 bis 60 min entfernt). Die Gemeinde Lari liegt in der Nähe der Dörfer von Ponsacco (6 km) und Pontedera (10 km), wo Sie alle Geschäfte finden. Einkaufen kann in Lari (1,2 km) und in La Capanina (Cevoli) gemacht werden, wo es einen kleinen Supermarkt gibt. Lari beherbergt die berühmte Pasta-Werkstatt «Martelli», die besucht werden soll. Das Dorf wird von einer mittelalterlichen Burg dominiert. Casciana Terme (angrenzende Gemeinde) hat eine Spa-und hydropathischen Einrichtung, die heiße Quellen und Körperpflege vorschlägt. Seine Gewässer sind bekannt für die Behandlung der Verdauungs-, Gefäß- und Atemfunktionen. Das Dorf liegt auf der "Weinstraße" der Toskana; Terricciola (eine weitere angrenzende Gemeinde) ist bekannt für seine Weinproduktion, eine Auswahl der besten Weinweine, von denen wir Ihnen in der Villa vorschlagen. Für die Amateure ist unser unmittelbarer Nachbar ein Önologe von internationalem Ruf. Entfernungen: Paris: 1105 km Florenz: 75 km Livorno: 40 km Rom: 350 km Sienna: 90 km Viareggio: 60 km Mailand: 315 km Lucca: 45 km San Gemignano: 50 km Venedig: 315 km Pisa: 30 km Abetone: 115 km Ein paar Veranstaltungen und Sehenswürdigkeiten rund um die Villa: In Pisa, dem Turm, der Kathedrale, dem Baptisterium und dem «Campo Santo» Einer der spektakulärsten und schönsten architektonischen Stätte der Welt. Ein Muss. Lucca Musikfestival Ein berühmter Ort für Rock-Gruppen und Sänger Florenz musikalischen Frühling Opern, Ballette, klassische Konzerte ganzjährig (wie der Titel nicht sagt), in den Stadttheatern, mit den berühmtesten Künstlern. Die Kirschmesse in Lari - Juni Lari heißt "die Kirschstadt" und die Messe ist ein Vorwand für viele kulturelle und musikalische Veranstaltungen: Ausstellungen, Theaterstücke, Konzerte ... Das Piaggio Museum in Pontedera Die berühmte Marke präsentiert alle seine Produkte: Roller, Vespa, Dreiräder, durch die Geschichte des Unternehmens. So typisch italienisch! Andrea Bocelli Konzerte in Lajatico - Juli In seiner Heimatstadt, ein paar Meilen von der Villa entfernt, gibt der berühmte Tenor Konzerte in einem wunderschönen römischen Theater. Collinarea Festival (Lari, Palaia, Ponsacco, Casciana Terme) - Juli In der Straße dieser vier Dörfer, viele Shows, gesellige Diners und Konzerte, den ganzen Monat lang. Puccini Festival (Viareggio) - Juli / August In Torre del Lago Puccini am Ufer des Sees Massaciuccoli in der Nähe von Viareggio; Die Opern-Shows finden im brandneuen Open-Air-Theater (3.200 Sitze) statt, in der Nähe des Villa-Museums Puccini, wo der Komponist in fast 30 Jahren gelebt und gearbeitet hat. Das Puccini Festival in Torre del Lago ist das einzige Festival der Welt, das ausschließlich den Werken des großen Meisters Giacomo Puccini gewidmet ist. Anima Mundi Festival in Pisa - September Dieses Fest der heiligen Musik sammelt große Chöre und internationale Künstler. Viele Konzerte finden Sie in der Kathedrale (Duomo) und auf der Piazza dei Miracoli. Festival Volterrateatro - juillet In Volterra auf der Piazza und im mittelalterlichen Gefängnis, ein internationales Fest, das Tradition und Vorhut verbündet. Der Palio in Siena - 2. Juli und 16. August «Das» große Ereignis in Siena, der Palio ist ein Pferderennen zwischen Reitern der verschiedenen Viertel der Stadt, die auf der Piazza del Campo stattfindet. Spektakulär und spannend!
" GREEN " TUSCANY IN ALL ITS HISTORICAL AND COUNTRYSIDE APPEAL:
OUR PLUS :
-Optimal location and accessibility, near Pisa airport, near the sea and at the same time in the heart of Tuscany, with all its jewels nearby.
-Exceptional environment and superb panorama, between two charming villages, on top of a hill, with a 360° view on the north to the mountains, on the south until the hills of Volterra.
-Sumptuous decoration and charm of a family home; we live there part of the year and welcome you in our home, each furniture, each object, each work of art has been choosen with care and love, from the frescoes of the walls to the statues in the garden.
-'Farniente', epicurean pleasure, wines and gastronomy. A convivial paradise inside and out, on the terraces or under the pergolas of wisteria and vine
-World-class equipment and services (bed, bath and table linen provided)
-All inclusive rates: no extra, no hidden cost (often several hundred euros in other Italian rentings.
The villa IN VOLO offers two independant rental units, which can be rented separately (BALCONE DELLA VITA & VITA NOVA) or together (IN VOLO)
(or as BnB rooms, see our other adds)
The two units have their private access to the garden and the pool,
each has a private terrace and a pergola under vine and wisteria.
We usually DO NOT lease the 2 units to 2 different parties without their consent, so that you can have a perfect privacy. We usually lease by the week. However, don't hesitate to consult with us on specific requests.
VITA NOVA (100 m2) occupies the ground level:
- A vast living room (50 m2) with lounge and dining room; in the lounge a sofa, which can be transformed into 1 or 2 (real not folding) beds; this part can be isolated as an alcove by a 7 pannel screen;
- Toilets with washbasin;
- A large (35m2) master bedroom with king bed;
- An en suite bathroom with marble bathtub and marble washbasin, separate shower, bidet and private toilets;
- A big privative outside terrace under a pergola of vine of grape-strawberry (50 m2), with hammock and outside furniture;
- A large professionally equipped kitchen on the terrace
- Access to the swimming pool (14 x 4 m; 56 m2) and the garden.
The garden offers numerous original places to enjoy intimacy and peace, the panoramic view or the swimming pool: "la striccia" (the strip) and its jasmine arbor for reading, "the boudoir" hidden behind the hedge for lovers, the lounge under the plane tree, the walking pergola with the fountain of the three kids, the quartet of angels, the beach, the well…
Fulfilling an old dream of Tuscany, we put all our heart in restoring and decorating this 17th century house to make it the ideal stayin an exceptional surrounding where one can still perceivein the wealth of rural life the presence of middle ages and renaissance. VITA NOVA is decorated with antiques and traditional objects, which vent the rural life and the Tuscan products, with works of contemporary artists and murals, which reproduce works by Pre-Raphaelite and symbolist painters.
In the heart of " green Tuscany ",ideally located for your vacation in the pisan hills, the classified villa is near the sea,the mountains and the most important tourist and cultural cities of Tuscany: Pisa, Lucca, Florence, Versilia and the « Cinque terre », the Maremma and Tuscan Riviera, Voltera, San Geminiano, Sienna…
Near Pisa, between the medieval villages of Cevoli (800 m) and Lari (1200 m), perched at the top of a hill, the villa offers a gorgeous panoramic view on the hills and countryside, to the South, until the hills of Voltera, to the North up to the snows of the highest summits of Apennine. From the house, on a clear night you can see up to twenty villages.
During summer, this part of Tuscany enjoys a nice sea breeze that cools the heath of the sun. Under the arbour and pergolas, or by the pool, the villa and its environment call to the Epicureans pleasures: idleness (the famous Italian "farniente"), gastronomy and oenology, balneotherapy and body care, discovery of the rural life, sports (swimming, equitation, tennis, trekking and bike riding).
All year round, it is the ideal base to investigateall the natural, historic and cultural resources of Tuscany: countryside, sea, mountain, cities and villages with the richest heritage and tops-places of the Middle Ages and the Renaissance when the region was the centre of the world and inventing modern times.
In the winter, the ski resorts of the Apennine (Abetone at 1388 m) are in a cable's length and allow to associate mountain skiing, tourism andlong evenings by the fire-place grilling chestnuts.
« Green Tuscany » is the richest and the most varied part of this wonderful region. We are waiting for you !
Some strong points :
The two main airports of Tuscany serve the villa: Pisa specialised "low cost" (Ryanair, EasyJet), 25 min away and Florence, 50 min away.
The sea is 30 min away (the beaches of Livorno) or 40 / 45 min away (the creeks of the ledge between Livorno and Castiglioncello and the sandy beaches from Rossignano to Cecina).
Florence is less than an hour away. Lucca and its fortifications in typical Vauban'style are 45 min away. In the Southeast, the Etruscan and/or medieval jewels that are Voltera, Certaldo, San Geminiano and Sienna are distant from 30 to 60 min).
The municipality of Lari is near the villages of Ponsacco (6 km) and Pontedera (10 km) where you will find all the trades. Shopping can be made in Lari (1,2 km) and in La Capanina (Cevoli) where there is a small supermarket. Lari hosts the famous pasta workshop «Martelli», to be visited. The village is dominated by a medicean castle.
Casciana Terme (adjoining municipality) has a spa and hydropathical establishment, which proposes hot springs and body care. Its waters are renowned for the treatment of the digestive, vascular and respiratory functions.
The village is on "the wine trail" of Tuscany; Terricciola (another adjoining municipality) is well known for its wine production, a selection of the best vintage wines of which we propose you at the villa. For the amateurs, our immediate neighbour is an oenologist of international reputation.
Distances :
Paris : 1105 km Florence : 75 km Livorno : 40 km
Rome : 350 km Sienna : 90 km Viareggio : 60 km
Milan : 315 km Lucca : 45 km San Gemignano : 50 km
Venise : 315 km Pisa : 30 k(URL HIDDEN)Abetone : 115 km
A few events and places of interest around the villa:
In Pisa, the tower, the cathedral, the baptistery and the «Campo Santo»
One of the most spectacular and beautiful architectural site in the world. A must.
Lucca music festival
A famous venue for rock groups and singers
Florence musical spring
Operas, ballets, classical concerts all year long (as its title does not say), in the city theatres, with the most famous artistes.
The cherry fair in Lari - June
Lari is called " the cherry city " and the fair is a pretext to many cultural and musical events: exhibitions, theatre plays, concerts…
The Piaggio museum in Pontedera
The famous brand presents all its products: scooters, vespa, tricycles, through the history of the company. So typicaly italian!
Andrea Bocelli Concerts in Lajatico - July
In his native city, a few miles from the villa, the famous tenor gives recitals in a wonderful roman theatre.
Collinarea Festival (Lari, Palaia, Ponsacco, Casciana Terme) - july
In the street of these four villages, many shows, convivial diners, and concerts, all month long.
Puccini Festival (Viareggio) - July/August
In Torre del Lago Puccini on the shore of lake Massaciuccoli near Viareggio; the opera shows take place in the brand new open air theatre (3.200 seats), near by the Villa-Museum Puccini where the composer lived and worked during almost 30 years. The Puccini Festival in Torre del Lago is the only festival in the world, which is exclusively dedicated to the works of the great master Giacomo Puccini.
Anima Mundi Festival in Pisa - September
This festival of sacred music gathers large choirs and international artists. Many concerts are given in the cathedral (Duomo) and on Piazza dei Miracoli.
Festival Volterrateatro - juillet
In Volterra in the Piazza and in the medieval jail, an international festival which allies tradition and vanguard.
The Palio in Sienna – July 2 & August 16
« The » big event in Sienna, the Palio is a horse race between horsemen of the different quarters (contrade) of the city, which takes place in Piazza del Campo. Spectacular and thrilling!
---
Kostenloser Parkplatz auf dem Grundstück
---
Schlafzimmer 1
1 Doppelbett (mind. 1,50 x 2 m)
Gemeinsam genutzte Räume
2 Einzelbetten
---
Der Check-in ist jederzeit nach 16:00
House rules :
1. CHECK-IN / CHECK-OUT
Check-in time is Saturday after 5 p.m. CSV.
Check-out time is Saturday 10 a.m.. Any other arrangement should be agreement with the owner.
2. NON SMOKING
This is a NON SMOKING unit.
It is not permitted to smoke neither inside the villa nor on the deck terrace.
In the garden and by the pool, butts should be collected in the ashtrays.
3. PETS
Pets are not permitted without prior approval of the owner. €100 per pet fee applies. All pets must be leashes at all times.
Pet owners are responsible for cleaning up of any/all pet refuse.
Pets are not allowed on furniture at any time. Any evidence of pets on furniture incur extra €100 cleaning fee.
All pets must be up to date on rabies vaccinations and all other vaccinations.
All items above are the sole responsibility of the pet owner. The villa owner assumes no responsibility for illness or injury that may incur to pets or humans while on the premises.
4. AGE LIMITATION
We will not rent to vacationing students or singles under 18 years of age unless accompanied by an adult guardian or parent.
5. INVENTORIES
Owner and renter are checking together inventories of fixtures and ware of the unit upon arrival and departure.
6. DAMAGE DEPOSIT
A damage cash deposit of €1000 for BALCONE DELLA VITA and the whole villa, of €500 for VITA NOVA is required upon arrival.
The deposit is NOT applied toward rent; however, it is fully refundable on the day of departure, provided the following provisions are met:
a. No damage is done to unit or its contents, beyond normal wear and tear.
b. No charges are incurred due to contraband, pets or collection of rents or services rendered during the stay.
c. All debris, rubbish and discards are placed in dumpster, and soiled dishes are placed in the dishwasher and cleaned. One load of laundry is started.
d. All keys are returned to the owner and unit is left locked.
e. All charges accrued during the stay and all purchases are paid prior to departure.
f. No linens are lost or damaged.
g. No early check-in or late check-out.
i. The renter is not evicted by the owner (or representative of the owner), the local law enforcement.
If the above provisions a. to g. are not met the deposit is refunded within 60 days, after deduction for reparation of the damages, replacement of equipment, supplementary services or rent. If provision i. is not met the owner keeps the full rent and the deposit.
7. PAYMENT
According to AIRBnB current rules.
8. CANCELLATIONS
A ninety (90) day notice is required for cancellation.
Cancellation that is made more than ninety (90) days prior to the arrival date will incur no penalty (the down payment is refunded after deduction of (SENSITIVE CONTENTS HIDDEN) charges).
Cancellation or change that result in a shortened stay, that is made less than ninety (90) days and more than forty five (45) days of the arrival date, forfeit
the full advance payment.
Cancellation within 45 days of the arrival date or early departure does not warrant any refund of rent.
9. MAXIMUM OCCUPANCY
Unless agreed on the rental contract, the maximum number of guests is limited to eight (8) persons in BALCONE DELLA VITA, four (4) persons in VITA NOVA, twelve (12) persons in the whole villa. An additional charge of €30.00 per person per night for guests in addition to these respective numbers will be assessed.
10. MINIMUM STAYS
Minimum stays may be required during holiday periods. If a rental is taken for less than the minimum stay, the guest will be charged the minimum stay rate.
11. INCLUSIVE FEES
Rates include a weekly change of linen-towel setup (beds, baths, kitchen, swimming-pool); electricity, gas (for cooking) and water consumption; swimming-pool maintenance; final cleaning; internet WiFi access, books, CDs and DVDs at your disposal.
12. NOT INCLUDED IN THE RENT
While linens, bath and beach towels are included in the unit, daily maid service is not included in the rental rate however is available at an additional rate. We do not permit towels or linens to be taken from the units.
The rent does not include extra purchases (wine, oil, vegetables and fruit preserves from the property) or services (cook, maid, baby-sitter, driver); gas (for central heating) or wood (for fire-place) consumption; extra folding bed or cot, sauna, electrical bicycles, transfer to and from the villa from and to the airport (Pisa or Florence) or the stations.
13. RATE CHANGES
Rates are subject to change without notice.
14. FALSIFIED RESERVATIONS
Any reservation obtained under false pretense will be subject to forfeiture of advance payment and rental money, and the party will not be permitted to check-in.
15. SWIMMING POOL
(See more information on the document: " SWIMMING POOL RULES, INSTRUCTIONS AND ADVICES FOR SAFETY, SECURITY AND ENJOYMENT ")
The use of the swimming pool is under the sole responsibility of the renter.
Children should NEVER be left alone in or around the pool at any time. Children under five years old should have touch-supervision, meaning that they will never be further than arm's reach, even if they know how to swim. Do not dive.
The swimming pool should be covered when not in use and at least during the night if you want to keep it warmer. The cover is for insulation purposes and IS NOT designed to support a person even a child.
Our housekeeper controls and cleans the pool prior to your arrival and twice during the week.
16. WRITTEN EXCEPTIONS
Any exceptions to the above mentioned policies must be approved in writing in advance.

---
Preis-Leistungs-Verhältnis
Montmorency, Frankreich
Mitglied seit November 2010
My wife Sylviane and I are a French couple who love nature and culture. Sylviane has retired after a career as a dental surgeon and I am a consultant and writer. We live near Paris and join Cevoli as often as possible We dreamed of Tuscany for many years. In 2005, we bought this…
Sprachen:
English, Français, Italiano
Antwortrate:
100%
Antwortzeit:
innerhalb einiger Stunden
Entdecke weitere Optionen in und um Lari
Noch mehr Unterkünfte in Lari: