Enjoy a restful stay in our charming Loft located above the Little Washington Wellness & Spa. Our Loft guest will enjoy a two-room suite perfectly equipped for comfort and convenience. You will feel relaxed and taken care of whether you are here for a night or a few days. With a private bedroom and spacious living room with a sleeper sofa, you will have plenty of room for family, work or both.
We had a lovely stay at the Loft! Check-in and check-out were easy with the spa downstairs and the loft is great. It met all of our expectations, and was spacious, clean and comfortable. Easily walkable to the rest of town and convenient by car to local attractions.
Laura
2016-11-06T00:00:00Z
First time using Airbnb... Absolutely loved it!!! Great loft, awesome service... Can't wait to go back!!!
Benny
2016-05-09T00:00:00Z
We really enjoyed our stay at The Loft. Super clean interior. Although it has a lot of space, it felt cozy as a couple. No issues with being in the loft and my height (I'm 6'4"), ceilings seem standard. Jackie provided little snacks and a Keurig is available to brew several different types of coffee and tea (provided). Although we didn't make use of it, the Kitchenette would come in handy for longer stays. Excellent location for walking around the town of Washington, VA and/or going to dinner at the Inn at Little Washington. Would highly recommend this place to anyone interested in staying in the area.
Nathan
2016-06-18T00:00:00Z
The loft was clean and very attractive. Everything--check-in, parking, using the Bluetooth Bose device and TV--was easy. Very convenient to the Inn at Little Washington, where we had dinner. I would definitely stay again if we go back to Little Washington, VA.
Philip
2016-10-24T00:00:00Z
We had a lovely time at the loft. It has a bedroom that is separate from the living area so our 1yr old could sleep peacefully while we spent time in the living area with the monitor. It's in a nice location that is close to Shenandoah and was quite peaceful. BJ went out of her way to make us feel welcome. Thanks for a great weekend.
Andrew
2015-09-08T00:00:00Z
We had a lovely stay at the Loft in Little Washington. Jackie was very friendly, and everything was just as described. The Loft is very spacious with a separate living/kitchen and bedroom. The bathroom is big as well. The toiletries were great, and the kitchen was well equipped, including bottled water and a Keurig with lots of choices. The Loft is only a few minutes' walk from the Inn at Little Washington. It is a beautiful, clean and welcoming place to stay in!
Sanna
2016-07-04T00:00:00Z
This place feels and smells like the spa it is (these are great things).
Lauryn
2017-03-05T00:00:00Z
Fantastic experience for anyone traveling to Washington, VA and perhaps dining at the Inn at Little Washington. I can't even think of any way to improve it. The space was much bigger than expected and perfectly situated with a lovely comfortable bed. I will return in the future for sure.
Richard
2016-10-03T00:00:00Z
Art der Unterkunft
Ganze Unterkunft
---
Objekttyp
Loft
---
Unterkunft für
4
---
Schlafzimmer
Washington, Virginia 22747, Vereinigte Staaten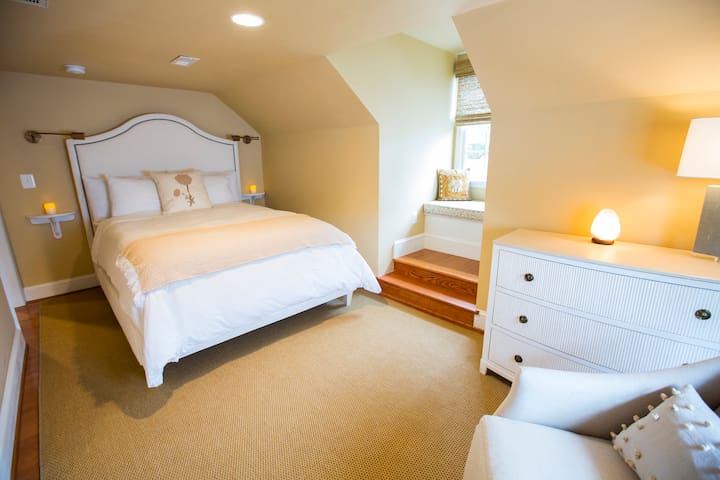 Gib deine Reisedaten ein, um den Gesamtpreis pro Nacht zu sehen.