Gib dein Check-in-Datum im Format TT.MM.JJJJ ein
Gib dein Check-out-Datum im Format TT.MM.JJJJ ein
Inserate, die du buchen kannst, ohne auf eine Bestätigung des Gastgebers zu warten.
Gib deine Reisedaten ein, um den Gesamtpreis pro Nacht zu sehen.
Diesen Juli und August kannst du eine dieser 100 hervorragend bewerteten Unterkünfte aus jeder Preiskategorie ausprobieren, um Sonoma aus der Sicht eines Einheimischen kennenzulernen. Dank 24-Stunden-Check-in, Sofortbuchung sowie einheimischen Weinen und Snacks kannst du dich einfach zurücklehnen und deine Reise genießen.
MASSACHUSETS HEIGHTS;WDC best neighborhood next to major Embassies, across from KALORAMA, Pres.Obama future residence. Close proximity to METRO/RED LINE , Kennedy Center,Reagan National Airport. Magnificent, architect designed, fully furnished home. Large oak trees in a lovely mature garden ,with ponds . Tranquil retreat in the city , walking distance(5-8 min)to mini downtown with restaurants ,food shops , wellness spa's ,swimming . Rock Creek Park ,walking distance to biking, hiking etc.
Large bedroom ,with a wall of windows ,beautiful view of the garden ,very quiet and private, adjacent marble bathroom. If requested ,for extra charge ,shared use of spacious marble kitchen, washer, drier . n outdoors patio with mature trees . Terraced garden with ponds. Perfect for summer entertaining. The main entry will be shared with the owner of the house. The owner is an architect ,working at home... Since I work in my home office I am quite available and happy to interact with my guests, however, sharing of the house would be only for the ladies
The neighborhood is one of the most beautiful and upscale. It is an exclusive ,exquisite,well maintained area where embassy residences are surrounded by a lot of green,yet it is short walking distance to many city amenities ,like Kennedy Center;restaurants , wellness centers, biking and running trails in Rock Creek Park,shops,and hotels like OMNI SHOREHAM and MARIOTT.., practically across the street. Metro system ,Red Line(Woodly Park /Zoo) quite close only 5-7 min walking distance. In the area is also a mini downtown with restaurants ,and many other city amenities and services There are no particular issues I can list,except there is a lovely white cat in the house.
Art des Zimmers
Privatzimmer
---
Art der Unterkunft
---
Unterkunft für
1
---
Schlafzimmer
1
Woodley Park, Washington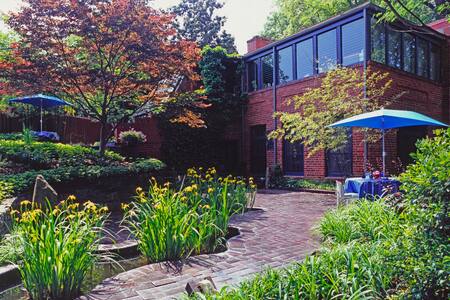 Come and enjoy STAYING IN OUR PRIVATE ROOMS 5 MINUTES TO THE GAYLORD CONVENTION CENTER AND NATIONAL HARBOR. Backs to fall foliage with wildlife(Pool Closed). Private Balcony.r Access to entire living areas in Villa, Kitchen, Large Wrap around deck over looking pool. Lower Level Patio area. Center. Shopping and National Harbor. Close to Tanger Mall Outlet and New MGM Grand Casino scheduled to open in December. 5 BEDROOMS PRIVATE ROOMS . CHOOSE ENTIRE HOUSE FOR YOUR GROUP. PERFECT LOCATI
Close to everything, 5 minute drive to the National Harbor, kayaking, river cruise, fine dining,movies, conventions, and the famous Tanger Outlet stores. 20 mins from DC, with National Mall, White House, various museums and shops, theatres and cinemas. 10 mins to Old Town Alexandria with its rich history. Quaint stores, antiques, consignment shoppes, farmers market, and notable restaurants. Taxi by water and enjoy the view from the mighty Potomac River, or take a dinner cruise on the Spirit of Washington. Luxury Owner's Suite $179 INCLUDES JACUZZIE, FIREPLACE, PRIVATE BALCONY, Let us know if you have any special needs or services. Add on services are chef, limousene,and conceirge. We can pick up, drop off (dry cleaning, meals, pizza etc.....Snacks corner and daily breakfast( if your schedule allows)provided. you would like.
Our Neighbor is quite, clean, safe, pleasant for morning or evening walks, and Has views of the Potomac River. The neighbors are friendly, serene setting for jogging, walking or biking. Public transportation near by. Walking trail ,Jogging trails and private transportation is available Gorgeous National Harbor- with conventions, fine dining, casual eating, visiting exhibitions and shows, sandwich shops and riverwalk, with kayaking, jet skiiing, and boat cruises. National Mall...Smitsonian Institure, Natural Museum of Art, Lincoln Memorial, Arlington National Cemetery, The White House, the Capitol. Alexlandria..quaint stores, excellent family owned restaurants, antique and consignment shoppes. The Masonic Temple, and Arlington National Cemetery. Lots of parks, trails and bike paths. Easy to get around in.
Pamela and her husband were fantastic hosts and made me feel right at home! If you're looking for a great place to stay in this area, I highly recommend booking here!
Cynthia
February 2016
This is my first time using AirBnB and Pamela and Keith are the most wonderful hosts I have ever met. They made me wanted to use airbnb more in the future. They are super helpful in answering questions, guiding you the way/route to places. Staying here is like staying at home. This is how cosy it is. I would definitely go back to this place again in the future and would highly recommend to whoever has his/her conference at Gaylord. It is definitely a 5 min walk!!!
Pan
March 2016
Pamela and Keith were very hospitable and welcoming; I wish I would've had more time to spend with them, share a glass of wine, and enjoy more of the common areas (e.g., deck, lounge/living room). Keith took time to show me the walking route to my conference at the Gaylord (1/4 mi) since my map app had me walking 4+ miles. They also provided some excellent restaurant suggestions as well as toiletries and tasty edibles. The house is in a quiet, established neighborhood with lovely bits of nature in the backyard and comfortable, clean accommodations in which I felt safe. It also has easy access to the Gaylord, National Harbor, and its events, including watching fireworks from the deck. Although not on my needs list, the pool and television/cable were not available during my visit; however, wifi was needed but was out with the cable.
robin
September 2015
This place is fantastic, first because both Pamela and Keith were very kind and paying attention to what you need, secondly, the place is very quiet and during the night with open window, you just listen to the grasshopper, third the place is very clean, wide and near to National Habor. Thanks to Pamela and Keith for the way they host and to be as they are.
emmanuel
October 2015
Pamela and Keith are the best hosts! Seriously two of the nicest people you will ever meet in your life. They went out of their way to provide snacks, drinks, clean sheets, everything. Very convenient location for conferences in National Harbor and the space was as advertised. If you're coming to this area you must stay here!
Patrick
November 2015
We were made to feel very welcome by Pamela. The house offered ample room and complimentary snacks, which were great. I had rushed to catch my flight to DC as I had just come back from another trip, so my laundry had not quite dried. Pamela allowed me to use her dryer to dry the laundry, which I truly appreciated. Unfortunately, the gate in the fence to Gaylord Convention Centre is now closed, which meant we had to drive or Uber to Gaylord every day. This new development reduces the value proposition of the property if one is staying there to attend a conference. Also, we were locked out of the house one night by another guest who had deadbolted the door from the inside. We had to stay in a hotel, which thankfully was funded by a one-night refund from Pamela and an additional contribution by AirBnB. We appreciated the financial restitution but went through a fair amount of stress while locked out. I would urge Pamela to have better communication with guests about the deadbolt. The house is large, clean, and well-maintained. I would recommend it to other guests, but would caution them about the two issues (no walking access to Gaylord & possible issues around other guests' use of the deadbolt) mentioned above.
Sahil
September 2016
Keith and Pamela (Janet) were great hosts. I hardly saw them and felt comfortable with my privacy when I chose. Before leaving we had some great conversations but they were easy and I could have comfortably headed out with no interaction if that was what I preferred.
Bradley
May 2016
Pamela is an exceptional host. She is very attentive and friendly. I spent four days at her house, and I felt very comfortable staying there. She is a relly respectful and lovely person. Her house is also beautiful, but most important, it is very comfortable. The neighborhood is a nice and quiet place. There are a lot of green areas, and trees as well. It is very close to stores, hotels, and malls. The location of the house is excellent.
Elizabeth
November 2015
Art des Zimmers
Privatzimmer
---
Art der Unterkunft
---
Unterkunft für
4
---
Schlafzimmer
1
Fort Washington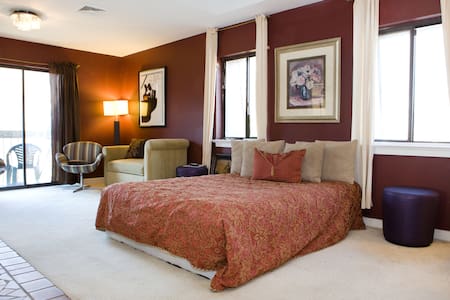 As people who like to travel, we appreciate rooms that are quiet, comfortable and clean. If you are looking for similar comfort then this room is for you. Minutes away from Dulles airport and Dulles Expo Center, we can arrange for airport pick-up and other rides. The Air & Space Museum, Manassas National Battlefield park, wineries and other attractions are nearby and of course, Washington DC. Public transportation exists. We have a sweet and quiet Cocker Spaniel. We look forward to meeting you.
Shelli is wonderful to be around! She has a lovely clean house in a nice quiet neighborhood. We really enjoyed our stay. Thank you so much!
Rose
August 2016
Dear Shelli and Dubi Thank you for your warm welcome and hospitality in your nice and cosy home. We strongly recommend your home. All the best Nadine and Bruno
bruno
August 2016
Shelli and Dubi where amazing hosts. Very accommodating, respectful, and overall interesting people. Their home is very close to the Dulles Expo Center and also near Downtown D.C. The room is a great space with a comfortable bed. I couldn't have had a better experience!
Gabriel
August 2016
The title is completely accurate, a very comfortable, clean, and quiet room close to IAD. The hostess provided my wife and I clean towels, bottled water, coffee and breakfast, and a parking spot in the driveway. The area was a nice quiet development of townhomes and condos close to a major highway. You will not be disappointed choosing to rest here. Took me 15 minutes to get from IAD to the home.
Paul
October 2016
Shelli & her husband helped me to have a pleasant stay in Virginia. They helped me to settle down here. I had a wonderful stay over there.Worth paying for stay.
Sasi
November 2016
We had a lovely stay in Virginia -extremely close to the airport. We had a rental car and parked easily in front of their home. They have a wide open green space behind their home if you want to take a walk or a jog. Although the airport is close, the noise is not an issue. There were lovely restaurants close by, easily accessible without the traffic issues. We had extra time so we stopped at a few sites before heading to the airport- very relaxing comfortable stay. Our host was able to share excellent area information and made our stay quite comfortable.
Joyce
September 2016
My hosts were wonderful people and could not have been nicer to me. They have a beautiful place. There is a nice outdoor patio. I will definitely go back.
Sally
June 2016
Shelli and her husband are very hospitable, and they do make sure that their guests are comfortable and happy. It was very pleasant staying in their place!
Yinying
July 2016
Art des Zimmers
Privatzimmer
---
Art der Unterkunft
---
Unterkunft für
2
---
Schlafzimmer
1
Chantilly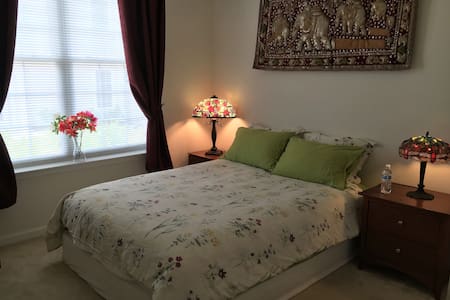 Presqu'Isle, a 19th-century plantation on 130 acres in the heart of Virginia horse country, is close to great restaurants, boutique shops, wineries and cultural events in both Culpeper and Warrenton. Numerous Civil War historical attractions and family-friendly outdoor activities are also nearby. We think you'll love Presqu'Isle because of its classic elegance, sweeping private views of the Piedmont countryside, luxurious accommodations and, of course, our two adorable pups, George and Gracie.
Presqu'Isle's guest bedroom and bathroom are on the second floor of the c.1815 manor house. The bedroom is furnished with period antiques and reproductions, including a queen-size bed, and is approximately 21' x 17'. The bathroom was fully renovated in 2016 while retaining the original 1928 bathtub and charming design details. - Guest bedroom and bathroom - Parlors - Dining room - Kitchen - Front and back porches - Lawn and gardens - Pond We are happy to make recommendations on local area attractions, restaurants and shopping, as well as arrange for on-site services to provide a relaxing getaway without having to leave the manor.
Presqu'Isle is fully private, as it's a 130-acre former plantation in the middle of a 1,200-acre commercial farm. A private vehicle is needed to get to and from Presqu'Isle. While we and our two very friendly pups live in the house, the manor is vacuumed daily and a special pet-allergen air filter runs continuously in the guest bedroom to ensure our guests' comfort (as well as to help the owners' allergies).
Art des Zimmers
Privatzimmer
---
Art der Unterkunft
---
Unterkunft für
2
---
Schlafzimmer
1
Remington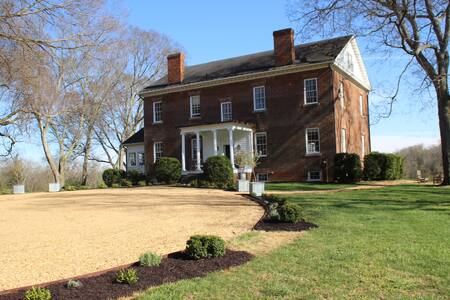 My place is close THE NEW MGM GRAND CASINO, GAYLORD CONVENTION CENTER, attend a conference, or go to MGM gaming tables.Its reasonably priced for solo travellers, small groups and couples. Take advantage of proximity to National Harbor and all the glitz the new Casino has to offer. Great restaurants and dining, the Boardwalk, family-friendly activities, and nightlife. You'll love my place it has magnificent views. Its large, fun and comfortable. Pets case by case. .
Rustic, fun and wide open concept. Sunfilled and large private yard with pool and occaisional deer and wild life. Beautiful fall foilage. Guests will have access to all the Villa for their pleasure except occupied rooms. We have an array of breakfast items in the large kitchen and you are welcome to eat anything from snack bar.
Very easy stay. Nice, quiet neighborhood. Pamela provided everything I needed and the house was very clean. I didn't meet anyone but another guest because I was there for a conf and out early (before 6) and basically came back and slept. But Pamela communicated with me by phone to make sure I had everything settled. If you're going to the Gaylord for a conf. or whatever, note the route on (SENSITIVE CONTENTS HIDDEN) maps is accurate, you have to go all the way up and around, although the Gaylord is just 10 min "as the crow flies." I walked the long way once, it's fine, down by the river and mostly with sidewalks, but a long walk (4 miles or so?).
Roy
November 2016
Art des Zimmers
Privatzimmer
---
Art der Unterkunft
---
Unterkunft für
4
---
Schlafzimmer
1
Fort Washington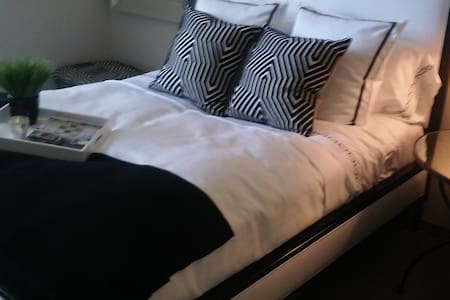 Treasured Past, Trendsetting Present. Just minutes from Washington, D.C., along the banks of the Potomac, is a brand new city complex called National Harbor. Combining all the best ideas from America's greatest cities, it's an exciting, self-contained area with everything you could ask for in a vacation destination. With Wyndham Vacation Resorts at National Harbor, you can settle in and enjoy the neighborhood or use the resort as a springboard for experiencing the best of our nation's capital.
Come stay at the Wyndham National Harbor resort hotel. A brand new city complex that combines all the best ideas from America's greatest cities, it's an exciting, self-contained area with everything you could ask for in a vacation destination - shopping, dining, entertainment and historic sites. 1 Bedrooms are fully equipped 723-734 square foot condo includes full kitchen living area with queen sleeper sofa and king bed in master bedroom. Some units have balconies and will add an extra $25 USD a night. Wi-Fi internet and broadband connections in unit. Also features indoor and outdoor swimming pools and jacuzzis. Guests can use the laundry facilities that are available on each floor. Shuttle buses with service to the Washington, D.C. Metro area are available across the street. The Washington Masonic National Memorial is less than 3 miles away and is near the new MGM National Harbor and Tanger Outlets. Just minutes from Washington, D.C., along the banks of the Potomac, the National Harbor itself features a wide assortment of fine dining and shopping choices, as well as nightly entertainment along the river. But with Old Town Alexandria and Washington, D.C., just a water taxi ride away, you'll also be able to explore the world-famous Smithsonian Museums, the Capitol, the White House, the Washington Monument and the Lincoln Memorial. For an upscale evening of fine music, get tickets for a performance at the Kennedy Center. Area activities include: Day Spa & Salon Restaurants Live Entertainment Boating Shopping AMENITIES: Indoor Swimming Pool Outdoor Children's Pool Outdoor Hot Tub Game Room Outdoor Swimming Pool Exercise Equipment Indoor Hot Tub Laundry Facilities Additionally: DVD Movie Rentals: Movie Rentals are available in the Recreation Room on the second floor. New movies are added often for your enjoyment. Rental rates are $3 per rental per 24-hour period and will be charged to your room. Please see an Activities Associate for assistance. Arcade and Wii Room: Gaming Complexes located in the Activities Area are open 7:30 a.m.-10:30 p.m. daily. Enjoy playing the newest and best games in a fun environment. Please see your activities associate to sign out Wii games, remotes, and an access key. Come prepared to leave a Driver's License/Photo ID as collateral. Adult supervision is required for children under the age of 15. Please refrain from eating and/or drinking while in these rooms. (Due to scheduled events, times are subject to change). Internet Room: Multiple computer stations are available on a high-speed connection to check your e-mail or just surf the web and is open from 6 a.m.- 11 p.m. daily. Free Wireless Internet Service is available throughout the Resort Area for your convenience. Please refrain from eating and/or drinking while in the Internet Room. NO wet swimwear is allowed, Please. Activities Area: Foosball Tables and Pool Table are located in the Activities Area from 7:30 a.m.-10:30 p.m. daily. (Due to scheduled events, times are subject to change). In addition, board games are available for sign out in the Recreation Room. Please see your Activities Associates for assistance. Check-in/Check-out Times: 4 p.m./10.a.m. *(Guest checking in must be at least 21 years old) Check-in Address: 250 Mariner Passage National Harbor, MD 20745 * Please note: Due to the fact that National Harbor is a new area some GPS units and online mapping services may identify the city as Oxon Hill, but should direct you to the resort. Unit Type/Description: Based on availability at booking. Maximum Guest Occupancy: 4 (1 master bedroom and pull out sofa in living room) *** If advanced booking (10 months or more, a larger room may be available, however will incur an additional charge (determined at booking). Please note that holidays tend to book early, so please contact me well in advance for holiday stays. Guest Confirmation: Guest(s) must arrive with Guest Confirmation, otherwise a Guest Confirmation fee will be collected from them at the time of check-in prior to having access to the unit. Parking: Pre-paid (at time of check-in) self parking is available at the St. George Parking Garage located adjacent to the resort for $16 per day. Hourly rates are also available. Parking fees are responsibility of guest and is subject to change. Incidentals & Damage deposit: Upon arrival the front desk requires a $150 pre authorization on your credit card for any incidental charges or potential damages. If you do not have a credit card a cash deposit of $100 is required at check in plus the cost of your incidental charges. The deposit of $100 will be refunded after room inspection via check within 30 days after your departure date. Early Check-out: An early check-out will result in the forfeiture of the remainder of your reservation payment and may not be refunded. Safety: Your safety is very important to us, so we closely follow loc...
This resort books up months in advance for major holiday weekends and it is best to book well in advance. I can book at this location up to 13 months out, so feel free to inquire
Art des Zimmers
Privatzimmer
---
Art der Unterkunft
---
Unterkunft für
4
---
Schlafzimmer
1
Fort Washington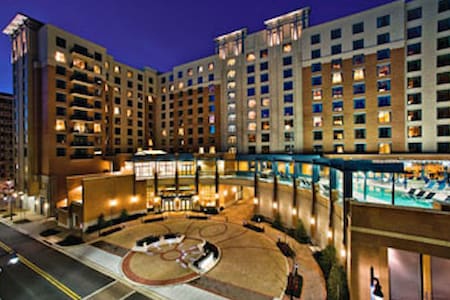 My place is close to 2 miles to Reston Metro, 7 miles to 495, 1 mile to Rt. 7, the city center of Reston is the place to spend night out there with all the clubs and Resturant only 5 miles away. You'll love my place because of the neighborhood, the kitchen, the comfy bed Pool table, Backyard view to the Pool area and Green Trees and front view, the coziness.
The house is sitting on more than 1/2 acre land, which makes a very wild and beautiful view in the backyard. The private cozy Pool in the backyard just garnishes the view. It is only 4 miles to Great Falls Village shopping center for food and resturants You will access the front door to all the rooms I will be available through out your stay, If you have a question or help (703)282-4922
Art des Zimmers
Privatzimmer
---
Art der Unterkunft
---
Unterkunft für
1
---
Schlafzimmer
1
Great Falls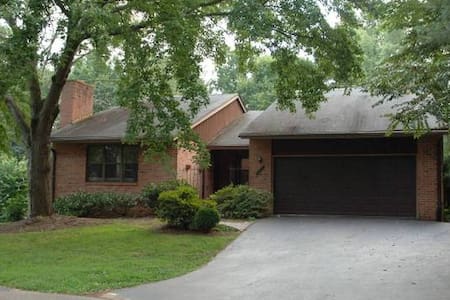 Presidential Resort in Spotsylvania (near Fredericksburg). Check-in 12/25/2016 checkout 01/01/2017. It is a timeshare and I offer it for rent for the cost of maintenance fee of $692. Cathedral ceiling and equipped with everything. Nearby indoor pool, great city of Fredericksburg, Virginan history at its best... Less than an hour from Washington, DC http://www.wpresort.com/location.htm Amazing historic places nearby http://www.wpresort.com/historic-sites.htm
Art des Zimmers
Ganze Unterkunft
---
Art der Unterkunft
---
Unterkunft für
6
---
Schlafzimmer
2
Fredericksburg