Welcome to Pebby's Lake! This NON-SMOKING three bedroom and one bath lakefront cottage has served as our family's "getaway" for many years and we would love to share it with you! You will love the direct access to the lake via a private pier from which you can swim, kayak, sunbathe, or relax!
We offer one of the area's only PRIVATE lake retreats. Come and enjoy a getaway in our peaceful lake community! The Town of Lake Waccamaw was incorporated in 1911, however, was inhabited by Native Americans for thousands of years. Southeastern North Carolina was covered by a shallow ocean more than two million years ago and you might find interesting fossils including sharks teeth, shells and coral as you swim in the shallow water. Be sure to visit Lake Waccamaw State Park to view the 2.75 million year old whale skull that was discovered embedded in a limestone outcropping several years ago. Measuring nearly 9,000 acres, the lake is unique in many ways ecologically with several endemic species of fish and mollusks (found nowhere else in the world).The lake is about 10 feet at the deepest with shallow waters along its shores, making it perfect for families with children. Tourist attractions include a local museum in a 1904 train depot, Lake Waccamaw State Park, our beautiful library, several restaurants, grocery and retail stores. The guest house is totally private from our home and features a vintage lake theme queen bedroom with flat screen television (Direct TV and DVD player), en suite bathroom with shower. All bed and bath linens are furnished. The common area/living room has a flat screen television (Direct TV and DVD player), a variety of movies, books and magazines, toys and board games for all ages. The fully equipped kitchen has a nice size refrigerator with a separate freezer, electric coffee pot or French press, microwave, and electric stove. A variety of cookware and utensils are available for your use as well as kitchen staple items. A washer and dryer is available in the garage below the apartment. We provide a "Welcome Breakfast" for your first morning that includes cereal, fruit, breads, milk, juice and coffee. There is a grocery store nearby for most anything else you would need. The living room couch/futon converts to a very comfortable full size bed. There is a large desk for our business clients and free WiFi. Other furnishings include a table with four chairs, rocking chair and leather recliner. Guests have access to an outdoor kitchen with a gas stove, and a double sink. You may use the charcoal or gas grill, enjoy the fire pit (wood provided) bicycles, and kayaks. We also have corn hole boards and other yard games you may use. Children are welcome to check out "The Crow's Nest" treehouse and climbing wall, but please be careful. It is fairly high in the trees and may not be appropriate for very young children unless accompanied by an adult. Sorry, we are not able to accommodate your pets, but can recommend a delightful getaway for them. Although our log cabin isn't on the lake front, it is just steps (the length of a football field!) from your apartment. You may use the pier for sunning, swimming, launching a kayak, fishing, relaxing or picnicking under the shaded canopy. Lake Waccamaw is conveniently located one hour from many beaches in Wilmington, N.C. and one hour from Myrtle Beach, S.C. We personally recommend Sunset Beach which is about an hour.
Das sagen Gäste:
"Ich muss sagen ... dieser nette kleine Ort hat meine Erwartungen übertroffen. Ingwer in ständigem Kontakt gehalten, nachdem die Reservierung gemacht wurde und entlang unserer Route. Da war alles was wir brauchten und mehr als wir erwartet hatten! Frühstücksnahrung für uns ... Strandtücher können wir leihen .... ein Blowdryer habe ich nicht packen ... und vieles mehr ..wenn wir nur noch mehr Zeit hatten zu verbringen. Perfektes Wochenende! Die Gastfreundschaft war vorbildlich!"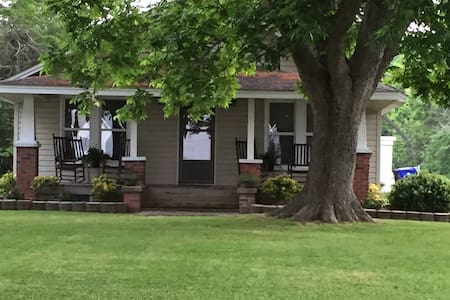 SUPERHOST
Ganzes Haus · 6 Gäste · 3 Betten · 2 Badezimmer
Lakefront home 3 BR 2 bathrooms-AGE 21 TO RENT.
Lakefront home with 3 fully furnished bedrooms, 2 full bathrooms, family room, large fully equipped kitchen and utility room with washer and dryer. 50 in. HDTV, Cable, new wall to wall wood flooring. MUST BE 21 YEARS OF AGE TO RENT THIS HOME.