Tento krásný konzervárna byt se nachází v Tenerife má charakter a staré kouzlo. Postaven v roce 1920, to byl starý Golden Circle Canning Factory. Jen pár minut od Fortitude Valley autobusem nebo hop na trajektu přes silnici a cestovat vyhlídkovou cestu.
Tento krásný byt se nachází v centru města Brisbane, jen 3 km od centra města Brisbane CBD. Přístup k veřejné dopravě, pouze 50 m od hotelu. Můžete hop na cyklistické kolo města a jezdit po městě, skočit na autobusu nebo trajektu vidět Brisbane je krásný historii a architekturu od řeky.
Believe the reviews... These guys really are two of the friendliest hosts! I recently moved to Brisbane for work and was getting countless tips from both Stephanie & Igor about the best places to visit which really helped me experience more of the town (and local surrounds). The room was perfectly sized for my needs during my stay and the location truly is sensational with everything so close by. Thanks so much Steph & Igor! No doubt we'll run into each other at Beccofino :)
Era
2016-07-01T00:00:00Z
Steph & Igor are so lovely & their home is absolutely stunning. Nothing was too difficult & they have some amazing recommendations for breakfast :) A perfect spot to stay in Brissy.
Elle
2016-07-22T00:00:00Z
Stephanie and Igor were very friendly people. The room was clean. The apartment was near the City. We are very satisfied.
Lea
2016-10-25T00:00:00Z
Stepanie and Igor are both lovely hosts, easy going, social and had some good recommendations for dinner the neighborhood. Their appartment is perfect located in Tenriffe close to the ferry and it's a very artistic and industrial area of Brisbane. We loved the neighborhood and their appartmemt.
Ilse
2017-01-01T00:00:00Z
Stephanie and Igor really are a remarkable couple who made us feel so insanely welcome in their beautiful home (and it really is BEAUTIFUL!). They are a 2 minute walk from the ferry over the river and from some wonderful bars and they gave us TONS of reccomendations and lots of advice on where to visit. They even put is touch with their driver in Bali which has been a real lifesaver, so they really are the gift that keeps on giving! They have a lot of great stories to tell and were so friendly and kind towards us and we are really grateful for their hospitality and friendship. They cooked us a meal on our last night and even though our stay was short we enjoyed every minute. We are really looking forward to seeing them in the future on their travels around Europe :) We really can't speak highly enough of just how accomodating they were and can not recommend them highly enough.
Alexandra
2016-03-31T00:00:00Z
The apartment is cosy, and the ensuite room is spotless. We didn't meet Stephanie as she was in Europe but we were greeted by her brother, Giorgio. He was really welcoming and accommodating. Too bad we were short on time and couldn't try the list of recommendations he sent us. Neighbourhood was quiet and has plenty to offer. Highly recommended.
Wee Keat
2016-08-19T00:00:00Z
Awesome location and a very cool place to stay
Andrew
2016-08-16T00:00:00Z
I want to thank Stephanie for her hospitality. She is easygoing and very kind and very patient. She is not just a host, she has become my friend. She and Igor helped us to settle in Brisbane. Knowing them and living with them was my chance.
mohammad
2016-06-13T00:00:00Z
Art der Unterkunft
Privatzimmer
---
Objekttyp
Loft
---
Unterkunft für
2
---
Schlafzimmer
Newstead, Queensland, Australien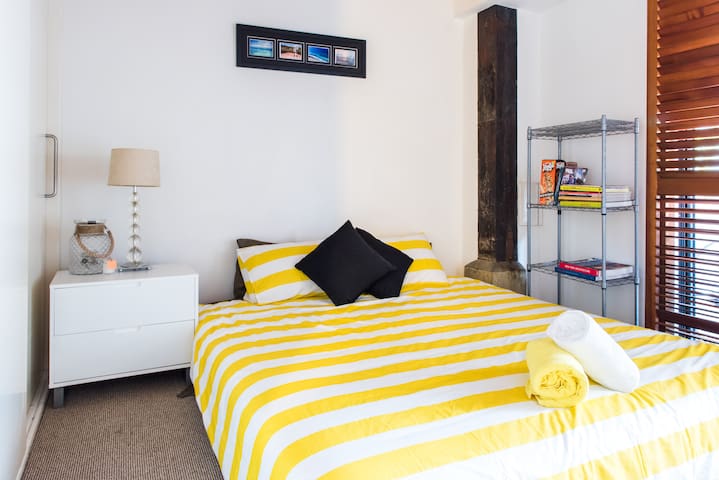 2 camas individuales en un apartamento tipo loft con baño y cocina. La cocina tiene nevera de tamaño completo y equipo de cocina básica. Hay un balcón en el dormitorio loft con ligeras vistas a la ciudad. Al amparo de aparcamiento disponibles.
Spring Hill es un barrio residencial verde situado a 5 minutos en coche de la Royal Brisbane Hospital y el Hospital de San Andrés.
Art der Unterkunft
Ganze Unterkunft
---
Objekttyp
Loft
---
Unterkunft für
2
---
Schlafzimmer
Spring Hill, Queensland, Australien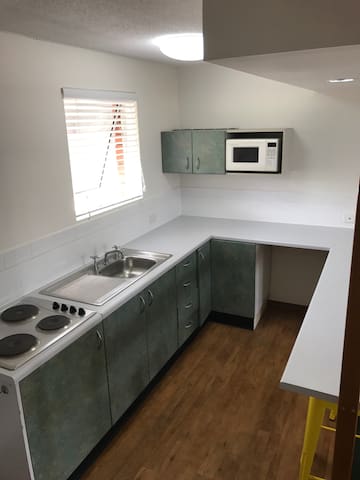 Berry Buen Retiro es un apartamento tipo loft de lujo con todas las comodidades necesarias para una estancia relajante. Sentarse en su propio balcón admirando las vistas. Le invitamos a dar un paseo por nuestro lugar para cumplir con nuestros animales domésticos y salvajes! Estamos cerca de lugares para bodas en Petrie, Dayboro y el Monte Mee y que puede ser flexible con registro de entrada y salida veces para adaptarse a sus disposiciones.
Berry Buen Retiro es un apartamento tipo loft en sí misma, con entrada independiente. Es ligero y aireado, con paneles de madera y vigas a la vista en todo momento. Es ideal para parejas que buscan un momento de relax lejos de todo. Dos personas adicionales pueden ser acomodados, con un sofá-cama en el comedor separado. Hay una gran sala de estar y en el otro extremo de esto es una magnífica 4 cama con dosel. Hay puertas de doble hoja sobre una superficie de cubierta con una barbacoa y una mesa y sillas, así como impresionantes vistas al lago Samsonvale y la ciudad de Brisbane. Un gran lugar para sentarse y relajarse o disfrutar de una comida casera! Hay un televisor inteligente de pantalla de 55 ", reproductor de DVD y DVD, se proporciona altavoces que se conectan a través de Bluetooth a su teléfono o tableta, también una tableta con una enorme colección de música que se puede utilizar. Wi-Fi gratuito. Hay aire acondicionado de ciclo inverso para enfriar en verano y caliente en invierno, también un incendio llama-efecto para el invierno! La cocina y el comedor están separadas de la sala de estar. La cocina es nueva y tiene todos los aparatos que necesita para disfrutar de su estancia. Hay una máquina de vitrocerámica, microondas, nevera / congelador, cafetera, tostadora y cafetera vaina. El baño es nuevo, con una gran ducha con un cabezal de ducha de lluvia.
Tome un paseo en nuestra área local que queremos compartir con los koalas, canguros y otros animales salvajes australianos! Hay colinas empinadas! Dar un paseo o corto viaje a la presa de pino del Norte y del lago Samsonvale, o para las muchas otras atracciones locales. - Old Town Petrie y museo de la herencia son de 5 minutos en coche. - Dayboro es un pueblo de campo antigua y hermosa, gran lugar para comer en uno de los cafés, que se encuentra a 15 minutos en coche - El viaje en coche hasta la cima del monte Mee es bien vale la pena el viaje, parada en abedules restaurante con vista al mar o bodega para el almuerzo, cena y degustación de vino - 33 minutos en coche - Sandgate o Redcliffe son las ciudades más cercanas costeras, grandes para pescado y patatas fritas en el paseo marítimo, o uno de los muchos cafés y restaurantes, 25 ó 30 minutos en coche - Lagos del Norte tiene un gran centro comercial, con todas las principales tiendas, además de restaurantes y cines, 18 minutos en coche - Los tiempos de conducción: el aeropuerto es de 35 minutos, la ciudad de Brisbane es de 40 minutos, Vidrio House Mountains es de 40 minutos, Mt Glorioso y el Monte Nebo son 45 minutos, el Zoológico de Australia es de 45 minutos, Bribie Island es de 45 minutos, Sunshine Coast es de 60 minutos, Eumundi mercados (miércoles / sábado) son 60 minutos, fábrica de jengibre en Yandina es de 60 minutos, Maleny y Montville son 65 minutos, parques temáticos son 75 minutos, Gold Coast es de 90 minutos
We had the best stay. I stayed with my two kids and we felt very welcome. My Daughter (12) especially loved this place. The animals, the peace and quiet but only a stone throw away from everything. We will be back to stay again, no doubt.
Sara
2016-07-09T00:00:00Z
Cliff was great in making us feel welcome. Place was beautiful & remote, just what we wanted. Lovely Airbnb!
Cemil
2016-06-20T00:00:00Z
Awesome retreat on great property, loved the animals. Hosts were great and the Loft was very comfortable!
fabian
2016-05-09T00:00:00Z
Very welcoming, not a thing out of place. Would recommend this accommodation to anyone, no hesitation.
Janet
2016-08-01T00:00:00Z
Wonderful stay and lovely people, thank you
Carmelo
2016-10-02T00:00:00Z
Huge room with plenty of space. nice balcony with great view. Very relaxing
Jennifer
2017-04-01T00:00:00Z
A really beautiful place. A lot bigger than I thought the photos showed.
Daniel
2017-03-11T00:00:00Z
We really enjoyed our stay at Louise and Cliff's BnB. The accommodation was clean, private and had a beautiful country cottage feel. The view from the deck was amazing both during the day and evening. Perfect for relaxing with a cup of tea/coffee. Cliff and Louise were very friendly, welcoming & accommodating, even providing our little one with a bucket of hay to feed their beloved pet Alpacas. It was a short drive to the supermarket and restaurants. And the picturesque town of Dayboro (12 min drive) is a must see. We really didn't want to leave and will definitely come back again. Bonnie, Mark & Noah
Bon
2017-03-05T00:00:00Z
Art der Unterkunft
Ganze Unterkunft
---
Objekttyp
Loft
---
Unterkunft für
4
---
Schlafzimmer
Whiteside, Queensland, Australien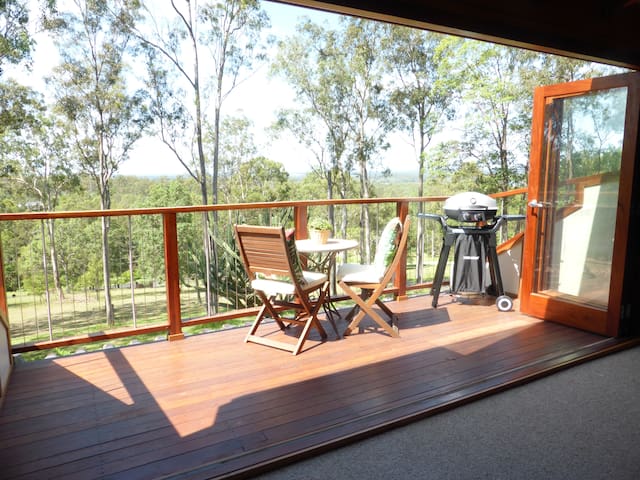 The city & river views are truly spectacular! Getting about by City Cat is a lot of fun, too - can't recommend it enough for a night out. We didn't get to meet Yolande until we were leaving, but she's very friendly :)
Chris
2015-12-05T00:00:00Z
I stayed in Yolande's apartment for about 6 weeks during a work trip. It was much larger and more beautifully furnished than the photos make out, and the view was beyond incredible. I spent many hours staring off watching the citycat ferry fly by or people walking/biking in the opposite new farm park.The location of the apartment was also great.. about 5 minute walk to the nearby ferry terminal, and 3 minutes walk to bus routes travelling to and from south bank, the city and nearby Bulimba. There was also 2 independent grocery stores within walking distance and a great sushi and fish shop which should not be missed. I enjoyed greatly picking up my groceries on the way home from work, and then cooking up a feast in the very well appointed kitchen. In terms of my actual stay i did have issues with the internet (constantly dropping out due to the thick brick walls), television (didn't pick up many channels for the first week or two), some power outages and bugs. I was also unaware that the apartment shared a joint entrance with the main house. I got used to this, however, it did mean that any noise from the kids and dog below were heard on many occasions and was a problem when sleeping. Yolande and her sister Ingrid were however so lovely and helpful, and quickly responded to and attempted to remedy these problems. Because of this I would definitely consider staying again, and would also recommend anyone looking for a spacious, modern and well-appointed apartment to do the same. Once again the view is INCREDIBLE, the location FANTASTIC, and the apartment absolutely GORGEOUS.
Ella
2016-02-25T00:00:00Z
The studio was just as described, well located and presented with an excellent view. Yolande was a great host and was available to help at any time.
Travis
2015-11-22T00:00:00Z
Amazing unit situated right on the Brisbane river. Very close to the city and the river cat. Yolande and Ingrid were wonderful hosts who are very accommodating. Thanks again for allowing us to stay.
Renee
2015-12-17T00:00:00Z
My wife and I really enjoyed our stay, the room setup was very comfortable and the view was awesome. The room setup is very private and the pool and patio are a great place to unwind after exploring Brisbane. We would highly recommend the Riverview.
James
2016-01-03T00:00:00Z
We really enjoyed staying here. Yolande was away but her sister did a great job of looking after us. Walkable to the Gabba which was great for us as we were there for the cricket. Also close to a great pub and the ferry. We spend one day doing a ferry pub crawl, that was great. We spend some time down at the pool at night with some drinks, and that was beautiful. Such a good view of the river. Sharing the hall way down to the pool was a new experience for me but our hosts didn't mind us walking through there so we got use to it pretty quickly. It's kind of like staying with a friend that gives you plenty of space to do your own thing.
Bill
2015-12-30T00:00:00Z
We had the most wonderful stay at Riverview! Yolande and her lovely family made us feel most welcome for our long term stay in Brisbane. The accommodation is just stunning with gorgeous views of the river and city. It was perfect for my little family being close to Mowbray park, the ferry, buses and the iga supermarket. We feel so grateful to have stayed in this gem of a spot in our own apartment in the home of such lovely people! Yolande and Ingrid were incredibly accommodating for our entire stay. We couldn't have hoped for a better experience.
Eleanor
2016-05-03T00:00:00Z
The host canceled this reservation 57 days before arrival. This is an automated posting.
Caroline
2016-05-19T00:00:00Z
Art der Unterkunft
Ganze Unterkunft
---
Objekttyp
Loft
---
Unterkunft für
2
---
Schlafzimmer
East Brisbane, Queensland, Australien
Mi lugar está cerca del centro de la ciudad, el aeropuerto, la vida nocturna, y el transporte público. Te va a encantar mi lugar debido al ambiente y la mezcla de mobiliario europeo y asiático. Mi lugar es bueno para viajeros exigentes que gustan de explorar la ciudad, para usar mi bicicleta y volver a un lugar con ladrillos a la vista en la que pueden darse en remojo en un ofuro, café recién tostado, té o un vino tinto de vidrio. Va a tener el nivel más bajo para el mismo, incluyendo sala de estar y cocina compartida conmigo.
mezcla ecléctica de muebles de diseño y muebles asiáticos
una zona lujosa con un buen transporte público
Art der Unterkunft
Privatzimmer
---
Objekttyp
Loft
---
Unterkunft für
1
---
Schlafzimmer
Newstead, Queensland, Australien
이스트 브리즈번 강에 CBD 부근에 위치하고 있습니다. 대중 교통, 상점과 레스토랑에서 가깝습니다. 브리즈번 캣 (CityCat) 5 분 거리에 있습니다. 어떤 자동차가 도시에 들어갈 필요가 없습니다. 2 개의 침실, 독립적 인 주방, 욕실 작은 현대적인 에어컨 아파트.
도시와 강 중앙 동쪽 브리즈번에서 집 위에있는 아늑한 현대 아파트는 공원, 상점, 레스토랑, 바, 대중 교통 (버스 및 도시 고양이)에 가까운 Views.Located. 작은 가족 또는 커플에 적합합니다. 메인 침실 옷장 두 번째 침실에 내장에만 좋은 전망을 감상 할 수있는 침대와 사이드 테이블이 있습니다!
이스트 브리즈번은 번성하는 도시 외곽의 교외이다. 도시와 캥거루 포인트를 통해 리버 워크를 따라 사우스 뱅크에 좋은 산책까지 2 kms. 우리는 또한 우리의 거리의 끝에 아름다운 공원이있다. 심지어 맛있는 아이스크림 가게, IGA 슈퍼마켓과 레스토랑이 도보 거리에 있습니다.
Wir wurden sehr herzlich von Yolande in Empfang genommen. Auch schon vor der Anreise war die Kommunikation perfekt! Die Wohnung ist sauber, sehr gemütlich und mit allen notwendigem ausgestattet! Nicht weit entfernt fährt eine der Fähren und man ist super schnell in der Stadt. Wir sind alle sehr zufrieden gewesen und ich kann diese Unterkunft wärmstens empfehlen!
Dorothee
2015-12-08T00:00:00Z
Die Wohnung war nicht einfach nur eine Unterkunft, Yole, Ingrid und Margret haben uns vom ersten Tag als Teil Ihrer Familie aufgenommen. Ihre freundliche und offene Art hat unseren Aufenthalt zu einem unvergesslichen Erlebnis gemacht und uns das australische Lebensgefühl der "no worries" wirklich näher gebracht. Airbnb wirbt oft mit dieser Interaktion zwischen Vermieter und Mieter und hier hat sie wirklich stattgefunden. Wir haben uns als Teil der Familie gefühlt und das war ein tolles Gefühl. Darüber hinaus ist die Lage und der Ausblick natürlich atemberaubend, die Bilder sind authentisch. Die Verkehrsanbindung an den CBD Brisbane sind hervorragend (2min bis zum Ferry Terminal oder Bus), kostenfreie öffentliche (un-limited) Street-Parking-Möglichkeiten stehen ebenfalls zur Verfügung und der Park ist super für Kids und BBQ. Die perfekte Wohnung für eine Familie. Die Wohnung und das Haus haben alles was das Inserat verspricht und Yole hilft einem zudem alles zu besorgen, was man sonst noch so braucht oder glaubt zu brauchen. Kurzum unser Aufenthalt war ein unvergessliches Erlebnis!
Lorenz
2016-10-26T00:00:00Z
The apartment is clean, nice and quiet with fantastics views. It is well located with easy access to public transport like bus and city cat. Yolande is a perfect host. She made us feel very welcome by greeting us at the gate and giving us a brief tour of the apartment. She also helped us a lot during our stay, making this trip to Brisbane perfect. I would definitely recommend Yolande's apartment to travellers.
Tongda
2015-12-01T00:00:00Z
Thanks Yolande, we enjoyed the time by you. All people in house was very friendly, rooms was clean, nice, beautiful view and close to city. :-)
Markéta
2016-03-09T00:00:00Z
Yolande's place is a super find! A bright, light and airy apartment hidden atop a riverside house, with stunning views over the city. The apartment is full of windows so the whole place is bathed in light, but also has a cracking fan and aircon system which we put to good use as it was a boiling hot day when we stayed - and the place was deliciously cool THE most comfortable bed, and as the room is high up i left the blinds open so i could lay in bed and look at the stars and the city before i went to sleep - absolutely perfect The apartment has everything you need and is lovely and close to the city ferry stop. I'd highly recommend catching the ferry at sunset so you can sail through the city at twilight Yolande and Ingrid were wonderfully welcoming and made us feel at home immediately. I'd absolutely recommend you go and stay with them
Alexandra
2016-02-28T00:00:00Z
A great neighbourhood close to the Gabba for our footy trip away. Also a lovely walk into the city also. Breath taking views and modern amenities mate our stay very nice. Yalonde was terrific with ensuring everything was clean, comfortable, friendly and private and everything and anything we needed was available.
Danial
2016-05-30T00:00:00Z
Yolande's space was perfect... Nice and close to the Gabba (we went to a footy game) and the ferry is perfect for getting to the city. The space was clean and bright... Oh and being smack bang on the river is a nice bonus...
Steve
2016-04-05T00:00:00Z
Thank you for a lovely stay. We spent two nights in Brisbane and decided to book via airbnb. We were met by a very friendly host and instantly felt very welcome. The accommodation was very nice, very clean and plenty of space. The bed was very comfy for a good night sleep. Added bonus was the view over the river and skyline. It's very easy getting around the town, the cat stops right around the corner.
Morten
2015-11-16T00:00:00Z
Art der Unterkunft
Ganze Unterkunft
---
Objekttyp
Loft
---
Unterkunft für
3
---
Schlafzimmer
East Brisbane, Queensland, Australien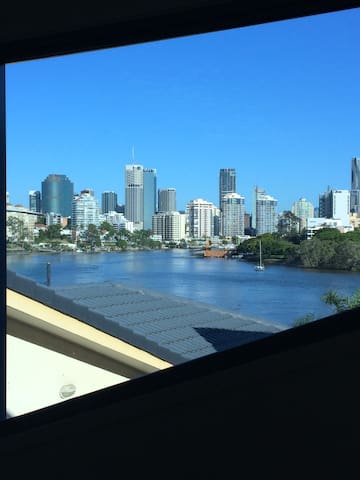 Gib deine Reisedaten ein, um den Gesamtpreis pro Nacht zu sehen.