Walking distance to Downtown Des Plaines. 15 minutes to O'Hare. Walking distance to train station to downtown Chicago
Loft Apt. Street parking, Sleeps two. Fridge, Coffee maker, Hot plate, Microwave, Bathroom with shower. Awesome yard, Gas Grill available. Des Plaines bike trail entrance 2 blocks away. 2 night minimum nov-mar 1 Walking distance to Bus & Amtrak
After a long internationsl flight, Michael helped facilitate a smooth overnight stay in Chicago - the overnight stop was very short in duration. We had a short one hour flight but it was not available until early the next morning. The fee for picking us up and dropping us off was extremely reasonable. Michael was very friendly. He helped us get settled - he even helped with a cell phone charging problem - and then left so we could get some sleep. He had a stack of linen, and I was able to quickly make up the two parts of the trundle bed. We were fortunate to find a budget place so near to the airport - and to have some help getting from the airport and back sgain. Everything went very smooth. Thank you Michael.
Rebecca
2016-08-28T00:00:00Z
Mike is kind and thoughtful. i was lucky to pick his house. Room is clean and well equipped, enjoyed the one-night stay in chicago .
堰鸾
2016-07-04T00:00:00Z
The loft was exactly as advertised and suited our needs perfectly. Michael was a great host and answered all our questions in a very timely manner. We would definitely stay here again!
Dan
2016-10-10T00:00:00Z
Michael was a very hospitable host and even though our time in Chicago was short, I would definitely recommend staying here in Des Plaines. The Metra (train) is walking distance and it takes you straight into downtown Chicago. Michael has a beautiful home and if we're ever back in town, we'll definitely book with him again.
Sky
2016-05-23T00:00:00Z
Mike's above-garage apartment is great! Quiet, cozy, and in a good location close to everything you'll need. He was also extremely easy to deal with and flexible.
Don
2016-02-06T00:00:00Z
Staying with Michael was really nice, he is really sweet and his apartment is just as described. It is clean and has everything you may need. If you are staying there on your trip to Chicago, take public transport, it might take a while but its the easiest way to get there.
Paula
2016-07-03T00:00:00Z
Excellent price in a great location. Mike was an amazing host who made sure we had everything we needed. Very flexible and accommodating. Highly recommend.
Nic
2017-01-01T00:00:00Z
Michael was there to greet me when I arrived. Showed me everything I needed to know for the apartment. Great space, bigger than it looks in the pictures. Clean and comfortable. It's a beautiful house and a lovely area. Apt. is above the garage and it's charming with sky lights and big windows. Would definitely stay here again.
karen
2016-04-25T00:00:00Z
Art der Unterkunft
Ganze Unterkunft
---
Objekttyp
Loft
---
Unterkunft für
2
---
Schlafzimmer
Des Plaines, Illinois, Vereinigte Staaten
Welcome to The Lux Loft! Charming Woodstock (Bill Murray's "Groundhog Day") offers guests Victorian town-square nostalgia and proximity to Lake Geneva. Escape the city without a car to this gorgeous timber loft, two blocks from the train to Chicago. Luxuriate in fine furnishings and elegant French/urban/industrial decor.
This carefully kept space is a haven that feels something akin to a grownup, upscale fort. Please note that this is an open floor plan. The upstairs bedroom is a true loft that overlooks both the living room and the second bedroom. Lofts are loved for the light and unique windows...bedrooms are drenched in beautiful light of uncovered skylights. New, disposable sleep masks are provided, or feel free to bring your own. 2nd Floor: Up the staircase is a serene loft bedroom with a queen bed and reading nook. It overlooks the living area and second bedroom below. Main Floor: There is a twin size daybed in the refreshing first floor bedroom. The first floor includes a beautiful bench-made full size couch and a dining table, in addition to the kitchen and spacious bathroom. Kitchen is equipped with a refrigerator, dishwasher, microwave, gas stove, utensils, and lovely dishes. Wifi password can be found on the console table. Please note there is no TV service. Help yourself to viewing DVDs (stored in the media cabinet) or connecting your computer via HDMI.
Just blocks from the lovely Town Square. 30 min drive to Lake Geneva, WI. Guests without a car can easily commute to Chicago via the Metra station, just blocks away.
We had a beautiful and relaxing weekend in this beautiful loft
Eleanor
2016-02-22T00:00:00Z
A definite yes! My friend and I just had the pleasure of staying at Talia's loft and found the place delightful. Gentle greys and creams decorate the modern space with charming accent pieces (love the bathroom dresser!) that create a warm and welcoming home away from home. Both the queen in the upstairs loft and the daybed in the first floor bedroom were quite comfortable. Her place overlooks a large grassy area of the complex rather than a noisy street and was very quiet. We walked into town in about 5-10 minutes where The Square is surrounded by several nice little boutique shops and restaurants. Talia herself was very nice and very quick to respond. You won't regret staying at her place!
Jackie
2016-05-02T00:00:00Z
Talia was a great host! She was very responsive to any questions I had and her loft was really well decorated and maintained. The location is perfect - just a few minutes walk to the Metra as well as to the Town Square.
Swasti
2016-05-31T00:00:00Z
This is a beautiful loft space. We only stayed one night but wish we had a few more days.
Karen cauvin
2017-03-19T00:00:00Z
Talia was a very clear communicator and went to great lengths to make sure we were accommodated throughout our stay. The Loft was beautifully put together and very clean. The Loft was very near to the downtown area and the train station - a no brainer for someone trying to get way in McHenry County but still be connected to Chicago.
Jordan
2016-09-06T00:00:00Z
THE PEOPLE AROUD US WERE VERY FRIENDLY.WE LOVED BEING IN THE LOFT.WE KNOW WOODSTOCK WELL AND WE WHERE NOT FAR FROM OUR FAMILY.TALIA IS VERY NICE AND KIND PERSON AND VERY KINDLY LEFT US SOME LOVELY GOODIES IN THE FRIDGE.SORRY I DIDNT DO THE REVIEW EARLIER. BUT CHARLES HAD A FALL AND BROKE HIS WRIST AND ELBOW ON THE SAME ARM WHEN WE GOT HOME.SO I HAD NOT BEEN LOOKING AT EMAIL
c
2016-10-30T00:00:00Z
You will love staying at The Lux Loft. Talia made every effort to create a special and comfortable stay for us. We were celebrating our wedding anniversary and she left us two locally-made cupcakes to greet us. The atmosphere in the loft is bright and open with furnishings and finishes that are warm, refined, and tell you that Talia loves travel and culture. She was very accommodating of our schedule and made it easy to pick up the keys from her in Chicago. Furthermore, it was easy to get a hold of Talia to get information and she was responsive and attentive. Parking at the loft is easy and it was very quiet. The perfect place to stay as a retreat, with a sweetheart, or friends when you're exploring lovely Woodstock.
Bonnie
2016-02-01T00:00:00Z
Talia's loft is proximate to the Woodstock Square and all of the shops and restaurants! It is in a beautifully maintained loft complex with manicured green space. Her loft is comfortable, clean and well-appointed. I wouldn't hesitate to recommend to friends and family.
Kimberly
2016-06-13T00:00:00Z
Art der Unterkunft
Ganze Unterkunft
---
Objekttyp
Loft
---
Unterkunft für
3
---
Schlafzimmer
Woodstock, Illinois, Vereinigte Staaten
Hotel room with standard amenities, including gym, soap, shampoo, and towels.
Art der Unterkunft
Gemeinsames Zimmer
---
Objekttyp
Loft
---
Unterkunft für
1
---
Schlafzimmer
Rosemont, Illinois, Vereinigte Staaten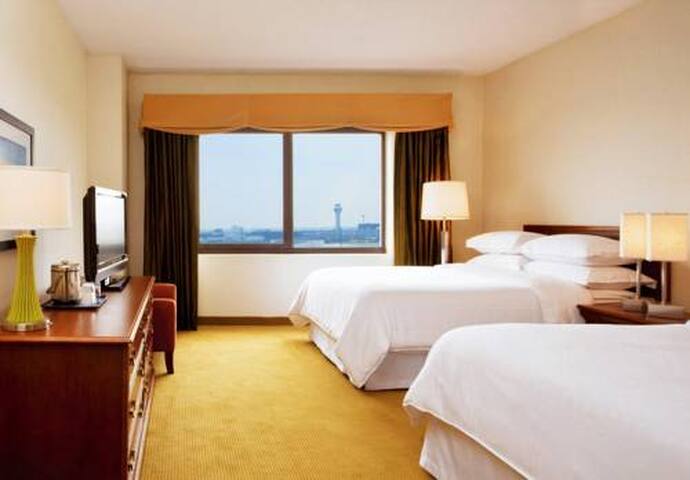 Gib deine Reisedaten ein, um den Gesamtpreis pro Nacht zu sehen.