Under one minute from Interstate 81 and completely private entrance. It really is it's own space with it's own parking spot. Two single beds and a comfy couch accommodates 3. Free wifi, netflix, and Playstation 3 with games. The fenced back yard space with firepit, patio, gas grill, and swing is something to remember. There is a drop down desk space and chair for laptop needs. Complimentary coffee and drinks in the fridge. Hipster cool space with a musical vibe!
Designed for travelers needing an easy and quiet space with all the amenities. Enjoy a fridge stocked with bottled waters and creamer for your coffee. A microwave, and a Kurig with complimentary coffee. Free wifi, cable, Netflix, and playstation 3 with games. Enjoy the artistry, instruments, and musical feel of The Artist Loft!
The Artist Loft is located across the street from War Memorial Park. Enjoy the summer concert series, Putt Putt Golf, a Large public Swimming Pool, playground, and picnic areas. Just a short walk from downtown Martinsburg where you will find Boyds Restaurant, The Apollo Civic Theater, and local shopping. It's worth a look.
Adorable room with two beds. Very comfortable for a weekend away. It's so quiet... living in a city I wasn't used to the silence at night, which was part of a reason I wanted to get away! Great value for a great place in an awesome location!!
Carolyn
2016-08-29T00:00:00Z
Everything went well. It's a private pseudo-apartment and I saw basically no one else.
Josh
2016-10-05T00:00:00Z
Just as described and super cute. They've put some tender loving care into the rental and care about the guest's experience. Easy communication and great location.
Diedrich
2016-09-09T00:00:00Z
The Lopez's made frequent contact via text ensuring a smooth arrival. The Atist's Loft was clean and neat in a good neighborhood with easy access to the main roads of Martinsberg. The area is quiet with a large park within 1 block. My brother and I had a good stay. Thank you
Gary
2016-09-23T00:00:00Z
The wonderfully quiet though very accessible neighborhood was the highlight of this stay! The space is accurately pictured in the profile. The host made it very easy to access the location even with a late arrival. Thanks so much for a great stopping over point!
Shannon
2016-08-26T00:00:00Z
We were in the area for the Geocaching Smart Trail. This loft was central to the caches we were looking for, near food, and unfortunately I had reason to find out it was quite nearby an auto mechanic. We enjoyed our stay here and appreciated Lesley's willingness to allow us to extend our stay an extra evening.
dawn
2016-10-17T00:00:00Z
Beautiful place. Wonderful stay. Great Hosts. I recommend.
amy
2016-09-08T00:00:00Z
Lesley and Jamie's Artist Loft in Martinsburg was the perfect place for a one night retreat. I was meeting a friend between DC and Pittsburgh and we immediately felt comfortable and safe. It is close enough to the town center and a short drive to the adorable and quaint Shepherdstown. We shopped, dined and shared coffee together in the loft space. We agreed we slept very well. I appreciated the takeaway gift and card upon arrival and thought it was an extra special touch. Lesley and Jamie are certainly excellent hosts and their passion for the airbnb community is evident in every detail. Thank you!
Genna
2016-12-04T00:00:00Z
Art der Unterkunft
Ganze Unterkunft
---
Objekttyp
Loft
---
Unterkunft für
3
---
Schlafzimmer
Martinsburg, West Virginia, Vereinigte Staaten
Inspired by the movie "Thomas Crown Affair", this 900+ sq ft, art atelier efficiency is decorated with Impressionist re-creations, original art, and James Bond. Chockful of comfort amenities to accommodate exacting travelers. Be advised there is a shared front entrance. Several shopping malls, attractions and restaurants/bars. I've lived all over the world and enjoy hosting business professionals, couples and international travelers. Thank you for previewing & wishing you much Success!
Art Gallery Efficiency is lower floor, 9' high ceiling. Full bathroom, Living room with 65" TV platform, dance floor w/ strobe, wet bar, mini-refrigerator, microwave, coffee maker, wine cabinet, Impressionist Art Gallery, sitting room. FIOS TV, hi-speed Wi-Fi internet. SEPARATE "Skyfall" Room: For larger parties who need additional, additional room from Gallery, a 2d bedroom is available on a separate floor. "Skyfall" can accommodate 2 Guests, Q-size bed, large HDTV with cable TV, writing desk/ chair, private detached full bathroom, luggage rack, hi-speed wi-fi. Inquire with Hostess. For Business Travelers- professional conference rooms at Reston Town Center available: * Medium Size (6-7 people), window view overlooking signature Reston Fountain. $100/ hr or $370/ day * Large Size (10-12 people) interior facing $185/ hr or $700/ day *Reserve with Host
Professional community of detached single family homes. Tranquil neighborhood. House has best-looking, exotic, flower garden.
You have struck gold if you decide to stay here. This is an ENTIRE floor for your very own private use. It is extremely clean and tidy and includes the most comfortable bed, the largest tv, 2 living areas, a classy bathroom, huge bar area with fridge (and I believe a microwave is soon to come), the most elegant surrounds and beautiful artwork is on display to enjoy. It may be a basement but with 9 foot high ceilings, it feels more like a palace. Then there is the warm and very welcoming host, Thu, who did everything possible to make sure we had an enjoyable stay. She also has a wealth of knowledge about the area and can speak several languages. She is amazing! Could not have asked for a better airbnb stay, would highly recommend it to all.
Teena
2016-06-05T00:00:00Z
Beautiful and spacious! Very convenient for a DC area stay! Thu is a great host!
Dennis
2016-06-16T00:00:00Z
Zeker een aanrader. Het huis ligt in een rustige woonwijk, en is luxe ingericht. Met Thu communiceer je heel makkelijk en ze reageert snel op elk bericht. Comfortabel bed, en goede voorzieningen zoals wifi, grote TV, keukentje. Voor de liefhebbers: dansvloer(tje) met echte stroboscoop!
Kornelis
2017-02-17T00:00:00Z
What an incredible experience! The host is very welcoming and even stayed up late to ensure we knew how to open the door. The place is huge, with a comfy bed, a nice couch, surround sound big screen tv. This place is the entire package. You should stay here!
Sara
2016-06-18T00:00:00Z
Thu's house was everything the listing said it would be. It was spacious, private and very comfortable. I lacked nothing. I enjoyed the new coffee maker and microwave oven. I found it hard to believe she was new to Airbnb, she was so organized and everything was right. Her house is beautiful. The art made you feel like you were in an upscale boutique hotel! Neighborhood is a very safe, quiet, upscale area. I will stay there again when in the DC area.
Jay
2016-06-07T00:00:00Z
Walking into Thu's basement apartment was a very pleasant surprise. Her accommodations are spacious and luxurious. A kitchenette and bar area provide ample room to prepare meals and drinks. The entire space serves a double purpose as a thoughtfully designed art gallery. The main area has a large theater setup coupled with a high fidelity audio system with individual zone controls. The high speed WiFi Internet worked perfectly. The bedroom has a comfortable queen size bed, a small closet to hang up clothes, and a luggage rack for your suitcase. Scattered around the suite are an array of nostalgic James Bond memorabilia and classic sports car books and magazines. Thu herself is a consummate host. She made every effort to make us feel comfortable and welcome. On the living room table she provided us printed directions to local restaurants and attractions; she offered to wash our laundry over the weekend; and even the smallest things were done with care such as ribbon wrapped bath towels and a selection of premium coffees. As part of welcoming us, Thu gave a comprehensive tour of the suite and made sure we felt free to fully take advantage of her elaborately designed theater system. I would highly recommend to anyone looking for a relaxing and quiet place to stay near to the Dulles and DC area to choose here. I know that this will be my first choice of accommodations in the future.
Aaron
2016-07-02T00:00:00Z
Thu was a wonderful host. She went out of her way to make me feel welcome and wanted me to be as comfortable as possible. The living space was very large and made me feel like i had my own apartment. All of the wonderful art and 007 pictures gave the space almost a gallery feel. I look forward to staying with Thu in the near future.
Louis
2016-06-11T00:00:00Z
Thu's place exceeded expectations. The place was spotless and beautiful. We had a busy weekend and couldn't meet the host but she communicated everything clearly through messages and made herself available if we wanted! Highly recommended
Haley
2016-08-15T00:00:00Z
Art der Unterkunft
Ganze Unterkunft
---
Objekttyp
Loft
---
Unterkunft für
3
---
Schlafzimmer
Sterling, Virginia, Vereinigte Staaten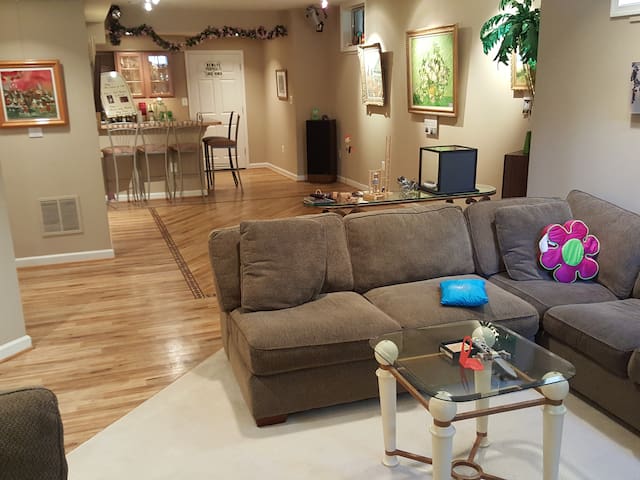 Located just 20 miles outside of D.C., our place is great for travelers to looking to be close to the city without the price tag. Our loft is located on the top floor which offers a serine setting for your stay. Located just a short walk from Starbucks, Regal Movie Theater, less than 2 miles from Fair Oaks Mall, and IAD. Our place is great if you're in town to sight see in DC or here for business with access to metro with a shuttle service that runs from our building to the train!
We had a great stay at Jeffery's Place! It was convenient for us to get in DC and also relax and have a nice weekend. Jeffrey's communication with us was great too. Overall great stay.
Breanna
2017-03-21T00:00:00Z
Great apartment in a great location. I stayed here for work and I couldn't ask for a better location. There are a lot of dining and shopping options nearby and the apartment is very close to the D.C. Metro. I actually took advantage of that and spent the weekend in D.C. checking out the Smithsonian museums. I would highly recommend Jeffery's apartment if you're looking for a beautiful and convenient place to the stay.
Jason
2017-03-17T00:00:00Z
Art der Unterkunft
Ganze Unterkunft
---
Objekttyp
Loft
---
Unterkunft für
5
---
Schlafzimmer
Fairfax, Virginia, Vereinigte Staaten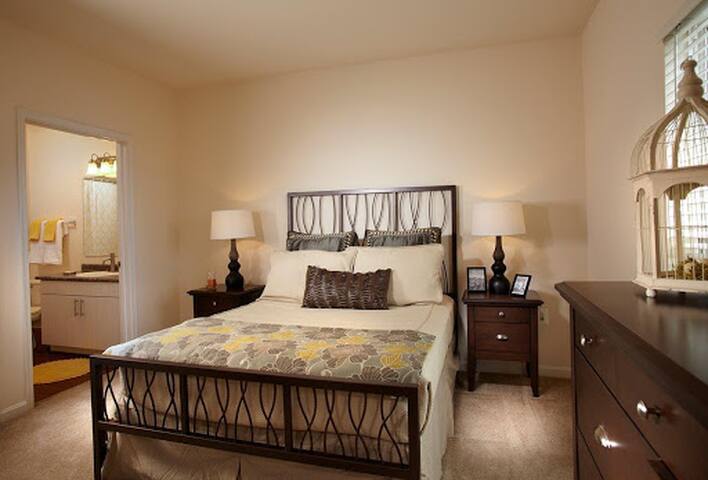 First trip to the US? We live in a gated golf community, lots of amenities! Private loft w/ own bath. Furnished w/ Double bed, TV, Towels, Toiletries. Our location is convenient to Dulles Airport, DC, Historic sites, wineries, Shenandoah Natl Park
This is for a 2 bedroom loft converted to 1 huge bedroom! For more than 2 people, we have a full size futon besides the full size bed (real bed). Private bath, just like having a loft suite!
We live in an active adult golf community with beautifully maintained grounds. The clubhouse is walking distance (across street) that serves lunch and dinner most days.
The host canceled this reservation 26 days before arrival. This is an automated posting.
Valerie
2016-11-27T00:00:00Z
I enjoyed my stay with Dette and Lee. They were very nice and made me feel at home. Dette even bought a divider so I could have more privacy in my upstairs room. I also enjoyed her home cooking occasionally.
Jamie
2015-11-11T00:00:00Z
Art der Unterkunft
Privatzimmer
---
Objekttyp
Loft
---
Unterkunft für
4
---
Schlafzimmer
Gainesville, Virginia, Vereinigte Staaten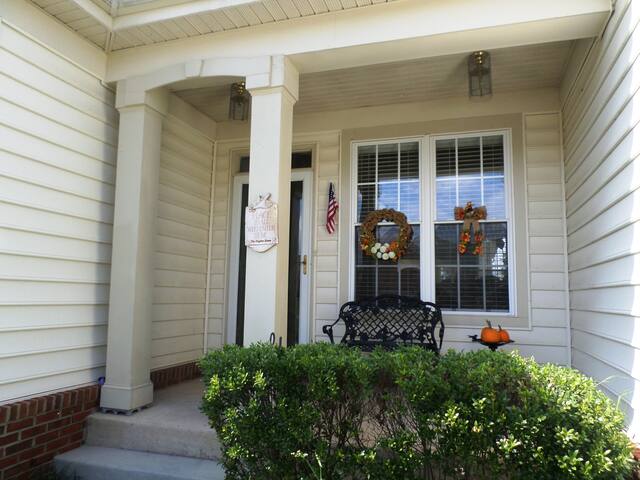 Testing Listing with Attic Loft Room
Art der Unterkunft
Privatzimmer
---
Objekttyp
Loft
---
Unterkunft für
2
---
Schlafzimmer
Chantilly, Virginia, Vereinigte Staaten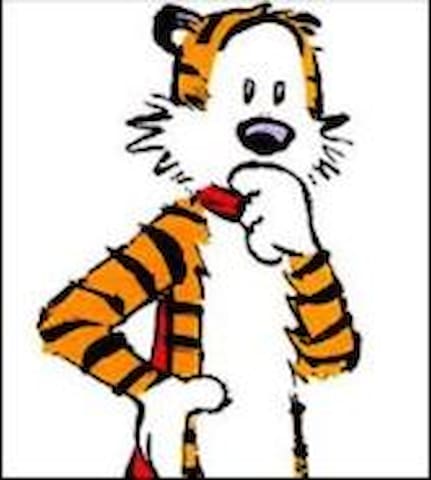 Gib deine Reisedaten ein, um den Gesamtpreis pro Nacht zu sehen.