+ 300 Wohnungen zur Miete
In this newly renovated monastery, there is a apartment of 70 m2 for rent. The apartment has its own entrance, a combined living room and kitchen, 2 bedrooms with double beds, and a tastefully fitted bathroom with a bath tub, shower head, wash and toilet. Just outside the apartment guests can enjoy a closed garden with a big terrace with dining area for 8, a stone built BBQ and a fantastic view to the lake and the mountaintops. The shore of the lake is only 10 minutes walk away. Here you find a charming harbor,excellent restaurants and beach with sand. The famous resort town of Menaggio is located at only 10 minutes drive away. The activities in the surrounding area, includes cycling, hiking, tennis, golf, swimming, power boat hire, sailing, windsurfing, canoeing and other kind of water sports. A frequent car and passenger ferry service runs from the famous Menaggio to resort towns like Bellagio and Varenna. To Como you can take a modern air-conditioned bus or a passenger ferry.
Die Wohnung ist super schön und die Gastgeber total nett.
Manuel
2016-10-16T00:00:00Z
Wir haben uns sehr wohl gefühlt! Ein sehr friedliches Plätzchen mit phantastischer Aussicht. Sehr aufmerksame zuverlässige Gastgeber und eine wunderschöne Wohnung, die zur Umgebung passt!
Nicole
2016-05-23T00:00:00Z
Jorgen and Maltha are genuinelly lovely people who made our stay as comfortable and easy as it could possibly have been. The villa suited the needs of our family of four perfectly and is set against a stunning backdrop. We spent a lot of time relaxing on the garden patio. It's very quiet and we enjoyed being away from the tourist throngs of other nearby locations. We had a car so it was easy to move around. We had a wonderful experience here and we would strongly recommend it.
Irena
2016-09-24T00:00:00Z
We had a wonderful and relaxing time at Jorgen and Netes place. They made us feel very welcome and it therefore instantly felt like a second home. The view is breathtaking and enough reason to stay in just a little longer before taking a trip or a stroll along the lake :) There are so many lovely villages to vistit and things to see, it would never become boring. I would recommend this place to anyone looking for a nice time off in friendly and peaceful environment!
Pema
2016-04-30T00:00:00Z
Beautiful views, peaceful surroundings and very welcoming hosts. Nete & Jørgen were really helpful and hospitable and gave us lots of recommendations of things to do in the area. The apartment is stylishly designed and everything high spec. We really enjoyed our stay and would love to return.
Emma
2016-05-06T00:00:00Z
A wonderful 4 nights at the restored monastery of Nete & Jørgen. Great views of the lake and surrounding hills. The apartment is quality from top to bottom, far enough away from the hustle and bustle for you to relax, but near enough for you to get to Menaggio, Como etc in good time. Nete & Jørgen were great hosts and responsive to every request. Recommended and really hope we can return one day.
Derek
2014-06-25T00:00:00Z
We had a wonderful time at Jorgen and Nete's place at Lake Como. We were on our honeymoon and couldn't have wished for a more romantic location. The view is AMAZING, and photos do not so it justice. The bread which Jorgen baked for us all week was delicious. On top of that, the interior of the apartment is very stylish, very clean and a good size for 2 people. overall a top stay, thank you both so much!
Steve
2015-06-12T00:00:00Z
They are so welcoming. Made fresh bread for the morning.
Justin
2014-09-19T00:00:00Z
Art der Unterkunft
Ganze Unterkunft
---
Objekttyp
Wohnung
---
Unterkunft für
4
---
Schlafzimmer
Cremia, Lombardei, Italien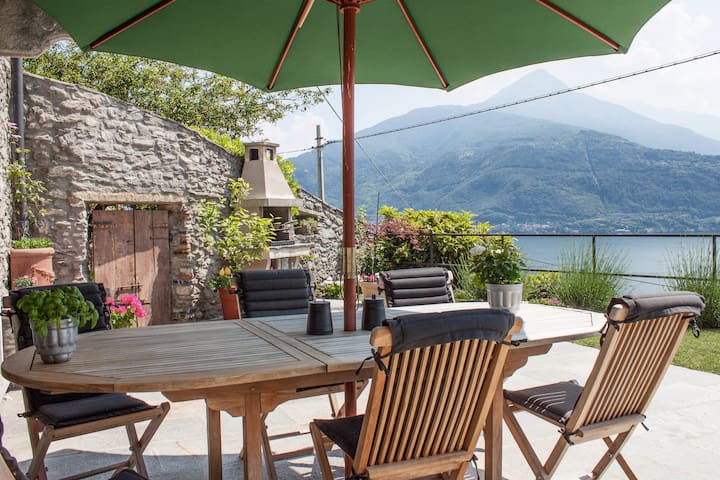 Es befindet sich in dem frisch renovierten Gebäude neben dem Dorf Corenno Plinius und auf dem Weg der Wanderer platziert, die Wohnung hat ein Schlafzimmer mit Doppelbett, Wohnküche, Bad mit Dusche und überdachte Balkon. Ideal für Paare oder eine kleine Familie und ausgezeichneter Ausgangspunkt um den See zu besuchen und See Sport zu treiben, Wandern oder einfach nur in Frieden gehen. Öffentliche Parkplätze in unmittelbarer Nähe.
Die Unterkunft ist Teil eines Komplexes aus mehreren Wohnungen, sondern verfügt über separate und unabhängige Eingang
Art der Unterkunft
Ganze Unterkunft
---
Objekttyp
Wohnung
---
Unterkunft für
4
---
Schlafzimmer
Dervio, Lombardia, Italien
Romantische Wohnung im mittelalterlichen Dorf Corenno Plinius, mit 40 qm Terrasse mit herrlichem Blick auf den See, zehn Minuten von Varenna. Restaurant-Bar in 200 m, Geschäfte, Apotheke, Bank, Bahnhof, Trafik 2km
Wohnküche, ein Schlafzimmer mit Doppelbett, Bad mit WC, Bidet und Dusche. Terrasse mit Sofa, Tisch und Stühlen.
Il borgo di Corenno Plinio è unico, piccolo paese arroccato sulla roccia formato da scale che portano tutte al lago, posto magico dove c'è silenzio, il paese è rimasto fermo nel tempo...venite a vedere...
Wir wurden von Eleonoras sympathischen Vater herzlich empfangen. Hilfsbereit half er uns das Gepäck in die Wohnung zu tragen. Eine gute Flasche Rotwein aus der Region stand auf dem Tisch. Wir fühlten uns sofort willkommen und rundum wohl. Auch die Leute im Dorf waren sehr herzlich und gesprächig. Alles war so, wie der Beschrieb. Die grosse Terrazza mit dieser fantastischen Aussicht auf den See und die Berge ist einfach umwerfend. Romantik pur! Wir mussten uns direkt zwingen, Ausflüge zu unternehmen. In der Küche fanden wir alles was wir brauchten. Auch bei Regen kann man eine gemütliche Zeit in der Wohnung verbringen. Bei der Abreise hatte ich in der Wohnung etwas vergessen. Kein Problem, Eleonora schichte es mir nach Hause. Wir sind sehr zufrieden und völlig begeistert. Jedenfalls waren wir nicht das letze mal in dieser charmanten Wohnung mit dieser zauberhaften Terrazza. Herzlichen Dank, liebe Eleonora. Esther & Peter
Peter
2016-07-10T00:00:00Z
Dearest Eleonora There are no words for the few days we spent at your absolutely beautiful apartment. The view, the terrace and the decor is just splendid. Thank you for the Prosecco! What a surprise. I have stayed in a lot of hotels so far. And such a friendly welcome is rare to find. Thank you for having us. I am 100% sure we are back very soon. The town is small and cute. Perfect start for a small hiking tour up the hill to have a picturesque view over Lake Como. The Restaurant in the town is so authentic witch local view and very friendly staff. We just loved the short escape. Kindest regards Sam
Sam
2016-04-27T00:00:00Z
Incredible point of view on the Como's lake ! Eleonora's dad was very welcoming and smiling and a present was waiting for us there. It's definitely a great place to stay to enjoy the lake !
Gary
2016-04-17T00:00:00Z
Me and my partner had an amazing few days here, it's really is in the most idyllic location. We went in March, so the nearest town Dervio was quite quiet (I presume this was because it was out of season), however, we really enjoyed the peace and quiet. I would advise that you definitely need a car to get around, as there doesn't seem to be any taxi's and to get to the main ferry port in Varenna it's about 10km aways. Also, lots of cobbled steps, so be careful when planning to wear heels! Eleanora's dad was fantastic as well, really friendly, lots of good information and all round helpful! Overall had the most magical few days and the terrace was the perfect location for my other half to propose to me!
Claire
2017-03-26T00:00:00Z
Our experience at Elenora's flat was exceptional! From the warm welcome of her father, to the welcome bottle of champagne, we couldn't have asked for better. Elenora's father even went so far as to recommend a restaurant and accompany us so we wouldn't get lost. The flat has breathtaking views and was extremely clean and comfortable. Elenora was very flexible with timing of check in/check out. We would be pleased to stay here again!
Christy
2015-10-19T00:00:00Z
Eleonora was always prompt in her responses to our questions and when our train came in late was helpful with arranging a taxi for us. On arrival to the apartment we were warmly greeted by her father Tato who settled us in and ran out to pick up some pizza for us as the local restaurant had already closed. The distance to Dervio and Vernazza were much farther than anticipated but the quiet and beauty of the location more than made up for the need for transportation. The entire apartment was charming...from the inviting kitchen, to the comfy bed with doors opening to the terrace and to the terrace itself which was magical, enchanting and breathtaking. The place AND the host family made our stay one that will be remembered and cherished!
Patty
2016-09-17T00:00:00Z
lovely little apartment with a fantastic view over the lake. Good communication, easy parking, and her dad was there to meet us as soon as he knew we had arrived. We had a great time here even though it was very windy during our stay. Would definitely recommend this place as it is cheap for what you get and really lovely and peaceful. Although the people above were quite noisy i cannot complain about anything
Nik
2016-03-29T00:00:00Z
We had an amazing time at Eleonara's flat. She was always prompt in communication and arranging logistics. Even with our bad weather on the first day, the fire in the flat and some food from the local supermarket made for a cosy time. The glorious weather on our second day meant we could take advantage of the beautiful terrace. In particular, Eleonora's dad was really welcoming - always ready with suggestions and guidance for our stay. We really enjoyed ourselves and happily recommend this beautiful flat for a visit!
Tara
2016-03-09T00:00:00Z
Art der Unterkunft
Ganze Unterkunft
---
Objekttyp
Wohnung
---
Unterkunft für
2
---
Schlafzimmer
Dervio, Lombardei, Italien
The apartment provides place for up to 4/5 people. We have 2 bedrooms,one with double bed and the other with two single beds. In the open spaced living room there is a sofa bed for families and groups. Furthemore there is one more exit from the house to the small terrace and the garden with a stunning lake view. You can also use the table and deckchairs on the green lawn. The apartment is 5 minutes from the lake(beach, bars and restaurants) in a very confidential and quiet area.
Free wi-fi. Parking place. Lake view.
Art der Unterkunft
Ganze Unterkunft
---
Objekttyp
Wohnung
---
Unterkunft für
5
---
Schlafzimmer
Calozzo, Lombardia, Italien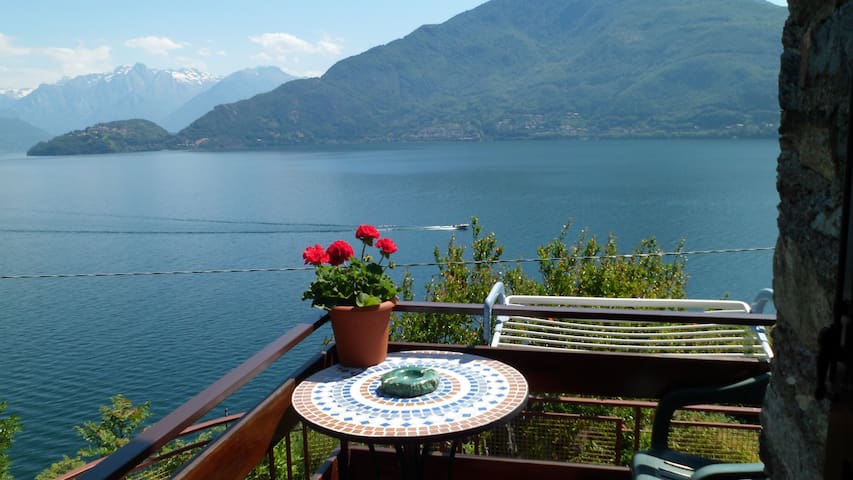 Exclusive apartment in a unique complex with pool .. for an unforgettable holiday on Lake Como! The apartment "Vista" is located in the beautiful residence with pool "Borgo Tre Terre" and provide a private terrace from which you can enjoy an absolutely breathtaking lake view! All spaces both inside and outside have been designed and furnished in detail to optimaze the space and ensuring maximum comfort. Internally it consists of a living area with kitchen, bedroom and bathroom with shower. The modern décor, luxury finishes and the large windows overlooking the lake make this holiday home a small suite on the lake. The apartment accommodate four guest in a double bed and a double sofa-bed placed in the living room. The complex offers at the top a fabulous infinity pool with solarium. One private parking space is available inside the residence. Car is recommended as the complex is located 1.5 km from all amenities and from the town centre in a hilly area not served by public transportation. The pool is generally open from begin/mid June until mid/end September depending on weather condition. The town centre is easily reached in a few minutes by car. Pianello del Lario is a lovely town with an appreciable beach, restaurants near the lake with typical kitchen, tennis court, bar, grocery store, bank and post office. Pianello del Lario is also one of the most popular destinations for lovers of windsurf.
Das Appartement liegt oberhalb Calozzo mit einer wunderbaren Aussicht auf den Comersee. Speziell hervorheben möchten wir den grossen Swimmingpool. Wenige Autominuten entfernt, gibt es gute Einkaufsmöglichkeiten für Lebensmittel, Apotheken und eine Vielzahl sehr guter Restaurants. Das Badezimmer ist sehr geräumig. Leider verfügt das Appartement über keinen Sonnenschirm oder Sonnenstoren. Durch die Sonneneinstrahlung von morgens früh bis zum Nachmittag wurde es im Appartement sehr heiss. Die Kücheneinrichtung ist eher spartanisch, es fehlten beispielsweise ein Brotmesser, Salatschüssel mit Salatbesteck und Möglichkeiten, die nasse Wäsche zum Trocknen aufzuhängen.
Beat
2015-07-11T00:00:00Z
We had a lovely stay at Vista Apartment. Beautiful views of the lake and a lovely, spacious, modern apartment - perfect for 2 people maximum. The pool area is stunning too, however, if you plan on staying early June the weather may not permit much use of it! Overall, a fantastic stay. A hire car is 100% a must, as the location is at the top of a steep hill. But close enough to all amenities and restaurants of Menaggio which is about a 15 min drive. The only thing is that essentials such as wine glasses, sharp knives and an iron are not there. If that was covered, all would be absolutely perfect! Thanks for a great stay.
Maisie
2016-06-07T00:00:00Z
The agency (ehl) is very sweet. we arrived very late due to traffic but they waited another 30mins for us and were still super friendly. the accomondation itself is a bit lost on the hillside. it is veeeery quiet and a bit off due to its location. the interior is all heartless ikea, quite spartanic. i think for 100euro per night it is absolutely not what i expected. anyway, great view and a nice pool, so we could hang loose and enjoy ourselves, thats the most important point!
Christian
2016-10-04T00:00:00Z
L'appartement correspond exactement à la description dans l'annonce! L'environnement est très calme, la vue sur le lac est magnifique, la piscine est superbe et l'appart est très sympa et fonctionnel. Nous sommes enchantés de notre séjour et très content du contact avec l'agence qui s'occupe de la location de ce bien. Il y a un petit supermarché (SPAR) et une boulangerie à 5 minutes en voiture (on peut aussi s'y rendre à pied).
Pierre
2016-08-14T00:00:00Z
Erg fijn appartement met een mooi uitzicht, prettige parkeerplaats en een heerlijk zwembad! Het appartement zelf is van alle gemakken voorzien, schoon en mooi gelegen. Het keukengerei is van mindere kwaliteit, maar wij gingen eigenlijk alleen maar uit eten. Er zijn zo veel lekkere, zeer betaalbare restaurantjes in de omgeving, dat het zonde is om zelf te koken. Het zwembad hadden we de hele week voor ons zelf, omdat er geen andere huurders waren/gebruik maakte van het zwembad. Dat was extra luxe, maar delen zou geen probleem zijn geweest. Het is een prima grootte en er is genoeg gras rondom het zwembad voor meerdere mensen om te zonnen. Het appartement ligt hoog in het dorp, waardoor er bijna geen verkeer is. Daarnaast is hard rijden er onmogelijk door de smalle en steile straatjes. Het is er echt heerlijk rustig. VISTA is een perfecte locatie om het gehele meer te verkennen. Lecco, Chiavenna, Bellagio, Como, Varenna, alles is prima te bereiken met de auto (tip: gebruik de veerpont). Kortom: een echte aanrader!
Carolien
2016-06-15T00:00:00Z
Logement parfaitement conforme à la description et aux photos. Emplacement très calme et vue du balcon et de la piscine très jolie sur le lac. Voiture indispensable.
Benoit
2016-07-31T00:00:00Z
Having just returned to the UK, I can honestly say that myself and my partner had the most amazing time in Italy. The apartment is exactly as described on the website, and hosts were fantastic in communicating, and accommodating our need for an early checkout. 1 thing to note if staying here, is that it is incredibly steep, and so would not recommend if you are not very mobile. The steepness however comes with a reward, as the views are incredible. The pictures do no do justice to how lovely this place is. Car is a must to get around. Pool area is great. Clean, and 2 loungers reserved for you. Although the loungers are locked in the changing rooms and it did takes us a few minutes to work that out! Pool was perfect temperature, and views from here again, incredible. finally, for anyone thinking of staying, I would highly recommend this place. Do remember to bring the essentials like toilet rolls etc. One final comment, there was no wine glasses! So if, like me, you enjoy wine, then would suggest buying some...
David
2016-06-27T00:00:00Z
We thoroughly enjoyed staying in the Vista apartment whilst in Lake Como. The apartment was very comfortable and cosy, with private parking- the view from the pool was just amazing too. The communication from the hosts was superb whilst accommodating a late check in for us too. Very glad we selected this apartment for our trip! Only thing to note is that the road leading to the apartment is very steep and winding- you really do need a car, with sat nav, and a small one at that! We got use to it after a couple of tries though and it was all part of the fun! Also just make sure you pack the essentials for arrival- toilet paper, water, and washing up liquid, salt, pepper, oil etc., if you intend on cooking. All in all a wonderful stay in a fantastic location in Como!
Elena
2015-06-17T00:00:00Z
Art der Unterkunft
Ganze Unterkunft
---
Objekttyp
Wohnung
---
Unterkunft für
4
---
Schlafzimmer
Calozzo, Lombardia, Italien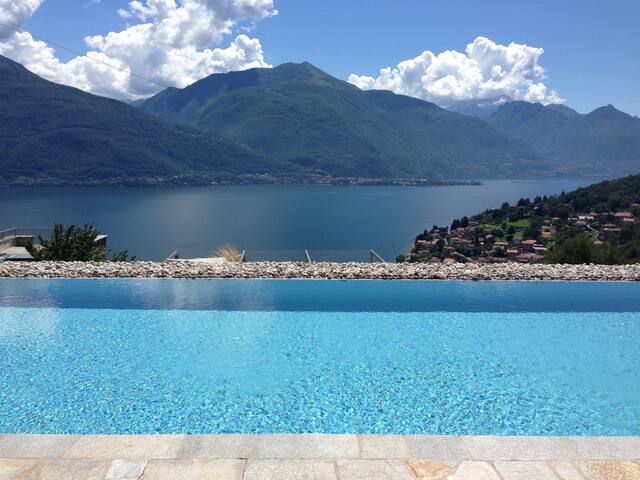 Wohnung mit herrlichem Blick auf den See nur 70 Meter vom Musso schönen Strand am See. Sie werden das Leben und Einrichtungen finden in der Nähe: Es gibt eine coole Bar im Erdgeschoss ist, ein Supermarkt 10% Rabatt auf Geschäfte nur für unsere Gäste im Umkreis von 200 m Entfernung, eine Apotheke und einige Restaurants und eine Pizzeria an. Menaggio und Fähre nach Bellagio sind in 10 Minuten Fahrt. Bushaltestelle direkt vor dem Gebäude. Lugano und die Schweiz sind in 35 Minuten Como fahren in 50 Minuten. Motorboot und Segelbootsverleih
Die Wohnung bietet Platz für bis zu 5/6 Personen. Wir verfügen über 2 Schlafzimmer, 1 mit Doppelbett, Terrasse mit Blick auf den See und das andere mit 2 Einzelbetten. Furthemore im Wohnzimmer haben wir ein weiteres Schlafsofa für große Gruppen und Familien und eine weitere Terrasse groß genug, um einen Esstisch einzurichten und zu essen mit einem erstaunlichen Blick auf den See. Wir haben auch eine große Terrasse hinter dem Haus und einem kleinen Garten, die perfekte Passform für Menschen withi Kinder oder Tiere unterwegs sein wird. Die Heizung ist nicht im Preis enthalten, bei Bedarf ist 1,5 Euro pro m3 verwendet.
Musso ist eine schöne und malerische Stadt am See Como. Hier finden Sie Ruhe finden, entspannen und viel Natur Ihren Urlaub zu genießen. Wenn Sie Kontakte zu knüpfen wollen, gibt es Bars und Restaurants in der Umgebung.
Art der Unterkunft
Ganze Unterkunft
---
Objekttyp
Wohnung
---
Unterkunft für
5
---
Schlafzimmer
Musso, Lombardia, Italien

Gradevole appartamento, situato in una casa privata, isolata, immersa nel verde, nella quiete, con vista mozzafiato sul Lago di Como. È il luogo ideale per una vacanza di relax con abbinato la comodità per fare escursioni fra lago e montagna.
L'appartamento posto al pianterreno, è di 30 mq interni e di 18 mq di portico esterno. Dispone di zona giorno con cucina con 4 fornelli, forno, frigor, macchina caffè americano, tostapane è tutto ciò che serve in cucina. Camera da letto matrimoniale con armadio e due comodini. Bagno con doccia. Giardino privato di 75 mq e portico attrezzati di sdraio, tavolo e sedie.
L'appartamento è situato nella periferia della frazione di Lucena, nel paese di San Siro. Può essere descritto come un "balcone sul lago", da qui si può ammirare Menaggio, Bellagio, Varenna, Dervio e il castello di Rezzonico.
Wir hatten eine tolle Woche im Honey House und Mara hatte uns freundlich empfangen. Es ist wirklich alles so wie auf den Bildern und die Aussicht ist genial. Wir kommen gerne wieder.
Anja
2016-08-07T00:00:00Z
Es war prima, rundum gelungen. Sehr freundlich, tolle Aussicht, ruhig und ungestört.
Alexander
2016-09-27T00:00:00Z
Det var den bedste mulige udsigt over Como søen, vi var bare vild med stedet.
Per
2016-09-08T00:00:00Z
Art der Unterkunft
Ganze Unterkunft
---
Objekttyp
Wohnung
---
Unterkunft für
2
---
Schlafzimmer
Santa Maria Rezzonico, Lombardei, Italien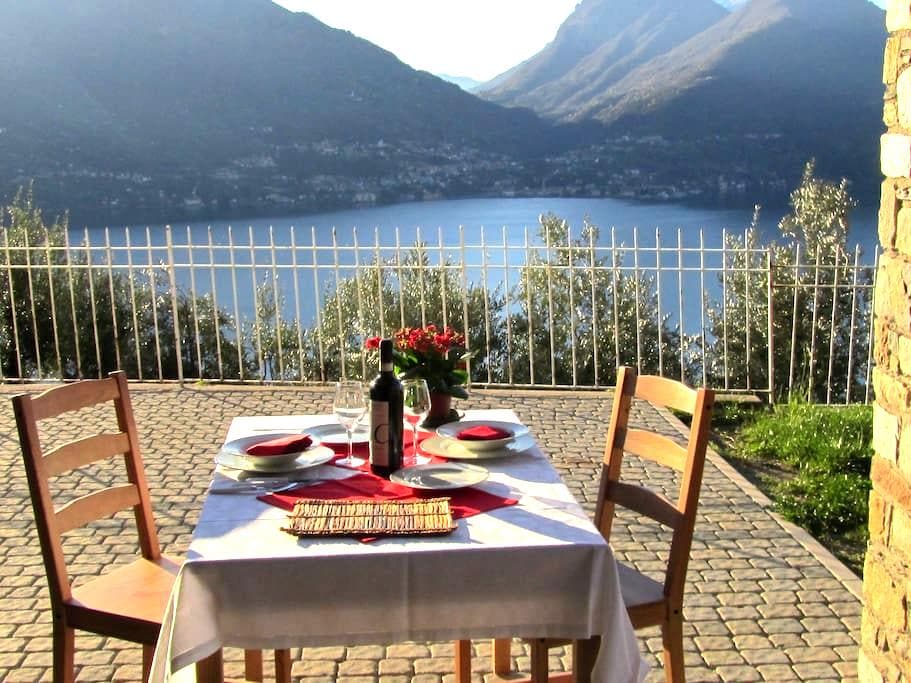 APPARTAMENTO A DORIO, SUL LAGO, LOCALI INTERNI ARREDATI IN STILE MODERNO,VERANDA CON TAVOLO, SEDIE, SDRAIO E GIARDINO CON AREA BARBEQUE. LE SPIAGGE A CIRCA 200 MT, IL CENTRO PAESE CON NEGOZIO BAR E RISTORANTE A 500 MT RAGGIUNGIBILE A PIEDI.
APPARTAMENTO AL PIANO SUPERIORE DI CASA INDIPENDENTE SITUATA IN ZONA TRANQUILLA. COMPOSTO DA SOGGIORNO CUCINA, CAMERA MATRIMONIALE, CAMERA CON DUE LETTI SINGOLI ED AMPIO BAGNO. ALL'ESTERNO DUE TERRAZZE VISTA LAGO, VERANDA ATTREZZATA CON TAVOLO, SEDIE E SDRAIO, GIARDINO CON AREA BBQ.
LOCALITA' TRANQUILLA CIRCONDATA DALLA NATURA E CON SPLENDIDA VISTA SUL LAGO.
Der erste Eindruck war phänomenal. So eine Aussicht haben wir nicht erwartet. Der See lag uns in dieser Wohnung zu Füßen. Küche und Bad sind sehr modern, geschmackvoll und mit liebevollen Details eingerichtet. Kaffeemaschine, Kaffeepulver, Servietten und alles zum Kochen war da. Vielen Dank an Sara! Gern kommen wir wieder!
Wolfgang
2014-08-18T00:00:00Z
Wir haben zu dritt den Comersee per Motorrad besucht und 5 Nächte bei Sara in der wunderschönen Ferienwohnung verbracht. Die Wohnung ist wirklich fabelhaft. Die Küche ist sehr hochwertig ausgestattet, die Dusche ist spektakulär und der Ausblick ist einfach toll. Sara war sehr nett und gab sich große Mühe. Es standen bereits 3 gekühlte Wasserfläschchen und sogar 3 Schokocroissants für uns bereit, was wirklich super war, da wir bei weit über 30°C in den Lederkombis völlig dehydriert waren. Die Umgebung ist für Motorradfahrer der Wahnsinn -> Kurven bis zum Abwinken. Einen kleinen Strand gibt es fast direkt gegenüber der Wohnung. Wir waren zum Baden immer in Bellano (zwei Ortschaften weiter südlich). Dort kann man (wenn man mal nicht auf dem Balkon sitzt) wunderbar den Sonnenuntergang beobachten und auch gut und relativ günstig essen. Ein kleiner Wermutstropfen ist Saras Hund, der auch gern später Abends noch laut bellt.
Michael
2016-08-29T00:00:00Z
Sara hat uns herzlich empfangen und die Kommunikation klappte auf englisch auch gut. Bei der An- und Abreisezeit war sie sehr flexibel und wir konnten in Ruhe und nach unseren Bedürfnissen reisen. Die Wohnung ist sehr schön eingerichtet. Besonders das Bad mit der traumhaften Dusche ist sehenswert. Gäste mit einem grossen Auto sollten wissen, dass die Auffahrt recht eng und steil ist. Wir würden auf jeden Fall wieder einmal dort Urlaub machen.
Alexander
2015-05-26T00:00:00Z
Schöne Wohnung, alles war super. Sarah hat sich viel Mühe gegeben, der Ausblick ist super und als Ausgangsort für Tagestouren ideal.
Peter
2014-09-04T00:00:00Z
We really enjoyed our weekend stay at Sara's beautiful apartment. The view is just amazing! The apartment was very clean and beautifully furnished, there are plenty of possibilities to sit outside on the terrace to enjoy the magnificent scenery. The only thing we had difficulties with was driving the steep way up to the parking lot, but Sara told us about another parking lot close to the apartment which we preferred to take. We would definitely go back to Sara's apartment again! Thanks again so much!
Olivia
2015-07-06T00:00:00Z
Sara has a fantastic house it is beautifully decorated and the view of the lake is simply amazing. Sara speaks english pretty well and although she kept away she always answered immediately if we needed her. We had a perfect stay at lake Como
dean
2015-08-12T00:00:00Z
Vi, en familie på 4, boede hos Sara Ferrandi i uge 42 (7 dage) 2014. Sara var meget hurtig til at svare på vores forespørgsel og give nuancerede svar på vores spørgsmål. Vi havde god kontakt om ankomst og Sara var klar til at tage godt i mod os, da vi ankom. Sara er en meget hjælpsom og venlig vært - som kun kan anbefales. Lejligheden er stor og moderne, alt var som nyt og vi manglede ikke noget - køkkenet var veludstyret og vi lavede mad et par dage. Udsigten er et kapitel for sig selv - Fantastisk view om dagen og flot lys om natten! Vi kørte rundt til de forskellige seværdigheder i området og ikke mindst vandrede vi på nogle af de mange afmærkede vandreruter der er i området. Se Bellagio og Varenna evt. Como - alle smukke maleriske byer. Vi var også i Milano - med tog fra Belano - nemt, hurtigt (1 time) og billigt. Vi giver Sara vores varmeste anbefalinger og vil med glæde bruge en uge i hendes skønne lejlighed igen!
Mads
2014-10-19T00:00:00Z
Beautiful home, spectacular view through big panorama windows. Two terraces with sun in the morning and in the afternoon. Kitchen is well staffed, bathroom with high level shower. The entire apartement is furnished very clean and tasteful. A car is recommended, because there is no public connection to the neighbour villages. Sara is very nice, an excellent host and always approachable...thanks for all! We enjoyed our stay at Lago di Como.
Gabriele
2016-05-29T00:00:00Z
Art der Unterkunft
Ganze Unterkunft
---
Objekttyp
Wohnung
---
Unterkunft für
4
---
Schlafzimmer
Dorio, Lombardei, Italien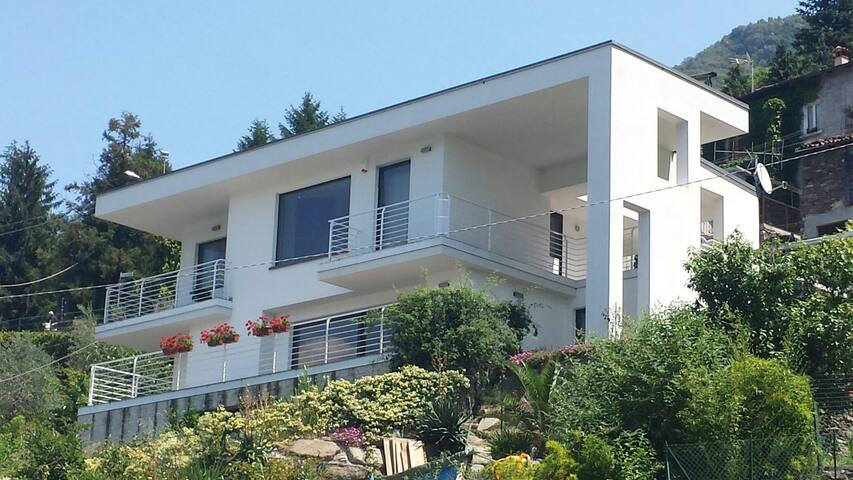 The Family Place, is exactly that, a great place to spend your family holidays. The perfect spot for families and friends, spacious with 3 large bedrooms, 2 doubles and one twin, private spaces for everyone, with pool and all modern mod cons.
The residence in which The Family Place is located in, is approx 1 km from the town centre in a residential area, very tranquil with mountain views. Grocery shops are with in walking distance, or a quick drive to pick up possibly the best bread in all of Lago di Como. Close to the lake and beaches and restaurants too so basically a great position, close enough to everything but far enough away for peace and quite! Entering the residence your apartment is on the second floor overlooking the swimming pool from the terrace. Up the stairs to the apartment and onto the terrace you find table and chairs for your alfresco meals and afternoon relaxing moments, a sun umbrella for the warmer moments of the day. Also perfect for watching over the kids in the pool while you relax with a glass of wine or a coffee directly outside the apartment. Entering the apartment you are welcomed by the large open space living area, with sofa, media area with flat screen tv, blue ray DVD, wifi modem and satelite along with Italian digital channels and stereo system. This area opens directly onto the terrace with a large French window and of course the entrance. The dining area separates the kitchen from the lounge, seats 6 comfortably. The kitchen, large, fully equipped with all you need to cook your Italian meals, also with dishwasher, microwave oven, traditional oven, toaster, kettle…..all you need! On this floor, the laundry room with washing machine and also a guest bathroom with basin, toilet and bidet. The first bedroom is large and spacious with ample cupboard space and French doors that open directly onto the back garden. Decorated in White and Black, modern and comfortable. The second and third bedroom are on the second floor upstairs. Both very large rooms. The twin to the left, very spacious, decorated in dark red and wood with wood sloping ceilings, ample cupboard space and the 2 single beds can be pushed together to make a double. Tones of deep red create and fun and relaxing atmosphere. The third bedroom, that could be considered the master, with double bed, also has sloping ceilings, ample cupboard space, very comfortable and a small balcony with a lake view. There is a mini bar too too!! Decorated in relaxing blues give a great mood to this large bedroom. The bathroom with basin, bidet, shower and wc is on the landing just between the two bedrooms. Summarizing The Perfect Family Apartment…it's a great place to spend you relaxing Lake Como holidays.
great place for family or friends in Pianello del Lario, beautiful lake front town with beaches not too far from norhter lake or central lake area nice terrace that overlooks the pool
Art der Unterkunft
Ganze Unterkunft
---
Objekttyp
Wohnung
---
Unterkunft für
6
---
Schlafzimmer
Pianello del Lario , Lombardia Como, Italien
Schöne Dachboden, kürzlich renoviert, besteht aus einer Küche und Kühlschrank, mit der Möglichkeit, zu kochen und zu essen, eine Sitzecke mit Sofa, Fernseher, DVD-Player und eine große Sammlung von Filmen, Wi-Fi, Doppelbett, privates Badezimmer mit Waschbecken, Dusche und Waschmaschine. Zwei große Fenster, die offene Heck macht den Raum sehr hell, mit der Möglichkeit, die wunderschöne Landschaft zu genießen zu achten ist. Die Unterkunft ist gut isoliert und wird nicht durch Lärm von draußen, ideal zum Entspannen in Ruhe gestört. Private Parkplätze in der Nähe des Eingangs. Die Unterkunft im Zentrum von Dervio liegt, ist der Bahnhof 100 Meter, Ausfahrt SS36 Milano-Lecco-500m Valtellina, ein Supermarkt, eine Bank und eine Apotheke 50 Meter, 300 Meter zum Strand. Gelegenheit, in den Bergen zu wandern, ohne die Verwendung von Transportmitteln, in der Schule von Surfen, Segeln, Kite-Surfen, Bootsfahrten. Die Stadt Lecco ist 30 km entfernt, 80 km Mailand, Como, 50 km, 40 km bis zur Grenze mit der Schweiz, Menaggio, Bellagio, kann Varenna mit der Fähre oder dem Tragflächenboot leicht zu erreichen. Im Winter sind die Skigebiete der Valtellina (Madesimo, Bormio, Chiesa Valmalenco) weniger als eine Autostunde entfernt.
Es ist sehr ruhig, aber hat alle Dienstleistungen in der Nähe und einfach zu erreichen. Es bietet einen hervorragenden Teil auf den See und die Berge zu erkunden. Es gibt keinen Massentourismus
Alles war bestens. Herzliche Begrüßung und viele Tipps für Unternehmungen. Im Haus ist ein Gemüse- und Fruchthandel. Ein Supermarkt (Carefour) ist um die Ecke und eine Bar schräg gegenüber. Das Restaurant Diaz 68 können wir empfehlen (Fischmenu; guckt auch mal über (URL HIDDEN) Dervio ist vielleicht nicht der erste Ort am Comer See. Aber wir konnten von dort überall hin fahren (auch mit Regionalzug) und am Ort ist es auch sehr schön.
Hartmut
2016-07-21T00:00:00Z
Es war eine sehr schöne Unterkunft. Sie war sauber und gemütlich eingerichtet. Man fühlte sich fast wie Zuhause.
Timo
2016-09-21T00:00:00Z
Lorena und Abramo sind tolle Gastgeber, total unkompliziert, sehr zuvorkommend, stets hilfsbereit und unglaublich freundlich. Das Apartment ist schön eingreichtet und sehr sauber und es gab sogar Kaffee und frischen Basilikum. Wir waren rundum zufrieden und können die Unterkunft nur weiterempfehlen.
Christina
2014-10-03T00:00:00Z
Wir kamen etwas verfrüht an sodass Lorena gerade nicht zuhause war um uns die Türe zu öffnen, sie schickte aber ihre Mutter welche uns direkt in das Apartment gelassen hat. Die Lage ist wirklich genial, gute, günstige Restaurants direkt am See sind 10 Minuten zu Fuß entfernt und zur nächsten Badewiese sind es nur 3 Minuten. Es gibt eine große Auswahl an Filmen für Regentage und organisatorisch wichtige Dinge wie Supermarkt, Apotheke und Bankautomat befinden direkt im Nebenhaus. Die Insidertipps von Lorena für gute Essen und Sightseeing Tipps sind einfach unbezahlbar. Alles in allem war es ein genialer Wochenendausflug und wir kommen gerne wieder.
Christian
2016-08-06T00:00:00Z
Ich hatte schöne erholsame Tage in Dervio und Umgebung, nicht zuletzt wegen Lorenas und Abramos tolle Wohnung. Pluspunkte: ein gutes Bett mit einer richtigen Bettdecke, nicht nur ein Laken, dann die DVD-Sammlung, das Radio, mit dem PC bin ich nicht klar gekommen, hätte aber beide auch immer fragen können, weil sie die Wohnung direkt unten drunter haben. Einen kleinen persönlichen Nachteil ergab sich durch meine Körpergröße von 175 cm. So musste ich mich an beiden Waschbecken aufgrund der schrägen Wände (Dachgeschoss) ducken, auch benutzte ich die Kommoden nicht, weil ich dorthin immer hätte kriechen müssen.. Und der Kühlschrank rumort ab und zu (offene Wohnküche)... Aber die Vorzüge überwiegen eindeutig. Helle Räume.. Gemütlich eingerichtet. Zudem ist mir das beschauliche Örtchen ans Herz gewachsen. Sondrio und Colio ist nicht weit, ebenso wie Varenna etc. also meine Empfehlung! Mille Grazie and arrivederci
Francis
2015-02-28T00:00:00Z
Abramo und Lorena waren großartige Gastgeber! Unser Aufenthalt verlief problemlos, das Appartment ist genau so wie auf den Bildern. Es war sehr sauber und toll eingerichtet. Unsere Hosts hilfen uns sogar mit Kopfschmerztabletten aus als es meiner Freundin nicht so gut ging, wir schrieben eine SMS und kaum eine halbe Stunde später klopfte es an der Tür. Super! Wir kommen wieder :) Die besten Grüße.
Josef
2015-02-18T00:00:00Z
Lorena und Abramo sind tolle Gastgeber, die Wohnung ist gut gelegen und der Comer See ist zu Fuß in 2 Minuten zu erreichen. Die Ausstattung ist perfekt, sehr sauber und mit Liebe eingerichtet. Wir würden jederzeit wieder bei Lorena und Abramo buchen... absolut empfehlenswert...
Benjamin
2012-09-27T00:00:00Z
Es war ein wunderschöner und toller Aufenthalt im Appartment von Lorena und Abramo! Die Wohnung ist von uns zu 150% weiterzuempfehlen und hätte mehr als die 5***** verdient. Die Wohnung ist super schön, geräumig, äußerst sauber und liebevoll, bis ins letzte Detail, eingerichtet. Es ist alles das was man braucht und noch viele Extras mehr - sowohl in der Küche als auch Bad bzw. im sonstigen Wohnraum. Im Wohnzimmerbereich steht neben einem TV mit vielen Filmen und Musik auch ein PC zur Verfügung. Zudem stehen eine Vielzahl von Tipps, Informationen und Prospekte hinsichtlich Ausflügen oder Restaurants zur Verfügung. Handtücher für Bad und Strand sind vorhanden. Lorena und Abramo haben uns zudem ihren eigenen Sonnenschirm sowie Liegematten für unseren Aufenhalt überlassen. Wir wurden super nett begrüßt, haben viele Insidertipps bekommen und haben uns daher richtig schnell eingefunden und eingelebt. Parkplatz ist direkt vor der Türe problemlos zu finden. Ein Supermarkt mit täglich frischen Backwaren und breitem Sortiment ist ebenfalls ums Eck. Aufgrund eines nicht selbstverschuldeten Kratzers an unserem Auto haben sich Lorena und Abramo mit Infos, Hilfe und Auskünften rührend um uns gekümmert. Lorena hat uns sogar bis nach Colico zur Carabinieri (Ihr und unser erstes Mal:-)) begleitet, um uns dort sprachlich und inhaltlich zu helfen! 1000 Dank nochmals dafür!!! Zum Abschluss bekamen wir noch ein Andenken bzw. Abschiedsgeschenk, über das wir uns sehr gefreut haben. Zusammenfassend ein wunderschöner Urlaub in einem tollen Appartment bei super sympathischen, hilfsbereiten und netten Menschen und von unserer Seite aus nur zu empfehlen!
Christian
2016-09-11T00:00:00Z
Art der Unterkunft
Ganze Unterkunft
---
Objekttyp
Wohnung
---
Unterkunft für
2
---
Schlafzimmer
Dervio, Lombardei, Italien
Die Wohnung befindet sich in einem Komplex direkt am See mit Schwimmbad und Solarium entfernt. Die Wohnung ist ideal für Paare und Familien mit Kindern.
Die Wohnung befindet sich in einem Komplex mit beheiztem Schwimmbad und große Sonnenterrasse direkt am See gelegen. Es befindet sich im zweiten Stock mit Aufzug und besteht aus: Eingang, Wohnzimmer, Küche, Terrasse, Hauptraum, Zimmer mit 2 Einzelbetten, die Doppelzimmer, Badezimmer mit großer Dusche werden kann.
Musso ist ein typisches kleines Dorf am Ufer des Comer Sees, der Weiler in der Nähe der Wohnung ist sehr gemütlich und erreichbar zu Fuß throught eine Promenade am See erreichbar direkt von der swimmimgpool Bereich. Durch diesen romantischen Spaziergang am See ist möglich, Restaurants und Strände zu erreichen.
Art der Unterkunft
Ganze Unterkunft
---
Objekttyp
Wohnung
---
Unterkunft für
4
---
Schlafzimmer
Musso, Lombardia, Italien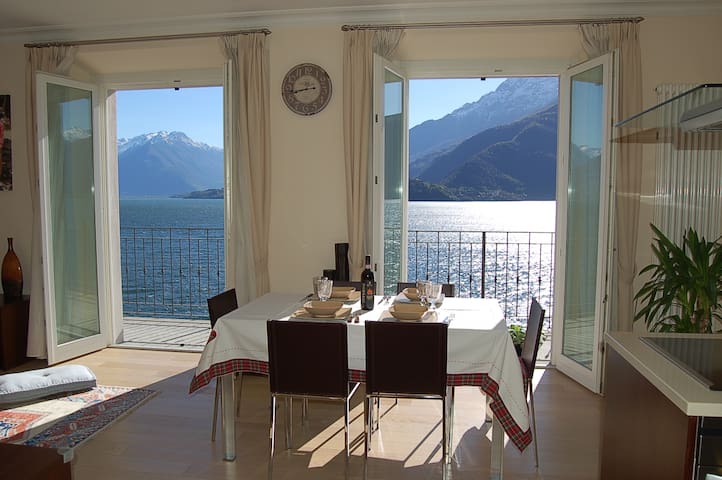 The house is located on the first floor in a family house in Pianello del Lario, in quiet and sunny location. The house consists of two very large bedrooms both with double beds and single beds. In the living room there are two comfortable sofas and satellite TV. The kitchen has a table for six people and there are two bathrooms with shower. Both from the bedroom to the living area leads to two beautiful terraces with magnificent views of Lake Como!
Guests arriving by car will have a place in the garage. The house is accessible directly from the garage and from the street. Access is completely independent.
Boschi, montagna e lago sono solo l'inizio! Un posto immerso nel verde tutto da scoprire.
Art der Unterkunft
Ganze Unterkunft
---
Objekttyp
Wohnung
---
Unterkunft für
5
---
Schlafzimmer
Pianello del Lario, Lombardia, Italien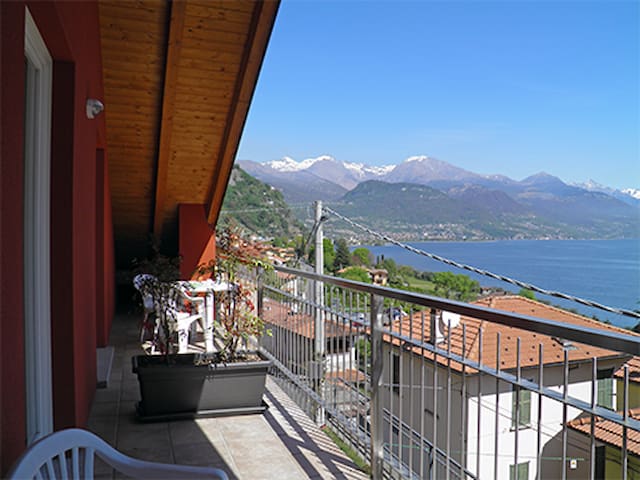 Cozy, 2 bedrooms duplex apartment with excellent lake view within a residence with shared swimming pool. The property provides enough space for accomodation of 4 persons and a fully equipped kitchen. The large terrace is the perfect place for relax.
Location Info. The municipality of San Siro was created on 1st of January 2003, by joining Sant'Abbondio and Santa Maria Rezzonico, and consists of different villages, such as: Acquaseria, Molino, Prada, Marledo, Pezzo, Semnago etc. Many of these villages cling onto the Sasso Rancio crag and others lie on the western side of Lake Como.The most important village in san Siro is Acquaseria, which has the town hall and parish church dedicated to Sant'Abbondio and San Felice and which was built in the 10th century, containing several art-works dated back to various historical periods. The inlet that leads into Val Sanagra offers beautiful natural scenery that is very interesting from a naturalist point of view and is home to several deer and roe deer. The next part of the lakeside is very open and from there You can enjoy the wonderful views of the Altolago area, Bellagio with its beautiful promontory and the Lecco branch of the lake. Santa Maria Rezzonico has always been a very important village, especially historical speaking, because of its castle which has been now transformed into a villa, belonging to the old Della Torre Rezzonico family. It is a 14th century castle, that stands on the highest point of a promontory overlooking the village and has a beautiful crenellated tower. The 15th century Church of Santa Maria Assunta, elaborately decorated and with lovely marble doorway, is also worth visiting. Close to the church, ruins of late Roman period walls, which were part of a large fortress, built as a defense against the barbarians, can still be seen. At Santa Maria Rezzonico stands the delightful Villa Camilla, built in the second half of the 19th century for a Milanese family of Marquise of Rozzano, who used it as a summer residence. The villa is surrounded by wonderful grounds with lawns, exotic plants and centuries-old sequoias, magnolias, cedars of Lebanon and cork oaks.
Mit (SENSITIVE CONTENTS HIDDEN) Maps ist es schwierig die Unterkunft zu finden aber die Gastgeberin schickt eine Wegbeschreibung was sehr hilfreich ist! Wenn gutes Wetter ist, hat man einen super Ausblick vom Balkon aus! Schlafzimmer im Dachgeschoss ist gemütlich und wunderschön!
Argiro
2017-03-25T00:00:00Z
The house has a beautiful balcony looking over the lake. We enjoyed having that view. The house itself was clean and well equipped. Elena sent a guide to find the house including all the directions with pictures. We did not have a chance to meet her but her husband gave us a warm welcome. Eveything was perfect and we had a great time on lake Como. Highly recommend!
Damla
2017-02-06T00:00:00Z
Very nice, quiet and clean apartment. The view is amazing and the host was very helpful. We will definitely come back
walid
2017-04-03T00:00:00Z
Personne très agréable et répond rapidement aux mails... la maison est très propre et et tout à disposition. Literie chambre parentale très confortable Merci
dominique
2017-03-02T00:00:00Z
Magnificent stay in a beautiful apartment with a very nice view all at the disposal pity that it is not more alive but it is a perfect place to enjoy the lake and rest the children enjoyed From the awakening take the breakfast on the terrace with sunrise the lake just perfecte Room spacious comfortable bedding was a pleasant stay I highly recommend
anissa
2017-03-31T00:00:00Z
Very nice place. Great view, great location. The apartment was a little chilly the first day but it wasn't a huge issue. I would stay here again!
Justin
2017-02-01T00:00:00Z
Art der Unterkunft
Ganze Unterkunft
---
Objekttyp
Wohnung
---
Unterkunft für
4
---
Schlafzimmer
Santa Maria Rezzonico, Lombardia, Italien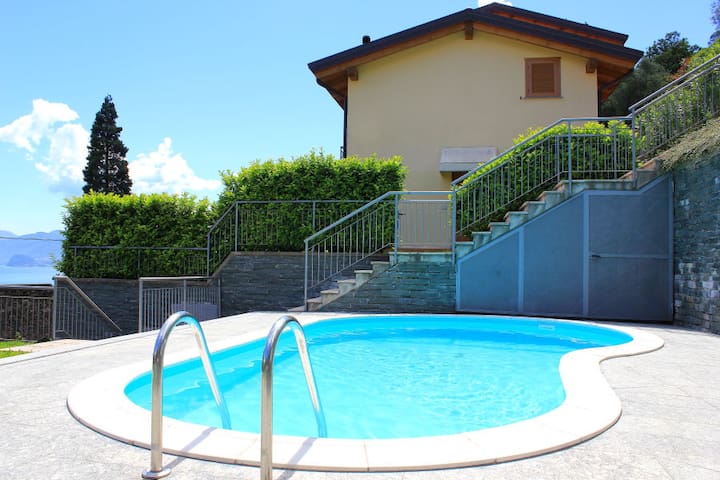 In 2007 we happened to chance on an old farmhouse in the 17th century hamlet of Belmonte, a very authentic, picturesque place on the hills overlooking Lake Como. The house is located in front of the village and has a magnificent view over Lake Como, the Alps and the lovely village of St.Anna. Behind the house are a maze of alleyways and stone stairs, true Italian rusticity!
Belmonte is located just above the village of Pianello del Lario. Lario is another name for Lake Como. The village lies about 10 kilometers north of the town of Menaggio. From the harbour at Menaggio, you can catch a ferry ride to other popular places like Varenna Como and Bellagio. The Lake of Lugano (CH) is located only a half hour away, Lago Maggiore, Bergamo and Milan are within driving distance for a great day trip. In winter you can ski in Madessimo (one hour drive). In the apartment you find a folder with all relevant information such as doctor, emergency contact numbers, etc. There are other useful tips on the area, attractions, etc. Tips for a great stay at Casa Belmonte and sightseeing in the immediate vicinity: In the village of Pianello you will find the church and a small camping (open in summer) where you can swim. The camping houses a great restaurant with delicious food and ice. This is a hidden gem! Pianello also has a small bakery. Not always open! For fresh bread be there before 9 in the morning or they are sold out! Next to it is the small co-opeartivo, something which you will probably drive past without even noticing it..The old couple who run the shop actually carry enough stock of groceries to get you by till you can head out to one of the larger supermarkets! And it is a great place to try your Italian! Supermarkets can be found in Musso (about 3 km), Dongo and Managgio (Pelicano) A little further in Porlezza there is a very big supermarket, the Billa selling a lot of local produce and fresh food. If you head to Menaggio, just before the tunnel you will see on the left side of the road a large chimney. Turn in there and you find two nice restaurants on the lake. Also great for takeaways if you prefer to eat in with the kids! The area surrounding Belmonte has many nice restaurants. For lunch, if you drive up the mountain from Menaggio, towards Lago di Piano, look on your right for signs to an agriturismo restaurant, Barcola. You can relax and enjoy fantastic local food and there is also a playground, so the kids are sorted!!! 3 course meal for a tenner, a real winner! In the evening for dinner follow the same road all the way to Lago di Piano where you will find the camping Ronoccio. Eat delicious pizza for a pittance while the kids have a fabulous time at the playground! You can swim down at the campsite or in Menaggio at the Lido, a beach where you pay a small entrance. Another address for fabulous pizza's is at the square in (URL HIDDEN) head to Dongo and as soon as you enter the town, the first little square you reach has a really nice family restaurant serving scrumptious local fare. Affordable and excellent food!
Molto carina, esattamente come nelle foto. Vista stupenda, casa dotata di tutto l'occorrente, funzionale, accogliente. Bella anche la piscina, piccola, ma pulita e soleggiata circa fino alle 5 p.m. Unica nota "dolente" (ma è anche il suo bello, visto che si torva in un piccolo borgo antico) è che per raggiungere l'appartamento si devono fare una trentina di gradini in pietra abbastanza ripidi (un po' faticosi se si hanno passeggini o bagagli pesanti). Satish gentilissimo e sempre disponibile
laura
2015-08-24T00:00:00Z
Art der Unterkunft
Ganze Unterkunft
---
Objekttyp
Wohnung
---
Unterkunft für
5
---
Schlafzimmer
Pianello Del Lario, Lombardia, Italien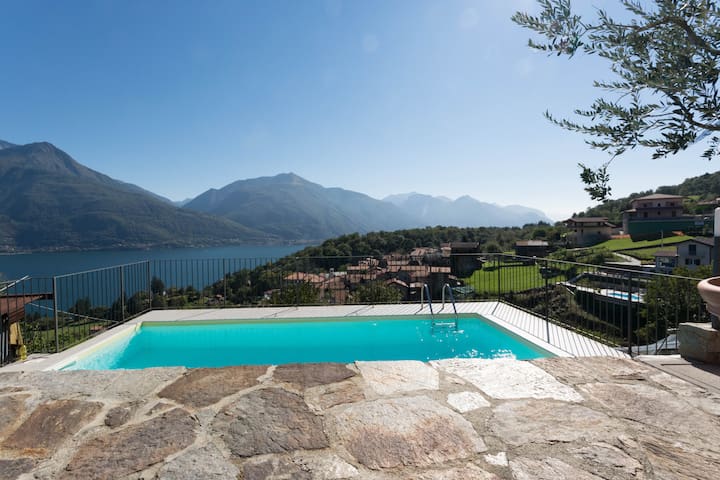 Pleasant apartment in the Residence Vecchia Filanda, ancient silk factory right on the lake, with wonderful view on the Swiss border mountains, perfect conditions for kayak, sailing and windsurfing, lake-side pedestrian for hiking and biking.
65 square meters renovated apartment at first floor, cotto floor, two bedrooms (4 persons), large lake facing living room with open kitchen, bathroom with bath-shower. Satellite TV, wireless internet access (included), washing machine, dishwasher, independent gas heating. Toddler bed/ high chair available on request (please specify when booking).
Medieval church, supermarket, restaurant, pub, chemistry, bank and ferry within walking distance (max 300 meters). Very limited traffic thanks to a tunnel bypassing the village. Small harbor with boat rental and sailing school about 1 km away along the lake-side pedestrian. Best villas and medieval churches of the Lake of Como within 15-20 minutes by car.
Es ist wirklich eine tolle Unterkunft direkt am Comer See. Die Lage ist traumhaft! Ankunft und Abfahrt haben reibungslos und wie ausgemacht geklappt. Wir hatten ein Problem mit unserem Auto und Lorenzo hat uns sofort mit Kontakten weiter geholfen. Vielen Dank nochmals dafür. Wir kommen gerne wieder.
Andreas
2016-08-14T00:00:00Z
Die Unterkunft ist sehr schön gelegen, direkt angrenzend an die Strandpromenade mit Blick vom Wohnzimmer über das Wasser und Sonne zum Frühstück. Die Wohnung ist zweckmässig aber nicht übermässig heimelig. Die wichtigsten Utensilien sind vorhanden: Handtücher, Seife, Toilettenpapier, Geschirr. Die Küche hat einen Kühlschrank, Herd und Spülmaschine. Wir haben allerdings nur hier gefrühstückt und sonst auswärts gegessen. Das Internet über WLAN hat tadellos funktioniert. Der Schlüsselbund ist recht sperrig (mit etwa 10 kleinen und grossen Schlüsseln). Ein kleiner Lebensmittelladen ist in Laufentfernung, ebenso wie ein paar Restaurants. Ein grosser privater Parkplatz ist direkt vor dem Haus. Bei kleinen Problemen ist Lorenzo umgehend vorbeigekommen. Verglichen mit den sonstigen Unterkünften in der Gegend ist der Preis sehr günstig - es kommen aber noch die Heiz- und Stromkosten dazu, die bei uns immerhin 50€ für 3 Tage betrugen. Was vielleicht daran lag, dass wir wahrscheinlich die ersten Gäste nach dem Winter waren und die Wohnung erst mal aufgeheizt werden musste. Die Wohnungsübergabe wird im Voraus geregelt und geht nur zu bestimmten Tageszeiten. Das klappt dafür problemlos und pünktlich.
Clemens
2016-03-29T00:00:00Z
We enjoyed the apartment and especially the unbelievable view out of the living room! It is a perfect place for those who want a bit of piece and quiet further away from tourist crowds. Communication with Lorenzo was great even though we didn't meet in person. I would agree with the previous review that there were way too many keys and it would be nice to have a remote control to the drive way gate :) Overall, it was very positive experience! Thanks for hosting us!
Katerina
2015-06-15T00:00:00Z
Very Nice house, the view from the living room is really astonishing. Just to be considered the extra cost of gas/electricity we payed 30 Euros.
Agnese
2015-04-06T00:00:00Z
Lorenzo and his partners made us feel very welcome, he was super kind helping me to organise a hospital check up before traveling. The apartment was spotless and had everything that we needed, even dishwasher tablets and washing machine liquid! The view from every window is sensational and the garden and beach next to the garden are amazing. There is garden furniture to put out so you can eat in the fard n and sunbathe. The village is gorgeous, you can get freshly baked bread and pastries for breakfast, the restaurant does really good food (take a phrase book if you don't speak Italian) the beaches are less than 30 seconds from your door. The whole building feels very safe, lots of locks and gated parking! Great location also, less than 5 min drive either way gets you to much bigger villages with a good variety of restaurants, cafes, bars, evening entertainment and attractions. It is a really chilled out, relaxing place stay, we would definitely visit again! The only drawback was that the church bells next door rang at least twice an hour between 8am and 8pm.
Cloe
2016-09-05T00:00:00Z
Lorenzos place is a big two-bedroom appartment (space for up to 6 persons) on the 1st floor with a great view on the Lake Como from its Kitchen. İt's clean and very very quiet. You can go downstairs to the green garden and to the lake. Musso itself is a very quiet town also, not much to see, but you can start your ferry trips to other cities from neighbor town Dongo. We did not meet Lorenzo personally but İ have the impression he is very professional and he was very helpful in his communication, Grazie Lorenzo. Suggestions: microwave, watercooker, bigger TV, less keys as there are many keys and the remote control for the gate. Just suggestions for a comfortable life. Other than that we were totally impressed by the appartment. İf there would be a pool in the garden this place would beat every 5* hotel
Ferdi
2015-05-29T00:00:00Z
Nous avons passé un super moment dans l'appartement de Lorenzo. La vue sur le lac est époustouflante car elle change tout le temps en fonction de la lumière, du moment de la journée, de la météo, un vrai plaisir de simplement profiter du paysage. Nous vous conseillons ce logement.
Maud
2015-09-06T00:00:00Z
Lorenzo was very nice and accessible. I did not meet him personally, but all interactions were very pleasant. The apartment is located right on the lake with spectacular views. There is a near by supermarket and a pharmacy. Restaurants and boat rentals are a short ride away. It was very hot during our visit. Not having AC or a fan in the apartment was unpleasant. Sleeping with windows open helped somewhat, but it let bugs and noise in. I guess I'm not the outdoorsy type. I imagine it is less of a problem during cooler days. Overall: good location, layout, parking. Spectacular views. AC would make it perfect.
Alex
2015-07-15T00:00:00Z
Art der Unterkunft
Ganze Unterkunft
---
Objekttyp
Wohnung
---
Unterkunft für
4
---
Schlafzimmer
Musso, (Como), Italien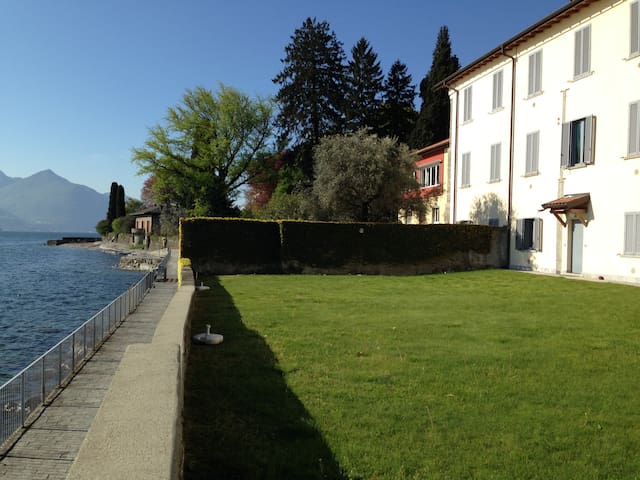 Located in the town of Pianello del Lairo, approx 3 minute drive from the lake, in a tranquil residential area. You will love the garden as it is private only for your with lounge furniture, large table and chiars and the living area opens out directly onto the garden, making your space double. 2 bedrooms, one master one twin and a sofa bed. 1 large bathroom with shower. Parking for the residence included. Residence Wifi Swimming pool
Sant'Anna Grey is a lovely modern apartment, furnished with care, a great place for familes, gated garden, near the pool...
Wir verbrachten 12 wunderschöne Tage in Pianello. Das Apartment ist neu, geschmackvoll und hochwertig eingerichtet. Trotz geringer Fläche, gibt es sehr viele Einbauschränke und genügend Stauraum. Für uns und unsere zwei Kinder war genügend Platz. Der kleine private Garten war großzügig mit Gartenmöbeln bestückt ( Lounge, Esstisch, Sonnenstühle). Es waren genügend Handtücher und Bettwäsche vorhanden. Die Anlage liegt oberhalb des Orts und einige Apartments werden vermietet, andere sind in Privatbesitz. Der Gemeinschaftspool ist sauber und eignet sich eher für eine Abkühlung als für einen klassischen Pooltag. Die erwähnte Badekappenpflicht ist verbindlich;-) Die Umgebung ist sehr schön und es gibt viele Familienstrände in der Nähe.
Bernd
2016-08-02T00:00:00Z
Logement conforme aux photos et descriptif. Région magnifique ! Belle vue et logement idéal pour découvrir tous les attraits du lac de Côme.
NADEGE
2016-08-17T00:00:00Z
Art der Unterkunft
Ganze Unterkunft
---
Objekttyp
Wohnung
---
Unterkunft für
2
---
Schlafzimmer
Pianello del Lario, Lombardia, Italien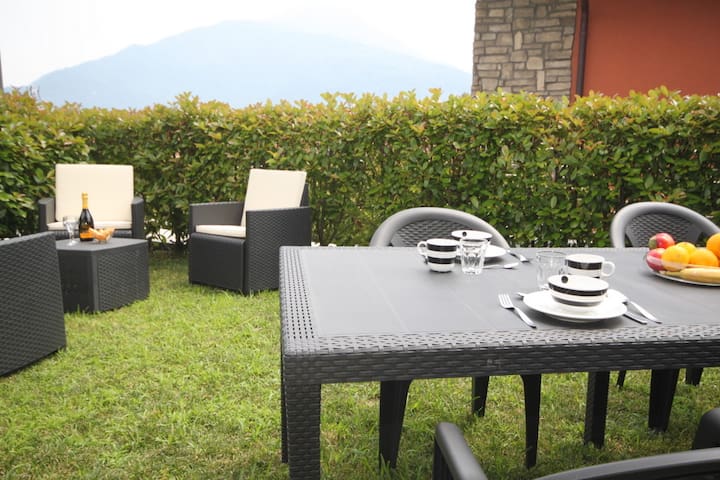 Cosy and bright one bedroom apartment located in the historical center of the village, convenient for all access to public transport and main roads, with large rooms and a terrace that puts the courtyard is ideal for up to four people.
The apartment has a fully equipped kitchen, large living room with double sofa bed, double bedroom, bathroom with shower. Heating. Located in the center of the country, is just 150 meters from the railway station, about 1 km from the highway SS36. Within 200 meters you can find: chemist, newsagent (Where to buy train tickets), launderette, vending machine water, bank and post office. The residence in the country has a swimming pool accessible to outsiders (surcharge). The lakeside promenade is just a few minutes walk away, where many bars and restaurants offer the chance to enjoy the scenery and enjoy both local products is to eat a good pizza.
The area where the apartment is located is particularly quiet, even given the size of the country;
Symphatischer unkomplizierter und hilfsbereiter Gastgeber. Geräumige bestens ausgestattete Wohnung im 1. Stock im alten Dervio mit schmalem Steinbalkon und Aussicht über die Dächer in der Nachbarschaft auf die Berge am Westufer des Comer Sees. Idealer Ausgangspunkt für Bergsportaktivitäten (z.B. Mountainbiken oder Wandern im Valtellina / Monte Legnoncino oder auf dem Sentiero Viandante), aber auch für kulturell Interessierte (z.B. Abbazia Cluniacense di Santa Maria di Piona, Corenno Plinio). Die Wohnung hat zwar keinen Parkplatz, aber dafür einen Abstellraum für Räder. Das Parken in einer Seitenstrasse um die Ecke erwies sich als problemlos, was sicher auch an der touristenfreien Jahreszeit lag. Wir kommen gerne wieder, zumal die Besteigung des Monte Legnone mit dem MTB auf uns wartet.
Jacqueline
2015-11-06T00:00:00Z
Nette und zentru(SENSITIVE CONTENTS HIDDEN)ahe Ferienwohnung. Wir haben alles vorgefunden, was wir während unseres Urlaubs gebraucht haben. Corrado spricht gut englisch und hat uns auch Tipps mitgegeben. Auch im Februar einen Ausflug wert, wir hatten ziemlich viel Glück mit dem Wetter. Für Wanderer ist die Region empfehlenswert.
Timo
2017-03-01T00:00:00Z
Das Flat in Dervio ist genau wie auf den Fotos. Soe ist sauber und man findet alles was man zum leben Braucht. Durch die zentrale lage findet man viele Einkaufsmöglichkeiten, restaurants sowie der see in unmiztelbarer nähe der Appartments. Für Wanderer, Biker, wassersportler und Sonnenanbeter ist Dervio mit seinen sehr freundlichen un zuvohrkommenden Bewohner Otimal.. Corrado ist ein sehr freundlicher, unkomplizierter und hilfsbereiter gastgeber. Wir kommen wieder!!!
MrNickytron
2016-05-09T00:00:00Z
Wir waren für 4 Tage mit einem Kleinkind dort. Es hatte alles was wir brauchten-sogar ein Kinderbett-Perfekt!! Alles ist mit einem Fussmarsch zu erreichen(Einkaufen,ÖV,See,Essen& toller Spielplatz). Wir machten mit Auto/Schiff Ausflüge nach Varenna und Bellagio. Es war ein super Kurzurlaub und wir haben es sehr genossen. Wir können diese Unterkunft nur weiter empfehlen. It was very nice!!!
Sarah
2015-05-25T00:00:00Z
Sehr freundlicher Empfang und Verabschiedung. Hatten in Corrado einen guten Ansprechpartner für Tipps. Die Wohnung war auch für 4 Personen geräumig und sehr gut ausgestattet. Die Lage war für Ausflüge gut, Einkaufsmöglichkeiten und der See waren zu Fuß erreichbar. Wir waren sehr zufrieden und können die Wohnung empfehlen. Unsere Kinder waren über den Internetzugang sehr glücklich!!!!!
Thomas
2014-08-24T00:00:00Z
Die Wohnung war sehr angenehm und für unsere Bedürfnisse genau richtig. Schöne Lage.
alexander
2016-05-18T00:00:00Z
Wir waren 3 Tage in dieser Unterkunft und waren voll zufrieden. Die Wohnung ist sauber und gut eingerichtet, wir würden gerne bei Gelegenheit wiederkommen. Wir würden für das Angebot und der Wohnung 100 Punkte vergeben.
Dieter
2016-05-30T00:00:00Z
Netter, sehr hilfsbereiter Gastgeber, gut ausgerüstete Wohnung. Ruhig.
Marius
2015-04-07T00:00:00Z
Art der Unterkunft
Ganze Unterkunft
---
Objekttyp
Wohnung
---
Unterkunft für
4
---
Schlafzimmer
Dervio, Lombardei, Italien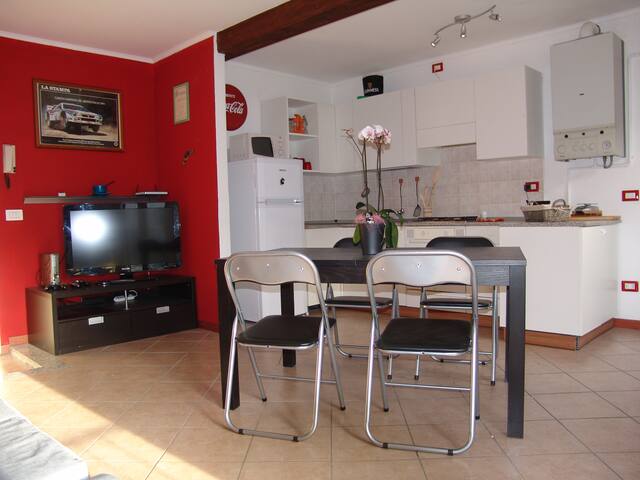 Nuovo appartamento con bellissima vista lago e giardino, adatto per famiglie, può ospitare fino a 5 persone. Wi-Fi gratuito, box auto ed angolo barbecue. possibilità di ricovero vele, kytesurf, windsurf biciclette, canoe kayak.
Flat on the floor in a 3 storey building where our family resides. Apartment consists of living room, kitchen, bathroom, hallway, and Double room with bunk bed, laundry. Garden with stunning lake view, Barbecue corner, Box Car on request for a fee.
quiet residential area away from traffic, Sunny but cool, all major country services are within walking distance, so once you park your car you will not need to use it for the duration of the stay. In the immediate vicinity, and within easy walking distance there are the Bank, Post Office, Municipal Offices, Church, Kiosk, Bakery, Supermarket, Restaurants, Pizzeria, Bar, Ice Cream Parlour, Hairdresser, Car Rental, Boats. There are nearby public parking for a fee and bus stop public transport.
Vom ersten email-Kontakt bis zum Wiedersehens-Gruß, die Beziehung zu unserem sehr sympathischen Gastgeber Marco war geprägt von Höflichkeit, Liebenswürdigkeit und Hilfsbereitschaft. Wir durften sein modernes , mit viel Liebe zum Detail eingerichtetes großzügiges Appartement, als erste Gäste bewohnen. Die Einrichtung: ein wirklich gelungener Mix aus geradlinigem zeitgemäßem HOME-Interior und warmen Vintage-Touch. Und piccobello adrett und sauber . Sehr schöne Bettwäsche, die Matratze "rückenfreundlich" - knackig aber nicht bretthart, großzügige Hand- und Badetücher, exakt zu temperierende Dusche, große Küche mit allem was man so braucht - und mehr… und überall Zeichen seiner Gastfreundschaft: ein kleines Tablett mit Keksen und Süßigkeiten für den ersten Hunger nach der Anreise, eine kühle Flasche Mineralwasser, im Bad ein Tablett mit Seifen, Dusch - und Shampoo und die "tätertää"- Überraschung : eine Flasche prickelnden Moscato im Kühlschrank, die wir noch am gleichen Abend geleert haben. Das Auto bequem und sicher unter dem Haus in einer eigenen Garage. Was will man mehr? Naja z. B. morgens, nur 200 Meter Entfernung, direkt am Seeufer, auf der Terrasse eines kleinen feinen Restaurant / Cafés einen ersten Caffe und Cornetto frühstücken. Hallo! Man fühlt sich fast wie "die Clooneys", obwohl wir schon sicher 15 x am Largo geurlaubt haben Da darf man sich wohl fragen, was Marco denn beruflich macht? Marco ist stilsicherer Architekt - mit ausgezeichnetem Englisch!, der sich und seiner Familie und seinen zukünftig garantiert zahlreichen Gästen ein wunderschönes, komfortables "Second Home" eingerichtet hat. Ja mein Lieber, wirst Dich wohl mit uns arrangieren müssen. Dieses Mal war nicht das letzte Mal. Hoffe, dass wir bald wieder einen freien Termin finden. A prossima volta, mein Freund, das war richtig, richtig gut. Herzlichst Eva, Thomas und "Fellnase" Lupo:
Thomas
2016-05-23T00:00:00Z
Appartement très agréable et confortable et de plus bien situé sur le bord du lac à côté de restaurants typiques. Accueil très chaleureux et hôte très sympathique.
Catherine
2016-08-02T00:00:00Z
Nel complesso bene. Marco e la sua famiglia sono persone squisite, attente alle necessità dei loro villeggianti, e discrete. L'appartementino grazioso, ben sistemato, ben arredato e pulitissimo. La posizione è discreta: sopra la vecchia Statale Regina (poco frequentata), vicinissimo alla piazzetta e quindi alla spiaggia e al molo di fermata del traghetto. Unico neo le scale di accesso e i gradini all'interno dell'appartamento non segnalati, e che possono essere un problema per talune persone. Grazioso il giardinetto con l'orticello in vaso :-)
Sara
2016-08-22T00:00:00Z
Art der Unterkunft
Ganze Unterkunft
---
Objekttyp
Wohnung
---
Unterkunft für
5
---
Schlafzimmer
Pianello del Lario, Como, Italien